Chris
here—welcome to our April edition of the FIRE Insider. It's our little newsletter where we share what we've been writing on TicTocLife, what we've read or listened to and enjoyed around the community, and a little "behind the scenes" with us.
First, Jenni and I have written six articles since our last newsletter:
Be sure to cast your vote in this month's donation poll for women's (and girl's) charities! It only takes a moment and helps us focus on part of TicTocLife's mission—elevating others!
What we've been reading —
If there's one post you're going to read from my recommendations...and love a beautiful, challenging, personal story and its association with FIRE—take a moment (ok, about 30) and read Living a FI's/Dr. Doom's latest post. It's a "5-year update" post-FIRE from a writer that used to be pretty well known within the community. Likely the best personal and raw story I've read this year. We all have our own struggles.
Psychology
You track your wealth, health, and probably a whole lot more in your life. We're all a bunch of data trackers these days. But what about your happiness? I've toyed with the idea of tracking happiness for years but never really built the right system. Accidentally Retired has an excellent post that builds a system to track happiness; I might just give it a shot.
In what I feel like might be a little antidote to LivingAFI's recent 5-year update post that made waves, Dragon Guy & Gal's shares their tale of a year of early retirement success. But it's not all roses, either. Their story of fighting cancer and how it's impacted their lives for many years (and their FIRE goals) offers an even bigger motivation to take control and live it as you see fit. Only so many trips 'round the sun.
I've said so before, but it bears repeating, one of my favorite writers to read in the past year is Noel over at Happily Disengaged. Yes, other writers have a knack for insightful data analytics, inquisitive economic research, or novel approaches to old tax and cost problems. But, I really enjoy Noel's writing style, he weaves a great tale. His recent story about the past "dead" year is filled with delightful prose while planting a hopeful seed for normalcy to return.
Money
All Options Considered has a great post on how regular taxable brokerage accounts ought to be part of your early retirement withdrawal strategy—but it's also a really good introduction to the parts and mechanics of an early retirement strategy generally! Great visuals keep it moving, too.
FIRE is full of tradeoffs—decisions that reveal where your priorities rest. As your wealth (and income) increases, you might shift your focus to priorities beyond money. Each additional dollar beyond your needs starts to become less valuable. Brewing with FIRE deals with this concept of the marginal utility of each new dollar and decisions around accepting promotions or more responsibility in a recent post. Adam lays out his thinking as he contemplated a big promotion and how it'd affect his family's life. I wrote a post on the same topic, the marginal utility of income, last year if you'd like some more insight on this economic concept.
Although Mr. Tako didn't exactly give up the ghost with his "worst investment", I'd love to see more tales of investment loss complete with the original thesis that might offer a chance to learn like this. I think we, as investors, can learn a lot from after-loss forensics like this.
If you've made progress on your journey to FI and are thinking of ways to make dramatic changes to your life to leverage your freedom—and have the opportunity to do so—you might find yourself moving to a different country and working locally. It's one heck of an opportunity to experience change and reevaluate your goals. Financial Mechanic shares how she's budgeting for her move to Amsterdam and a new life.
This is the article you need to read to understand the massive stimulus plan passed in the US just recently ("
The American Rescue Plan Act")
. Go Curry Cracker also closes out the article with a useful action item list to take advantage of or be prepared for the changes. Of particular interest to FIRE folks might be the ACA healthcare insurance subsidy changes and child tax credits.
What we've been listening to —
Jesse over at The Best Interest has really been kicking some butt with his still-new podcast. We had a little feature back in episode 5, but I've really enjoyed his recent interviews. For example, episode 7, was with 5 AM Joel (of Budgets Are Sexy) and really feels like a good, open conversation between them. Listeners get to come along for the ride and understand how they both work, what matters in money for them and soak in money/life wisdom sprinkled throughout.
Jenni and I have been enjoying Freakonomics's podcast for many years, and the recent episode on "fresh starts" struck a nerve. The episode talks about the psychology and research behind this idea that a new atmosphere, environment, or timeframe enables us to sort of reset our lives. We can take stock of what's important, reevaluate, and realign. That's often what happens with New Year's Resolutions (though I recommend Yearly Themes)—the new year feels like a fresh start. The episode also argues that it's what we love about travel, changing house, new jobs, etc. We get to reinvent ourselves. Ultimately, the episode ends with the listener retaining a question for themselves: will the end of this pandemic be the greatest fresh start for humans in recent history?
TicTocLife "Behind the Scenes"
On gaming —
I've mentioned video games here or there in posts over the last year. In fact, I wrote a whole post about how I think some video games might have lead to my early start on FIRE and just understanding economics, personal finance much better. I've been playing a variety of games since the pandemic started as a way to keep in touch with friends remotely and as a little break or entertainment.


I recently ran across this comic and had a little laugh. If you can relate to gaming "resource management", you might have a little chuckle too: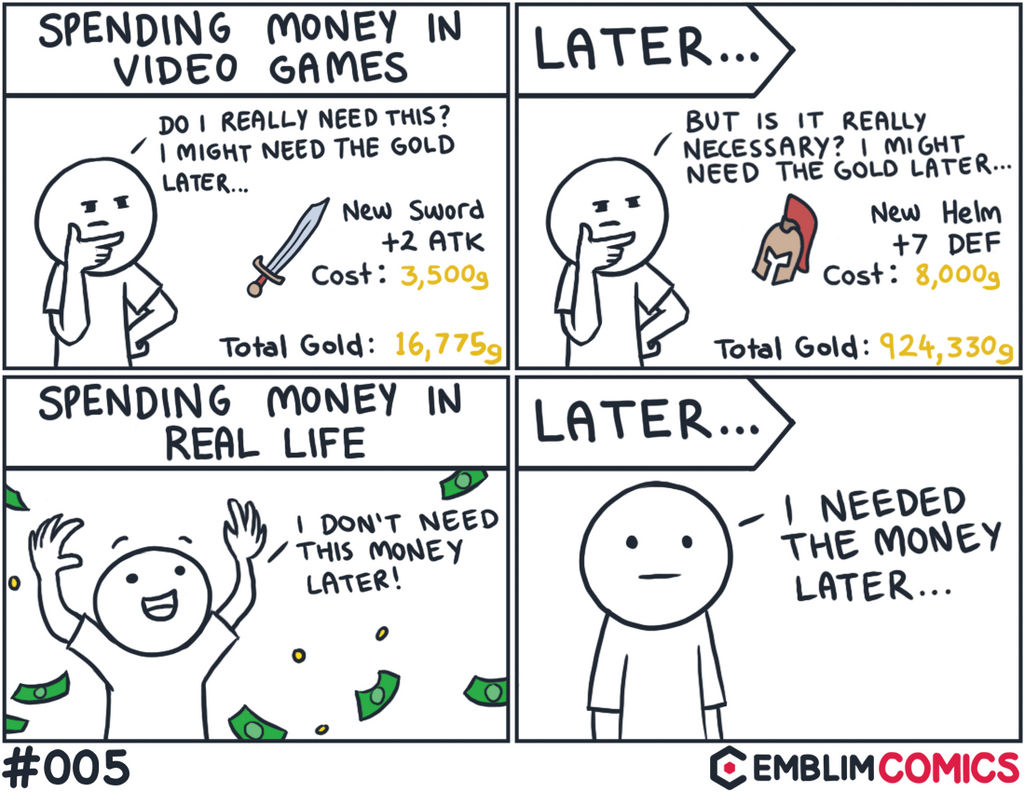 Crawling —
During last month's FIRE Insider, I mentioned we were planning a trip to the beach in North Carolina. We did it—our first real trip away since the pandemic! We had a ball, even though the weather sent horizontal rain across the sand.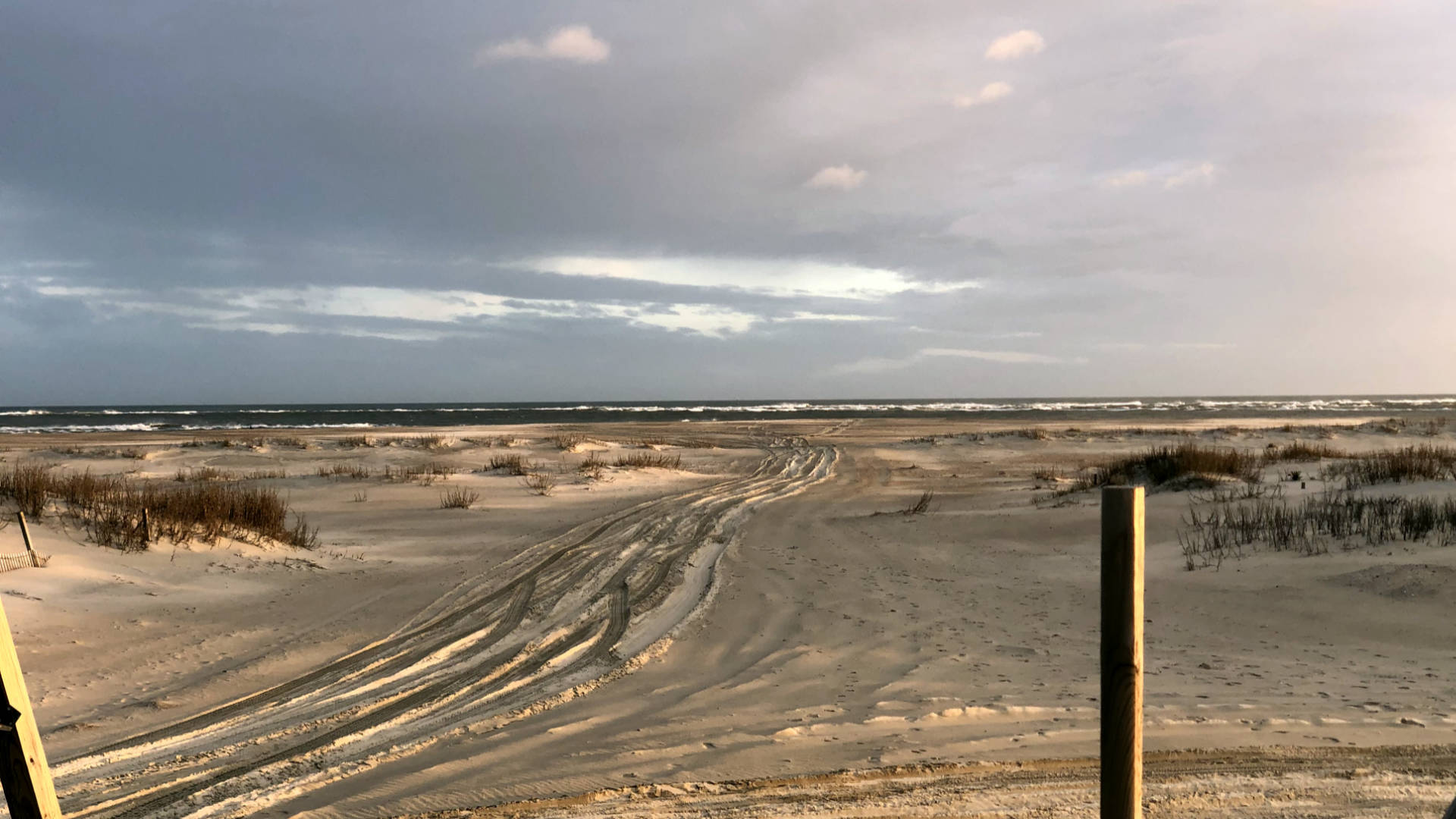 It went well enough that we're planning a trip to a park area around the Shenandoah Mountains here in Virginia for early May. We'll be staying with some friends and doing a bunch of adventurous outdoor activities. That's our "crawling" back to normal (a step ahead of "inching" from last month with this trip to the beach).


We might just step it up to a jog shortly after. Both of our birthdays are in May (along with TicTocLife's!) and we're thinking about a trip down to Georgia's islands (likely Jekyll Island) or Florida's islands (Marco, Sanibel, etc.). We could get away with the train or car for the GA trip, but FL would require a plane. We'll see how things continue to progress, but hopefully, our next FIRE Insider includes a little bigger dose of travel!
From the Readers —
Every week we get thought-provoking comments and questions from our readers. Often they're follow-ups to posts in the comments section, sometimes on Twitter, or occasionally directly via email. We read all of these and reply. They mean a lot to us. We'd like to highlight some of the more interesting comments that might go unnoticed by fellow readers who likely have similar questions.


Here are a couple of standouts since the last newsletter:

Reader Tim reminded us of a deduction I know we haven't ever taken and I don't think many people often think of—you can deduct miles related to charitable giving. This might be especially useful for routine giving (church or weekly volunteerism, for example). T
A rarely used deduction related to charitable giving.
Reader Bryan asked a two-part question:
1) Does it make sense to convert from Vanguard's ETFs to Mutual Funds (specifically, Vanguard's Admiral shares), e.g.: VTI to VTSAX?
2) Is it to redundant or unwise for both people in a couple to have identical portfolios?
Check out my answers here and feel free to share your own thoughts!
Our latest posts —
In case you missed one, here are our latest posts since our last newsletter:
How to Overcome Coupon Anxiety
Everyone enjoys saving money but why does using a grocery coupon cause such stress? Turn your grocery saving experience around and keep on saving.


Life Is About Choices (and Here's the Equation to Life's Wealth)
Your life's wealth is derived from your choices and your social environment. While you can't change how your life begins, life is about choices, which you can.


Finally, a Trip to the Beach! (And Our March '21 Budget Update)
We review women's (and girl's) charities for our monthly donation, earn a huge cashback bonus, and review our March 2021 monthly FIRE budget!


10 HSA Questions and Answers (and What Confused Me)
This is my top 10 HSA questions and answers when considering an HSA which reveals their gotchas, benefits, and investing superpower.


Beating the Standard Deduction with Strategic Giving
Here's how my good friend's family could boost their net worth by $11K every 5 years through strategic giving!


Is the FIRE Movement Fracturing Into Silos and Extremes?
The FIRE movement has evolved into a mainstream interest, and with it, a diverse set of subgroups. But are we losing sight of what matters as we form silos?


If you found an article we wrote that a friend might like, forward this newsletter to them!
We're most active on social media here:



Thanks again for subscribing to our infrequent newsletter. We both hope you're enjoying TicTocLife as much as we are. If you have feedback about this newsletter, you can reply directly or use our Contact form.