Jenni here—welcome to our July edition of the FIRE Insider. It's our toasty summer newsletter where we share what we've been writing on TicTocLife, what we've read or listened to and enjoyed around the community, and a little "behind the scenes" with us.
Chris and I have written six articles (once again!) since our last newsletter:
Be sure to cast your vote in this month's donation poll for LBGTQIA+ nonprofits! It only takes a moment, and helps us focus on part of TicTocLife's mission—elevating others! Thank you in advance.
What we've been reading —
Our weekly readings have been a little bit of everything lately from our fellow FIRE bloggers. We've been leaning towards a common theme of the cost of homeownership as we evaluate our own home and make necessary repairs.


Housing

During one of our many home repair projects, we were crawling around in our poorly insulated attic on a 90+ degree day. After becoming soaked in a matter of minutes, we thought about if a whole house fan could keep this attic cooler this summer. Physician on Fire gives us a rundown of how these fans work to cool a house and reduce A/C bills. As far as the attic goes, these will always be stifling.


We embarked on several necessary repairs and upgrades to our home this June. Amidst the frustration of DIY home repairs, we jokingly discussed just moving instead. After all, there are cities that are paying you to move there as Accidental Fire points out. But all jokes aside, we love our home and the location. It was very timely to read

Celebrating a Decade in Our Home

from Tread Lightly Retire Early and be happy with our purchase.


We are starting to get more into a groove of real early retirement with both of our working hours reduced to practically nothing. It got me thinking about all of the financial freedoms we now have and really looking at the math to see where we are at. Budgets are Sexy break down the 6 Stages of Financial Freedom.


The neat thing about the path to FI is there are so many ways to get there and retire early. Coast FI is one of those new variants of FIRE. Brewing FIRE explains it's probably not quite as contagious as the original but put in the wrong hands, it could be more dangerous! Adam talks about how he sees a trend of folks getting a little out ahead of their skis and declaring "Coast FI!" before they're ready.




Not ready to retire, try a sabbatical. Cutting Through the Chaos writes about their

family's experience attempting a sabbatical. Sometimes the only way to really get comfortable, to find the answer is out in the real world, on the ground.




Relationships
If there is one thing I know about relationships is the importance of communication. Having discussions about money is vital to a lasting relationship. Here is some personal advice from Mr.Cutting Through the Chaos on money goals in a relationship so your dreams align.


And once your family is gone, it's a lot harder to figure things out both emotionally and financially when there is no one to guide the decisions.

This one was a great reminder from Young & Thrifty to have your will ready so your family can focus on grieving. You never what tomorrow will bring.




Money
Looking for a better place to stash your cash than your low-interest savings account? Find out what I Bonds are and how they could benefit your portfolio by Get Rich Slowly. There's a reason you'll see them pop up as an option for your federal tax refund in the US, and you might have been missing out!
As we spread the joy of financial independence through blogs, videos, and FB groups—have you ever thought about the economic outcome if more people followed FIRE? Noel from Happily Disengaged discusses the Paradox of Thrift and the thinking of Keynesian economics as it relates to how we spend and save money.
And finally, as I made my way to a new cell phone provider, this summary by Frugawoods on saving money with MVNO's was a helpful tool. Paying too much for cell service is an easy fix.



What we've been listening to —
What Is Capitalism? (Podcast)


NPR — Throughline


I found this to be a surprisingly engaging discussion between right and left, conservative and liberal mindsets on the topic of the core component that built much of our Mustachian wealth—Capitalism! While I found myself disagreeing and nodding with different members of the panel pretty fervently here and there, they all brought up very interesting points about our market economy and all its pros and cons.





What we've been watching —
Our YouTube playlist is now filled with episodes of "This Old House". For inspiration for our own home repairs, we've watched countless episodes. From window sash rope repair to plaster repair, most of our DIY inspiration has come from here.


Another way we've been relaxing is with the creative designs of After Skool. This YouTube channel creates a visual picture of the speech that is being read. The speeches we found the most entertaining and thought-provoking are by Alan Watts, a

British philosopher

.


TicTocLife "Behind the Scenes"
How we've spent our time —
As we move into the second half of 2021 already, we have made good progress on our home renovations and repairs. Our June 2021 budget reveals the expenses of our repairs but here is a quick summary of all the jobs we got done.

Clean and repair, and paint moldy ceiling around A/C vent
Remove wallpaper and repair plaster walls
Paint ceilings, trim, and bathroom walls
Replace window sash rope, sand, and paint
Regrout and caulk shower/tub
Run Romex wire for fan
Cut hole in plaster ceiling for fan installation
Cut hole in the roof for insulation duct for fan
Install ventilation fan in bathroom
Repair, seal, and paint ceiling around fan
Replace toilet fill valve
Install cellular shades in the bedroom and bathroom
Replace rubber insulation for a refrigerant line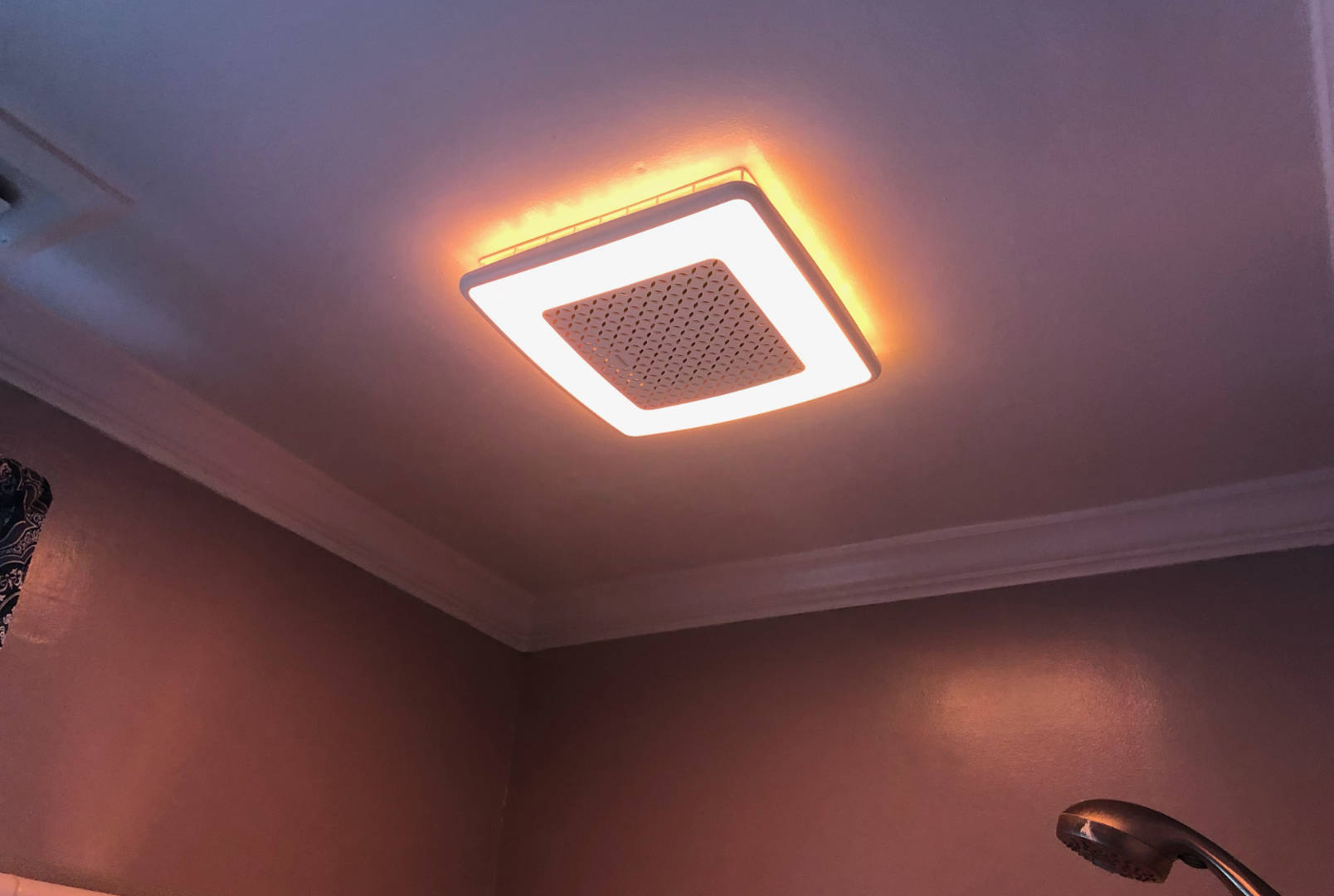 The final piece of our bathroom renovations, for now....
Fun Time and Family —
We celebrated Independence Day on July 4th with a firework show in our neighborhood park. We are fortunate to have this park only one mile away that offers free plays during the summer, an excellent view of the July 4th fireworks, and a great fitness running trail.
In the next coming weeks after a break, we still would like to do:

Downspout declogging and gutter repair
Wooden window sill repair on attic dormer window
Reglazing and painting second-story window
Rear awing repair and painting
Rear porch cabinet repair and painting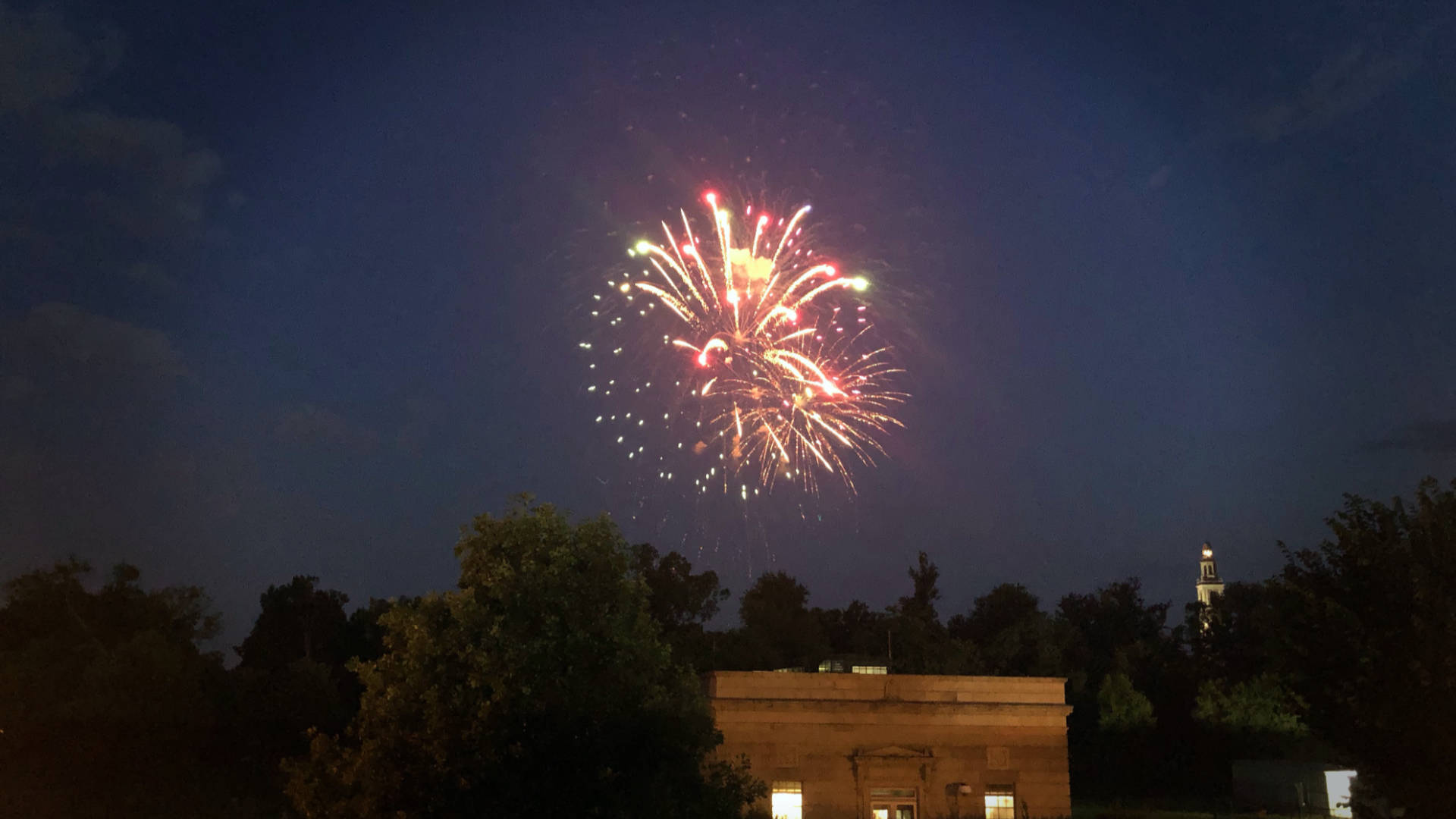 Our parents got special visits from both of us this past week. Chris made a trip up to the DC area to help his family. His dad had knee surgery—he's recovering well!—and his mom had a packed work scheduled.


I tried to time the weekend away with the grouting project which took longer than expected. Instead of a full weekend, I made it up for a quick visit with Chris's parents before heading off to see my parents for Dad's birthday.
Flying (soonish) —
As you can see, we are looking forward to some much-needed rest and relaxation. We are excited to be planning more extensive trips to see family and friends and even our first international trip since the pandemic started. My scheduled time at work is very limited, allowing us to tack on extra legs to our trips if we desire.


The biggest trip we have planned so far is out west to the Grand Canyon to see the big hole in the ground but also to spend some family time with the grandparents. They are recovering from a fall so we expect to take it easy during our visit. But we will ramp it back up again on our way out to California and possibly tack on Hawaii.


Before then, we hope to visit a few friends whose trips have been postponed since the pandemic. And afterward, possibly take a trip to Portugal in the Fall.


From the Readers —
Every week we get thought-provoking comments and questions from our readers. Often they're follow-ups to posts in the comments section, sometimes on Twitter, or occasionally directly via email. We read all of these and reply. They mean a lot to us. It is encouraging to know when we are writing on topics that are relevant and our readers can relate to.


Here are a couple of standouts since the last newsletter:

Reader Noel also just refinanced for a 1% reduction in interest rates back in November:

It was the 2nd time in about a year, the first refi was to drop PMI. This sort of left us spinning our wheels in regards to principal pay down for the year after adding in the costs and fees, but for the cash flow leverage it's been a success. We also did away with the escrow account to have a bit more control. We've been able to invest more into the markets. Since we don't ever plan on selling the house, this choice made sense for us. Our plan will be to rent it out later for even more profit with the monthly lower payments. I don't look at the home mortgage as something that needs to get paid off. Currently, it's a monthly payment in exchange for a place to sleep wherein I have more control over the costs. In the future, I hope it's investment diversification as a rental.

Chris mentioned similarities in our long-term plans.
Reader Mrs. RichFrugalLife said:

Lots of helpful information and an interesting analysis here...

She's looking forward to seeing how things play out in Part 2 of our article on refinancing.
Thank you for the concerns for our family Reader GovWorker:

When I saw the post title on PersonalFinanceBlogs, I assumed it was going to be another post about emergency funds or variable spending drawdown strategies but was so pleased to read your post about things that are way more important than money!! I'm so sorry to hear about all of the health scares in your life but am happy to hear you've had the financial bandwidth to deal with them on your own terms. I have been so happy to finally feel financially secure and have the peace of mind to confront whatever comes our way in the future.

We are blessed to have the financial freedoms that allow us to help our family in times of need. Multiple readers wrote with sympathies about health difficulties, and we greatly appreciate it. As a little update: Chris's dad is recovering well from knee surgery that he mentioned attending in his recent post about Social Security.
And last, but certainly not least, we've granted $917 to 10 different nonprofits from our Reader's Choice Fund we've built to more than $47K!
Our latest posts —
In case you missed one, here are our latest posts since our last newsletter:
Bathroom Renovation, Pride Month, and Our June FIRE Budget
We spent nearly $600 on DIY bathroom renovations, review LGBTQIA+ nonprofits, and scrutinize our June 2021 budget!


The Case for Taking Social Security at 62 (Pros and Cons)
Thinking of taking social security at 62? You might be surprised by what the math behind drawing social security early and investing the benefit looks like!


Is Refinancing Worth It? (How About for 1% Savings?)
With low interest rates, you're wondering if it's worth the closing costs to refinance today—even for as little as a 1% rate reduction. Here's how to decide!


How Closing a Window Almost Cost Us $450 (Sash Cord Replacement)
We got tired of propping our windows up, a cheap solution, and finally got around to fixing our weighted windows with a full sash cord replacement for just $16!


But What If Something Happens? (And Your Suit of FIRE Armor)
Doubt creeps into all of our paths to financial independence, especially as emergencies come rolling in. But what if the bigger risk is, well, not?


Our First Flights in a Year (and Our May '21 Budget Update)
We spent nearly $3K on our first flights since the pandemic with a 16-day trip, review mental health nonprofits, and scrutinize our May 2021 expenses!


If you found an article we wrote that a friend might like, forward this newsletter to them!
We're most active on social media here:



Thanks again for subscribing to our infrequent newsletter. We both hope you're enjoying TicTocLife as much as we are. If you have feedback about this newsletter, you can reply directly or use our Contact form.