We'd like to get into the habit of maintaining a monthly balance sheet for you to read on TicTocLife. Jenni and I already keep track of our expenses and income pretty thoroughly, so it's just a matter of collating all of it and bringing it to you.
There are lots of ways of formatting this data and I think we'll experiment for a while. This month, we want to try to visualize the data all in one place, rather than a graph dedicated to spending and income separately. The best way to do that we've found is to use a Sankey diagram.
Please let us know if you find this diagram to be a readable display of the rather large dataset.
How do we spend our money?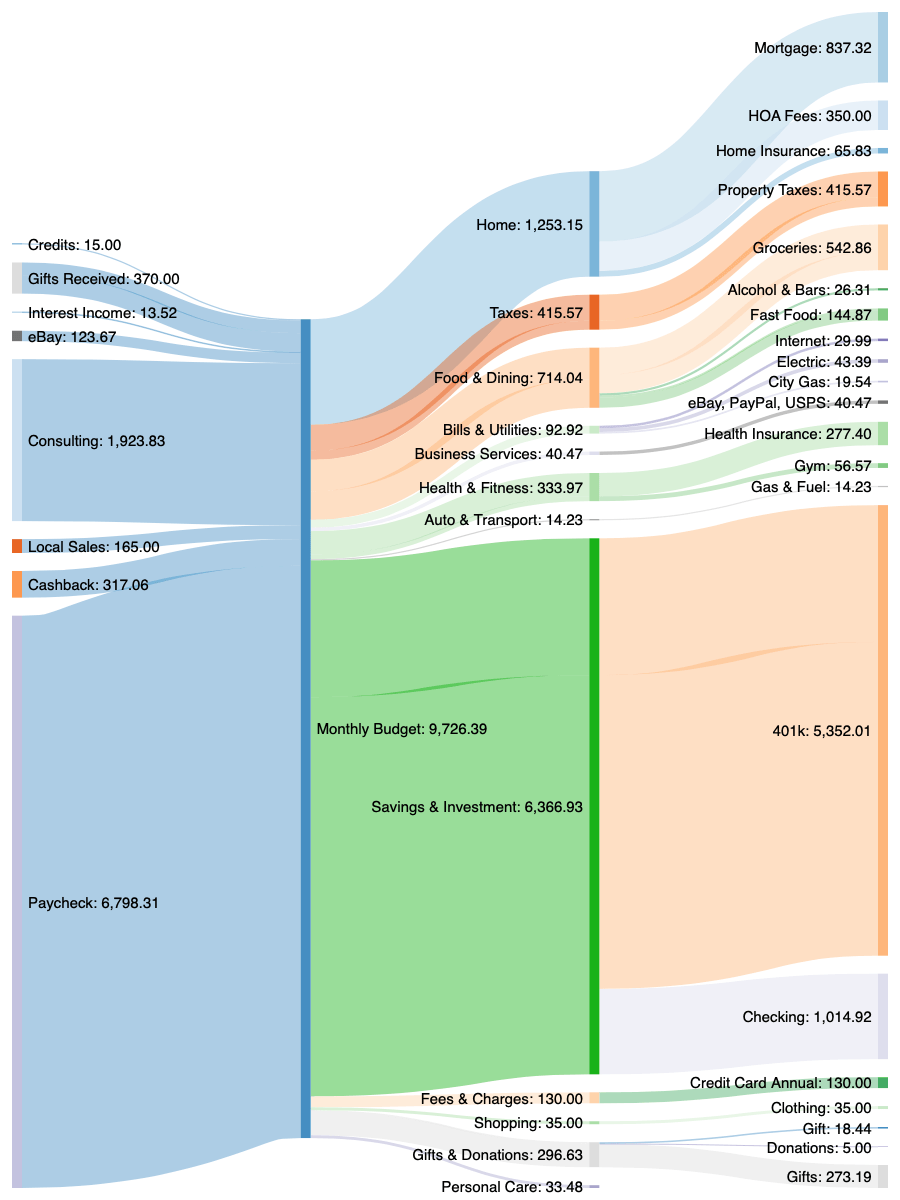 We'll do a quick, high-level analysis of the month and callout any of the more interesting items. Perhaps most interestingly, this is a transitional month for us.
Monthly Income & Expenses Summary
I'm continuing to wind down business affairs and Jenni has spent about half the month doing part-time work now. Our total income is still rather high at nearly $10k in absolute terms, but it's a relatively large drop from where we were both working more. Our savings rate of 65% ($6,366.93 of $9,726.39) remains quite high even as we're winding down income sources and transitioning to a form of early retirement.
Lower than expected expenses
Most of our expenses for the month were pretty self-explanatory and predictable. Check out our annual review for a deeper dive into the categories.
Food & Dining
Our grocery bill spiked up a bit this month. Instead of searching for the best deal, combining digital rebates and coupons, or even much planning ahead—we aim to simply get in and out safely. We live in an urban area so the grocery store is where we're most susceptible to coronavirus. We're happy to have a well-stocked emergency fund we could draw from for times like this.
Our non-existent restaurant expenses help offset the grocery bump. The fast-food budget was much higher than normal. Although we did get take out a couple of times for a "special evening", $120 of this is actually 48% of Jenni's annual fee on a credit card. The card has a monthly credit for Grubhub. Because those Grubhub pickup orders aren't reflected in our monthly expenses (as they're hidden by the associated credits), we simply attribute a portion of the fee to fast food. The other $130 of the annual fee shows up under "Credit Card Annual".
Jenni suggested she may cancel the card next month, in which case she should get a prorated credit. We'll see!
Health & Fitness
The $277.40 on health insurance is just for me. Jenni should lose her employer-sponsored health insurance by July and we're expecting to take on a COBRA expense for it of around $400 alongside an HRA fee around $100. She still needs to work out dental insurance. I pay an annual dental insurance fee that is around $300.
Travel
Our original plans for May included an international trip that we subsequently canceled with the pandemic in full swing. I suspect our savings rate, had it not been for COVID-19, would have been much lower.
Amusement & Arts
Aside from the canceled trip, we tracked zero spending for entertainment and amusement. We often visit theaters for live shows or attend museum events. Usually, we spend something, even a movie now and then!
Instead, we've been picking up our indoor hobbies. I've been reliving some old video games to play online with friends. I'd argue that there are some video games that are good for you when they can teach you about personal finance topics, history, and critical thinking.
We've also been playing a lot of board games together. Jenni has been doing more crafting: everything from crochet and card making, to sneaky collage making for gifts. Speaking of gifts…
Oddities in income
Another oddity about our May monthly budget is a pretty large influx of gift "income" along with similarly large gift "expenses". We both still receive, despite our best efforts to discourage it, cash gifts from a few family members on major holidays and birthdays. Fortunately, we have several other family members and close friends with May birthdays so most of it went back out the door as gifts (or funding to craft gifts) to others.
You may have spotted $317 in "Cashback". I emptied my TopCashback (referral link) account this month. I try to ensure our purchases go through one of the various cashback sites and this particular account just seemed a little "full". Typically, I do this about once per year per account.
The $15 credit is from PayPal as part of a gift purchase ($18.44) from Harry & David.
The interest income is simply from our savings and checking accounts. They tend to have normal emergency fund amounts (around 6 months of spending).
We sold some items around the house on eBay and locally. This included one hobby item in order to fund more of that hobby in the future, my favorite sort of hobby. The associated fees are in the expense section.
Investments
While our investments do produce significant dividends, they're still all set to automatically reinvest through DRIPs. I may break these out as income in the future (update: we did in July) as we start to become reliant on investment proceeds to fund our living.
How much did we Work?
I thought it might be interesting to look at our total tracked hours worked. For Jenni, this is pretty easy as it's just her paycheck time. Her employer requires even salaried employees to clock in-and-out, so we've got plenty of data.
One business I operate uses Freshbooks for project billing so I can work mostly from that data. However, additional income from another business I operate doesn't have much time tracking so I've got to just take a guess. I've tracked it down to the minute in the past, to get a real feel for things, but it's tough to keep timers going.
So, what does our first transitional month of early retirement look like in terms of actual hours worked?
| Month | Chris (Hours Worked) | Jenni (Hours Worked) |
| --- | --- | --- |
| May 2020 | 41 | 108 |
Not bad!
Considering an average full-time job for two people would be about 347 hours, we're at less than half of that already!
We'd like to add to this table in future monthly budget updates. It'll be another useful metric for us to track over time.
Overall, I suspect my hours worked will remain fairly consistent with a slow downward trend. At this point, I'm not taking on new clients personally and I'm handing off as much work as possible to others.
It's tough letting go of your baby.
As long as they'll have me, I'll continue to work with certain clients that are personally important to me or projects that I derive great fulfillment from working on. Effectively, this is work that I'd do for free. Just don't tell them.
If things go according to plan, Jenni should see her hours worked in June closer to 90.
---
What about you? Did you find your expenses to shrink with the ongoing pandemic?
Let us know in the comments or on Twitter!
---
Tabular Income & Expense Data
In order to be good web stewards, we try to provide accessible data to support any of our charts, diagrams, or graphs. This is especially true in the case of the Sankey diagram in this post which is simply an image.
The table below is intended to be an accessible replacement for any of our readers who may find the image difficult to interpret. Please let us know if we can improve this feature.
| Parent Category | Subcategory | Type | Person | USD |
| --- | --- | --- | --- | --- |
| Home | | Monthly Budget | Chris | 1,253.15 |
| Home | Mortgage | | | 837.32 |
| Home | HOA Fees | | | 350.00 |
| Home | Home Insurance | | Chris | 65.83 |
| Taxes | | Monthly Budget | Chris | 309.13 |
| Taxes | Property Taxes | | Chris | 309.13 |
| Food & Dining | | Monthly Budget | Chris | 375.42 |
| Food & Dining | Groceries | | Chris | 325.42 |
| Food & Dining | Alcohol & Bars | | Chris | 26.31 |
| Food & Dining | Fast Food | | Chris | 23.69 |
| Health & Fitness | | Monthly Budget | Chris | 277.40 |
| Health & Fitness | Health Insurance | | Chris | 277.40 |
| Bills & Utilities | | Monthly Budget | Chris | 92.92 |
| Bills & Utilities | Internet | | Chris | 29.99 |
| Bills & Utilities | Electric | | Chris | 43.39 |
| Bills & Utilities | City Gas | | Chris | 19.54 |
| Business Services | | Monthly Budget | Chris | 40.47 |
| Business Services | eBay, PayPal, USPS | | Chris | 40.47 |
| Auto & Transport | | Monthly Budget | Chris | 14.23 |
| Auto & Transport | Gas & Fuel | | Chris | 14.23 |
| Gifts & Donations | | Monthly Budget | Chris | 18.44 |
| Gifts & Donations | Gift | | Chris | 18.44 |
| | | | | |
| Monthly Budget | Gift | Credits | Chris | 15.00 |
| Monthly Budget | Gift | Gifts Received | Chris | 150.00 |
| Monthly Budget | | Interest Income | Chris | 8.16 |
| Monthly Budget | | eBay | Chris | 123.67 |
| Monthly Budget | | Consulting | Chris | 1,923.83 |
| Monthly Budget | | Local Sales | Chris | 165.00 |
| Monthly Budget | | Cashback | Chris | 317.06 |
| Savings/Investment | | | Chris | 1,625.00 |
| Monthly Budget | Savings & Investment | 401k | Chris | 1,625.00 |
| | | | | |
| Food & Dining | | Monthly Budget | Jenni | 338.62 |
| Food & Dining | Groceries | | Jenni | 217.44 |
| Food & Dining | Fast Food | | Jenni | 121.18 |
| Fees & Charges | | Monthly Budget | Jenni | 130.00 |
| Fees & Charges | Credit Card Annual | | Jenni | 130.00 |
| Taxes | | Monthly Budget | Jenni | 106.44 |
| Taxes | Property Taxes | | Jenni | 106.44 |
| Health & Fitness | | Monthly Budget | Jenni | 56.57 |
| Health & Fitness | Gym | | Jenni | 56.57 |
| Shopping | | Monthly Budget | Jenni | 35.00 |
| Shopping | Clothing | | Jenni | 35.00 |
| Gifts & Donations | | Monthly Budget | Jenni | 278.19 |
| Gifts & Donations | Donations | | Jenni | 5.00 |
| Gifts & Donations | Gifts | | Jenni | 273.19 |
| Personal Care | | Monthly Budget | Jenni | 33.48 |
| | | | | |
| Monthly Budget | Gift | Gifts Received | Jenni | 220.00 |
| Monthly Budget | | Interest Income | Jenni | 5.36 |
| Monthly Budget | | Paycheck | Jenni | 6,798.31 |
| Savings/Investment | | | Jenni | 4,741.93 |
| Monthly Budget | Savings & Investment | 401k | Jenni | 3,727.01 |
| Monthly Budget | Savings & Investment | Checking | Jenni | 1,014.92 |