We've had staycation ideas bouncing around our heads for the past few weeks as we try to make the most of this pandemic. We were supposed to be traveling to Wisconsin to take a vacation and see friends this past week. But, I think we all know how that turned out.
We canceled our flights.
Instead, we decided to use the fact that we already scheduled the time away from our part-time work to have a vacation while staying near home.
We've broken down what we spent on our 6-day pandemic staycation near the end of this post (tl;dr: $57/person/day). If you're thinking about creating your own staycation, we share 14 staycation ideas to inspire some fun and joy in your life without having to travel far.
Pandemic Staycation
Our state, Virginia, continues to have a middling exposure risk. The commonwealth has been in Stage 3. We've been able to visit restaurants and some entertainment venues under strict guidelines like wearing masks and social distancing while maintaining low-density groups.
Be sure to account for your own state's health guidance when analyzing your staycation ideas.
We decided to stick to focusing on outdoor venues, takeout food, or open-air breweries wherever reasonable. We didn't meet this goal one evening, and we'll talk about where we could have done better.
Pre-staycation Quarantine
Jenni has been training for a different type of pharmacy work in the past few weeks. The work is segmented from the public, sort of like working in a lab, unlike her normal retail pharmacy work. It's all part of her semi-retirement transition. The effect is that she's been pretty well quarantined.
I've been catching up on some interesting digital projects from home and writing more on this blog. We've only ventured into places where we interact with others at the grocery store.
Two of our best friends have been similarly quarantining. Earlier in the year, they moved to a new home near us. It's been a struggle to keep our distance while they've been settling in.
A Couples' Staycation
With none of the four of us having any sickness symptoms, monitoring our temperatures, and generally being quarantined for the CDC recommended 2 weeks, we decided to have a staycation together around Virginia.
We've traveled to Mexico, Spain, France, and the Bahamas with this couple before (and of course around the US). We know we get along well on trips and we were excited to have a safer taste of travel life again.
Even if our vacation was just a staycation near us. Perhaps it wouldn't be the best staycation, as we'd still be limited in where we could visit, but we'd have more fun together.
Despite all of this, there is a risk inherent to combining our "families" in this way, effectively doubling our risk exposure. While it's a calculated risk, and we took a lot of precautions, I'm not suggesting you do the same.
But, let's talk about the fun parts now that the disclaimer is out of the way! We got to visit with some of our best friends, have some new tastes, go outdoor adventuring, and appreciate some new areas of Virginia!
We'll also go over the associated expenses and value since this is, after all, a blog about financial independence.
14 Best Staycation Ideas
Normally, folks choose to take a staycation to save a little money but still feel like they've gone on a traditional vacation. It's also a great opportunity to get a better feel for the region you live in. Typically, a staycation means that you'll sleep at home but go on little day trips (often by car in the US).
Our primary motivation for a staycation was the ongoing pandemic. We felt it would be safer to try to stick to the region we're in, where positive test rates are still pretty low, and to limit our exposure to transient locations that tourists might frequent.
It also meant we could avoid public transit (something we usually aim to leverage!) and things like airplanes (though I've read that the combination of fresh air circulation and filtering on an airplane can make it pretty safe!).
So, we focused on outdoor activities and local eateries or breweries that generally had low traffic and more locals.
Here's a bullet list of the 14 staycation activities and things we did on our week-long staycation for four people:
Home-cooked meals shared potluck style
Boardgame and card game nights
Zipline and obstacle course
Sampled new casual restaurants
Morning workouts (HITT or jogs)
State park hike
Multiple evenings of mead, wine, and cider
Takeout from a well-known Chinese chef to quell the alcohol
Rock scrambling and hiking across a river
Inner tube riding down rapids
Pupuseria for dinner
Easy kayaking down calm water and swimming
Fancy dinner in a private room
Southern-style breakfast biscuits
Hopefully, this list will trigger some staycation ideas for you and your family. I think Jenni and I were both surprised just how much fun we could have within a few hours' drive of our home. We chose city life instead of country life, so there are lots of things to do, but we wanted to get away a bit.
Making the Most of a Staycation
Over our six-day staycation around Virginia, we rotated staying at their place in the suburbs and our place. We spent a good bit of time planning our activities since we needed to ensure that places were open and that we could meet whatever guidelines were in place for the pandemic. For example, a lot of places that normally wouldn't require reservations did.
But, we packed the activities in! Here's the things we did and our favorite staycation ideas.
Board games and card games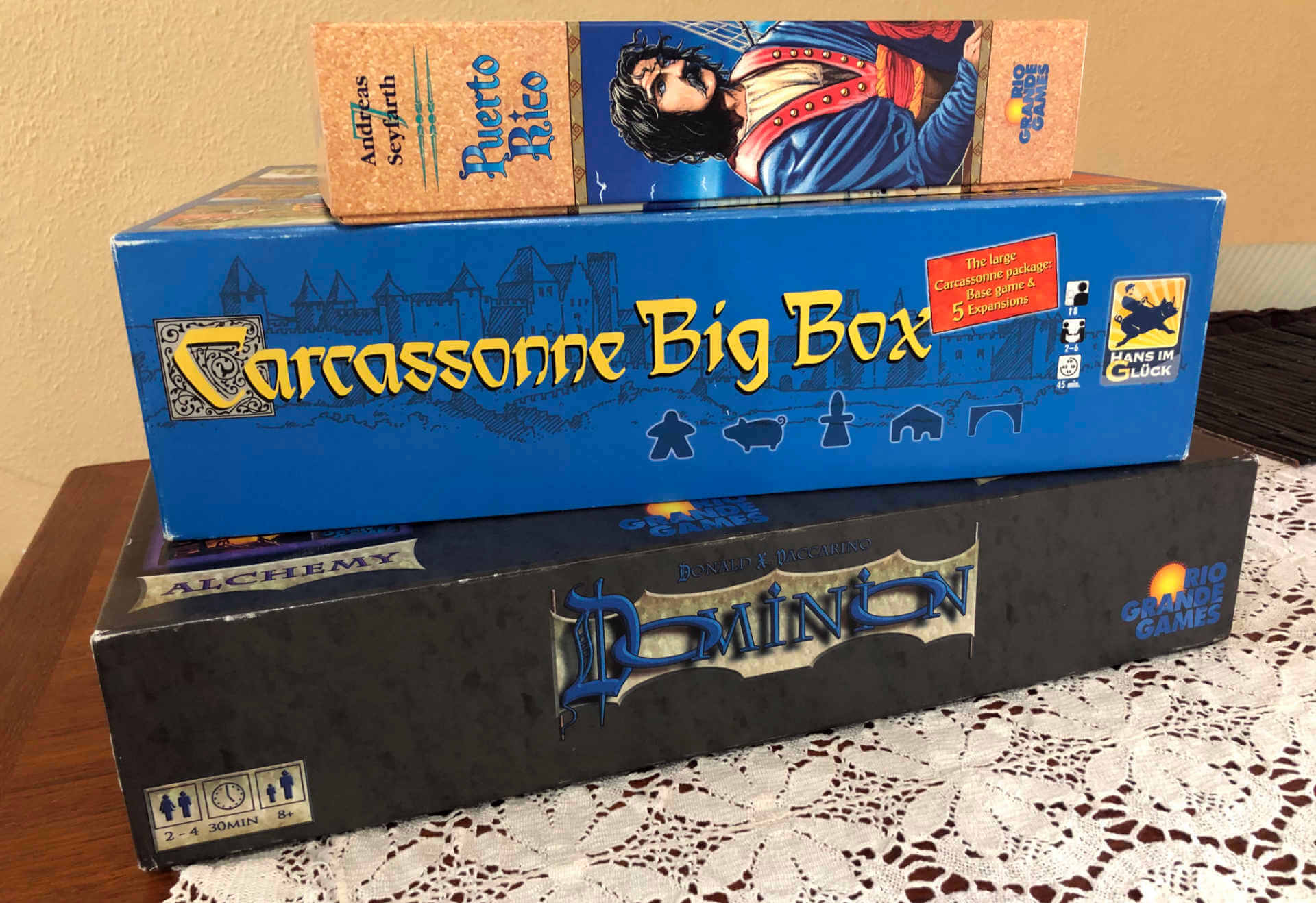 Deeper, strategic board games could be a great item for your staycation ideas list. We kicked our week off with a night of a board game new to Jenni and I called Gloomhaven (referral). Our friends had been playing it for the last few years, somewhat surprisingly, since it comes off as a pretty nerdy game and they're not really the type. My buddy had been trying to get me to play it for a while.
With time on our hands, we gave Gloomhaven a shot.
When we were kids, we played a video game called Diablo quite a bit—it's a dungeon-crawling hack 'n slash game. I've never played Dungeons & Dragons but I'd think it's somewhat of a cross between DND and Diablo. I was told each scenario (a dungeon) runs a few hours and that there were hundreds of them built into the game book.
With setup time, rule explaining, and slow play the first thirty minutes or so as we got our bearings, we only played one scenario that night. We were up until 2AM, though!
And the outcome? Defeat.
We all died in the last dungeon room.
Still, I think we all had fun, caught up, and had plenty to drink. It was a good way to kick the staycation off!
Cost? $15 of drinks and snacks from the grocery store. It looks like the game itself runs about $100.
Board games to try during your staycation
There are loads of interesting, less expensive board games out there if you're getting warmed up to the idea during this pandemic. We're not talking about checkers and monopoly.
We both really like these as starter board games that involve more strategy and thought:
If you're on the road, doing travel that requires you to pack light, we also really enjoy these two games that fit into an Altoids-style tin:
Mint Works (sold out, might need to buy used on eBay) [reviews]
(I've added each game link as an Amazon referral link, and followed it with a link to reviews on BoardGameGeek, which I highly recommend.)
Board games are a great item to add to your list of staycation ideas: inexpensive, fun, social, and mentally challenging.
Staycation Food & Drink
When we travel normally, I think we both really enjoy finding hole-in-the-wall local places to sample the real food personality of the area we're in. Of course, we tried to avoid that sort of packed place on our staycation due to the elevated risk of stale air and shoulder-to-shoulder ordering.
Still, we managed to have plenty of tasty treats by trading turns cooking meals in a sort of potluck format and doing takeout lunches or dinners from places we'd not tried before.
Sit-down restaurant experience
We had one sit-down traditional meal out at a regular restaurant. It was a nice place and the staff was masked. We had a private room with loads of air circulation. There were probably less than a dozen diners throughout the place.
Still, I think this dinner out may have been our largest single exposure risk.
On the flip side, the food was incredible. Everyone was quite happy with our rounds of small plates. I managed to find a cashew cream covered butternut squash spaghetti. We had the sort of meals that are just too much effort, too many ingredients to easily make at home.
The cocktails were topnotch, too. Virginia knows its drinks.
Cost? About $54 per person after tax and tip.
Staycation sample of cider, mead, and wine
We're lucky to have wineries, cideries, meaderies, and breweries all within a pretty close drive of the area we live. In some cases, we walked between multiple drinking establishments (frankly, it was a good thing we were walking!).
A range of flavors at the meadery
We all had a good time learning a bit more about the honey-based wine-like alcohol, mead. Though Jenni and I were familiar, we had a good experience with the mead maker explaining more of how it was produced. The flavors ranged widely, from exceptionally spicy jalapeño to a punchy berry.
One notable pandemic-related element about our meadery visit was that they actively encouraged us to order food from a nearby restaurant they'd built a partnership with. We could call over, place our order, and they'd run the food over to our table outside as we sipped our mead. While we didn't take advantage, it was an idea I thought was pretty innovative in the light of today's restaurant difficulties.
Over the course of the week, we had five mead flights at an average cost of about $14 per person. Yes, we visited multiple times.
A wine-like cider experience
We found a pair of cideries with wide-ranging flavor profiles nearby, too. One had an elegant outdoor space we reserved a private table for. The cider was closer to white wine, very dry and quite strong.
It wasn't cheap.
Jenni is celiac so gluten-free drinks like cider or mead are great choices. She was a fan of this place. We also enjoyed it, though our guests probably preferred our second cidery.
Cost for a pair of cider flights? About $10 per person.
A brewpub-like cidery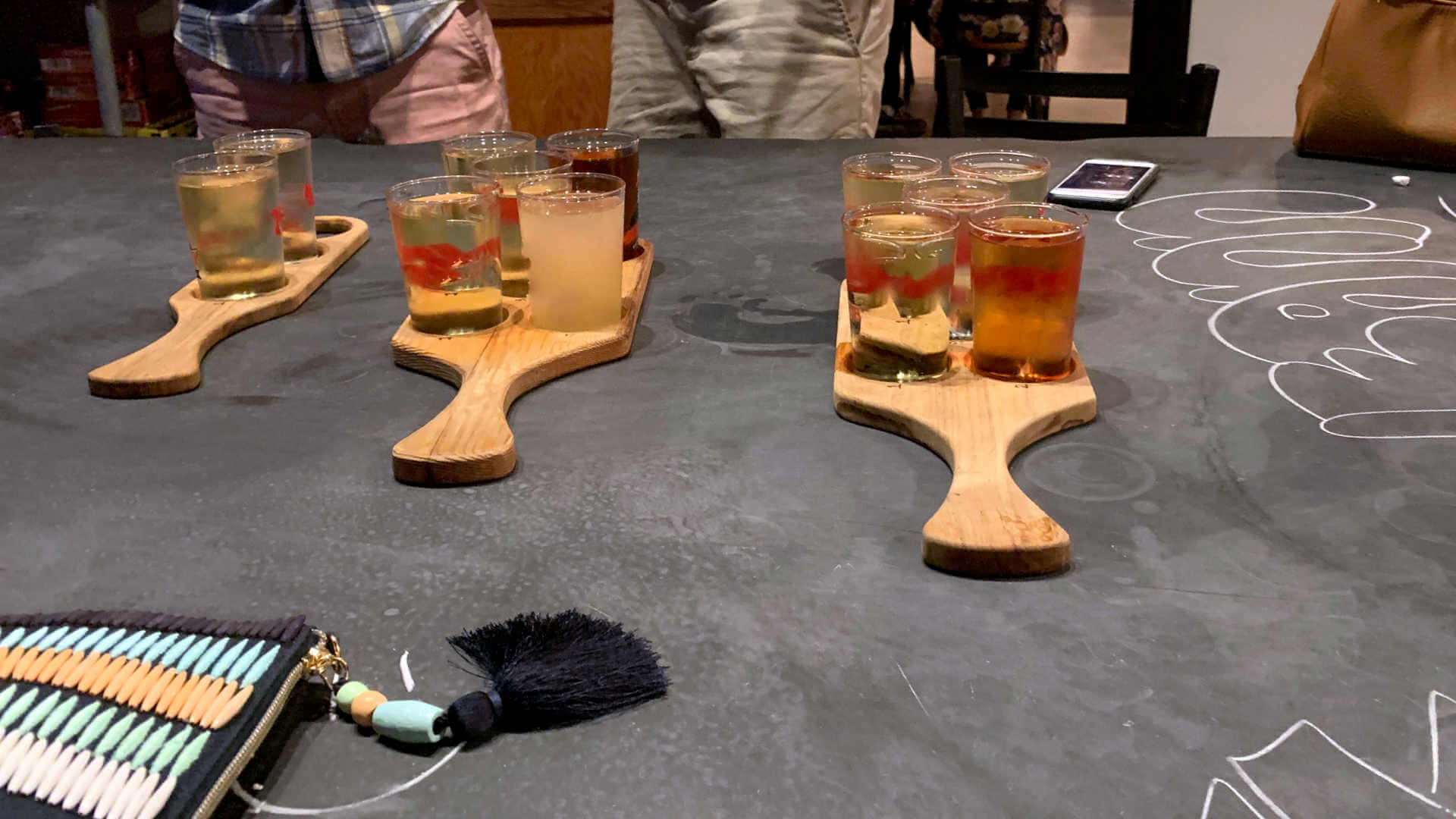 The second cidery we visited was much more casual. We could see the industrial cider making process behind the masked bartender as we ordered a couple of flights.
The cider was on the sweeter side, but still had a range of flavors like the meadery. I was flabbergasted by a stout cider they had that, if I shut my eyes, really did taste like a somewhat light stout beer. Not a Guinness or an oatmeal stout, but maybe a little more like a baltic porter. Neat!
We visited multiple times over the week and were friendly with the bartender who remembered us each time. It wasn't too hard as there really weren't many patrons.
He poured us a couple extra overloaded sample glasses.
Cost? About $15 per person despite multiple visits. Great deal here.
Take your temperature as your wine-sampling key
Towards the end of the week, we visited a wine sampling place. You could preload a card with money then go around to various wine taps and fill your glass. You were charged by the ounce.
Aside from the standard mask requirement and sanitizing station you needed to use before visiting the wine taps, there was also a required temperature reading. The host aimed a little temperature taker at each of our heads and within a second they confirmed we were all a toasty 98 degrees or so. Neat!
Quick temperature reads should be a standard at every place you venture indoors.
I liked the idea of getting to try several different wines (they had about 50-60 available). Sadly, the place was pretty empty. Despite this, they had live music—and the guitarist sang us a custom line or two about being "the only ones here".
I hope these establishments survive the pandemic. We tipped heavily.
Cost? About $13 per person, though it was mostly a gift card we'd received last year.
Casual lunch and takeout dinner
We visited a couple of casual lunch places and had takeout dinners. Deli-style sandwiches, tacos, a pupuseria. Giant german pretzels and a regionally famous chef's Chinese takeout. Southern-style breakfast biscuits.
Ah, I can still feel the full belly. I think I'm due a hard run this afternoon!
For the most part, every place had a pretty rigid set of safety precautions and staff that was careful. The outdoor seating was both prevalent and well-spaced. Takeout was delivered in multiple layers of bags and sealed plasticware.
The extra layers of plastic probably aren't great for the environment, but it's smart as a layer of disease precaution.
The pupuseria we visited was probably the standout surprise to me. The place was the sort of hole-in-the-wall I'm happy to find when traveling in Central America. Full breakfast entrees were $6, cocktails were $5, pupusas (a stuffed, grilled corn cake) were $2.50 per. Solid deal.
We took advantage of a variety of GrubHub and DoorDash promos between the four of us for the takeout orders which really helped cut costs.
We spent about $83 per person across these various casual food places.
Outdoor staycation adventure ideas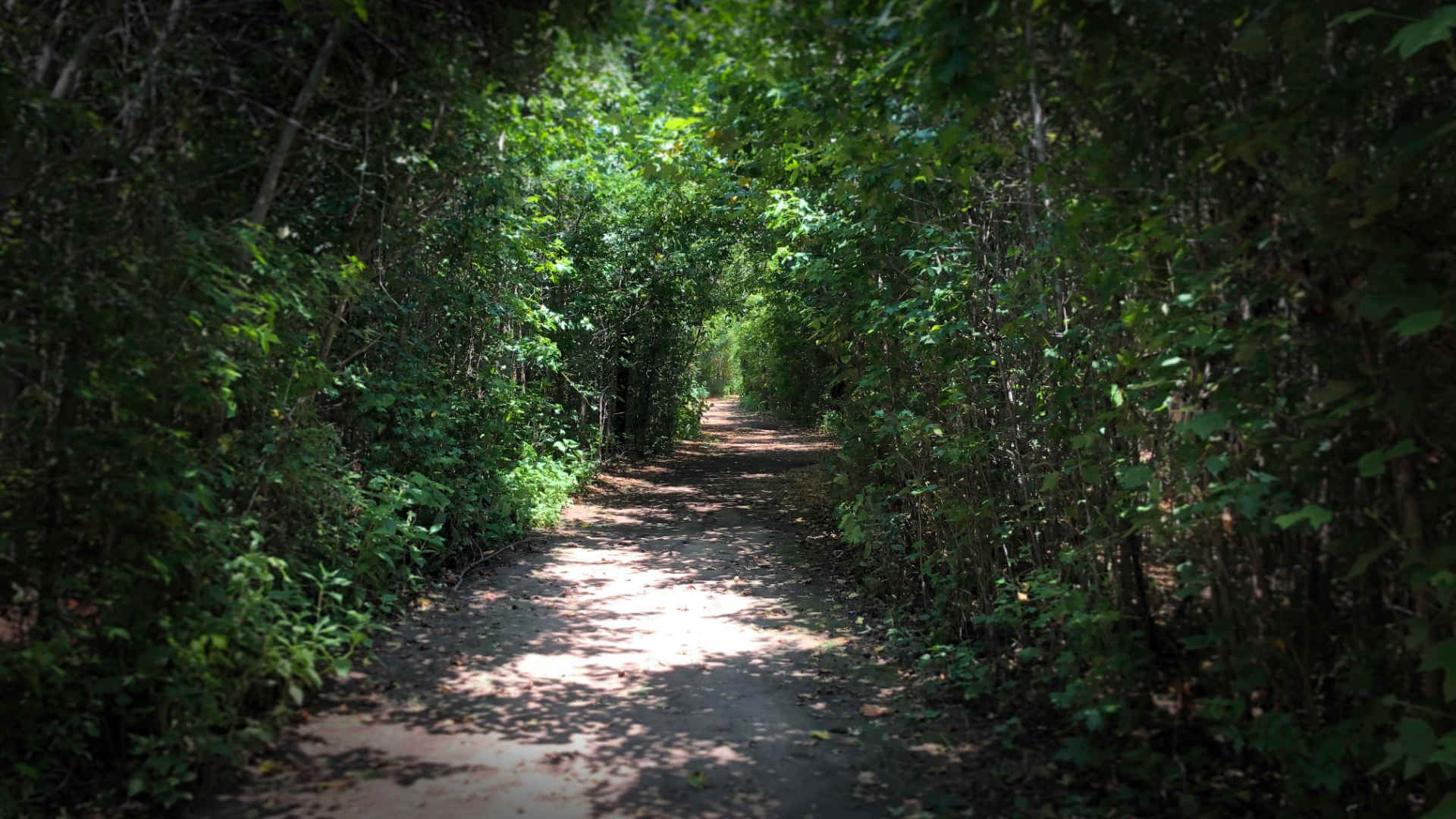 July is hot in Virginia. I think our average daily high during the week was about 95 degrees. We planned most of our outdoor staycation ideas around water to give us a way to take a break, dip our toes in. Still, we remained quite active and we might have used a little less sunscreen than we should have.
We started our outdoor adventures early in the week with a visit to a state park to do a traditional woodlands hike in the heat. We strapped on a couple of backpacks worth of snacks and water and set out to chat, catch up on old times, and enjoy the great outdoors.
Cost? About $5 per person for the state park fee and snacks. No matter where you are, find some outdoor staycation ideas to add to the list.
Zipline obstacle course
One of our first big outdoor activities was a ropes course situated near a river in central Virginia. It was a bit of a drive as it wasn't near much of anything. The facility also offered tepee and log cabin camping, kayaking, axe throwing, and lots of other outdoor activities.
All of us had been on similar sorts of courses in the past, though this place had a pretty wide variety of obstacles and four different tracks. Novice, beginner, intermediate, and expert.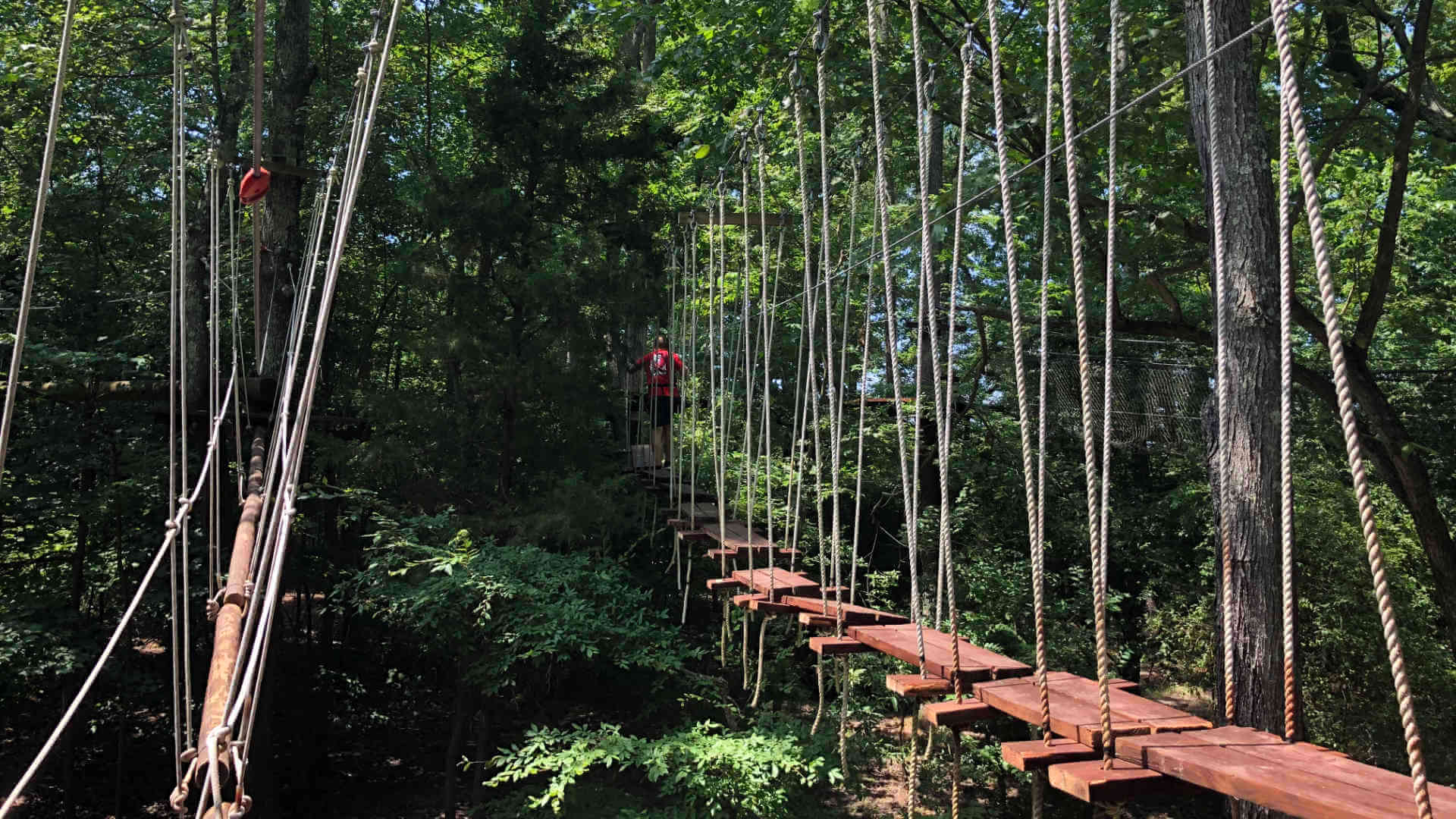 Over about three hours, we did all three of harder courses. Fortunately, the course was in the tree canopy so we had some shade. Despite that, we were all pretty tuckered by the end.
I think the hardest obstacle was one that involved hopping across wide-spaced mini-tree trunks that were supported by a single rope running through the middle of them. The trunks were situated in such a way that you were stepping onto the cut (rather than onto the outer bark).
The balance games were tough and our reliance on our arms to hold our weight where ropes were available meant we left with some good bruises!
Overall, I think we had a great time visiting and scoped out a new place for future outdoor adventures.
Cost? $42 per person plus driving expense.
River kayaking
Jenni and I have owned an inflatable kayak for a handful of years. We've made great use of it, and while hard bottom kayak owners like to give us a hard time, it's held up pretty well over the years. The rubber bottom is rather rugged.
That said, I think ours may have reached the end of the road. We split a seam holding two of the inflatable sections together. Perhaps we'll manage to stitch it up and reseal it in some way. We'll see what we can manage to DIY repair with it.
How'd we manage to kill our kayak?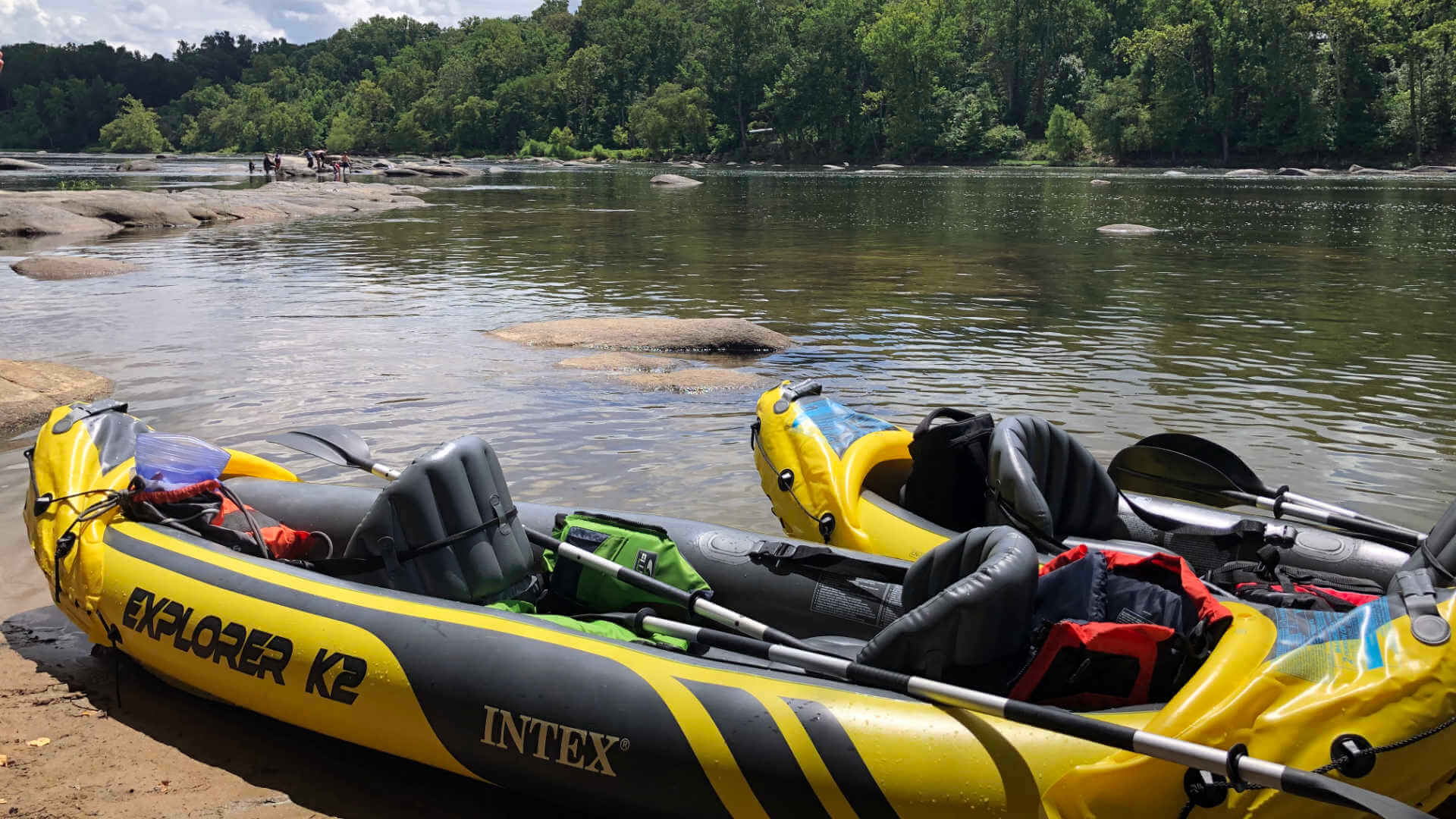 Well, having loads of fun running rapids down a river of course! Our friends brought along the exact same inflatable kayak (though a little newer). We parked one vehicle where we intended to end our journey on the river, then loaded up the other vehicle, and headed to our start location up the river.
An inflatable kayak makes for a much easier time transporting the boat. We don't have a ton of space where we live, so it's also easier to store than a traditional kayak.
I think we spent about $90 on it originally and have probably used it about 20 times, including multiple ocean trips that really gave it a good beating. Amazon looks to be sold out of the Intex Explorer K2 (referral) we have, though.
Cost? About 1/20th of our original Kayak purchase plus some snacks, so about $5 per person.
River hikes and tube floating
Aside from arm-powering our way down the river, we spent a separate day hiking across dry rocks as the river level was so low. It was an opportunity to make use of those balance skills we'd worked on at the obstacle course!
We covered a couple of miles of trails on the river banks and across the river itself via the dry rocks. While we were hiking around the built-up tree debris fields on the rocks, we stumbled across a Homer Simpson style donut tube. There wasn't anyone in sight.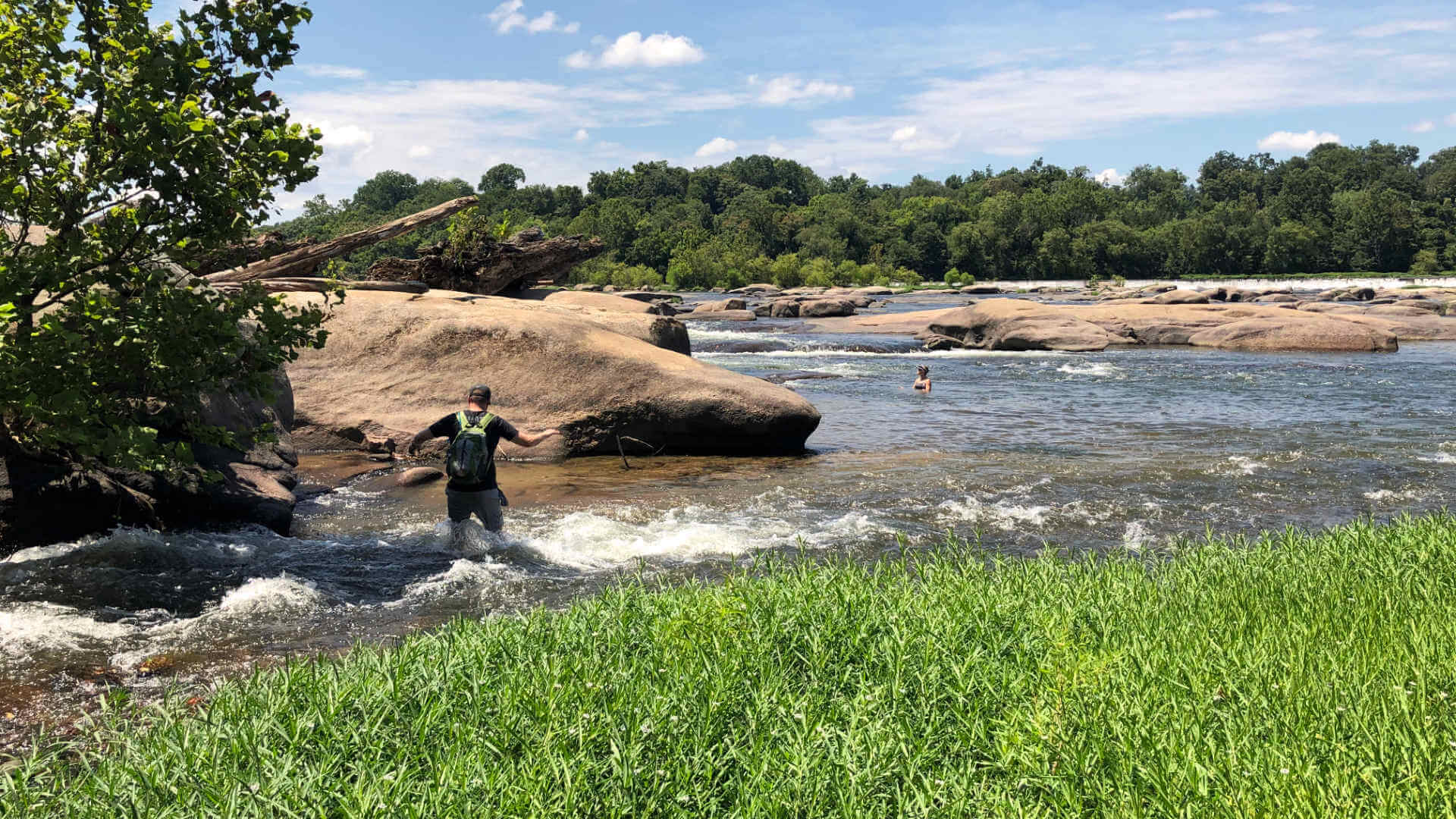 We waited for a little while then decided to see if we could have a little fun with the tube we found.
Crossing more dry rocks higher up the river, we toted the tube up to some more fun white water rapids. One person stayed downriver within in line of sight and in the water. They were going to be the "catcher". We took turns riding the tube down the rapids to the catcher and switching positions.
We made hours of fun and only a couple of knee scrapes out of that free tube we found.
Right as we were finishing up, another couple stumbled upon us and revealed they'd watched us riding down the rapids from afar and were a little jealous.
"Could we give your tube a try?"
Ha! We showed them how we'd been riding the tube down and sent them off with it.
I looked over my shoulder as we were walking off, they were still in sight, big gleeful smiles on their faces as they each rode the tube down.
Not bad at all.
Cost? Water plus snacks, or about $2 per person.
Cheap Staycation Ideas
Overall, I think we had a safe and fun week staycationing nearby. While it wasn't quite like the trip to the Bahamas we canceled in May, or even like the vacation to Wisconsin to see friends we'd had planned for this week, I think we all enjoyed seeing our local area through fresh eyes. We got to try out the many staycation ideas we'd been batting around.
We disconnected from the world, leaving work and the constant throng of the connected, social world behind. We pushed the reset button.
For a lot of people, hitting reset like that costs a ton of money: fancy resort, big bar tabs, and first-class accommodation. While that's less possible during the pandemic, that doesn't mean we all need to return to such luxe experiences as soon as it's over.
A cheap staycation can let you relax and reset your brain, too.
Here's the costs I tracked for our six day long staycation for four people:
| Description | Cost per Person (USD) |
| --- | --- |
| Drink establishments (breweries, etc.) | $52.00 |
| Groceries (including alcohol, snacks, home meals) | $73.00 |
| Restaurants (sit down service) | $54.00 |
| Casual food (including delivery and takeout) | $83.00 |
| Adventures (state park, obstacle course) | $46.00 |
| Vehicle mileage (depreciation/gas at $0.575/mile) | $33.93 |
| Total | $341.93 |
That works out to a total cost of about $56.99 per person, per day.
As inexpensive as our foreign vacations tend to be, especially by combining good deals with travel rewards points, it's hard to beat about $114/day for a couple. Just because it was a staycation didn't mean we skimped on the fun or even a little splurging on fancy drinks, gourmet groceries, and tasty meals.
Travel is part of the life we've built that financial independence powers. If you're struggling with the lockdown and lack of travel, a staycation around your hometown might just be the mental reset you need. Of course, that'll depend on your own calculated risk assessment and the risk within your region more generally.
We hope this post can offer some insight for you to plan a staycation nearby that'll let you see home with fresh, "tourist" eyes. Steal our staycation ideas to make your own trip!
---
Have you come up with a novel way to take a vacation during the pandemic? What do you think of staycations?
Let us know in the comments!