Today I wanted to tell you about a little known psychological effect that is robbing you of the ability to enjoy the small things in your life while simultaneously making you poor.
It's little known because I invented it.
My dad, well versed in the world of wine, always tries to woo me with his latest vintage and to experience the tasting notes he's found.
But I turn him down.
The concept I'm going to tell you about is the Connoisseur Effect and you're going to learn about how and why to avoid it.
Enjoy the Small Things
Remember when you were younger and could really enjoy the small things in life like:
Christmas & birthday gifts
Mac & cheese
A new game console (and the games!)
Trendy clothes
You got a little older, you earned more money. You could spend more.
Now there was new things that were not quite so small that you got pleasure from:
Fancy vacations for an anniversary
Broccolini over Gruyère fettuccine
A new car with heated leather seats
Italian fashion brands emblazoned on your purse
Christmas and birthday gifts didn't really do it anymore—not that you didn't appreciate them. But hey, you could have just bought them for yourself.
Your taste buds became far too complex for the fake cheese from the blue box.
And while video games are still fun (and maybe even good for you!), they're more of a social activity than an exciting purchase.
You won't impress anyone with the latest trend from Old Navy or Abercrombie anymore. That's not where the money is.
You've leveled up your spending—or, you might think you've matured.
Really, you've just been taken in by hedonic adaptation.
What is hedonic adaptation?
Hedonic adaptation is just a formal psychology term for describing how we humans tend to gravitate towards an "average" level of happiness.
If something really good happens to you—earn a huge raise, move to a bigger house, upgrade to that Tesla Model S you've been eyeing—you'll generally be happier, probably.
Just not for very long.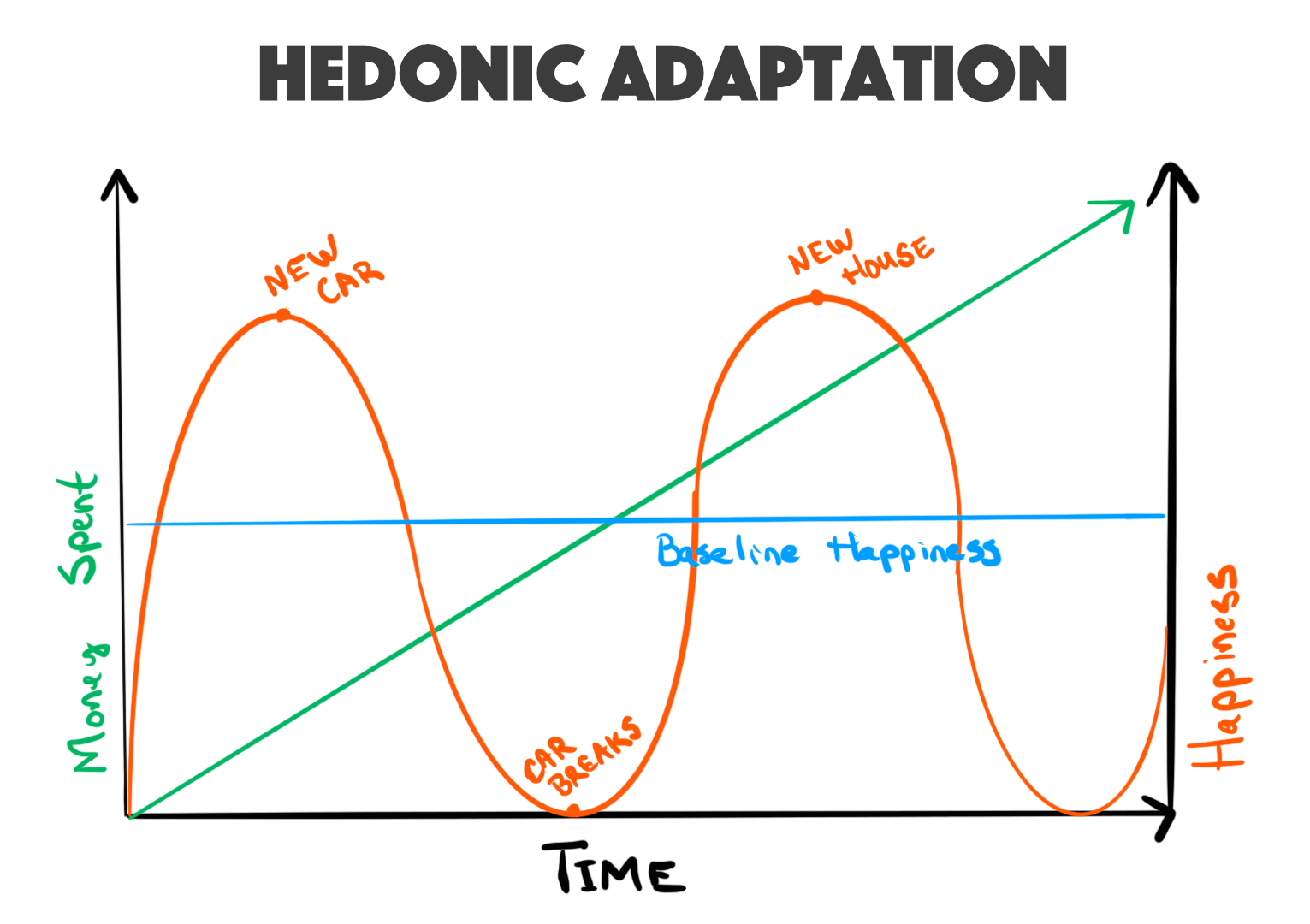 One study showed that folks who won the lottery—extremely happy initially—were no happier than the average non-winner 18 months later.
We revert to our baseline happiness over time.
That initial pleasure comes from comparing the "before" to the "now". But, soon, you adjust to your new state and it becomes the "before".
Comparison is the thief of joy.
This reversion and adjustment sets a new, higher set of expectations to maintain your baseline happiness. That's hedonic adaptation.
The sweet spot of "enough"
Enjoying the small things and avoiding hedonic adaptation go hand in hand.
Bracing for hedonic adaptation doesn't mean not buying quality goods, services, and consumables.
In the context of reaching financial independence, it's about differentiating between spending money on something for pleasure and spending money on something to solve a problem.
The "Fulfillment Curve" speaks to this: your goal is to spend money to reach a higher sense of fulfillment. But, fulfillment peaks once you've reached "enough".
Spending more only reduces your personal fulfillment.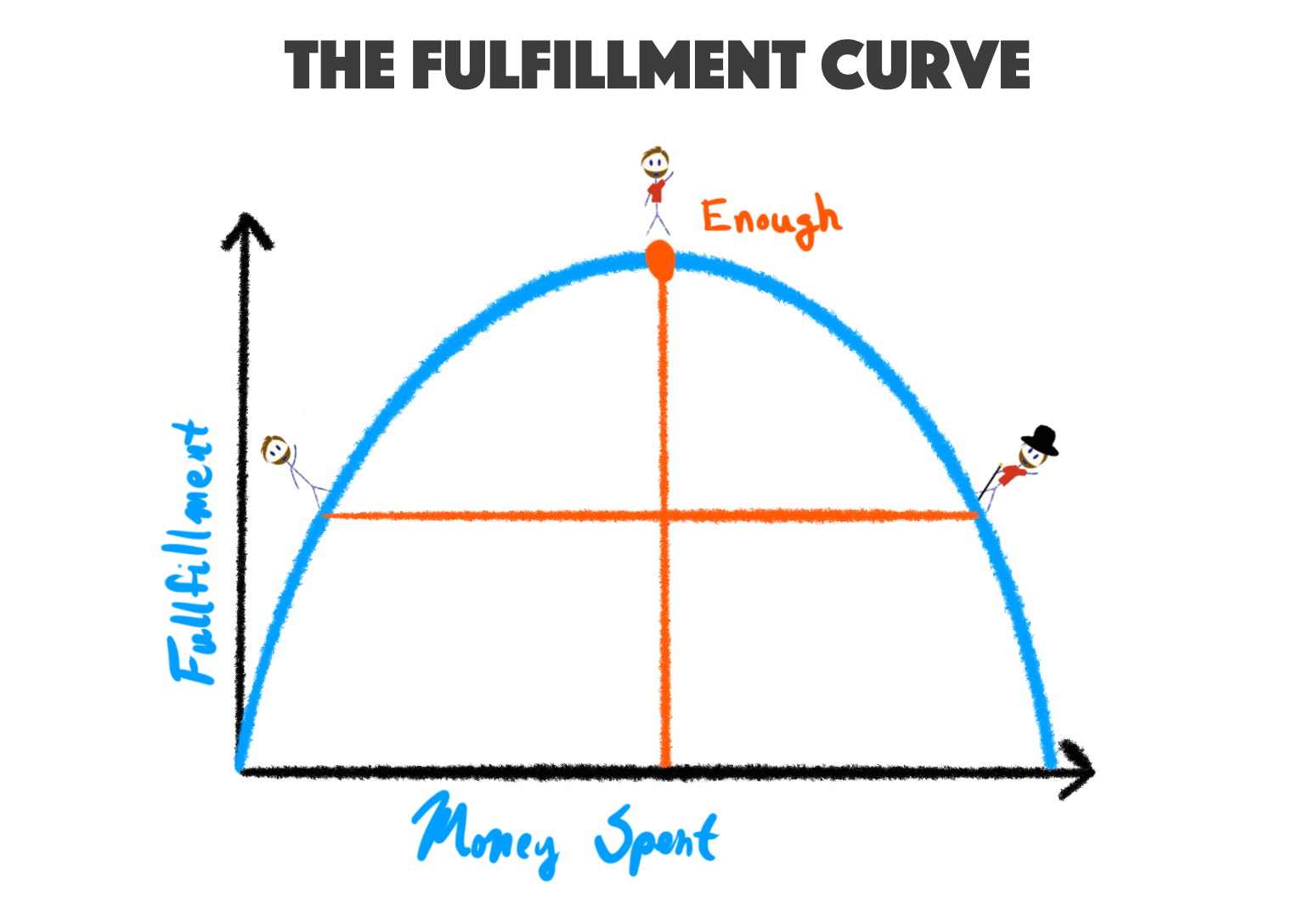 Let's review of an example, starting at very little fulfillment and minimal money spent and increasing to too much spent and returning to little fulfillment:
You rent a small apartment, too small for your necessities, partner, and animals—but it's dirt cheap. You're aggravated by lack of space and can't host social events.
Rent is sustainable, your new place has just enough rooms to house your family and space for your animals. You occasionally host a pot luck and game night, you feel at home.
The mortgage is unsustainable but your place has three times the bedrooms as number of people that live in it—it's enormous and stunning. You spend an inordinate amount of time cleaning and decorating the rooms you never use.
You can almost always spend more to get more, but more isn't always better.
Figure out your answer to how much money is enough, then consider whether you really need more.
It's important to remember that "enough" is a subjective point of view.
Enough for you may mean a fancy meal out once a year. For me, perhaps it's once a month. You might find a brand new PS5 worthwhile as it brings with it a handful of years of cheap entertainment. I might think it's a waste in the context of instead buying two tickets to a sunny island and avoiding sitting in front of a screen.
Neither of us is wrong, it's our subjective, valid, experience and sense of fulfillment derived from our choice in spending.
Surpassing "enough" is the problem: would buying every game for that PS5 as soon as it comes out, for the life of the console, still be worthwhile to you? Probably not.
Eventually, bigger, better, more harms your sense of fulfillment even as you spend more money.
Avoid The Connoisseur Effect
So what's this Connoisseur Effect?
As an example, consider rich food and dining as associated with fine and luxurious living.
On a day-to-day basis, do those wealthy consumers experience a higher level of pleasure and satisfaction from their consumption than those at a lower level?
Does the poor person who eats a blue box of mac & cheese experience less pleasure in their food than a wealthy person stuffing down heaps of Gruyère fettuccine?
Assuming this is a rather typical experience for each person, hedonic adaptation suggests their subjective experience is similarly pleasing.
Yet, if the wealthy person, used to eating finely prepared, rich and savory pasta were downgraded to simple mac & cheese—what level of pleasure would they experience?
I'd bet they'd turn their nose up at the 50¢ box of generic macaroni and cheese. Their palette is too finely tuned to the wealth of flavors they're used to.
Learn to appreciate what you have
Musonius Rufus, an Ancient Roman stoic philosopher, when considering the needs of the wealthy—accustomed to luxury—once quipped:
"Thus, as worn-out iron constantly needs tempering, their appetites continually demand being sharpened either by neat wine or a sharp sauce or some sour relish."

— Musonius Rufus
---
The risk in a luxurious lifestyle isn't necessarily in the direct consumption and expense of the luxury.
The risk is in losing your ability to enjoy the small things or to appreciate what you have.
And while sometimes it's necessary to take risks in life to become a better person and achieve your goals, there's a real chance of losing something of yourself.
It is far easier to be lulled into ever-increasing luxury than it is to ratchet back down to a simpler life.
Falling victim to luxury without remorse
What's even more destructive to personal finances with this rising level of luxury, is that so many people wear this alteration in tastes as a badge of honor.
So often, as we lose our ability to enjoy simple things, it occurs without remorse.
We're emboldened by our new connoisseurship.
We take pride in our inability to enjoy anything but the latest and greatest—nothing but the best.
Your palate turns sour at the scent of boxed wine being cracked open. Two buck chuck hasn't graced your presence in years.
You can carry on about the tannins, aromas, and regions of Burgundy.
You slurp, slosh, and swirl your way to the finer notes of the sign of wealth in your glass.
It's not simply carbon, oxygen, and hydrogen arranged in such a way as to carry the chemical combination of ethanol to your glutamate receptors and create that pleasant buzz.
No, now it's your ability to exude a sense of refined taste.
It's to appear rich.
You're under the spell of the the Connoisseur Effect.
And you wear it with pride.
A loss of freedom
If I haven't yet convinced you that of the risks of the Connoisseur Effect, consider what happens as you refine your tastes over time.
Your first experience with coffee may have been from a Keurig or one of those big drip makers at the office that was last cleaned in a different year.
You enjoyed coffee enough to spend more to try a fine Arabica whole bean, roasted locally and delivered fresh.
The blast of flavor and depth of tone taught you what real coffee tastes like, straight from your new Kalita pour-over coffee maker.
When you go to the office, you bring your own coffee with you now. That swill by the water cooler won't do.
Folgers is for the ignorant.
But what has really happened to your ability to enjoy a cup of coffee?
As a coffee connoisseur, unable to palate the simple swill in the office, you've limited your own choice in what you drink.
You've not gained—you've lost the ability to enjoy the simple things.
Freedom and power is in having the ability to enjoy that which is easily obtainable or which can't be taken from you.
To quote Seneca: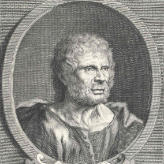 "It is in no man's power to have whatever he wants, but he has it in his power not to wish for what he hasn't got, and cheerfully make the most of the things that do come his way."

— Seneca, Letters from a Stoic
---
The Connoisseur Effect robs you of this power.
It breeds a sense of resentment as you look down your nose at the lesser version of what you desire.
How to Enjoy the Small Things in Life
If our goal is to live a fulfilled life and spend money effectively, we have multiple tools and wisdom of the ancients at our disposal.
Avoid the hedonic treadmill by understanding you will adapt to every improvement in your life, reverting to your baseline happiness
Following the fulfillment curve, find the sweet spot of enough money throughout your life
Through the wisdom of the Stoics, value your ability to enjoy ordinary life—the simple things—and protect it
Focus on that which you have influence over through your circle of control, don't be distracted by the concerns around you of which you're powerless
Understand the purpose of spending money is to resolve problems, not to impress others
Don't be suckered by the Connoisseur Effect: experiencing luxury whets the appetite for even more while simultaneously degrading the pleasure of what you had before
Coming back to my dad and his wine tasting notes: sometimes it pains me a little to tell him I'm not interested. I know he wants to share his experience, and I do listen to what he's learned about wine.
But so far as actually partaking and letting an $80 bottle of wine become "normal" to me? That's what I avoid.
Jenni and I frequently have a box of Bota floating around our house during the week: it's usually $18 and equates to four bottles of wine.
Frankly, I drink wine as a way to chill out and find a happy little buzz. That's my purpose for it.
Drinking fancier—perhaps occasionally tastier—wine isn't going to further that goal. It's only going to dull my ability to enjoy that Bota Box, one of the simple things in my life.
Becoming a connoisseur arrives with a very real cost.
You lose options in your life to experience pleasure, happiness, and fulfillment.
They're replaced with forces that'll slowly break your ability to live below your means.
---
What parts of your life have been drained by the Connoisseur Effect?
What's your weakness? I think ours is in foreign travel and craving more niche experiences!
Let us know in the comments!