"All you need in order to find personal fulfillment is success at work."
Does this sound familiar to you?
Hitting milestones, getting promotions, and earning a raise are steps up the ladder of success.
Many think that having a career you enjoy and achieving company goals is how you find personal fulfillment. But there is more to it than hitting traditional milestones.
In my experience as a pharmacist, I've discovered personal fulfillment at work by challenging myself to grow and achieving personal goals that had an impact on my patients.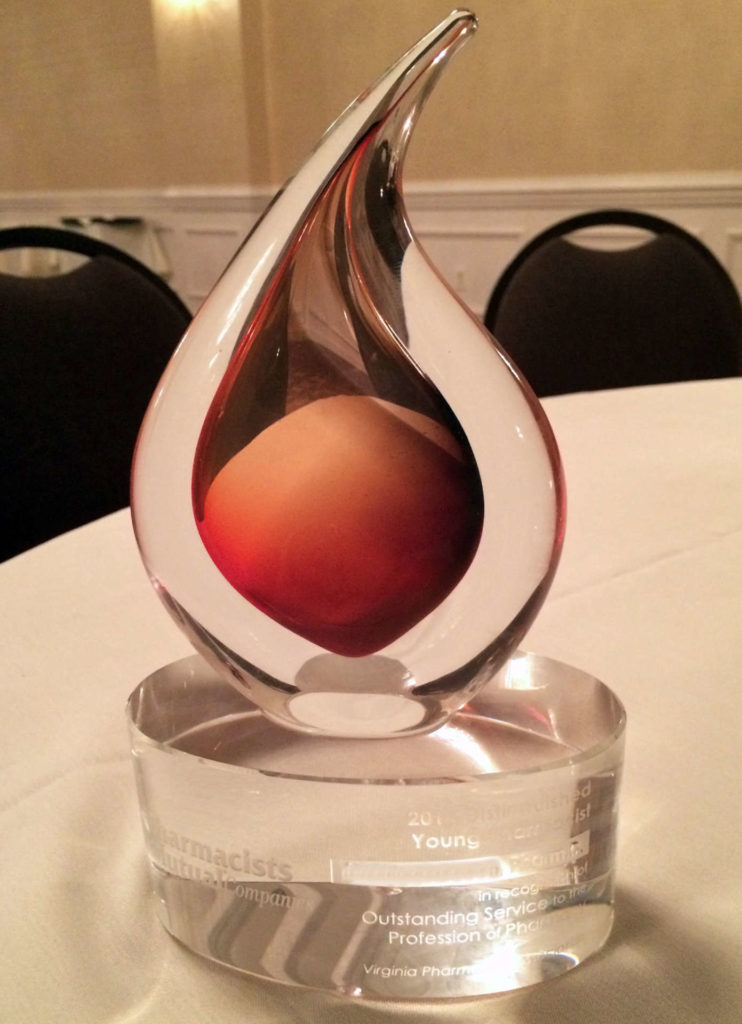 Personal Fulfillment through Work
My career has been successful. After nine years of higher education and long workdays, I implemented new services and made my way up the management ladder.
I became a pharmacy manager at age 30. I won industry awards and made association presentations.
But, personal fulfillment doesn't come on the back of success at work alone.
Success without fulfillment is the ultimate failure.

Tony Robbins
Robbins describes fulfillment by having two key elements: contributing beyond yourself and personal growth. In addition to these two key elements, I found having a positive work environment was essential in achieving my personal fulfillment.
Set Goals Beyond Yourself
As a pharmacist, my number one goal is to improve patient outcomes. My company believes that every service we offer should be based on our core values: caring about the patient's well-being, putting health above sales, and giving back to the community.
I was fortunate to be able to work and exemplify these values, reaching beyond myself.
Grow to meet challenges
My pharmacy was constantly changing to meet our goals. I always had something new to challenge me. Growing in my role made going to work exciting.
I took the lead in developing several new clinical services. Finding innovative ways to help patients was challenging and rewarding. My efforts were making a measurable difference that helped me develop a sense of personal fulfillment in my work.
Have a positive environment
Another one of my company's beliefs is the power of positivity. We worked to develop a positive culture at work. We felt having happier employees would lead to a positive environment.
One way we kept our company's culture positive was to properly support each team member with the resources to fulfill their role well. For me, a strong team and adequate time to complete my role's tasks reduced the stress of being overwhelmed. Being surrounded by a positive environment at work made it easier to find personal fulfillment.
I made progress towards my goals, I was challenged to develop new services, and had good relationships with colleagues. This gave me a sense of personal fulfillment in my life and career.
Here are some examples of achieving personal fulfillment from my experiences:
I made an impact on patients outcomes
I was challenged to adapt and grow in my role
A positive working environment was made vital
I negotiated support from the owner with a strong team and resources
Maintaining Personal Fulfillment Is an Ongoing Effort
After a few years of hard work, I was promoted to pharmacy manager. I continued to develop services improving the quality of care we provided to our patients and grew the pharmacy business by 50% each year. Developing these new services and running the pharmacy took a lot of time and support from my colleagues.
In the beginning, we were given the time and the resources to maintain a positive environment and work on our goals.
Over the years, as we became more successful, my positive environment quickly started to fade.
My new daily goal was reduced to simply not make mistakes.
I was challenged to perform the tasks of five different roles. I was never off the clock. The support provided for me was no longer enough for myself or my team to stay positive and continue to grow the pharmacy.
I did not properly reevaluate my needs. My stress was through the roof. I lost control over my position and my time which threw off the balance in my life. I lost personal fulfillment in my work and I was unhappy.
It was time to reevaluate and regain fulfillment in my personal life again.
3 Steps to Find Personal Fulfillment at Work
These are the three steps I recommend to find personal fulfillment at work. They'll help you find it, if you've not, and regain it if you've lost it.
1) Evaluate when changes are necessary
Admitting you need to make a change can be the hardest step. I was not able to notice this for myself. It took the support of my loved ones and close friends to help me acknowledge the negative shift in my personal fulfillment with work.
Be honest with yourself. Do you feel personally fulfilled at work? It may help to talk it over with a colleague or a loved one to come to this conclusion.
Then say it out loud!
2) Determine why personal fulfillment is lacking
Take a moment to evaluate your own life. Ask yourself some questions such as:
Do you have goals that go beyond yourself?
Is there time to fully dedicate yourself to achieving these goals?
Are you mentally challenged in a positive way?
Do you have support from management to grow to meet these challenges?
Is your work environment positive?
Do you have a positive feeling about going to work?
When you get to a question you can say "no" to, determine 'the why'. Then brainstorm ideas that could change this "no" to a "yes". Think outside of the box and don't limit your ideas.
3) Implement a fix
Discuss your solutions with your employer. Try to work together to find a resolution. Relate your concerns and your potential fix to your company's mission and goals. The more beneficial it is to the company, the more likely your wishes will be granted.
A few suggested solutions from my experience are:
Redefine your position
Develop goals that reach beyond personal satisfaction
Delegate tasks to your team members
Reduce your number of roles you are responsible for
Hire additional team members
Change up your hours, cluster to a 4 day work week or reduce to part-time
Remember, whatever change you try, be sure to give it time to take effect. Afterward, reevaluate how you feel and if it made a difference. You might need to make a more drastic change to see an improvement.
Regaining Personal Fulfillment When You Lose It
I personally worked through the steps above to regain my personal fulfillment.
It took months of discussing my situation with Chris, my colleagues, and my boss for me to finally admit that I was unhappy and needed to make significant changes.
I am fortunate to have a good relationship with my boss, so this conversation was probably easier for me than others. We were on the same page and both wanted me to be happy again.
My biggest issue was having too many responsibilities and not enough time. Together, we redefined my position agreement. We reset my responsibilities. Where necessary, we decided which responsibilities would be handed to someone else, together. The development of new goals and support for my team was a priority.
Reducing my responsibilities felt like a huge weight lifted off my shoulders. It did help a little but it was still more than I wanted to be happy at work and at home. After 6 months, I re-evaluated and I accepted an even smaller role as an "as needed" pharmacist and gave up all the pharmacy manager duties.
Personal fulfillment through semiretirement
Ultimately the reason I wanted to transition into part-time work was to take back my life and my time. I have worked hard to get to this point in my financial life: working is not a necessity, it's a choice. I'm building the life I want.
But I didn't want to give up my career 100%. I was able to find a balance that worked for me by changing to part-time work.
Now I am only responsible for one main project and I get to make the schedule. I get to decide how much time to dedicate to each task and when I will do it. I feel totally in control and confident that I will produce high-quality work. My colleagues and I still get to work together and enjoy each other's company. And I still get to participate in all of the projects that help me achieve my goal of improving patient outcomes.
Looking back on the past five years and recounting what I was doing day-in and day-out, I can't believe I made it that long. I think it has been mutually beneficial for me to get some relief and for the company to have a new leader. Overall, it was definitely a step in the right direction towards my personal fulfillment.
You Can Leverage Success for Personal Fulfillment
Success can mean a lot of things depending upon your outlook. But success does not always come with personal fulfillment. You should have a sense of purpose in your work with goals that go beyond personal satisfaction.
Challenge yourself to improve and grow.
Surround yourself with a positive environment and have meaningful, healthy relationships.
If you are looking to make a change in your position at work to feel more personal fulfillment, work through the steps I've outlined in this article. You may be surprised by what you discover. Keep an open mind about new positions that become available and don't be afraid to ask for what you need.
You deserve to seek personal fulfillment and happiness.
---
What changes have you made at work to add personal fulfillment? Let us know in the comments!