Three months have passed since we started TicTocLife on May 8, 2020. Our first quarter year has passed! With the pandemic ongoing, the time has flown by and we've been working to build a routine; both in life and in creating new content for you. We have a big announcement: we've created a donor-advised fund (DAF) for charitable giving that depends on your input!
Donor-Advised Fund
A key part of the mission of TicTocLife is to be an avenue for "giving back". That might mean volunteerism, mentoring, or direct giving. In the case of direct giving, we wanted to be more creative with our giving than to simply give cash to charities of our choice.
We decided we could leverage the principles of FIRE to allow us to give much more over time by building longterm giving wealth. We also believe that by incorporating FIRE ideas into our giving, we can help better brand the FIRE mission and message beyond self-centered savings and investments.
The same sorts of investment strategies we developed for our personal financial growth can be applied to charitable giving, too!
DAF mission
We've created a page dedicated to our newly minted (and partly funded!) Reader's Choice FIRE Fund. If you're curious about all the details of how this fund works, what a donor-advised fund is, and want to vote on where our donations will go—take a look!
If you just want the basics:
Our goal is to fund the DAF with one year's worth of our 2019 living expenses ($40,885) by TicTocLife's one year anniversary on May 8, 2021
We initially funded the DAF with one-quarter of the goal on TicTocLife's three month anniversary ($10,222)
We will donate the fund's proceeds based on the 4% rule, monthly (so, 1/12th of 4% or about 0.33%)
Non-profits which receive the donations will be voted on by our readers from a list of 3-5 suggestions we provide, monthly
We will process the charitable donations during our monthly Budget Updates (usually near the first of the month)
That means that our first non-profit donation recipient will be decided by September 1, 2020.
DAF investing and timeline
Four percent of $10,222 is about $409 and a twelfth of that is about $34. Our chosen DAF custodian for this fund, Schwab Charitable, has a minimum grant amount of $50. We expect to grant that amount to one of the below non-profits for our first DAF distribution.
While $50 isn't very much money, it is just a start. If we meet our one-year anniversary goal, our fund should be able to donate $136/month and grow with inflation into perpetuity.
By the time we're in our 80s, FIRECalc suggests that, on average, the fund should have over half a million dollars in it.
That's enough invested to produce more than $1,900 in charitable grants per month while continuing to follow the 4% rule.
Why a DAF?
We're not the first folks to think of leveraging a donor-advised fund within the FIRE community, though I think we have a novel approach by associating FIRE principles with our Reader's Choice FIRE Fund.
In the future, we plan to produce a post that deals with the nitty-gritty of direct giving strategies and leveraging tools like a DAF. Summarizing, a DAF offered us these benefits:
Front-load our giving as our income is rapidly dropping with the transition to early retirement and part-time work—we take the tax deduction from future year's donations, this year
Invest the balance of our donation in low-cost index funds to help perpetuate our giving
Streamline our giving process through slick online tools and eliminate the need to track individual donation receipts
Force us to kiss the money goodbye since there are no takebacks and we can be a little Smaug-like sometimes
Grant messaging: we can give anonymously, personally, or in a branded way which might help others find out about FIRE and our giving strategy
Friend of TicTocLife, Financial Mechanic, explains there are reasons that a DAF might not be a good choice for your direct giving:
Fees: DAFs we've reviewed charge 0.6% (at least $100) annually in administration fees and the underlying assets where invested carry their inherent expense ratios
Minimum contributions: most DAFs require an initial contribution of at least $5,000 and up to $25,000
Irrevocable contribution: while the donation may not proceed to the final non-profit cause for some time, you cannot take back the donations to the DAF
For us, the fees aren't a problem. The tax savings from the upfront deduction easily pay for the admin fee (0.6%), in perpetuity. We likely wouldn't earn the tax benefit of donations in future years due to lower-income and non-itemized deductions.
The assets within the DAF are invested in low-cost index funds that carry similar expense ratios to well-known FIRE favorites like VTSAX.
We may see some benefit from eliminating tax drag on dividends for at least this year, too.
For some people, direct giving without a DAF in the middle can make more sense—especially if you can't make use of the tax advantages by donating a large sum when your income is higher.
Grant candidates for September 2020
For our inaugural grant candidate list, we decided to start with the linchpin of our education and wealth building. That's the source of our university educations.
We've outlined the reasons we feel the non-profit, public universities we each attended to earn our degrees from deserve this small, first grant. Each organizational summary also includes a link to their Guidestar profile which dives into the details of the non-profit's operations and transparency.
1. UVA-Wise Foundation
Why? This foundation supports Chris' alma mater. His undergrad degree, received from the college in 2006, is in Communication. He feels his college degree is what formed the basis for his education and ability to reach financial independence.
Where? Wise, Virginia, USA
What? A public, four-year liberal arts college located in the lush mountains of Southwest Virginia. Affordable, nationally ranked and accredited.
2. JMU Foundation
Why? This foundation supports the University where Jenni received her Bachelor of Science Degree in Chemistry in 2006. This degree allowed her to fulfill her pre-pharmacy major and prepare for graduate school.
Where? Harrisonburg, Virginia, USA
What? A public, four-year research university located near the Shenandoah Valley mountains. Accredited and ranked among the "100 Best Values in Public Colleges" ranked 21st in value in the nation among public colleges and universities by Kiplinger magazine's 2015.
3. MCV Foundation
Why? This foundation supports all of the the medical schools at Virginia Commonwealth University including the School of Pharmacy. Jenni's graduation from this doctorate program allowed her to take her knowledge into community pharmacy as well as build her financial wealth.
Where? Richmond, Virginia, USA
What? Public, graduate school of pharmacy among other healthcare fields, accredited, rated among the nation's top professional graduate programs.
Reader's choice donor-advised fund
After you've reviewed our reasons for narrowing the candidates to the list above, you can vote for the choice you think would benefit most from our monthly grant.
The above poll will close at the start (midnight, EDT) of September 1, 2020. As always, we will monitor for vote-rigging or mistakes and reserve the right to override the poll results where necessary.
Here's the best ways you can help us grow our charitable giving:
Have you already reached financial independence? Could you afford to create your own FIRE fund? What's stopping you from doing so today?
Are you a personal finance writer? Have you considered creating your own charitable fund that leverages the systems of FIRE to give? Steal our ideas, share it with your readers!
Do you know someone who might enjoy building a system of giving like ours? Share this post with them!
Vote in our monthly charitable giving candidate poll, share it with friends and family so that they can vote and potentially stumble into the benefits of FIRE and giving!
Keep an eye out for next month's Budget Update to see which candidate won this month and the next round of candidates!
Read our dedicated Reader's Choice FIRE Fund page for future updates on this DAF's progress, grants, and giving strategy.
---
TicTocLife statistics
In keeping up with our Budget Updates that offer a little financial voyeurism, we're going to continue to publically divulge our website statistics.
We've been very surprised by how well the personal finance community has taken to the blog. We've had a wonderful time so far engaging on social media with several different folks, especially on Twitter.
Our comment section has been incredibly busy, thank you for reaching out! We've read every comment and enjoyed them immensely!
Let's take a look at the stats from our first month blog update.
These stats are for the period of May 8, 2020 to June 8, 2020.
| Totals | Count |
| --- | --- |
| Views | 1,829 |
| Visitors | 929 |
| Followers | 28 |
| Comments | 22 |
| Posts | 13 |
| Words | 21,892 |
| Unpublished Drafts | 22 |
| Countries visiting | 38 |
| Ads | 0 |
And here's the stats for May 8, 2020 to August 8, 2020.
Mind you, this is for the full three month period (including the above data).
| Totals | Count |
| --- | --- |
| Views | 11,066 |
| Visitors | 5,624 |
| Followers | 173 |
| Comments | 83 |
| Posts | 27 |
| Words | 61,710 |
| Unpublished Drafts | 27 |
| Countries visiting | 104 |
| Ads | 0 |
11,066 views seem like an extraordinarily high number to Jenni and me as we feel like we're still just fleshing out our personal finance journey. In fact, July was our best month by a large margin with 5,980 views!
Most Popular Posts:
We'll see how well August (and the future!) can compete.
Community growth
In the stats table above, we count followers from social media channels, RSS, and newsletter subscribers. We're generally most active on Twitter.
If you've enjoyed what you've read, be sure to follow/like/subscribe wherever you prefer to keep in touch:
You can also signup for our infrequent email newsletter with FIRE tips from around the web and a roundup of our recent posts. It'll also contain an occassional personal musing from either of us as we proceed along our early retirement adventure!
I've made it easy with this snazzy embedded signup form (but if you've already got too much email, don't feel obligated!):
We've continued to have a fantastic experience with visitors coming by and leaving the occasional comment on a post. It's been a great experience to keep the conversation going beyond the text within the post itself. Commenters have offered valuable insight that has caused us to update posts to better reflect certain points of view or data.
Thank you for contributing!
TicTocLife around the web
Our writing has been featured in numerous places around the web since our first monthly update. The recognition has helped motivate us to churn out new ideas.
We've been featured in:
Of course, we've also been mentioned in numerous small ways—especially on social media—that have helped build traffic to the site.
Thank you to everyone who has helped expose our message!
Search and discovery traffic
During our last blog update, I mentioned that we hadn't really received much of any search traffic. That's to be expected as the site was quite new. My understanding is that typically, new sites won't begin to receive traffic from search engine for about three months from launch.
Our search traffic started growing in mid-July and has been steadily rising since.
Here's a look at our Google Search Console > Performance > Search Results data since June 8, 2020: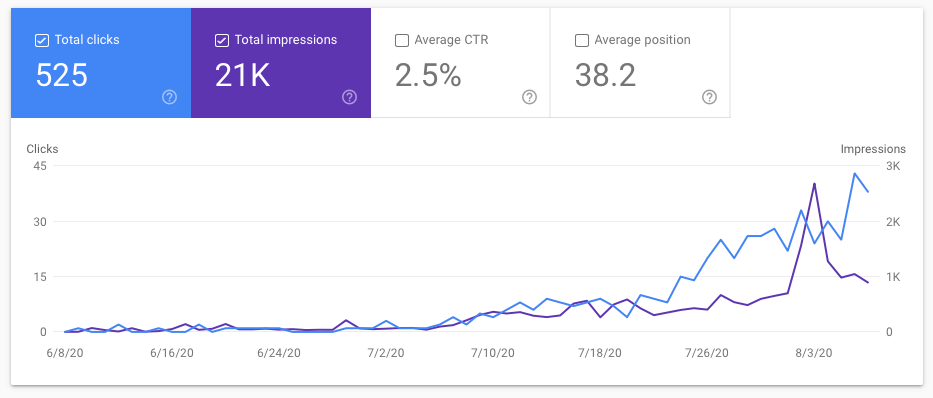 Hopefully, as we continue to add great, engaging content to TicTocLife, more people will be able to find it through search. That lets us attach a megaphone to the FIRE message.
I also mentioned during the last update that a large portion of our traffic was coming from Google's Discovery algorithm on mobile devices. As expected, the traffic quickly leveled off. To be honest, I was expecting our subsequent traffic stats to not keep up with our first month without the discovery traffic. But, other referral traffic eventually made up for it.
Just recently, Google has started to drip more Discovery traffic our way once again.
Here's the chart for Discovery data from Google Search Console since June 8, 2020: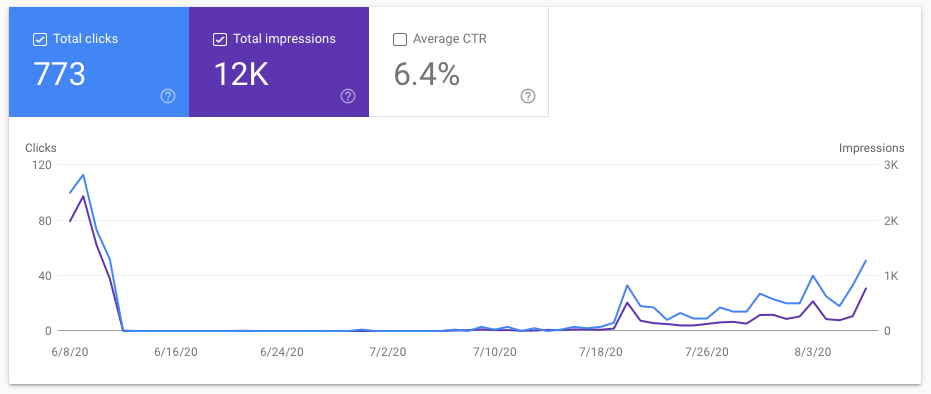 The Discovery traffic seemed to follow the increased Search traffic.
We'll take it!
Blogging Routine
Jenni and I are trying to build a content creation routine that we think we can maintain. We're active across social media, engaging with other personal finance bloggers, and the community generally. I've even written quite a few answers to the FIRE community on Reddit.
We just recently created a newsletter and sent out the first "Hello" to our initial subscriber list. We'll have weekly (every two weeks?) issues beginning very soon.
We've got a lot going on with TicTocLife!
Most importantly, we want to make this maintainable for us. The purpose of TicTocLife is two-fold:
To document our journey so that we can look back for insight
To color our adventure so that you will be inspired to achieve FIRE
We're incredibly pleased to start talking about our giving strategy and the details behind it with this three-month anniversary of TicTocLife. Stay tuned for many more adventures in early retirement, our strategies for reaching financial independence, and effectively giving back.
---
Have you come up with an interesting way to apply FIRE principles to giving back, perhaps outside of direct financial giving? Let us know in the comments!