I decided to leave behind the most stressful bits and pieces of being a pharmacist and manager last May. I told my story of changing from full-time to part-time employment. Today, I focus on the roles and responsibilities that I care about most. As a benefit of achieving financial independence, I can choose to work just a few days a week.
This new schedule has given me the chance to take back an extra 24-32 hours of my life each week.
This extra time allows me to develop a new routine for myself. One key part of that routine for me has been to volunteer in my community in an unexpected way.
Vaccination Event Volunteer
We've been researching places to volunteer in our community. For us, one benefit of achieving FIRE is to be able to give back through donations of money and time.
During the research for our monthly Reader's Choice Charitable Fund, my eyes were opened to several volunteer positions available near me. We learned about animal welfare charities our local foodbanks in the fall.
I was excited to have the time available to consider volunteering.
Just when my volunteer application for our local foodbank was pending approval, I got an email from the state health commissioner. They announced the need for volunteer vaccinators.
Vaccinators in demand
To put on a county-wide vaccination clinic, a variety of volunteers are needed, including those trained to give vaccines. I thought this was a perfect volunteer role that utilized my particular skill set.
I am excellent at giving vaccines. My colleagues seek me out to get their annual flu vaccine. It's one of my favorite parts of being a pharmacist. I even developed a travel health clinic to increase how many vaccines we give. I found each patient encounter memorable. It's fulfilling to know that I make their trip safer with proper vaccinations.
Now, I had the chance to help protect people from the coronavirus. I immediately took the first step to be part of this historic event and joined the Medical Reserves Corp (MRC).
Our state's health department utilizes the services of the MRC as they are trained to handle large vaccination events. They have the infrastructure to vet and train all of their volunteers to ensure a smooth operation at every event.
This was where I decided to donate my time.
Heeding the call to action
Little did I know, our pharmacy would also become a point of dispensing (POD) for the coronavirus vaccines. Our clinical team developed a plan overnight to meet the call to action to administer hundreds of vaccines a day.
But to make this plan work, all hands were needed on deck.
I'd need to be doing vaccinations for two different organizations!
My roles at work are to substitute for a coworker's day off, to manage our compounding lab, or for special assignments. Assisting with vaccine clinics was a very special assignment.
Each week my pharmacy's vaccination clinic hours expanded to meet the demand. We now vaccinate over 1,000 people each week Monday through Sunday. Needless to say, my extra 24 hours of free time each week started to dwindle pretty quickly.
Both the MRC and my work needed me to administer vaccines. Even though I did not have to volunteer to take the weekend clinic shift or pick up extra volunteer shifts with the MRC, I knew it was the right thing to do.
I think one of the greatest benefits of working part time is being able to volunteer.
I answered the call to action.
Giving to a worthy cause
I worked hard to gain the privilege to choose how I spend my time. Helping others is one thing that makes me feel fulfilled. I have the skills and now the time to help others vitally in need.
The pandemic's end could come with my help. I couldn't stand by knowing my abilities could be used for the greater good and yet do nothing.
So I jumped to action knowing very well I would be trading my time to help a very worthy cause.
On average, I've spent 15 to 20 hours a week providing vaccinations. Working at these clinics never seems like work to me. I was honored to give vaccines to all types of healthcare workers and the researchers that helped develop the vaccines. Every day I was excited to meet the people who were putting their lives at risk to keep us healthy.
A few times a month, I also volunteer at county-wide MRC run vaccine clinics. Most recently, these clinics started vaccinating the elderly population in our community. These giant clinics are a huge operation and need hundreds of volunteers to meet the goal of vaccinating 5,000 people in one day!
Each time I volunteer, I am overwhelmed with the number of people who opt to give up their weekends just to help others. Each morning the organizers give their thanks and share how many people have volunteered. It makes me tear up with happiness.
If you have the freedom to choose what to do with your time, heed the call to action and help others. It's been an important part of enjoying retirement in my own way and feeling like a useful member of society.
You will not be disappointed.
Risk-benefit ratio
At first, I was concerned about the increased risk of exposure for myself and for Chris. Besides the grocery store and my few workdays at the pharmacy where we abide by all COVID-19 safety standards, our risk of exposure has been very low. Vaccinating hundreds of patients would potentially increase our risk dramatically.
We discussed our concerns as a couple and decided the benefits outweighed our personal risks.
To mitigate the risk, I started my vaccination series on December 31st to give me some protection by the second week of January. I wear double PPE and abide by strict COVID-19 safety standards.
Beyond these strategies, I change my clothes and wash my hands to reduce the risk of bringing home any germs.
Most volunteer opportunities come with some risks. You have to make the decision for yourself and do what is right for you.
But, sometimes you need to take a risk. I decided to become part of the vaccination clinics.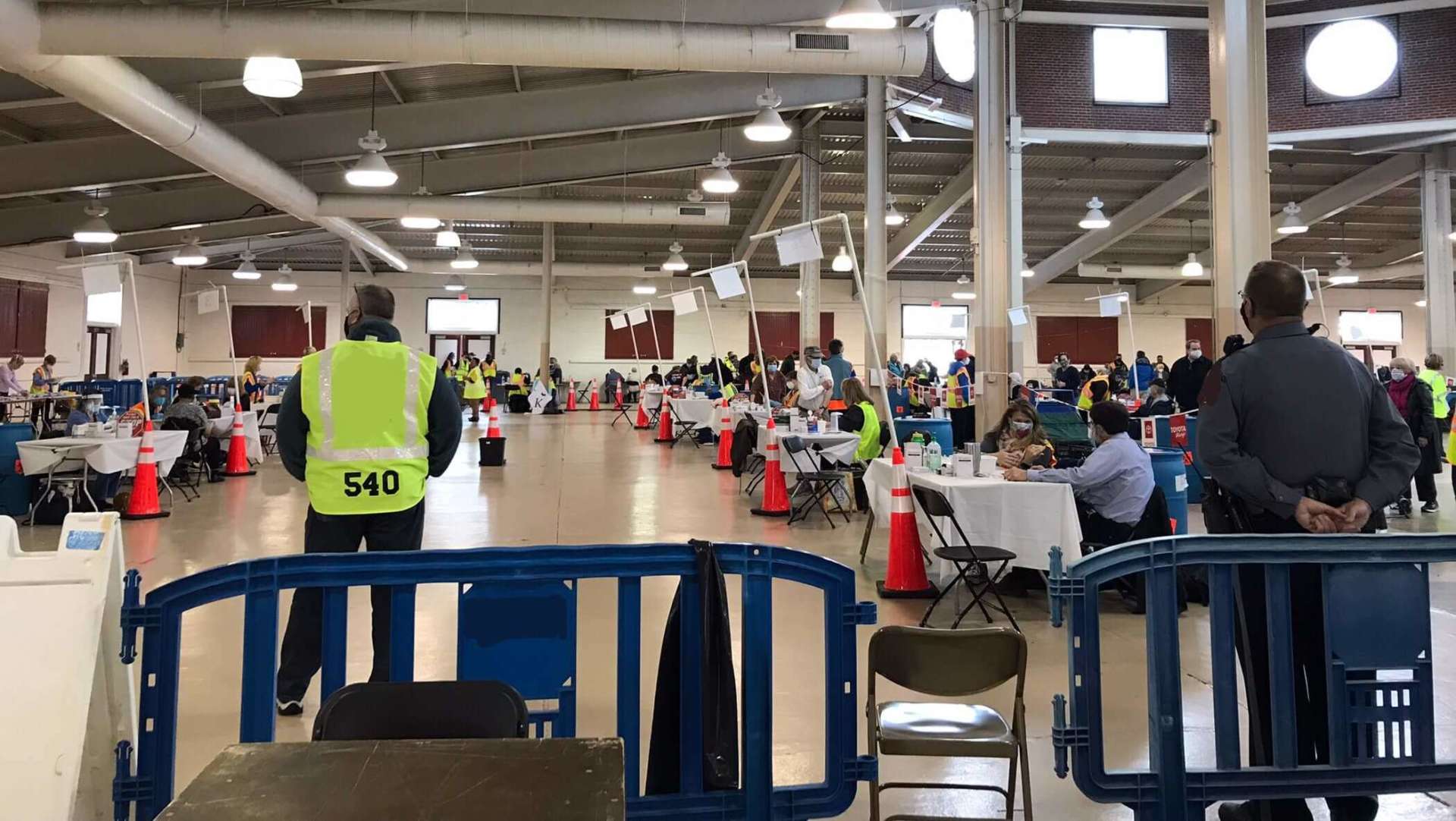 Social distancing is a little harder to do when giving a vaccine. Fortunately, I have my counseling and injection technique down to 90 seconds so each patient is in and out of my chair in under two minutes.
Being part of history
It is not often people jump at the chance to be jabbed with a needle. Many of these individuals have been through the wringer over the past year as healthcare workers. Others are the frailest and most appreciative elderly folks you could imagine.
The joy and excitement they have when they receive their first dose is powerful. You can see the sense of relief lifted off their shoulders as the needle penetrates their skin.
They always look at me and say,
"…That was it?"
I guess they are expecting something more exciting than just a simple poke. I do try to make them feel special with a fancy bandaid and a big congratulations. The actual vaccination process is no more significant than with any other vaccine.
But what is different is the outcome of receiving this vaccine and what it could mean for the world and for humanity. Once we reach herd immunity through vaccination, it could be a solution to this global pandemic.
I am proud to be a part of the solution. I feel this is a great use of my new FIRE time.
FIRE Let's You Volunteer
This month I clocked in 60 hours of vaccinating, including 13 volunteer hours. It's truly one of the most rewarding things I feel I have ever done. I am proud to be a pharmacist as well as be in a position to set everything else aside and just jab, jab, jab.
If you are in a position to volunteer, now is the time.
What most people do not realize is the logistics involved and the volunteers needed to run a vaccine clinic. When the goal is vaccinating 5,000 people in one day, it takes a village to get the job done safely and efficiently.
Getting a patient in a chair for the minute or two it takes to discuss and give the vaccine requires so much more than just one person.
They need:
People to call and make the appointment
Drivers to bring the patient to the appointment in some cases
Traffic directors at the clinic
Personnel registering the patient at check-in and scheduling a second dose
Nurses to prepare each dose
Runners to restock each station
Emergency services
Security teams to ensure a safe event
Data entry personnel to have accurate vaccine documentation
Department leads overseeing each team
I encourage you to reach out to your local health department to see what organizations they work with and if they have direct volunteer opportunities.
I volunteer with my region's Medical Reserve Corps (MRC). You can find out more about your local MRC and volunteer opportunities through HHS.
At the vaccination events I've attended, I've run into Community Emergency Response Team (CERT) volunteers. You can find your local CERT program through FEMA's website and volunteer.
Your help is needed no matter what your expertise.
---
How are you spending your FIRE time?
Do you have Medical Reserve Corp in your state?
Let me know in the comments!