Happy March 2021! Welcome to our FIRE budget review. Each month we take time to review our spending as a couple and then reveal the remainder for our readers to pick apart our mistakes. We also do a little review of nonprofits to inform our giving each month. With the pandemic stretching into the second year, we've reviewed three different healthcare nonprofits for our monthly grant that you direct! Be sure to cast your vote below!
During our January budget review, we looked at charities for racial equality. Donations are funded from our TicTocLife Reader's Choice Donor-Advised Fund. Read on to find out the winner for January and see our poll for this month's grant!
We've also got a surprise roof leak to share, an update on Chris's Yearly Theme, and a stock sale! It's an eclectic monthly update packed with fun!
First, let's go through our monthly budget review.
In the Sankey diagram below, income on the left matches our expenses to the right.
We'll run through the income and expense sources for the month and remark on any interesting items.
Income Summary
We have several sources of income and they tend to vary from month-to-month.
Most of our income is from Jenni's part-time pharmacist job and Chris's ongoing business operations—which is generally on autopilot with nearly passive income.
Part-time work
Jenni's part-time role has been in high demand lately. Her pharmacy is one of the only pharmacies in the area acting as a Virginia Department of Health Point of Dispensing (POD). Much of her time is taken up with prepping for vaccine clinics or administering the vaccine to fight the pandemic. She often fills in for coworkers so they can help in vaccine clinics, too.
She frequently volunteers in local government vaccination clinics as well!
Jenni's part-time pharmacy position earned her $4,804.
Chris's consulting work remains consistent and sustainable. Multiple of his clients are making significant transitions and he's guiding their digital strategy with the new relationships. That could spell the end of some of his support roles!
Chris's business paid him $1,923.
We reveal just how many hours we work each month in the "how much we work" section below, too!
Other income
We continued to make progress on our electronic and equipment refurbishment gig mentioned in our FIRE Newsletter. A majority of our earnings this month came from selling a retail point-of-sale system to a Go-kart track outside of Vegas that is expanding their business. Neat!
We earned $575 through eBay and online venues.
We're getting down to the dregs with the remaining hardware—one more POS system, old printers, a Pentium 1 (yes) computer, and a few other odds and ends.
We earned $30 through Facebook Marketplace selling a fax machine.
Chris sold 204 shares of $AG, a silver mining company that's from an old "legacy" investment when he used to trade individual stocks. With the GameStop and AMC kerfuffle on the market, silver investments were also getting frothy.
We earned $3,459 from selling stock. The profit (about $1,400) was ~68% over his cost basis.
68% sounds pretty good until you realize that the S&P 500 was up 102% in the same period he held the stock. This single stock holding from years ago is a great example of why index funds win vs individual stocks for many investors.
Dividends, interest, credits
We didn't earn any dividends this month. The vast majority of our investments are in broad index funds, often via ETFs (vs stocks), which tend to pay a quarterly dividend.
Transfers
We transferred some investments to donor-advised funds (DAFs) to meet our charitable goals.
Overall, we ended the month with an extra $4,976 in checking.
We're working on some general account cleanup and investment rebalancing soon to better use our cash reserves.
Expense Summary
From our $11,306 budget, we saved $8,214 this month. While it makes sense to use this figure (which includes stock investment sales) for the cashflow Sankey diagram, it doesn't when calculating our savings rate. We'll not include the $3,459 stock sale from our savings rate.
That gives February a savings rate of 61%.
Considering our average FIRE budget for 2020 was about $3,405/month we're pretty in line with expectations this month.
We spent $3,092 but $40 was related to earning more money (eBay fees, shipping, etc.).
Removing those expenditures from the equation, we spent about 90% of our typical monthly FIRE budget.
We expect to have a higher annual FIRE budget than 2020. We're paying both of our medical insurance expenses out of pocket since Jenni started going from full-time to part-time work in the summer of 2020.
→ Related: Our 2020 FIRE budget review shows more detail in our expense categories.
Home
Our housing costs are broken down in our annual FIRE budget (mentioned above) with detail.
For the monthly breakdown, these details might be helpful to understand:
When evaluating whether to rent and invest or buy a home, we chose to own
We have a 30-year, fixed-rate mortgage below 4% interest
Our HOA is $350/month which covers some of our utilities (heating, water)
We chose the city life vs country life in a medium cost of living area
Housing-related expenses are consistent month-to-month. We have an escrow account with our mortgage provider which helps automate property taxes and home insurance payments.
We live in a 2 bedroom, 2 bath historic brick home built in the 1920s. It's part of a small cooperative.
Roof leak!
And surprise, surprise. An old house from the 20s occasionally has some troubles. Chris discovered a (seemingly) minor roof leak when water started dripping into his office during a rain storm.
We traced it to a spot on the roof supports below the asphalt shingles as shown in the photo below. This roofing was replaced in 2016, so it might be related to the vent seal which was installed during the roof replacement. We'll see, we're still waiting on getting the original roofer out for an estimate!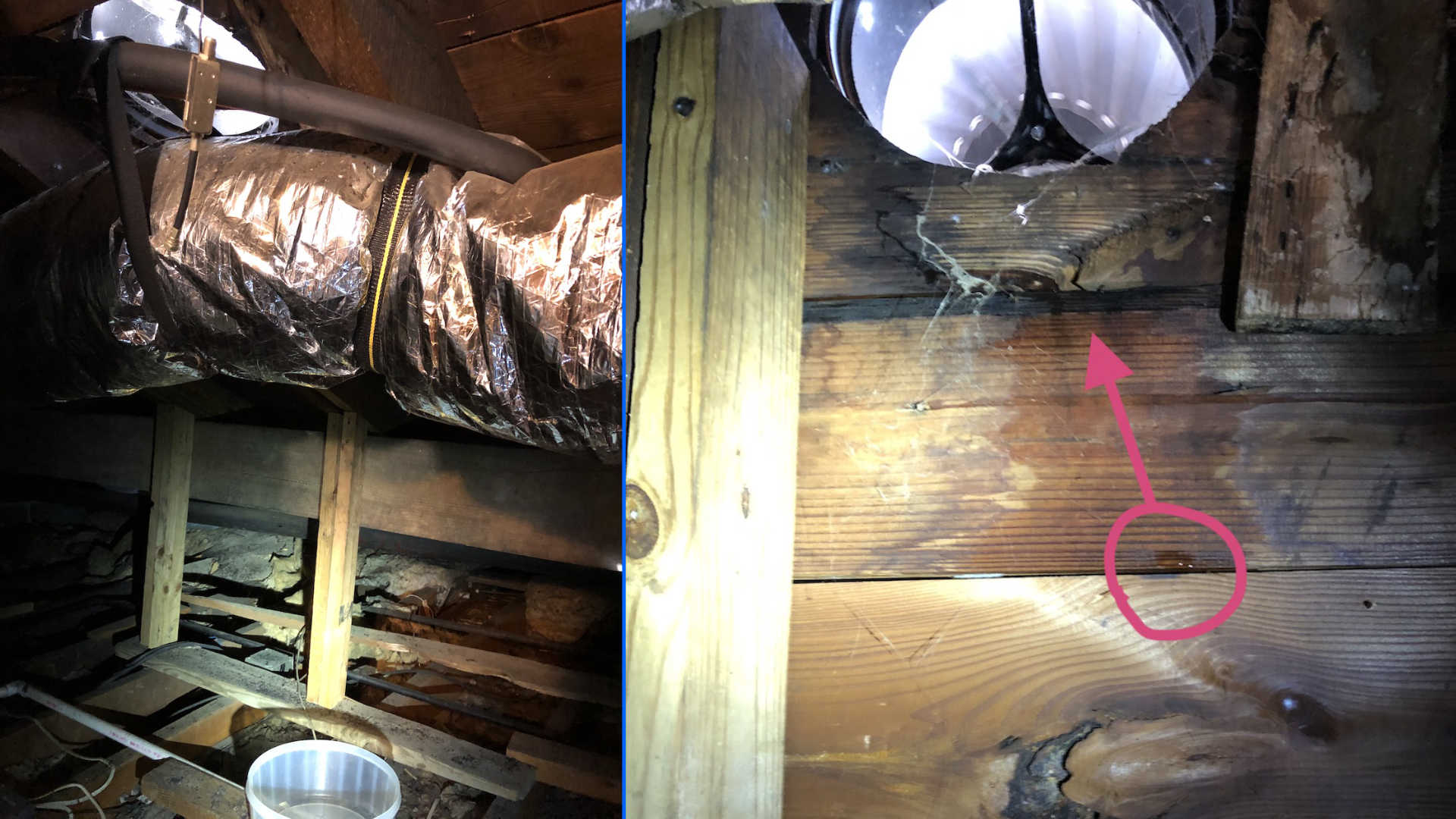 Keen readers might note the lack of insulation in the photo. Unfortunately, our housing cooperative doesn't do a very good job of incentivizing residences to pay for such upgrades—but we're looking into it to prevent energy waste nonetheless.
It could also create ice dams (and cause a leak) as Mr. 1500 suggested when he saw the photos. We'll see what the roofer says!
Health
We spent $590 on Health-related expenses this month.
The bulk of this cost was health insurance for the two of us as we're now both paying for individual plans.
Jenni reviewed early retirement health insurance options and came to the conclusion an ACA plan is best for her, for now. Our health insurance rang in at $522, which isn't cheap. Still, it's a good bit better than the $867 we were paying at the beginning of the year when Jenni was still on COBRA!
We spent $47 on prescriptions and other pharmacy items which will be paid out of Jenni's new HSA account. There's always some gotchas with HSAs though, check out her top HSA questions and answers post.
Jenni's rock climbing gym membership was extended through August at no additional charge due to the gym being closed last summer. She continues to attend personal training which was $20 this month.
Shopping
Jenni's orthopedic doctor finally cleared her to return to running! She needed a foot brace for plantar fasciitis and Morton's neuroma to help ease her back into it. She bought the foot brace at cost, which is a nice benefit of working at a pharmacy!
We spent $10 on shopping expenses.
Food & Dining
Our grocery spending was pretty consistent with last month's. Our new Publix continues its parade of fantastic BOGO deals. Just before we put the finishing touches on this article, we set out to "grab some milk" and here was the result: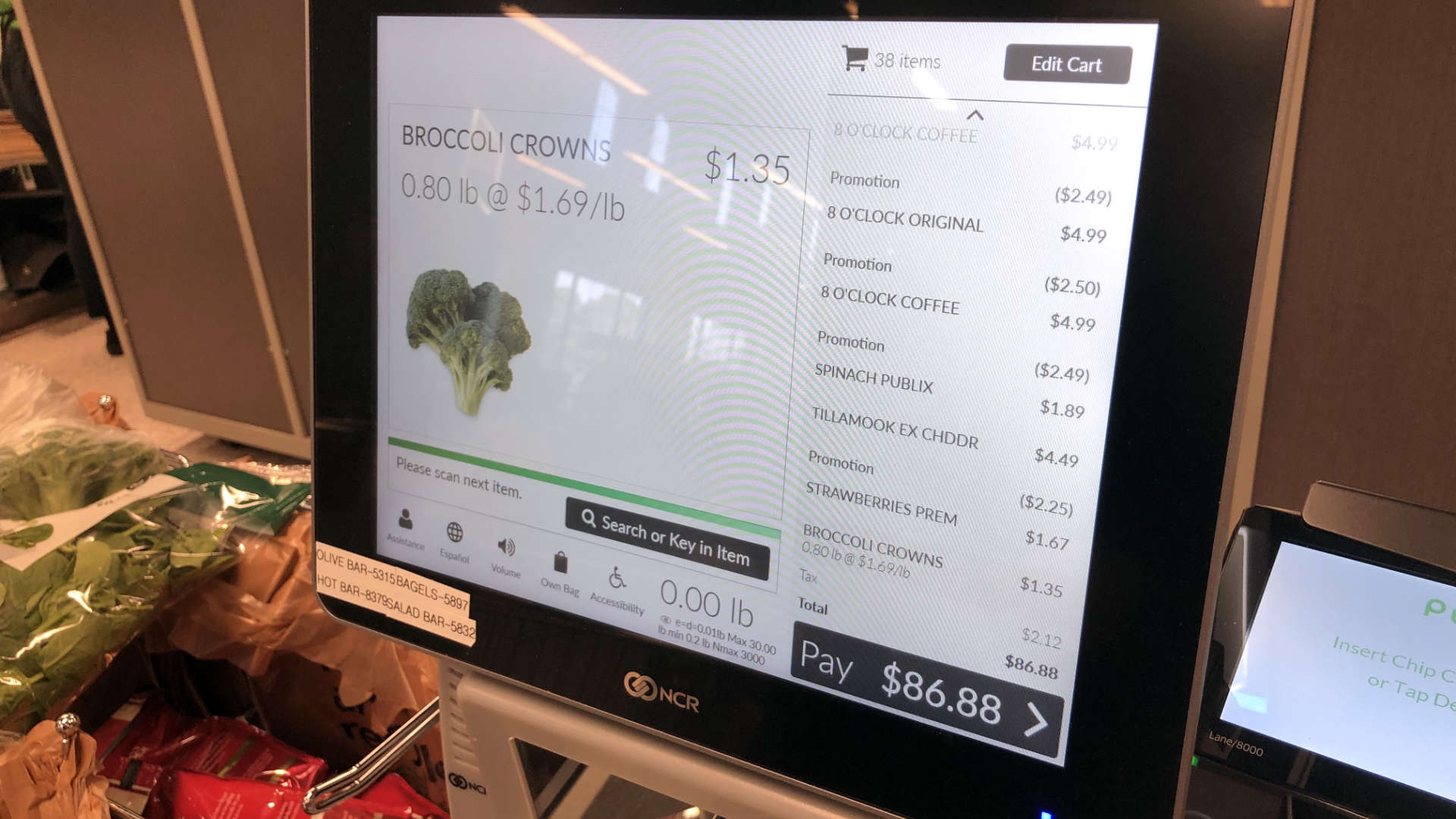 We're suckers for a good deal on shelf-stable food stuffs we know we'd consume eventually. It's a mini investment!
We spent $431 on groceries.
→ Related: Want to see how to save money on groceries in detail?
Restaurants, Fast Food, Alcohol
We treated ourselves to a delicious new Mediterranean takeaway place for Valentine's Day. We tipped the driver an extra $10 in cash for delivering on a holiday from a bill Jenni found on the sidewalk.
Chipotle teased us with enough emails about a "BOGO deal" in our rewards account that we finally got around to making use of it.
In total we spent nearly $39 on fast food this month.
Travel
We renewed a Hyatt hotel rewards credit card for $95 this month.
Among other benefits, this card earns us a free hotel stay at a selection of their properties each year.
If we're lucky, we'll get to use this in the spring for a little road trip to the beach.
Gifts
We spent about $101 on gifts this month.
Jenni and her sisters went in on a gift for her mother's birthday. And to make her nephew feel comfortable after his surgery, Jenni showered him with snacks, recovery supplies, and a nice journal to record his journey.
Donations
Jenni made a direct donation of $5 to Virginia Public Media.
We also donated $3,407 towards our Reader Fund from existing investments and made a $104 grant to our February winner—more on that below.
Utilities
Although a few days in February approached 70 degrees, we've not yet needed the air conditioner which keeps our electric bill low.
We spent a little under $44 on electric this month.
In typical fashion, we spent almost $22 on city services (cooking gas, wastewater).
Our Comcast Internet bill rang in at our standard $40 for internet service. It's about 120mbps, plenty fast.
We don't have any television service.
New prepaid SIM card: Tello!
We both use prepaid SIM cards for our own smartphone service.
Jenni's annual plan with Redpocket was due for renewal.
After realizing she only used 2GB of data in the past four months, she downgraded her SIM card to a 2GB monthly plan with Tello for the next six months. With a deal from StackSocial, she got this plan for $37!
That's about $6/month for cell service!
Miscellaneous
We spent about $40 on business services which came from costs associated with our eBay sales.
The Prius was due for an oil change. While we typically would do this ourselves, a friend gave us a free oil change voucher.
We decided to get the tires rotated and conduct a brake check so we will be ready for any upcoming road trips while it was in for service.
We spent near $54 on general car maintenance.
How Much We Work
We like to keep track of how much time we spend doing work that is paid. For Jenni, this is pretty easy as it's just her paycheck time. Chris manually tracks his hours consulting with Freshbooks (referral).
Our aim is to gradually reduce these hours.
So, how did February look compared to January?
| Month | Chris (Hours Worked) | Jenni (Hours Worked) |
| --- | --- | --- |
| May 2020 | 41 | 108 |
| Jun 2020 | 38 | 96 |
| Jul 2020 | 36 | 120 |
| Aug 2020 | 39 | 48 |
| Sep 2020 | 27 | 76 |
| Oct 2020 | 26 | 104 |
| Nov 2020 | 27 | 57 |
| Dec 2020 | 28 | 57 |
| Jan 2021 | 25 | 102 |
| Feb 2021 | 24 | 104 |
An average full-time job for two people would be about 347 hours.
We're a bit over a third of regular full-time work at 128 hours. That's a lot more time spent working than in recent months, but we both think it's acceptable—if not downright ethically required.
Jenni has been putting in a lot more hours to support vaccination clinics combatting the pandemic.
2021 Theme Update: Discomfort
From Chris: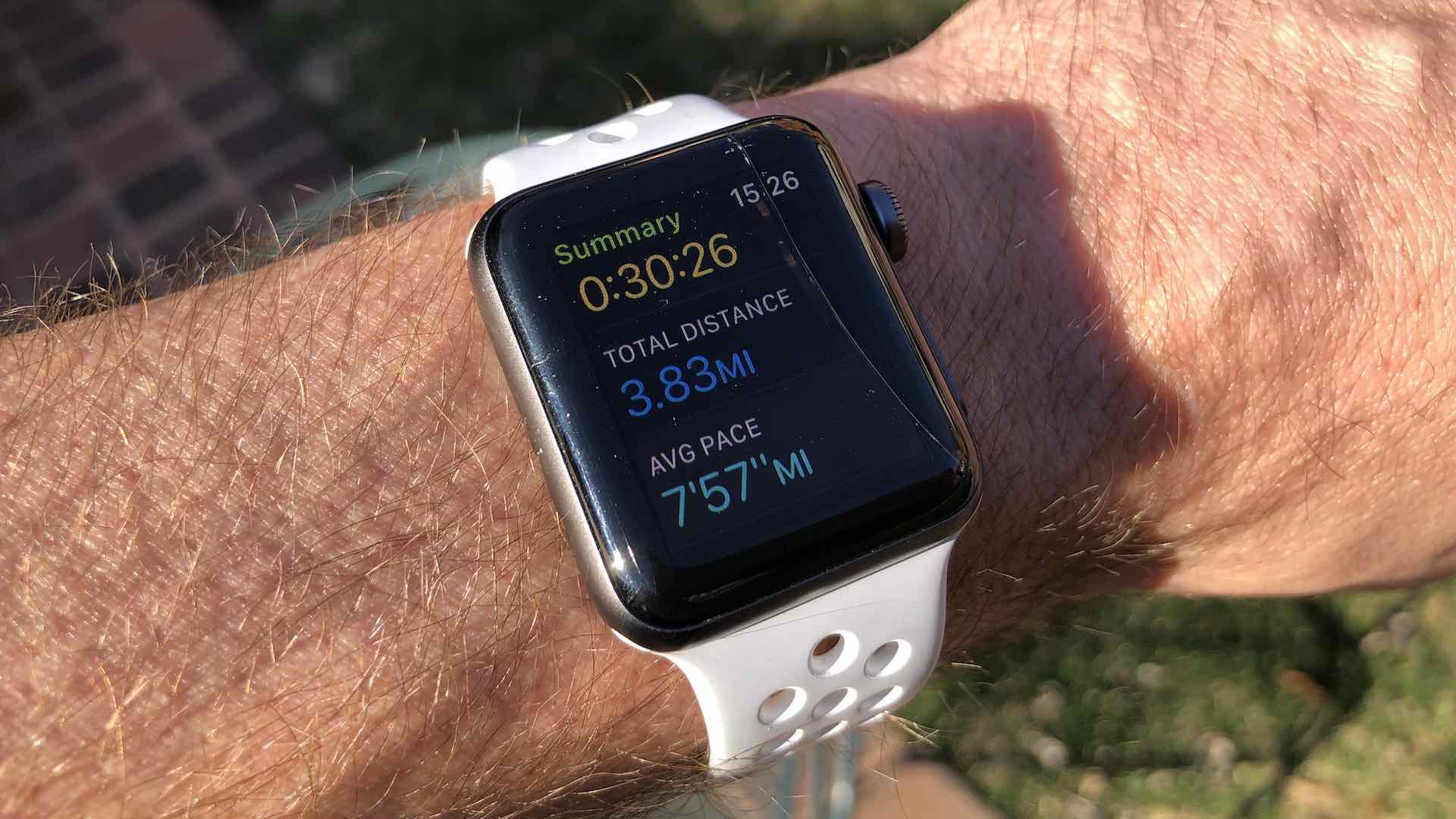 As I mentioned last time, I'll deliver a little update each month towards my Yearly Theme.
For 2021, I chose "Discomfort". This guiding word is a reminder for me to seek out challenges within life and stretch my comfort zone. It's my way of having a "new year resolution".
Here's what I'm going to work on in March:
Schedule more digital and in-person socializing
Return to my daily Gratitude Journal, including a note about that day's discomfort (missed this in Feb.!)
Plan a road trip to the beach for late March/early April to get reacquainted with the world
These goals focus on introspection and coming out of the cocoon that the pandemic has been for me. With more people within our circle of friends and family vaccinated, it's reasonable for us to see some people we haven't seen much in the past year—especially as the weather warms.
I didn't make as much progress as I wanted in February, but I did:
Get to bed a little earlier, though 9 AM wakeup isn't happening consistently
Research refinancing options with our current mortgage lender
Completed a guest post with Jenni on Financial Mechanic about our 4 Ways Financial Independence Changed Our Lives
Log 17 running miles
With productive discomfort being my goal in 2021, I'm aiming to incorporate more healthy stress in my life.
Don't have a "Yearly Theme" for yourself? It's not too late to create one!
Net Worth Update
We don't like to focus on the net worth of writers in the personal finance community. However, we do understand it offers a little context to the writing for the reader.
You might better relate to someone with a net worth and earnings history more similar to yours.
We wrote up an extensive post on our earnings and net worth history that ranged from 2006 to 2018. We did it with an average income of $77K per person over the period we analyzed.
→ Related: How to Become a Millionaire in 10 Years (Debt to $1.2M at 33)
From a high level, our assets and liabilities are shown in the data table below as of February 28, 2021.
| Description | Value (USD, $) |
| --- | --- |
| 401(k) | 668,118 |
| Brokerage | 816,012 |
| Roth IRA | 135,985 |
| HSA | 34,218 |
| Real Estate | 328,825 |
| Mortgage | (152,547) |
| Miscellaneous Assets | 10,750 |
| Checking & Savings | 36,793 |
| Net Worth | 1,878,154 |
Miscellaneous assets include specific investments we've made in physical assets (think collectibles)
Amounts do not reflect the value of the businesses Chris owns or their assets, which should appear as income to us over future years
Jenni's Prius is not included
Our net worth increased by about $17K.
The S&P 500 was down about 0.7% over the month of February while we were up 0.9%. That's not bad considering our assets aren't fully invested in index funds (we have some bonds and quite a bit of cash).
Net Worth History
| Date | Amount | % Change |
| --- | --- | --- |
| July 2020 | $1,555,289 | – |
| August 2020 | $1,597,334 | 2.7% |
| September 2020 | $1,566,393 | (2.0%) |
| October 2020 | $1,568,182 | 0.01% |
| November 2020 | $1,720,113 | 9.6% |
| December 2020 | $1,810,864 | 5.3% |
| January 2021 | $1,860,996 | 2.8% |
| February 2021 | $1,878,154 | 0.9% |
February 2021 Donation Winner
In honor of Black History Month, we were excited to learn about and share four organizations supporting racial equality with you. The organization received our donation focuses on civil rights, land retention, access to public and private loans, training, and rural economic development for Black and small farmers.
We had 20 voters this month. The winner with 8 votes goes to National Black Farmers Association.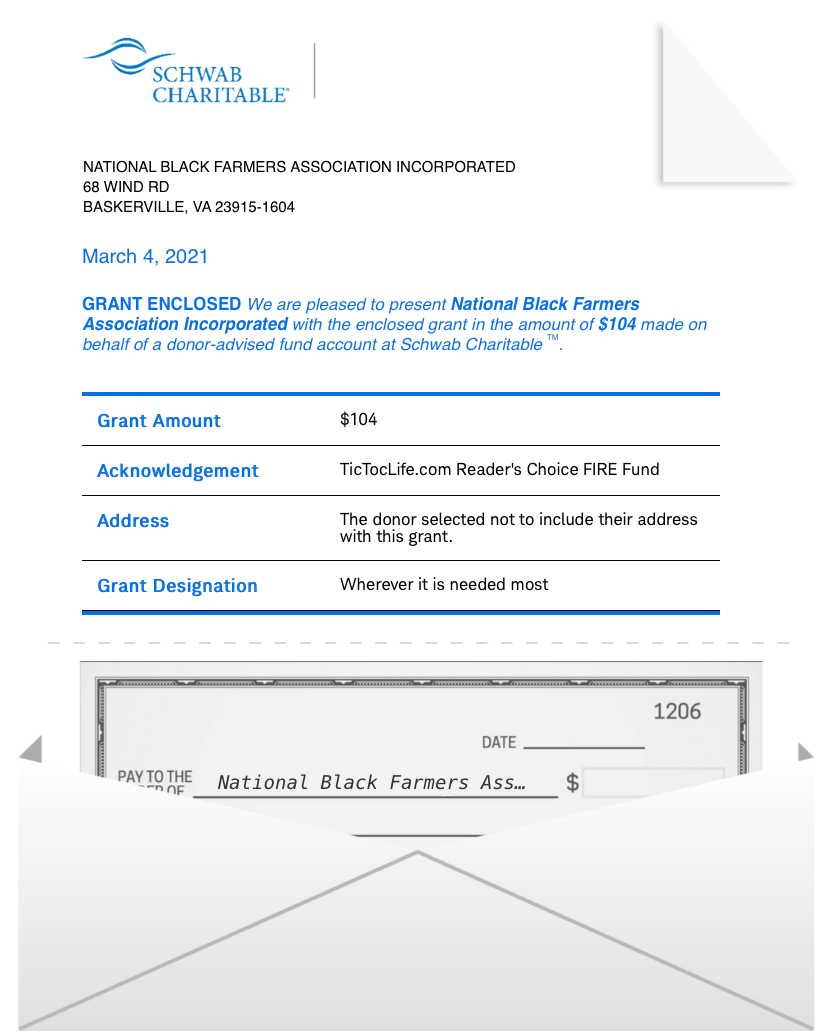 This is our first donation that's over $100 for the month. That's more than double where we started some months ago! Our Reader's Fund seeks to leverage the principles of FIRE to build a lifetime of giving.
By the time we're near normal retirement age, it's easy to see how the fund could grow to $250K and donations would be in excess of $800/month! That's the power of FIRE and compound interest!
Thank you for the participation in the poll! If you would like to see changes to the way we display our candidates, let us know in the comments.
Polls are now open for our next round of candidates: healthcare nonprofits.
Healthcare Nonprofits (Donation Poll)
Staying safe and healthy is top of mind right now as we all fight to avoid getting sick. While staying home and social distancing keeps us safe from the virus, all of our other health issues may be going unmonitored—especially as money becomes tight when someone loses their job. That's where healthcare nonprofits can help.
Preventative cancer screenings and the monitoring of chronic health conditions need to be addressed. Cancer doesn't stop for a pandemic.
Health and wellness are some of the most important things to us. We know that it has been hard to get to the doctor and the virtual appointments aren't the same. That is why we chose to highlight three organizations that promote health and wellness through research and education as well as supporting the underserved and rural populations. Let's get everyone's screenings back on the books.
Summaries below include a link to their Guidestar profile which details the non-profit's operations and transparency.
1) Prevent Cancer Foundation
Why? Cancer affects everyone no matter their age, race, or financial status. This organization aims to stop cancer before it starts through research, education, outreach, and advocacy. They are dedicated to cancer prevention and early detection for all cancers and have a variety of ways to achieve their goals.
Where? United States, Mozambique, Ghana, Kenya, Washington, DC, Maryland, Illinois
What? The Prevent Cancer Foundation was founded in 1985 to tackle cancer. This organization now funds and awards grants for the research of cancer prevention and treatments and has several programs to educate and screen the community.
Campeonas Project: Breast and cervical cancer education, screening and early detection to medically underserved Hispanic women
Education of the link between cancer and viruses.
The Prevent Cancer Super Colon, an inflatable mobile colon unit used for the education of colon cancer
Congressional Families Cancer Prevention Program: a bipartisan effort to increase the public's understanding of cancer prevention and early detection.
2) St. Marys Health Wagon
Why? Many people living in rural areas have difficulty getting to the doctor for one reason or another. They may not have transportation or are worried about the cost. The Health Wagon solves this problem by bringing the doctor to their community for free. They serve over 4,500 people in the Appalachia Area who may see a doctor only once a year if that.
Where? Virginia, Kentucky, Tennessee
What? The St. Marys Health Wagon was founded in 1980 with the mission to provide compassionate, quality health care to the medically underserved people in the Mountains of Appalachia. This mobile clinic visits the area to provide screenings and medical care to the people and pets of this area. Some of their services of the M7 Moving Mountains Medical Mission include:
Free primary and specialty medical health care
Free dental care
Free vision care
Free veterinarian services.
Preventive care such as mammograms, pap smears, vaccines and health screenings
Behavioral health
Telehealth
3) Crohn's & Colitis Foundation Inc.
Why? Being a kid is hard enough despite having to deal with your digestive system not working correctly. We've seen several family members battle with Crohn's and colitis and the effect it's had on their development and growth. Every day can be a battle to maintain weight and not have a flare-up. This organization wants to improve the quality of life for children and adults affected by these diseases through research and the development of new treatments.
Where? United States
What? The Crohn's & Colitis Foundation Inc. was founded in 1967 and has put $384 million into finding the causes and treatments for Crohn's and colitis and other inflammatory bowel diseases (IBD). This foundation is a non-profit, volunteer-based organization raising funds across the United States to award grants to the best IBD researchers. Their peer-reviewed process ensures only the most promising grant applications are funded. In addition, the foundation develops educational materials, has support groups, and promotes advocacy.
Poll supporting healthcare nonprofits
After reviewing the healthcare nonprofits listed above, please take a moment to vote for which nonprofit you think will put funds to use in the best way.
This is your opportunity to guide our giving and participate in supporting these organizations.
(Having trouble using or seeing the poll above? Some reader tools or apps may not display it. View this page in a browser or use this link to our Reader Fund page which has a copy of the poll!)
Thank you for taking the time to vote!
One of our primary goals with TicTocLife is building a stream of giving within the FIRE community and that starts with knowledge.
What Does March 2021 Hold?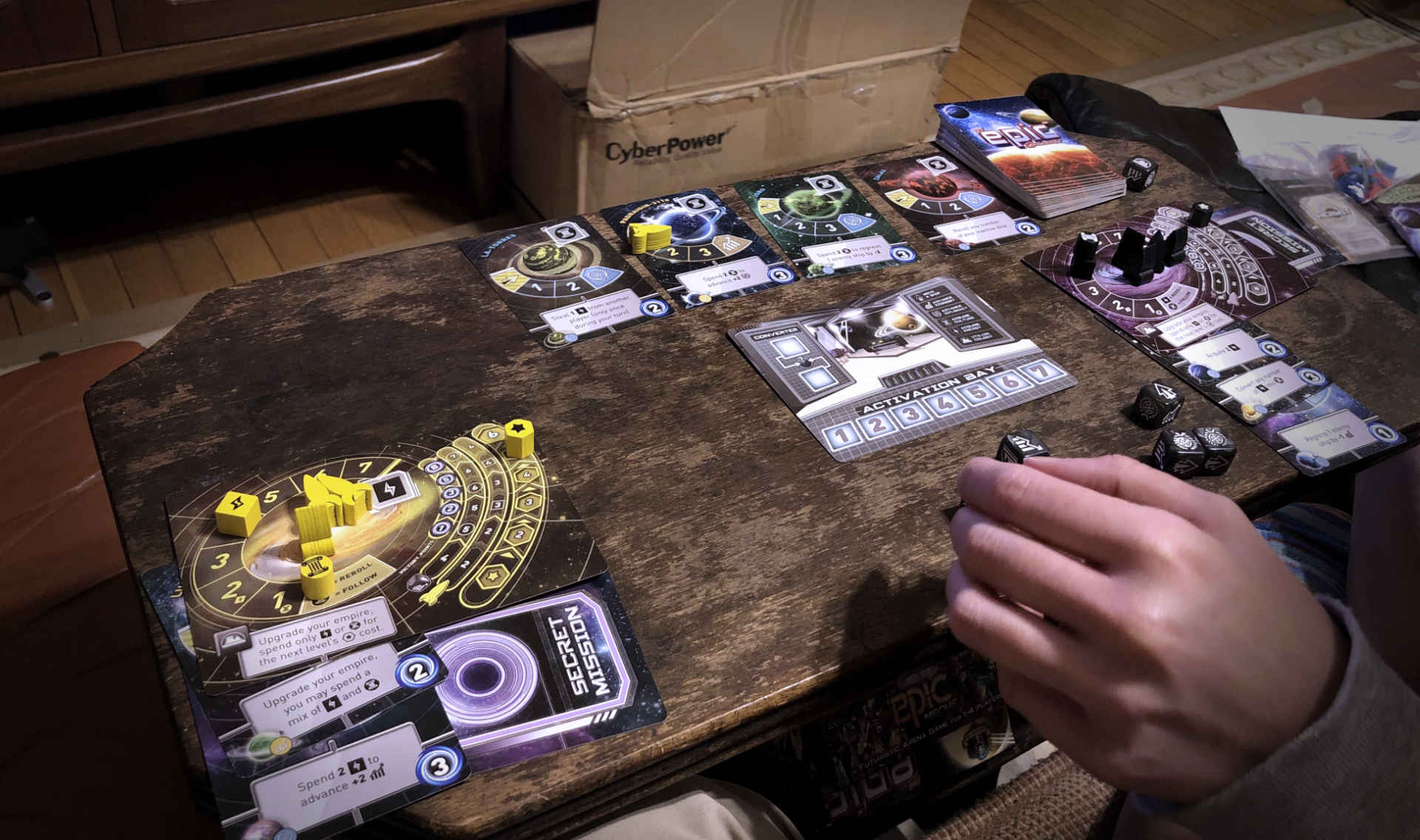 We're hoping that March includes a trip to a beach within driving distance. That'll probably mean visiting one of our favorites in North Carolina—Emerald Isle or Wrightsville Beach. They're far enough south that if we time it right, we'll probably have a sunny day warm enough to be in shorts and t-shirts. Between winter and the pandemic, we've felt pretty cooped up.
With the vaccinations ramping up, we're more confident in taking a little trip like this. And of course, Jenni will almost certainly vaccinate hundreds of folks in our area throughout March.
Next month's FIRE budget should include a line item for our roof leak repair and resolution to that story along with plenty of pics of a sandy beach, or so we hope!
---
How are things shaping up for you and your family in March?
Are you keeping up with your Yearly Theme or "New Year Resolution" so far in 2021?
Let us know in the comments or on Twitter!