In case you've been hiding under a rock the last month—and especially the last week—GameStop stock ($GME) has seen wild mania on the market. And I'm worried about it. If you're on the path to financial independence, you probably own some GameStop stock whether you realize it or not. Yes, GameStop is in VTSAX and VTI.
Should you worry? And what does this all mean for future individual investors?
Do You Own GameStop Stock?
On the path to FI? You likely invest in broadly diversified index funds. One of the most well known is Vanguard's mutual fund VTSAX (and its ETF counterpart—VTI).
VTSAX is comprised of some 3,500+ US public company shares.
Guess what company just so happens to appear as part of these holdings?
You guessed it—GameStop.
Vanguard's ownership of GameStop stock
In fact, Vanguard as an institution owns nearly 8% of GameStop based on recent data.
Any guesses as it which fund comprised the largest portion of Vanguard's ownership?
Yep, VTSAX.
About 2% of GameStop is owned through VTSAX—nearly 1.5 million shares at the end of 2020.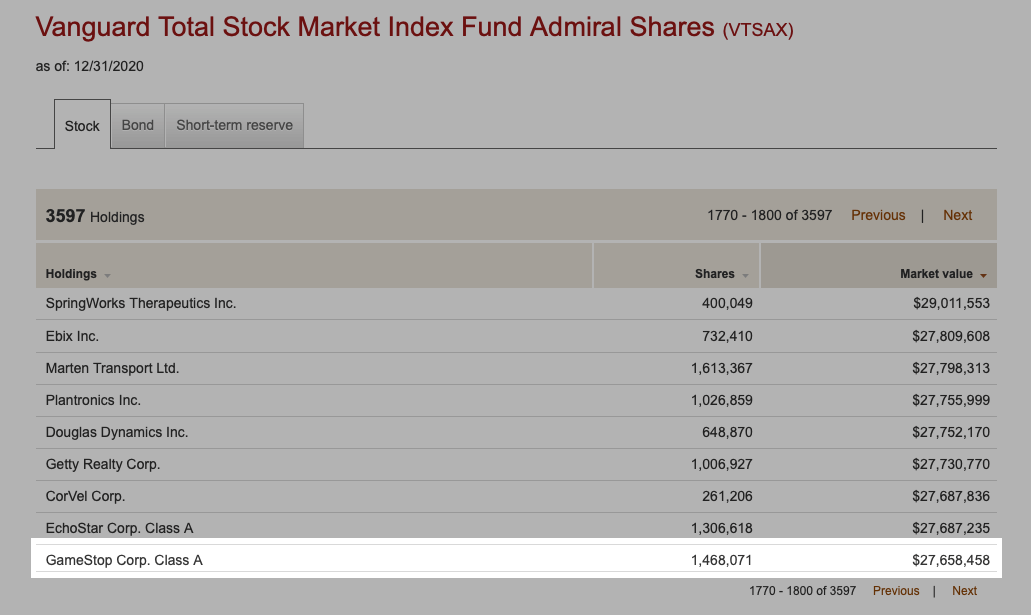 As 2021 began, those 1.5 million shares would have been worth about $28.5 million. As VTSAX is market-cap weighted, the fund should still own about the same number of shares today.
With GameStop's stock price recently closing at $325/share, VTSAX's 1.5 million shares are worth about $488 million. That's a return of about 1,712%!
Good job on the …17 bagger, VTSAX!
Vanguard's total 8% stake is worth about $1.8 billion at a $325/share price.
That's great for Vanguard, but what about you—an individual owner of a fund like VTSAX. How much do you own through your index funds?
Ownership of GameStop through index funds (VTSAX, VTI, etc.)
We'll keep going with VTSAX as our example fund, though plenty of other institutions are invested in GameStop through different active and passive funds.
VTSAX has $1.1 trillion under management. As of the end of Q4 2020, their largest holding is Apple with about $57 billion invested—a bit over 5%. If you own VTSAX, a little more than 5% of your total investment amount is really invested in Apple.
If you've got a cool $1 million in VTSAX, you effectively have $50K in Apple.
What about GameStop?
With nearly $28 million invested in GameStop of VTSAX's $1.1 trillion, about 0.00255% of your VTSAX investment is in GameStop.
A million bucks in VTSAX means you had about $25.45 in GameStop as of December 31, 2020.
You've got about 1.34 shares of GameStop.
With the recent $325/share price, you're sitting on about $435 of GameStop stock.
Diamond…hands?
So Why Am I Worrying?
While a whole lot of folks will say "I like the stock"—most of the mania in the share price is really coming from an ideological fight between institutional shorts and individual long investors.
As I read it, much of the focus is on catching hedge funds with their pants down over-shorting GameStop. From a technical perspective—at least at some point—there were more shares that appeared to have been sold short than there were available. If that was really the case, it's supposed to be illegal. Shorting more shares than are known to be available is called naked shorting.
It's also a huge risk to the entity that's on the short side of the equation. If you borrowed shares that don't actually exist and bet they'd go down in value, what happens if they actually go up? To cover the short position you wind up forced to buy someone's long position at ever-increasing prices. You also have to cover the value difference itself.
You're in it deep.
You can see how if a group wanted to put the screws to another group, sniffing out a situation like this offers a pretty tremendous opportunity.
However, due to some confounding technical processes that might not have been the case. This article does a good job of explaining how a combination of brokerage and market maker shares could reveal the "real" short position was less than 100% and no naked shorting occurred.
Since market data for these positions isn't real-time, it's hard to say what's really happened or where the hedge funds are on their positions today.
Late last week, the head of the biggest known short seller of GameStop claims they exited their short position with a complete loss.
While it could just be damage control, at least some of the hedge funds facing backlash seem to be turning a corner on their approach.
This is where I get worried.
An ideological bubble
If (and frankly, it could be a pretty big if with their company at stake) the biggest shorts are out of GameStop, what's left to support the current price level are the longs. There's little doubt that there's a huge number of individual investors with (relatively) small amounts of money in GameStop stock.
A good friend of mine let me know he was in and out of the stock, driven by the hype, early in the week. Paper hands? Maybe.
But he's not alone. And at least in his case, the money was more of a gamble that he could afford to lose.
But there are countless folks that at least claim to be long on GameStop with money they can't really afford to lose.
Is GameStop stock fueled by rent money?
There is an ever-increasing number of commenters on /r/WallStreetBets saying they're paying their rent with a credit card and buying a share or three of GameStop. Others have taken downpayment money or college funds and put it in. Many, many people suggest they're paycheck-to-paycheck and are doubling-down on GameStop with any funds they can come up with.
Now, the reality is that WSB is usually filled with jokes and memes. And I suspect there are a lot of users that are exaggerating the extremes of their investment situation.
…And of course there are still plenty of high quality memes.
This one sums up the culture of WSB and the GameStop drama pretty well:
But I think that there's a lot of people getting caught up in the hype and are genuine. The subreddit that started it all has seen a huge influx of users. New users are undoubtedly less familiar with the …culture of the forum.
What I'm worried about is how many people have their next paycheck, last month's rent payment, next month's credit card bill, and all their savings tied up in GameStop.
Users that claim to be all-in like this are heavily upvoted.
And of course the mania has spread far beyond WSB.
Are institutional investors riding both sides of this bubble?
Is GameStop's stock price no longer resting on short sellers getting squeezed?
Might individual long investors now just be selling to each other to keep the price going higher?
Is it instead today's Tulipmania?
I don't know. There's not enough data to be able to analyze this. The folks who do have the data or at least an inkling of it are almost certainly taking advantage. Are the hedge funds now riding the stock price up, making a killing on the backs of regular Joes and Janes that have been trying to put the screws to them?
Probably. Sadly.
And if they are, they'll get out when the price comes back to reality before all those regular Joes and Janes can avoid catching the falling knife.
That's what they do.
This market reality makes me sad. And it also makes me root on the little guy.
The case for shorts
Here's the thing: hedge funds really have been screwing some companies by putting out hit pieces and shorting them to hell. There are a couple of recent cases as cited in this Reuters report where the SEC is investigating.
Of course there's two sides to the coin.
Betting against companies has been around for a long time. It has served as a way for investors to reveal genuine malice and coverups by bad actors.
If you popped open that Reuters report from 2019 I linked above, you might have noticed a familiar name: Andrew Left. He's none other than the head of the big short seller (Citron Capital) that's been getting squeezed with the GameStop mania.
Reuters suggested that Left's negative reporting in 2015 of Valeant Pharmaceuticals International, Inc and subsequent short selling helped make a name for him and Citron. In fact, eventually, some folks involved with Valeant were sentenced to prison in 2018.
There are some positive aspects to ensuring that short selling remains part of our capitalist society.
Are Shorts Out of GameStop?
We're left with two possible outcomes with the current GameStop stock mania.
There's still a lot of shorts that need to cover, so if the longs don't sell, prices will continue to rise and the remaining longs will make more money
Not many shorts remain and most price growth is coming from longs selling to other new investors as they cash out
I think that leaves us with some incredibly interesting behavioral economic experiments that are going to playout.
What if shorts are still covering?
If it's the first case and there's still a lot of hedge fund money sloshing around in shorts, those individual investors might still make a lot more money. If they don't sell.
Normally, my faith in investors not taking money off the table to keep the price elevated would be pretty low.
Game theory and the Prisoner's Dilemma
If you're familiar with the paradox, the Prisoner's Dilemma, you'll understand why self-interest would usually suggest that individual GameStop stock investors would sellout as the price goes parabolic.
Basically, in this paradox, individuals act in their own self-interests naturally. When they do so, they don't produce the optimal outcome. As a result, they find themselves in a worse state than if they had cooperated with each other.
Just look at this chart: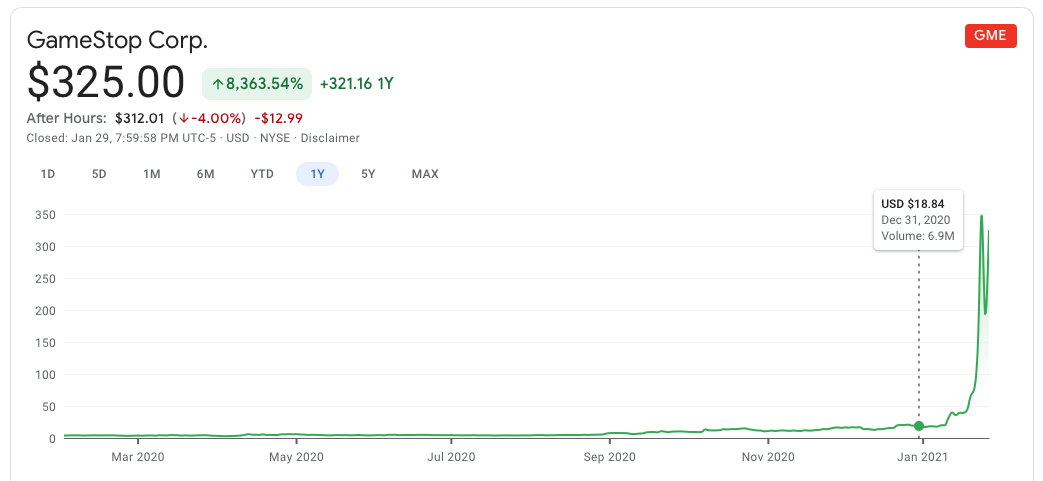 Individual investors holding GameStop are driven to sell by their own self-interests as the price rises. But if they do so, the selling pressure will drive down the price for everyone else. If they cooperate and hold, they might be able to keep the price from collapsing.
Extending the idea of the Prisoner's Dilemma to our GameStop scenario here, we could think of it as a Public Goods Game.
Winning the Public Goods Game
I'll try to summarize this game.
Players are given a sum of money they can choose to contribute to a shared pot or keep for themselves. The sum of money that is contributed is then multiplied by a variable factor. The resulting balance is then divided amongst the players no matter how much they contributed.
Here's a simple example:
Let's say there are 4 players given $10 each and the pot multiplier is 2x. If everyone contributes their full $10, the total shared pot is $40. It's multiplied by 2 and the total is $80 which is then divided amongst the 4 players.
Everyone walks away with $20 instead of the $10 they started with.
Let's say this experiment is run again with the same players.
Having seen how things worked out, a player might rightly see that in their own self interest they could contribute none of their initial $10 and assume other players will contribute their full $10 again. Assuming so, the pot will be $30, multiplied by 2 to become $60 and divided amongst all players so each receives $15.
The player who contributed nothing will walk away with $25 (more than when they contributed in the first iteration). Other players only receive $15.
You can imagine how a third iteration may result in no one contributing anything and everyone getting just $10.
In fact, that's what experiments in this game often show—different multipliers and group size affect the result but subsequent iterations tend to decrease contributions.
If GameStop investors continue to hold, they won't see any monetary value from the increased share price. They're effectively keeping as much money "in the pot" as they can.
Their self-interest pushes them toward selling as each day passes and more shares change hands in a sort of iteration of the public goods game.
Will our "players" in this game be able to hold through more iterations that have been found to be experimentally "normal"?
I think they might, and my reasoning is perhaps the most interesting part of this whole event.
The players don't seem to care about maximizing their own personal self-interest.
They want Wall Street—specifically activist shorting hedge funds—to burn.
It's an ideological war they're waging more than it is an opportunity to make money.
Or at least, that's what they say!
What if most of the shorts are out of Gamestop?
If you read through the popular posts and social media making the rounds on GameStop, you'd think that the greatest short squeeze is 100% still yet to come.
That's the big motivation for the first possibility above. Individual investors are banding together to try to divert billions of dollars invested short on GameStop away from Wall Street.
But what's most surprising about this is that the motivation really doesn't seem to be to make a profit. The profit seems to be a nice side effect.
What this rag-tag group seem to want is to teach the hedge funds a lesson.
It's Occupy Wall Street 2.0.
If they're right and there's still a lot of short interest in GameStop, I can see how increasing prices may not shake the resolve of all the individual investors.
Diamond hands is their mantra for a reason. They might just keep holding.
But if they're wrong and most of the shorts are out of GameStop, I'm worried.
If the shorts are out, the ideological war is already over against the hedge funds and they've suffered their loss.
If there's no enemy left to fight, then what?
Then we're back to all the people who have bet their credit card debt, rent payments, and little cash they have in a public goods game where the multiplier might be 1x.
How many iterations does it take for people to start to realize that the best course of action is to keep their contribution?
The short money is what's been creating that >1x multiplier that's kept the iterations going and a profitable outcome to contribute.
Whether the shorts are already mostly out or not, at some point they will be. And when they are, what happens to $GME when it's most individual investors buying shares from each other?
The Future for Individual Investors
I don't know what is going to happen with GameStop's stock price in the coming weeks. No one can predict that. I've outlined some possibilities and concerns I have about individual investor's funding sources.
Personally, I learned my lesson investing in individual stocks long ago.
But I've also missed all the explosive growth in crypto, Tesla, and countless others. We can add GameStop to that list. I consider myself a disciplined investor and try to avoid the behavior gap.
But still, I'm rooting for the success of WSB's attempt to level the playing field with Wall Street.
Individual investors are hobbled by high-frequency trading, lobbying for favorable regulation, and the power which gobs of coordinated money come with.
On the other side of this, GameStop winners who have taken some money off the table are trying to do good with it.
WSB may be filled with memes, but it's also become a place of some very positive stories.
And lastly, I'll leave you with one more hopeful note expanding on the behavioral economics side of the equation.
Despite the economics concepts I mentioned (the Prisoner's Dilemma, the Public Goods Game, and the Tragedy of the Commons) showing that all too often we as humans act in our own self-interest at the detriment of the common good, sometimes we figure out a way around it.
There was a popular British game show years ago called Golden Balls. In it, players would build up a jackpot through various game mechanisms. In a type of final round called Split or Steal two contestants would decide their fate together and what would happen to the jackpot.
It worked like this:
Each contestant must choose whether to "Split" or "Steal". They can speak to each other for a short period while deciding.
If both choose Split, they each receive half the jackpot
When one chooses to Steal and the other Split, the Steal contestant wins the whole jackpot and the Split contestant wins nothing
If both choose Steal, neither win anything
As you might imagine from our behavioral psychology examples earlier in this post, lots of people would try to trick the other person and secretly look out for their own self-interest. Occasionally, we'd see some good and both would verbally agree to Split and actually do so.
But might we figure out a way to ensure everyone wins?
Here's the craziest end to an episode of Golden Balls that broke the game:
Ultimately, it's going to up to investors of GameStop to decide how all this comes to a conclusion.
Power to the players.
---
Disclaimer: None of this is financial advice. I'm not a financial advisor. My back of a napkin calculation suggests Jenni and I own around 2 shares of $GME via index funds, which we're holding.
Have you got involved with the GameStop hype over the last few months?
What are your thoughts about all of this and where'd I get it wrong (or right!)?
Do you own more GameStop via VTSAX or other index funds than you thought?
Let us know in the comments!