Here's the bottom line: our 2020 FIRE budget was $40,862. That's what it cost for us to lead a content, fulfilling middle-class life. This post reveals how we did it.
Each year, Jenni and I breakdown our annual expenses in order to compare our current selves to our past—to see if we're sticking with our spending trends over time. The expense data forms our annual FIRE budget basis.
As two 36-year-olds in an urban area of Virginia, we feel like we have pretty typical modern lives with all the creature comforts one might desire. Yet our spending has trended downward over the years, especially when accounting for inflation.
We hope revealing the details of our spending in this FIRE budget will inform your own spending goals. Perhaps it will lead you to a few tricks of how we keep our spending low and spend less than we earn.
While this post doesn't include information on monthly income or net worth changes, our monthly budget updates do. Despite 2020's problems and Jenni changing from fulltime to part-time work, we've still saved over 50% of our income on average in the past year. Since May of 2020, we've detailed each monthly budget on TicTocLife. You can really dig into the number details of how we've reached FIRE through those budget reports.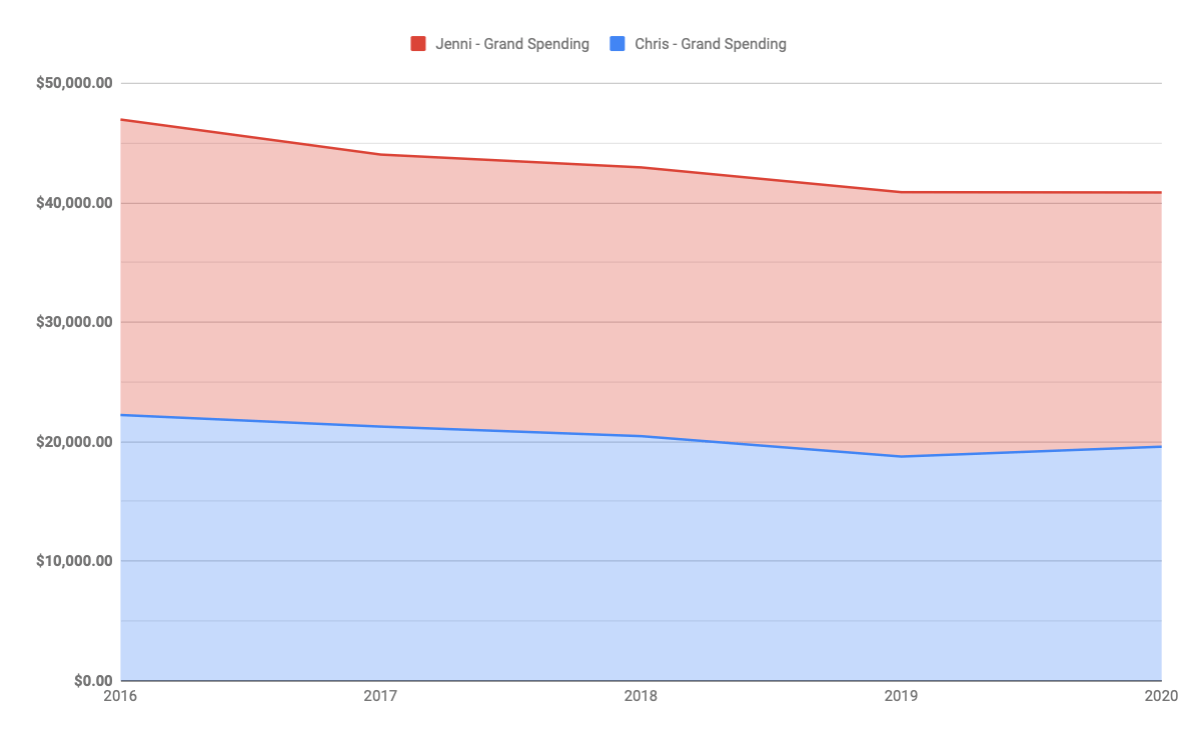 Jenni and I started tracking our combined expenses as a couple in 2016. By doing so, we can monitor for developing trends—if our combined restaurant expenses are on the rise, it might be indicative of a problem we need to address. But, the data can also be reassuring.
For example, we both felt we were spending a lot more on groceries in 2020. It turned out we spent much less overall because we were able to save so much money through Ibotta and Kroger rebates as well as Chase's reward point system.
We walk through all these categorical spending details below and hope that you find some diamonds in the rough to help build your own sustainable FIRE budget.
2020 FIRE Budget
Before we get into the nitty-gritty, let's take a look at the 50,000-foot view of our FIRE budget in 2020.
We've produced a pie chart below that reveals the biggest spending categories for us.
As you can see, our home-related expenses account for just over half our spending! While we still have a mortgage, only about half of those home-related expenses would be cut if we fully paid off our remaining mortgage.
The remainder is in ongoing maintenance, property taxes, insurance, and HOA fees.
The other notable cost center is our health & fitness expenses. With Jenni losing her employer-sponsored health insurance, we've seen a significant increase in spending in this category. We expect that to continue into 2021 unfortunately.
Those two categories account for nearly three-quarters of our spending (!!).
Let's dive into the details.
Expense details
Our categorized expense table below is grouped by parent categories (leftmost column), subcategories within that parent (middle column), and the amount spent (right column).
Parent categories are totaled on their row, summing all of the subcategory expenses below it.
Parent category names are linked to a short discussion about that category which follows the table.
As a point of reference, we live in a medium cost of living, medium-sized city in Virginia, in the United States.
We live on the edges of a city proper so we generally walk to entertainment, parks, and stores. Despite the higher taxes and living costs, we figured that free entertainment, easy walking, and reduced commuting made city life a better choice for us than country living.
Categorized expense table
| Category | Subcategory | Spent ($) |
| --- | --- | --- |
| Home | | 20,871.34 |
| | Mortgage Principal | 4,390.59 |
| | Mortgage Interest | 5,657.25 |
| | Property Tax | 3,516.00 |
| | Insurance | 790.00 |
| | Improvement | 1,152.00 |
| | Service | 1,152.00 |
| | HOA Fees | 4,200.00 |
| | Lawn & Garden | 0.00 |
| | Supplies | 13.50 |
| | Furnishings | 0.00 |
| | | |
| Food & Dining | | 3,990.90 |
| | Groceries | 2,733.65 |
| | Restaurants | 707.91 |
| | Fast Food | 91.63 |
| | Alcohol & Bars | 443.00 |
| | Coffee Shops | 14.71 |
| | | |
| Travel | | 1,548.36 |
| | Hotel | 1,465.33 |
| | General | 131.83 |
| | Air Travel | (48.80) |
| | Rental Car/Taxi | 0.00 |
| | | |
| Health & Fitness | | 9,017.13 |
| | Insurance | 6,489.45 |
| | Dentist | 307.58 |
| | Sports | 1,405.88 |
| | Doctor | 577.88 |
| | Pharmacy | 119.93 |
| | Eyecare | 116.41 |
| | | |
| Bills & Utilities | | 1,755.93 |
| | Utilities | 1,096.09 |
| | Mobile Phone | 227.96 |
| | Internet | 431.88 |
| | | |
| Auto & Transport | | 1,537.31 |
| | Gas & Fuel | 449.36 |
| | Insurance | 538.46 |
| | Parking | 40.50 |
| | Tolls | 70.00 |
| | Service & Parts | 300.75 |
| | Property Tax | 136.49 |
| | Public Transportation | 1.75 |
| | | |
| Entertainment | | 82.62 |
| | TV & Movies | 0.00 |
| | Amusement | 82.62 |
| | Arts | 0.00 |
| | | |
| Shopping | | 740.43 |
| | Electronics & Software | 62.32 |
| | Clothing | 121.74 |
| | Books | 0.00 |
| | Sporting Goods | 556.37 |
| | Toys & Hobbies | 0.00 |
| | | |
| Gifts & Donations | | 1,176.37 |
| | Gift | 521.27 |
| | Charity | 655.10 |
| | | |
| Personal Care | | 138.27 |
| | General | 138.27 |
| | Laundry | 0.00 |
| | | |
| Fees & Charges | | 3.00 |
| | Bank Fees | 0.00 |
| | Service Fees | 3.00 |
| | | |
| Major Unbudgeted Expenses1 | | |
| | Car purchase, cosmetic surgery, yacht, etc. | 0.00 |
| | | |
| Subtotal2 | | 30,813.82 |
| GRAND TOTAL | | 40,861.66 |
| | | |
| 4% SWR Basis3 | | 1,021,541.50 |
| | | |
| | | |
Footnotes:
(1): Large, unplanned and unbudgeted expenses can come up but should be infrequent.
(2): Defined as all expenses minus mortgage interest & principal—if we paid the mortgage off this is what we'd have spent.
(3): In order to maintain this level spending, we'd need this much in appreciating assets to meet the classic "4% rule" (25x our annual expenses, the Grand Total number)
---
FIRE budget breakdown
We think that the expense numbers really only tell half the story. For each spending category, we explain what expenses we incurred, why, and some spending strategies to help you manage your own costs.
If you're uninterested in the details, skip down to our overall review of our 2020 expenses.
Home
The Home budget category covers all things related to our housing. Our home purchase in 2013 included a 20% downpayment and a 30-year fixed rate APR mortgage near 3.8%.
Total mortgage principal & interest: $10,048.
As mentioned in our financial mistakes to avoid in 2021 post, we intend to refinance this mortgage with rates closer to 3% these days.
Our property taxes ($3,516) rose slightly due to a reassessment, which has been a fairly consistent event in recent years. The local real estate market remains hot with properties selling within days of listing.
Our home insurance ($790) is through Geico. Our coverage is enough to cover replacement costs and has a high deductible scheme. We earn a slight discount on our home insurance by being shareholders of Berkshire Hathaway (and therein, Geico).
Home improvement and services ($2,304) are budgeted as 1% of the value of the dwelling (so 0.5% per). According to the FIRE budget above, we anticipate $96 per month for both improvement and service categories. So, $192/month over 12 months means a total of $2,304 per year, equating to a $230,040 dwelling.
In 2022, it may be time to reevaluate this figure and increase how much we set aside for maintenance and improvement as the home continues to age and values increase.
When folks evaluate whether to rent and invest or buy a home, some total homeownership costs are often overlooked—like ongoing repair and maintenance.
Our real maintenance expenses this year were just under $300 (including Jenni's DIY brick patio project), but in previous years they were several thousand dollars when major expenses like a roof replacement came up.
Setting aside 1% of the value of the home each year has helped us smooth out the lumpy costs of maintaining a home.
The HOA fee ($4,200) may seem high at first glance, but the fee covers multiple utility-like expenses. The fee includes:
Heating
Water usage
Landscaping
Common area maintenance
Garage maintenance
Gutter cleaning
Our HOA is managed internally by fellow owners, unpaid. Fees end up flowing back to owners—and often in more collective, efficient ways. For example, a single commercial water boiler provides hot water for everyone. Our neighborhood was originally set up as a cooperative in the 1920s.
Home supplies ($14) include cleaning items, paper towels, and so on.
Food & Dining
Our grocery expenses ($2,734) were dramatically less than in 2019, but only because of a major credit card rewards benefit. I remember writing early in the year that we were happy with how much we'd cut back on our rising grocery expenses compared to 2019. Little did we know how much the pandemic would affect our grocery expenses.
We had a couple priorities:
Eat quality foods, sometimes as a delight and emotional crutch
Get in and out of the grocery store quickly
Both of these priorities meant that our grocery expenses would rise. We chose higher quality, more healthful foods even when they were relatively significantly more expensive than their slightly less healthful counterparts.
With a raging pandemic, we wanted to be in fighting shape and also find a little more pleasure in cooking and eating since we'd lost some other sources of amusement and joy in life.
We didn't spend as much time hunting for deals in-store or dealing with coupons, rebates, etc. since our priority was to get in and out of the store quickly.
Despite all of this, we spent about two thirds as much on groceries as we did in 2019.
How?
Well, we still abide by the principles outlined in our expert how to save money on groceries post. But there was also one heck of an offer from Chase…
We receive thousands of dollars in statement credits via our Chase Reserve card by redeeming our rewards points toward grocery expenses. This new benefit was part of Chase's "stimulus" for the pandemic and meant we'd earn a 50% increase in reward point value for our grocery expenses.
It was a good use of reward points, though it obfuscates our real grocery expense.
Restaurant spending ($708) reached a new low for us, which should surprise no one. Most of this spending occurred early in 2020 when dine-in restaurants were still operating and we were on a trip to California.
We did make a few trips to restaurants during our 2020 staycation. We also celebrated a couple of birthdays at a few dining venues throughout the year where the bill was more or less the gift.
Our fast food budget ($92) was low for the same reason as restaurants. Most were closed and we didn't travel nearly as much. We occasionally used Uber Eats or DoorDash when they had exceptional promos on local pickup orders.
Alcohol & bars ($443) remained a pretty high spending category. We've never been real big on the bars part of this category, but we did like a tasty drink here and there. We made plenty of those at home and splurged a bit at the liquor store on occasion to try something new.
Our next trip to the UK may be better than ever as we both have an increased enjoyment of scotch.
Travel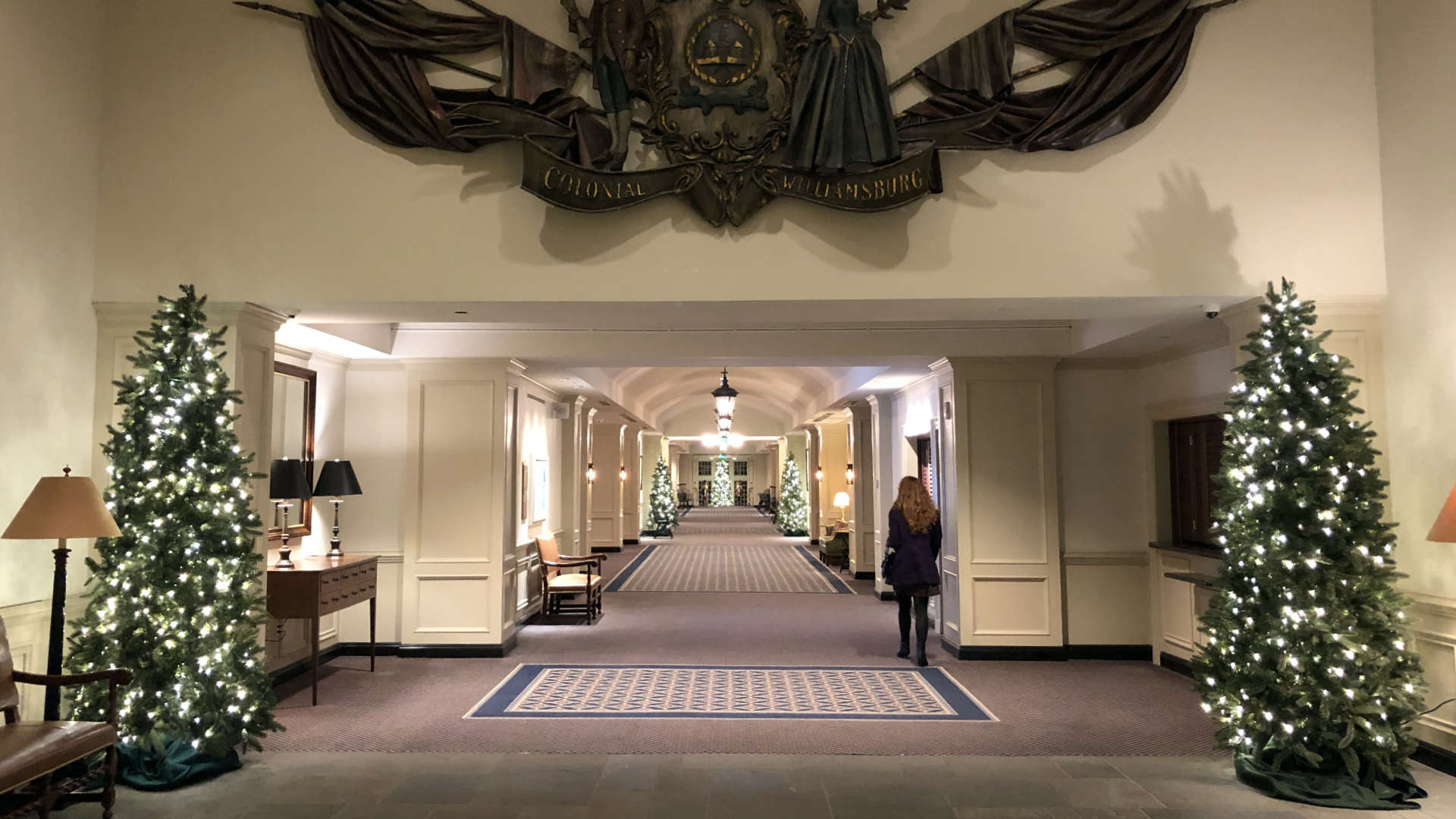 It probably won't be surprising to read that we didn't travel much in 2020. However, we did start the year off right with some trips before the pandemic settled in. Here's a quick list based on our photo library for 2020:
Rung in the new year in Williamsburg, VA at Busch Gardens
I flew west to meet with a friend to hike Death Valley National Park and Ski Mammoth Mountain
Jenni joined in LA to tour the city and catch up with friends
In August, we stayed at a hotel on the water in Nags Head, NC to enjoy the sun
It wasn't the packed travel year we expected. In fact, we canceled flights and hotels for trips to Arizona, Wisconsin, and the Bahamas.
But, we're healthy—and so are our immediate friends and family. That's what matters.
Our hotel costs ($1,465) were mostly from credit card annual fees. We often earn a free night or two from each card which is worth more than the annual fees. We each have multiple cards. The few trips we had this year were funded in this way, though we certainly didn't maximize the value.
Jenni's passport renewal ($132) covered the "general" travel category. She was really worried we wouldn't get the renewal in time for our Bahamas trip early in the year.
…And she was right to worry since it didn't arrive in time! But, it didn't matter. The pandemic canceled the trip before it was an issue anyway.
Flight expenses (-$49) were actually an income source. Confused? It's sadly accurate. We didn't buy any flights this year but we did cancel several rewards tickets. The $49 represents the reward ticket fees which were refunded to us.
Hopefully, 2021 will have a brighter, more expensive travel list than did 2020. We're hopeful!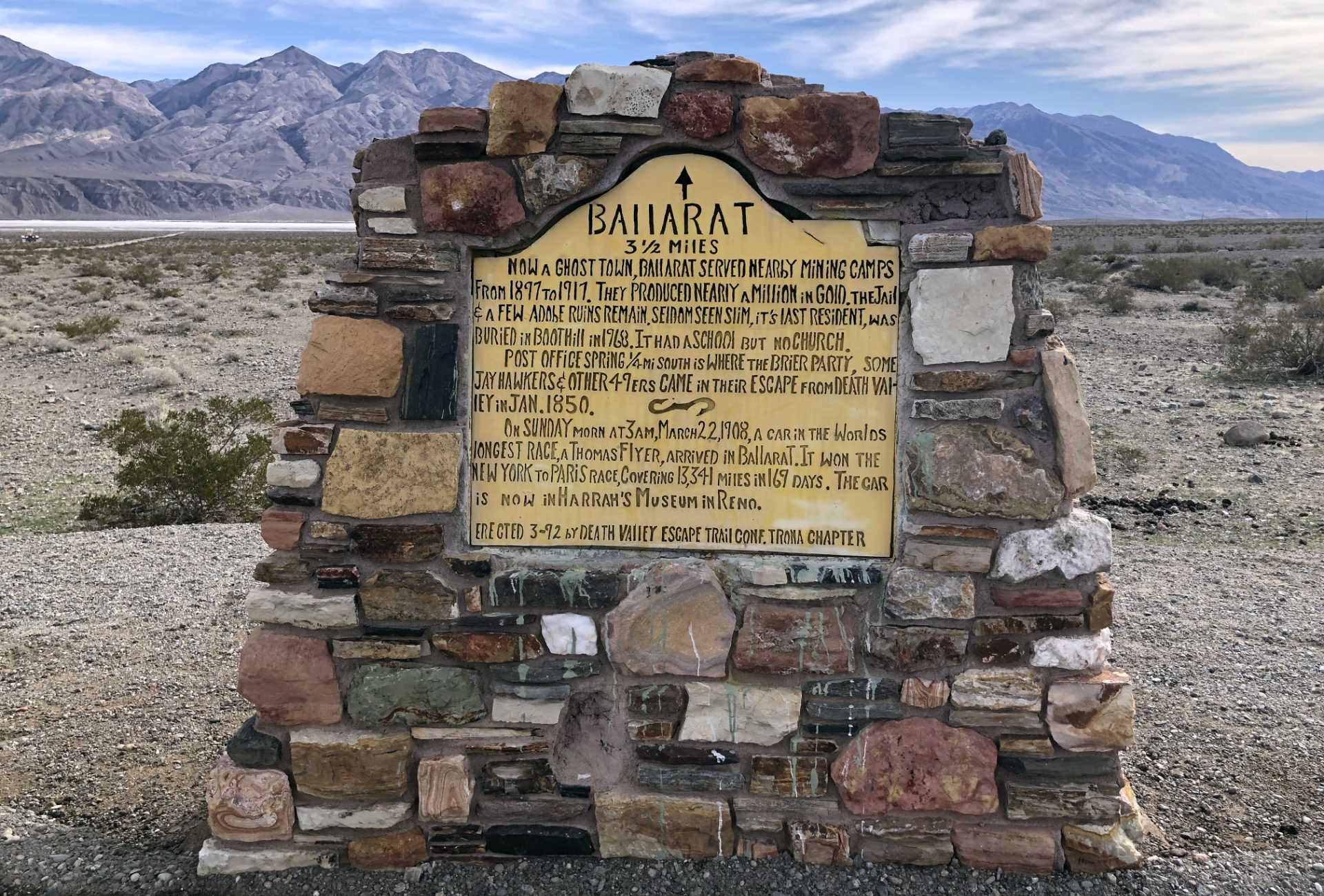 Health & Fitness
Health insurance ($6,489) is now our highest single expense subcategory. It was more than the interest we paid on our mortgage. By the end of 2021 we expect it to be more than the interest and principal on our mortgage!
This is due to a combination of rising insurance costs and Jenni losing her employer-sponsored health insurance. While there's a lot of benefits to working part-time, losing your insurance is not one of them. She spent part of 2020 on COBRA and is switching to an ACA plan for 2021. We'll see how things pan out, but we're expecting this category's cost to only rise in the future—something we need to account for more broadly in our FIRE budget planning.
I remain on a grandfathered (pre-ACA) high deductible health plan (HDHP) that is HSA eligible. If you're not already invested in an HSA—consider it. If you're not sure how they work or have questions, check out Jenni's top HSA questions and answers post.
Dental expenses ($308) were primarily for my dental insurance.
Sports ($1,406) includes expenses for events like race registrations. It also includes membership to a rock climbing gym and fitness classes.
Less consistent sports costs that bumped this category up this year was skiing rentals and lift tickets early in the year.
Doctor visit expenses ($588) stemmed from Jenni attempting to resolve multiple nagging issues related to minor sports injuries, skin concerns, or the like. She spent a lot of time chasing down different issues throughout 2020 before fully losing her employer-sponsored insurance.
Pharmacy costs ($120) represent generic medication-related costs and things like the flu vaccine for each of us.
Eye care expenses ($116) were for a few new pairs of glasses for Jenni and eye-related care like contact solution.
Our health care costs will almost certainly continue to rise. Not only are we getting older, but healthcare costs in the US are easily outpacing inflation. With both of us off employer-provided health insurance, we have to incur all health-related expenses ourselves.
It's possible that we may experiment with medical tourism or other alternative healthcare routes like direct primary care (DPC) in the future.
Health & fitness is our single most concerning expense category.
Bills & Utilities
Our utilities ($1,096) bill is about 80% for electricity. The remainder is a city-imposed wastewater fee. Other standard utilities (heating, water, trash, etc.) are covered by our HOA fee.
Mobile phone ($228) expenses were for our two pre-paid SIM cards. We both have modern unlocked iPhones so we can use secondary cell provider services.
I paid about $22 (after a $20 credit card promo) for 1 year of service from FreedomPop with 1GB data/month. Jenni paid a bit over $200 for 1 year of service from RedPocket with much more data and far fewer limitations.
Either option is much less expensive—and worth the effort—than the typical $50-70/month from AT&T or Verizon directly. Jenni has also had good experiences with Mint Mobile.
Internet service ($432) is provided by Comcast which has a near-monopoly in our area. The service is rarely down and not too expensive if you're willing to call in to negotiate once a year, at least. We have a 120mbps connection.
Auto & Transport
These days, neither of us really do much commuting.
The few days per week Jenni still works at the pharmacy, it's a short 2-3 miles each way.
My work is all remote.
Our gas & fuel expenses ($449) come mostly from trips where we often rent a vehicle to tour the area. While we still own two vehicles, mine (a 1990 300ZX TT) sees less than 1,000 miles per year. We mostly use Jenni's Prius which is very fuel efficient.
Auto insurance ($538) is provided by Geico. We get a shareholder discount by being shareholders of Berkshire Hathaway and a multi-line discount since our home insurance is through them as well. Our insurance is generally high deductible.
Parking ($41) fees come mostly from state parks we visited throughout the year. We're considering a Virginia state park membership (I believe it's around $75) to avoid this per-use fee and perhaps increase our usage in 2021 of our beautiful parks.
Tolls ($70) are hard for us to avoid since we're surrounded by toll roads where we live. The per use fee is usually quite low (under a buck), so it's often worth it to save time and avoid small local roads. We use an EZ Pass which is why the total is exactly $70 (the reload amount is $35).
Service & parts ($301) were pretty low for the year, especially considering I like to waste money working on and repairing my antique Nissan. In fact, most of the cost this year is from Jenni's Prius sensor repair project! This category would have easily broken $1,000 had she not done the part replacement herself.
Property tax ($136) is for Jenni's Prius. As my Nissan is an antique, it's fortunately exempt from this ongoing tax.
Public transportation ($2) is another sad indicator of the very limited travel we undertook this year. Often we ride city metro lines around and take trains while exploring other countries.
None of that in 2020.
Instead, we spent just a few bucks on a light rail ride in LA.
Entertainment
Another sad indicator of the times, we spent just $83 for our entire entertainment category. This cost was solely for outdoor activities—private park fees, camping fees, etc.
Normally, we'd spend some money going to our favorite local 1920s movie palace for the occasional date night. We'd attend a live theater production during the local performance seasons. Dazzling musical performances would wow us.
We quite happily spent about $700 in this category in 2019, but not so for 2020.
Let's hope that by late 2021 we're dumping money into live performances once again and that the industry survives.
Shopping
Electronics & software ($62) this year accounted for new games. I picked up Age of Empires II: Definitive Edition and Civilization 6 to play with friends. Video games aren't the worst sedentary entertainment when there's a pandemic raging, plus they keep some social connections alive.
I'd even argue that video games can teach you a thing or two about economics.
Clothing ($122) was heavily tilted towards Jenni this year as I've got a stock of clothes from Sears' bankruptcy in the closet. Jenni bought pretty typical wear items: a shirt to support a local creative and some undergarments.
I suspect my clothing spending will remain low for a few years still: I have a few unopened packages of socks and underwear still to go through from Sears!
Our sporting goods ($556) spending was way above normal this year. This is partly attributable to me purchasing a quality used mountain bike that should last me several years. Jenni bought a few pairs of hiking and running shoes to help accommodate her foot health recovery as well.
Gifts & Donations
Gift giving ($521) was pretty big this year. Jenni gave a lot of small gifts to coworkers and family members (a few who have recently moved to the same region!) throughout the year. We also didn't skimp on Christmas.
Despite our earnest attempts, we still routinely receive small holiday or birthday money from family members (I promise we're not children!). We credit this spending category with those gift amounts, so our real gift spending is a few hundred bucks higher than the listed amount.
Direct charitable giving ($655) is a bit higher than in recent years. We wanted to make good use of the $300 above-the-line deduction for charitable giving in the CARES Act. We've supported several local and national organizations with our giving and report most of it in our monthly budgets.
This does not include our DAF giving as part of our reader fund for example ($23,850 in 2020!).
Personal Care
Our personal care expenses ($138) might suggest we've been to the salon, but we spent the whole year handling our own haircuts and grooming!
Most of this expense comes from restocking makeup, sunscreen, and trying different skincare products to try to mitigate skin issues.
Fees & Charges
We use no-fee checking and savings accounts. Sometimes it's worth bank service fees to receive signup promotions or other incentives.
This year, we incurred a small $3 fee as the difference between a prorated credit card cancelation refund and the original annual fee amount.
Major Unbudgeted Expenses
Occasionally, very large expenses pop-up that is a once in a lifetime or decade event. A downpayment on a house, an RV to go camping in, or a new car are good examples.
We had no major unbudgeted expenses this year.
---
FIRE Budget Expense Tracking
Are you interested in tracking your spending as we do?
Since 2007, we've used Mint.com to track our credit and bank transactions. It's where all the numbers in the expense table come from.
Nearly all of our spending is done with rewards-generating credit cards which makes it easy to digitally track every penny spent (while also earning a bonus!).
We've made the original Google Spreadsheet available to the public if you're interested in tracking your annual expenses as we do. You can even make your own copy and add your own data to it!
The spreadsheet is set up for tracking spending between two people, which is then added together. You could easily modify it to work with one person or a family of three or more.
You can also download a copy and use your favorite spreadsheet software like Excel or Numbers to make your edits locally.
---
2016-2020 FIRE Budget
2020 wasn't the year we expected. It wasn't the year we budgeted for. Jenni continues to work in the pharmacy more than she intended for this point on our road to early retirement.
But, 2020 also shows us two of the most important attributes you need on the narrow path to FIRE: persistence and flexibility.
We spent less on travel and entertainment this year than anticipated. We spent more on groceries but nullified much of the increase by using the rewards points we would have used for travel on groceries.
Overall, our 2020 FIRE budget was within $25 of our 2019 annual budget! That's impressive consistency for an unpredictable year!
Year-over-year comparison
2020 continues a streak of spending since 2016 that averages just under $43K. Our overall trend continues to be down but we're starting to flatten out.
| Year | Total Spending ($) |
| --- | --- |
| 2016 | 46,966.17 |
| 2017 | 44,031.85 |
| 2018 | 42,958.89 |
| 2019 | 40,885.00 |
| 2020 | 40,861.66 |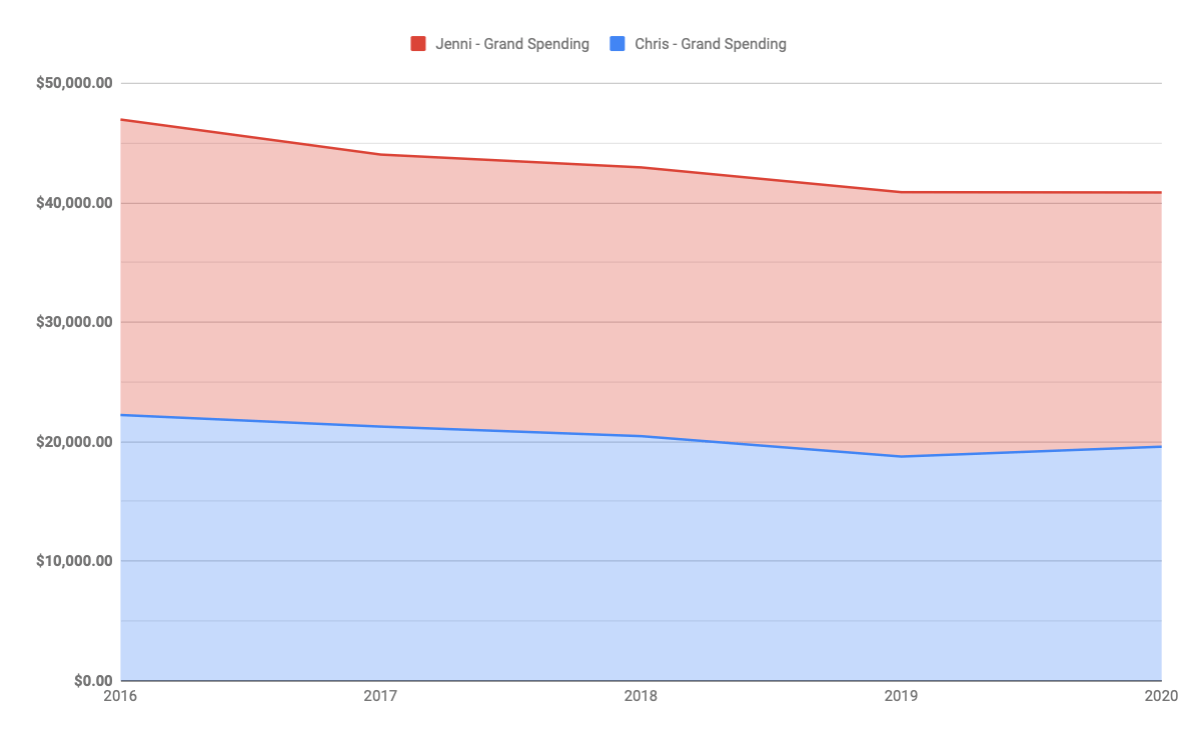 By the middle of 2020 (and around the time we started TicTocLife), our budgeting goal was really to just survive. If we could get out of this pandemic healthy and sane, I don't think either of us would have batted an eye at a $50-60K budget.
The fact that we came in at about the same level we did last year, and healthy shows that spending more money doesn't tend to make us feel any better. The purse strings were certainly loosened this year, yet we opted for more of the same.
What we spend leaves us as a well-adjusted, content couple.
We don't feel limited.
But the path to FIRE is a long one.
It needs to be sustainable.
Don't let comparison be the thief of joy in your life when looking at our numbers. Use them as a guide and source of inspiration.
Should we pay off our mortgage?
As you can see in the primary expenses table, the Subtotal line shows that if we paid off our mortgage previously, we'd have only needed to spend $30,813 in 2020. While we're not considering paying off our mortgage instead of investing in 2021, it's important keep some of the benefits of doing so in mind.
We intend for our investments (with index funds like VTSAX) to exceed the value of paying down our mortgage. But the simple comparison of mortgage interest rates vs investment returns isn't the whole story.
Aside from eliminating the mental stranglehold debt can have, reducing how much money you need to earn to pay for your annual expenses can have a lot of other benefits.
By cutting our real spending from about $41K to $31K, we might qualify for tax deductions or credits we don't currently. That could help us pay for our ever-increasing health insurance costs for example. It might also reduce what tax bracket we ultimately fall into for part of our income, making each additional dollar earned "worth" more.
If you're reading this and have also run the numbers, let us know in the comments what drove you to pay down the mortgage instead of investing.
We'll keep an eye on the numbers here and possibly evaluate paying down our mortgage in the future.
For 2021, we at least want to refinance our mortgage.
Our 2020 FIRE Number
In general, we need 25 times our annual expenses in investments in order for us to pay those expenses (including taxes) from the growth of those investments. That reflects a Safe Withdrawal Rate (SWR) of 4%. We wrote a good bit more about this basic tenet in our FIRE introductory post.
Using this rule of thumb, we can calculate how much money we'd need to maintain our 2020 FIRE budget expenses moving forward.
| SWR (%) | Required Portfolio Value ($) |
| --- | --- |
| 4.0 | 1,021,541.50 |
Based on our 2020 $40,861.66 in expenditures.
By the time we reached FI in 2018 (read our story of how to become a millionaire), we exceeded our FIRE number goal.
If we worked from our most recent net worth update, our 2020 withdrawal rate would be around 2.2%.
We've got plenty of room to work with.
There's a good chance that we're not at the end of our earning money through work, though we've certainly long past the apex of our income.
Jenni is still doing some part-time work at the pharmacy (which is especially busy at the time of writing with all the vaccinations).
I'm still doing some digital consulting on meaningful work (I received a request for some help from the CDC this week for example) and mentoring.
Our long-term goal is to continue to push extra income into more charitable pursuits like our reader fund. We know how much money is enough for us.
Future FIRE Budget
As Jenni and I look forward to 2021 and beyond, our most important FIRE budget consideration is our healthcare costs. It'll be hard to mitigate these too much anytime soon.
At the moment, we're not too keen on considering insurance alternatives like Sedera or other healthshare systems.
I think we're both open to trying out direct primary care (DPC), but at the moment, that'd likely increase our short term healthcare spending since it wouldn't replace any existing expense.
On top of the expected healthcare costs increase, we think that we'll probably spend quite a bit on travel once the pandemic lifts. While we've always vaguely planned to spend somewhere between three and six months of the year abroad once we both drastically cut back on work, we're really champing at the bit now to get out and see the world. Cost probably won't be as big of a concern as access and safety for the foreseeable future.
Back in 2013, when Jenni and I hashed out our original FIRE plan, we decided to aim for a spending level of $25,000/year per person. That'd necessitate us each saving $625K or $1.25M total. At the time, that was just a bit more than we were spending per year at around $48-50K.
Fast forward to 2020 and we're spending just under $41K combined despite having a noticeably fancier life—we own our own place, have one toy car and one hybrid electric, and (usually!) have a life filled with adventure and travel.
A FIRE budget doesn't have to be a restrictive strangle on fun.
But a FIRE budget, even if it's just a thorough annual spending review and discussion like ours, should be part of your plan for financial independence.
---
Let us know if you found some neat tips and tricks to achieving FIRE in our FIRE budget in the comments below!