Welcome to our January 2021 monthly budget review! Each month we take time to review our spending together, reinvest our Dogecoin profits (kidding!), and then reveal the remainder for our readers to pick apart our mistakes. In honor of Black History Month, we've reviewed four different charities for racial equality for our monthly grant. Be sure to cast your vote!
Last month we reviewed Homelessness Prevention Programs for our monthly grant.
The donation is funded from our TicTocLife Reader's Choice Donor-Advised Fund. Read on to find out the winner and see our poll for this month's grant!
Chris also shared an update on his 2021 Yearly Theme—discomfort. He mentions his progress which included a couple interviews for TicTocLife in January! Be sure to catch that section!
First, let's go through the monthly budget.
Income, on the left, balances to our expenses in the Sankey diagram below.
We'll run through the income and expense sources for the month and remark on any interesting items.
Income Summary
We have several sources of income and they tend to vary from month-to-month.
Most of our income is from Jenni's part-time job and Chris's ongoing business operations—which is generally on autopilot with nearly passive income.
Part-time work
Jenni worked much more than in recent months! Aside from her remaining pharmacy duties, she's been working in her pharmacy's vaccination clinics.
In Virginia, vaccination priority has been for frontline healthcare workers, elderly, and the immunocompromised. Jenni has directly vaccinated hundreds of people and feels it's necessary for her to ensure the clinics are running at full capacity.
It's a good reason to be working more than normal.
Jenni's part-time pharmacy position earned her $4,928.
Chris's consulting work remains consistent and sustainable. With folks returning from holiday breaks, most of his work time was spent catching up with clients and planning work for 2021.
Chris's business paid him $1,924.
Other income
We continued to make progress on our electronic and equipment refurbishment gig mentioned in our FIRE Newsletter. This month, we managed to find new homes for a lot of retail point-of-sale equipment.
We earned $470 through eBay.
We're more than halfway done with this load of equipment and expect the income to start slow down. Boxes are filling up with donations to local places, too.
We earned $340 through Nextdoor.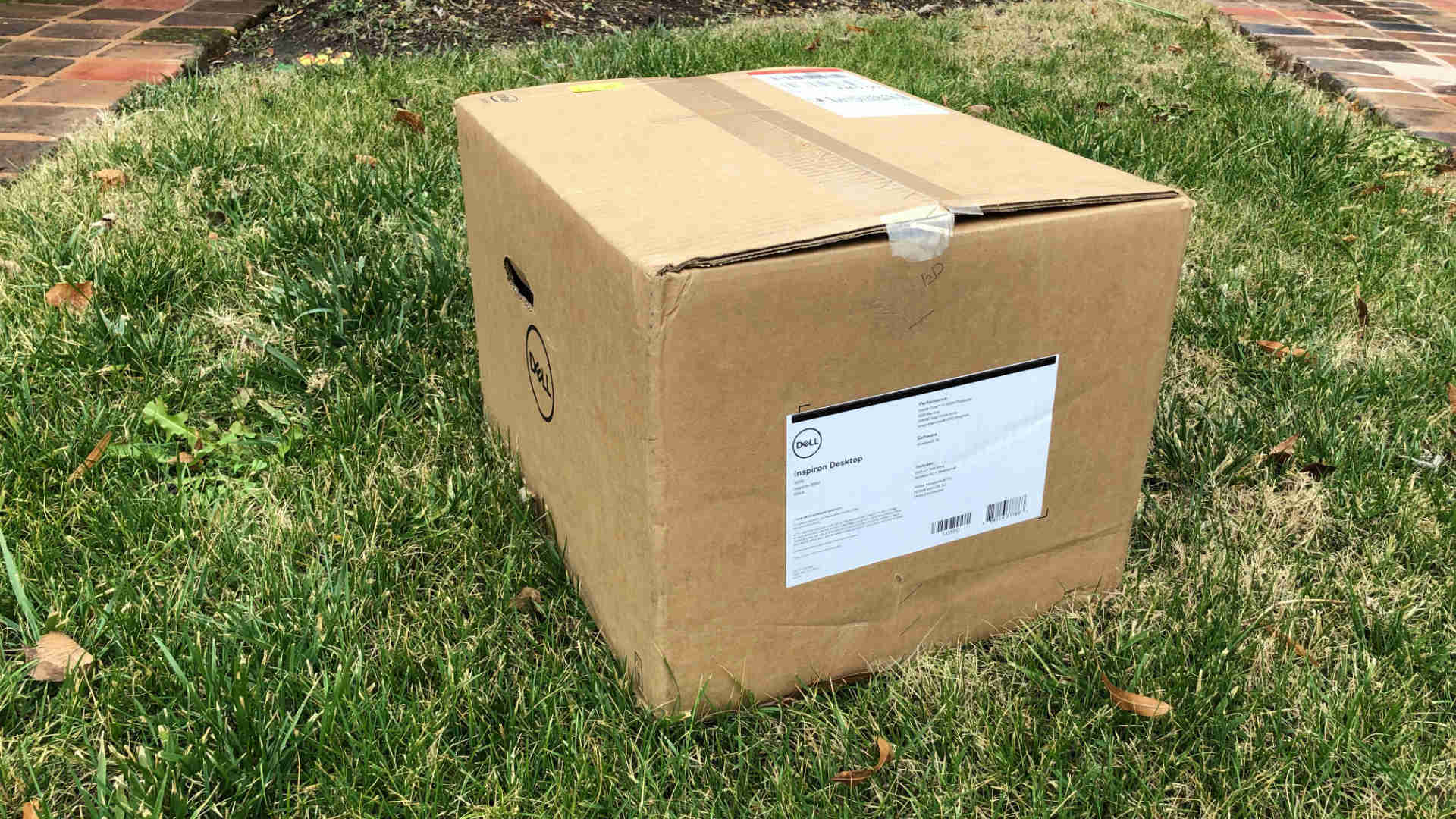 Chris sold a new DELL desktop computer, keyboard, mouse, and used monitor to a person on our local Nextdoor. The new desktop computer was purchased for about $317 directly from DELL. However, due to a variety of AMEX credit card bonuses (mentioned in the Shopping expense section below)—he profited about $255! The accessories and monitor were part of the equipment we've been refurbishing and donating locally.
→ Related: Our top apps & websites to sell your stuff locally.
Chris met the requirements for the second CARES Act-like stimulus direct payments from the IRS. He qualified for a $600 direct stimulus payment which was automatically deposited.
Dividends, interest, credits
We received a small dividend from owning some legacy Seagate Technology stock. Dividends plus our account interest totaled $214.
A couple of hundred bucks is certainly nice to earn, but boy it's nothing compared to the five-digit figure from last month!
January came with about $1,098 in credits. Like recent months, most of this came from Chase reward point redemptions. But we also earned credits from Christmas gifts, a reimbursement from a friend, and AMEX's DELL benefit.
Chris has been paying for a friend's mobile phone bill to take advantage of a credit card bonus. His friend reimbursed him the $160 cost beyond the credit amount.
Jenni received Christmas gifts totaling $150.
Chris took advantage of a DELL deal and earned an AMEX credit worth $232 (details mentioned in the Other income section).
Jenni reimbursed grocery expenses via Chase points totaling $415 in January and $118 from late December.
She also reimbursed $18.62 from Uber Eats expenses and $4.08 from a gift purchase.
We've still got about 158K of Chase points (worth about $2.4K of groceries with the current redemption bonus) to go!
Transfers
We transferred some investments to donor-advised funds (DAFs) to meet our charitable goals for TicTocLife's Reader's Choice Fund.
Overall, we ended the month with an extra $1,947 in checking.
This boosts our cash cushion a little and offers some additional liquidity so we can take advantage of certain deals. We'll also transfer some of these funds to after-tax investments.
Expense Summary
From our $9,574 budget, we saved $5,776 this month.
That gives January a savings rate of 60%.
Considering our average FIRE budget for 2020 was about $3,405/month we're pretty in line with expectations this month.
We spent $3,798 but $435 was related to earning more money (eBay fees, shipping, the DELL computer we sold, etc.).
Removing those expenditures from the equation, we spent about 99% of our typical monthly FIRE budget.
We expect to have a higher annual FIRE budget than 2020 because we're paying both of our medical insurance expenses out of pocket now.
→ Related: Our 2020 FIRE budget review shows more detail in our expense categories.
Home
We spent $350 on furnishings—we bought a new couch!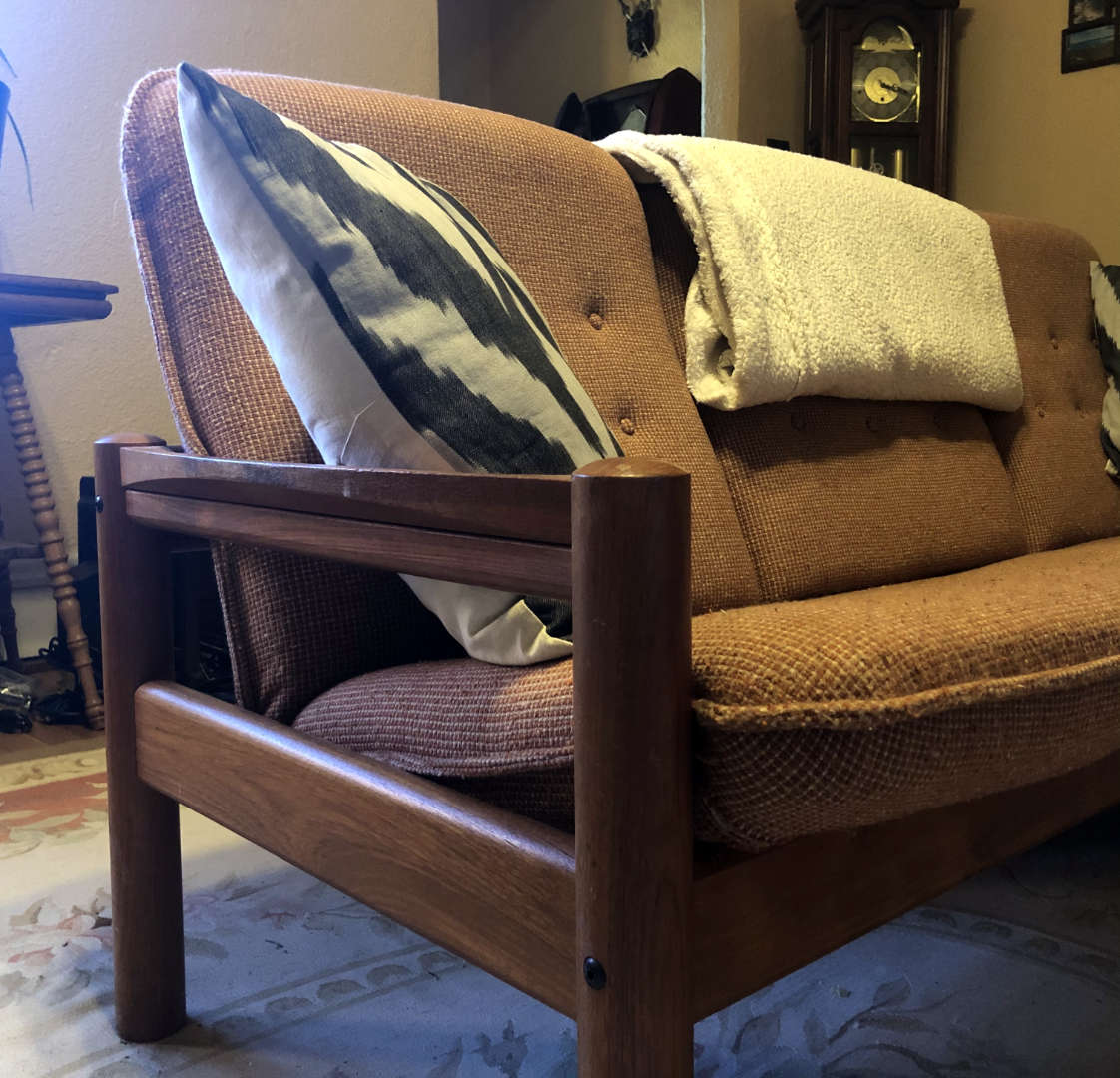 While we've enjoyed sitting in two separate Ekornes Stressless recliners over the past several months, we finally found a couch we wanted.
The 60s/70s minimalist design really appeals to us. In the spring we'll take it outside to do some refinishing on the teak frame. Jenni might even do some reupholstering as we'd both like lighter color seats.
We got a great deal from a local seller on this Domino Møbler sofa. We've found other examples of this same piece selling for $800-1,700 depending on condition.

Next up: an appropriately simple rug design for it to rest on.
Housing
Our housing costs are broken down in our annual FIRE budget (mentioned above) with detail.
For the monthly breakdown, these details might be helpful to understand:
Housing-related expenses are consistent month-to-month. We have an escrow account with our mortgage provider which helps automate property taxes and home insurance payments.
We live in a 2 bedroom, 2 bath historic brick home built in the 1920s. It's part of a small cooperative.
Health
We spent $599 on Health-related expenses this month.
The bulk of this cost was health insurance for the two of us as we're now both paying for individual plans. Our health insurance rang in at $522.21.
This is the first month of Jenni's ACA bronze plan.
Jenni continued her rock climbing gym membership and occasional personal training which rang in at about $76.
Shopping
Chris has been borrowing one of Jenni's rock climbing harnesses for the last few years. He figured it was finally time to buy his own.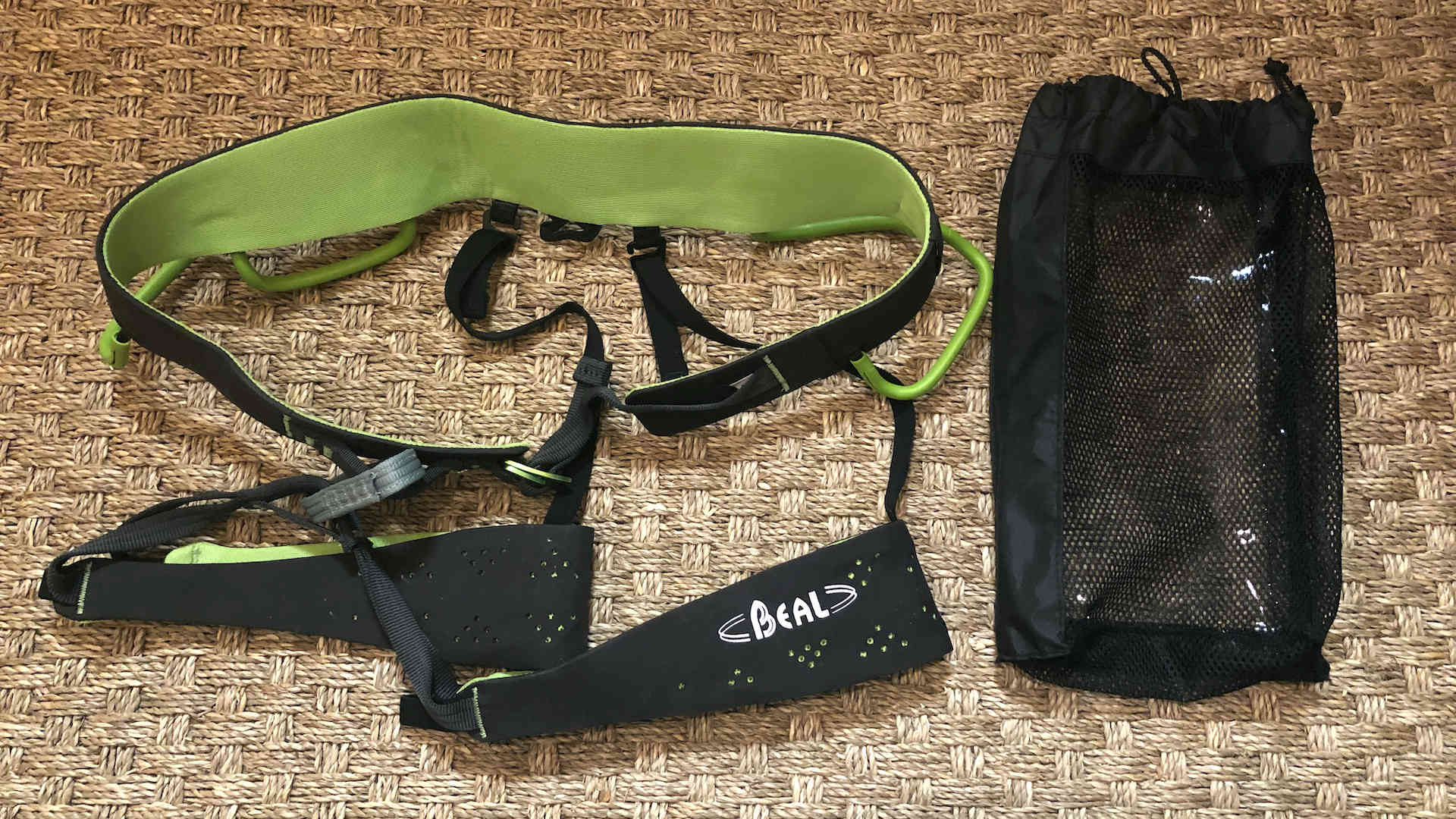 He picked up a Beal Phantom harness on sale for a total cost of $54.36.
Chris bought a DELL Inspiron 3880 desktop computer for $317.47. As mentioned in the Other income section, this was to take advantage of an American Express promotion on his Business Platinum card. He bought it to sell it.
We spent $372 on shopping expenses.
Food & Dining
There's nothing too exceptional this month with our grocery spending! Our local Publix has been running some great BOGO deals. In our area, they have to sell a single one for 50% off.
We've been loading up shelf-stable stuff to take advantage of these winter deals.
We spent $415 on groceries.
→ Related: Want to see how we cut our food bills in detail?
Restaurants, Fast Food, Alcohol
Despite a couple of warmer days in January, we didn't find a good time to visit a restaurant that was serving outdoors. We only ordered takeaway a few times when some exceptional Uber Eats promos were running.
In total we spent $20.64 on fast food this month.
Travel
We renewed an IHG hotel rewards credit card for $89 this month.
Among other benefits, this card earns us a free hotel stay at a selection of their properties each year.
We're hopeful we'll get to make use of that benefit this year.
Gifts
We spent $14.08 on gifts. These were just small "thank you" gifts to friends and coworkers.
Donations
Jenni made a couple direct donations:
$5 to Virginia Public Media
$10 to St. Jude Children's Hospital
We also donated $3,407 towards our Reader Fund from existing investments and made a $93 grant to our January winner—more on that below.
Utilities
With the cooler weather, our power bill remains low.
We spent $46 on electric this month.
In typical fashion, we spent $19 on city services (cooking gas, wastewater).
Our Comcast Internet bill rang in at our standard $40 for internet service. It's about 120mbps, plenty fast.
We don't have any television service.
We both use prepaid SIM cards for our own smartphone service which means we usually only see a single annual bill when we need to reup.
Miscellaneous
We spent $118 on business services which came from costs associated with our eBay sales.
Our fridge's water filter shined its bright red light at us long enough that we finally got around to ordering up a replacement.
Since we live in an area with very old pipes, we're wary of cheapening out on our water filter since we drink water from it all day long. In order to save a bit, we tend to buy the filters in bulk.
We bought three NSF-certified/ANSI 53 filters for $94.65 total as home supplies.
How Much We Work
We like to keep track of how much time we spend doing work that is paid. For Jenni, this is pretty easy as it's just her paycheck time. Chris manually tracks his hours consulting with Freshbooks (referral).
Our aim is to gradually reduce these hours.
So, how did January look compared to December?
| Month | Chris (Hours Worked) | Jenni (Hours Worked) |
| --- | --- | --- |
| May 2020 | 41 | 108 |
| Jun 2020 | 38 | 96 |
| Jul 2020 | 36 | 120 |
| Aug 2020 | 39 | 48 |
| Sep 2020 | 27 | 76 |
| Oct 2020 | 26 | 104 |
| Nov 2020 | 27 | 57 |
| Dec 2020 | 28 | 57 |
| Jan 2021 | 25 | 102 |
An average full-time job for two people would be about 347 hours.
We're a bit over a third of regular full-time work at 127 hours. That's a lot more time spent working than in recent months, but we both think it's acceptable—if not downright ethically required.
Jenni has been putting in a lot more hours to support vaccination clinics combatting the pandemic.
2021 Theme Update: Discomfort
From Chris:
New for 2021, I'm going to deliver a little update with each monthly budget report about my Yearly Theme.
For this year, I chose "Discomfort". This guiding word is a reminder for me to seek out challenges within life and stretch my comfort zone. It's my way of having an "new year resolution".
Here's what I'm going to work on in February:
Return to my daily Gratitude Journal, including a note about that day's discomfort
I'm a night owl—make progress toward getting up before 9AM consistently
Negotiate with our mortgage lender about a refinance (missing it in 2020 was of our greatest mistakes!)
Each of these things are challenging for me in some way. They're things that I know are good for me, but I don't want to do because they make me uncomfortable in some way. But, 2021 is about stretching that comfort zone and enjoying retirement.
I didn't make as much progress as I wanted in January, but I did:
Complete a PPP loan application (approved!)
Caught up with multiple friends/family on the phone "just to chat"
Completed interviews alongside Jenni for both Dividend Power and Personal Finance Blogs
Return to routine running after a couple of injuries
Each of these elements stressed me in some way, though I felt they'd all be the "good" kind of stress (eustress).
I've waffled on whether I should be applying for a PPP loan since I'm not personally hurting for money and others are. However, business has shrank a lot (some of it is intentional), and ultimately if the money is fully returned to me through a grant—it'll just get donated to needy causes.
I don't think that's a terrible way to use those funds. On top of that, it does make me feel a bit better to have the cushion as the pandemic continues and we lock away thousands of dollars per month in donations.
So far as catching up with friends/family—well, as Jenni will attest—I don't like talking on the phone. But I know for a lot of folks who are more social it's good and healthy to keep in touch and with a pandemic, the phone is probably the safest choice!
With similar apprehension, we did interviews for two blog friends—Dividend Power and Personal Finance Blogs. Both packed in the detailed personal questions I might otherwise like to avoid. Not even our friends/family would know as much about many aspects of our life as a reader of those interviews would.
And lastly, I injured my chest mountain biking and my heel running within the last few months. The combination blocked off my typical three or four runs per week and made for an occasionally mopey Chris. I'm finally feeling physically well enough to get back into my favorite physical activity—running.
I clocked 21 miles in January! It'll be a while before I'm back to 40-50 miles/month, and I've lost a lot of my conditioning, but I'll get there!
Slow and steady—routine—just like in building your wealth, it's one step at a time.
Net Worth Update
We don't like to focus on the net worth of writers in the personal finance community. However, we do understand it offers a little context to the writing for the reader.
You might better relate to someone with a net worth and earnings history more similar to yours.
We wrote up an extensive post on our earnings and net worth history that ranged from 2006 to 2018. We did it with an average income of $77K per person over the period we analyzed.
→ Related: How to Become a Millionaire in 10 Years (Debt to $1.2M at 33)
From a high level, our assets and liabilities are shown in the data table below as of January 31, 2021.
| Description | Value (USD, $) |
| --- | --- |
| 401(k) | 634,502 |
| Brokerage | 796,304 |
| Roth IRA | 136,078 |
| HSA | 30,098 |
| Real Estate | 325,947 |
| Mortgage | (152,923) |
| Miscellaneous Assets | 10,250 |
| Checking & Savings | 40,370 |
| Net Worth | 1,860,996 |
Miscellaneous assets include specific investments we've made in physical assets (think collectibles)
Amounts do not reflect the value of the businesses Chris owns or their assets, which should appear as income to us over future years
Jenni's Prius is not included
Our net worth increased by about $50K.
The S&P 500 was down about 1.0% over the month of January while we were up 2.8%. That's not bad considering our assets aren't fully invested in index funds (we have some bonds and quite a bit of cash).
It's been pretty wild sitting on the sidelines watching the GameStop stock drama in the market. While technically we hold a couple GME shares through VTSAX, we tend to stick to broad index funds.
It seems like GameStop has become a Prisoner's Dilemma at this point.
Net Worth History
| Date | Amount | % Change |
| --- | --- | --- |
| July 2020 | $1,555,289 | – |
| August 2020 | $1,597,334 | 2.7% |
| September 2020 | $1,566,393 | (2.0%) |
| October 2020 | $1,568,182 | 0.01% |
| November 2020 | $1,720,113 | 9.6% |
| December 2020 | $1,810,864 | 5.3% |
| January 2021 | $1,860,996 | 2.8% |
January 2021 Donation Winner
We want to say a big thank you to all of you who voted in this month's poll. The organization that will be receiving our donation relies on support from donors like us to fulfill its humanitarian mission. They do not rely on any funding from government grants.
We had 7 voters this month. The winner with 3 votes goes to New Beginnings Incorporation. They primarily work with veterans to transition to a more normal life and reduce homelessness.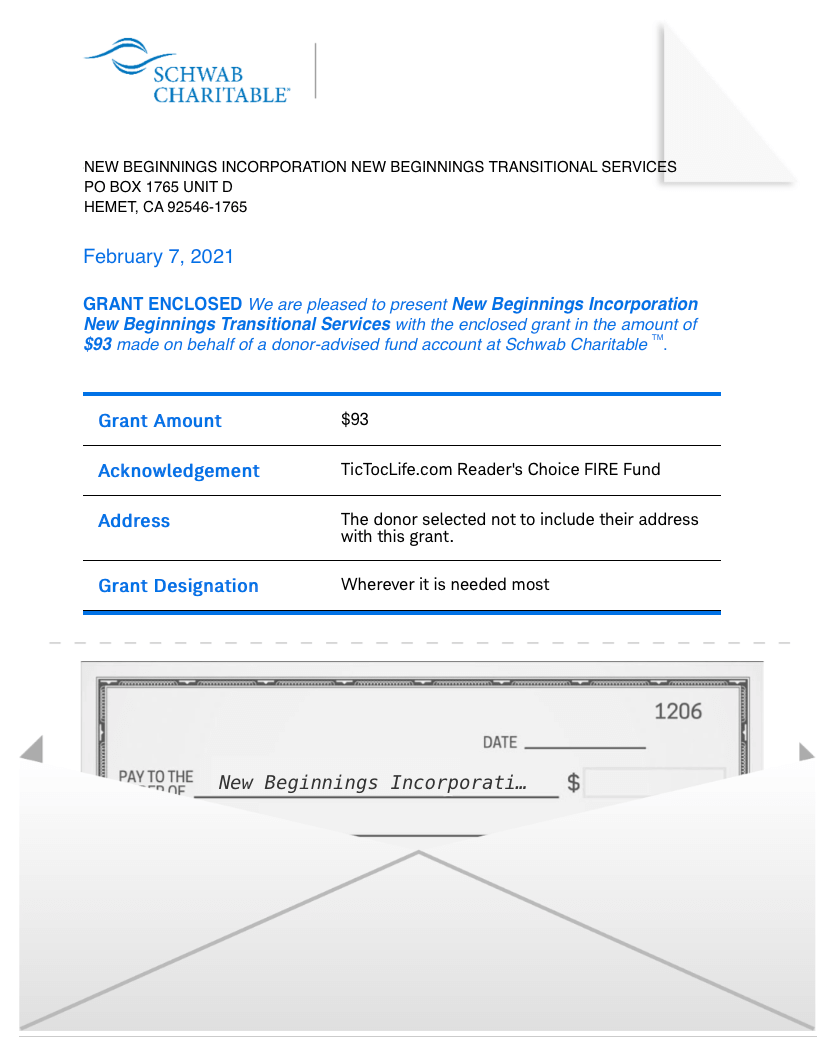 It's neat to see our monthly donation growing, now closing in on triple digits! That's nearly double where we started some months ago.
By the time we're near normal retirement age, it's easy to see how the fund could grow to $250K and donations would be in excess of $800/month! That's the power of FIRE and compound interest!
Thank you for the participation in the poll and for helping us make our fourth donation with TicTocLife's reader DAF. If you would like to see changes to the way we display our candidates, let us know in the comments.
Polls are now open for our next round of candidates: Celebrate Black History Month
Charities for Racial Equality (Donation Poll)
In honor of Black History Month, we chose to focus on charities for racial equality and underserved communities in our country.
After careful consideration, we decided on four non-profit organizations. Each one is working hard to promote black health, education, civil rights, economics, improve community & workplace development, and strive for inclusivity in unique ways.
Summaries below include a link to their Guidestar profile which details the non-profit's operations and transparency.
1) National Urban League
Why? This historic organization works to elevate the standards of living for African Americans and underserved groups. Their mission is to enable and empower this underserved population to achieve the highest human potential and secure economic self-reliance, power, parity, and civil rights.
Where? United States
What? The National Urban League was founded in 1910 as a civil rights and urban advocacy organization. Today it has 90 affiliate groups serving 300 communities across the United States through various programs including:
College preparatory classes
Mentoring activities
STEM education
Parental enrichment activities
Workforce skills development
Training in starting new businesses
Homeownership classes
Foreclosure prevention
Nutrition education
Health screenings and assistance securing health insurance
2) Thurgood Marshall College Fund
Why? This organization has the vision to change the world…one leader at a time. Many students are underprepared for college after high school and do not have the funds to attend college. All too many potential students don't understand the true cost of college. This results in a high college dropout rate and students that do not have any guidance to maximize their skill potential. This organization encourages leadership development to promote educational excellence and to prepare students for the workforce.
Where? United States
What? The Thurgood Marshall College Fund is a national organization representing Historically Black Colleges and Universities and Predominately Black Institutions and the nearly 300,000 students in attendance. In addition to their awards needs and merit-based scholarship program, TMCF has the following programs to ensure their student's success:
Leadership development
Teacher quality and retention
Innovation and entrepreneurship training
3) Virginia Center for Inclusive Communities
Why? The fight against prejudice is a cooperative process. This organization focuses its efforts on inclusivity and respect across Virginia.
Where? Virgina
What? The Virginia Center for Inclusive Communities is a non-profit organization in Virginia that works to reduce prejudice in schools, businesses, and communities. Their award-winning programs and workshops work to promote inclusion and respect in the workplace, communities, and our educational system. Some of their initiatives include:
Educational Equity Initiatives: Equitable learning environment for educators, administrators, and students
Professional Development Workshops: Improving inclusivity and diversity in the workplace improving the work environment and customer service
RVA Table Talk: Provides an environment for community members to engage in challenging conversations about diversity and inclusion.
4) National Black Farmers Association
Why? Black farmers have not been offered the same farm subsidies as white farmers, leading to the loss of their farms and homes. The NBFA fought to have their voices heard and end this discrimination against black farmers. Its founder, John W. Boyd a fourth-generation farmer, helped to pass legislation in 2010 that set aside $1.15 billion to resolve discrimination cases against black farmers. Today, they improve the quality of life in rural communities through various programs.
Where? Virginia, North Carolina, South Carolina, Georgia, Florida, Arizona, U.S. Virgin Islands, Puerto Rico, and Africa
What? The National Black Farmers Association was founded in 1995 as a non-profit organization representing black farmers. The focus of this organization is on civil rights, land retention, access to public and private loans, training, and rural economic development for black and small farmers. Their current programs include:
Let's Get Growing: education on the financial and health benefits of organic food production
Next Steps: a mentorship for at-risk youth
ReGenerating Our Farms: expanding cultural knowledge and improving soil health, water quality, and restoring natural resources
Poll supporting charities for racial equality
After reviewing the charities for racial equality listed above, please take a moment to vote for which non-profit you think will put funds to use in the best way.
This is your opportunity to guide our giving and participate in supporting these organizations.
Thank you for taking the time to vote!
Want to hear about the results? Signup for our free FIRE newsletter below! We send it out every few weeks and include the monthly poll results and donation winners. Here's what what they look like.
What Does February 2021 Hold?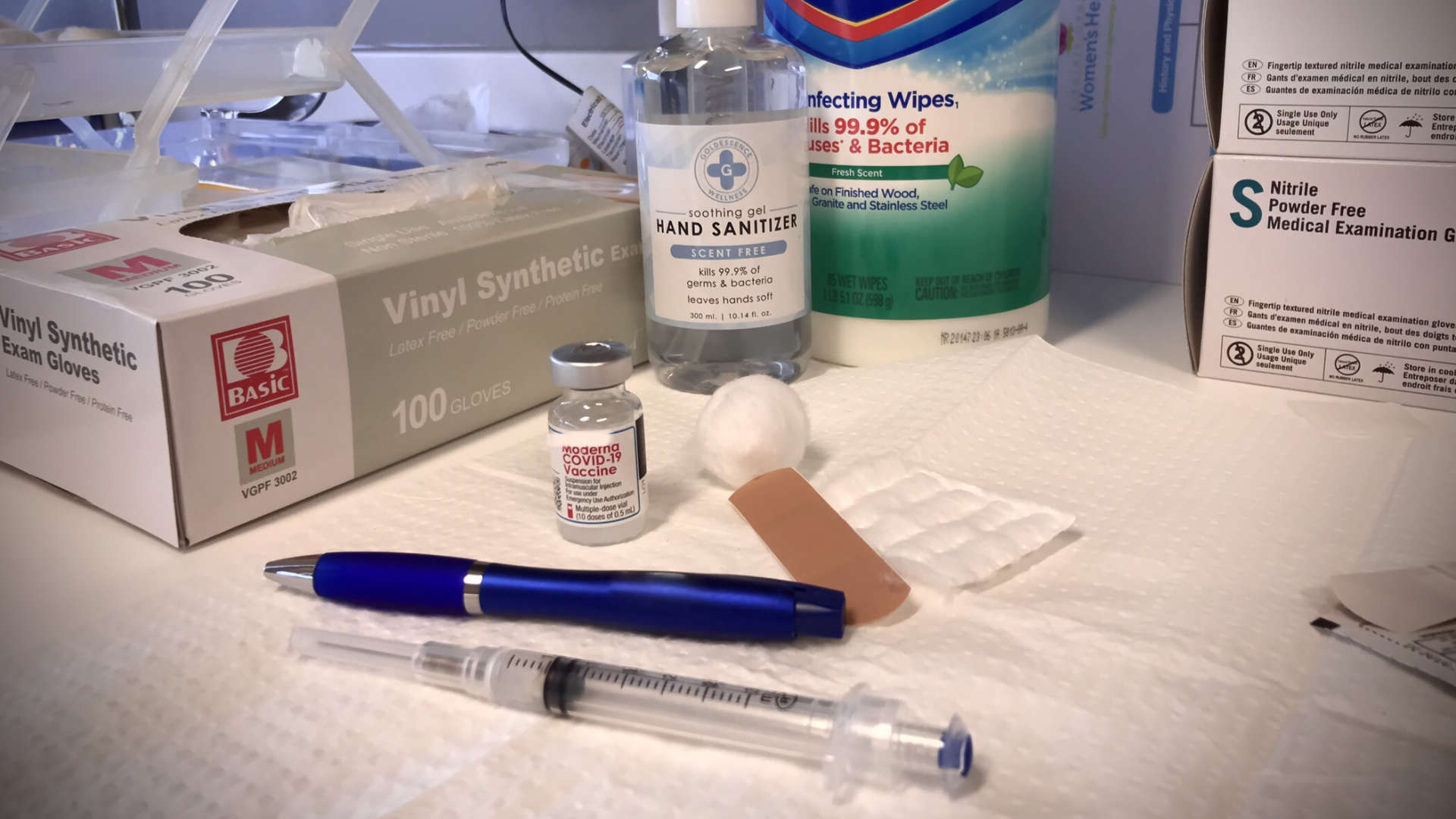 We're writing this update in early February as snow slowly falls outside the window. Winter isn't quite gone though the random sunny Spring-like days are starting to pepper the calendar.
Much of February will probably look like January: Jenni will vaccinate people across our region and Chris will work on his projects. Not a whole lot will "happen", but that's okay.
Jenni received her second dose of the Moderna vaccine. We're hopeful we can start planning some small trips for later in the year—perhaps we'll have some more exciting updates as the year progresses!
Until then, it's the slow and steady routine with just a little discomfort mixed in.
---
Is there a charitable organization you or theme for organizations you think we should consider in March?
Are you keeping up with your Yearly Theme or "New Year Resolution" so far in 2021?
Let us know in the comments or on Twitter!