The months sometimes feel like they're flying by as summer wanes. August was packed with DIY house and car projects as well as an escape to the beach. Our first Reader's Choice donation poll completed (read on to find out the winner!) and we set a record low number of working hours in our semiretirement life. We researched choices for our next group of donation contenders: children's education charities!
Each month, we produce a little budget report to explain where our money came from, where it went, and how it has affected our net worth. We hope these monthly updates serve as a way to see what the day-to-day semiretired life, on the way to early retirement, looks like.
Let's take a look at that monthly budget balance.
We'll do a quick, high-level analysis of the month and call out any of the more interesting items.
Income Summary
Jenni was able to reduce her hours a lot this month sticking to her ideal schedule of one to two days a week of work. Her part-time pharmacy position earned her $3,543 this month.
Chris continued to restrict most of his consulting work from creeping into life. Chris's business paid him $1,924.
We earned a small amount of money from account interest totaling $19 (checking, savings, money market).
August produced a healthy amount of credits at $601. These credits primarily come from credit card issuers who have special offers when spending in certain categories. We break out the individual credits within the expense summary below.
Overall, our income continues to dwindle as we march on to semiretirement through part-time work. Don't worry, it's part of our plan!
Transfers
We took $30,078 from stock investments that have grown significantly (mostly in VTSAX or similar index funds) and transferred them to a charitable donor-advised fund we use for multiple giving purposes. From that main charity fund, we transferred $10,222 to TicTocLife's donor-advised fund. For our purposes, those shares are sold and gone. We'll deposit another 1/12th of our FI number toward's TicTocLife's DAF during September.
Last month, we talked about the launch of this reader's choice fund that contributes a monthly grant to non-profit organizations. Later in this post, we'll discuss the winner from the first three grant choices and offer up next month's voting poll.
In order to balance our monthly budget, we spent $1,059 from checking to cover various expenses. Our checking account had been building up over the past few months with extra income, so this isn't a problem.
Expense Summary
From our $17,369 budget, we only saved $2,613 this month. We even had to partly fund our expenses and this saving with $1,059 from checking.
Our total real income for the month was just $6,087. The difference, $31,138, came from investments and our checking balance. That means our savings rate for the month was deeply in the red.
Then again, if we were ever going to have a savings rate near 500% in the red, we're pretty happy it's for a series of longterm charitable causes.
Removing the major charitable donation and our savings & investments, we spent $4,534 in August, 2020. We'll break that down below.
Check out our annual review for a deeper dive into the expense categories.
Vehicle maintenance
Jenni drives a 2008 Prius she purchased in 2017 as a replacement for her totaled 2006 Scion xA (Chris note: she was t-boned in an intersection through no fault of her own; it was one of the most heart-rending phone calls I've ever received initially but she was ok!). This hybrid vehicle has been great to keep our annual fuel costs around $350. The Prius also doubles as a mini Uhaul when we buy the occasional piece of furniture at the local auction house.
2008 Prius Combo Meter Replacement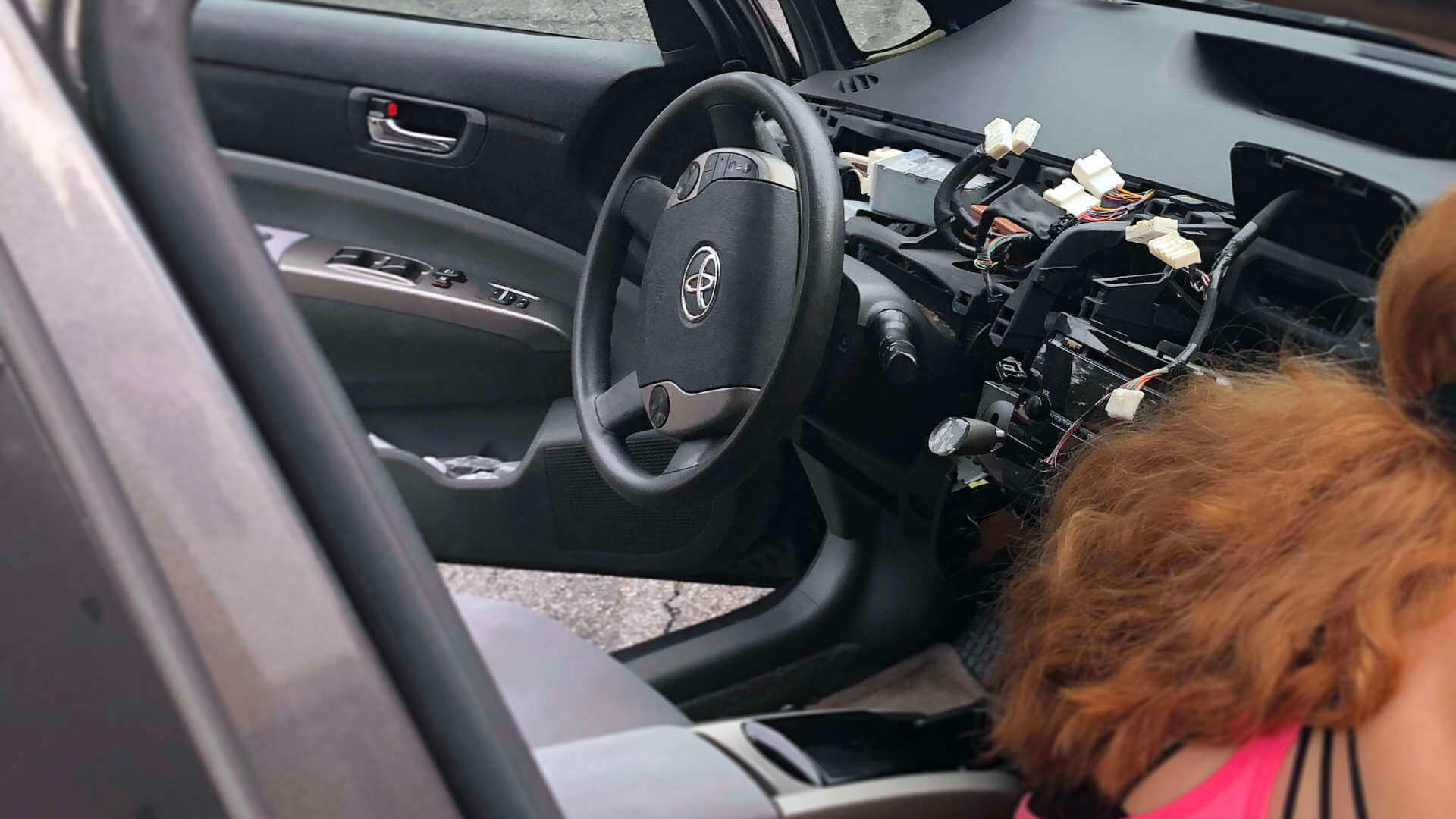 One pesky problem with the Prius was an inconsistent short circuit in the dashboard display. It is a known issue with the combo meter that would randomly cause the display to go dark and the reverse camera to not work. The car wouldn't turn off without a forced restart.
During these instances, the car would still function, but you had to guess your speed and memorize the forced restart process. It wasn't a real problem until it happened during the annual state inspection. Fortunately, we had already started the research into getting it fixed at the lowest reasonable cost: DIY.
After getting a replacement combo meter for $225 (minus a $75 core charge refund for sending the broken one back), a few tools needed to pull the dash apart, and two replacement vents that cracked in the removal, our total cost was $272.53. This normally would cost from $800-1,000 to have professionally done.
The Prius has been back to normal since undergoing the operation. Our patient survived!
Food & Dining
Our grocery bill continues to creep up. In last month's update, we mentioned that we've started collecting some of our Ibotta rebates and generally trying to use digital coupons again. We're big advocates for digital strategies to save money at the grocery store. It seems like COVID-19 will be with us for a while yet, so we're trying to rebuild some routines. Before, we merely tried to get in and out of the store as fast as possible, largely ignoring sales and pricing.
At this point, we've got about $70 or in our Ibotta account which will eventually help offset our grocery bills. For our trip to the beach, we tried to avoid eating out despite staying in a hotel. We cooked what we could with a microwave and refrigerator in our room. For larger meals, there was a grill at the family's beach house. Overall, we spent more on groceries due to convenience foods to make the trip a little smoother.
We spent $546 on groceries.
Chase UR points redeemed for groceries
While $546 is reflected as our total grocery expense for the month, $446 was credited back (of the $601 in total credits for the month). Ultimately, that means our grocery cost for the month was just $100. The statement credit came from redeeming Chase Ultimate Rewards points on Jenni's Chase Sapphire Reserve card towards grocery expenses.
We offered some more detail about this new Chase redemption bonus last month.
Restaurants, Fast Food, Alcohol
Our restaurant spending hit zero this month, though we had a few fast food and takeout orders. DoorDash and GrubHub have been doing one promo after another for takeout which has enticed us to make some easier cooking nights.
By not cooking.
Fortunately, $29.95 of our $39.37 in Fast Food spending was credited back from Jenni's Marriott Bonvoy credit card that offers an annual credit toward restaurant expenses (due to COVID).
One of our local cideries served as our $26.33 alcohol expense source that we took with us to the beach.
Yum.
Travel
Our use of hotel points and credit card reward nights hides a lot of our travel expenses this month. We had a very last-minute change to our family vacation plans. Early in the year, we planned a family beach vacation trip to Nag's Head in North Carolina. We agreed to split a family beach house before the full risks of the pandemic were realized.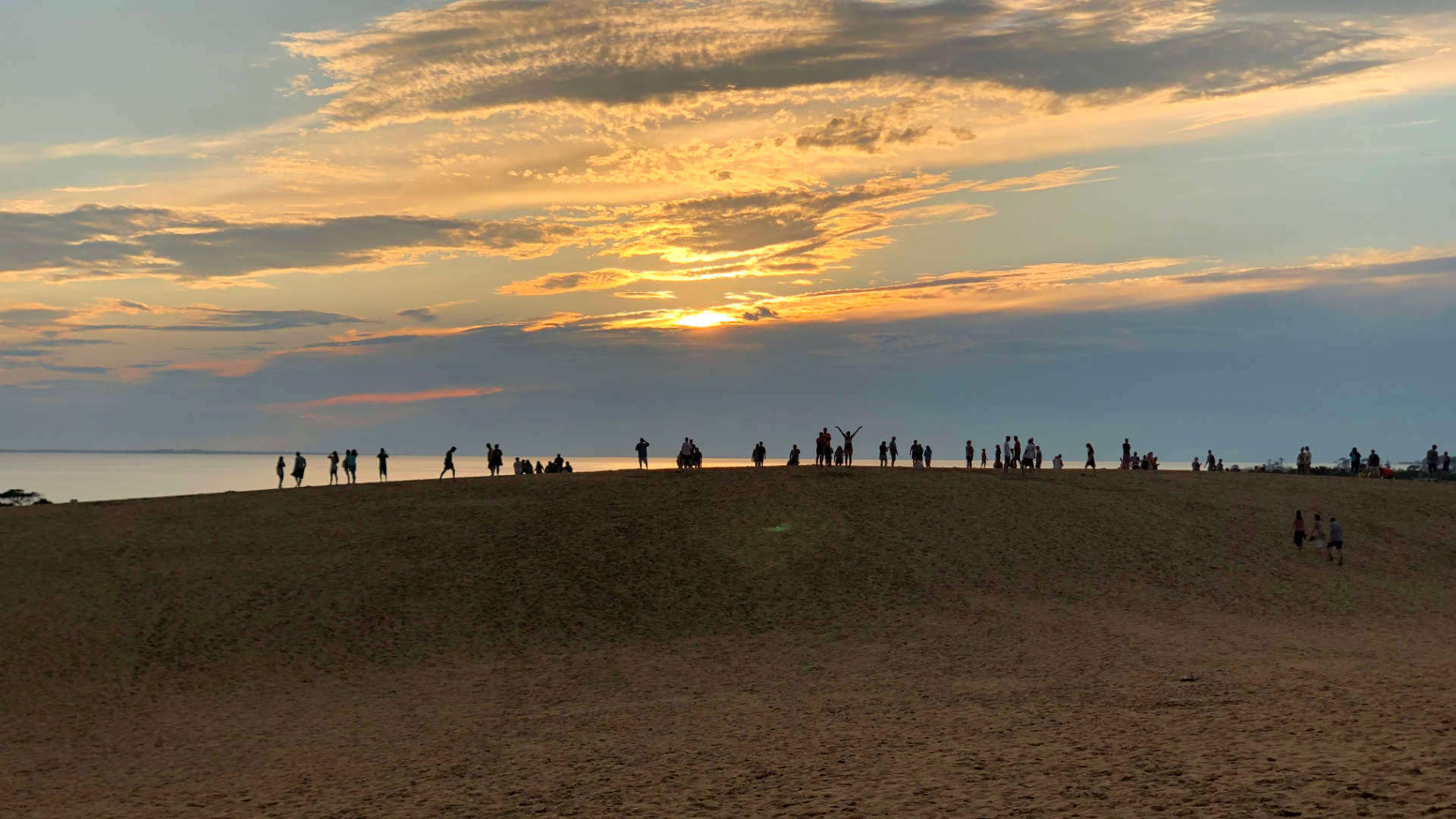 Given that we still wanted to attend but preferred not to share a place with three other households, we chose to cash in some hotel rewards. We used hotel points for three nights and redeemed two reward nights from our IHG credit cards.
Here's how our five-night stay broke down:
120,000 IHG points for three nights
Chris's Annual Free IHG Night (annual fee $45)
Jenni's Annual Free IHG Night (annual fee $89)
Our total out of pocket cost, if we include the annual fees, was just $134 in hotel expenses. Without these benefits, this last-minute stay would have cost about $1,066.
We still contributed our portion ($466) to the family beach house to avoid any unexpected financial burden on our family.
Utilities
As predicted last month, our July electric bill (which comes in August) approached record levels. The heat index was 100 degrees Fahrenheit or more several days in July.
The electric bill was $151 of our $254 of utilities this month! Hopefully with fall on the horizon, things will start to lower again.
Annual Prepaid SIM card renewal
We had a rare mobile phone bill for $42 this month. That's because Chris renewed his FreedomPop prepaid SIM card. It offers 1GB of data and unlimited (VoIP) talk/text per month. That's under $4/month! He uses Google Voice for his main number and just forwards calls to the SIM's assigned phone number.
The rest of our utility bills were pretty typical gas cooking and internet service bills.
Miscellaneous
We both marvel at the fact that our total health insurance cost ($836) and mortgage amounts ($837) are within $1 of each other now that Jenni pays for her own health insurance as a part-time worker.
We spent $25 on businesses services which was mostly at USPS. With Chris's AMEX Business Platinum card offering $20/month in credits towards shipping, he's been pre-paying postage expenses to take advantage of the credit. The remaining $5 was for an eBay fee due to previous sales (which we had none of this month!).
Gifts rang in at $110 this month for a variety of family and friend birthdays. Jenni also donated $5 to Virginia's public media (NPR affiliate).
$22 was spent on Electronics & Software, $10 towards Origin for a video game Chris plays and about $12 for a new watch Apple Watch band for Jenni.
For our beach trip, we bought a small pop-up sun tent and swim gear for Jenni totaling $57 in sporting goods. That tent was invaluable to avoid the inevitable sunburn!
Our $10 amusement expense once again went to supporting a state park.
How Much Did We Work?
We like to keep track of how much time we spend doing work that is paid. For Jenni, this is pretty easy as it's just her paycheck time. Chris manually tracks his hours consulting with Freshbooks (referral).
Our aim is to gradually reduce these hours.
So, how did August look compared to July?
| Month | Chris (Hours Worked) | Jenni (Hours Worked) |
| --- | --- | --- |
| May 2020 | 41 | 108 |
| June 2020 | 38 | 96 |
| July 2020 | 36 | 120 |
| August 2020 | 39 | 48 |
An average full-time job for two people would be about 347 hours.
We're at nearly a quarter of regular full-time work at just 87 hours! Our week of vacationing at the beach helped reduce our total work hours. Chris's new consulting project with a friend has also been a little slow to ramp up, so he might see an increase in September.
Overall, this is the trajectory we want to see. We value our time highly as an opportunity to experience life rather than spend. We'll see if we can maintain a total of 100 hours or less for the month of September.
Net Worth Update
We don't like to focus on the net worth of writers in the personal finance community. However, we do understand it offers a little context to the writing for the reader. You might better relate to someone with a net worth and earnings history more similar to yours.
We wrote up an extensive post on our earnings and net worth history that ranged from 2006 to 2018 this past month. If you're interested in how we went from negative $107K to $1.2M over a nine-year period, give our millionaire story a read. We did it with an average income of $77K per person over the period we analyzed.
From a high level, our assets and liabilities are shown in the data table below as of August 31, 2020.
| Description | Value (USD, $) |
| --- | --- |
| 401k | 555,582 |
| Brokerage | 717,826 |
| Roth IRA | 108,689 |
| HSA | 15,329 |
| Real Estate | 309,498 |
| Mortgage | (154,783) |
| Miscellaneous Assets | 10,250 |
| Checking & Savings | 34,943 |
| Net Worth | 1,597,334 |
Miscellaneous assets include specific investments we've made in physical assets (think collectibles). These numbers do not reflect the value of the businesses Chris owns or their assets. Their assets should appear as income to us over future years. The market value of those assets, if liquidated today, would not dramatically affect our total net worth.
Our net worth increased about $40K despite donating around $30K this month. Overall, we saw an increase of 2.7% as the stock market remains quite frothy. The S&P 500 was up about 7% over the month of August. Our assets are pretty heavily weighted by the total US stock market.
Net Worth History
| Date | Amount | % Change |
| --- | --- | --- |
| July 2020 | $1,555,289 | – |
| August 2020 | $1,597,334 | 2.7% |
TicTocLife August Reader's Choice Donor-Advised Fund Winner
The competition was neck-and-neck all month long between Chris's alma mater UVA Wise and Jenni's pharmacy school at MCV/VCU. We were happy to see participation in our first poll last month. With the final count of seven votes, MCV Foundation will be awarded a $50 grant. The runner up, UVA Wise Foundation, had a vote count of six followed by JMU Foundation with four votes.
Thank you for the participation in the poll and for helping us make our first donation with TicTocLife's reader DAF. If you would like to see changes to the way we display our candidates, let us know in the comments. We have the next round of candidates picked out and the polls are open September 3, 2020.
September donation poll: Children's education charities
For our next grant candidate list, we wanted to focus on one of the biggest areas of need right now, back to school time. Schools are restarting and this year holds so many challenges reopening during a pandemic. Teachers are being asked to completely redesign their way of teaching. Some have to develop both virtual and in-person curriculums. They are challenged with balancing their health and the health of their students on top of attempting to teach basic education.
Kids are trying to learn from home with spotty WiFi and limited resources to technology. Meanwhile, their parents juggle working from home and managing their kid's schoolwork. On top of these challenges, we continue to have children going hungry without meals from school.
Each of the non-profit organizations we have picked out addresses one or more of these challenges. Our nation must overcome them to provide our kids with the education they need for their future. We have listed a few reasons for each organization about why they deserve the next grant award. Each organization summary also includes a link to their Guidestar profile which details the non-profit's operations and transparency.
1. Feeding America
Why? 54 million people may face hunger because of the pandemic. This non-profit sends food to those who need it. They have several programs aimed at kids to ensure they have meals at school but also on the weekends and during the summer. Right now, where some kids are not physically going to school, they have School Food Pantry programs in place for low-income families to receive foods from the schools. This helps distribute food to each locality and limits the need for centralized pick up at the food bank.
Where? United States and Puerto Rico
What? A national organization whose mission is to feed America's hungry through a nationwide network of member food banks and engage our country in the fight to end hunger.
2. AdoptAClassroom.org
Why? Teachers are being asked to continue to educate and kids to learn in a whole new way but with limited resources. This was a problem before the pandemic and now it is even worse. This organization allows teachers to register their specific needs to best support the education of our nation's children. Current programs include Covid-19 relief efforts supplying chrome books and wifi hotspots as well as providing resources and training for teachers to help eliminate racial bias in the classroom.
Where? United States and Puerto Rico
What? A non-profit organization that gives teachers a hand by providing needed classroom materials so that students can succeed.
3. DonorsChoose
Why? Funding for school supplies in our public schools are being cut due to Covid-19. Teachers are being asked to create virtual learning and distanced learning curriculums. Worksheets and supplies need to be distributed to students on a regular basis as well as being collected. Teachers are really trying to ensure students are getting a quality education without overwhelming the parents more than they already are. This organization lets the teacher post their needs for their individual classroom and students. They have specific programs set up for handling the challenges associated with COVID-19 for both teachers and student needs.
Where? United States
What? A non-profit organization creating a platform for teachers to post exactly what they need to create a great educational experience for children in our public schools. Donors can choose to donate directly to a specific need or spread donations among the requested needs.
What Does September Hold?
We have a quieter month ahead, though it'll still hold plenty of DIY projects. No trips are planned, but that doesn't mean we won't sneak in one or two. Virginia's mountains are calling our names.
More importantly, as it relates to this month's donation goals, we're both really hoping for the safest possible return to school for kids and adults. Universities in our area are already struggling.
For those of you with kids, young or old, out there—we're thinking of you.
---
What about you? Are your expenses rising as schools reopen and businesses get a grip on COVID?
Let us know in the comments or on Twitter!