Let's start this post by saying this isn't going to be a tip list with boring, novice-level suggestions of how to save money on groceries. You've seen them before:
Avoid buying brand names
Don't shop hungry
Pay with cash (actually, DON'T pay with cash!)
We're going for pro-level grocery saving tactics.
This is a long-term strategy to cut your grocery expenses when you've already done all the basics and have control of your finances.
This is also not about eating rice and beans to bring your costs as low as possible.
If you're knee-deep in debt, not living below your means, or mindlessly shop the fanciest of organic grocers while one-quarter1 of your food at home rots—turn back! There's lower-hanging fruit for you.
But if you're ready for the definitive guide to saving money on groceries, read on!
Healthy Groceries while Saving Money
Nutrition is the primary concern for our grocery budget. While we won't pay 100% more to improve nutrition 10%, we certainly pay a bit more for the bread that has more fiber, protein, less sugar, and a more natural ingredient profile.
I can't claim to be a nutritionist, so apply the strategies outlined against your own needs. You should also consider Jenni is Celiac so our diet tends to lack most barley, wheat, or rye (no beer!)—this tends to raise our overall expense as gluten-free alternatives are more costly.
We made the jump to pescetarianism in the fall of 2019. In practice, that means we eat vegetarian about 94% of meals, add fish about 5%, and Jenni sneaks off when I'm not looking with hidden bacon about 1% of the time. Cutting back on meat has been one way we learned how to save money on groceries.
Our Historical Grocery Budget for Two People
First, I guess I should put up or shut up. Here's a chart of our historical grocery spending. This is for two healthy, active 35-year-olds, that eat a standard three meals per day.
For the data-curious: that's $61,324.82 over 148 months. Across that period, we've averaged $414.16/month in grocery spending. As demonstrated by the trend lines, our average has generally been increasing for years. That makes sense when you account for inflation and our desire to incorporate more healthful foods over time. However, we couldn't let these increasing grocery expenses go on unchecked.
If you'd like to figure out your own longterm average grocery spending, we've made our Google Sheet available.
Growing Grocery Expenses
2015 saw our highest recent average monthly grocery expense at $575.80. That's about $161 over our long-term average or a whopping 39% increase! We weren't doing a good job following even the basic steps of how to save money on groceries.
Over the last few years, we've focused hard on incorporating grocery expense cost-cutting and rethinking our food consumption. This is evident in the data as the red 12-month trailing average spend line dipped below our longterm spending trend line over the last few years. That's brought our longterm average spend down. These savings are quite noticeable within the $41k we spent last year.
You can even see a month (July 2018) that dipped into negative territory. That's not an error! Our rebate payments were so high that month (combined with spending on pre-paid grocery gift cards) that we ended up net-positive for the month.
In 2019, our average monthly spend was only $339.85!
From the 2015 peak, that's a reduction of $235.95 per month on groceries. We cut our peak expense by over 40%!
Let's get onto the grocery savings tactics and show you how we did it!
How to Save Money on Groceries
Nobody likes finding scissors and clipping coupons, so we're not focussing on hunting down the latest Sunday paper and all the effort associated with coupon clipping.
But, there's a way to earn similar savings without paper coupons.
Digital Store Coupons
Digital coupons have become really easy to use! Chain grocers have dedicated apps for their brand. We've got a Kroger within a short walk from our house. Their digital coupons are key to how we save money on groceries.
Most grocery chain apps (and websites!) let you sign-up for a digital account, scroll through a list of coupons with the products pictured, and then you simply tap "clip". This associates the digital coupon with your loyalty account.
This is what Kroger's app looks like.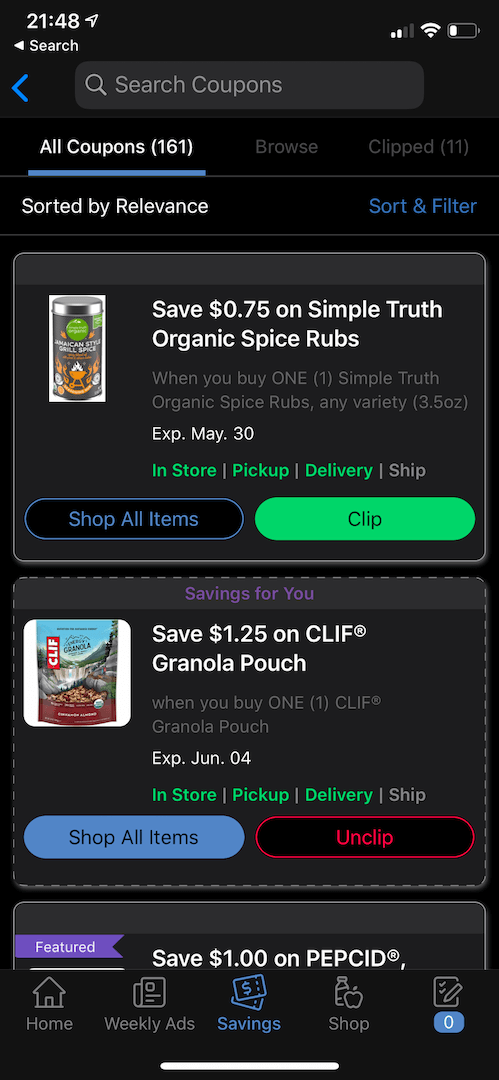 In the first screenshot, you can see 161 choices of digital coupons I could add to my account. Once you've identified a product you want, just hit that "clip" button and boom it's ready to go.
Digital Coupons Make it Easier to Save Money than Paper Coupons
You can tap for details in order to confirm which product variants will work with the coupon, get the UPC to double-check compatibility, and learn more about the product. You can also see the in-store price for valid products. That makes it easy to calculate the final price and do comparison shopping online.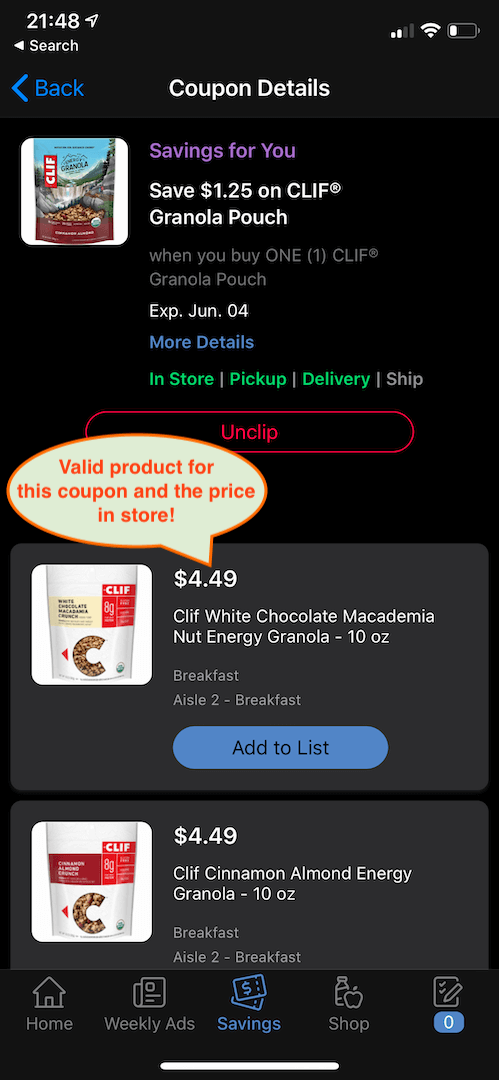 When you get to the checkout, just punch in your phone number or scan the loyalty account barcode on your phone to apply your coupons. It's a heck of a lot easier than cutting coupons and begging a teller to scan them.
Multiply Your Digital Coupon Savings
Jenni and I have our own separate financial accounts and our own phones. We each have our own Kroger accounts and loyalty programs we've had since long ago. That lets us each use the more valuable digital coupons that are one-time use. I'm not saying signup your dog, but…
Other grocery chains like Publix, Giant, and Albertsons offer very similar apps, as well as all of Kroger's child brands (Harris Teeter, Ralphs, Smiths, Fred Meyer, etc.). There's a good chance you have access to a similar program at the grocery store you frequent.
In-store Grocery Cashback and Rebate Programs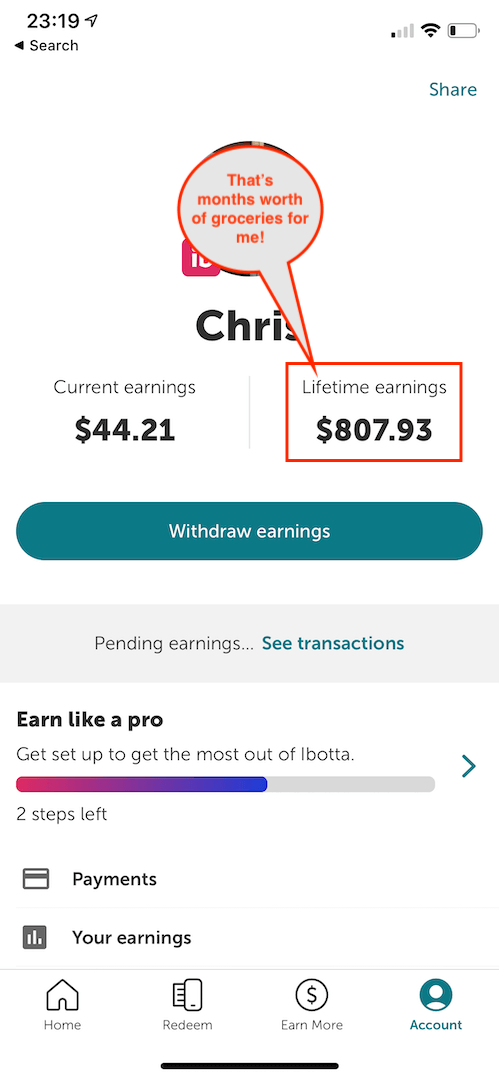 Unless you're a novice, you're probably already familiar with the myriad online cashback shopping portals (eBates, Rakuten, etc.). Did you know there are similar, in-store grocery rebate programs? This works a lot like the digital coupon systems from the previous section.
Leveraging these rebate app systems is a great way to save money on groceries.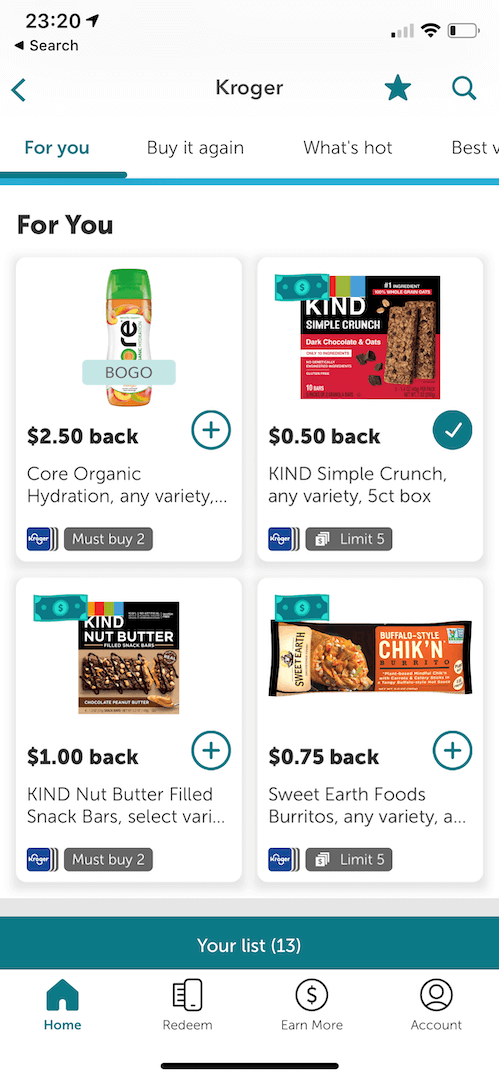 You pull up the rebate app, select products to buy with their associated coupon values, then add them to your shopping list. The rebate apps are divorced from any particular brand. Because of this, they need a way to tie your purchases to the coupons. They do this by having you upload a picture of your physical receipt. With some brands (including Kroger!), they can optionally associate with your loyalty card and you can skip this step entirely.
I don't know how many dozens of receipt pictures I've uploaded. I've had only a single issue with a rebate app not recognizing my receipt or an item on it.
One of my favorite features is that you can call up a coupon and then use an in-app barcode scanner (that leverages the phone camera) to confirm that the rebate will apply for the product in your hand. Sometimes rebates lack details (sizing, product variant, etc) which leaves me wondering if it'll work. One quick scan and you get a visual indicator that the coupon applies.
Don't let Grocery Marketing Trick You
One key thing to remember about these rebates apps (and coupons as well) is that their entire purpose is to market to you. They exist to get you to buy more and to buy things you wouldn't normally.
I wouldn't have brought up rebate apps to a novice, but you're an expert. Novices would wind up buying a bunch of crap they don't need because there was a fifty-cent coupon. You're able to resist marketing. Be the expert.
A better way to let them wine-and-dine you is to simply switch to the less expensive products (due to rebates/coupons). Skip something similar you'd normally buy. If store brand granola bars are on your shopping list, but KIND bars are on sale, and an Ibotta rebate—there's a good chance they're less expensive. Try them out or enjoy the small luxury upgrade, and save a buck in the process.
Best Grocery Rebate App
Our favorite of the rebate apps we've tried (Checkout51, Ibotta, and one recently defunct) is Ibotta. Jenni has her own account and we tend to double-up on the better deals. Combining digital coupons and the rebates often let us buy groceries for free or even make a profit!
The pandemic hasn't been very kind to our rebate app use. I don't know if there's going to be a better reason within our lifetimes to not worry about grocery expenses. We can rely on that emergency fund if needed. A global pandemic and major recession (at the time of writing, COVID-19 is in full swing) means that we are in-and-out of the grocery store as quickly as we can be. We generally skip any sort of price sensitivity. Not having to worry about grocery costs, when it matters, is a piece of real freedom and security financial independence offers.
Last summer is a better representation of my typical Ibotta use month-to-month. Here's a screenshot depicting those savings: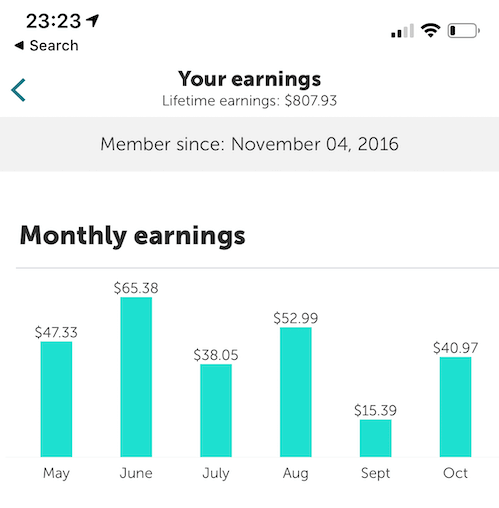 Once you've earned several rebates, you should be able to withdraw your balance to PayPal. We find PayPal to be the best choice, but they also often offer gift cards as a redemption option. The minimum withdrawal amount is usually about $20 or $30.
While Ibotta has been around for some time, there are several grocery rebate apps out there with shorter lifespans. Once you've hit the minimums, consider withdrawing just in case they go under—you don't want to lose your earnings!
Rethink What a Meal Is
If you're like us, you grew up with a dinner plate that was nicely divided between three sections: meat, a "starch", and hopefully a vegetable (French fries are potatoes which are a vegetable, right?). Eggs are for breakfast. Cereal is a complete meal. Sandwiches with cold cuts for lunch. Maybe throw an apple in there somewhere.
It doesn't have to be that way. Actually, it can be any way you want. You're an adult (well, you're a person at least)! You don't have to eat meals the way that we've decided they should be in the last 1% of the timeframe of human existence (and 1% is very generous). Your goal is to satiate yourself and provide adequate nutrition, at a reasonable cost.
Consciously Add to Your Diet from Zero
That doesn't mean you need to switch to a diet of rice and beans. But, it does mean you should rethink your diet: start from the ground up rather than trying to remove things from your current diet. Consciously add dishes that meet nutritional requirements along with foods you enjoy! Devise how they can fit into a meal plan.
If you couldn't care less how you eat it, identify the healthiest ingredients at the lowest cost, stick them in a blender, and go to town. Kale and peanut butter in a smoothie? I mean, have you tried it?
No one said you have to use a fork.
Time of the Meal Doesn't Matter
You can eat breakfast things for dinner and lunch things for breakfast. If you've got a bunch of leftover beans in the fridge but you're out of eggs at breakfast, don't force yourself to run out and restock the eggs just because they're the normal accompaniment. Challenge yourself to incorporate the beans with breakfast instead (I like them slightly smashed and spicy on toast)! You'll help prevent your leftover food from going to waste and make your tongue a little more flexible.
Having flexibility in your diet and your notion of what a meal is will permit you to be more efficient by maximizing your food use and reducing waste. That flexibility makes you money, and not only with food.
Price Shop Online instead of In-store
A common way to price shop groceries is to take a notepad with you into store A, write down the prices of a variety of products, go to store B, write down the prices of a variety of products, and so on. Once you've got a list, you identify the cheapest place for each of your products, then buy certain products from certain grocery stores in the future.
Don't do that. That's insane. We have the Internet!
Not only would that take a ton of time, but those prices are going to change frequently. It also just sucks trying to identify, note, and…grocery shop—all while you're in the store with people running around and coronavirus trying to kill you.
Price shopping online is one way to save money on groceries.
Use Grocery Apps and Websites to Price Check
Most stores have their in-store pricing online either through their website or app. If the brand itself doesn't, you might have some luck getting a pretty good idea of the prices by using contracted shopper services like Instacart (though their prices tend to be marked up a bit). This also lets you compare pricing with online grocers like Amazon or Boxed from the comfort of your home.
If you want to get the absolute lowest price for your grocery list and are willing to make multiple trips to do it, do your price comparisons online.
Generally, we don't find it worth it to go to multiple locations (especially when a car is involved) to save a few extra dollars. We have three grocery stores (and a Publix under construction!) within a few blocks of our home. We're fortunate to have options.
A good 80% of our grocery shopping is done at Kroger. Some staples that we consume in larger quantities (nuts, granola, coffee, smoothie additives) are often cheaper through Amazon or Boxed.
Grocery Bulk Purchase Risk
We're just two people. We're decidedly averaged sized, too. I don't know why we so often wind up with "family-sized" multi-packs of oatmeal that might be intended to feed horses. Actually, I think I know why.
For years, we've read those repetitive "10 grocery tips to save money!" type of articles. They typically include:
Buy in bulk
Pay the lowest per unit/ounce price
Here's the thing. That's great starting advice. But if you're reading a FIRE blog on groceries, you probably tend to min-max and over-optimize the hell out of things. Buying bulk isn't always the best way to save money at the grocery store. I've followed that simple starting advice and wound up with more than our fair share of big-bottle condiments sitting in the bottom fridge shelf slowly changing colors.
I thought ketchup was supposed to be a brighter red?
Here's the pro level advice: buy what you need! Put that optimizing brain of yours to work on figuring out how much of the product you actually use over time. Purchase the size that'll be consumed before it begins to crawl out of the fridge on its own. Reduce waste, save money.
Try Before You Buy in Bulk
Have you ever found a food deal on Slickdeals and it just seemed so great you bought it without ever even having had it before? It was probably that Amazon Subscribe & Save deal. You know the one. It's for twelve boxes of a six-count of…granola bars? Or was it dozens of 1oz bags of chips? Whatever it was, you might have found yourself regretting it pretty quickly. Maybe you didn't like the taste. Maybe you got bored of eating the same granola bar over and over.
I was recently eyeballing some tasty-looking whole wheat fig snacks—think of adult Fig Newtons. It was a 24-count package. I'd never had them before, but a buddy loved them and we usually have similar tastes. Twenty-four two-packs is a lot though, and they were a little sugary even with all their "natural" and "healthy" marketing.
Don't be Penny-Wise and Pound-Foolish with your Budget
I checked our local Kroger's website and found the same product, in a 6-count package, for about 50% more per unit. Paying an extra buck per box probably wouldn't count as being cheap with groceries. However, it did end up being the frugal decision.
After our walk home—feeling like a couple of laden mules with our reusable grocery bags strapped on—I popped open the fresh pack of supernatural and totally healthy fig bars and bit in.
Chewy. Sort of figgy. Very meh.
They weren't bad, they just weren't worth their weight in sugar. I'd rather have something else. I was glad I didn't have another 23 packs of them to eat. They also didn't wind up trash with the other billions of pounds of food wasted annually, and I saved myself about $12 overall.
Sometimes it makes sense to pay more per unit.
Reduce Food Waste to Cut Costs
I touched on waste in the introduction and throughout this post, but let's hit it again. Even if you're not knee-deep in debt and mindlessly wandering the fanciest grocer in your city, you probably still waste some food.
In fact, a recent academic study2, suggests that the average US household lights $1,866 on fire in wasted food per year.
The source data doesn't clearly delineate wasted restaurant leftovers or fast food you never finished from groceries specifically, but it is indeed referring to end consumers. You could probably stand to waste less of all the food you buy.
I know what you're thinking: you're not average! Three-quarters of survey respondents also didn't think they were average, either3—and that's mathematically impossible to be true. Of course, we're expert level spend strategy readers. Surely we're not average!
Still, if you can accept that you just might be average, cutting back food waste could save you a significant chunk of change. Simply cutting waste in half for a typical US household (family of four), could save $77.75 per month!
How to Save 10%+ on Groceries
Here's one great way you can save money on groceries. Take about 10% off your grocery store expense by combining two discounts you may not be aware of.
Discounted gift cards for your grocery store
Rewards credit cards with higher rates on grocery categories
The key here is combining them. Often, you'll be able to find a discounted grocery store gift card for around 5% off, mostly through online gift card resellers like Raise or Cardpool.
Separately, there's plenty of great rewards credit cards that offer high points or cash back in the grocery spending category—as of the time of writing, Chase's Freedom card is offering 5x points for grocery spending in Q2 2020 for example. As we're working at the expert level here, I'm going to assume you're already familiar with the rewards credit card musical chairs. If not, that's a story for another time.
Combining discounted gift cards and reward credit cards is one of my favorite ways of how to save money on groceries. Did you know that's possible?
Combining Credit Card Rewards and Discounted Gift Cards
But you can't pay for your groceries and earn the credit card rewards AND also pay for them with your discounted gift card to get to 10% total.
Well, you can, sometimes!
At least once a year, Kroger offers discounted store-brand gift cards. Usually it requires a digital coupon. Often it's $10 off $100 or 5% off. Our The Fresh Market, like clockwork, has a Christmas holiday sale on their gift cards. For years, the promo has been a free $10 voucher for future purchases for every $100 you spend on gift cards. We load up!
Grocery chains often offer discounted Mastercard/Visa gift cards with similar discounts, or 4x fuel point bonuses. When this happens, load up the max quantities and pay for the gift card with your high grocery reward credit card! You end up with a discounted gift card AND your high multiple credit card rewards.
In a best-case scenario, we often earn 4x fuel points, a 5% discounted gift card, and 5x rewards points on our credit card. We redeem those rewards for greater than one cent per point (usually more like two) and ultimately wind up with effective savings closer to 20% from our grocery spending!
Using Discounted Payments with Grocery Rebate Apps
You can take this one step further by combining it with the rebate apps mentioned previously. You'll use discounted payment methods to pay for the groceries that you then earn the rebate amounts on.
For example, I've lucked out with a combo of in-store "buy $5 save $5" promos. Combine that with a digital coupon to use up to five times, and an Ibotta rebate for $2. I walked out the door paying $10 with a gift card. The gift card had an effective cost of $8 and earned a full $10 Ibotta rebate—I got paid to eat!
That's a pretty extreme example, and let's face it, the effort required doesn't make much sense for a single purchase. It's also just a fun challenge to pull it off. But, you can scale this concept across all your grocery shopping, taking the creamiest easy money off the top. You'll cut your already low grocery expenses even further.
Here's How to Save Money on Groceries Like an Expert
Combine all of these strategies along with the common, boring, novice-level tips and you'll know how to save money on groceries. A 30-40% reduction for an already average monthly grocery bill should be expected.
You can do this while eating healthier, adding flexibility to your diet, and incorporating variety in your dining life. The added resiliency secures your financial independence. This ground-up rebuild of your shopping habits cuts food waste which benefits more than just you.
Become a grocery cost-cutting expert and you can eat very well on $170/person per month just like we have.
---
FOOTNOTES
Disclaimer: We do not have any affiliation with the brands mentioned. There are no referral links and no one is paying TicTocLife for this post.
USDA estimates that 30-40 percent of the food supply is wasted [source]. And before you tell me, "but most of that is wasted on farms and in factories!", FoodPrint estimates that Households are responsible for the largest portion of food waste (40-50 percent) [source].
NRDC survey showed approximately 75% of people estimate their waste is less than average [source].
---
What are some of your favorite tips on how to save money on groceries? Let us know in the comments!