Each month we take time to review our spending as a couple, hide the transactions we like to keep secret at Gucci and Dior (kidding!), and then reveal the remainder for the readers to pick apart our mistakes. This month is just a little later than usual—sorry!—we've been busy living a semiretired life. Don't worry, you're still a priority and we've got some more great posts coming during the month of October! This month, we're reviewing animal shelters in Virginia for our monthly grant.
Last month we reviewed children's charities for our monthly grant from the TicTocLife Reader's Choice Donor-Advised Fund. Read on to find out the winner and see our poll for this month's grant!
First, let's go through the monthly budget. Our income, on the left, balances to our expenses in the Sankey diagram below.
We'll do a quick, high-level analysis of the month and call out any of the more interesting items.
Income Summary
We have several sources of income and they tend to vary from month-to-month. Most of our income is from Jenni's part-time job and Chris' ongoing business operations, but we've got plenty of other little sources as well!
Part-time work
Jenni stayed pretty consistent with her reduced schedule at the pharmacy this month. Her part-time pharmacy position earned her $3,459 this month.
Chris cutback a little on consulting projects after a couple of months of more work than anticipated. He wants to keep the work focused on meaningful projects that help mentor or buildup projects that reflect his values. Chris's business paid him $1,924.
We sold some small hobby-related stuff around the house to earn a few dollars online. We also sold old car parts from Jenni's Prius combination meter replacement project. Unfortunately, some dash vent plastic pieces were damaged during the dash removal and replacement process. We had to order a full set of new parts to replace a smaller number of broken parts. We're selling off the remaining parts from the bundle we purchased to help make up the difference. We earned $120 through eBay and online marketplaces, before any fees.
As we've been alluding to on social media, we've got a big new project! We're refurbishing some office equipment (computers, printers, camera systems, POS, etc.). Much of it will wind up on websites to sell stuff locally, but some will be donated. It's a fun project to ensure that less e-waste is created and we get to learn about different electronic systems.
Dividends, interest, credits
We earned a small amount of money from account interest totaling $12 (checking, savings, money market).
September produced a healthy amount of credits at $724. These credits primarily come from credit card issuers who have special offers when spending in certain categories. We break out the individual credits within the expense summary below. Lately, much of the credits come from Chase's pay yourself back promo where we can use points to reimburse our grocery and home improvement expenses.
Quarterly dividends paid out for our variety of index funds (we like VTSAX or VTI by Vanguard). Despite avoiding investing in individual stocks instead of index funds, we have a few vestigial shares from early learning experiences still hanging around that have paid out dividends, too. Dividends totaled $2,655 for the month which was immediately reinvested.
Transfers
We transferred some funds between donor-advised funds (DAFs) to meet our charitable goals for TicTocLife's Reader's Choice Fund.
Overall, we ended the month an extra $749 which will remain in checking.
Expense Summary
From our $8,894 budget, we saved $4,481.02 this month. That gives September a savings rate of 50%. That's much better than last month where our charitable contributions definitely upset our savings rate trend!
You may have noticed in our spending diagram that Chris' 401(k) contributions fell off. We'll reevaluate making extra contributions toward the end of the year but income limits for DAF donations and how the deductions work means it makes sense to hold off on 401(k) contributions for now. It's nice to have such flexibility to control 401(k) contributions on a whim when you own the business!
Check out our annual review for a deeper dive into the expense categories.
Home Improvement
We had a couple of home improvement and maintenance projects to tackle over the month. We opted to purchase our place when we went through the rent vs buy and invest discussion in 2013. We've had some projects building up since then, Jenni brushed up her DIY skills big time!
Brick Patio Regrade
Jenni completed the brick patio re-grading project this month. We have a patio that butts up against the rear of our house. Over the years, the side closest to the house had fallen enough that the negative grade was causing problems with water not draining away from the house. During heavy rains, we'd end up with quite the little pool instead of a brick patio!
When a brick mason was doing work within the community we reside in, we inquired about having the patio regraded. The cost was estimated at $1,000. It seemed like a good opportunity to expand our DIY skills and overcome any fear of working with masonry.
The final product Jenni produced is excellent, we're both happy with the results after about a month of rains.
We needed new sand and gravel material under the brick along with a tool here or there to complete the job.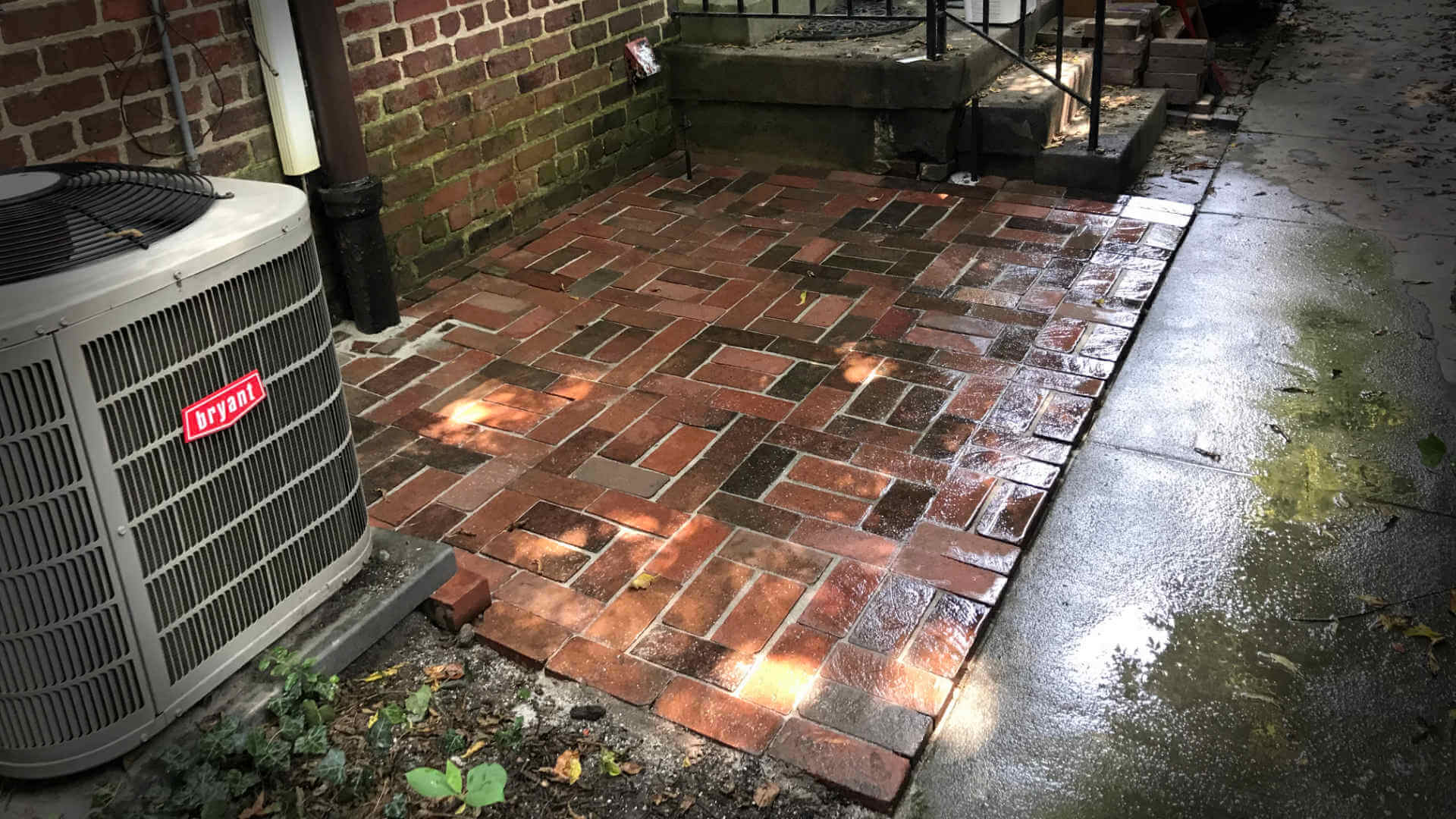 Total cost? About $155 in materials to regrade our 9'x7′ brick patio.
Screen Door Repair
Jenni also spent a little time replacing the screen material on our front door's screen door. Over time and repetitive taps on visitor's shoulders, it'd stretched out and started to separate from its mount. Mosquitos and flies could sneak in through the gaps if we left the front door open during the cooler spring and fall months.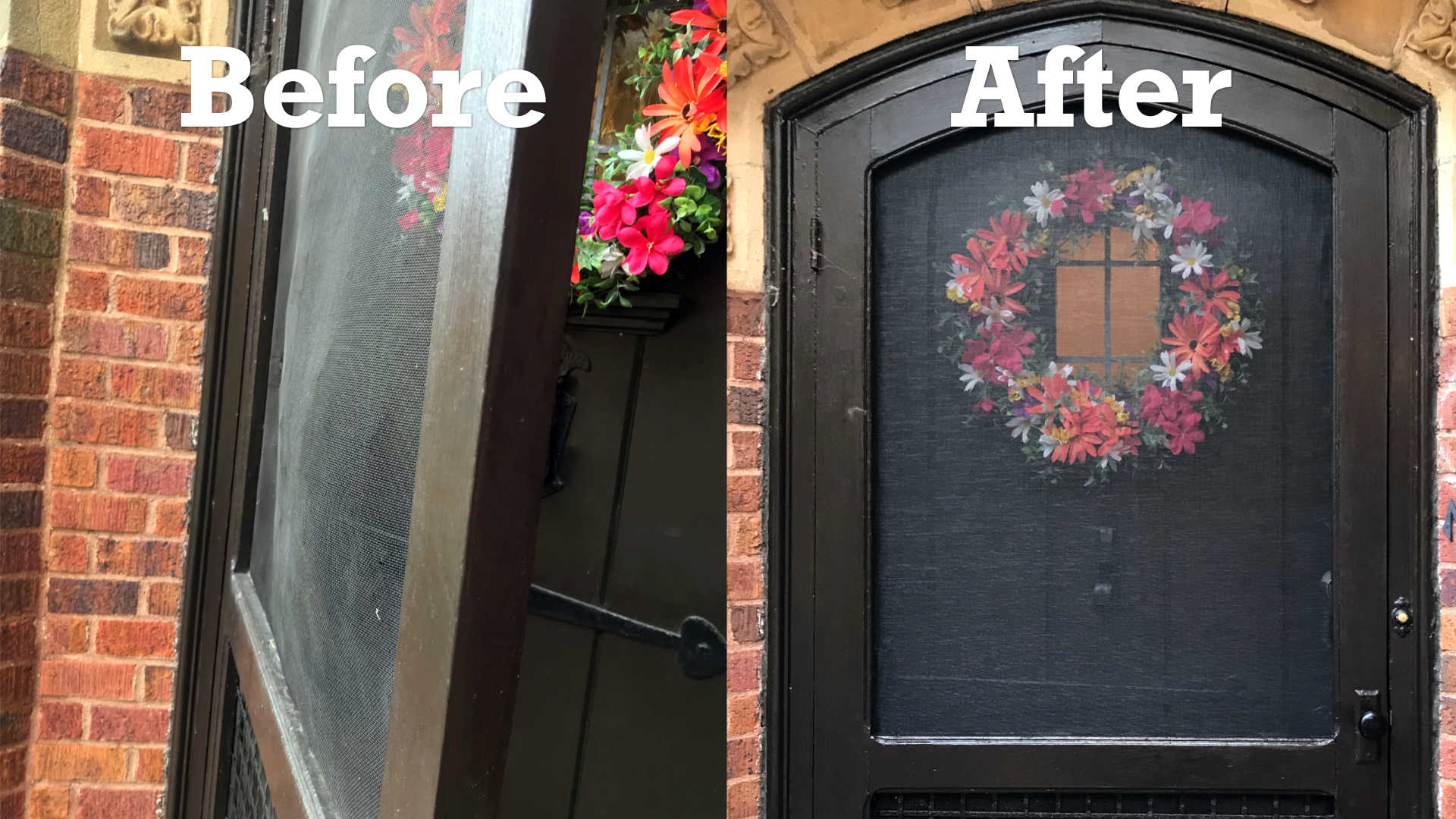 The replacement screen, staple gun (to be used for an upholstery project next), and misc tools ran about $35 to fix our screen door.
CO Alarm Fail
Lastly, we our carbon monoxide sensor failed. Apparently the sensor system in these are only designed to last for so long. We have gas cooking in our place which has encouraged us to keep one active.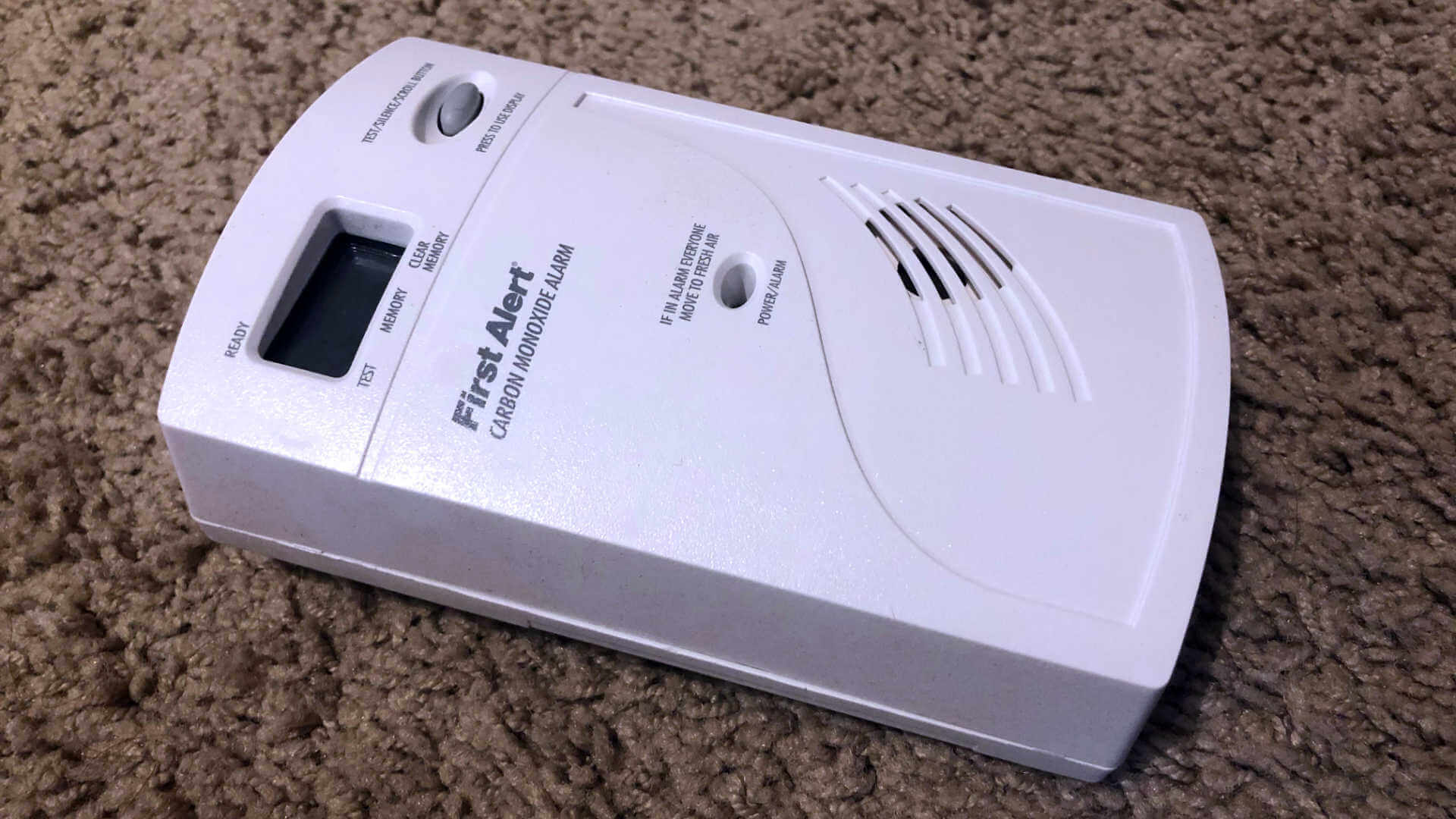 It sure seems like a waste to just toss out the old one, though. Maybe we can get the king of upcycling to shoot us some ideas for how to use the old carbon monoxide alarm rather than sending it to a landfill.
Replacement carbon monoxide sensor cost: $20.
Food & Dining
Our grocery bill saw a big leap this month. If the increase becomes a trend rather than a blip, we're going to have to revisit some of our on money-saving tips for groceries.
Nearly every social event we had this month revolved around something akin to an outdoor cookout or picnic. We spent lavishly on drinks, appetizers, and snacks for those visits. Considering our restaurant spending in normal times is almost entirely centered around social events, it probably makes sense that this has shifted to our grocery budget.
We also made some larger trips to restock basic essentials that tend to get used over long periods of time. Groceries have become a bit of a luxury spending point, too. That's probably okay if it helps us tolerate the circumstances of 2020.
Overall, the cost is likely less than our combined restaurant expenses from before. Still, we need to keep an eye on our grocery expenses for the rest of the year.
We spent $673 on groceries.
AMEX's Small Business promo earned us $10 in credits for shopping at a local grocery store in September.
We redeemed $94.95 worth of Ibotta cashback this month. Kroger's cashback program kicked back another $28.54, for a total of $123 worth of grocery cashback. If you're curious about how that works, check out our saving money on groceries guide!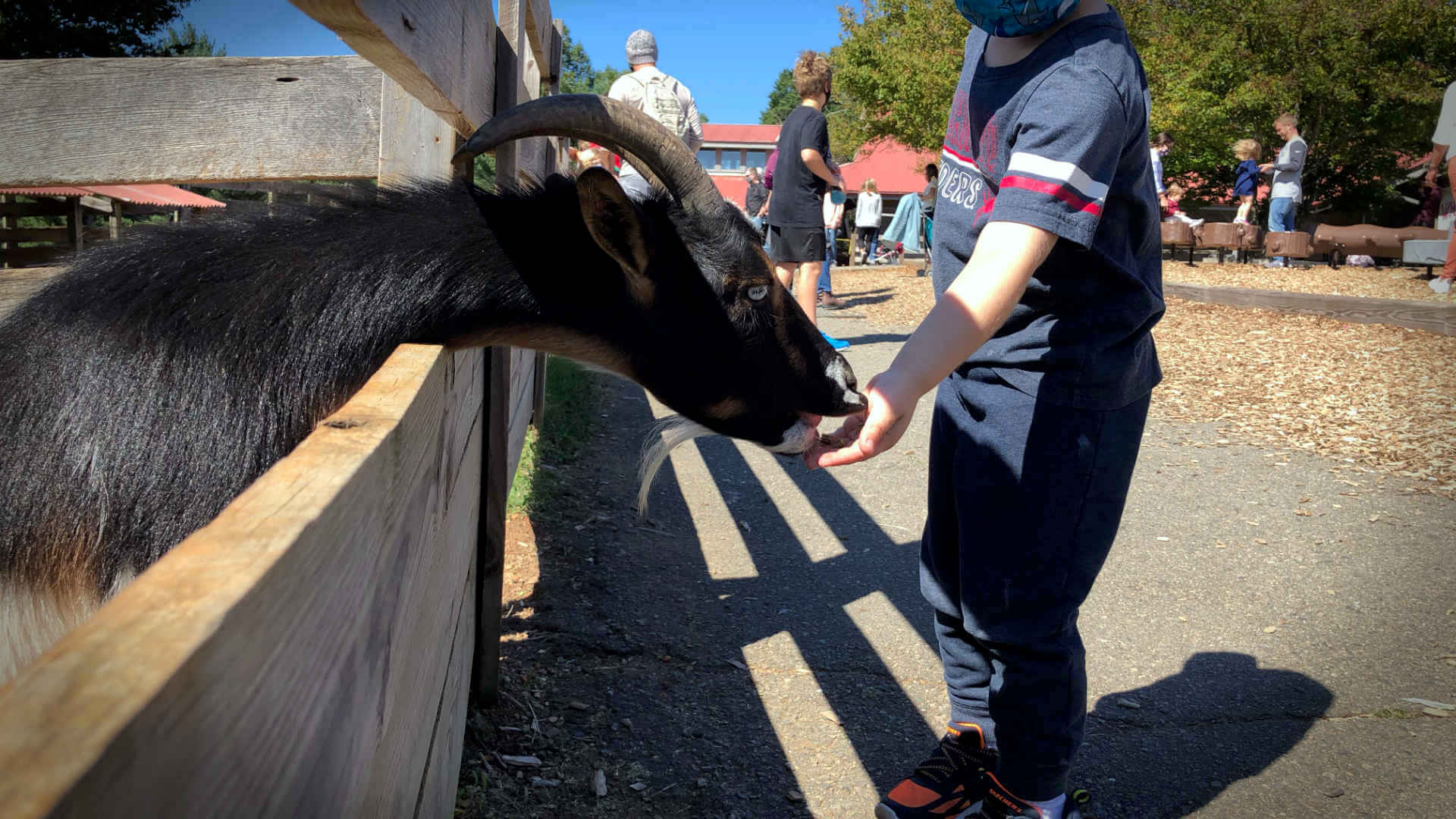 Chase UR points redeemed for groceries
While $673 is reflected as our total grocery expense for the month, $504 was credited back (of the $724 in total credits for the month). Once you account for the $123 in grocery cashback and $10 in AMEX credits, we only spent $36 on groceries!
The huge statement credit came from redeeming Chase Ultimate Rewards points on Jenni's Chase Sapphire Reserve card towards grocery expenses.
We offered some more detail about this new Chase redemption bonus in July.
Restaurants, Fast Food, Alcohol
Fast food and restaurants represented $48.53 worth of spending for September. Our categorization was a bit haphazard between the two, but it was all takeout food.
DoorDash and GrubHub did a good job of enticing us with 50% promos again. On our lazier nights, we just ordered pickup from local places we've tried to support in this small way.
Jenni earned a $4.12 credit by redeeming Chase UR points to cover one of the smaller pickup orders.
Our social picnics and barbecues created a $46.52 alcohol expense. Sometimes its hard to resist those seasonal craft brews.
Utilities
Our electric bill is finally returning to somewhat normal. Virginia's temps are in the 70s or 80s Fahrenheit as highs with fall firmly here. We've had the windows open in the evenings occasionally!
Arcadia clean energy
We may not have mentioned it before, but we use a service called Arcadia Energy that sits between our electric provider (Dominion) and us. They receive the bill from Dominion and interface with them to provide additional data about our usage. The service has a pretty great online interface and the tier we have is totally free.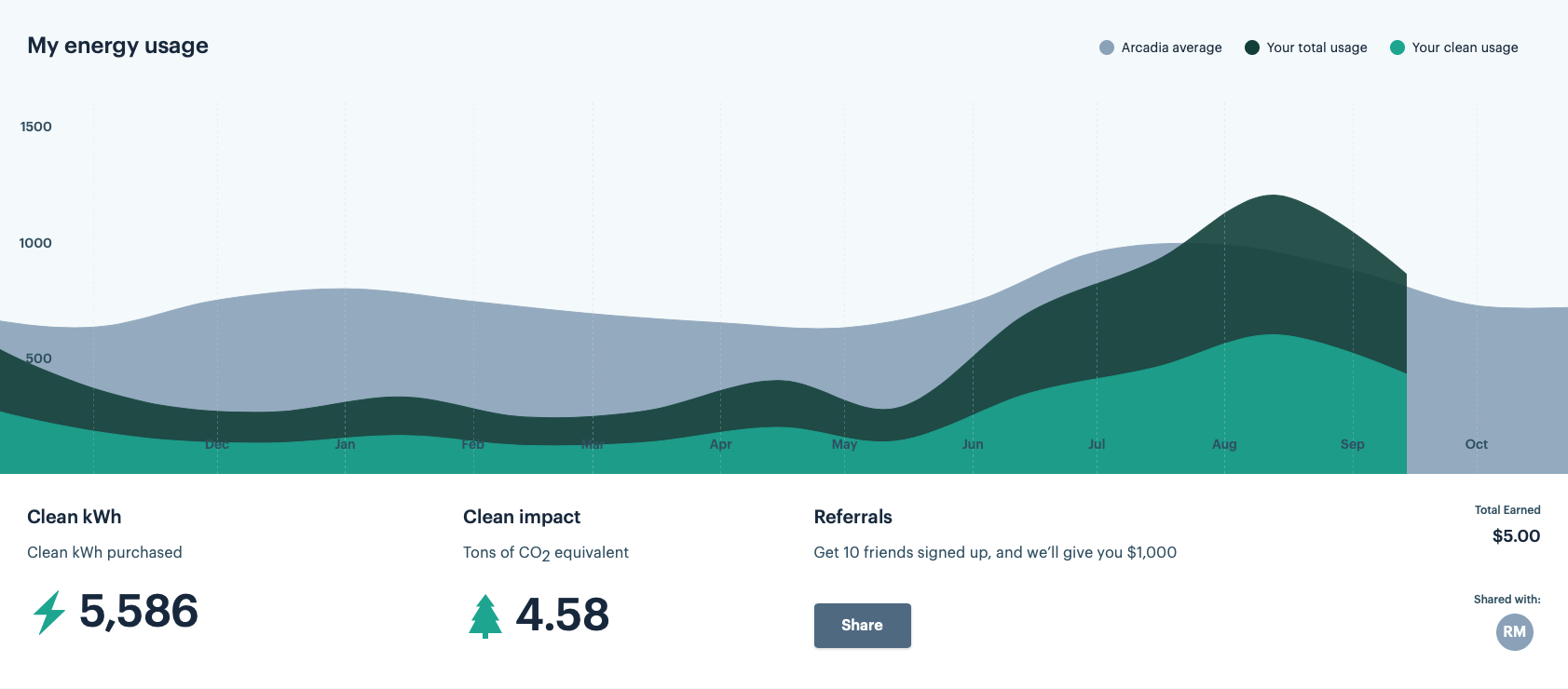 The best part is that, even at the free service level, they match 50% of your energy use to renewables like wind.
There doesn't appear to be much downside, though you should understand where the service is free: you're the product.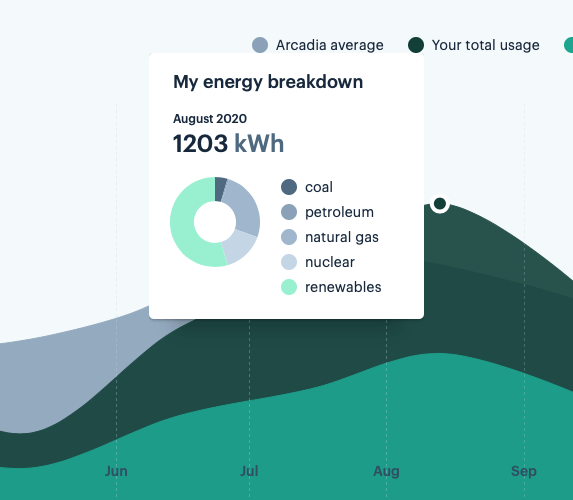 If you're interested, here's our referral link to Arcadia—we'd earn a couple of bucks if you sign up. They advertise the service as:
There's an easy way to help the climate, and it starts at home. Join me in adding clean energy to the grid and Arcadia will take $10 off your next power bill.
We've not seen a downside yet, but would love to hear about your findings in the comments.
We spent $108 on electric this month.
Services
In pretty typical form, we spent $21 on city services (cooking gas, wastewater).
Our Comcast Internet bill rang in at typical $40 for internet service. It's about 120mbps, plenty fast. We don't have any television service.
Lastly, we spent about $43 on mobile phone service. Chris' AMEX Business Platinum card has a bonus for wireless service which he's giving to a friend by way of paying his bill. A $20 credit applies and his buddy will eventually reimburse the difference.
We both use prepaid SIM cards for our own smartphone service.
Miscellaneous
We both marvel at the fact that our total health insurance cost ($836) and mortgage amounts ($837) are within $1 of each other now that Jenni pays for her own health insurance as a part-time worker.
We spent $30 on business services which were mostly at USPS. Chris's AMEX Business Platinum card offers $20/month in credits towards shipping which helped alleviate the expense of our eBay sales.
Gifts rang in at $55 this month. Jenni donated to Virginia's public media (VPM). We also made the VCU donation from last month's reader poll directly in order to take advantage of the above-the-line deduction for direct cash donations related to the CARES Act. This article explains the new deduction for 2020 well.
$247 was spent on Auto Insurance which is our 6-month premium for two vehicles. We have insurance with Geico who included a small pandemic-related discount. We also earn a discount as shareholders (through Berkshire Hathaway).
Unrelated to insurance, our health expenses totaled $106 which covered two new pairs of glasses from Zenni Optical for Jenni and some pharmacy expenses. It's flu season and we're both vaccinated nice and early.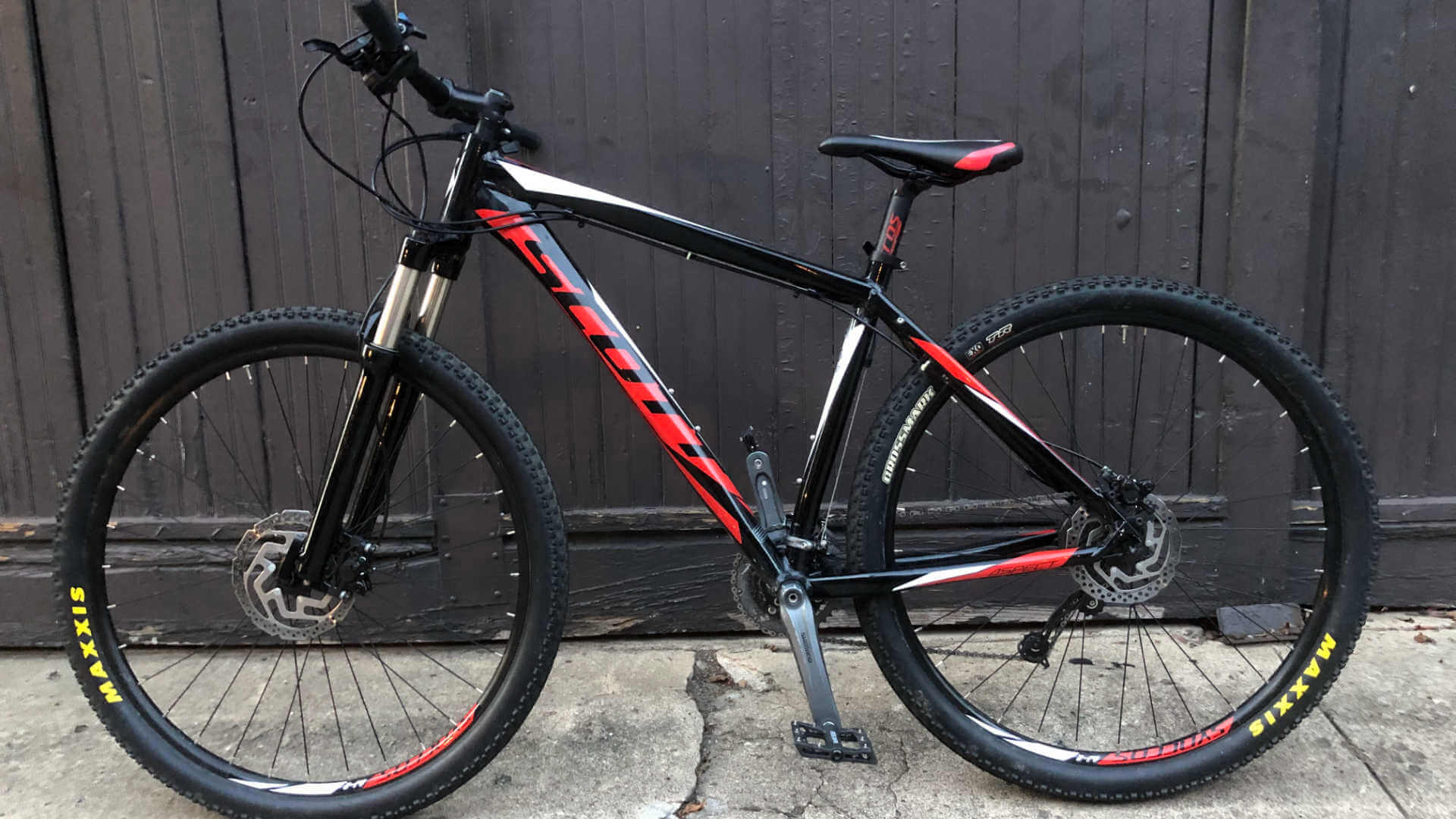 Chris purchased a 2015 Scott Aspect mountain bike as he's getting back into the sport now that some friends live nearby he can join riding the great trails central VA has. Found on Facebook Marketplace, the bike is loaded with disc brakes, front shock, and quality tires. He's already taken it down several blue and black rated mountain bike trails. He paid $260 cash for the mountain bike.
How Much Did We Work?
We like to keep track of how much time we spend doing work that is paid. For Jenni, this is pretty easy as it's just her paycheck time. Chris manually tracks his hours consulting with Freshbooks (referral).
Our aim is to gradually reduce these hours.
So, how did September look compared to August?
| Month | Chris (Hours Worked) | Jenni (Hours Worked) |
| --- | --- | --- |
| May 2020 | 41 | 108 |
| Jun 2020 | 38 | 96 |
| Jul 2020 | 36 | 120 |
| Aug 2020 | 39 | 48 |
| Sep 2020 | 27 | 76 |
An average full-time job for two people would be about 347 hours.
We're at less than a third of regular full-time work at just 103 hours! Jenni's had to catch up on some of the projects at work she has genuine desire to do so she put some more time in this month. Chris took a bit of a break after catching up on his duties.
The value of our time has little to do with what we earn.
Our focus is on the work we contribute and use to create.
Overall, this is the trajectory we want to see. We didn't quite meet our goal of 100 hours or less for September but it was darn close.
Net Worth Update
We don't like to focus on the net worth of writers in the personal finance community. However, we do understand it offers a little context to the writing for the reader. You might better relate to someone with a net worth and earnings history more similar to yours.
We wrote up an extensive post on our earnings and net worth history that ranged from 2006 to 2018. If you're interested in how we went from negative $107K to $1.2M: how to become a millionaire in 10 years. We did it with an average income of $77K per person over the period we analyzed.
From a high level, our assets and liabilities are shown in the data table below as of September 30, 2020.
| Description | Value (USD, $) |
| --- | --- |
| 401k | 541,110 |
| Brokerage | 699,676 |
| Roth IRA | 107,827 |
| HSA | 14,648 |
| Real Estate | 314,543 |
| Mortgage | (154,413) |
| Miscellaneous Assets | 10,250 |
| Checking & Savings | 32,752 |
| Net Worth | 1,566,393 |
Miscellaneous assets include specific investments we've made in physical assets (think collectibles). These numbers do not reflect the value of the businesses Chris owns or their assets. Their assets should appear as income to us over future years. The market value of those assets, if liquidated today, would not dramatically affect our total net worth.
Our net worth decreased by about $120K. That's the largest change since we started publically tracking.
The S&P 500 was down about 4.1% over the month of September, so our loss of 2.0% makes sense. Our assets are pretty heavily weighted by index funds like VTSAX or VTI.
Net Worth History
TicTocLife September Reader's Choice Donor-Advised Fund Winner
As September signified "back to school", we wanted our monthly donation from our Reader's Choice FIRE Fund to reflect the difficulty many families with children are facing. The race between the three children's education charities we put on the ballot was very close most of the month. It looked like DonorsChoose would win but AdoptAClassroom.org pulled it out on the last day!
Thank you for the participation in the poll and for helping us make our second donation with TicTocLife's reader DAF. If you would like to see changes to the way we display our candidates, let us know in the comments. We have the next round of candidates picked out. The polls are open on October 9, 2020.
Animal Shelters in Virginia
For our October grant candidate list, we wanted to focus on animal welfare and animal shelters in Virginia. We spent a week of September pet sitting close friends' little dog named Max.
Here's Max.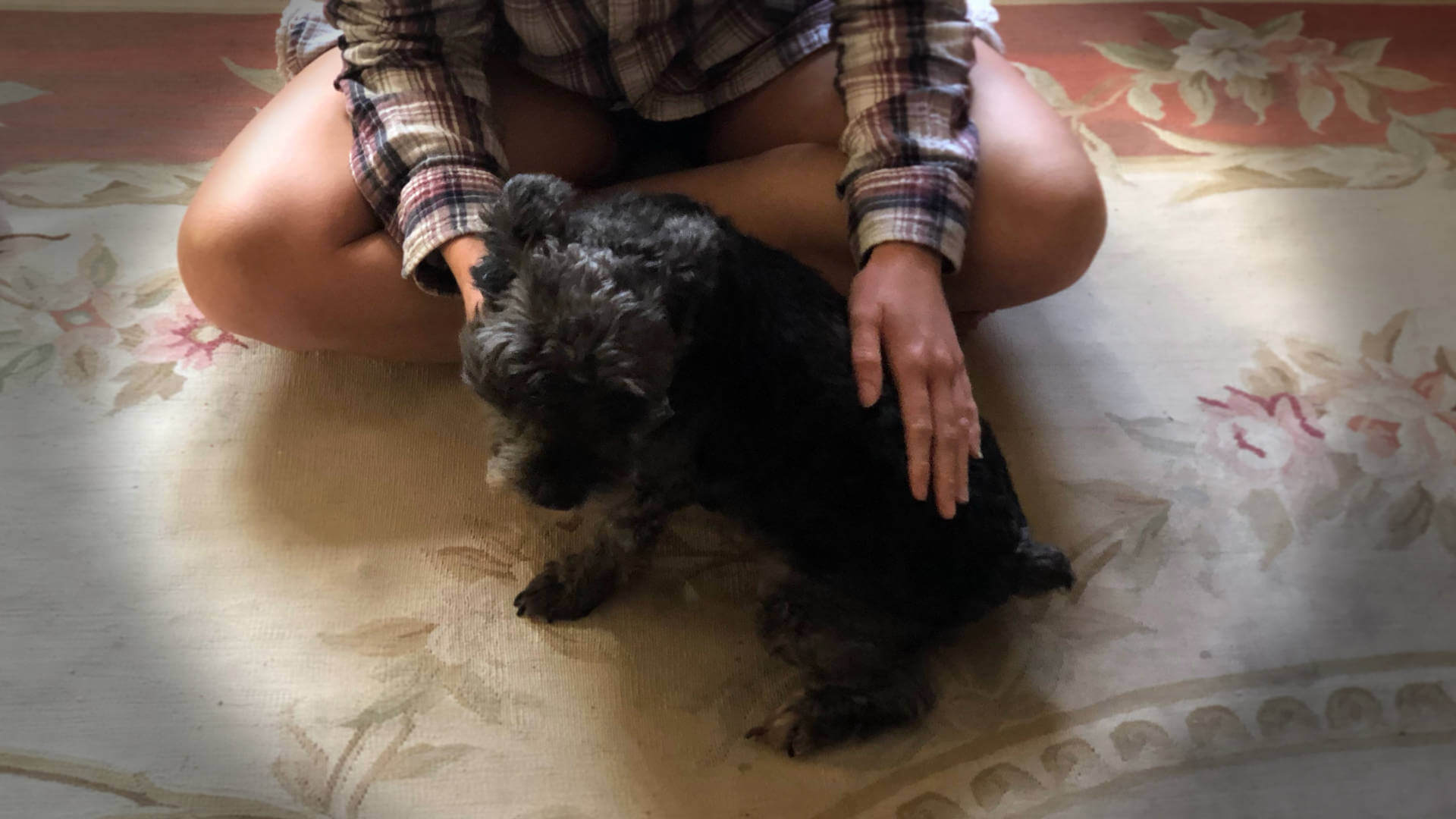 And while Max is incredibly lucky to have a loving family that can take care of him, not all families are able to. Worse, many animals aren't taken care of by a family at all.
The organizations this month are all either based in or focus on Virginia, our home state. We wanted to keep a focus on smaller animal welfare organizations in our area for this month. Shelters provide direct housing to animals in need and/or work with volunteers to shelter and temporarily house animals.
Each of the non-profit organizations works with a variety of animals and offers different services to the public. We have listed a few reasons for each organization about why they deserve the next grant award. Each organization summary also includes a link to their Guidestar profile which details the non-profit's operations and transparency.
These are smaller organizations and we'd encourage you to check out their social media presence, websites, and non-profit reviews. A little help goes a long way with them!
1) Operation Paws for Homes
Why? Our mission is to save all breeds of dogs and cats from rural-high kill shelters. Our organization relies on the kindness of volunteer foster families, volunteer communications and operations coordinators, and individual donors.
Where? Most of our dogs and cats come from rural shelters in NC, SC, AL, TN, MS, VA, GA.
What? "Operation Paws for Homes, Inc. rescues dogs and cats of all breeds and ages from shelters that lack needed resources, reducing the numbers being euthanized." 100% donor-funded.
[Guidestar profile // Website]
2) Life Unlimited of Virginia Inc (Rikki's Refuge)
Why? Rikki's Refuge is an independent, all species, no-kill sanctuary. Most of this land, which includes streams and beaver ponds, is set aside as a protected area for native Virginia plants and wildlife. The remaining acreage is used to house and care for companion and farm animals who have been abandoned or displaced. From the very beginning, Rikki's Refuge has accepted animals into the sanctuary without discriminating against age, health condition, breed, adoptability, or any of the other labels that often warrant a death sentence. All are welcome to live a comfortable life at the refuge.
Where? Located on over 330 acres of land in Orange, Virginia.
What?
– Rescue, Adoption, Lifelong Shelter
– Spay/Neuter (Speuter) education and support
– Humane Education
– Maintaining a safe haven for Virginia flora and fauna
[Guidestar Profile // Website]
3) Richmond Animal League
Why? Saving lives: providing hope, help and homes to animals in need. Richmond Animal League (RAL) provides homeless animals with temporary housing, medical treatment, sterilization, and quality care until they are adopted into permanent, loving homes. RAL also provides low-cost spay and neuter services to pet owners without geographical restrictions.
Where? Central Virginia.
What? "RAL adopts 2,000 previously homeless animals into loving, forever homes each year. RAL transfers animals from municipal shelters in Central Virginia and beyond, where they may have faced euthanasia due to overcrowding, lack of resources, or behavioral or medical problems. As spaces become available due to adoptions, they are filled with animals from municipal shelters. Some are healthy and just need a good bath and a proper diet. Many need much more. RAL transfers animals that have mange, fleas and ticks, heartworms, kennel cough, upper respiratory infections, etc. We will also rescue animals that have broken bones and other injuries. RAL provides the care needed to get the pets healthy & happy and make them available for adoption."
RAL also provides a variety of Spay/Neuter services and public information events around Central Virginia.
[Guidestar Profile // Website]
What Does October Hold?
We're already several days into October and it's been a busy one! We've got plans throughout the month. We've got some outdoor family gatherings around Virginia scheduled, including the first physical visit with Chris' parents since the pandemic took hold. We're planning to meet at a park and winery in the Shenandoah valley for a socially distant picnic and hike.
By mid-October we'll be camping with friends hopefully enjoying a bonfire as the weather cools off. S'mores, board games, and plenty of outdoor adventures await.
And of course, by the next time we write a monthly budget for you, the US election will be fully underway!
"Elections belong to the people. It's their decision. If they decide to turn their back on the fire and burn their behinds, then they will just have to sit on their blisters."

— Abraham Lincoln
---
Whatever way you need to, vote!
---
What about you? How are you handling schools and businesses reopening?
Let us know in the comments or on Twitter!