Happy New Year and welcome to 2021! Each month we take time to review our spending together, offshore our underground dealings (kidding!), and then reveal the remainder for our readers to pick apart our mistakes. This month, we're reviewing homelessness prevention programs for our monthly grant.
Last month we reviewed Medical Disaster Relief Organizations for our monthly grant.
The donation is funded from our TicTocLife Reader's Choice Donor-Advised Fund. Read on to find out the winner and see our poll for this month's grant!
First, let's go through the monthly budget.
Income, on the left, balances to our expenses in the Sankey diagram below.
We'll do a quick, high-level analysis of the month and call out any of the more interesting items.
Income Summary
We have several sources of income and they tend to vary from month-to-month.
Most of our income is from Jenni's part-time job and Chris's ongoing business operations—which is generally on autopilot; nearly passive income.
Part-time work
Jenni worked just seven days this December. She met her goal to work a maximum of two days per week. There's a lot of benefits to part-time work, after all!
Jenni's part-time pharmacy position earned her $3,461. As part of those earnings, she received $692 as a Christmas "thank you" from her employer.
Chris's consulting work continues to be pretty quiet, but consistent. He spent much of the month's "work" doing routine end-of-year closeout activities. He also decided to maximize his personal 401(k) contributions which required a higher than normal paycheck as an employee.
Chris's business paid him $4,951.
Accountable Plan
Chris mentioned his company's accountable plan first in our July budget. Each quarter, his business reimburses a portion of his personal expenses to provide the business with resources that it uses. This includes things like office space in our home, vehicle use, benefits, business travel, etc.
He forgot to report the Q3 reimbursement for September and so has included it in this budget update. You'll see a combined Q3 and Q4 reimbursement.
The $7,727 reimbursement represents $1,288 per month over the last two quarters.
Much of this reimbursement flowed through to his HSA and covered health insurance expenses.
If you run an LLC that is taxed as an S Corp, he highly recommends looking into an Accountable Plan and talking with your accountant about it.
Other income
We cashed out $20 in Ibotta cashback that has collected over the last few months.
We continued to make progress on our electronic and equipment refurbishment gig mentioned in our FIRE Newsletter. Those old LCD monitors are useful components for distance learning.
We earned $170 through Facebook Marketplace and Craigslist and $98 through eBay.
There's still a lot more old equipment crowding our dining room still to go!
→ Related: Our top apps & websites to sell your stuff locally.
Dividends, interest, credits
Our annual dividends were deposited this month, making for a record dividend income! Dividends plus our account interest totaled $17,439.
Dividends were especially high this month as our target date index funds payout annually. This month's dividends alone would cover more than a third of our annual expenses!
December ended with $1,359 in credits from Chase bank. These credits were a combination of Chase's pay yourself back promo, Chases's Saphire Reserve $300 travel credit, and a $150 retention incentive to offset the cost of the annual credit card fee.
We break out the individual credits within the expense summary below.
Transfers
We transferred some investments to donor-advised funds (DAFs) to meet our charitable goals for TicTocLife's Reader's Choice Fund.
Overall, we ended the month with an extra $6,772 in checking.
This boosts our cash cushion a little and offers some additional liquidity so we can take advantage of certain deals. We'll also transfer some of these funds to after-tax investments.
Expense Summary
From our $35,224 budget, we saved $30,801 this month.
That gives December a record savings rate of 87%.
This is primarily an effect of our large dividends coming in at the end of the year which are automatically reinvested (DRIP). In addition, Chris maxed out his 401(k) and HSA.
We no longer worry about how much money is enough for us—we're there, and moving towards drawing down investments rather than saving!
→ Related: Our annual FIRE budget reveals more detail in our expense categories.
Where we live
Our housing costs are broken down in our annual FIRE budget (mentioned above) with detail.
For the monthly breakdown, these details might be helpful to understand:
Housing-related expenses are consistent month-to-month. We have an escrow account with our mortgage provider which helps automate property taxes and home insurance payments.
We live in a 2 bedroom, 2 bath historic brick home built in the 1920s. It's part of a small cooperative.
Health
Jenni's COBRA insurance plan premium increased by $30. She chose a marketplace plan for 2021.
There were a few doctor's co-pays and prescriptions that had to be paid out of pocket due to exceeding the previous year's HRA funds.
As a perk of working for an independent pharmacy, Jenni is able to get prescriptions at cost. Total prescription expenses were $20.88.
The total out of pocket doctor expense was $106.56.
Shopping
Jenni upgraded her yoga mat to a padded mat ideal for her cardio and HIIT workouts. The old one retired to use for outdoor classes only.
Chris splurged on a new video game to play with his friends across the country: Ages of Empire 2: Definitive Edition.
We spent $31 on shopping expenses.
Food & Dining
We enjoyed our holiday feasting quite a bit this month. Jenni prepared special meals at home for two holiday meals.
A brand new grocery store opened up around the corner and we took advantage of grand opening sales to restock some essentials. Our grocery spending continues to trend higher than normal.
We spent $654 on groceries.
→ Related: Want to see how we cut our food bills?
Chase UR points and Sapphire Reserve benefits
Once the final statement of the year was posted in mid-December, our benefits on the Chase Sapphire Reserve credit card reset for the year. The $300 travel credit helps offset the $450 annual fee. Due to changes to the card's benefits, this credit can now be applied to groceries. A total of $300 in credits were applied to our account for grocery expenses.
In addition, we continued to redeem our Chase Ultimate Rewards points towards grocery expenses. A total of $681 in credits were applied to our account after redeeming our Chase UR points.
Both the travel credit and pay your self back program can count towards eligible purchases such as groceries. Essentially, we were able to double-dip on our account credits ending up with a positive credit of $284!
We offered some more detail about this new Chase redemption bonus in July.
Restaurants, Fast Food, Alcohol
With no outdoor seating options available, we opted to eat at home this December.
We took advantage of a $15 off pickup promo and supported one of our favorite local Mexican restaurants.
In total we spent $3.61 on restaurants & fast food this month.
We had a statement credit of $10.82 spilling over from a late November meal.
As a way to keep warm during our garage Christmas gathering, we made a cranberry cocktail with vodka.
We spent $21.19 on alcohol and bars.
Gifts
We didn't think the kids in the family would enjoy our goat's milk soap or homemade vanilla—though it was a hit!—so we got them presents they would actually enjoy.

For the youngest nephews, we recycled an old 10 gallon fish tank that was getting dusty. With a store close-out deal, all of the additional necessary accessories were a good deal. We decided to let Mom and Dad help pick out new fish.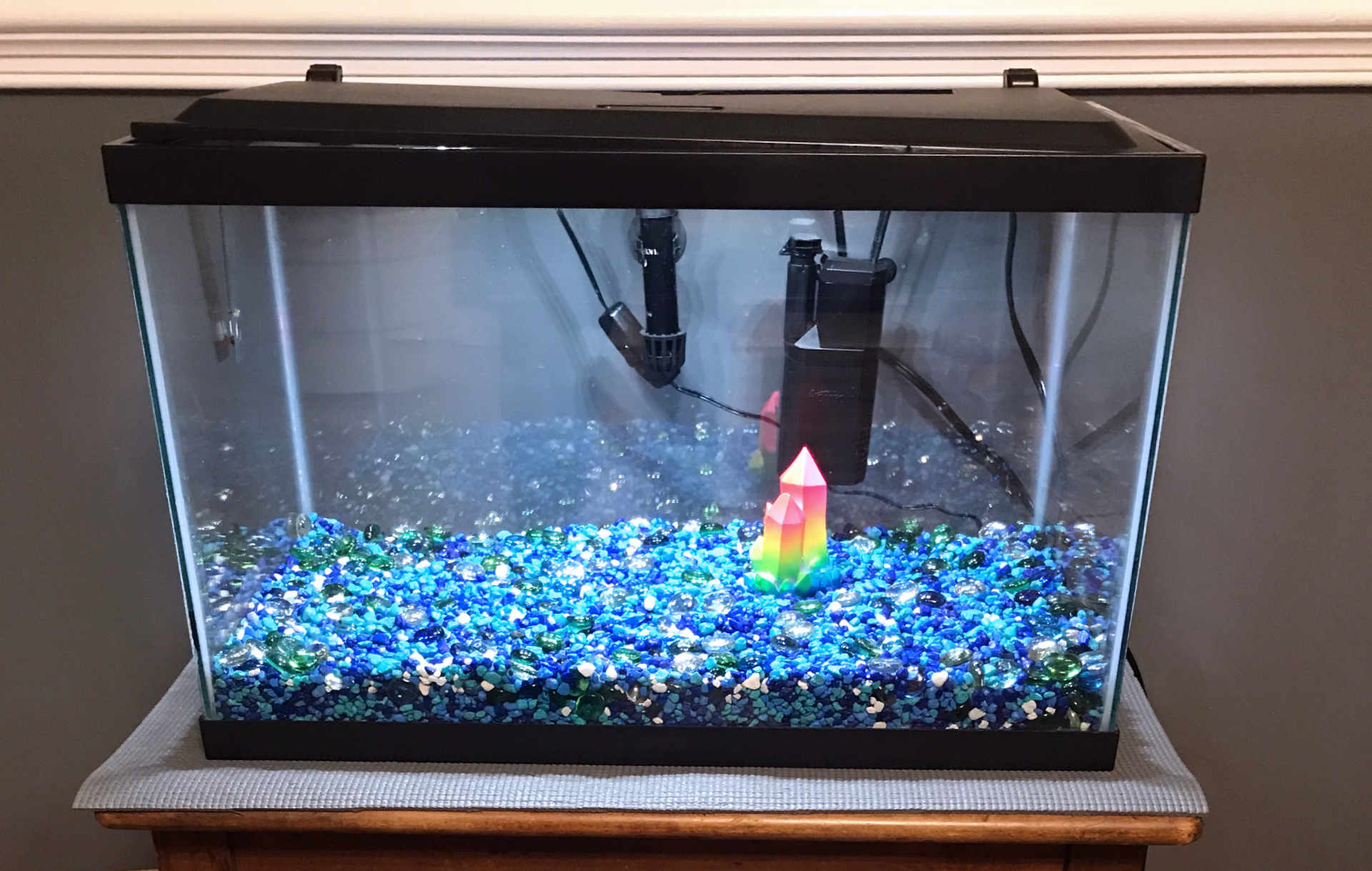 Our two older nephews were a little bit harder to shop for. They ended up with giftcards to their favorite online stores.
Jenni revealed herself as a colleague's Secret Santa. She gifted them a family picturebook made with Shutterfly (and a $35 coupon). Her coworker was delighted, thankful, and proud of the book.
Chris's Dad will receive an Apple Watch SE the next time we're able to safely get together (likely later in January, outside). By combining a $30 AMEX/Amazon offer and a $25 Amazon gift card, the gadget came in pretty inexpensively.
Chris's Mom will also be surprised to find a care package of local hard ciders, coffees, and treats.
Lastly, an old fraternity brother of Chris's house burned on Christmas Eve. There were no serious injuries, thankfully! Several brothers joined together in a GoFundMe to help provide a little relief and bridge the family through the holidays until their insurance is able to step in. They met their funding goal! Chris gave $100.
We spent $506 on gifts.
We earned $218.51 in credit by redeeming Chase UR points to cover some gift expenses that were purchased from grocery stores like gift cards.
Donations
Jenni made multiple direct donations:
$5 to Virginia Public Media (VPM)
$25 to RAINN—an organization very dear to her older sister
$10 towards a holiday food drive at work
$240 (over the course of the year) toward United Way—we haven't tracked this because it's been deducted from paychecks directly—whoops!
We also donated $3,407 towards our Reader Fund from existing investments and made a $79 grant to our December winner—more on that below.
Utilities
With the cooler weather, our power bill remains low.
We spent $46 on electric this month.
In typical fashion, we spent $21 on city services (cooking gas, wastewater).
Our Comcast Internet bill rang in at our standard $40 for internet service. It's about 120mbps, plenty fast.
We don't have any television service.
Lastly, we spent about $43 on mobile phone service. Chris's AMEX Business Platinum card has a bonus for wireless service which he's giving to a friend by way of paying his bill. A $20 credit applies and his buddy will eventually reimburse the difference. This is the last month of this promotion.
We both use prepaid SIM cards for our own smartphone service.
Miscellaneous
We spent $35 on business services which came from costs associated with our eBay sales. Chris's AMEX Business Platinum card offers $20/month in credits towards shipping which helped alleviate the expense of our eBay sales.
Jenni has a membership at a local rock climbing gym. She's also attending outside workout classes in the evenings occasionally.
We tracked $72 for gym-related expenses.
Last month, we replaced a single overhead kitchen light to begin a little home improvement project. During December, we replaced the other five lights with modern LEDs.
Our kitchen is significantly brighter with more consistent lightning now—it's a great improvement!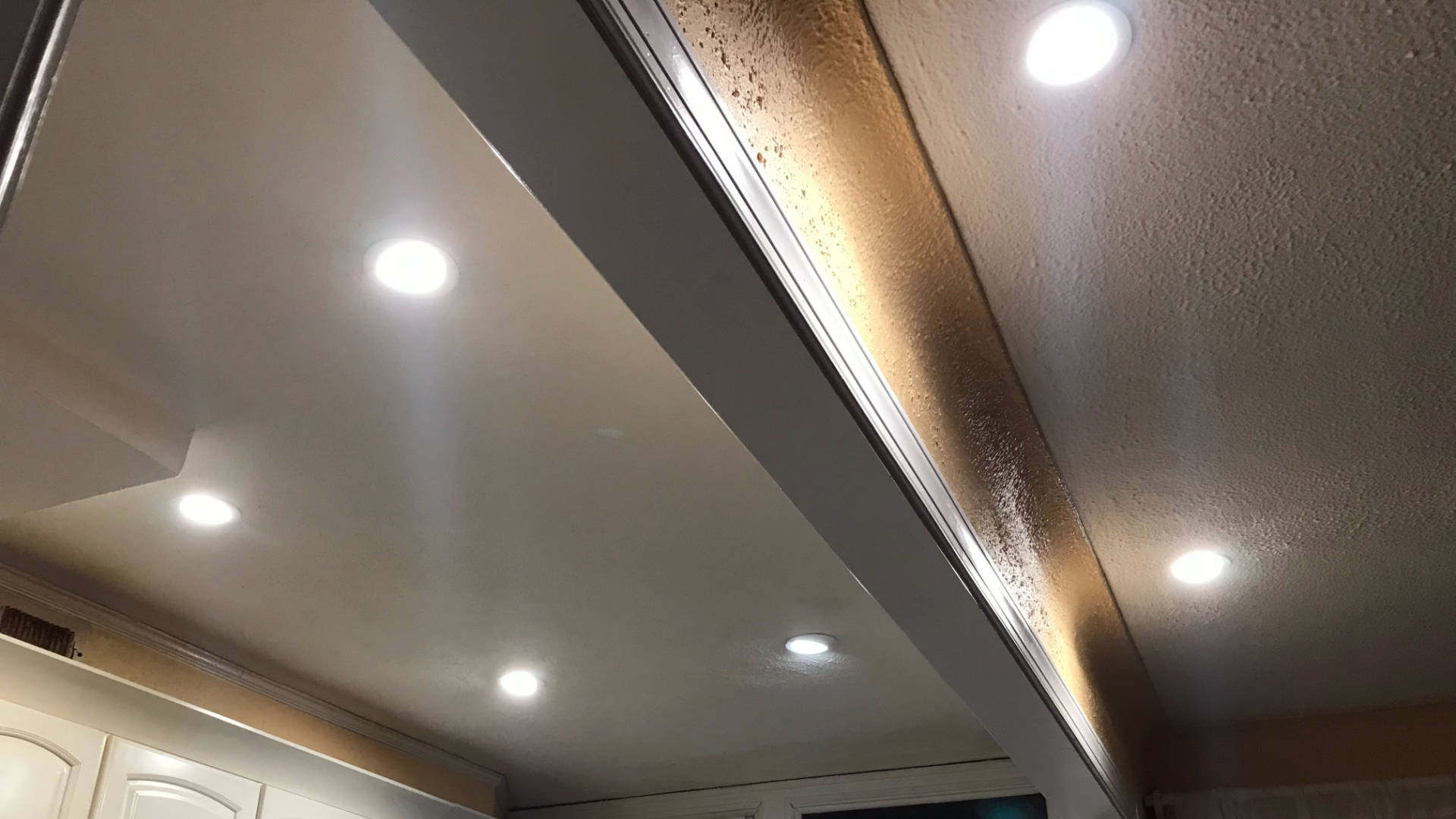 We bought the other five lights on eBay as open box/overstock units for just $79 in home improvement expenses.
How Much Did We Work?
We like to keep track of how much time we spend doing work that is paid. For Jenni, this is pretty easy as it's just her paycheck time. Chris manually tracks his hours consulting with Freshbooks (referral).
Our aim is to gradually reduce these hours.
So, how did December look compared to November?
| Month | Chris (Hours Worked) | Jenni (Hours Worked) |
| --- | --- | --- |
| May 2020 | 41 | 108 |
| Jun 2020 | 38 | 96 |
| Jul 2020 | 36 | 120 |
| Aug 2020 | 39 | 48 |
| Sep 2020 | 27 | 76 |
| Oct 2020 | 26 | 104 |
| Nov 2020 | 27 | 57 |
| Dec 2020 | 28 | 57 |
An average full-time job for two people would be about 347 hours.
We're under a quarter of regular full-time work at 85 hours. That's close to what we're aiming for moving forward!
Net Worth Update
We don't like to focus on the net worth of writers in the personal finance community. However, we do understand it offers a little context to the writing for the reader.
You might better relate to someone with a net worth and earnings history more similar to yours.
We wrote up an extensive post on our earnings and net worth history that ranged from 2006 to 2018. We did it with an average income of $77K per person over the period we analyzed.
→ Related: How to Become a Millionaire in 10 Years (Debt to $1.2M at 33)
From a high level, our assets and liabilities are shown in the data table below as of December 31, 2020.
| Description | Value (USD, $) |
| --- | --- |
| 401(k) | 634,996 |
| Brokerage | 796,799 |
| Roth IRA | 133,805 |
| HSA | 30,006 |
| Real Estate | 320,410 |
| Mortgage | (153,297) |
| Miscellaneous Assets | 10,250 |
| Checking & Savings | 37,895 |
| Net Worth | 1,810,864 |
Miscellaneous assets include specific investments we've made in physical assets (think collectibles)
Amounts do not reflect the value of the businesses Chris owns or their assets, which should appear as income to us over future years
Jenni's Prius is not included
Our net worth increased by about $91K.
The S&P 500 was up about 3.7% over the month of November, which we beat by a little about 1.5%. That's not bad considering our assets aren't fully invested in index funds (some bonds and quite a bit of cash).
Net Worth History
| Date | Amount | % Change |
| --- | --- | --- |
| July 2020 | $1,555,289 | – |
| August 2020 | $1,597,334 | 2.7% |
| September 2020 | $1,566,393 | (2.0%) |
| October 2020 | $1,568,182 | 0.01% |
| November 2020 | $1,720,113 | 9.6% |
| December 2020 | $1,810,864 | 3.7% |
December 2020 Donation Winner
We want to say a big thank you to all of you who voted in this month's poll. The organization that will be receiving our donation relies on support from donors like us to fulfill its humanitarian mission. They do not rely on any funding from government grants.
We had 10 voters this month. The winner with 6 votes goes to Direct Relief.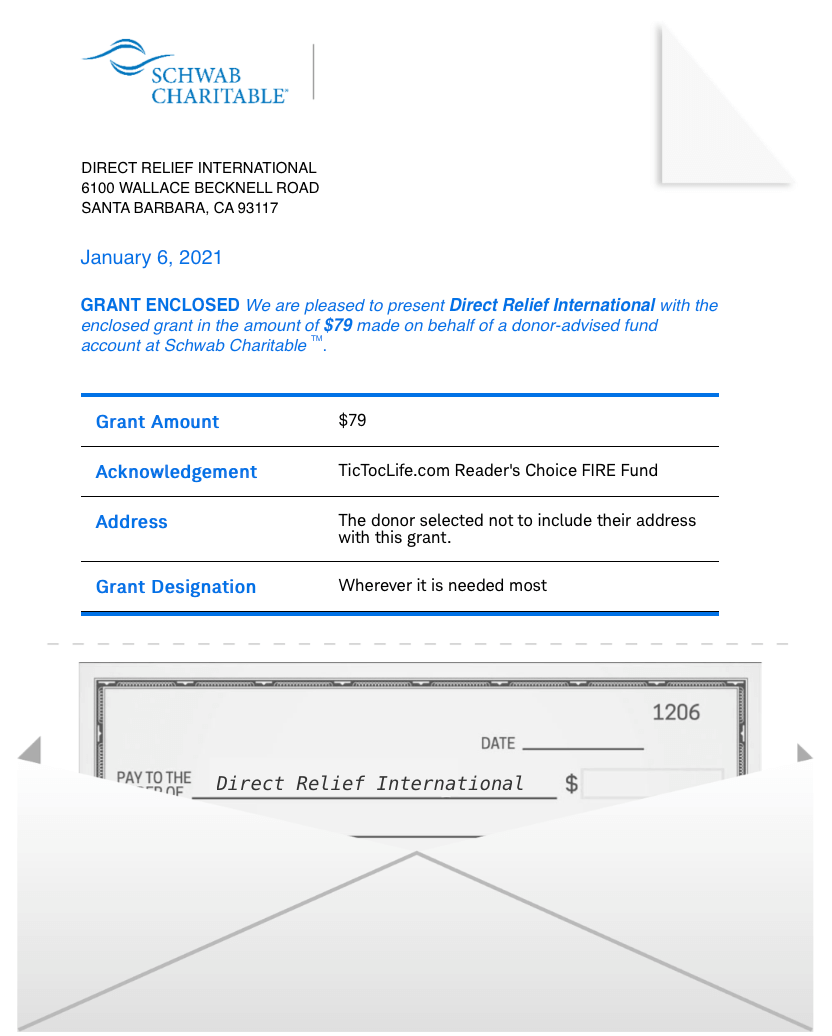 While our monthly donation is still relatively small $79, it's compounding every month. By the time we're near normal retirement age, it's easy to see how the fund could grow to $250K and donations would be in excess of $800/month! That's the power of FIRE and compound interest!
Thank you for the participation in the poll and for helping us make our fourth donation with TicTocLife's reader DAF. If you would like to see changes to the way we display our candidates, let us know in the comments.
Polls are now open for our next round of candidates: homelessness prevention programs.
Homelessness Prevention Program (Donation Poll)
It can be hard to get started and noticed when you are the new kid on the block. We have personally experienced this with the start of our blog in May 2020. Without the support of the FIRE community and our loyal readers, we would not be where we are today.
The same goes for new charitable organizations getting started with the hope to make a difference in the world. Our hope this month is to spread some light on a few newer organizations that are trying to make a big difference in those experiencing homelessness.
Each of the three non-profit organizations has a common goal to help those prevent homelessness and get back on the right track.
Summaries below include a link to their Guidestar profile which details the non-profit's operations and transparency.
1) New Beginnings Incorporation: New Beginnings Transitional Services
Why? Veterans who served our country should never be dealing with homelessness. This organization wants to reduce the more than 40,000 homeless veterans in our country by providing short-term financial stabilization support. The ultimate goal for individuals or families to become self-sufficient and not rely on government or private assistance.
Where? United States, Los Angeles County, CA, Clark County, NV
What? New Beginnings Incorporation: New Beginnings Transitional Services is a nonprofit organization founded in 2009 by military veterans and mental help professionals with just $12,000. Their focus is on reducing the number of homeless veterans in the United States and to ensure access to food sources. They provide several services to help veterans and their families get back on their feed and prevent homelessness. Their programs include:
Food Secure and Utility Assistance Project
Rapid Re-housing Project
Second Chance Prison Project
2) Hope for Homes Programs Inc.
Why? Diana Stagg founded this organization in her home town after she saw a need to help those in her community secure housing. Her organization offers a little assistance she calls 'hand-ups' not 'hand-outs' to give people the opportunity to get out from the hole they have found themselves in. She believes that all people can become self-reliant if given a chance.
Where? Arizona
What? Hope for Homes is a nonprofit program founded in 2014 that aids seniors, the disabled, and veterans prevent homelessness and access affordable housing. They are a small organization with just five homes that provide temporary shelter for those in need during a crisis. In addition, they provide basic financial education and help navigate the complex web of applying for aid assistance. Their current goal is to expand the number of homes in their organization and assist more people in their area.
3) Step Onward Foundation
Why? Everyone should be able to reach their full potential. Some people are dealt really hard lives in which they struggle just to survive. This organization recognizes that people want to suceed and become happy, healthy, and self-sufficient adults but need a little help to get there. Their core values do an excellent job of explaining why this organization is great.
Where? Iowa, California, New York, Kenya, Texas
What? Step Onward Foundation is a non-profit organization founded in 2015. Their attention is mostly on young adult survivors of childhood homelessness both domestically and internationally and families with children experiencing acute health crises. They accomplish their goal by filling the gaps in the following areas:
Education
Housing
Wellness
Food security
Resources
Advocacy
Mentorship
Homelessness prevention programs poll
After reviewing the homelessness prevention programs listed above, please take a moment to vote for which non-profit you think will put funds to use in the best way.
This is your opportunity to guide our giving and participate in supporting these organizations.
Thank you for taking the time to vote!
What Does January 2021 Hold?
With 2020 in the rearview mirror, we're thinking about how 2021 might be different.
Chris is considering a "theme" for the year—an area of life to focus on (which has potential for a future post!). He was motivated by an excellent video on the topic from CGP Grey:
Jenni is busy working with her pharmacy to ramp up the vaccine rollout in our local region. She's very excited to be part of the solution!
On New Year's Eve, she was vaccinated with her first dose.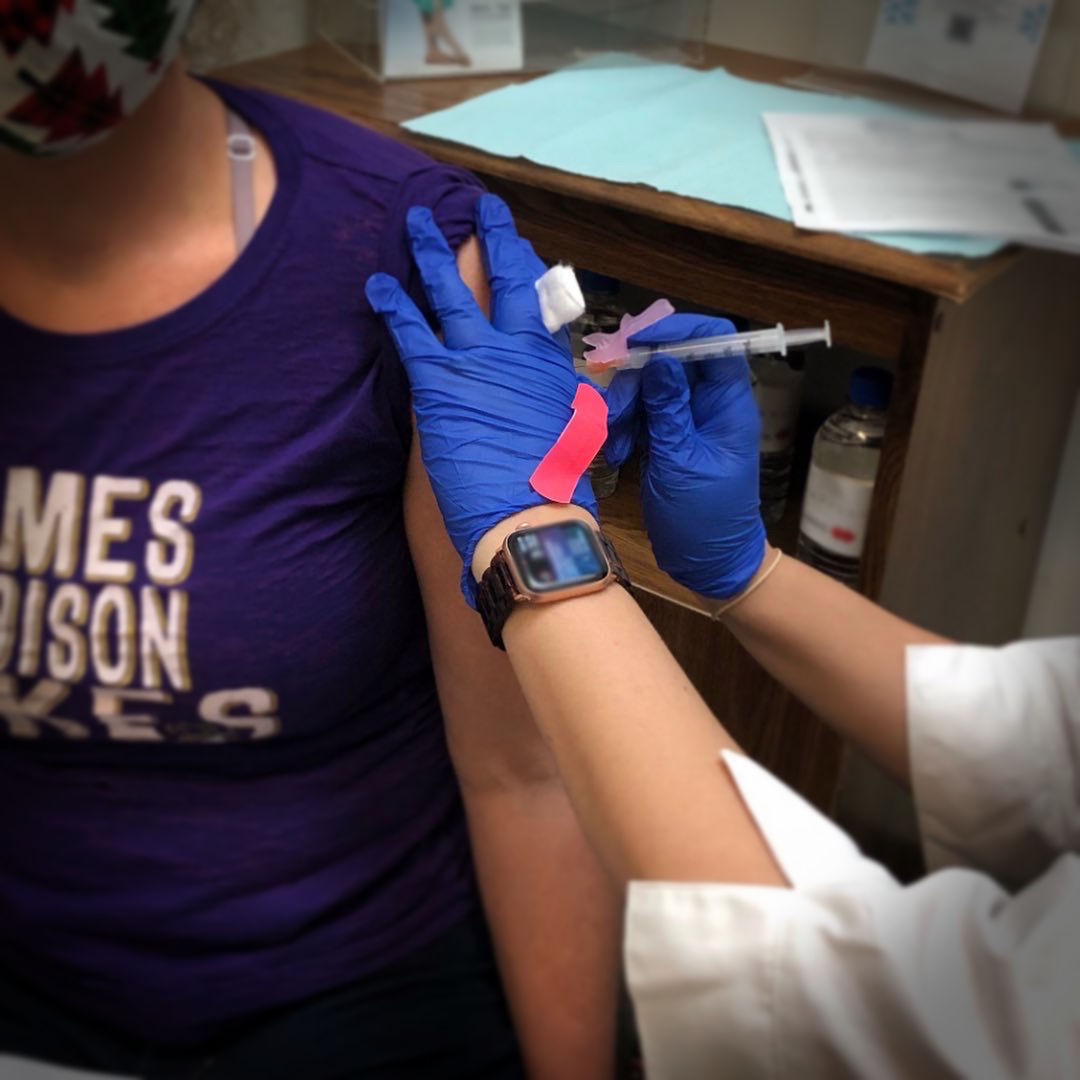 With the vaccine rollout, we're both hopeful that the pandemic will play less of a role in 2021 than it did in 2020—though there's still a struggle ahead.
Much of the motivation for our early retirement was to be able to slow travel the world, plans of which have been delayed. Still, we're happy to have our health—and be part of the solution, but also looking forward to experiencing the world again.
---
What are you hopeful for in 2021?
Do you have goals/resolutions/themes that you hope to define the year?
Let us know in the comments or on Twitter!