Happy tax extension month! It's time for our April 2021 early retirement update. Each month we take time to review our spending as a couple, debate which NFTs to buy, and then reveal the remainder for our readers to pick apart our mistakes.
We also do a little review of nonprofits to inform our giving each month. April 22 was Earth Day and so we've reviewed three conservation nonprofits for our monthly grant that you direct! Be sure to cast your vote below!
During our March budget review, we looked at women's (and girl's) charities. Read on to find out the winner for March and see our poll for this month's grant!
And we hit two pretty big money milestones:
1) We reached our first-year Reader Fund goal!
2) We joined the Double Double Comma Club (DDCC)!
We'll talk about those two milestones in details, but first let's go through our monthly budget review.
In the Sankey diagram below, income on the left matches our expenses to the right.
We'll run through the income and expense sources for the month and remark on any interesting items.
Income Summary
We have several sources of income and they tend to vary from month-to-month.
Most of our income is from Jenni's part-time pharmacist job and Chris's ongoing business operations—which is generally on autopilot with nearly passive income.
Part-time work
Jenni continues to work at a local pharmacy as needed. Lately, much of her time is spent prepping for vaccine clinics or administering the vaccine to fight the pandemic. She often fills in for coworkers so they can help in vaccine clinics, too.
She's still volunteering with a local government-run vaccination clinic. Volunteering in a meaningful way like this is one of the many benefits of working part time vs full time.
Jenni's part-time pharmacy position earned her $7,251. That's higher than has been normal recently due to how paycheck dates fall and working a little more than normal to fight the pandemic.
Chris's consulting work remains consistent—he provides digital strategy guidance for enterprise, government, and higher ed. He's whittled his client base down to just a few that work in meaningful areas (healthcare) or which provide significant fulfillment (mentoring).
Chris's business paid him $1,701.
We reveal just how many hours we work each month in the "how much we work" section below, too!
Other income
We sold a few small items around the house that were collecting dust. A few of the remaining electronic goodies we've mentioned in recent budget updates found new homes, too.
We earned $212 through eBay and online venues.
We earned $80 through Craigslist selling a pair of laser printers.
While rebalancing some of our investment accounts, Chris discovered an old brokerage account that still had an individual stock from about a decade ago. The brokerage itself had been purchased by another brokerage which made it easy for him to lose track of the investment. The underlying company, a Canadian silver miner, fell apart over the years.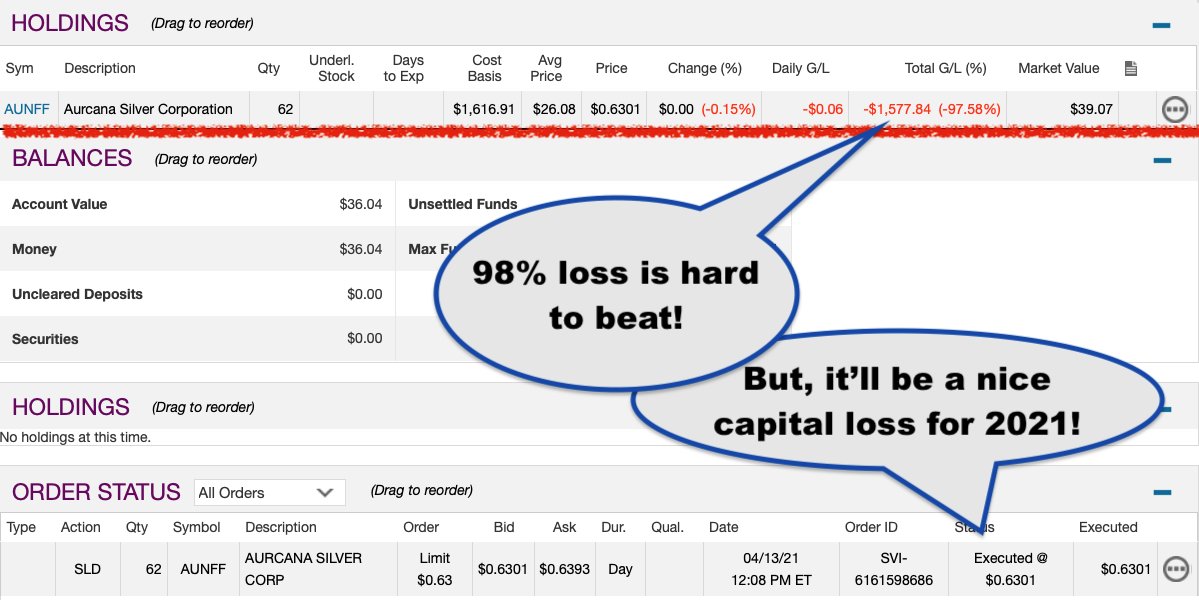 Chris mentioned in a tweet just how well this trade went:
It took me over a decade, but today I finally turned over $1,600 into $36.04.

@TicTocLife
We earned $36 from investments. The capital loss will be valuable for 2021's taxes at least. Ha.
Cashback
Chris deposited about $24 worth of cashback from a business card that earns 1.5% on all purchases from Capital One.
Dividends, interest, credits
We earned $207.50 from stock dividends.
This was earned from Seagate ($STX) with the balance from diversified index funds (like VTSAX or VTI).
Most of the dividend cash flowed right back into further investments through our dividend reinvestment program (DRIP).
Our savings and checking accounts earned us $6.93 in interest.
April ended with $614 in credits from two banks. These credits were a combination of Chase's pay yourself back promo (mostly used on our groceries) and American Express's AMEX Offers.
Transfers
We transferred some investments to donor-advised funds (DAFs) to meet our charitable goals.
Overall, we ended the month with an extra $3,941 in checking. This will eventually flow through to our brokerage accounts to increase our investments.
Expense Summary
From our $10,131 budget, we saved $6,611 this month.
That gives April a savings rate of 65%. That's not a bad month at all!
Considering our average FIRE budget for 2020 was about $3,405/month, our spending was in line to meet our goals.
We spent $3,520 though $46 was related to earning more money (eBay shipping).
Removing those expenditures from the equation, we spent about 102% of our typical monthly FIRE budget.
If you're curious what our typical annual budget looks like, check out the full FIRE budget review we did!
Let's get into the details of our spending for the month.
Home
Our housing costs are broken down in our annual FIRE budget (mentioned above) with detail.
For the monthly breakdown, these details might be helpful to understand:
When evaluating whether to rent and invest or buy a home, we chose to own
We have a 30-year, fixed-rate mortgage below 4% interest
Our HOA is $350/month which covers some of our utilities (heating, water)
We chose the city life vs country life in a medium cost of living area
Housing-related expenses are consistent month-to-month. We have an escrow account with our mortgage provider which helps automate property taxes and home insurance payments.
We live in a 2 bedroom, 2 bath historic brick home built in the 1920s. It's part of a small cooperative.
Repairs
Our Nest thermostat threw an error code we didn't quite understand. This caused the air conditioner to turn off. After a few hours of fiddling with breakers, fuses, and switching the thermostat back to the original one, it finally came back on. We decided to get the whole system checked out, knowing we'd been behind on air conditioner maintenance in general over the years.
After HVAC professionals came in and performed much-needed routine maintenance on our air handler, they found the cause of the error code. The float switch was faulty and needed to be replaced.
We paid $195 for the HVAC maintenance visit. Aside from diagnosing our error code, the team cleaned the evaporator coils on the air handler and removed mold from the blower. The primary air handler drain turned out to be clogged, too. A little dose of compressed nitrogen and our clog was blown and the drain cleaned. They were kind enough to walk Chris through all of this maintenance so that we can do a significant portion of the work ourselves in the future.
On a positive note, one of the techs discovered we have an air handler with internal variable speed control. Inexplicably, this feature was disabled so our premium air handler was running like a single stage system. It might explain some of the mold buildup and inefficient power usage. The tech flipped the switch to "on" for the variable speed setting and we've enjoyed quieter cooling that's also more consistent. Once the warmer months really kick in, we'll see if the relative humidity in our place tends to be lower than it has been, too.
The service tech temporarily bypassed the float switch while we ordered a replacement on Amazon for $24 which we will self-install. Don't worry, there's a secondary drain and sensor that'll keep us safe from any overflow temporarily.
And if you're curious about our ongoing roof leak saga, the roofers came by just a few days ago and replaced the whirlybird vent with a more simple roof vent. Hopefully, that'll resolve the leak! We'll see the next time it rains. This was done under warranty.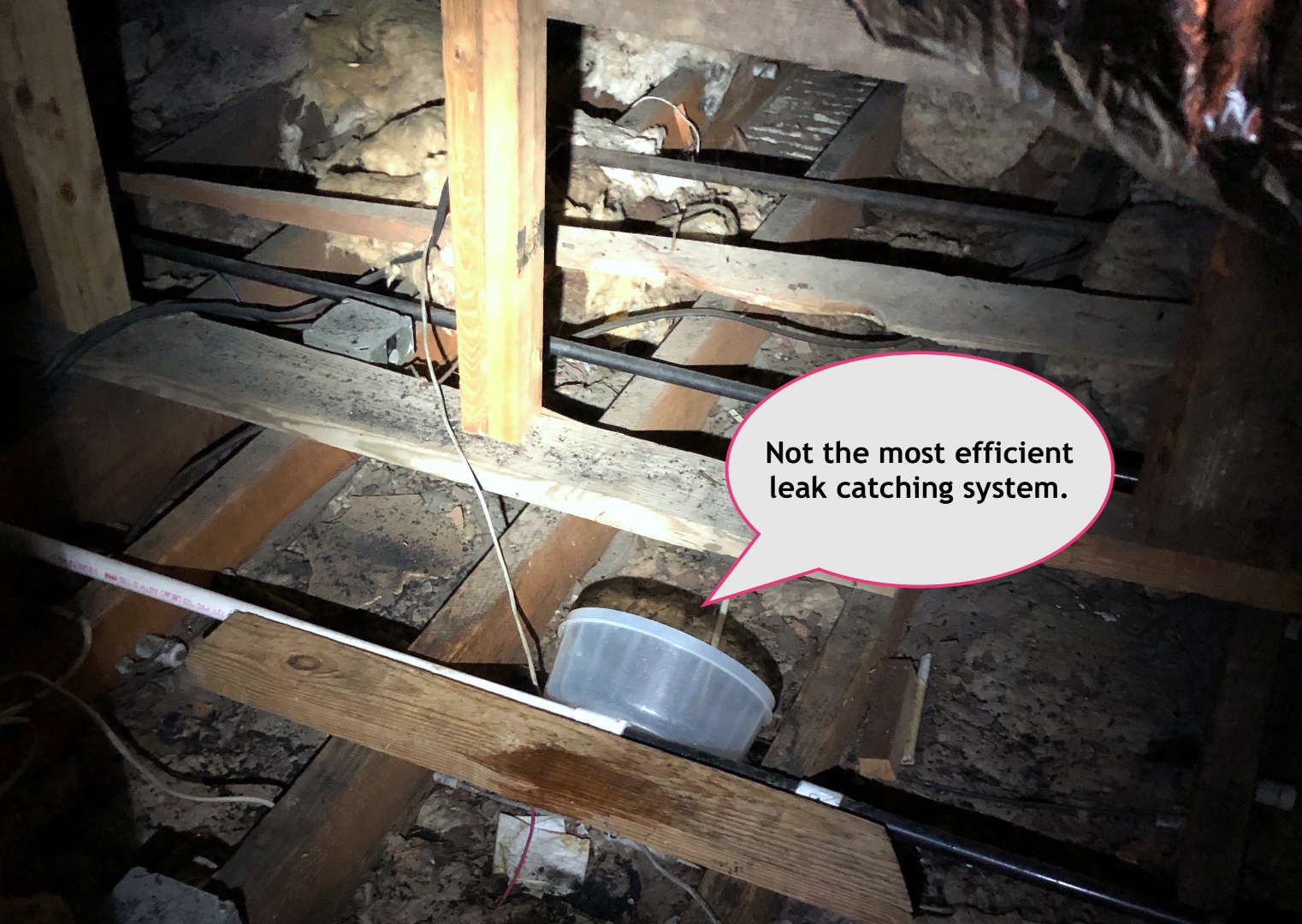 Health
We spent $701 on Health-related expenses this month—which is less than last month but still more than normal due to our biannual dentist visit.
Chris and Jenni are both on the same dentist schedule. Chris needed a 3D oral x-ray which wasn't covered by his insurance at a cost of $110. Jenni just had a $50 deductible so the second visit should be $0 assuming she brushes her teeth well with her new electric toothbrush.
Jenni chose to pay out of pocket instead of with her new HSA. Chris used his HSA. After a recap of Jenni's HSA questions and answers post, he realized his mistake.
Jenni's rock climbing gym membership was extended through August at no additional charge due to the gym being closed last summer. She continues to attend personal training which was $15 this month.
The remainder was for health insurance for the two of us ($522) as we're both paying for individual plans.
Shopping
Jenni upgraded her toothbrush to a Philips Sonicare toothbrush for $36. She also picked up a USB WiFi adapter for just $8 to use with her home office workstation.
With our upcoming travels, Chris bought a Logitech K380 Bluetooth keyboard and an iPad stand for $33. This should make it easier to write while we're traveling and keep to our weekly schedule. His recent post on using strategic giving to beat the standard deduction was our first written while traveling.
We spent $77 on shopping expenses.
Food & Dining
Our grocery spending remains on a consistent trajectory in line with what we'd like to see.
Towards this end of the month, we made a large grocery run to take advantage of the last few days of Chase's "pay yourself back" points promo. This was scheduled to end 4/30/2021 although it looks like they're going to extend it to September. More free groceries to come!
We spent $562 on groceries.
Through Chase's "pay yourself back" points promo, we earned $484 in grocery-related credits.
→ Related: Want to see how to save money on groceries in detail?
Restaurants, Fast Food, Alcohol
Between DoorDash ($25) and UberEats (2x $15) promos this month, we got $87 worth of restaurant/fast food for just $32! That provided us three little takeout date nights. Helping offset this takeout expense, we earned $20 worth of AMEX credits from a pair of our credit cards.
Chris enjoyed a nice night out with some friends at local breweries and spent $41 on alcohol and bars. He scored a $10 AMEX credit to help offset the cost from one of his credit cards.
Gifts
After Jenni's nephew had surgery, she helped coordinate the delivery of his post-surgery medications. While this would not typically be considered a gift and they typically are able to afford these medications, Jenni's sister was a victim of total identity theft and all of their accounts were frozen at the time of the surgery.
Fortunately, Jenni was able to pick up the meds before the pharmacy closed and deliver them to the hospital while her nephew was still in recovery without her family worrying about it.
We spent about $28 on gifts this month.
Donations
Jenni made a direct donation of $5 to Virginia Public Media.
Jenni's pharmacy quickly gathered donations to help one of their patients replace urgent medical supplies that were lost in a house fire. They pooled over $400 in just a few days. They also replaced her lost medications and delivered them. Jenni made a $20 donation.
First year TicTocLife donation goal reached!
As mentioned in the introduction to this post, we reached a major money milestone this month. We donated $3,407 towards our Reader Fund from existing investments early in April. As we're writing this post, though, we just made the donation for May. This latest DAF donation marks the successful competition of a goal we set out for last year:
Our goal is to fund the DAF with one year's worth of our 2019 living expenses ($40,885) by TicTocLife's one-year anniversary on May 8, 2021.

Us, last year
We're both excited that we reached this goal on time. Over the last year, we've delivered $760 worth of grants to nine different organizations that you all have helped us select through our Reader's Fund. This month's $144 grant to our April winner (more on that below) is almost triple the amount of our first grant.
With about $46K in our Reader Fund, invested in broad index funds and growing, we hope this is just the start of a lifetime of giving.
Utilities
April had a few hot days but the demand for AC wasn't too bad. The AC was out during a few of the hottest days of the month which probably saved us a few bucks in electric usage. A small silver lining.
We spent a just over $50 on electric this month.
In typical fashion, we spent almost $20 on city services (cooking gas, wastewater).
Our Comcast Internet bill rang in at our standard $40 for internet service. It's about 120mbps, plenty fast.
We don't have any television service.
Miscellaneous
Jenni replenished all of our plant soil to prepare for the sprouting seedlings we've started to grow. We went to a local gardening event and bought mature herbs and pepper plants in case the baby plants don't make it. Hopefully, they'll provide some nutrition in the coming months.
We spent $74 on dirt and plants.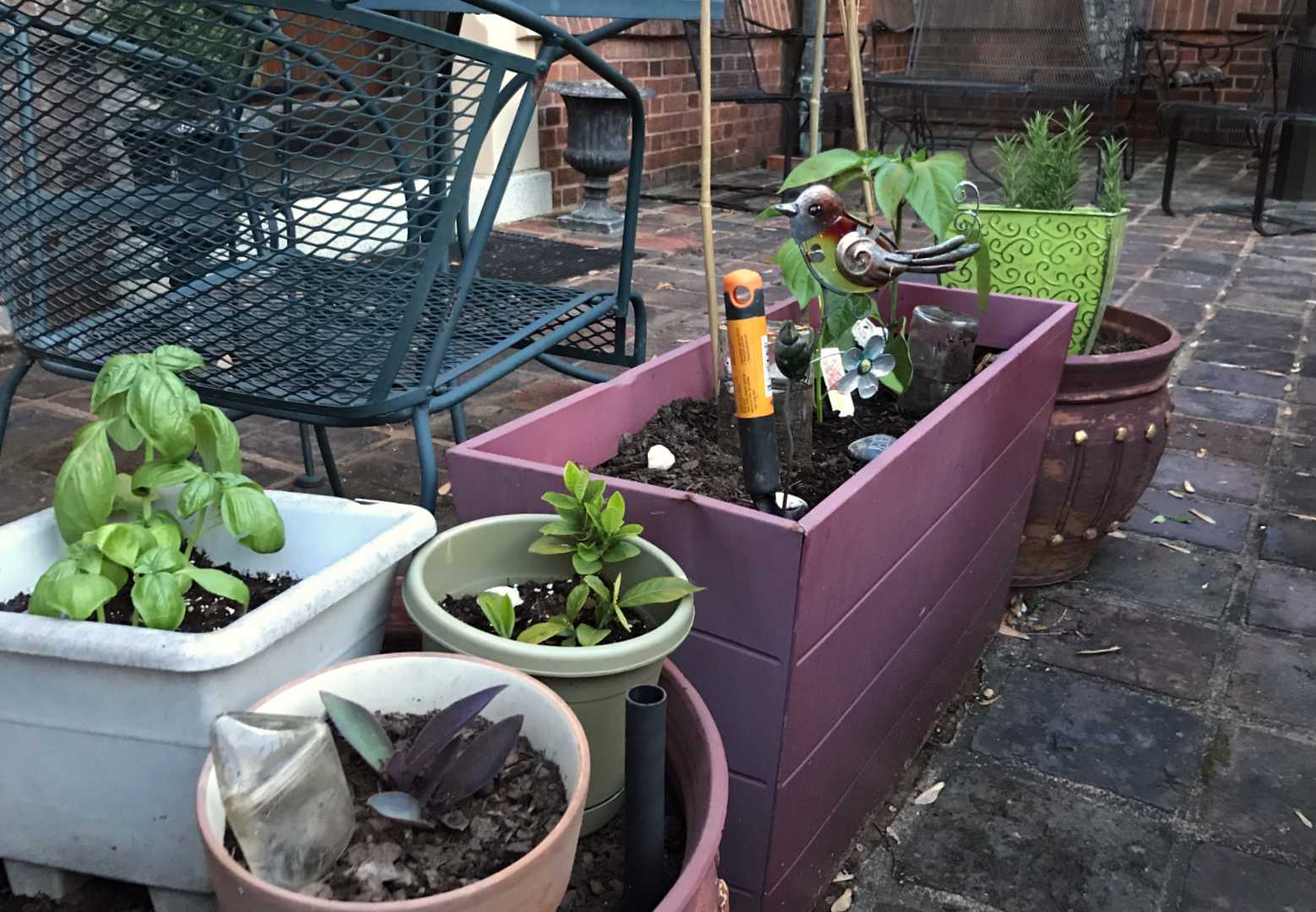 We spent about $46 on business services which came from shipping costs associated with our eBay sales.
How Much We Work
We like to keep track of how much time we spend doing work that is paid. For Jenni, this is pretty easy as it's just her paycheck time. Chris manually tracks his hours consulting with Freshbooks (referral).
Our aim is to gradually reduce these hours.
So, how did April look compared to March?
| Month | Chris (Hours Worked) | Jenni (Hours Worked) |
| --- | --- | --- |
| May 2020 | 41 | 108 |
| Jun 2020 | 38 | 96 |
| Jul 2020 | 36 | 120 |
| Aug 2020 | 39 | 48 |
| Sep 2020 | 27 | 76 |
| Oct 2020 | 26 | 104 |
| Nov 2020 | 27 | 57 |
| Dec 2020 | 28 | 57 |
| Jan 2021 | 25 | 102 |
| Feb 2021 | 24 | 104 |
| Mar 2021 | 24 | 106 |
| Apr 2021 | 23 | 85 |
An average full-time job for two people would be about 347 hours.
We're under a third of regular full-time work at 108 hours. With Jenni's role in resolving the pandemic starting to flatline a little, she's been working less.
2021 Theme Update: Discomfort
From Chris:
As I mentioned last time, I'll deliver a little update each month towards my Yearly Theme.
For 2021, I chose "Discomfort". This guiding word is a reminder for me to seek out challenges within life and stretch my comfort zone. It's my way of having a "new year resolution".
Here's what I'm going to work on in May:
Those pounds I mentioned in April are still around, I'm working on cleaning up some dietary habits
Decompress: I need some time away from our place and the computer
Make more appointments: doctor, ENT, dermatologist
Start working on the next trip
I'm really excited about our first bit of air travel since the pandemic started. Over the last several years, I don't think I've gone more than a handful of months without a flight and some fun destination. I'll be glad to be away from the very computer I'm writing to you from. All of my goals for May are physical or mental health-related. I've got some catching up to do.
I made some progress in April toward goals in the last update:
Booked a flight to Florida—our first since the pandemic started
Delved into the idea of combining my gratitude journal with a happiness tracker
Got a Blue Yeti microphone so we can do some voiceover work for (gasp!) TicTocLife media
With productive discomfort being my goal in 2021, I'm aiming to incorporate more healthy stress in my life.
Don't have a "Yearly Theme" for yourself? It's not too late to create one!
Net Worth Update
We don't like to focus on the net worth of writers in the personal finance community. However, we do understand it offers a little context to the writing for the reader.
You might better relate to someone with a net worth and earnings history more similar to yours.
We wrote up an extensive post on our earnings and net worth history that ranged from 2006 to 2018. We did it with an average income of $77K per person over the period we analyzed.
→ Related: How to Become a Millionaire in 10 Years (Debt to $1.2M at 33)
Double Double Comma Club (DDCC)
As mentioned in the introduction to this post, we reached another major money milestone this month. From a high level, our assets and liabilities are shown in the data table below as of April 30, 2021.
| Description | Value (USD, $) |
| --- | --- |
| 401(k) | 716,626 |
| Brokerage | 848,558 |
| Roth IRA | 152,040 |
| HSA | 38,504 |
| Real Estate | 358,035 |
| Mortgage | (152,171) |
| Miscellaneous Assets | 10,750 |
| Checking & Savings | 38,507 |
| Net Worth | 2,010,849 |
Miscellaneous assets include specific investments we've made in physical assets (think collectibles)
Amounts do not reflect the value of the businesses Chris owns or their assets, which should appear as income to us over future years
Jenni's Prius is not included
Our net worth increased by about $92K.
We crossed a big threshold this month! As Mr. 1500 would say, we joined the Double Double Comma Club or DDCC! That's right, we hit a net worth of $2M. It's wild how fast net worth accelerates as your asset growth outpaces wage contributions.
Time from -$100K to +$1M: about 9 years
Time from $1M to $2M: about 3.5 years
The S&P 500 was up about 4.4% over the month of March while we were up about 4.8%. Considering a chunk of our assets aren't in the market (cash, real estate, etc.)—we had a great month!
I've mentioned in recent months that we need to rebalance our portfolios (especially having too much in cash-equivalents floating around). We did that early in the month and it seems it was a good choice!
Next stop…
Net Worth History
| Date | Amount | % Change |
| --- | --- | --- |
| July 2020 | $1,555,289 | – |
| August 2020 | $1,597,334 | 2.7% |
| September 2020 | $1,566,393 | (2.0%) |
| October 2020 | $1,568,182 | 0.01% |
| November 2020 | $1,720,113 | 9.6% |
| December 2020 | $1,810,864 | 5.3% |
| January 2021 | $1,860,996 | 2.8% |
| February 2021 | $1,878,154 | 0.9% |
| March 2021 | $1,918,269 | 2.1% |
| April 2021 | $2,010,849 | 4.8% |
April 2021 Donation Winner
To honor all the women in our past, present, and future we devoted April's charitable gift to women and girls charities. The organization which received our donation focuses on providing computer science education for kids who identify as female or as non-binary between the ages of 13 to 17 around the world.
We had 21 voters this month. The winner with 10 votes goes to Girls Who Code!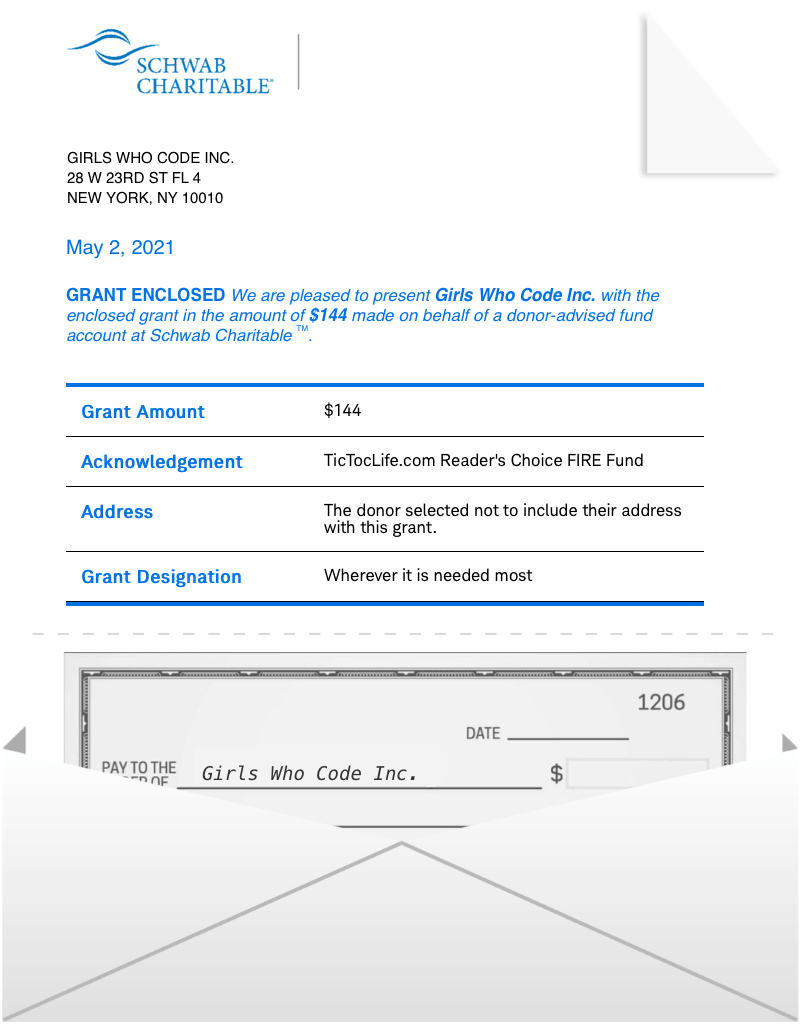 Our Reader's Fund seeks to leverage the principles of FIRE to build a lifetime of giving.
By the time we're near normal retirement age, it's easy to see how the fund could grow to $250K and donations would be in excess of $800/month! That's the power of FIRE and compound interest!
Thank you for the participation in the poll! If you would like to see changes to the way we display our candidates, let us know in the comments.
Polls are now open for our next round of candidates: conservation nonprofits.
Earth Conservation Nonprofits
One thing that we all have in common is that we live on this planet called Earth. It is our home and we need to protect it. On April 22, 1970, the first Earth Day was observed to celebrate Earth and our responsibilities to it. Since then, this day is celebrated simultaneously all around the world by over one billion people in 192 countries from all regions, nationalities, and backgrounds. It is a time to unite and take action for environmental protection.
Even though April 22 has already passed, we should celebrate Earth Day every day. We encourage you to do something nice for Earth. Help make this world a better place by volunteering your time or your money to a good cause.
We have chosen three organizations to consider for our monthly DAF donation to keep our planet healthy. Each conservation nonprofit has a high charity rating and spends a majority of its revenue on its programs. Review each of these three and help us decide which organization to support by casting your vote.
Summaries below include a link to their Guidestar profile which details the nonprofit's operations and transparency.
1) 350.ORG
Why? 350.org is mobilizing thousands of volunteers in over 188 countries to help create a global awareness of the impact fossil fuels have on our planet. The organization was founded in 2008 by a few college friends along with Bill McKibben, an American environmentalist. The name 350 stands for 350 ppm of carbon dioxide, the safe concentration of carbon dioxide in the atmosphere. We are past this tipping point and need to make bold changes to address this global crisis.
Where? Globally
What? 350.org is a global grassroots climate movement whose mission is to inspire, train and mobilize people all around the world to challenge the systems that lead to climate change. Their aim is to keep the CO2 level below 350 ppm and reduce global warming. Within the past 10 years, this movement has helped organize activists and bring about real change. The main focus is on stopping fossil fuels and building a clean energy future for all.
To build and create a sustained movement:
Give people an opportunity to demonstrate their commitment and concern for climate
Run innovative campaigns to let the voices of ordinary people be heard
Connect thousands of groups within a broader movement at key moments for climate action across geographies and intersectional issues, and scale this connection globally to increase the impact and reach of goals
2) Appalachian Trail Conservancy
Why? The Appalachian Trail is a route in the eastern US that runs from Maine to Georgia spanning 2,193 miles over 250,000 acres of greenway. It is estimated that three million visitors hike a portion of the trail each year. Since 1936 over 20,000 hikers have completed the trail from tip to tail. There is a community of hiking lovers that help keep the spirit of the trail alive. But the ATC needs more than just emotional support from the hiking community.
Where? United States; Maine, Georgia, Virginia
What? The Appalachian Trail Conservancy (ATC) is a nonprofit organization dedicated to conserving the Appalachian Trail since 1925. It works with the National Park Service as well as 31 trail clubs and 6,000 volunteers to maintain the paths, shelters, and overnight sites. The ATC also advocates for policies relating to access, care, and funding for public lands including the seven National Forests and Parks, and the various towns the trail passes in the following:
Public Lands Maintenance and Management
Promoting Rural Economic Development
Protecting the A.T. Landscape
Public Participation in Infrastructure Development
Land and Water Conservation Fund
3) Conservation International
Why? We need to learn how to live in harmony with Earth. We only have one planet so we need to protect it. Conservation International (CI) considers and values nature at every turn while combating climate change on the land and in the seas.
Where? Globally
What? Conservation International (CI) is an American nonprofit environmental organization founded in 1987 with the goal of protecting nature for people. CI works with governments and local communities to find economic alternatives without harming the natural environment. CI focuses on three strategic priorities to protect more than 6 million square kilometers of land and sea across 70 countries:
Protecting nature to halt climate catastrophe
Ocean conservation to protect humanity
Promoting sustainable lands and waters
Nonprofit poll
After reviewing the conservation nonprofits listed above, please take a moment to vote for which nonprofit you think will put funds to use in the best way.
This is your opportunity to guide our giving and participate in supporting these organizations.
(Having trouble using or seeing the poll above? Some reader tools or apps may not display it. View this page in a browser or use this link to our Reader Fund page which has a copy of the poll!)
Thank you for taking the time to vote!
One of our primary goals with TicTocLife is building a stream of giving within the FIRE community and that starts with knowledge.
Want to hear about the results? Signup for our free FIRE Insider newsletter! We send it out every few weeks and include the monthly poll results and donation winners. You can see an archive of the FIRE Insider and signup here!
What Does May 2021 Hold?
April turned out to be a pretty big month. We cracked the $2,000,000 net worth threshold. And we just reached our major first-year goal for TicTocLife which was to donate an amount equal to a year of our spending (okay, technically that's happening now in May). This amount, our FIRE budget, is just under $41K.
It'll be hard for May to keep up. But, we do have some big plans.
We'll spend a handful of days next week with friends out in West Virginia rock climbing, hiking, and adventuring. It'll be our great escape from the indoors and electronics. Some time for the mind to rest.
By the middle of May, we'll have taken our first flight since the pandemic started in early 2020. We're staying on Amelia Island in Florida and Jekyll Island in Georgia. Both fairly quiet, somewhat natural spots for a little rest and relaxation.
And once May comes to a close, we'll both be wallowing in our old age: we're each turning 37 years old this month!
With that, we do have some fun ideas and posts coming, especially to celebrate our first full year of TicTocLife, assuming we can make it work while on the road.
It'll be an experiment, as it has been and should be!
---
What's May looking like for you?
Are you considering travel plans?
Has the stock market run boosted your net worth like ours?
How did you celebrate Earth Day?
Let us know in the comments or on Twitter!