I can't say there's much of a better way to work through your monthly FIRE budget than sitting beside a lovely small town Wisconsin waterfront with a cool 73-degree breeze rushing across you. We closed out July with a couple of flights to come to visit our friend and her family here. Jenni is off with her getting a massage a few blocks up. I'm letting a rich Wisconsin grilled cheese sandwich settle, topped with a pecan turtle of course, and writing this little update for you.
Tell me FIRE is a recipe for deprivation and this is why my eyes go cross. Our life is filled with abundance.
Anyway, back to the budget review. Each month, Jenni and I break down our spending as a little check-in on our course to early retirement. We both work part-time at this point (equal to a couple of days of work each month). For the most part, we focus on work that is meaningful to us where we can teach or have a significant impact. Stuff that leaves us more content with life, that challenges our beliefs, or what might make a lasting difference.
We also do a little review of nonprofits to inform our giving each month. We've reviewed three community health & wellness organizations for our monthly grant that you direct! Be sure to cast your vote below!
During our last month's budget review, we looked at LGBTQIA+ nonprofits. Read on to find out the winner and see our poll for this month's grant!
In the Sankey diagram below, income on the left matches our expenses to the right.
We'll run through the income and expense sources for the month and remark on any interesting items.
Income Summary
We have several sources of income and they tend to vary from month-to-month.
Most of our income is from Jenni's part-time pharmacist job and Chris's ongoing business operations—which is generally on autopilot with nearly passive income.
Part-time work
Jenni continues to work at a local pharmacy as needed.
Jenni's part-time pharmacy position earned her $2,805. That's a pretty significant increase from last month, but she did work more.
About $927 of her paycheck flowed through to 401(k) investments.
Chris's consulting work remains consistent—he provides digital strategy guidance for enterprise, government, and higher ed. He's whittled his client base down to just a few that work in meaningful areas (healthcare) or which provide significant fulfillment (mentoring).
Chris's business paid him $1,701.
We reveal just how many hours we work each month in the "how much we work" section below, too!
Other income
We earned $164 through eBay and online venues. We sold off a phone system we refurbished and received through an office close out some months back.
Chris bought a new (to us) bedroom dresser set at a local auction. He sold off his old dresser for more than the cost of the entire new dresser set! On top of that, we sold some computer components from the office closeout locally (RAM, monitors). In total, we earned $465 in local sales.
Jenni received a $25 birthday gift from a coworker she finally deposited into her Amazon account, from May. She also withdrew $29 from one of her online cashback accounts.
Dividends, interest, credits
Most of our investments are in index funds that pay dividends, at most, quarterly. One of the few individual stocks we still hold is Seagate. This past month, STX paid a dividend of about $209 for us.
Our savings and checking accounts earned us $5.67 in interest.
The month ended with $254 in credits from two banks. These credits were a combination of Chase's pay yourself back promo (mostly used on our home improvement expenses from last month) and American Express's AMEX Offers.
Last month we proclaimed the end of these significant Chase credits. However, between the Freedom card quarterly promos and a few other deals, we reloaded quite a few points to use. That said, we're back to zero!
Transfers
Overall, we ended the month with an extra $508 in checking. This will eventually flow through to our brokerage accounts to increase our investments.
Expense Summary
From our $5,658 budget, we saved $1,644 this month.
That gives us a savings rate of 29%. Not bad! We're still cutting back on work, eventually, this figure will be consistently negative.
Considering our average FIRE budget for 2020 was about $3,405/month, we a good bit over our target spending. We spent $4,014!
That's about 118% of our typical monthly FIRE budget. That's not beyond what we've been projecting. In fact, August should be significantly more expensive as we're set to spend the majority of the month traveling.
If you're curious what our typical annual budget looks like, check out the full FIRE budget review we did!
Let's get into the details of our spending for the month.
Travel
We've set out for a trip from home in Virginia to Wisconsin and onto Florida before returning.
Our first flight left Virginia on July 31. We'll be in Wisconsin visiting friends until August 7 when we fly to Tampa.
Our route home involved a connection through Florida, so we thought we may as well make the best of it and add some beach and additional friend time on the way home!
We'll be in southern Florida through August 12.
In terms of expenses, there is one interesting element to point out for our flights. We flew Delta Airlines for our outbound flight on 7/31. Chris has an American Express Business Platinum credit card with a benefit where you can earn back $200 of incidental charges on an airline you select.
Chris selected Delta and split the payment for one of our flights between a gift card and his Platinum card. AMEX ended up crediting back the balance of that ticket as an "incidental charge" since it was split paid with the gift card. Normally incidental charges and that $200 credit are just for things like baggage fees, upgrades, lounges, or onboard snacks. Nice surprise! We'll try to make good use of this again in the future.
Overall, our two outbound flights worked out like this:
| Description | Cost ($) |
| --- | --- |
| RIC ➔ MKE tickets on Delta Airlines (2 adults) | 276.40 |
| $50 Delta Gift Card (paid for with an incidental credit years ago) | (50.00) |
| AMEX Business Platinum Airline Credit | (88.20) |
| Total | 138.20 |
Not a bad deal!
Chris also incurred a $95 annual fee charge for his American Airlines credit card. He expects to earn this back as a credit with a retention offer from Citi in the next few months.
Overall, we spent $233.20 on air travel this month.
We'll break down our total trip expenses for Wisconsin and Florida next month!
Home
Our housing costs are broken down in our annual FIRE budget (mentioned above) in detail.
For the monthly breakdown, these details might be helpful to understand:
When evaluating whether to rent and invest or buy a home, we chose to own
We have a 30-year, fixed-rate mortgage below 4% interest
Our HOA is $350/month which covers some of our utilities (heating, water)
We chose the city life vs country life in a medium cost of living area
Housing-related expenses are consistent month-to-month. We have an escrow account with our mortgage provider which helps automate property taxes and home insurance payments.
We live in a 2 bedroom, 2 bath historic brick home built in the 1920s. It's part of a small cooperative.
This month, we had a few small expenses polishing up our bathroom renovation from last month. Our only big home-related purchase was a three-piece dresser set won at an estate auction locally.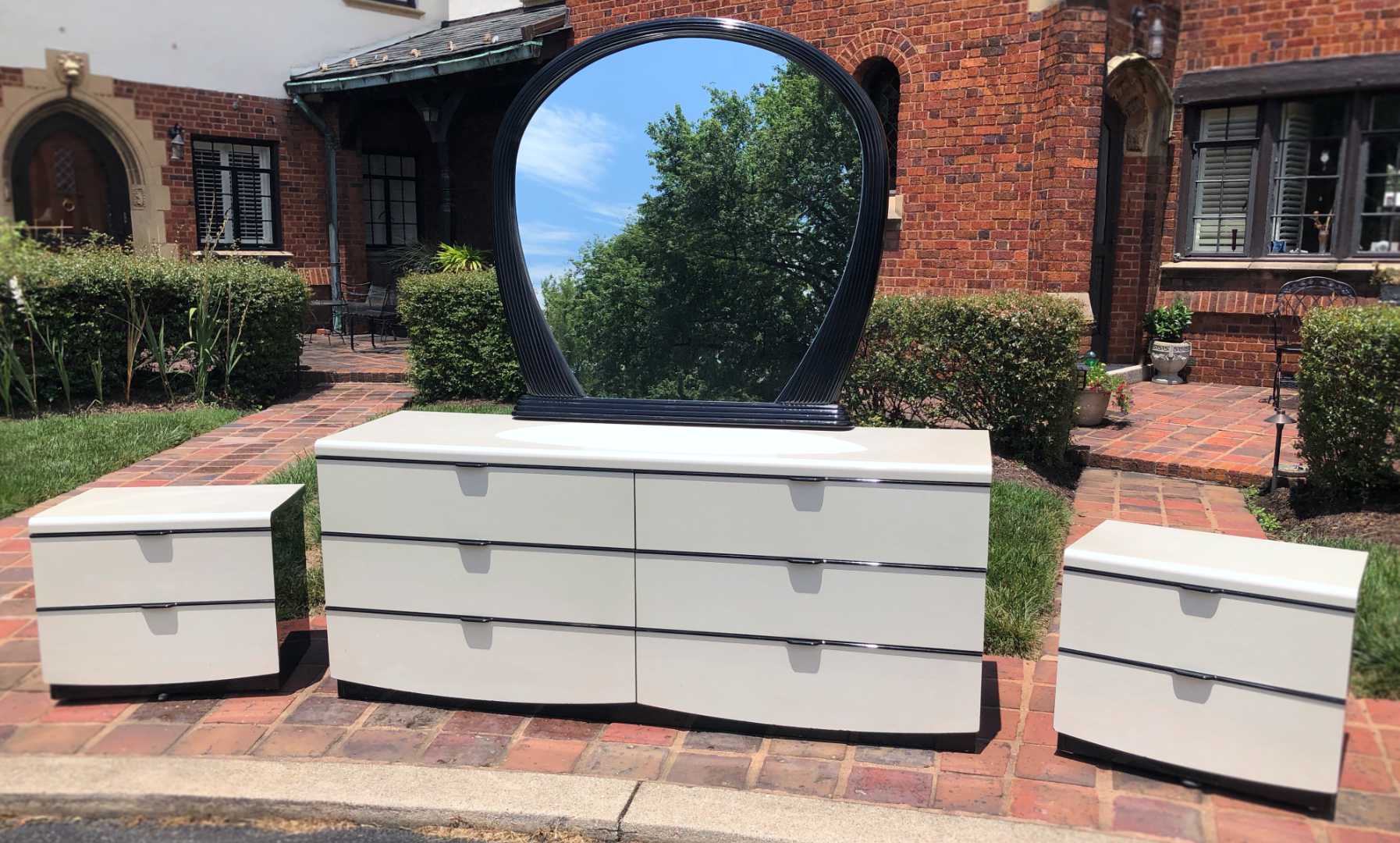 Chris's best guess is that it was made in the 70s. The pieces are all stamped Made in Italy and seem to be pretty high quality. The white lacquer finish matches our bedroom set up well and the mirror brightens our (somewhat) small bedroom.
Chris happily sold off his old, small dresser for more money than this entire new set! You might be surprised what your old stuff is worth. Check out his guide on selling your stuff locally, online.
Health
We spent $660 on Health-related expenses this month—a little higher than normal.
We both had doctor visits with copays that added up.
Jenni's rock climbing gym membership was extended through August at no additional charge due to the gym being closed last summer. She continues to attend personal training which was $10 this month.
The remainder was for health insurance for the two of us ($522) as we're both paying for individual plans.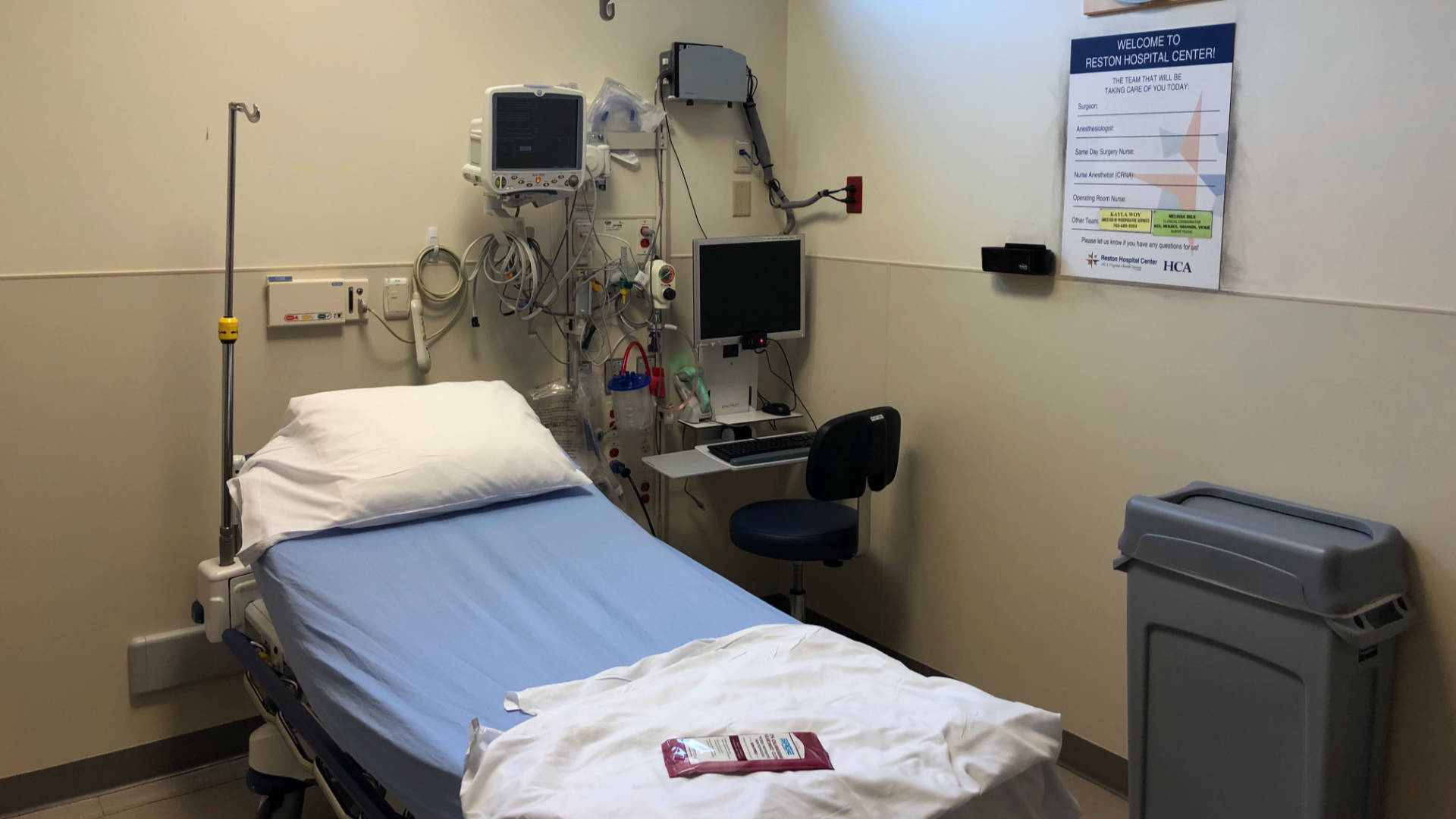 Shopping
Chris purchased a little camera tripod for his phone. We spent about $8 on electronics and software this month.
Since we've got multiple trips heading through beaches or tropical regions, Jenni picked up a couple of bikinis. That's $53 on clothing.
Jenni added a little to the home gym setup with a set of pull-up bands. She also picked up a new pair of running shorts.
We spent $58 on sporting goods this month.
In total, we spent $119 on shopping expenses.
Food & Dining
Our grocery spending remains on a consistent trajectory in line with what we'd like to see. One tricky thing about this month is that we maxed out a Lowes AMEX promo by buying a Kroger gift card from Lowes. AMEX credited us back 10% of any spending at Lowes, up to $50. So, we took advantage by buying a gift card for a store we knew we already shop at.
We split the expense itself in our tracking out so that it more accurately reflects our real spending, but it was nice to earn 10% off a large chunk of our grocery spending!
We spent $435 on groceries.
AMEX credited back about $48 on that gift card purchase.
→ Related: Want to see how to save money on groceries in detail?
Restaurants, Fast Food, Alcohol
A variety of dinner pickup promos from UberEats and the like along with tasty window shopping while we were traveling had us spending more on convenience foods than normal.
We spend $22 on fast food. On a couple lazy nights, we made use of DoorDash and UberEats promos to get takeout for about half off.
Due to a couple promos and birthday celebrations our alcohol & bars tab was $140 for the month! Swagbucks had a promo this month where you could buy a 12-pack of Truly Hard Seltzer for about $20 but then earn back about the same amount is their reward system. We managed to take advantage of this four times and now have a stack of Seltzer!
Ultimately, we'll slowly convert the credit to Amazon gift cards with a 12% bonus redemption each month. Free alcohol plus a little free Amazon money!
Our restaurant spending was still high at $168! We had a few social events at restaurants with family and friends.
We earned back $65 in AMEX credits and Swagbucks (so far!).
Gifts
With coworkers and family celebrating different milestones, we gave a little away to help give them a boost.
We spent about $168 on gifts this month.
Donations
Jenni made a direct donation of $5 to Virginia Public Media.
And this blog's reader donation fund continues to grow—more details on this month's grant below!
Utilities
July was toasty! Our electric bill reflects it!
We spent a just over $120 on electric this month.
In typical fashion, we spent almost $18 on city services (cooking gas, wastewater).
Our Comcast Internet bill rang in at our standard $40 for internet service. It's about 120mbps, plenty fast.
We don't have any television service.
Miscellaneous
We spent $70 on amusement for tickets to a local Shakespeare performance. It was a gorgeous night under the stars with friends.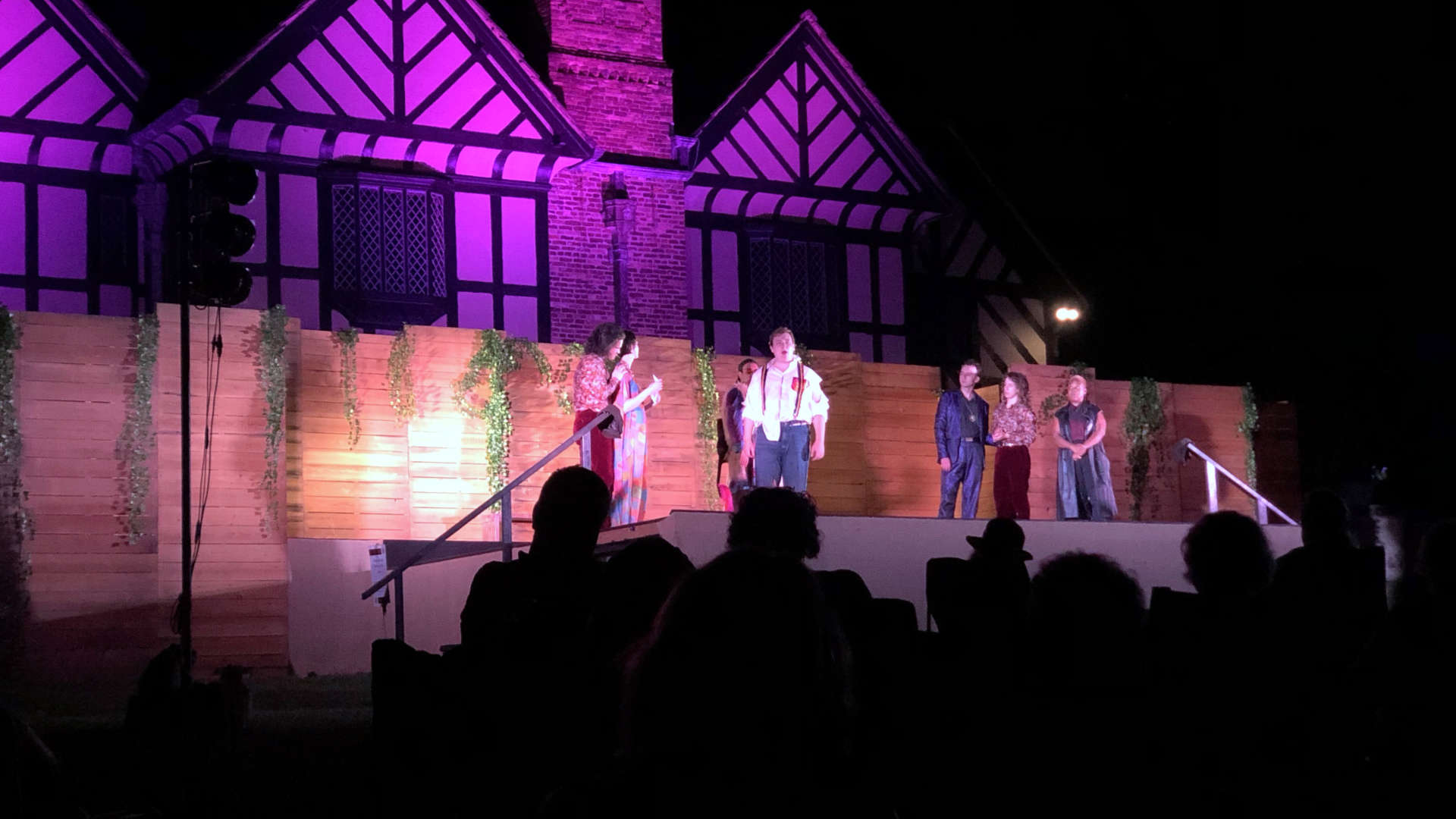 We refilled Jenni's Prius a few times to the tune of about $44 on gas & fuel.
How Much We Work
We like to keep track of how much time we spend doing work that is paid. For Jenni, this is pretty easy as it's just her paycheck time. Chris manually tracks his hours consulting with Freshbooks (referral).
Our aim is to gradually reduce these hours.
So, how did July look compared to June?
| Month | Chris (Hours Worked) | Jenni (Hours Worked) |
| --- | --- | --- |
| May 2020 | 41 | 108 |
| Jun 2020 | 38 | 96 |
| Jul 2020 | 36 | 120 |
| Aug 2020 | 39 | 48 |
| Sep 2020 | 27 | 76 |
| Oct 2020 | 26 | 104 |
| Nov 2020 | 27 | 57 |
| Dec 2020 | 28 | 57 |
| Jan 2021 | 25 | 102 |
| Feb 2021 | 24 | 104 |
| Mar 2021 | 24 | 106 |
| Apr 2021 | 23 | 85 |
| May 2021 | 17 | 29.75 |
| Jun 2021 | 19 | 66 |
| Jul 2021 | 21 | 30.25 |
An average full-time job for two people would be about 347 hours.
We're nearly at a seventh of regular full-time work at 51.25 hours! That's our lowest yet.
2021 Theme Update: Discomfort
From Chris:
I've delivered a little update each month towards my Yearly Theme.
For 2021, I chose "Discomfort". This guiding word is a reminder for me to seek out challenges within life and stretch my comfort zone. It's my way of having a "new year resolution".
Here's what I'm going to work on in August:
Be stressphobic—traveling during these pandemic times is almost certainly going to have bumps on the road, and I need to let stress just slide right off me when something gets canceled, delayed, or doesn't go my way
Prioritize—remember why I'm doing whatever it is I'm doing, the purpose for it, and make sure my priority is that
Take it in—sometimes I have trouble being present, especially when traveling and anticipating "what's next"
August is more than half booked with travel. My focus is around the natural tendencies I have during travel and reorienting myself around doing the unnatural—uncomfortable—actions instead.
I made good progress in July toward goals in the last update:
Booked all parts of our Wisconsin/Florida trip while trying to maximize our experiences and time with friends we are visiting (the primary purpose of the trips)
Sold off a few more things around the house rather than letting them sit and be wasted (while cluttering our space and my brain)
Wrote newsletter drafts, post drafts, and general ideas for future writing for TicTocLife (if we weren't traveling, I think we'd be ahead of the game with a nice backlog of completed drafts by now!)
With productive discomfort being my goal in 2021, I'm aiming to incorporate more healthy stress in my life.
Don't have a "Yearly Theme" for yourself? It's not too late to create one!
Net Worth Update
We don't like to focus on the net worth of writers in the personal finance community. However, we do understand it offers a little context to the writing for the reader.
You might better relate to someone with a net worth and earnings history more similar to yours.
We wrote up an extensive post on our earnings and net worth history that ranged from 2006 to 2018. We did it with an average income of $77K per person over the period we analyzed.
→ Related: How to Become a Millionaire in 10 Years (Debt to $1.2M at 33)
Account breakdown
The market keeps chugging along and so do our investments. From a high level, our assets and liabilities are shown in the data table below as of July 31, 2021.
| Description | Value (USD, $) |
| --- | --- |
| 401(k) | 739,492 |
| Brokerage | 881,641 |
| Roth IRA | 155,991 |
| HSA | 36,020 |
| Real Estate | 380,400 |
| Mortgage | (150,654) |
| Miscellaneous Assets | 10,750 |
| Checking & Savings | 38,513 |
| Net Worth | 2,092,153 |
Miscellaneous assets include specific investments we've made in physical assets (think collectibles)
Amounts do not reflect the value of the businesses Chris owns or their assets, which should appear as income to us over future years
Jenni's Prius is not included
Our net worth decreased by nearly $2K.
The S&P 500 was up about 2.3% over the month of June while we were down about 0.1%. That's not great! We saw a somewhat large dip in the estimated value of our real estate that accounts for at least a chunk of the discrepancy.
Net Worth History
June 2021 Donation Winner
In honor of Pride Month in June, we chose to focus on the many organizations that work hard to eliminate discrimination and promote equality in the LGBTQIA+ community.
We had 17 voters this month. The winner with 8 votes goes to Side By Side!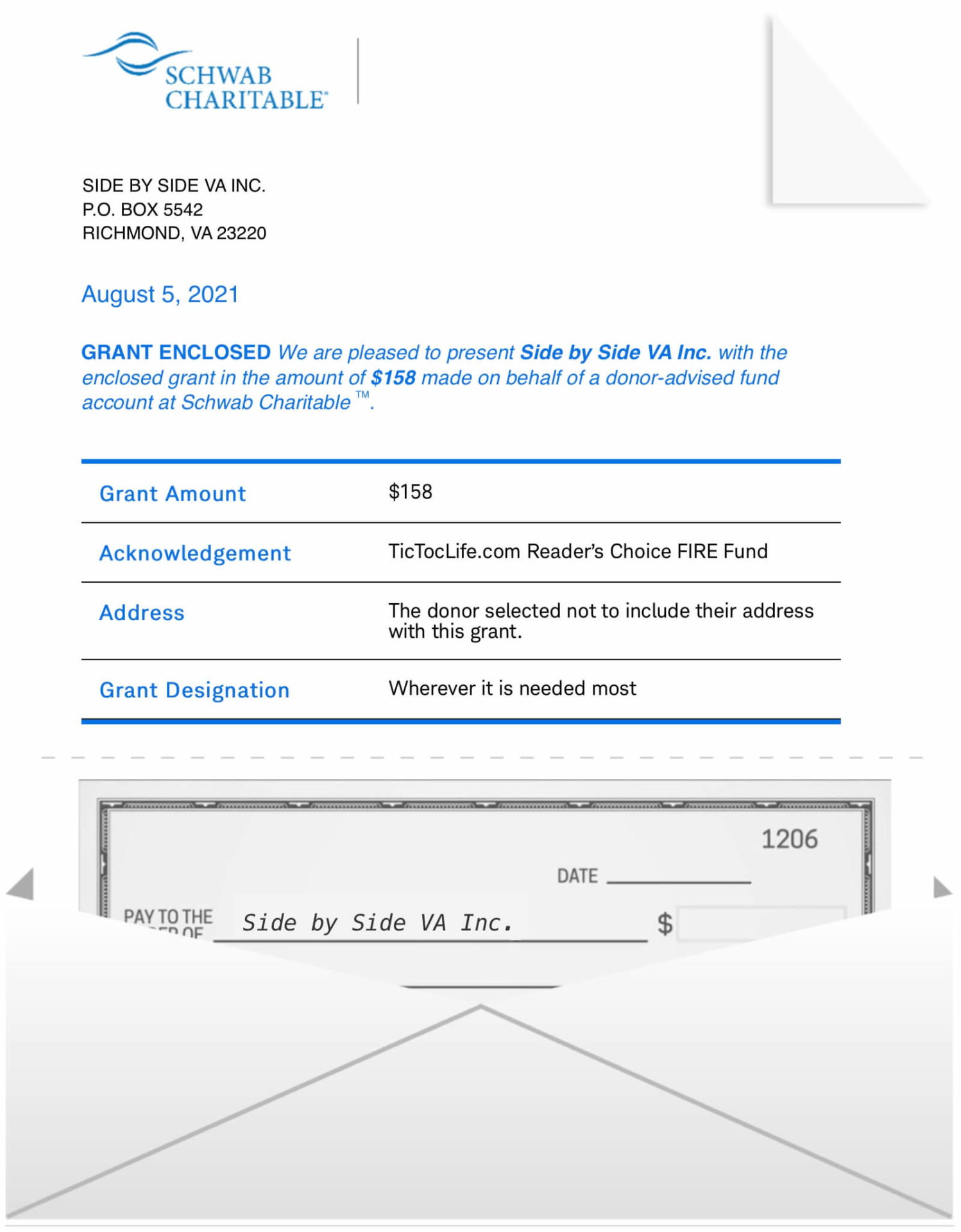 Our Reader's Fund seeks to leverage the principles of FIRE to build a lifetime of giving.
By the time we're near normal retirement age, it's easy to see how the fund could grow to $250K and donations would be in excess of $800/month! That's the power of FIRE and compound interest!
Thank you for your participation in our polls over the last 12 months. We've given over $1000 to deserving charities with your help in deciding which organizations to donate to.
We are excited to enter the second year of our Reader's Choice FIRE Fund poll! If you would like to see changes to the way we display our candidates or have suggestions for charity categories, let us know in the comments.
Polls are now open for our next round of candidates: Community Health Awareness Organizations
Community Health Awareness Organizations
Each and every one of us deserves to be healthy. The key to living healthy lives and keeping our wellness in check is access to resources to properly educate ourselves. You do not have to be a health professional to stay up to date about your health. Organizations all around the world help support healthy living through community health education and outreach. Their common goal is to have an educated supportive community so everyone can have a chance at a healthy life.
We have chosen three organizations to consider for our monthly DAF donation that focus on community health awareness. Each organization has excellent charity ratings and spends a majority of its revenue on its programs. Review each of these three and help us decide which organization to support by casting your vote.
Summaries below include a link to their Guidestar profile which details the nonprofit's operations and transparency.
1) HealthCorps
Why? HealthCorps empowers teens to be the change agents for their communities by having the knowledge and tools to make healthier choices and help change the health and wellness culture.
Where? United States
What? HealthCorps is a national nonprofit that addresses health inequalities in at-risk communities. What makes them different is their focus on today's youth, empowering them to be change agents within their communities. This organization strives to help youth achieve their goals by providing educational leadership with a focus on healthy eating and leading healthy lives.
Living Labs: A peer to peer mentorship program with wellness activities and materials to help them serve as positive change agents
Teens Make Health Happen: A national club that teens identify, research and present a potential solution to a health need in their community in order to get funding for their solution
2) Sewa International
Why? With a goal to live in a world of harmony, free from suffering, this organization seeks to serve humanity irrespective of race, color, religion, gender, or nationality. One current focus is on helping India defeat COVID-19 by raising funds to supply much-needed oxygen and lifesaving medical equipment.
Where? United States, Columbia, Guyana, India, Kenya, Pakistan, Sri Lanka
What? Sewa International is a Hindu faith-based humanitarian nonprofit organization. They serve in disaster relief and rehabilitation and work with several partner organizations such as Americorps. Their fundraising efforts to bring oxygen to India have raised over $5 million.
Their primary programs focus on:
Family and child welfare
Women empowerment
Public Health & Hygiene
Promote volunteerism
3) National Foundation for Infectious Disease (NFID)
Why? Communication about infectious diseases is critical to prevent the spread and treat infections. The team at NFID consists of medical directors, professional educators, and strategic communication directors who strive to educate the world to keep us safe from disease.
Where? United States
What? National Foundation for Infectious Disease (NFID) is a nonprofit education and communication organization. Their goal is to improve the prevention of disease through better education on diagnosis and treatments of infectious disease. They are a fact-based resource center for infectious diseases including COVID-19. Educational materials and communications have been developed for both the community and healthcare professionals
Nonprofit poll
After reviewing the Community Health Awareness Organizations listed above, please take a moment to vote for which nonprofit you think will put funds to use in the best way.
(Having trouble using or seeing the poll above? Some reader tools or apps may not display it. View this page in a browser or use this link to our Reader Fund page which has a copy of the poll!)
Thank you for taking the time to vote!
One of our primary goals with TicTocLife is building a stream of giving within the FIRE community and that starts with knowledge.
Want to hear about the results? Signup for our free FIRE Insider newsletter! We send it out every few weeks and include the monthly poll results and donation winners. You can see an archive of the FIRE Insider and signup here!
What Does August 2021 Hold?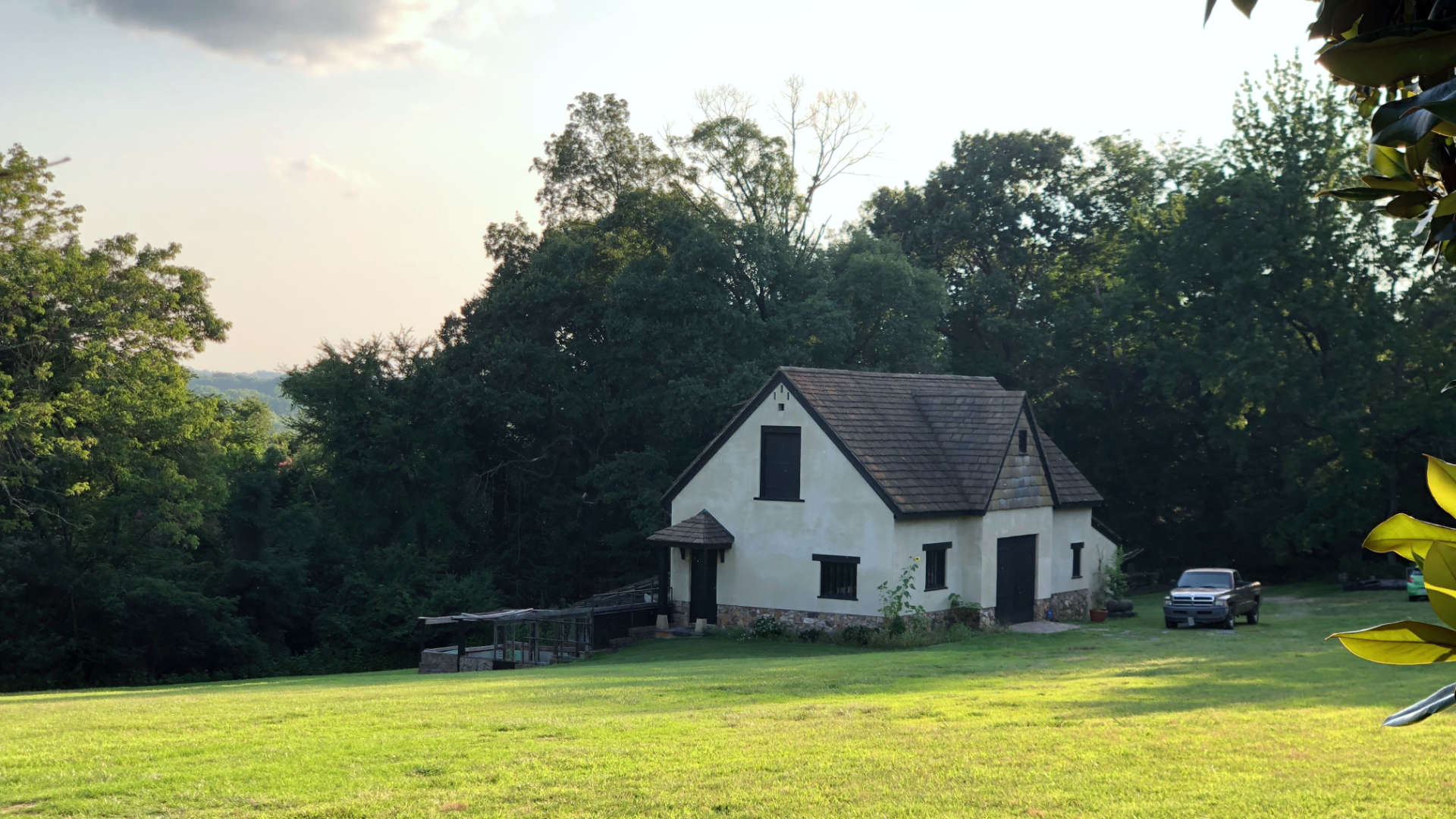 August should be a month of spending time with friends and getting away from home in Virginia.
This post is being written to you in early August, and we're already off to a great traveling start. Wisconsin is an emerald beauty of a state and we're making great use of the time to catch up with a very dear old friend. No doubt, our next update will have plenty of photos and stories of canceled flights. Last second rebookings and cliff jumping.
Nature and friendship will take center stage—as every month really ought to. That's the sort of prioritization and money mindset that'll open you up to a life of freedom.
---
How's August shaking out for you and yours?
Are you taking vacation or booking any big trips?
Let us know in the comments or on Twitter!