We really packed in throughout the month of June 2021! There were home renovations galore and we're getting ready for multiple trips through fall and the remainder of summer. Each month we take time to review our spending as a couple, sell off a bit of our hidden lumber stock (ha!), and then reveal the remainder for our readers to pick apart our mistakes.
We also do a little review of nonprofits to inform our giving each month. June was Pride month and so we've reviewed three LGBTQIA+ community nonprofits for our monthly grant that you direct! Be sure to cast your vote below!
During our May budget review, we looked at mental health nonprofits. Read on to find out the winner for May and see our poll for this month's grant!
Lastly, we finally completed our (mild) bathroom renovations! We blew almost $600! We'll talk about the project in more detail, but first, let's go through our monthly budget review.
In the Sankey diagram below, income on the left matches our expenses to the right.
We'll run through the income and expense sources for the month and remark on any interesting items.
Income Summary
We have several sources of income and they tend to vary from month-to-month.
Most of our income is from Jenni's part-time pharmacist job and Chris's ongoing business operations—which is generally on autopilot with nearly passive income.
Part-time work
Jenni continues to work at a local pharmacy as needed.
Jenni's part-time pharmacy position earned her $3,606. That's a pretty significant increase from last month, but she did work more.
About $1,198 of her paycheck flowed through to 401(k) investments.
Chris's consulting work remains consistent—he provides digital strategy guidance for enterprise, government, and higher ed. He's whittled his client base down to just a few that work in meaningful areas (healthcare) or which provide significant fulfillment (mentoring).
Chris's business paid him $1,701.
We reveal just how many hours we work each month in the "how much we work" section below, too!
Accountable plan
Chris mentioned his company's accountable plan first in our July 2020 budget. Each quarter, his business reimburses a portion of his personal expenses to provide the business with resources that it uses. This includes things like office space in our home, vehicle use, benefits, business travel, etc.
The $2,220 accountable plan reimbursement represents $740 per month over the last quarter.
Other income
We earned $15 through eBay and online venues. We sold a few small items around the house that were collecting dust.
Back in April, we earned a big signup bonus from a fintech company called Brex. Since then, business spending has earned rewards with Brex which we've cashed out. We earned about $272 in cashback through Brex. We'll likely close the Brex account soon.
We sold off two old laptops and a 17″ flatscreen monitor from our remaining stock of office closeout electronics we received some months ago. That earned us about $140. We sold off our old living room rug for $280 (and replaced it for $99, more on that below). In total, we earned $420 in local sales.
Dividends, interest, credits
Most of our investments are in index funds that pay dividends, at most, quarterly. As it's the end of the second quarter, 2021, we earned significant dividends. In total, $3,477 in dividends.
That's enough dividend earnings to cover our entire core living expenses for the month!
Our savings and checking accounts earned us $6.61 in interest.
June ended with $355 in credits from two banks. These credits were a combination of Chase's pay yourself back promo (mostly used on our groceries) and American Express's AMEX Offers.
We've finally run out of Chase Ultimate Rewards points that have been providing the majority of credits the last several months!
Transfers
Overall, we ended the month with an extra $4,935 in checking. This will eventually flow through to our brokerage accounts to increase our investments.
Expense Summary
From our $12,074 budget, we saved $7,882 this month.
That gives June a savings rate of 65%. That's a big jump over last month and mostly can be accounted for by quarterly dividends and Chris's accountable plan reimbursement.
Considering our average FIRE budget for 2020 was about $3,405/month, we a good bit over our target spending. We spent $4,192!
That's about 123% of our typical monthly FIRE budget. We've been expecting 2021 to be a more expensive year than normal for us, and it's starting to show. This month, much of the higher spending is really an investment in our home. But, at least at this point, we're still earning incomes.
If you're curious what our typical annual budget looks like, check out the full FIRE budget review we did!
Let's get into the details of our spending for the month.
Home
If travel was our big, lumpy expense last month—home improvement expenses are the big, abnormal line item for this month!
Our housing costs are broken down in our annual FIRE budget (mentioned above) in detail.
For the monthly breakdown, these details might be helpful to understand:
When evaluating whether to rent and invest or buy a home, we chose to own
We have a 30-year, fixed-rate mortgage below 4% interest
Our HOA is $350/month which covers some of our utilities (heating, water)
We chose the city life vs country life in a medium cost of living area
Housing-related expenses are consistent month-to-month. We have an escrow account with our mortgage provider which helps automate property taxes and home insurance payments.
We live in a 2 bedroom, 2 bath historic brick home built in the 1920s. It's part of a small cooperative.
June was the month we decided to give our little home some serious love. We completed a few projects.
Cellular Shades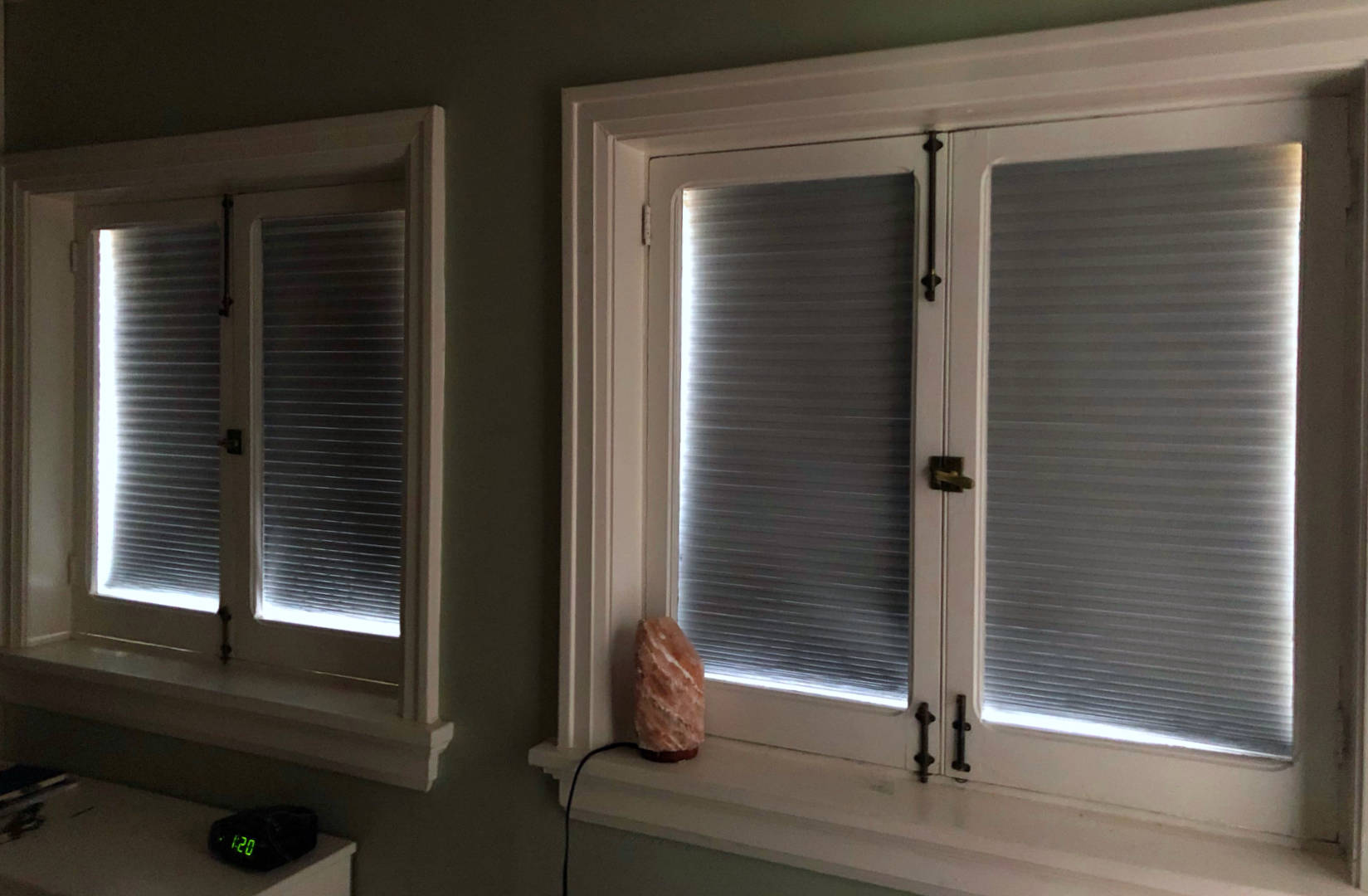 First up, we've been itching to ditch our old metal blinds in our bedroom and bathroom windows. We've replaced them with cellular shades.
For the bedroom, we went with top down blackout shades. The combination of cellular insulation and blackout is already resulting in noticeably lower temps in the bedroom on warm summer days. But, it's also making it easier to sleep in!
And of course, the bathroom. The focus of a larger, ongoing project that Jenni has been knee-deep in. She wrote a whole post this month about how yanking down the window (and breaking the rope/weight pulley system that held it up) could have been costly! Ultimately, replacing the window sash cord was just an exercise in patience.
But, here's a shot of the final product: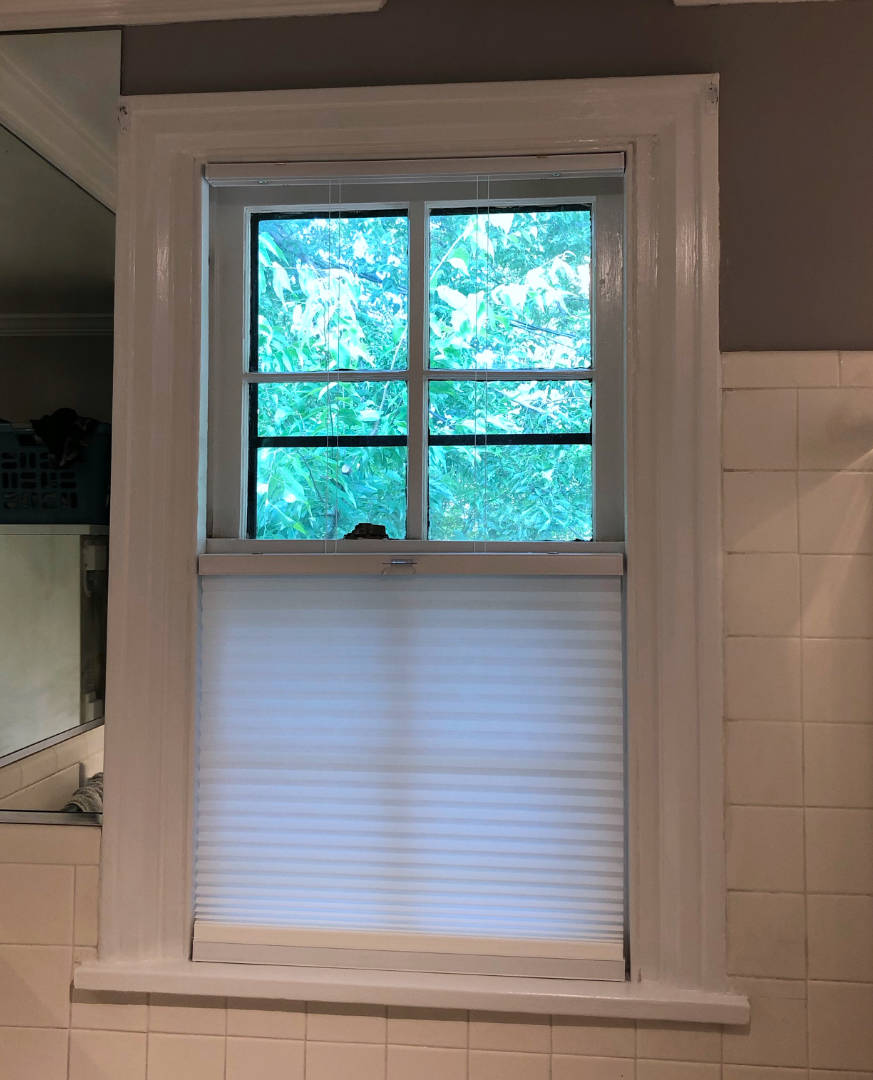 We bought the shades on eBay from a seller who sources them through a Home Depot brand and custom cuts them. They fit perfectly! We installed them ourselves.
Total cost for 4x cellular shades? $140 delivered.
Bathroom exhaust fan with vent and painting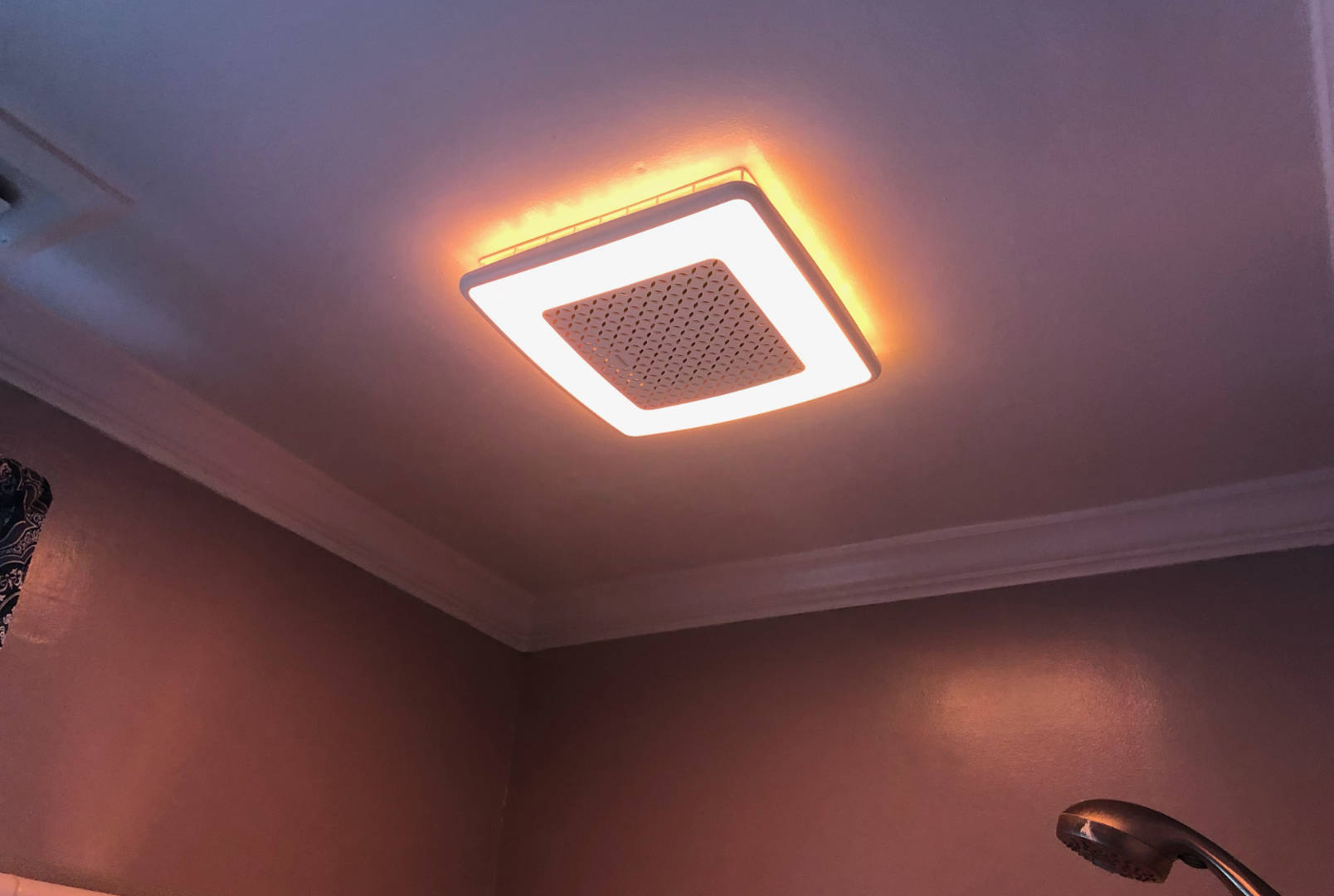 As part of Jenni's bathroom window repair, we yanked down decades-old yellow wallpaper and painted the bathroom a sensible grey. With a little prodding, we mustered up the courage to take care of a major issue we've had with the bathroom since we've lived here.
Ventilation.
The bathroom is only perhaps 2 by 3 meters. It's small. With Virginia weather, the window often isn't very helpful in shooing out the humidity the shower generates. We've had to replace caulk on the tub multiple times over the past eight years we've lived here.
We've wanted to add an exhaust fan to the bathroom but have been daunted by the potential cost if we hired it out or complexity to DIY. In either case, a combination of knob and tube wiring plus plaster and lathe walls could spell disaster.
Yes, we were letting our fear of DIY mistakes creep in.
But with the motivation of some success with the bathroom window and plaster wall repair, we jumped into the exhaust fan install.
We'd need to:
Run electrical to the fan through the attic
Cut an appropriate hole in the bathroom plaster and lathe ceiling
Add a duct and vent cap on the roof just above the bathroom
Add fan/light controls
Without turning this into a big project breakdown, this is what we generally ended up doing:
Ran new Romex wire from the existing bathroom 20 amp GFCI outlet into the unfinished attic
Nervously jigsaw cut through the ceiling lathe after hand cutting the plaster, hoping the plaster wouldn't vibrate off the ceiling around the hole
Hired a pro to make the roof cut and install the vent cap
Installed fan in bathroom
Ran flexible insulated duct from fan exhaust to roof vent cap in attic
Skipped installing a switch (and running more wire) by using a remote controlled exhaust fan (with optional phone app)
Check out this fun testing shot partway through the install—this was after the nightmare of fishing the Romex from the attic down into the bathroom through a wall cavity: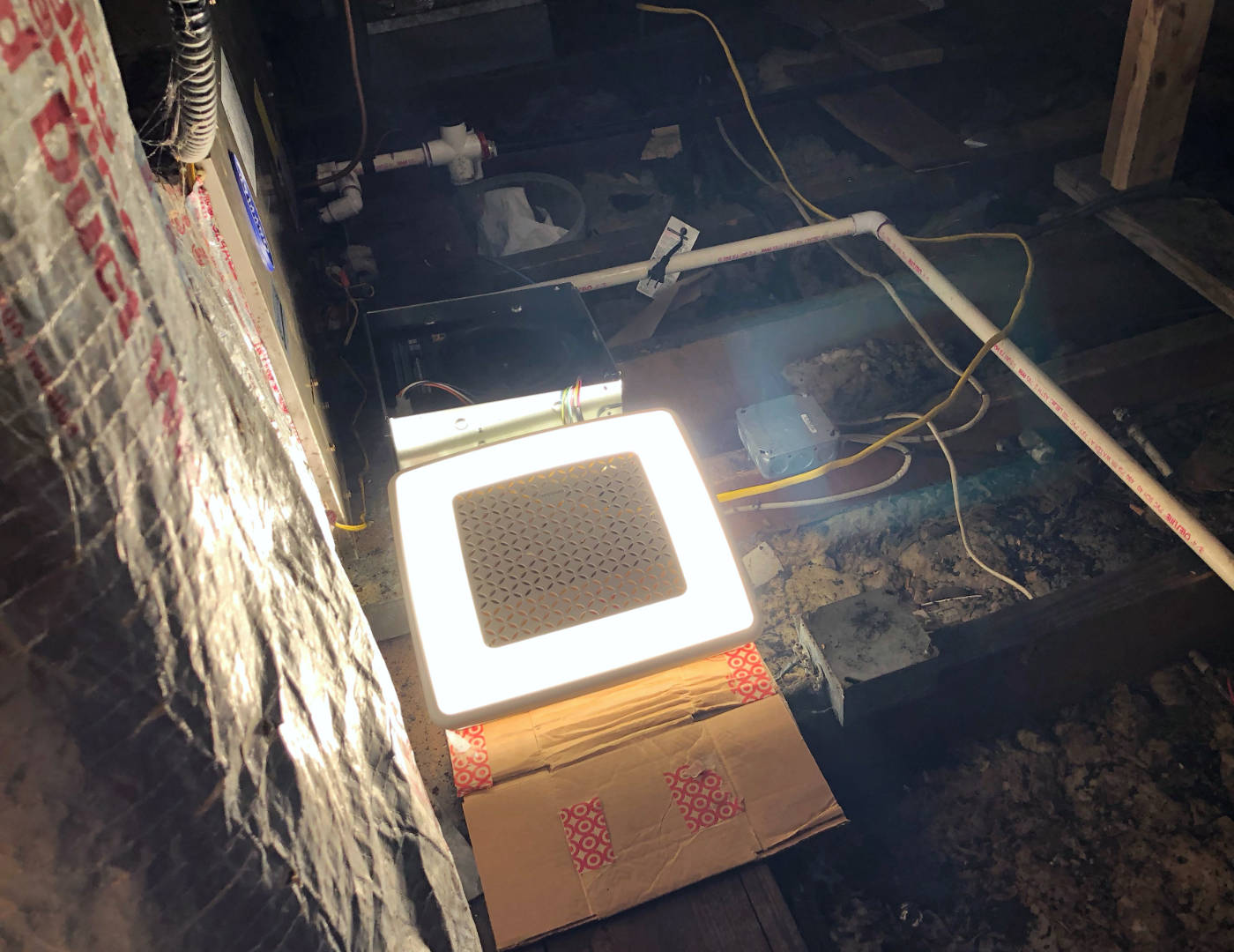 And now, we can rest easy in peaceful warm showers without worrying as much about filling our home with humidity and mold!
Project costs:
| Description | Cost ($, USD) |
| --- | --- |
| Materials & tools (paint, brushes, caulk, plaster repair, wire, etc.) | 280.09 |
| Roofer service (vent cap cut and install) | 130.00 |
| Roof vent cap, insulated duct, tape | 51.00 |
| Gorilla step ladder | 26.30 |
| Toilet valve replacement | 7.32 |
| Broan-NuTone ChromaComfort Fan | 62.42 |
| Total | 595.85 |
Fortunately, access to tools helped us keep costs down a ton for this project. Our community of neighbors saved us from having to rent or buy:
Jigsaw
Shop vacuum
Work lights
Overall, the bathroom project really came together well. While we didn't demolish walls or replace the tile, it feels like a new space.
Home — miscellaneous
We also picked up a 24′ Werner aluminum extension ladder for just $38.72. It'll be useful for occasional gutter cleaning, maintenance checks, and window painting.
We also did some redecorating and got one heck of a deal locally on a pure New Zealand wool long shag rug. $99. It's about $1,500 from Crate & Barrel normally! As mentioned in the income section above, we sold the old rug for $280 so this was quite a profitable endeavor!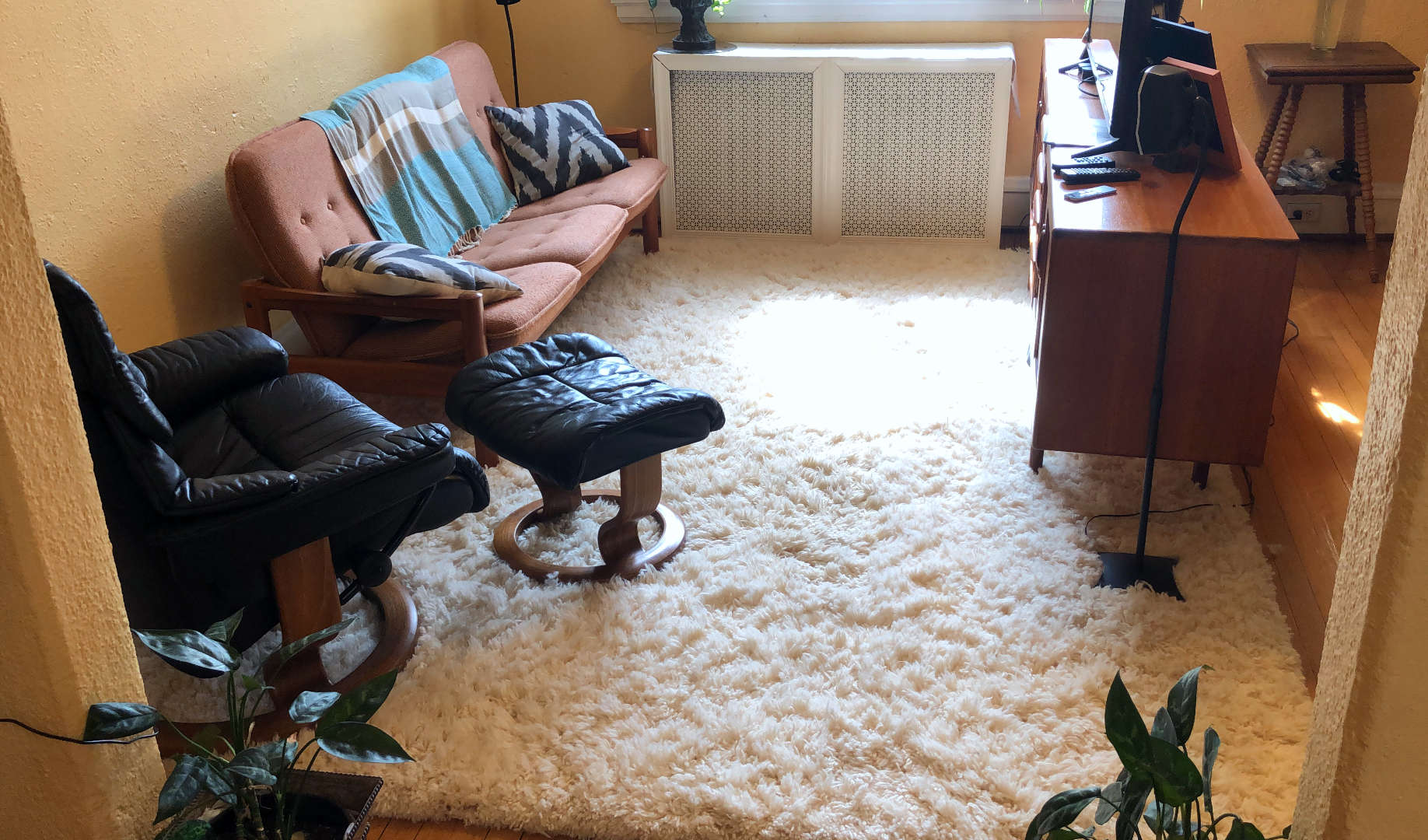 Health
We spent $639 on Health-related expenses this month—that's pretty close to what we expect.
Jenni purchased her 90 day supply of daily medications ($96).
Jenni's rock climbing gym membership was extended through August at no additional charge due to the gym being closed last summer. She continues to attend personal training which was $20 this month.
The remainder was for health insurance for the two of us ($522) as we're both paying for individual plans.
Shopping
During Amazon's Prime Day, Chris bought a 10,000 mAH portable charger battery to keep our gadgets and electronics alive while traveling. The little brick supports modern USB-C with Power Delivery and old USB-A plugs. Good deal at about $10!
Chris also purchased a set of wireless earbuds by Anker (Soundcore Liberty Air X) for about $21. He's not a fan of in-ear headphones but for such a low price, these will be very useful while traveling since they provide some passive noise cancelation.
As part of a promo with Cricket Wireless, Jenni now has a new iPhone SE (2020 edition). She got a new case by Smartish (the Gripmunk) to complement the phone's red exterior and keep it in one piece for $8.
We spent $39 on electronics and software this month.
With the sun beaming down in the summer heat, Chris got a new running hat to protect his face and head. The white color keeps him a little cooler and sweat out of his eyes, so far he's enjoying it. The "Headsweats Running Hat" was about $17 through Amazon.
We also picked up a pair of tubes to float down a river with. We like getting into the water over summer and our kayak bit the dust last season. For $10, we're happy to have something to get out onto the water with.
Lastly, Chris replaced the disc brake pads on both his mountain and hybrid road bikes for about $26. The semi-metallic pads help him stop on a quiet dime now!
We spent $53 on sporting goods this month.
In total, we spent $93 on shopping expenses.
Food & Dining
Our grocery spending remains on a consistent trajectory in line with what we'd like to see. It might be a bit artificially low this month due to spending so much on eating out while traveling.
We spent $307 on groceries.
Through Chase's "pay yourself back" points promo and Ibotta, we earned $291 in grocery-related credits. That makes our true out-of-pocket grocery cost just $16 for the month!
→ Related: Want to see how to save money on groceries in detail?
Restaurants, Fast Food, Alcohol
A variety of dinner pickup promos from UberEats and the like along with tasty window shopping while we were traveling had us spending more on convenience foods than normal.
We spend $26 on fast food. Chris forgot (again!) to cancel our monthly Panera Coffee subscription that was free for some number of months, so that was about $10. After a DoorDash promo, we were able to get a heaping load of sushi while out on a bike ride for lunch for about $16.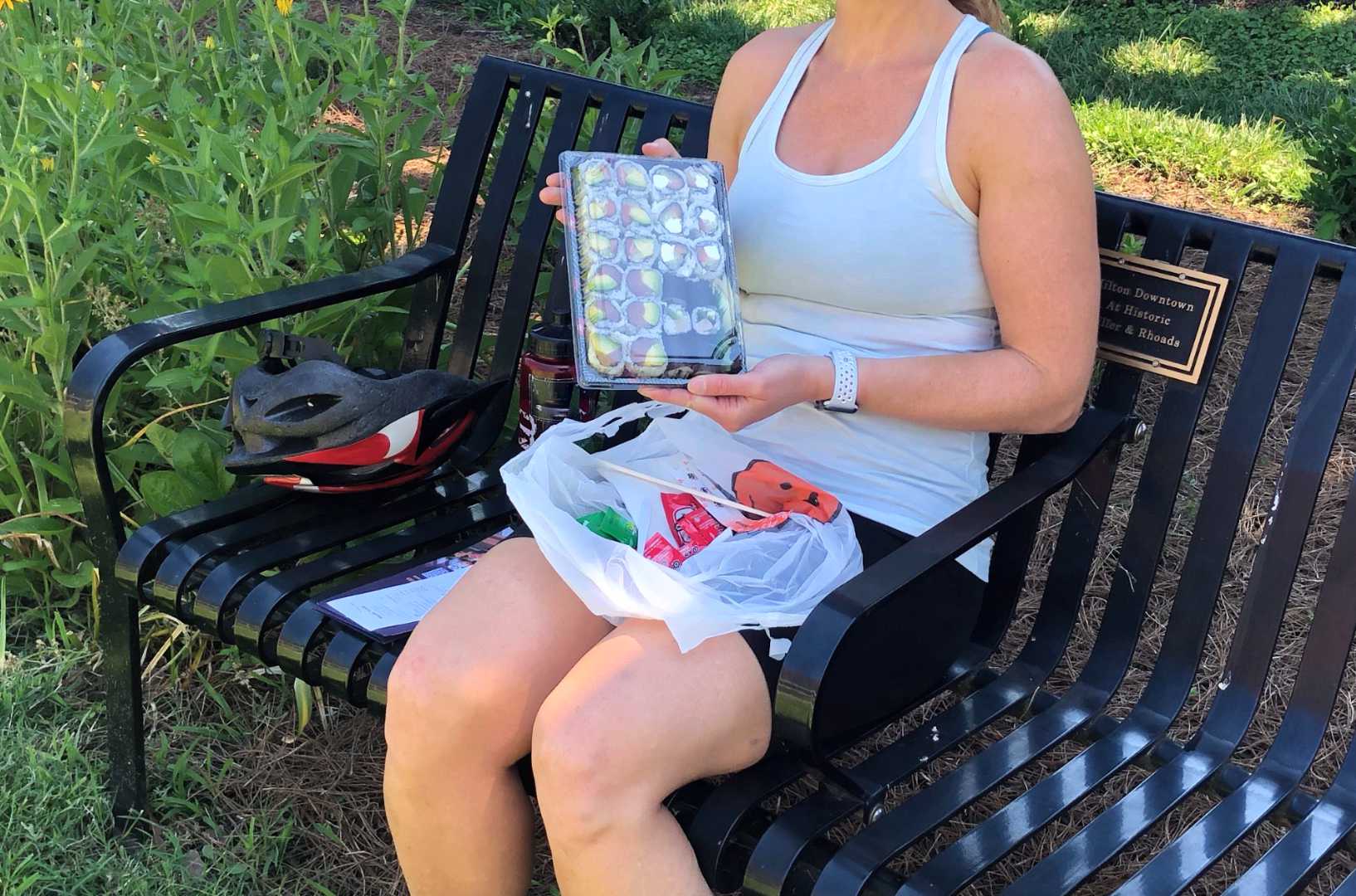 During an outing to Top Golf, we added to the fun with a drink or two. Our alcohol & bars tab was $12.
Our restaurant spending was still high at $95, though nowhere near what it was last month! We had a few social events at restaurants with family and friends.
We earned back $48.54 in AMEX and Chase UR credits.
Gifts
With coworkers and family celebrating different milestones, we gave a little away to help give them a boost.
We spent about $75 on gifts this month. Jenni managed to earn back about $16 by redeeming Chase UR points for some of these gifts.
Donations
Jenni made a direct donation of $5 to Virginia Public Media.
And this blog's reader donation fund continues to grow—more details on this month's grant below!
Utilities
June brought highs routinely into the 90s, so our electric bill will almost certainly jump (again) next month. This month, we're seeing just a bit of the increase from May's warmer temps.
We spent a just over $83 on electric this month.
In typical fashion, we spent almost $21 on city services (cooking gas, wastewater).
Our Comcast Internet bill rang in at our standard $40 for internet service. It's about 120mbps, plenty fast.
We don't have any television service.
New cell service (and phone!)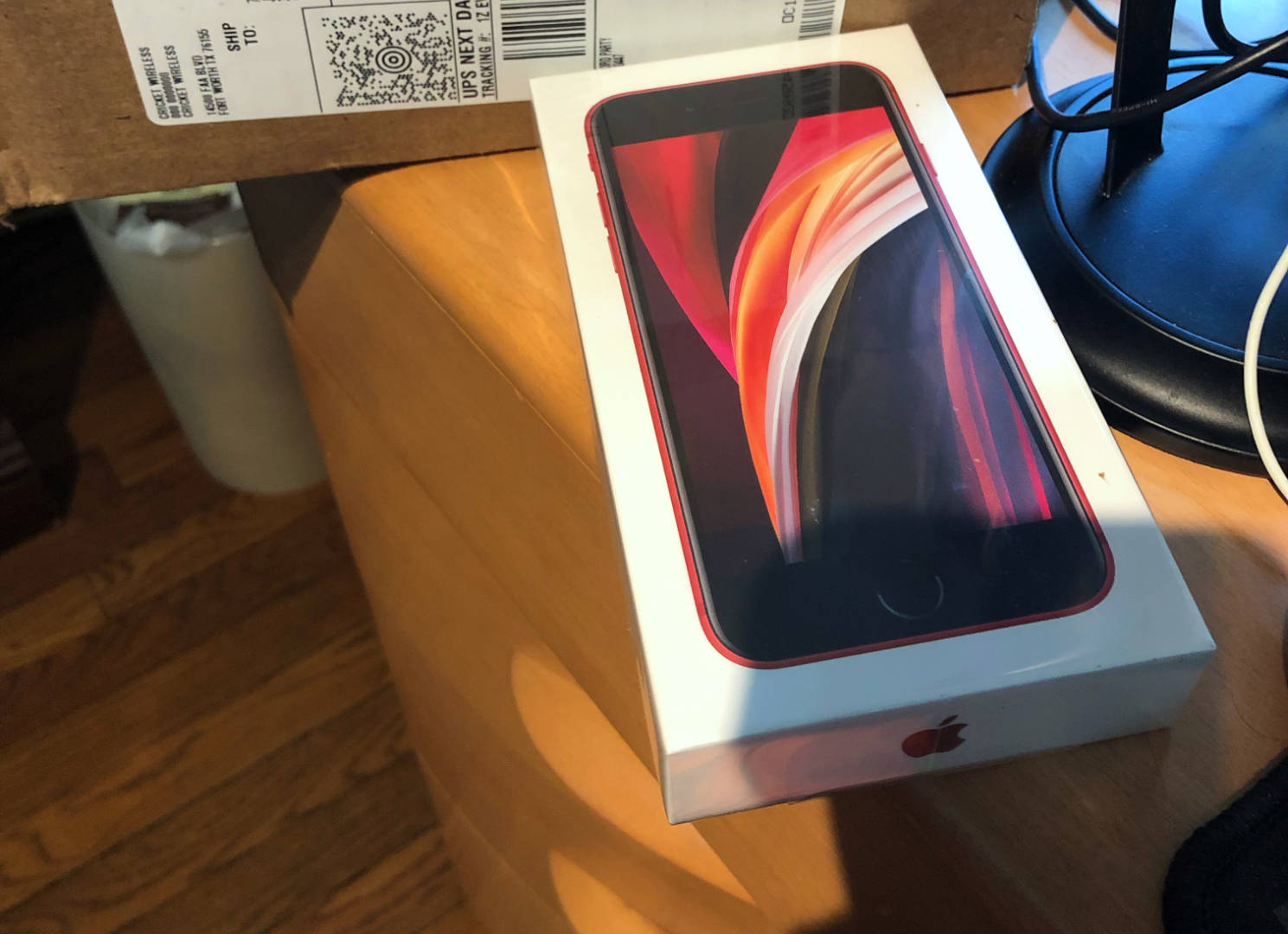 Jenni pre-paid $180 worth of service with Cricket Wireless ($25 referral link). By doing so, she received a brand new iPhone SE (2020) with 64GB of storage. The catch is that the phone will be locked to Cricket for at least 6 months of active service.
The best part of the deal is that Cricket's 2GB/month plan is just $30. The $180 service credit then yields precisely 6 months of service. So, in 6 months, she'll get the phone unlocked and move back to a less expensive MNVO.
That'll be 6 months of quality Cricket (AT&T) service with 2GB/month and a brand new iPhone SE for $180 total. That's a good deal, assuming it all goes according to plan!
Miscellaneous
We spent $20 on amusement for tickets to a local event celebrating antique, local cars along with a little wine sampling.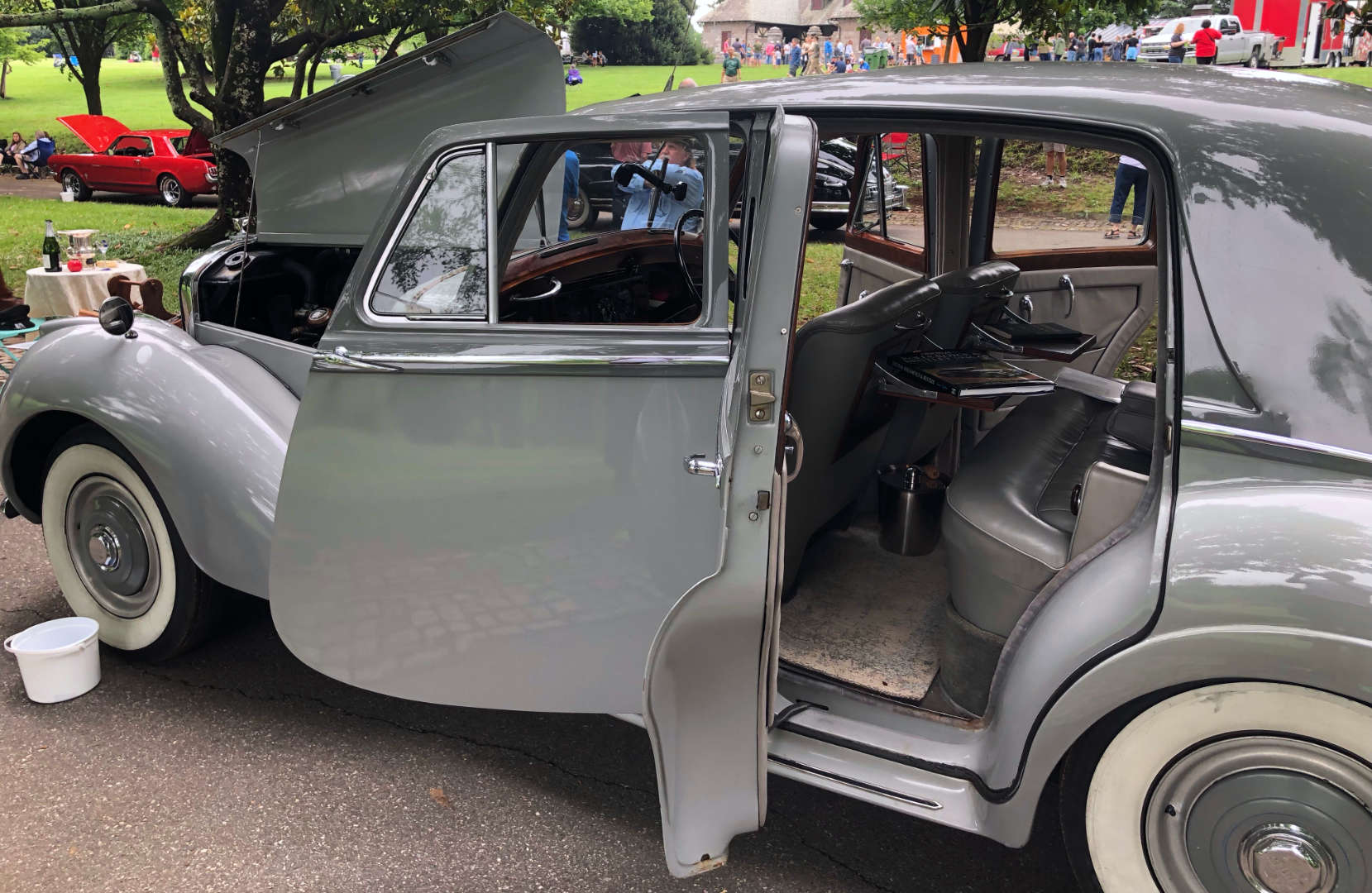 Jenni donated blood at our local Midas. It's a franchise and the local owner contributes back to the community by offering free oil changes. She opted for synthetic oil which added to the cost over "free". We spent $16 on auto service & parts.
We spent $35 on tolls. This is the amount charged whenever our toll pass drops below a certain level and reloads itself.
Chris's Hilton credit card got dinged with the annual fee. We attribute this $95 to hotels since the card is carried to get the free annual night along with some other bonuses.
Lastly, Chris made a trip up to the DC area to help his family. His dad had knee surgery and his mom had a packed work scheduled. He made the trip via Amtrak and the local metro to be at the hospital and assist. He spent $21 on the Amtrak and Metro tickets.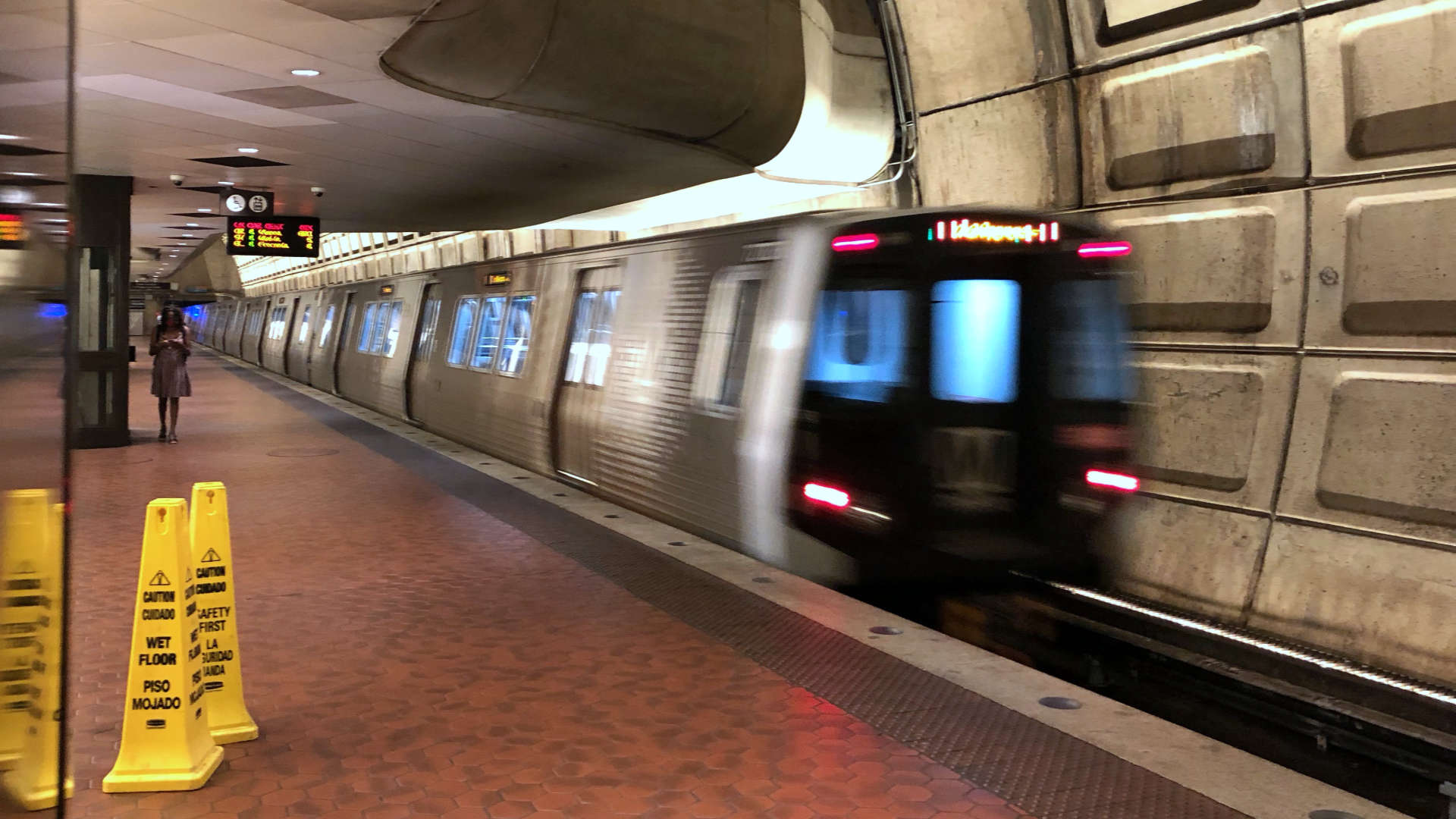 How Much We Work
We like to keep track of how much time we spend doing work that is paid. For Jenni, this is pretty easy as it's just her paycheck time. Chris manually tracks his hours consulting with Freshbooks (referral).
Our aim is to gradually reduce these hours.
So, how did June look compared to May?
| Month | Chris (Hours Worked) | Jenni (Hours Worked) |
| --- | --- | --- |
| May 2020 | 41 | 108 |
| Jun 2020 | 38 | 96 |
| Jul 2020 | 36 | 120 |
| Aug 2020 | 39 | 48 |
| Sep 2020 | 27 | 76 |
| Oct 2020 | 26 | 104 |
| Nov 2020 | 27 | 57 |
| Dec 2020 | 28 | 57 |
| Jan 2021 | 25 | 102 |
| Feb 2021 | 24 | 104 |
| Mar 2021 | 24 | 106 |
| Apr 2021 | 23 | 85 |
| May 2021 | 17 | 29.75 |
| Jun 2021 | 19 | 66 |
An average full-time job for two people would be about 347 hours.
We're nearly at a quarter of regular full-time work at 85 hours! We're higher than last month but getting closer to our goal.
2021 Theme Update: Discomfort
From Chris:
As I mentioned last time, I'll deliver a little update each month towards my Yearly Theme.
For 2021, I chose "Discomfort". This guiding word is a reminder for me to seek out challenges within life and stretch my comfort zone. It's my way of having a "new year resolution".
Here's what I'm going to work on in July:
Make progress on multiple trips (Arizona, California, Wisconsin plus perhaps Florida and Portugal later this year)
Catch up on a few needs for TicTocLife (we're falling behind on newsletters and posts!)
Clear out some of the odds and ends that are building up in our place from various projects and treasure hunts (my article on websites to sell stuff locally will be a good reminder!)
I think a lot of July is just going to be general catch up time where we're not out and about enjoying the summer!
I made good progress in June toward goals in the last update:
Our mortgage refinance is nearly complete (check out my post on when is it worth it to refinance?)
We've booked flights to Flagstaff, AZ (Grand Canyon and grandparents!) and Phoenix, AZ to Burbank, CA (friends!)
Finally went to my GP and got bloodwork done (all good!)
Big strides in our home renovation projects
Leveraged FIRE to be available to help my parents during my dad's knee surgery (and see them!) for a handful of days
With productive discomfort being my goal in 2021, I'm aiming to incorporate more healthy stress in my life.
Don't have a "Yearly Theme" for yourself? It's not too late to create one!
Net Worth Update
We don't like to focus on the net worth of writers in the personal finance community. However, we do understand it offers a little context to the writing for the reader.
You might better relate to someone with a net worth and earnings history more similar to yours.
We wrote up an extensive post on our earnings and net worth history that ranged from 2006 to 2018. We did it with an average income of $77K per person over the period we analyzed.
→ Related: How to Become a Millionaire in 10 Years (Debt to $1.2M at 33)
Account breakdown
The market keeps chugging along and so do our investments. From a high level, our assets and liabilities are shown in the data table below as of June 30, 2021.
| Description | Value (USD, $) |
| --- | --- |
| 401(k) | 739,769 |
| Brokerage | 878,345 |
| Roth IRA | 152,974 |
| HSA | 36,064 |
| Real Estate | 387,600 |
| Mortgage | (151,035) |
| Miscellaneous Assets | 10,750 |
| Checking & Savings | 39,429 |
| Net Worth | 2,093,896 |
Miscellaneous assets include specific investments we've made in physical assets (think collectibles)
Amounts do not reflect the value of the businesses Chris owns or their assets, which should appear as income to us over future years
Jenni's Prius is not included
Our net worth increased by about $47K.
The S&P 500 was up about 0.6% over the month of June while we were up about 2.2%. Considering a chunk of our assets aren't in the market (cash, real estate, etc.)—we had a great month!
We'll need net worth to bridge us to Social Security and Medicare in our 60s. After that, it'll just need to help fill the gap. We've reached the point that we've got about 50 years of expenses saved and invested at our current spending rate. That's pretty wild! If you missed it, check out Chris's post on retiring at 62 pros and cons as it pertains to Social Security in the US.
Net Worth History
June 2021 Donation Winner
In honor of Mental Health Awareness month in May, we chose to highlight organizations that focus on improving how mental health is discussed and treated.
We had 15 voters this month. The winner with 8 votes goes to NAMI of Central Virginia!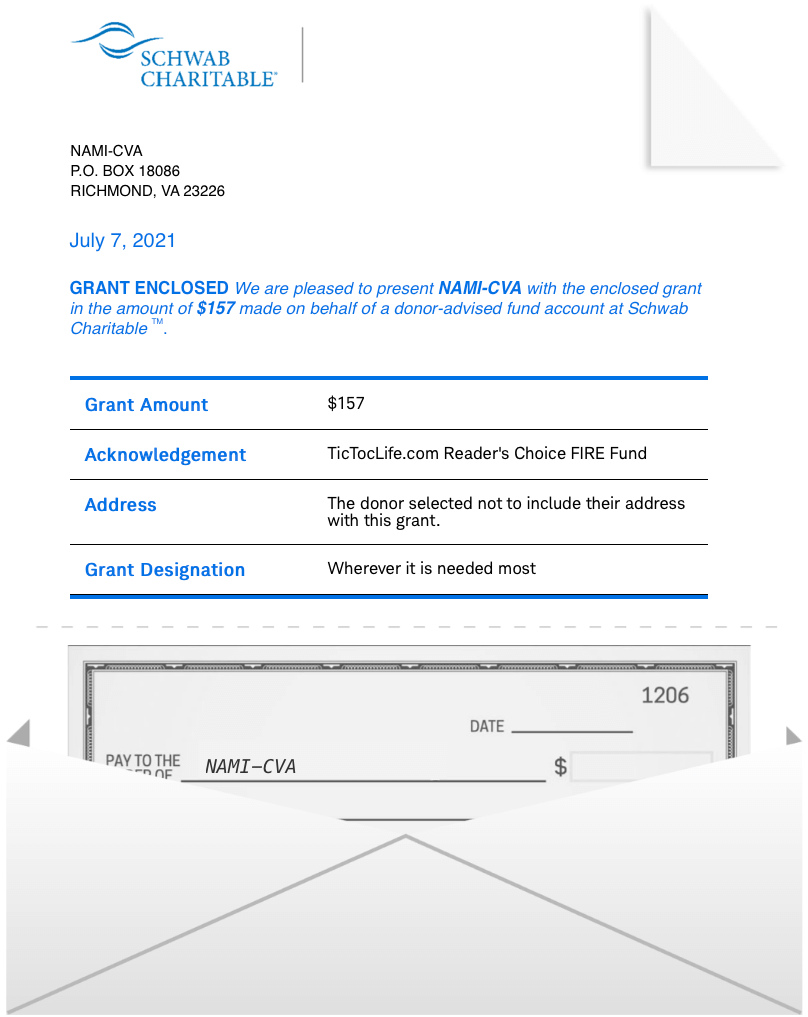 Our Reader's Fund seeks to leverage the principles of FIRE to build a lifetime of giving.
By the time we're near normal retirement age, it's easy to see how the fund could grow to $250K and donations would be in excess of $800/month! That's the power of FIRE and compound interest!
Thank you for your participation in the poll! If you would like to see changes to the way we display our candidates, let us know in the comments.
Polls are now open for our next round of candidates: LGBTQIA+ community nonprofits.
LGBTQIA+ Community Nonprofits
You may have noticed a blanket of rainbow colors during the month of June as businesses showed their support for Pride Month. All over the world, LBGTQIA+ organizations have worked hard to bring light to their fight and to have a real lasting change.
While Pride month has come and gone, we want to continue to support the many organizations that work hard to eliminate discrimination and promote equality in the LGBTQIA+ community.
We have chosen three organizations to consider for our monthly DAF donation that focus on protecting the rights of the LGBTQIA+ community. Each organization has excellent charity ratings and spends a majority of its revenue on its programs. Review each of these three and help us decide which organization to support by casting your vote.
Summaries below include a link to their Guidestar profile which details the nonprofit's operations and transparency.
1) The Trevor Project
Why? The Trevor Project reaches out to young people that need help where to spend their time, online. The Oscar-winning short film, Trevor, helped launch a national movement to combat the lack of resources available to young kids facing similar challenges as a member of the LBGT community. Now, these youth have several options to turn to through Trevor Lifeline when they need it the most.
Where? United States
What? Founded in 1998, The Trevor Project is the leading national nonprofit organization providing crisis intervention and suicide prevention services to the LGBTQ under 25.
Some of their life-saving, life-affirming programs to keep youth safe include:
Suicide prevention training programs and resources
Crisis Interventions: 24/7 lifeline, instant messaging or text
Community Resources: safe space social networking site, ambassadors, advocacy network and more
2) Side by Side
Why? Young adults need a supportive community to flourish. When there is nowhere to turn to at school, in the community, or even at home, it's not safe for our youth. Having an accepting community to turn to for emotional, physical, and advocacy support is what Side by Side is offering in the LBGTQIA+ community.
Where? Central Virginia
What? Side by Side is a nonprofit organization dedicated to creating a supportive community for youth that identify as LBGTQIA+ in Virginia. By providing support and education to the community, parents, and schools, Side by Side is creating an environment where LGBTQ+ youth can belong. They have created several programs which include:
Youth Support Groups
Local Youth Center
Housing Program
Parent & Caregive Support Groups
Mental Health Counseling
3) GLAAD
Why? Gay & Lesbian Alliance Against Defamation (GLAAD) was founded in 1985 in response to a defamatory article on HIV and AIDs in the New York Post. This started their media monitoring campaign with a small group of writers. Now this organization has chapters across the US and continues to change the culture and shape the media narrative of the entire LGBTQIA+ community.
Where? United States
What? GLAAD is a nonprofit media advocacy organization ensuring fair and inclusive representation of the LGBT community in the media. In their 2019 executive summary report Accelerating Acceptance, the surveys showed a drop in acceptance of LGBTQ people and that discrimination is increasing. GLADD is encouraged to bring this result around until there is 100% acceptance everywhere.
Some of their services include:
GLAAD Media Institute: builds core skills and techniques that trigger positive cultural change
GLAAD Media Reference Guide: for journalists to tell LGBTQ people's stories fairly and accurately
Nonprofit poll
After reviewing the LGBTQIA+ community nonprofits listed above, please take a moment to vote for which nonprofit you think will put funds to use in the best way.
This is your opportunity to guide our giving and participate in supporting these organizations.
(Having trouble using or seeing the poll above? Some reader tools or apps may not display it. View this page in a browser or use this link to our Reader Fund page which has a copy of the poll!)
Thank you for taking the time to vote!
One of our primary goals with TicTocLife is building a stream of giving within the FIRE community and that starts with knowledge.
Want to hear about the results? Signup for our free FIRE Insider newsletter! We send it out every few weeks and include the monthly poll results and donation winners. You can see an archive of the FIRE Insider and signup here!
What Does July 2021 Hold?
One thing is for sure about July—we're going to need a break from all the home renovation projects! Ha. We've got loads more to do around our hundred year old place, but nothing quite as pressing as June's projects.
Instead, we're going to work on travel planning for much of the rest of 2021. First, we're looking at trips to to Wisconsin to see friends, potentially connecting that with a trip to Florida (and perhaps a nearby warm island). Next, we've partially booked a trip to Arizona to see the Grand Canyon and Chris's grandparents. From there, we're headed to California to see friends. While out that way, we're considering another flight—perhaps—to Hawaii. We'll see!
And lastly, what might be our first international trip of 2021, is an adventure out to Europe. Portugal is on the short list and we're looking at late September or October.
We both hope that the pandemic continues to subside so that we can (relatively) safely enjoy the world again. No doubt, just like you. But ultimately, we've got to work with the information in front of us. After all, we can't get lost in the infinite possibilities of "what if something happens?".
---
What's July looking like for you?
Any big home improvement projects lined up?
Let us know in the comments or on Twitter!