Coming to you from arid Arizona, this is our monthly FIRE budget update for August, 2021! A funny thing about our experience in AZ so far—it's rained nearly everyday. It's not quite so arid in the Grand Canyon/Sedona area! But water is of course what makes Arizona's attraction possible! Most of our month was spent traveling which really blew a hole in our FIRE budget. We'll get into the details in a moment.
We also do a little review of nonprofits to inform our giving each month. We've reviewed three refugee nonprofits for our monthly grant that you direct! Be sure to cast your vote below!
During our last month's budget review, we looked at community healthcare nonprofits. Read on to find out the winner and see our poll for this month's grant!
In the Sankey diagram below, income on the left matches our expenses to the right.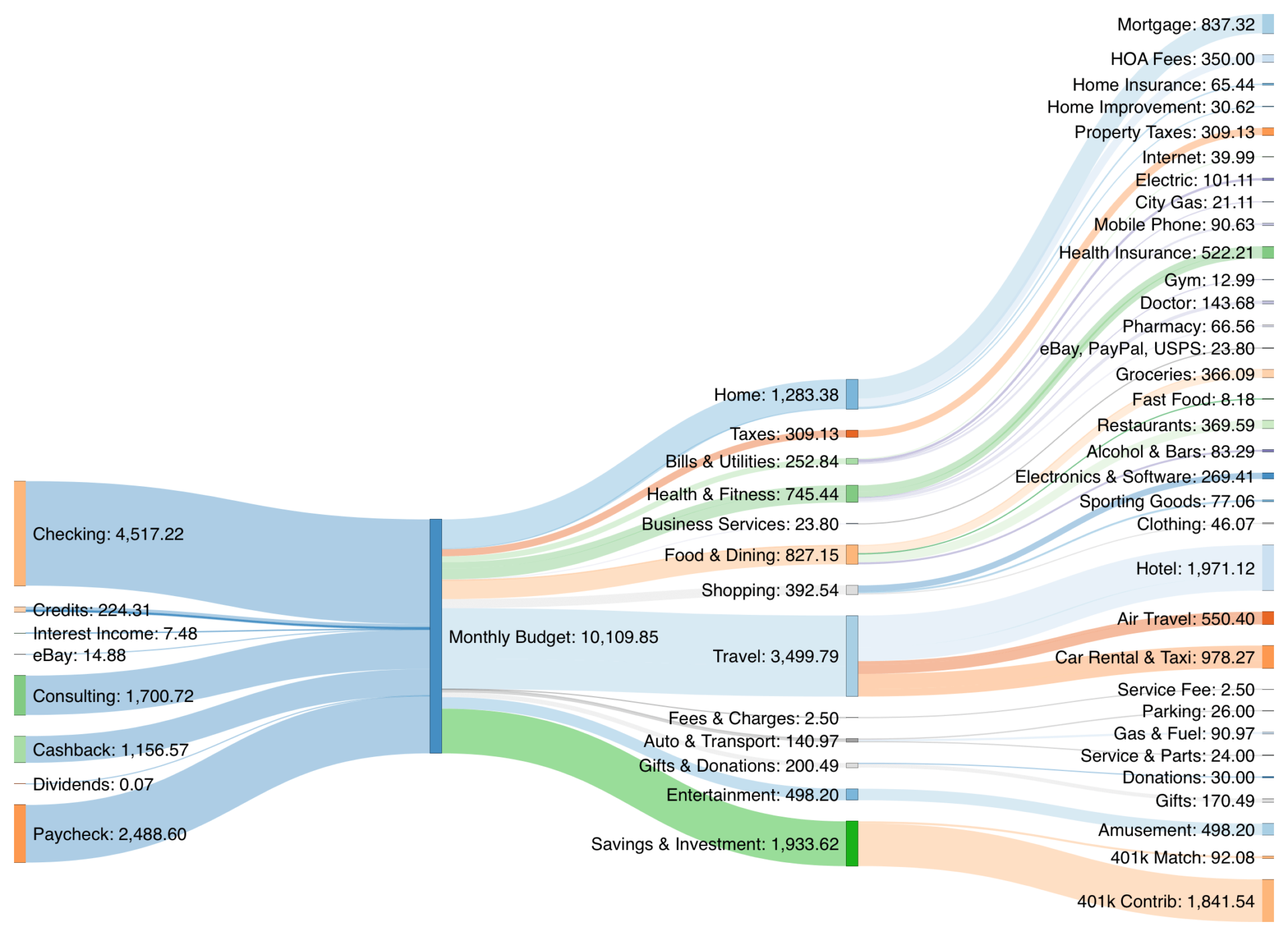 We'll run through the income and expense sources for the month and remark on any interesting items.
Income Summary
We have several sources of income and they tend to vary from month-to-month.
Most of our income is from Jenni's part-time pharmacist job and Chris's ongoing business operations—which is generally on autopilot with nearly passive income.
Part-time work
Jenni continues to work at a local pharmacy as needed.
Jenni's part-time pharmacy position earned her $2,489. Her earnings are higher than her hours worked for the month would suggest, but that's because she took 16 hours of vacation pay. She earned that vacation time when she was still working full time.
About $1,934 of her paycheck flowed through to 401(k) investments.
Chris's consulting work remains consistent—he provides digital strategy guidance for enterprise, government, and higher ed. He's whittled his client base down to just a few that work in meaningful areas (healthcare) or which provide significant fulfillment (mentoring).
Chris's business paid him $1,701.
We reveal just how many hours we work each month in the "how much we work" section below, too!
Other income
We earned $15 through eBay and online venues. Just a trickle this month from small electronics.
Chris received another significant cashback bonus from Brex, a fintech company competing in the online checking space. The $1,000 cashback bonus was earned for setting up a business merchant account through a partner company—which, notably, was free to do.
Chris also cashed out his Ibotta balance earned through local grocery store rebates for about $157.
In total, we earned about $1,157 in cashback bonuses this month. That's pretty amazing!
Dividends, interest, credits
No dividends this month! September should have some decent dividend earnings since the third quarter will be closing.
Our savings and checking accounts earned us $7.55 in interest.
The month ended with $224 in credits from two banks. These credits were a combination of Chase's pay yourself back promo (mostly used on our home improvement expenses from last month) and American Express's AMEX Offers.
We're not earning the Chase credits we once were, but still some! Between the Freedom card quarterly promos and a few other deals, we reloaded a few dozen dollars worth of points to use. That said, we're back to zero!
Transfers
Overall, we ended the month by taking $4,517 from checking to cover bills. Yikes!
Expense Summary
From our $10,110 monthly budget, we saved $1,934 this month. Sounds good until you realize we pulled $4,517 from checking to cover our budget shortfall.
That gives us a real savings rate of -34%. That's not great! We spent $2,583 more than we earned this month!
Considering our average FIRE budget for 2020 was about $3,405/month, we blew our target spending by a good margin. We spent about $7,928 on living expenses (even after removing business expenses and applying credits to the total)!
That's about 233% of our typical monthly FIRE budget. That's more than we expected, even considering our significant travel in August, but we'll see how it plays out in our annual budget review when 2021 ends.
Overall, we're less concerned with our budget as the pandemic continues and we try to protect our mental and physical health.
If you're curious what our typical annual budget looks like, check out the full FIRE budget review we did!
Let's get into the details of our spending for the month.
Travel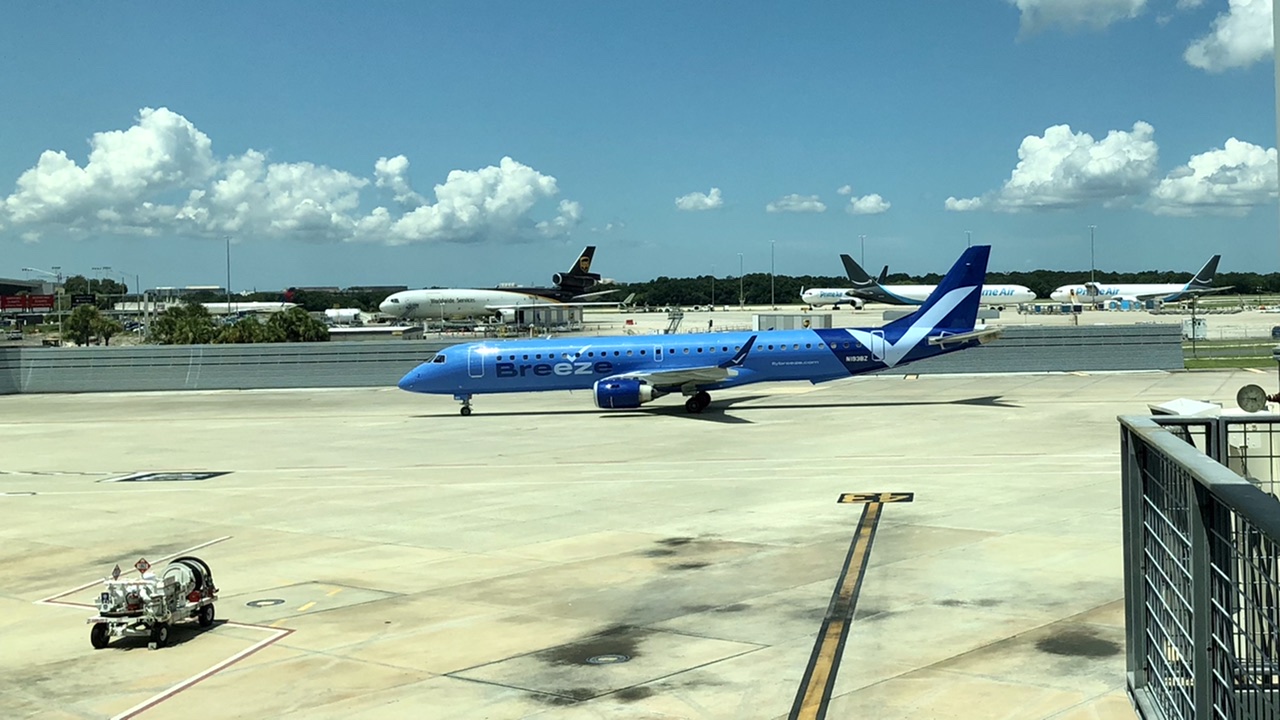 We spent late July through August 12 in Wisconsin and Florida visiting friends. Then, we left for Arizona on August 28. We'll be here through September 10. After Arizona, we're off to California until mid-September. We haven't quite figured out where we'll be after that, but there's a good chance it'll be Colorado visiting some fellow FIRE folks and enjoying more nature.
All that's to say, well, we've been traveling a lot and have more ahead of us!
August's expenses reflect a mix of that Wisconsin and Florida trip plus the early part of this Arizona trip.
In total, we blew $3,500 on travel throughout the month. That's close to our entire typical monthly budget!
This is where that went:
$978 on Car Rentals & Taxis: we rented a car in Florida for about a week and one here in Arizona (one way from Flagstaff to Phoenix) for nearly two weeks; we had a few small Uber/Lyft rides
$1,971 on Hotels: we stayed at a traditional B&B in Wisconsin; a huge AirBNB with pool, spa, and lanai with friends as well as a Hampton Inn for a few days in Florida; and for Arizona—a hotel in Flagstaff, Best Western near Williams, a lodge walking distance from the south rim of the Grand Canyon, an AirBNB at an Airstream RV south of Grand Canyon, and an AirBNB camping setup near Sedona
$550 on Air Travel: we flew the new airline Breeze Airways from Tampa, FL back to Virginia for $133; we paid $22 in redemption fees to American Airlines for our flight to Flagstaff, AZ (along with 16K AA reward miles); Jenni applied $395 of her new AMEX platinum annual fee to air travel expenses reflecting part of the purpose of the card.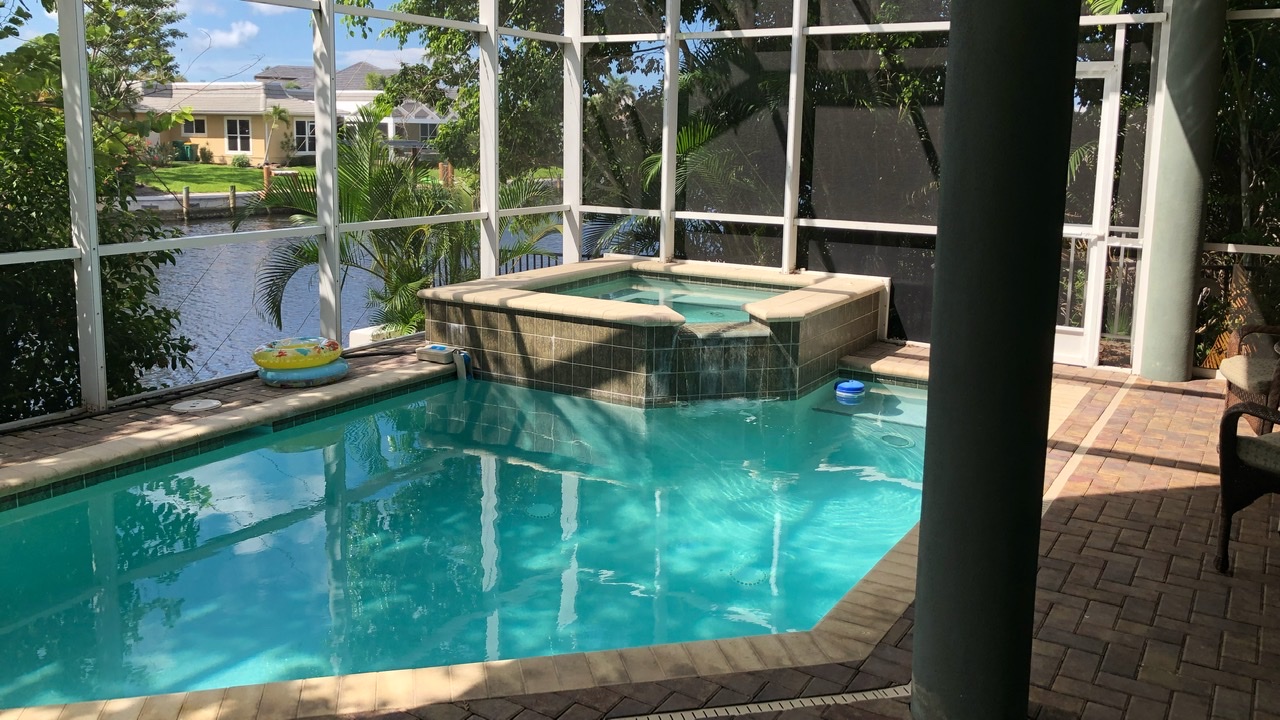 Trip Cost (Wisconsin & Florida)
We like to breakdown our total trip expenses. When planning our trip to Wisconsin, we noticed that flights connected in Florida so we decided to extend the trip with some time in Florida to take advantage of flying through anyway. We got to visit friends in both locations, too!
Now that our Wisconsin and Florida trips are complete, here's how the totals look (includes some expenses from July):
| Description | Cost ($) |
| --- | --- |
| RIC ➔ MKE tickets on Delta Airlines (2 adults) | 276.40 |
| $50 Delta Gift Card (paid for with an incidental credit years ago) | (50.00) |
| AMEX Business Platinum Airline Credit | (88.20) |
| WI: Door County B&B (3 nights) | 416.28 |
| WI: Restaurants | 184.04 |
| WI: Alcohol & Bars (including Wineries) | 43.24 |
| WI: Entertainment (Taliesin & Kayaking) | 332.70 |
| MKE ➔ TPA tickets on Frontier Airlines (2 adults) | 97.96 |
| MCO ➔ TPA Car Rental (1 day) | 75.01 |
| TPA Car Rental (6 days) | 166.71 |
| FL: Marco Island AirBNB (4 nights) | 566.59 |
| FL: Hotels (2 nights) | 206.19 |
| FL: Restaurants | 98.46 |
| FL: Groceries | 12.22 |
| FL: Entertainment (beach amenities) | 68.00 |
| FL: Gas (rental cars) | 59.00 |
| TPA ➔ RIC tickets on Breeze Airways (2 adults) | 133.00 |
| Uber, Lyft, and Taxis | 44.23 |
| Total | 2641.83 |
Over the course of the 13 day trip, we spent $2641.83. That's about $102 per person per day! That's a bit higher than some of our other recent trips, but we really packed in activities!
We'll break down our total trip expenses for Arizona, California, etc. next month!
Home
Our housing costs are broken down in our annual FIRE budget (mentioned above) in detail.
For the monthly breakdown, these details might be helpful to understand:
When evaluating whether to rent and invest or buy a home, we chose to own
We have a 30-year, fixed-rate mortgage below 4% interest
Our HOA is $350/month which covers some of our utilities (heating, water)
We chose the city life vs country life in a medium cost of living area
Housing-related expenses are consistent month-to-month. We have an escrow account with our mortgage provider which helps automate property taxes and home insurance payments.
We live in a 2 bedroom, 2 bath historic brick home built in the 1920s. It's part of a small cooperative.
This month, we spent about $31 on home improvement.
Our utility connections and breaker box are outside within small cabinets. Those cabinets are in desperate need of some paint and wood repair. We'll be working on that this fall, we picked up some of the supplies (paint) we'll need this month.
A roof leak update. If you've been following our blog for at least a handful of months, you might recall we had a difficult to resolve, slow roof leak for a few months. We were pretty sure that was resolved, but alas, it's returned! It probably never left, in fact.
Heavy rains mid-August while we were home revealed the leak in the same spot as it was before. The roofer came by with a desperate attempt to fix it—hoping it was a small hole found in the ridge cap somewhat nearby—but we're not confident. So, while we've been away, a bucket remains in our attic. Hopefully it's big enough to catch all the rain leaking in!
Health
We spent $745 on Health-related expenses this month—a little higher than normal.
Jenni had a dermatologist appointment where her out of pocket cost was $144 toward her deductible.
Jenni signed up for Peloton's fitness app membership for a month ($13) which is offset by an AMEX credit in the same amount.
Pharmacy expenses came in at $67 as Jenni refilled her meds.
The remainder was for health insurance for the two of us ($522) as we're both paying for individual plans.
Shopping
Chris took advantage of his AMEX Business Platinum semi-annual Dell credit by buying a laptop with the intention to resell it. The $100 credit + 10% helps offset the cost and reselling it helps reduce the true cost of the annual fee.
We spent $269 on electronics and software.
In preparation for our hiking trip, Jenni bought a camelback water bladder for her backpack and hiking shoes (for future use once the current ones wear out!).
Unrelated to our ongoing travel, Jenni also picked up a set of replacement bike brakes.
We spent $77 on sporting goods.
Back to trip preparation, Jenni picked up 3 dry fit shirts and a pair of pants on clearance.
We spent $46 on clothing.
In total, we spent $393 on shopping expenses.
Food & Dining
Our grocery spending remains on a consistent trajectory in line with what we'd like to see. This month's expenses include some of our travel food. We tend to try to avoid restaurants and cook in hotels wherever possible due to dietary restrictions, cost, and increased flexibility. That said, we still go out plenty!
We spent $366 on groceries.
We used Chase's pay-yourself-back with points to get about $6 in grocery credits.
→ Related: Want to see how to save money on groceries in detail?
Restaurants, Fast Food, Alcohol
Despite trying to keep most of our travel meals to grab-and-go grocery food, we still visit plenty of restaurants. Paying for restaurant checks are also often used as a "thanks" if we're staying with friends or family while traveling.
Our restaurant spending was mega high at $370!
We earned back $25 in AMEX credits.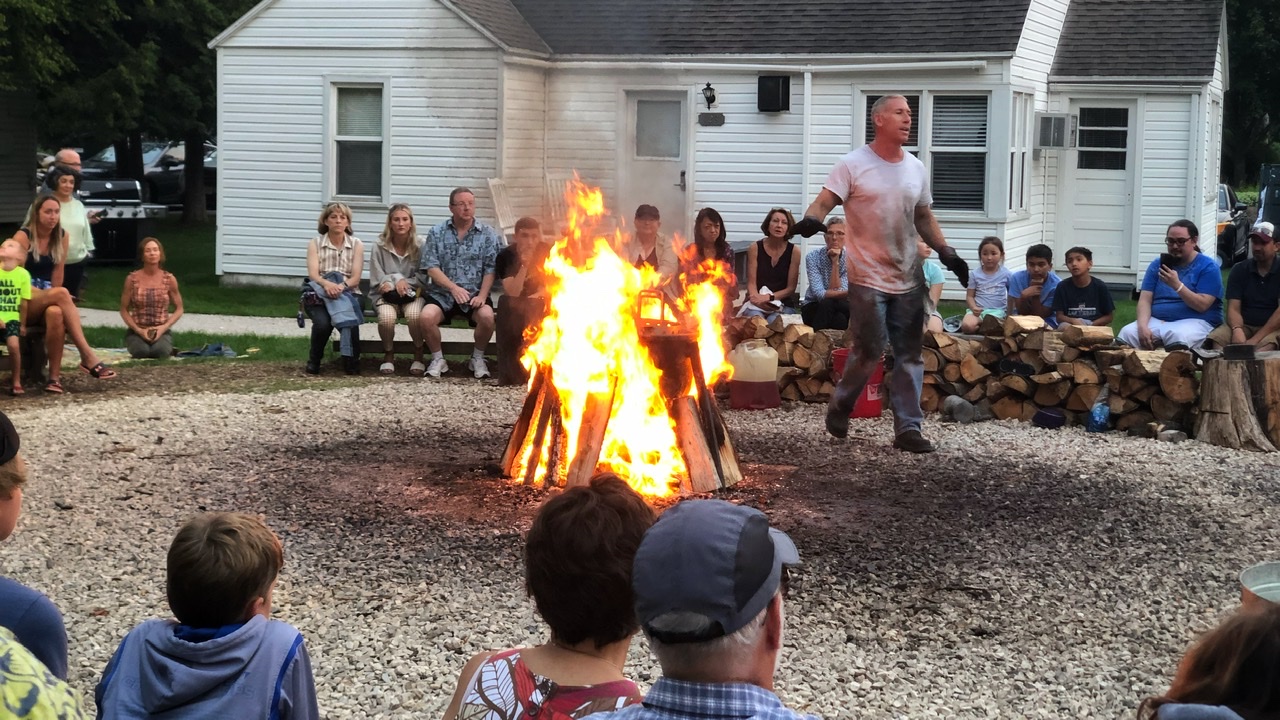 A couple coffee shop visits set us back about $8 in fast food.
We finally visited an unassuming speakeasy-style cocktail bar close to our home with good friends. Combined with drinks out during our travels, our alcohol and bars tab hit $83 this month!
Gifts
We bought a small stuffed otter to go along with the gift of Family Membership to our local Nature Center for Jenni's nephew. We like to give gifts that support local businesses and give a give a gift of experience too.
Jenni attributed $100 of her annual AMEX Platinum fee as a gift expense in hopes of using the $100 Saks 5th Avenue credit towards gifts in the future.
We spent about $170 on gifts this month.
Donations
Jenni made a direct donations of totaling $30. $5 to Virginia Public Media and $25 to a victim of sexual assault, a cause very important to her sister.
And this blog's reader donation fund continues to grow—more details on this month's grant below!
Utilities
Being away and turning the AC to a higher temp helped lower our electrical bill slightly.
We spent a just over $101 on electric this month.
In typical fashion, we spent almost $21 on city services (cooking gas, wastewater).
Our Comcast Internet bill rang in at our standard $40 for internet service. It's about 120mbps, plenty fast.
Chris's 1-year FreedomPop SIM card expired at the end of August. He purchased a new 1-year SIM card from Boost Mobile through a discount promotion. It comes with unlimited minutes/txts and 2GB of data per month—twice what he had before! We spent about $91 on mobile phone service. That's less than $8/month for cell service!
We don't have any television service.
Amusement
We spent $498 on entertainment & amusement for a variety of adventures throughout the month! Though of course we also cherished all the free adventure we could find.
In Wisconsin, we kayaked Lake Michigan with friends. Cliff diving and cliff cave exploring were the highlights!
While we were in the Milwaukee area, we visited nearby Taliesin. That's Frank Lloyd Wright's original teaching studio and home. It's a real testament to his architectural influence throughout the US. The guided tour was quite expensive but also a bucket list item for Chris.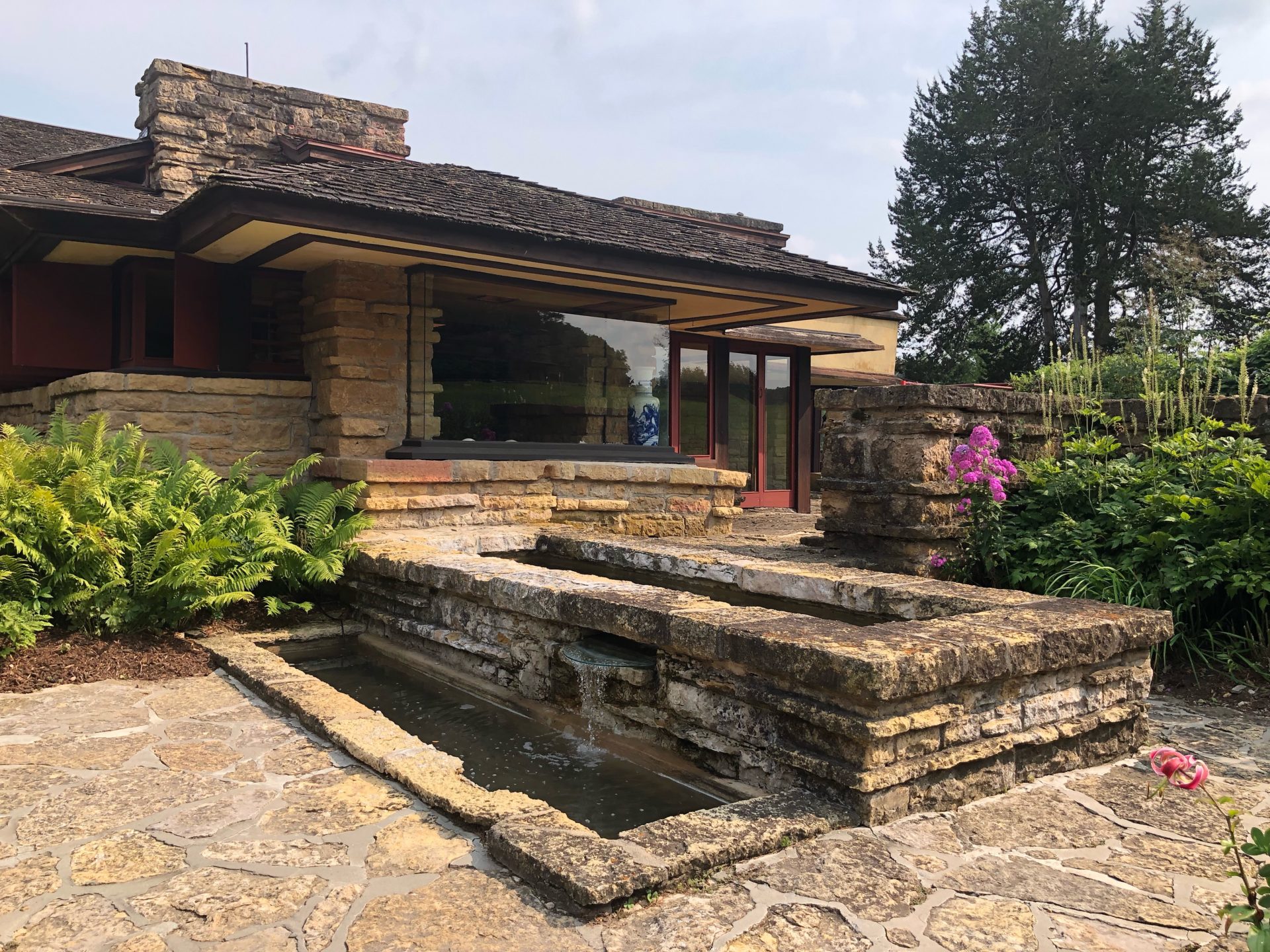 Down in Florida, we rented beach amenities to make the blinding sun more tolerable and the beach generally more enjoyable.
We purchased an NPS annual pass to more efficiently enjoy our national parks.
Lastly, we visited our local science museum with family during their special dinosaur exhibit. The young nephews made it all the more fun!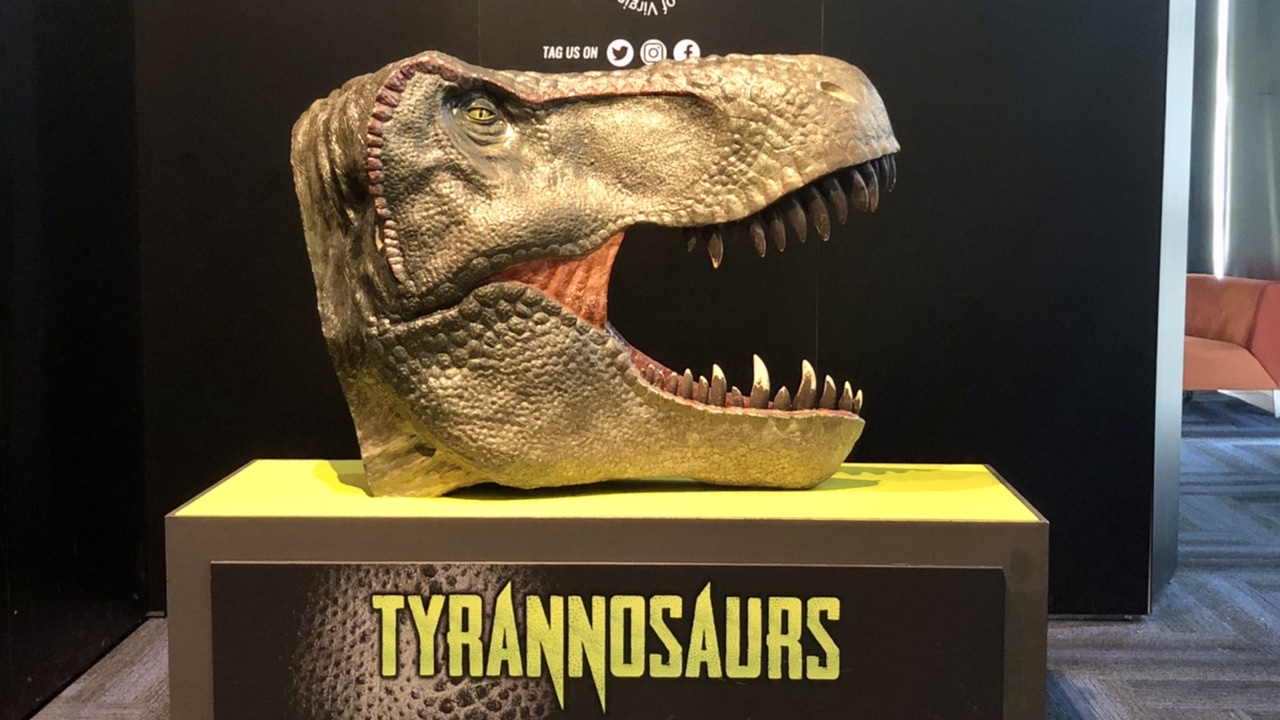 Auto & Transport
We spent about $91 on gas & fuel, mostly on rental car fill ups.
Parking came in at $26 this month. That's for various nature or beach parks we visited while traveling.
Jenni's Prius was due for our annual safety inspection in Virginia. One of our rental cars had the tire pressure in two tires between 55 and 70 PSI (!!), way beyond what's safe. We spent a few bucks using an air pump at a gas station to remedy that. We spent $24 on service and parts.
Miscellaneous
Sometimes you've got to spend money to make money. We spent $24 on business services this month. That's all related to eBay and online sales we made recently (shipping, fees, etc.).
How Much We Work
We like to keep track of how much time we spend doing work that is paid. For Jenni, this is pretty easy as it's just her paycheck time. Chris manually tracks his hours consulting with Freshbooks (referral).
Our aim is to gradually reduce these hours.
So, how did August look compared to July?
| Month | Chris (Hours Worked) | Jenni (Hours Worked) |
| --- | --- | --- |
| May 2020 | 41 | 108 |
| Jun 2020 | 38 | 96 |
| Jul 2020 | 36 | 120 |
| Aug 2020 | 39 | 48 |
| Sep 2020 | 27 | 76 |
| Oct 2020 | 26 | 104 |
| Nov 2020 | 27 | 57 |
| Dec 2020 | 28 | 57 |
| Jan 2021 | 25 | 102 |
| Feb 2021 | 24 | 104 |
| Mar 2021 | 24 | 106 |
| Apr 2021 | 23 | 85 |
| May 2021 | 17 | 29.75 |
| Jun 2021 | 19 | 66 |
| Jul 2021 | 21 | 30.25 |
| Aug 2021 | 23 | 16.5 |
An average full-time job for two people would be about 347 hours.
We're nearly at a ninth of regular full-time work at 39.5 hours! That's our lowest yet.
2021 Theme Update: Discomfort
From Chris:
I've delivered a little update each month towards my Yearly Theme.
For 2021, I chose "Discomfort". This guiding word is a reminder for me to seek out challenges within life and stretch my comfort zone. It's my way of having a "new year resolution".
Here's what I'm going to work on in September:
Be introspective—while much of August's travel was focused on the world around me, in September I want to think a little more about myself and my own life goals
Avoid the busyness of doing—as a nod to a friend's post on hiding in the doing and to my continued difficulty in finding focus for the "now", I'd like to redouble my efforts to work on this weakness
It's a short list for September, but that's intentional. This two discomforting ideas are significant for me and make me quite uncomfortable. I need to get past them both or at least find some solace in accepting them.
I made some progress in August toward goals in the last update:
Despite flight cancelations, rescheduling, and nearly getting kicked out of our AirBNB in Florida due to a miscommunication—I didn't let stress steal the day from me
I focused on the people I was with, the experiences we were having, or the sight in front of my eyes as we traveled—I took it in and prioritized the now
I still have trouble thinking about whatever the next activity or scheduled item is rather than being present, but I'm fighting this habit
With productive discomfort being my goal in 2021, I'm aiming to incorporate more healthy stress in my life.
Don't have a "Yearly Theme" for yourself? It's not too late to create one!
Net Worth Update
We don't like to focus on the net worth of writers in the personal finance community. However, we do understand it offers a little context to the writing for the reader.
You might better relate to someone with a net worth and earnings history more similar to yours.
We wrote up an extensive post on our earnings and net worth history that ranged from 2006 to 2018. We did it with an average income of $77K per person over the period we analyzed.
→ Related: How to Become a Millionaire in 10 Years (Debt to $1.2M at 33)
Account breakdown
The market keeps chugging along and so do our investments. From a high level, our assets and liabilities are shown in the data table below as of August 31, 2021.
| Description | Value (USD, $) |
| --- | --- |
| 401(k) | 765,034 |
| Brokerage | 905,439 |
| Roth IRA | 156,895 |
| HSA | 36,696 |
| Real Estate | 367,400 |
| Mortgage | (150,272) |
| Miscellaneous Assets | 10,750 |
| Checking & Savings | 38,819 |
| Net Worth | 2,130,761 |
Miscellaneous assets include specific investments we've made in physical assets (think collectibles)
Amounts do not reflect the value of the businesses Chris owns or their assets, which should appear as income to us over future years
Jenni's Prius is not included
Our net worth decreased by nearly $2K.
The S&P 500 was up about 2.9% over the month of August while we were up about 1.8%. We're lagging the market, but of course we also spent a good chunk of money this month. Additionally, we had another large dip in the estimated value of our real estate that accounts for some of the discrepancy.
Net Worth History
July 2021 Donation Winner
To recognize the ongoing efforts to fight the pandemic across the world, we chose organizations that focus on keeping communities healthy and safe. We all deserve to be healthy and we can work together to achieve that goal.
We had 31 voters this month. The winner with 20 votes goes to HealthCorps! This organization has been providing masks and thermometers in urban and rural areas as well as providing food and wellness resources for students and faculty. To make their programs more accessible, they transitioned their programs to a digital platform.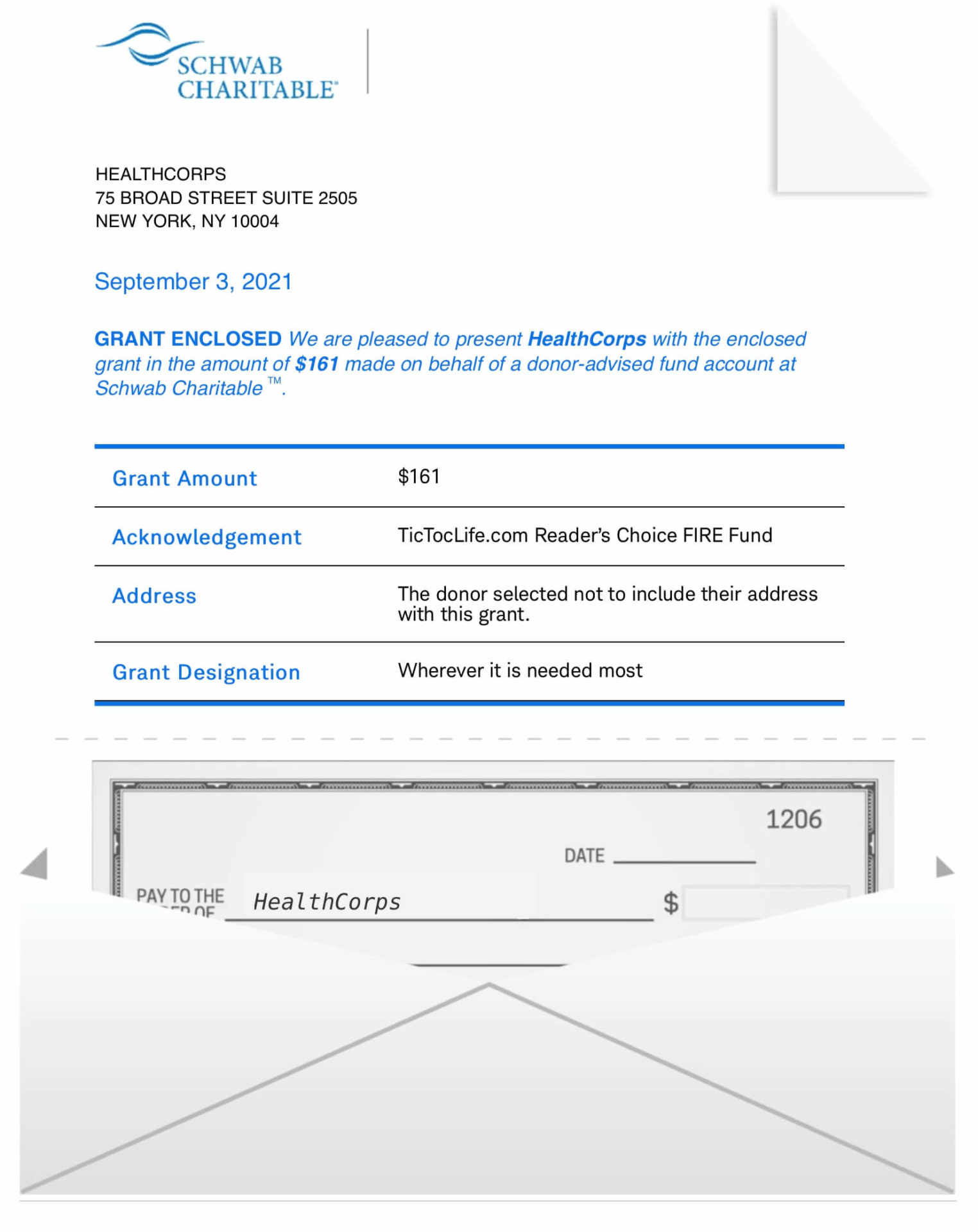 Our Reader's Fund seeks to leverage the principles of FIRE to build a lifetime of giving.
By the time we're near normal retirement age, it's easy to see how the fund could grow to $250K and donations would be in excess of $800/month! That's the power of FIRE and compound interest!
Thank you for your participation in our polls over the last 13 months. We've given over $1000 to deserving charities with your help in deciding which organizations to donate to.
We are excited to enter the second year of our Reader's Choice FIRE Fund poll! If you would like to see changes to the way we display our candidates or have suggestions for charity categories, let us know in the comments.
Polls are now open for our next round of candidates: Humanitarian Aid for Afghans
Humanitarian Aid for Afghans
People around the world are watching in terror as the events in Afghanistan unfold. Many Afghans are fleeing to other countries, such as the United States, on temporary humanitarian grounds. They are on parole while they finish or start their immigration visa. In the meantime, these families are not automatically eligible for resettlement assistance offered by the U.S. Resettlement organizations are seeking aid to help with those fleeing Afghanistan.
We have chosen three organizations to consider for our monthly DAF donation that focus on humanitarian resettlement providing aid to Afghans. Each organization has excellent charity ratings and spends a majority of its revenue on its programs. Review each of these three and help us decide which organization to support by casting your vote.
Summaries below include a link to their Guidestar profile which details the nonprofit's operations and transparency.
1)

Cooperative for Assistance and Relief Everywhere, Inc. (CARE)
Why? Refuges are in need of assistance and may not be eligible for a while. This organization recognizes this and seeks to help aid those fleeing their countries. They are actively offering cash to Afghan families as well as hygiene kits to prevent disease transmission. In addition, they are committed to staying in Afghanistan offering humanitarian efforts as long as they can.
Where? Globally
What? Cooperative Assitance and Relieft Everywhere, Inc is a nonprofit organization whose mission is to save lives, defeat poverty, and achieve social justice. Their main focus is on women in children who need help the most. Their crisis response teams are currently active in over 20 countries, including Afghanistan. They are helping refugees who may be unable to seek U.S. refugee financial and housing assistance. With each donation, CARE is dedicated to increase access to:
Health services
Nutritional services and treatment for malnutrition
Cash for food
Shelter materials and other non-food relief items
Education services
Cross-border support as possible and needed for displaced people seeking shelter in neighboring countries
2) Global Giving
Why? Global Giving connects donors to nonprofits around the world. They are the largest global crowdfunding community for social good. One of their many funds is in support Afghans fleeing their country.
Where? Globally
What? Global Giving is a nonprofit organizations that supports locally-led organizations around the world. Every organization is rigorously vetted so donations are well spent. Current donations are supporting:
Displaced Afghan families
Emergency aid
Protecting journalists
Aid for victims of terrorist attacks
Emergency evacuation relief
3) HIAS Inc.
Why? HIAS has been helping refugees and immigrants since 1881. They have a long history of helping refugees escape persecution and reunite with family to help them build new lives in safety and freedom. HIAS helps arriving Afghans have access to opportunities so they may start their lives in safety in their new American communities.
Where? United States, Venezuela, Colombia, Kenya, Greece, Mexico
What? The HIAS Inc. aka Hebrew Immigrant Aid Society is a resettlement organization helping with the 50,000 or more Afghans escaping Afghanistan and seeking refugee in the United States. Their teams are currently set up in Fort Lee, Virginia helping to process individuals. They are ready to send more staff to staging areas as they open up. HIAS also works through its network of affiliates to provide housing and resettlement assistance.
Nonprofit poll
After reviewing the organizations offering Humanitarian Aid for Afghans listed above, please take a moment to vote for which nonprofit you think will put funds to use in the best way.
(Having trouble using or seeing the poll above? Some reader tools or apps may not display it. View this page in a browser or use this link to our Reader Fund page which has a copy of the poll!)
Thank you for taking the time to vote!
One of our primary goals with TicTocLife is building a stream of giving within the FIRE community and that starts with knowledge.
Want to hear about the results? Signup for our free FIRE Insider newsletter! We send it out every few weeks and include the monthly poll results and donation winners. You can see an archive of the FIRE Insider and signup here!
What Does September 2021 Hold?
September has already kicked off with lots of hiking and outdoors time here in Arizona! We did a partial hike into Grand Canyon—nearly 11 miles round trip on our longest route to Indiana Garden on Bright Angel Trail! Wide open spaces make for a very different experience in nature from Virginia's dense greenery.
We'll be visiting Chris's grandparents in the Phoenix after slowing making our way down through Sedona from the Grand Canyon. After spending a handful of quality time days with them, we'll fly out to Burbank, CA to visit old friends for a few days. From there, hopefully it'll be a trip to Colorado on the way back to Virginia where we might spot a few other FIRE folks you may be familiar with!
Once this trip is all wrapped up, it'll be catchup time at home. Hopefully we'll not be returning to a worse roof leak than we left, but that'll likely be one of the many tasks to handle as we get back into our home routines. Hypothetically, the bank won't have kicked us out of the house since, despite their insistence (see our wealth vs income article), we can still afford the mortgage payments!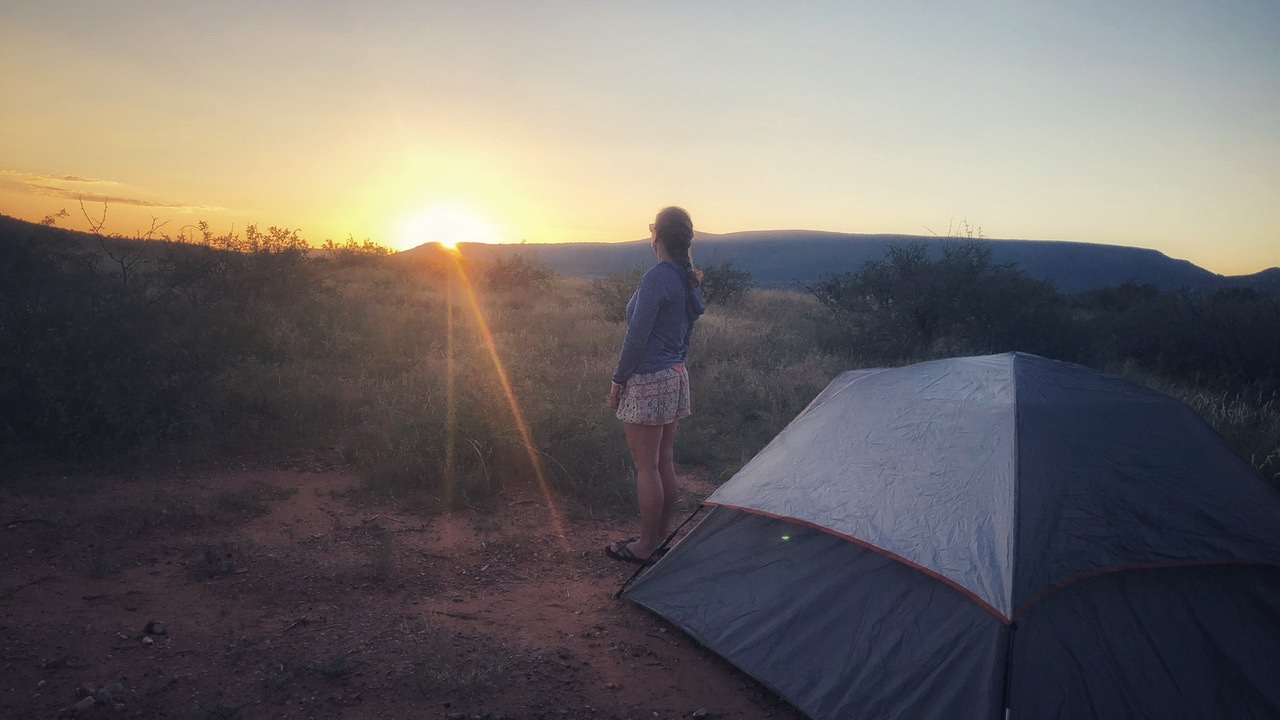 ---
How's August looking for you?
With the Delta variant are you curbing some of your travel?
Let us know in the comments or on Twitter!