October is a beautiful time of year when the cooler weather makes the outdoors much more enjoyable and the colors of the changing leaves make it a sight to see. Chris and Jenni both got to enjoy time in nature this month, both at home and in the mountains.
As Chris prepared for a solo bike trip, Jenni worked on a few home repairs and upgrades. We celebrated the season with the traditional visit to the pumpkin patch and a haunted ghost tour. We even had time to catch up on our writing on here!
We also do a little review of nonprofits to inform our giving each month. We've reviewed three nonprofits supporting hunger relief for our monthly grant that you direct! Be sure to cast your vote below!
During our last month's budget review, we looked at support for American Veterans. Read on to find out the winner and see our poll for this month's grant!
Now, on to this month's budget review! We are still slightly over our FIRE budget (compared to last month). We saved 36% of our income and thanks to the improving stock market. We had the biggest net worth increase in the year since April!
In the Sankey diagram below, the income on the left matches our expenses to the right.
We'll run through the income and expense sources for the month and remark on any interesting items.
Income Summary
We have several sources of income and they tend to vary from month-to-month.
Most of our income is from Jenni's part-time pharmacist job and Chris's ongoing business operations—which is generally on autopilot with nearly passive income.
Part-time work
Jenni continues to work at a local pharmacy as needed.
Her part-time pharmacy position earned her $4,424.
Her earnings are higher than they've been lately. Her as-needed role kicked into high gear over the past few weeks. She was called in for vacation coverage as well as an unexpected sick leave. In addition, October happens to be a three-week paycheck month.
Chris's consulting work remains consistent—he provides digital strategy guidance for enterprise, government, and higher ed. He's whittled his client base down to just a few that work in meaningful areas (healthcare) or which provide significant fulfillment (mentoring).
Chris's business paid him $1,701.
We reveal just how many hours we work each month in the "how much we work" section below, too!
Other income
We both had a small amount of income from alternative sources this month.
Jenni participated in a vaccine survey and received a $20 Visa gift card.
Chris made a couple of eBay sales which earned about $90.
Dividends, interest, credits
We earned nearly $211 in dividends this month!
Our savings and checking accounts earned us $6.90 in interest.
The month ended with $188 in credits from various sources.
AMEX Offers earned us $50 for buying audiobooks, food, and alcohol. We cashed out our Swagbucks at a discounted redemption rate for a $25 Visa gift card. We earned these Swagbucks by buying four bottles of wine (see Alcohol & Bars below). Jenni also cashed out her Ibotta account for a total of $62.71 cashback from groceries.
Jenni negotiated a $50 partial refund for minor damage on her new standing desk.
Transfers
Overall, we ended the month by taking $644 from checking to cover bills.
Expense Summary
From our $7,284 monthly budget, we saved $2,608 this month.
That gives us a savings rate of 36%. This is a more typical savings rate than what it has been lately.
Considering our average FIRE budget for 2020 was about $3,405/month, we were over our target spending by a good margin. We spent about $4,653 on living expenses.
That's 136% of our typical monthly FIRE budget. This month we had some travel expenses, minor home repairs, and a furniture purchase that elevated our budget.
As we approach the end of the year, we are getting closer and closer to seeing how well we stuck to our FIRE budget. We will be sure to do a full review at the beginning of next year.
If you're curious what our typical annual budget looks like, check out the full FIRE budget review we did!
Let's get into the details of our spending for the month.
Travel
October was a slower month for traveling but Chris did take a short road trip. He packed up his mountain bike, jumped into the Prius, and headed into the mountains.
His plan was to stay at hotels but his college buddy convinced him to stay over for at least one night.
For the other nights, he redeemed hotel points and paid for another hotel along the Virginia Creeper Trail.
Our only travel expenses were for lodging. In total, we spent $533 on travel.
This is what that looks like:
$175 for a two nights stay along the Creeper Trail
$358 for a portion of our summer 2022 family beach house rental
$89 for Jenni's annual IHG credit card fee (which earns a free hotel night)
Home
Our housing costs are broken down in our annual FIRE budget (mentioned above) in detail.
For the monthly breakdown, these details might be helpful to understand:
When evaluating whether to rent and invest or buy a home, we chose to own
We have a 30-year, fixed-rate mortgage below 4% interest
Our HOA is $350/month which covers some of our utilities (heating, water)
We chose the city life vs country life in a medium cost of living area
Housing-related expenses are consistent month-to-month. We have an escrow account with our mortgage provider which helps automate property taxes and home insurance payments.
We live in a 2 bedroom, 2 bath historic brick home built in the 1920s. It's part of a small cooperative.
Home improvement
While we didn't make any progress on the roof leak, not for lack of trying, Jenni did complete the repairs on the outdoor cabinet. She replaced the hinge hardware and fixed the damaged wood on the cabinet door. She gave the whole thing a sanding the best she could, scraping off years of paint, and finished with a fresh coat of primer and paint.
We previously purchased the paint in August for $30 but needed a few more supplies to get the job done right. The sanding pads and wood filler will be used in future home projects as well. We spent $24 on extra supplies for this project.
For now, the roof seems to be holding but the wood in the attic is definitely getting wet if not actively dripping. Our bucket in the attic will stay there for a little while longer until it's properly looked at.
If we can only get the roofers to actually come out!
Furnishings
Jenni's been testing out the idea of having a standing desk set up. She elevated her current workstation using a few boxes and raising the monitors on their arms. She liked the ability to sit or stand.
She jumped on a Slickdeals promo for a motorized standing desk. Although she was not familiar with the company VORII, the reviews were good and they had a 30-day free return window.
For $196, it was a steal. She did find some minor corner damage but their customer support refunded her $50, bringing the desk to $146.
We snagged another great deal at our local auction house. We paid $23 for two camping chairs. No more borrowing the neighbors every time we go to an outdoor event.
Jenni is gearing up to reupholster our mid-century modern dining room chair set. We almost have the fabric picked out but we've spent $13 on fabric swatches so far. She needs a few more supplies for this project and hopes to have it finished before the end of the year.
And finally, we spent $13 on a new mattress pad.
In total, furnishings added up to about $245.
Health
We spent $808 on Health-related expenses this month—a little higher than normal.
Jenni renewed her rock climbing membership for $60 a month. This gives her unlimited access and a guest pass each month. Her fitness group also met up for a weekly outdoor class ($30).
Pharmacy expenses came in at $47. Chris doesn't regularly take prescription medications, therefore, doesn't carry prescription insurance. However, he received personal at-home care service via Jenni, administering his annual flu shot for $28. Jenni filled two prescriptions for $19.
Chris finally made it to the eye doctor, after 5 years. He is happy to report healthy eyes and no changes in his prescription. Since we get our glasses online at Zenni Optical or Goggles4U, we don't carry eye insurance either. This was $149 for the eye doc.
The remainder was for health insurance for the two of us ($522) as we're both paying for individual plans.
Shopping
Jenni upgraded her wardrobe with an end-of-season sale. She spent $58 on clothing items. She also replenished her makeup supply using an Amazon gift card for $31.
Lastly, we are trying out audiobooks with a subscription to Audible for $14.95. One of the benefits of the AMEX Platinum card is a $200 credit to an online platform of your choice.
We spent $104 on shopping.
Food & Dining
Our grocery expenses seem higher than normal because we have applied $500 to a Kroger gift card to max out another credit card promotion from Chase (5% cashback grocery stores). This card will end up being used over the next few months.
We both submitted a few grocery receipts to Ibotta to be cashed out later this year.
We spent $749 on groceries.
→ Related: Want to see how to save money on groceries in detail?
Restaurants, Fast Food, Alcohol
Our few visits to restaurants totaled to $116. While we try not to eat out too much, we reserve restaurants for times when we are away from home, sharing a meal with friends, or there is a good promotion we can't pass up. We utilized two AMEX Offers at restaurants for a $20 credit.
We spent a whopping $1.91 on take-out. The true total was $16.91 after an UberEats Promo plus we applied $15 Uber cash again from the AMEX Platinum card. One of the benefits of the AMEX Platinum card is $200 of Uber Cash for orders with Uber Eats or rides with Uber.
And then we had one more promotion for our food and dining budget which turned out to be a moneymaker. AMEX Offers had one for 'spend $30 at Winc.com and get $15 back'. We put this in combination with another offer from Swagbucks for the equivalent of $30 back with a $30 purchase. This left us with a net positive of $13.80 plus four bottles of wine.
Jenni joined our local women's club. This club meets monthly where they introduce local businesses and eat and drink wine for a $40 annual membership. It's an excellent way for her to expand her social index fund and meet the neighbors.
Jenni had a cider at a local festival while Chris was away for $7.
We spent a total of $78 on alcohol.
One nice thing about supporting restaurants and small businesses when paying with our AmEx Platinum, we get 15x membership rewards points!
Gifts
In anticipation of the holiday gatherings, we purchased a small "Thank you for hosting" gift for Thanksgiving.
We spent about $11 on gifts this month.
Donations
Jenni made direct donations totaling $8: $5 to Virginia Public Media and $3 to help a local festival stay fee-free.
Utilities
Being away and turning the AC to a higher temp helped lower our electrical bill slightly.
We spent $63 on electricity this month. With the weather cooling off and our community radiators turned on, our A/C usage will dramatically drop lowering our electric bill.
In typical fashion, we spent almost $21 on city services (cooking gas, wastewater).
Our Comcast Internet bill rang in at our standard $40 for internet service. It's about 120mbps, plenty fast.
We both have cell service on prepaid annual SIM cards.
We don't have any television service.
Amusement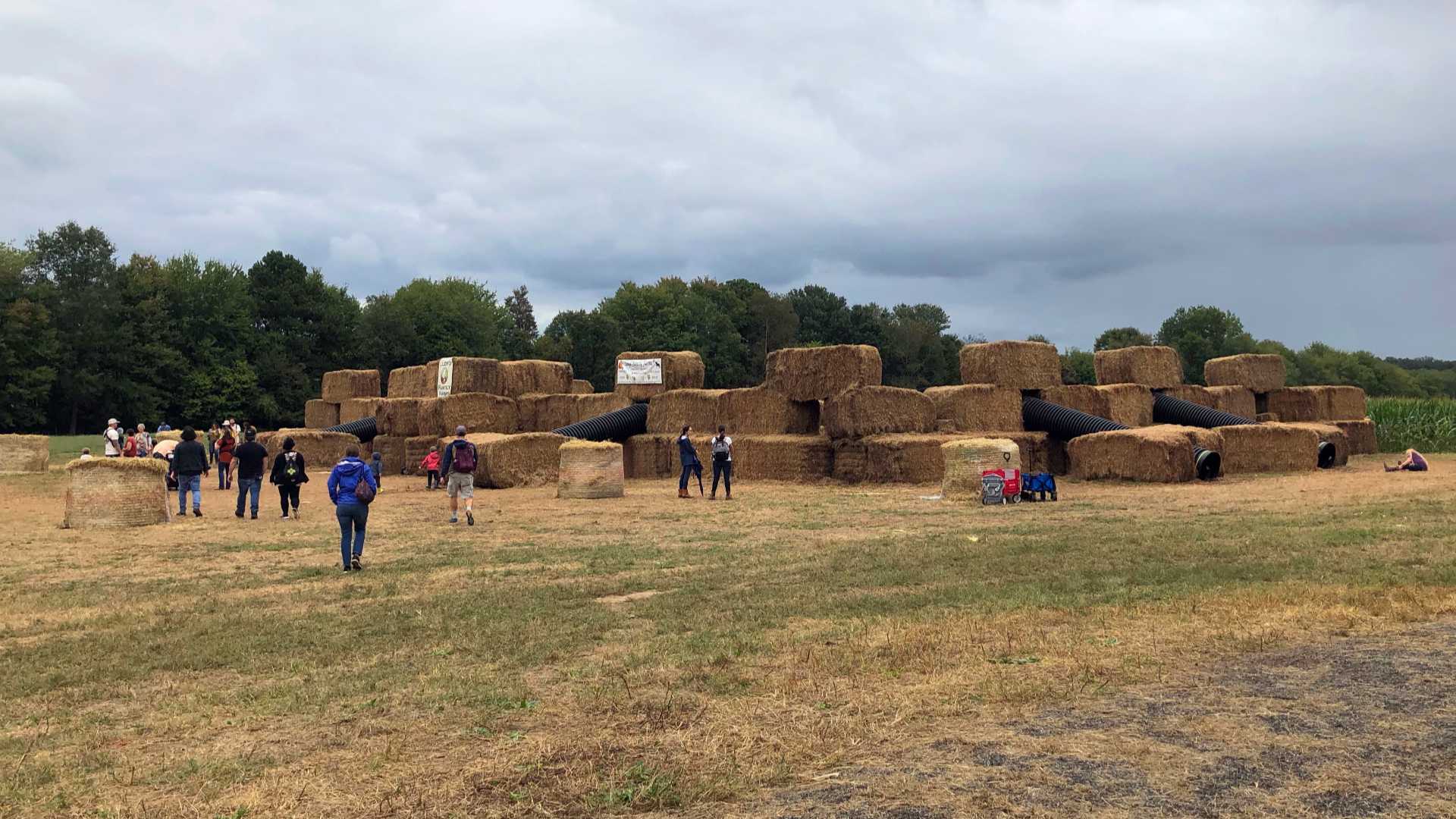 We spent $67 on entertainment & amusement.
We got into the Halloween spirit and took Jenni's nephews to a pumpkin patch. After getting lost in the corn maze, we took a hayride to the pumpkin patch where we got to pick our own pumpkins.
On the more spooky side of town, we met some friends for a ghost walking tour around one of the oldest neighborhoods in the city.
Auto & Transport
The Prius got to do some driving this month. Chris's road trip tacked on around 800 miles on the car. We spent $71 on gas & fuel.
We try to walk when we can and most everything else is within 10 miles of home.
Although my family is closer, the fastest route is through several tolls. Our E-Zpass topped off with a $35 charge.
Miscellaneous
Jenni's opened her first HSA account this year and has been hit with a $2.50 fee every month the account is less than $3,000. After her research on HSAs, she knew it was more beneficial to invest the funds despite this minor fee. She'd been hesitant with her first stock purchase in May of only $400 and decided to invest the remaining available balance. This $1,200 purchase came at a $25 fee.
Sometimes you've got to spend money to make money. We spent $28 on business services this month. That's all related to eBay and online sales we made recently (shipping, fees, etc.).
How Much We Work
We like to keep track of how much time we spend doing work that is paid. For Jenni, this is pretty easy as it's just her paycheck time. Chris manually tracks his hours consulting with Freshbooks (referral).
Our aim is to gradually reduce these hours.
Chris's hours have remained about the same the past few months while Jenni's have increased slightly.
| Month | Chris (Hours Worked) | Jenni (Hours Worked) |
| --- | --- | --- |
| May 2020 | 41 | 108 |
| Jun 2020 | 38 | 96 |
| Jul 2020 | 36 | 120 |
| Aug 2020 | 39 | 48 |
| Sep 2020 | 27 | 76 |
| Oct 2020 | 26 | 104 |
| Nov 2020 | 27 | 57 |
| Dec 2020 | 28 | 57 |
| Jan 2021 | 25 | 102 |
| Feb 2021 | 24 | 104 |
| Mar 2021 | 24 | 106 |
| Apr 2021 | 23 | 85 |
| May 2021 | 17 | 29.75 |
| Jun 2021 | 19 | 66 |
| Jul 2021 | 21 | 30.25 |
| Aug 2021 | 23 | 16.5 |
| Sep 2021 | 26 | 28 |
| Oct 2021 | 22 | 49 |
An average full-time job for two people would be about 347 hours.
We're nearly at a fifth of regular full-time work at 71 hours!
2021 Theme Update: Discomfort
From Chris:
I've delivered a little update each month towards my Yearly Theme.
For 2021, I chose "Discomfort". This guiding word is a reminder for me to seek out challenges within life and stretch my comfort zone. It's my way of having a "new year resolution".
Here's what I'm going to work on in November:
Get out there!—I'm off to Longmont, CO to help Carl from 1500 Days to Freedom with a variety of house projects.
Plans for giving—I mentioned this last month but didn't do a good job with it in October, I'd like to work on how I plan to volunteer and "give back" more.
I made some progress in October toward goals in the last update:
My bike trip to Appalachia went well, giving me plenty of time to relax, enjoy the ride, and do some writing.
With productive discomfort being my goal in 2021, I'm aiming to incorporate more healthy stress in my life.
Don't have a "Yearly Theme" for yourself? It's not too late to create one!
Net Worth Update
We don't like to focus on the net worth of writers in the personal finance community. However, we do understand it offers a little context to the writing for the reader.
You might better relate to someone with a net worth and earnings history more similar to yours.
We wrote up an extensive post on our earnings and net worth history that ranged from 2006 to 2018. We did it with an average income of $77K per person over the period we analyzed.
→ Related: How to Become a Millionaire in 10 Years (Debt to $1.2M at 33)
Account breakdown
The market keeps chugging along and so do our investments. From a high level, our assets and liabilities are shown in the data table below as of September 30, 2021.
| Description | Value (USD, $) |
| --- | --- |
| 401(k) | 781,681 |
| Brokerage | 908,491 |
| Roth IRA | 156,462 |
| HSA | 38,853 |
| Real Estate | 369,800 |
| Mortgage | (149,503) |
| Miscellaneous Assets | 10,750 |
| Checking & Savings | 34,738 |
| Net Worth | 2,151,272 |
Miscellaneous assets include specific investments we've made in physical assets (think collectibles)
Amounts do not reflect the value of the businesses Chris owns or their assets, which should appear as income to us over future years
Jenni's Prius is not included
Our net worth increased by over $80K!
These last two months have been a bit of a rollercoaster!
The S&P 500 was up about 6.9% over the month of October! That's a huge turnaround since last month which was quite the opposite! We were "only" up a hair under 4%.
Net Worth History
October 2021 Donation Winner
In the United States, we celebrate Veteran's Day on November 11th. We felt the men and women who have made a commitment to our country and put their lives on the line every day deserve more than just one day of honor. We reviewed several organizations that go above and beyond to prove extra support and care to these special people that were shared all month long.
We had 14 voters this month. The winner with 8 votes goes to K9s For Warriors! This organization is two-fold by rescuing shelter dogs and training them to become service dogs for warriors with service-connected PTS, TBI, or other Military trauma.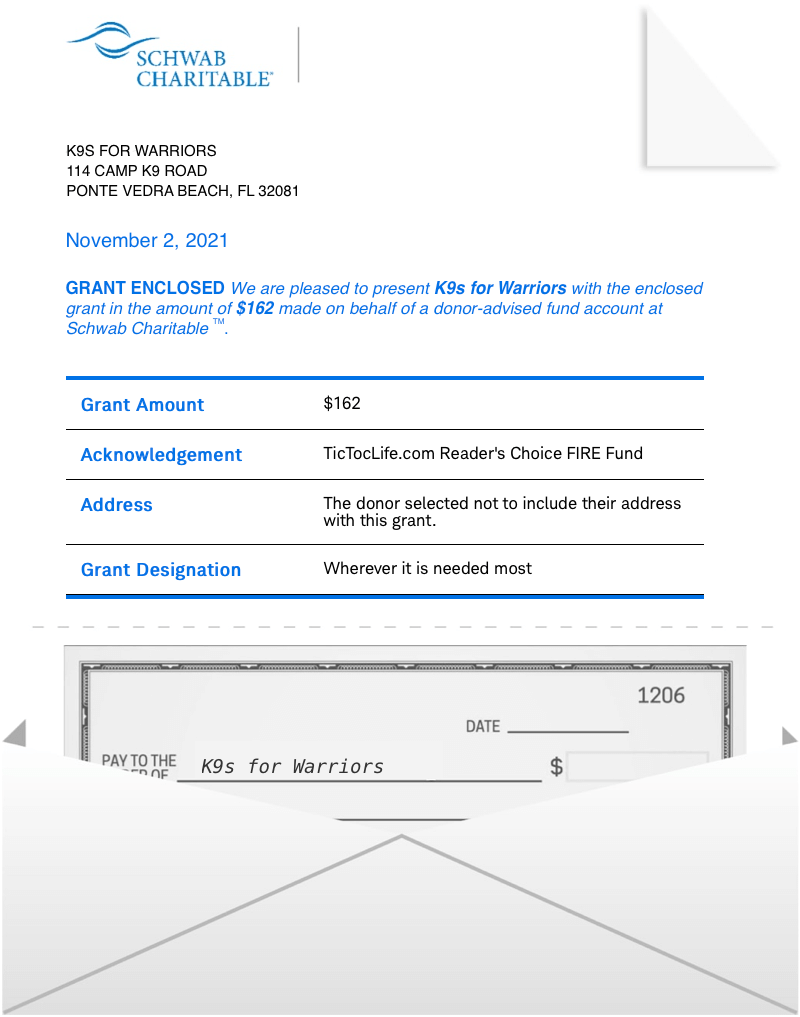 Our Reader's Fund seeks to leverage the principles of FIRE to build a lifetime of giving.
By the time we're near normal retirement age, it's easy to see how the fund could grow to $250K and donations would be in excess of $800/month! That's the power of FIRE and compound interest!
Thank you for your participation in our polls over the last 15 months. We've given over $1,500 to deserving charities with your help in deciding which organizations to donate to.
We are excited to enter the second year of our Reader's Choice FIRE Fund poll! If you would like to see changes to the way we display our candidates or have suggestions for charity categories, let us know in the comments.
Polls are now open for our next round of candidates: Supporting Hunger Relief.
Support for Hunger Relief
We have chosen three organizations to consider for our monthly DAF donation that prevents people from going hungry in various ways. Each organization has excellent charity ratings and spends a majority of its revenue on its programs. Review each of these three and help us decide which organization to support by casting your vote before the end of the month. We will be ending this month's poll on November 30th in order to participate in #GivingTuesday.
Summaries below include a link to their Guidestar profile which details the nonprofit's operations and transparency.
1) Feed More
Why? Feed More tackles hunger from several angles getting food to those in need. They know gathering food is just one part of the equation. Delivering the much-needed food directly to the hungry is the other half. Their various programs do just that year-round.
Where? Central and Southern Virginia
What? Feed More is a nonprofit organization founded in 2008 after the merger of the Central Virginia Food Bank and Meals on Wheels. Their goal is to prepare and distribute food to those in need across 34 localities in Virginia. With only 100 employees, they depend on more than 200 volunteers a day to carry out the distribution of healthy foods via the programs listed below:
Meals on Wheels
Food Bank Distributions Cetner
Kids Cafe serving hot meals throughout the year
Weekend BackPack Program securing meals over the weekends
Mobile Pantry in food desert areas
School Market Program serving as a safe enviorment for food distribution
2) 412 Food Rescue, Inc.
Why? Good food belongs to people, not landfills. 412 Food Rescue, Inc. combats two issues, food insecurity and reducing greenhouse gas emissions by saving food that would end up in landfills.
Where? Areas in California, Ohio, Pennsylvania
What? 412 Food Rescue, Inc. is a nonprofit corporation dedicated to rescuing food and getting it delivered to those in need. Their goal is to bring perfectly good surplus food to individuals and families experiencing food insecurity. One of their most powerful innovations is the development of a mobile technology that mobilizes their network of volunteers when last-mile deliveries are needed. This platform is called Food Rescue Hero and is being used in cities around the U.S. and Canada. Other innovative programs 412 Food Rescue are listed below.
Food Rescue Hero mobilization technology
UglyCSA delivering ugly yet edible produce
Good Food Project creating surplus food into healthy meals
Partnership with Single Stop providing a one stop shop access to serivces
Hidden Harvest collecting unharvested produce that would otherwise go to waste
Support to local restaurants making meals via Community Takeout
Food Education for Adults
3) Action Against Hunger USA
Why? Everyone needs food and clean water every day to survive and thrive. Yet there are millions of undernourished children in need. Action Against Hunger is for action and against hunger and do this for over 20 million people in nearly 50 countries around the world.
Where? Asia, Africa, Haiti, South America
What? Action Against Hunger USA is a not-for-profit humanitarian organization focused on the hunger need of women and children. They consider themselves hunger experts with 40 years of practice. Their goal is to create a better way to deal with deadly hunger. Their initiatives led to a movement that cut the proportion of hungry children by half but they have a new goal to double the number of children receiving urgent hunger treatment and remove the need for hunger treatment for good. Here are some of their programs:
Malnutrition treatment and prevention
Water sanitation and hygiene services
Improve food security and livelihood
Emergency response teams
Mental health and care practices affecting nutrition
Nonprofit poll
After reviewing the organizations Supporting Hunger Relief listed above, please take a moment to vote for which nonprofit you think will put funds to use in the best way.
(Have trouble using or seeing the poll above? Some reader tools or apps may not display it. View this page in a browser or use this link to our Reader Fund page which has a copy of the poll!)
Thank you for taking the time to vote!
One of our primary goals with TicTocLife is building a stream of giving within the FIRE community and that starts with knowledge.
Want to hear about the results? Signup for our free FIRE Insider newsletter! We send it out every few weeks and include the monthly poll results and donation winners. You can see an archive of the FIRE Insider and signup here!
What Does November 2021 Hold?
I expect the rest of November will hold lots of delicious food and long-awaited family gatherings. With the Thanksgiving Holiday celebrated this month in the United States and skipping last year, we are going all out. We currently have plans to give thanks over a dinner celebration with three different groups of family and friends. We are thankful that we now have the ability to safely visit each of these groups and hope that you may do the same.
In between preparing and enjoying those meals, we will continue to plan for our next adventures. We hope to finalize a winter trip to Puerto Vallarta, Mexico just before Christmas as well as a short trip over Christmas.
Chris will be returning home soon from his visit to Colorado to share his adventures with Carl at 1500 days to Freedom. Jenni is excited to put his newfound skills to work.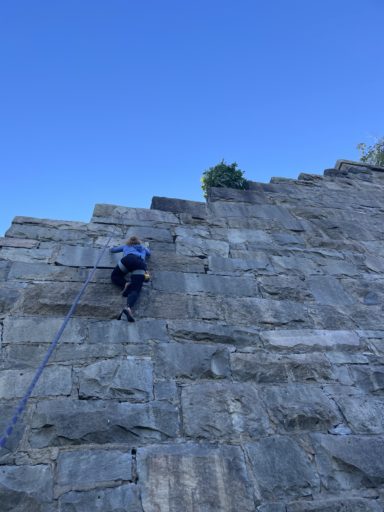 ---
How's November looking for you?
Are family gatherings returning to normal for your family?
Let us know in the comments or on Twitter!