Fall has finally arrived. Here in Virginia, we are lucky to still have warm days but get to enjoy a crisp autumn breeze that cools off the nights. It's the perfect weather to explore mother nature and to comfortably sit outside to reflect on our expenses over the past month.
Most of our month was spent traveling to Arizona to see the Grand Canyon, grandparents, then friends in California. Jenni visited home to see her girlfriends and go sailing with her Dad. This month's travels blew a slightly smaller hole in our FIRE budget (compared to last month).
And of course, as the title of this post suggests, the market took quite a breather in September. The paper losses tallied some $60,000 for us! We'll get into the details in a moment.
We also do a little review of nonprofits to inform our giving each month. We've reviewed three nonprofits supporting our Veterans for our monthly grant that you direct! Be sure to cast your vote below!
During our last month's budget review, we looked at humanitarian aid for Afghans Read on to find out the winner and see our poll for this month's grant!
In the Sankey diagram below, income on the left matches our expenses to the right.
We'll run through the income and expense sources for the month and remark on any interesting items.
Income Summary
We have several sources of income and they tend to vary from month-to-month.
Most of our income is from Jenni's part-time pharmacist job and Chris's ongoing business operations—which is generally on autopilot with nearly passive income.
Part-time work
Jenni continues to work at a local pharmacy as needed.
Jenni's part-time pharmacy position earned her $10,060.59.
Her earnings are higher than her hours worked for the month would suggest. That's because her employer distributed a huge one-time 401(k) profit share to its employees! In addition, she took 8 hours of vacation pay. She earned that vacation time when she was still working full time.
About $9,035.76 of her paycheck flowed through to 401(k) investments, including the profit share.
Chris's consulting work remains consistent—he provides digital strategy guidance for enterprise, government, and higher ed. He's whittled his client base down to just a few that work in meaningful areas (healthcare) or which provide significant fulfillment (mentoring).
Chris's business paid him $1,701.
We reveal just how many hours we work each month in the "how much we work" section below, too!
Other income
Being out of town for most of the month didn't allow for too much extra income.
We earned $454 through eBay and online venues. We sold a few new electronics and found new homes for some old things.
Dividends, interest, credits
With the end of the third quarter closing in September, we earned $2,927 in dividends this month!
Our savings and checking accounts earned us $6.41 in interest.
The month ended with $220 in credits from two banks. These credits were a combination of Chase's pay yourself back promo (mostly used on our restaurant expense from last month), Chase's Saphire Reserve benefits with Door Dash and Peleton, and American Express's AMEX Offers. One of these offers was $40 off an annual Duolingo subscription Jenni is using to learn foreign languages.
We have used up the last of our Chase credits for now. Between the Freedom card quarterly promos and a few other deals, we reloaded $115 worth of points to use. That said, we're back to zero!
Transfers
Overall, we ended the month by taking $1,024 from checking to cover bills. This amount is much lower than last month!
Expense Summary
From our $16,393 monthly budget, we saved $11,372 this month. This is mostly due to Jenni's 401(k) profit share bonus and our quarterly dividends. Even still, we had to pull $1,024 from checking to cover our budget shortfall.
That gives us a savings rate of 69%. That is the second-highest rate we've reported.
Considering our average FIRE budget for 2020 was about $3,405/month, we blew our target spending by a good margin. We spent about $4,806 on living expenses (even after removing business expenses and applying credits to the total)!
That's 141% of our typical monthly FIRE budget. That's less we expected considering our ongoing travels and heavy restaurant patronage throughout September.
Overall, we're less concerned with our budget as the pandemic continues and we try to protect our mental and physical health. We feel like we are cramming all of 2020's travels into the past few months!
If you're curious what our typical annual budget looks like, check out the full FIRE budget review we did!
Let's get into the details of our spending for the month.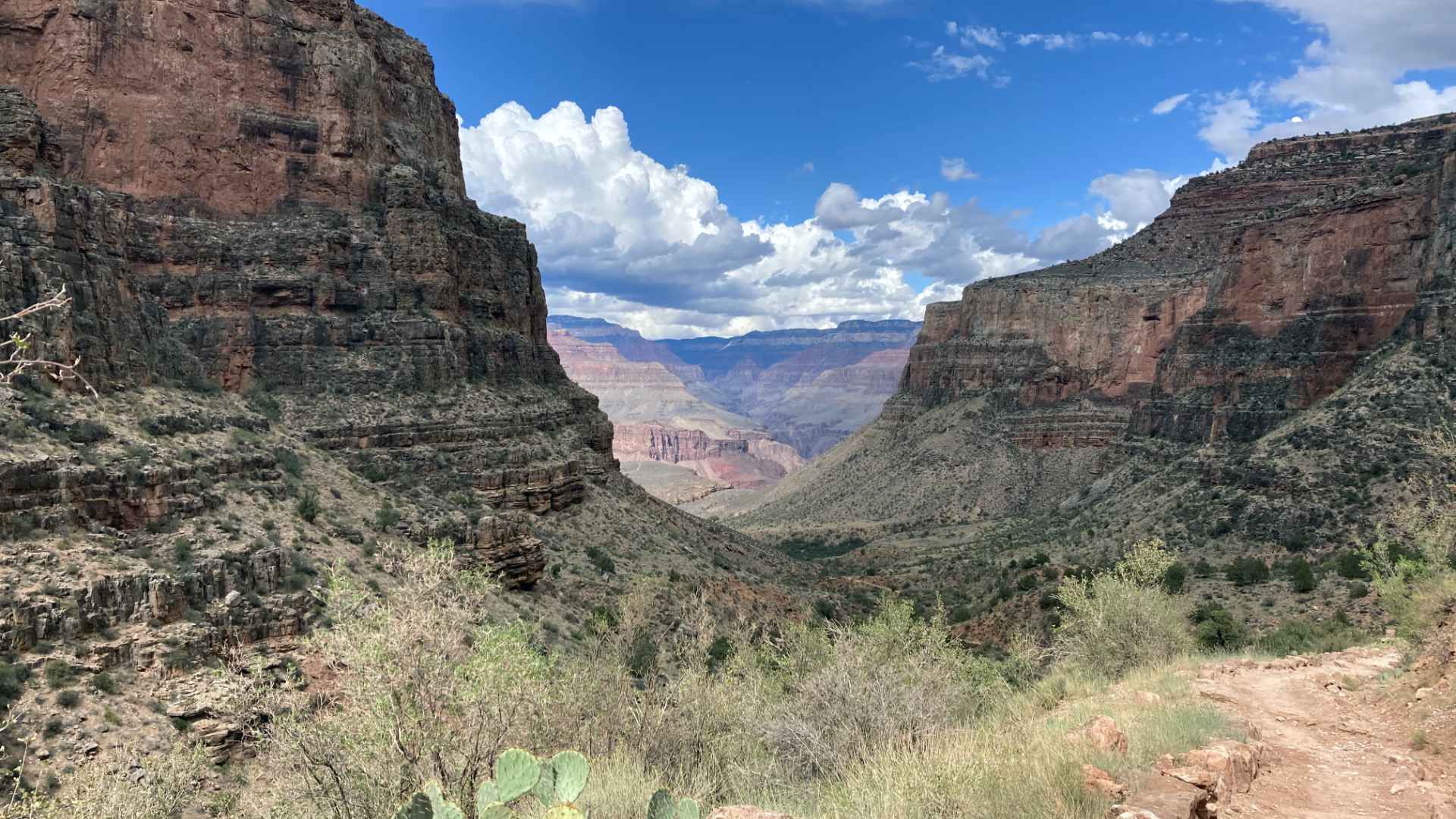 Travel
We spent the last week of August through September 18 traveling between Arizona and California. During the first part of our trip, we drove around in our rental car exploring The Grand Canyon and eventually making our way down to Pheonix to visit Omi and Opa, Chris's grandparents.
We stayed mostly at hotels or alternative lodging. While visiting family and friends during the second half in Pheonix and California, we were able to snag a bed at their home.
We are very happy to have regular travel back in our lives. Being able to see the ones we love makes saving for it all worth it. We can now see how it affects our budget.
Most of the hotels for the Arizona trip were included in the August budget review.
In total, we only spent $395 on travel throughout the month.
This is where that went:
$15 on Car Rentals & Taxis: we called an Uber to bring us home from the airport utilizing the $15 monthly Uber cash allowance with Jenni's AmEx Platinum card.
$ 321 on Hotels: we stay two nights in a Diamond Family Resort in Sedona; Chris applied his annual IHG fee of $49 towards future hotels.
$59 on Air Travel: we flew the Frontier from Pheonix to Burbank for $48; we paid $11 in redemption fees to American Airlines for our flight from Burbank, CA to home (along with 15K AA reward miles)
Trip Cost (Arizona & California)
As we have in the past, we like to track and break down our trip expenses. This helps us budget for future trips and see where we may have splurged.
Now that we are home from our trip out west, here's how the totals look. (includes some expenses from August):
| Description | Cost ($) |
| --- | --- |
| RIC ➔ FLG tickets on American Airlines (2 adults) + 15K reward miles | 22.40 |
| AZ: Hotels & Lodging | 1,011.85 |
| AZ: Car Rental | 459.07 |
| AZ: Gas (rental cars) | 70.58 |
| AZ: Groceries | 211.57 |
| AZ: Restaurants | 212.24 |
| AZ: Alcohol & Bars | 51.05 |
| AZ: Coffee | 11.69 |
| AZ: Entertainment (NPS pass & Slide Rock) | 100.00 |
| AZ: Parking | 3.00 |
| PHX ➔ BUR tickets on Frontier Airlines (2 adults) | 47.96 |
| CA: Groceries | 118.33 |
| CA: Restaurants | 416.83 |
| CA: Alcohol & Bars | 67.69 |
| CA: Coffee | 19.75 |
| CA: Entertainment | 0.75 |
| BUR ➔ RIC tickets on American Airlines (2 adults) + 15K AA miles | 11.20 |
| Uber & Lyft | 63.93 |
| Total | 2899.89 |
Throughout the 22-day trip, we spent $2899.89. That's about $66 per person per day! Compared to our shorter trip last month, we reduced our per person per day expense by $36.
We'll continue to break down our total trip expenses as they come over the next few months!
Home
Our housing costs are broken down in our annual FIRE budget (mentioned above) in detail.
For the monthly breakdown, these details might be helpful to understand:
When evaluating whether to rent and invest or buy a home, we chose to own
We have a 30-year, fixed-rate mortgage below 4% interest
Our HOA is $350/month which covers some of our utilities (heating, water)
We chose the city life vs country life in a medium cost of living area
Housing-related expenses are consistent month-to-month. We have an escrow account with our mortgage provider which helps automate property taxes and home insurance payments.
We live in a 2 bedroom, 2 bath historic brick home built in the 1920s. It's part of a small cooperative.
Roof leak update: Despite the aggravating ongoing roof leak, we weren't home most of the month to tackle further repairs. The previous attempt at plugging a hole along the roofline seemed to slow the drips but not resolve it completely. Fortunately, our bucket caught all the sneaky raindrops that managed to make their way through the mysterious leak.
We expect to make any necessary repairs on the roof and complete the outdoor cabinet repair and paint project this month.
Health
We spent $608 on Health-related expenses this month—a little higher than normal.
Jenni renewed her rock climbing membership for $60 a month. This gives her unlimited access and a guest pass each month. Her fitness group also met up for an outdoor class ($5).
Jenni signed up for Peloton's fitness app membership for a month ($13) which is offset by an AMEX credit in the same amount.
Pharmacy expenses came in at $8.15 as Jenni refilled her as-needed medication.
The remainder was for health insurance for the two of us ($522) as we're both paying for individual plans.
Shopping
The iPad with a wireless keyboard has been causing us a lot of grief while trying to write on the road. Chris decided it was time to upgrade to a 2015 MacBook Air. He bought a used one on eBay for $327.
That seemed like a great deal considering the specs:
Intel Core i7 CPU
8GB RAM
512GB SSD
2.9 pounds with 13.3″ screen
Overall, it's about as heavy with similar dimensions as his 12.9″ iPad Pro with a keyboard.
He hopes this new investment will make it easier to keep up with work as well as creative tasks while away from home.
We spent $327 on shopping.
Food & Dining
Our grocery spending was higher than we would like it to be. When we travel, we try to reduce eating out as much as possible by picking up food at the store. Replacing fast food with our go-to lunch of greek yogurt, nuts, granola, and berries is a lot less expensive and more healthy too. We do tend not to be as price-conscious about our grocery choices as much as we would at home. We bought more snacks and prepared foods that were not on sale.
We still managed to submit a few grocery receipts to Ibotta to be cashed out this month.
We spent $525 on groceries.
→ Related: Want to see how to save money on groceries in detail?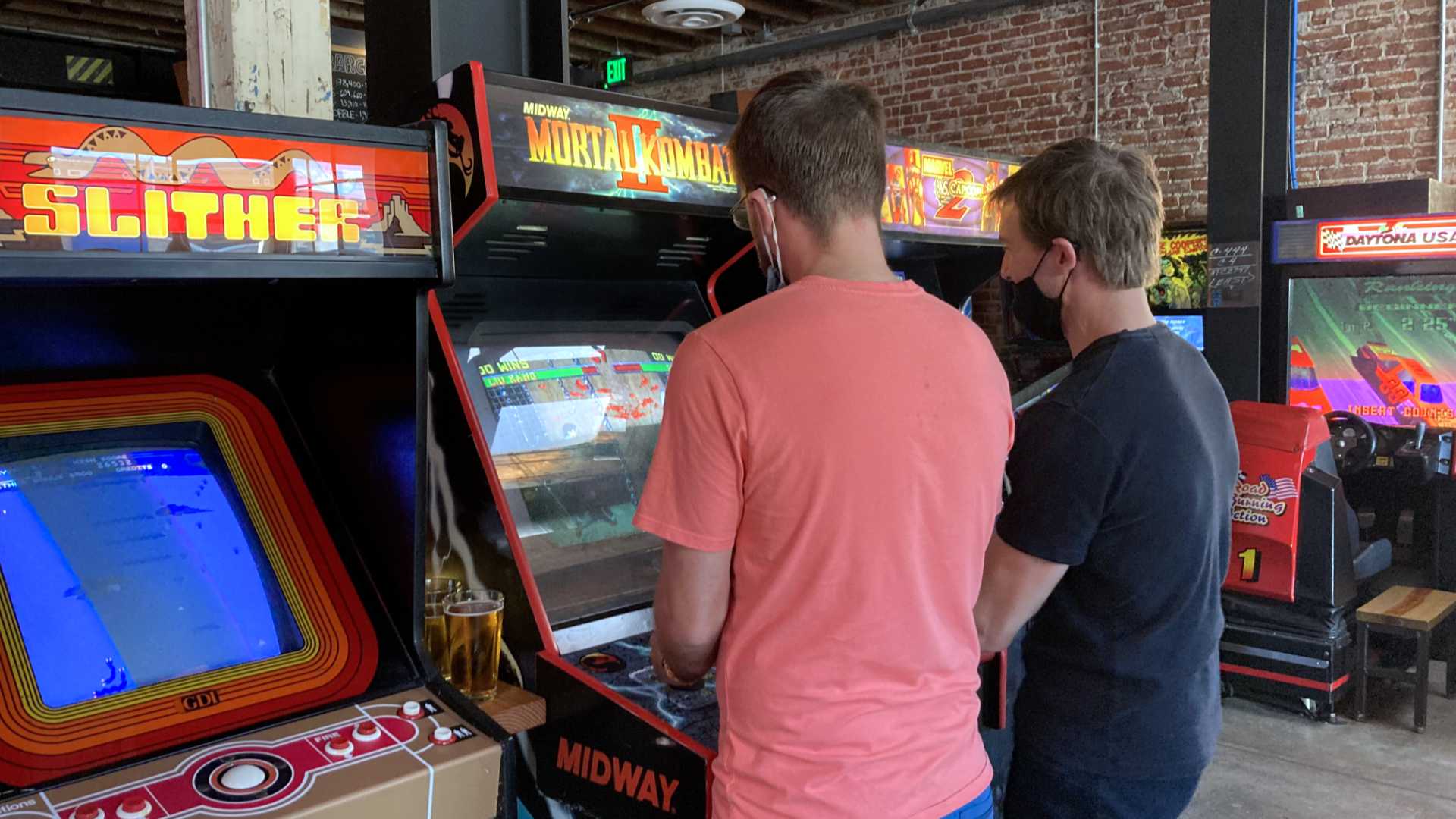 Restaurants, Fast Food, Alcohol
Despite trying to keep most of our travel meals to grab-and-go grocery food, we still visit plenty of restaurants. Paying for restaurant checks is also often used as a "thanks" if we're staying with friends or family while traveling.
Our restaurant spending was double last month at $621!
We earned back $141 with a combination of AMEX credits and cashing in our last few Chase UR points.
Setting up in a coffee shop for a few hours to write in Sedona and getting a few delicious chocolate drinks in California cost us $32. The drinks from Amara Cafe were the richest chocolate drinks you could imagine with a little kick of chili and cinnamon.
Jenni decided to cancel her Chase Reserve card but wanted to maximize the remaining benefits. We spent $25 with DoorDash to pick up poke bowls. This was exactly the remaining DoorDash credit left on the card for the year.
We spent a total of $57 on fast food and coffee shops.
We were credited back $25 from the Chase Reserve DoorDash benefit ($60/year).
We found ourselves with a drink in our hands most days while in California visiting some old friends. We had a little bit of nostalgia playing Mortal Kombat II at a Barcade (arcade and bar). Jenni met up with her girlfriends at home over a few drinks too.
Our alcohol and bars tab hit $146 this month!
One nice thing about supporting restaurants and small businesses when paying with our AmEx Platinum, we get 15x membership rewards points.
Gifts
Jenni's youngest brother living in New York had a birthday this month. She sent him a $25 DoorDash gift card to take him out to dinner from afar.
We spent about $25 on gifts this month.
Donations
Jenni made direct donations totaling $62. $5 to Virginia Public Media and $57 to help back-to-school fundraisers for her nephews.
Utilities
Being away and turning the AC to a higher temp helped lower our electrical bill slightly.
We spent $97 on electricity this month.
In typical fashion, we spent almost $21 on city services (cooking gas, wastewater).
Our Comcast Internet bill rang in at our standard $40 for internet service. It's about 120mbps, plenty fast.
We both have cell service on prepaid SIM cards. Chris is testing out Boost Mobile and Jenni is on Cricket Wireless, each with 2GB of data per month. This month, we both were scraping by due to the poor wireless internet connection in most of our Arizona hotels. We managed to get by with what data we had.
We don't have any television service.
Amusement
We spent $21 on entertainment & amusement.
After buying the NPS annual pass in August, we made our way to several National Parks, including Montezuma's Well and Castle. The entry fee here was covered with the NPS pass but we picked up a postcard for 75 cents.
We also stopped by Slide Rock, a state park for $20. This natural water slide is hidden in Oak Creek Canyon and was quite a chilly yet thrilling adventure.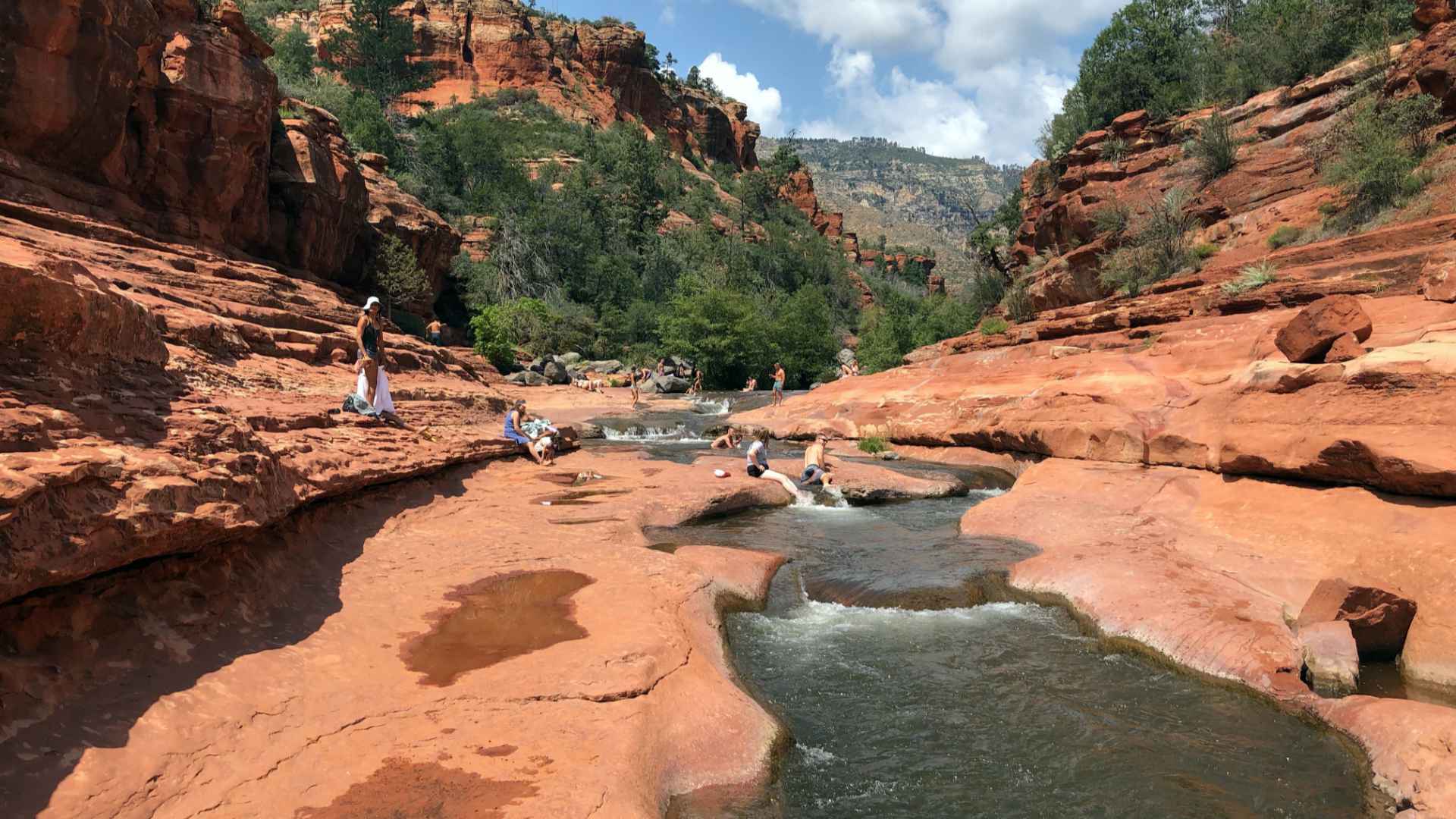 Then, of course, we also cherished all the free adventure we could find.
Auto & Transport
Although we barely drove our cars this month, we spent about $88 on gas & fuel, on rental car fill-ups, and one trip home for Jenni to go sailing with her Dad.
We found free parking in most places except this one sunset look-out point at Aiport Mesa, AZ. We just missed the sunset but took a sunset hike instead to utilize the $3 parking fee.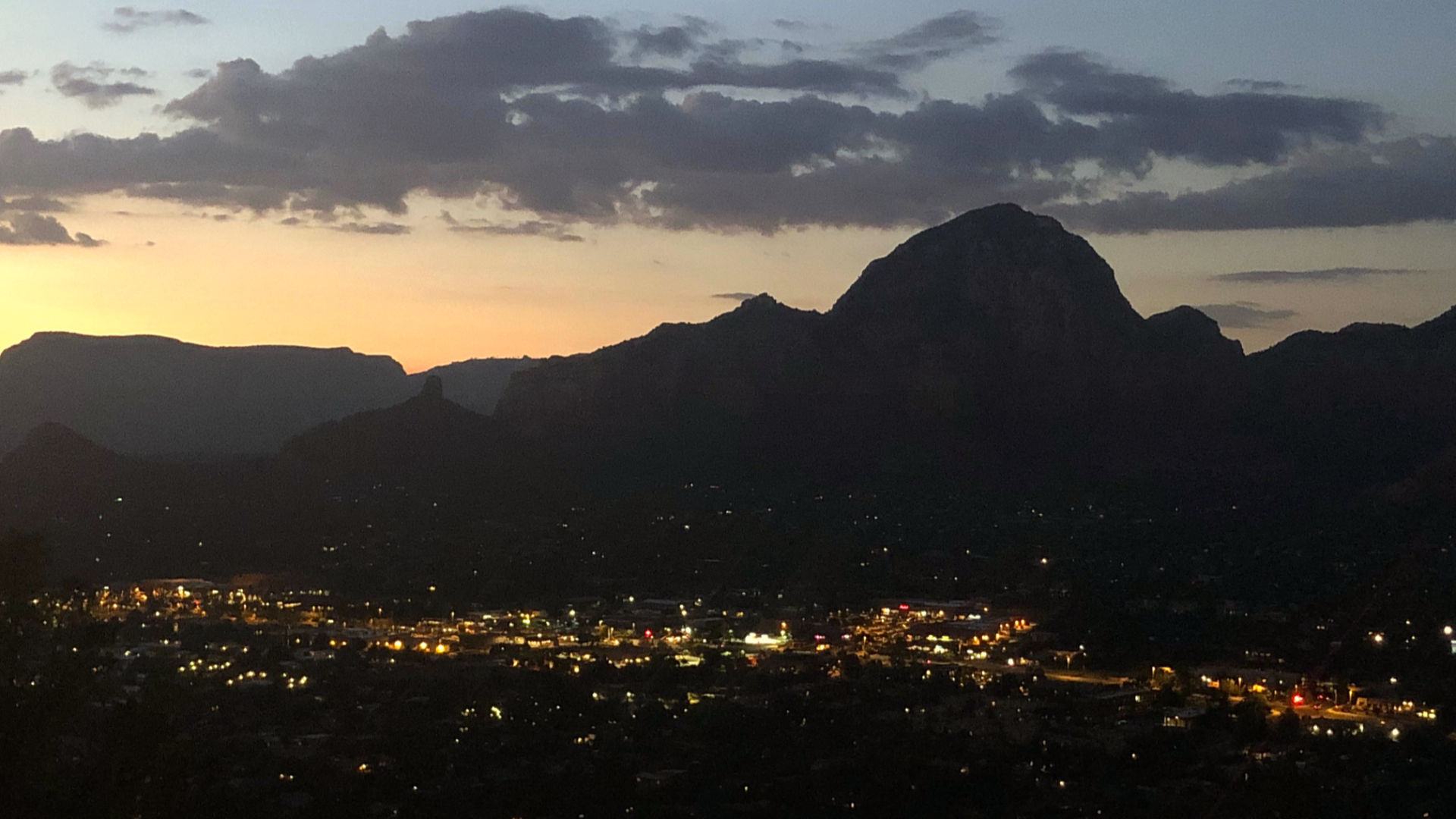 Miscellaneous
Geico sent our $293 auto insurance bill for the next 6 months of coverage. That's for both our cars (a Toyota Prius and Nissan 300ZX).
The Prius's annual vehicle registration was $30.
Jenni started to pursue our goal of learning another language with Duolingo. She liked it so much she bought an annual subscription of $84 with a $40 AmEx offer. The hope is to have more conversational Spanish. Chris jumped on the bandwagon too and is trying the free version for German.
Sometimes you've got to spend money to make money. We spent $14 on business services this month. That's all related to eBay and online sales we made recently (shipping, fees, etc.).
How Much We Work
We like to keep track of how much time we spend doing work that is paid. For Jenni, this is pretty easy as it's just her paycheck time. Chris manually tracks his hours consulting with Freshbooks (referral).
Our aim is to gradually reduce these hours.
Even being gone for 21 days of the month, we managed to work more in September than in August.
| Month | Chris (Hours Worked) | Jenni (Hours Worked) |
| --- | --- | --- |
| May 2020 | 41 | 108 |
| Jun 2020 | 38 | 96 |
| Jul 2020 | 36 | 120 |
| Aug 2020 | 39 | 48 |
| Sep 2020 | 27 | 76 |
| Oct 2020 | 26 | 104 |
| Nov 2020 | 27 | 57 |
| Dec 2020 | 28 | 57 |
| Jan 2021 | 25 | 102 |
| Feb 2021 | 24 | 104 |
| Mar 2021 | 24 | 106 |
| Apr 2021 | 23 | 85 |
| May 2021 | 17 | 29.75 |
| Jun 2021 | 19 | 66 |
| Jul 2021 | 21 | 30.25 |
| Aug 2021 | 23 | 16.5 |
| Sep 2021 | 26 | 28 |
An average full-time job for two people would be about 347 hours.
We're nearly at a seventh of regular full-time work at 54 hours!
2021 Theme Update: Discomfort
From Chris:
I've delivered a little update each month towards my Yearly Theme.
For 2021, I chose "Discomfort". This guiding word is a reminder for me to seek out challenges within life and stretch my comfort zone. It's my way of having a "new year resolution".
Here's what I'm going to work on in October:
Be stronger alone—Jenni and I have spent the last few months—really most of the time since late July—together and traveling. I thoroughly enjoy spending time together and having shared interests. That said, we won't always have equal interest in an activity and sometimes I just need space and time to be creative. I'm working on both of us being more comfortable finding activities and time to be alone with ourselves.
Plans for giving—November signals time to rethink our giving priorities with Thanksgiving in the US and the global Giving Tuesday initiative. While we're doing a good job of giving through our Reader Fund here on TicTocLife, I want a more clear idea of how I'd like to directly give to needy causes or those that I feel more attached to. I see this as a more physical giving.
This video from Matt D'Avella speaks to that first point on strength being alone:
I'm planning an escape to the Appalachia region for mid-October. That'll let me work on the "alone" part of this. The giving piece is going to take a lot of research, testing, and evaluation. I thought I'd be further along on the general idea of volunteering by this point in my FIRE process, but the pandemic has really delay in-person work like this. More to come!
I made some progress in September toward goals in the last update:
I spent a good bit of energy and time in September to reevaluate my own goals; that culminated in my post on "what's your why for FI"—at least so far as money is concerned.
While we were traveling, I stopped and smelled the roses so to speak on multiple occassions. This was easier when there was something to really grab my attention like hiking Grand Canyon or focusing on the current experience with old friends in California.
With productive discomfort being my goal in 2021, I'm aiming to incorporate more healthy stress in my life.
Don't have a "Yearly Theme" for yourself? It's not too late to create one!
Net Worth Update
We don't like to focus on the net worth of writers in the personal finance community. However, we do understand it offers a little context to the writing for the reader.
You might better relate to someone with a net worth and earnings history more similar to yours.
We wrote up an extensive post on our earnings and net worth history that ranged from 2006 to 2018. We did it with an average income of $77K per person over the period we analyzed.
→ Related: How to Become a Millionaire in 10 Years (Debt to $1.2M at 33)
Account breakdown
The market keeps chugging along and so do our investments. From a high level, our assets and liabilities are shown in the data table below as of September 30, 2021.
| Description | Value (USD, $) |
| --- | --- |
| 401(k) | 744,512 |
| Brokerage | 872,440 |
| Roth IRA | 149,571 |
| HSA | 38,181 |
| Real Estate | 372,100 |
| Mortgage | (149,888) |
| Miscellaneous Assets | 10,750 |
| Checking & Savings | 33,064 |
| Net Worth | 2,070,730 |
Miscellaneous assets include specific investments we've made in physical assets (think collectibles)
Amounts do not reflect the value of the businesses Chris owns or their assets, which should appear as income to us over future years
Jenni's Prius is not included
Our net worth decreased by over $60K!
The S&P 500 was down nearly 4.8% over the month of September! That's the worst monthly loss in the market since the pandemic-powered crash in March 2020. We managed to beat that and lose only 2.8%—not great to lose money, but at least we lost less than the S&P!
Net Worth History
September 2021 Donation Winner
The past month brought great sadness to those who had to flee their homes. Most notable was the Afghan refugees being relocated to countries all over the world. We chose organizations that work to fight for refugee rights, provide financial support, and help transition them into their new lands. Through our research, we learned more about the challenges each refugee is faced with making it clear this was the topic we wanted to support this month.
We had 9 voters this month. The winner with 5 votes goes to HIAS Inc.! This organization continues to support Afghan refugees' transition to America as well as fighting for changes to how all refugees are managed at our borders.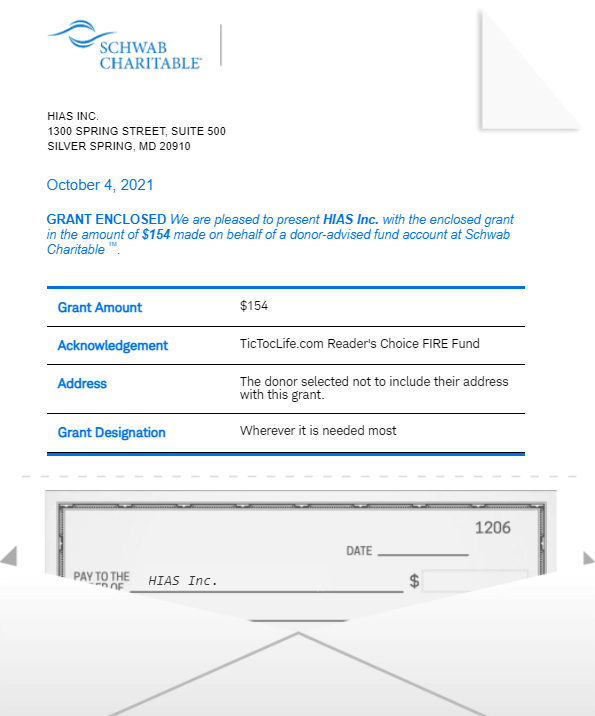 Our Reader's Fund seeks to leverage the principles of FIRE to build a lifetime of giving.
By the time we're near normal retirement age, it's easy to see how the fund could grow to $250K and donations would be in excess of $800/month! That's the power of FIRE and compound interest!
Thank you for your participation in our polls over the last 14 months. We've given over $1000 to deserving charities with your help in deciding which organizations to donate to.
We are excited to enter the second year of our Reader's Choice FIRE Fund poll! If you would like to see changes to the way we display our candidates or have suggestions for charity categories, let us know in the comments.
Polls are now open for our next round of candidates: Supporting American Veterans.
Support for American Veterans
Those women and men who have made a commitment to our country and put their lives on the line every day deserve better. Here in America, we hear stories of veterans suffering from post-traumatic stress, traumatic brain injuries, or even suicide every day. These fellow Americans aren't getting the care, support, or recognition they deserve. We reviewed several organizations that go above and beyond to prove extra support and care to these special people.
We have chosen three organizations to consider for our monthly DAF donation that support The United States Service men and women and their families. Each organization has excellent charity ratings and spends a majority of its revenue on its programs. Review each of these three and help us decide which organization to support by casting your vote.
Summaries below include a link to their Guidestar profile which details the nonprofit's operations and transparency.
1) Gary Sinise Foundation
Why? 2021 marks the 10th anniversary of the Gary Sinise Foundation. Founded by actor Gary Sinise, aka Lt. Dan, has advocated for our nation's defenders for the past 50 years. Their programs have reached veterans and their families and first responders showing gratitude for their sacrifices.
Where? United States
What? Gary Sinise Foundation is a nonprofit public charity whose mission is to support those who put their lives on the line every day. From servicemen and women to the first responders here at home, this foundation had created programs to entertain, educate, inspire, strengthen, and build communities.
Some of their unique initiatives include:
R.I.S.E. (Restoring Independence Supporting Empowerment)- builiding specially adapted smart home for severely woonded heros 100% mortgage-free
5 day event called Snowball Express for the children of the fallen
Invincible Spirit Festivals and mental wellness support
Community Outreach & Education including festival, band performances, and entertainment
First Responder Outreach & Emergency Relief
Gary Sinise Foundation Ambassadors Council
2) K9s For Warriors
Why? Approximately 20 veterans commit suicide every day. Having a trained service dog can give them a chance at a new life while improving their mental wellness. This lifelong program rescues shelter dogs and is provided to veterans at no cost.
Where? United States
What? K9s For Warriors is a nonprofit organization that rescues shelter dogs to become trained service dogs for warriors with service-connected PTS, TBI, or other Military trauma. This 3-week live training program pairs warriors with a trained service dog to prevent suicide and reduce their need for as many medications.
3) Operation Second Chance Inc.
Why? Military members and first responders are severely injured every day. These wounds can last a lifetime. They need our support for all they have given to the country. This organization treats wounded warriors and other families as if they were their own. They find ways to support their immediate needs and build relationships that promote public awareness of the sacrifices they have made.
Where? United States
What? Operation Second Chance Inc. is a nonprofit organization offering a range of services for wounded warriors and their families. They can quickly assist with a family's greatest needs. They try to do everything they can.
They have financial assistance programs to help with additional expenses due to injury and recovery at Walter Reed including for their family such as:
Airfare assistance
Assitance with supplies and equipment for children
Rent & Utiliy assistance
Housing assitance during recovery
Nonprofit poll
After reviewing the organizations supporting U.S. Veterans listed above, please take a moment to vote for which nonprofit you think will put funds to use in the best way.
(Having trouble using or seeing the poll above? Some reader tools or apps may not display it. View this page in a browser or use this link to our Reader Fund page which has a copy of the poll!)
Thank you for taking the time to vote!
One of our primary goals with TicTocLife is building a stream of giving within the FIRE community and that starts with knowledge.
Want to hear about the results? Signup for our free FIRE Insider newsletter! We send it out every few weeks and include the monthly poll results and donation winners. You can see an archive of the FIRE Insider and signup here!
What Does October 2021 Hold?
It is officially Fall and we are enjoying the cool evenings that October has to offer. The slightly cooler days, yet still in the '80s, make outdoor activities that much more enjoyable. Already this month, we have taken advantage of this weather with a 7-mile hike, quite a few runs including a 4-mile trail run, and a 12-mile mountain bike ride.
We imagine this trend will continue as Chris is preparing for a solo bike trip later this month. He will be spending a few days biking the Creeper Trail and finding serenity in nature. He hopes to have undistracted time to add to our money mindset-themed posts.
While Chris is away, Jenni will be working on some more travel plans. We hope to take a short trip to Puerto Rico with some friends in early November and then to Michigan for a family Thanksgiving.
As far as the rest of the month, we hope to catch up on those house projects we mentioned. Possibly, we might even make it back out to Colorado. Unfortunately, we weren't able to meet up with our FIRE folks last month. So now we hope to get back out there and learn a thing or two lending a hand with their home projects.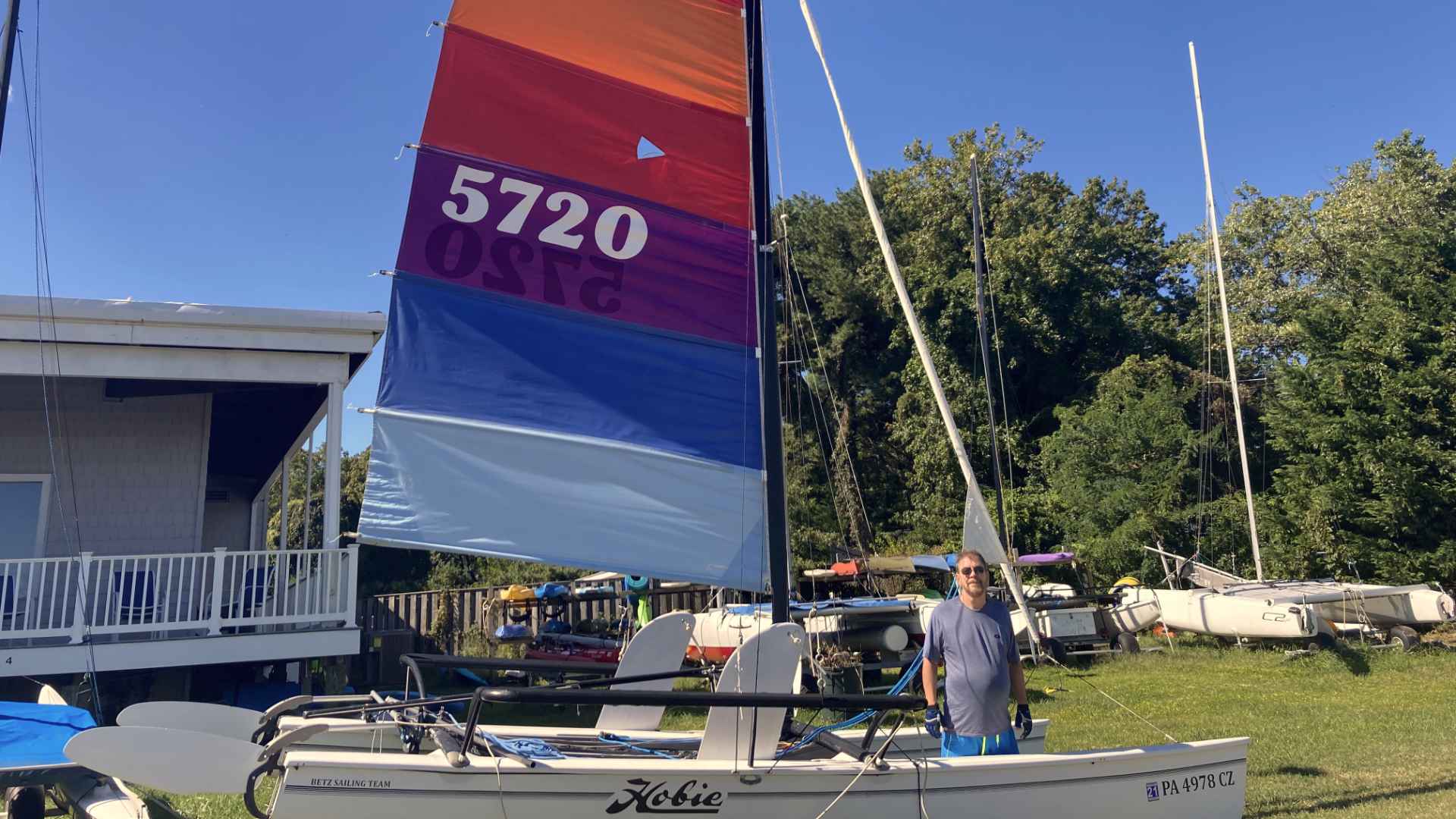 ---
How's October looking for you?
Are family gatherings returning to normal for your family?
Let us know in the comments or on Twitter!