January was a quiet month for us — if you don't count the 4 am surprise Sawzall screeching outside our front door one night! Despite having an unexpected car repair—more on that below—we came in under our FIRE budget by 1%.
Our investments, on the other hand, took a little tumble following a similar trend in the market.
During our last month's budget review, we looked at healthcare worker charities. Read on to find out the winner and see our poll for this month's grant!
Lastly, we've reviewed three nonprofits supporting racial equity for our monthly grant that you direct! Be sure to cast your vote below!
Budget Update
Let's dive into last month's income and expenses.
In the Sankey diagram below, the income on the left matches our expenses to the right.
We'll run through the income and expense sources for the month and remark on any interesting items.
Income Summary
We have several sources of income and they tend to vary from month-to-month.
Most of our income is from Jenni's part-time pharmacist job and Chris's ongoing business operations—which is generally on autopilot with nearly passive income.
Part-time work
Jenni continues to work at a local pharmacy as needed.
Her part-time pharmacy position earned her $2,052.
She picked up several shifts this month to cover for a coworker's maternity leave and ongoing vaccination clinics. The income from these additional hours will be reflected over the next few weeks due to how the pay period falls.
Chris has been working hard to limit his responsibility with both of the businesses he operates. He's held several transition meetings with his clients to ensure they're in good hands before passing off the reins.
Chris's business paid him $1,705.
We reveal just how many hours we work each month in the "how much we work" section below, too!
Other income
Chris continues to avoid throwing out our old stuff by finding new owners. As they say…one person's trash is another's treasure!
On Craigslist, Chris found a buyer for an old PC and monitor. The buyer's intention is to play games that are no longer supported on the newer operating systems. We made $55 from local sales.
Chris sold a lot of random stuff from the house this month on eBay.
Some of the more interesting examples are:
Jenni's old iPhone 7 (the iPhone SE Cricket deal from last year worked out amazingly well!)
An empty Starcraft game box
A diecast Lamborghini model from Chris's childhood
An old point of sale system from Jenni's office
Barebones of an older computer
A pair of new athletic shoes that didn't quite fit
These items, plus a few other random things laying around collecting dust, we earned $890 via eBay!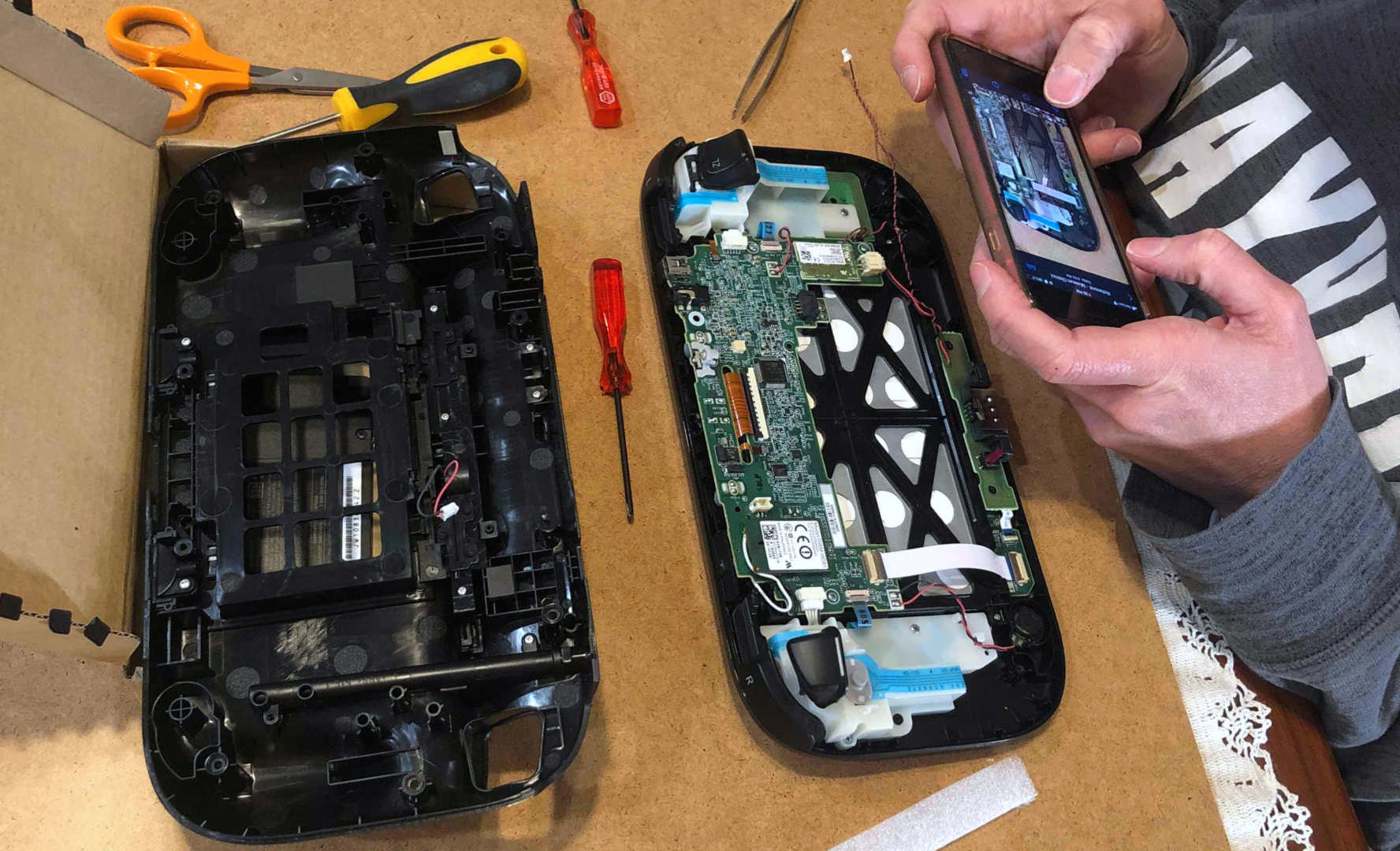 Dividends, interest, credits
The rest of our income came from dividends, cashback, and credits.
Compared to last month, our dividends dropped like a rock! Dividends totaled $222.
We have several cashback accounts that accrue as we make purchases over the months. Chris decided to clear out his Capital One, BeFrugal, TopCashback, Ibotta, and Kroger cashback accounts for a total of $452 cashback!
The month ended with $28 in credits from various sources. These credits primarily come from credit card issuers who have special offers when spending in certain categories. We break out the individual credits within the expense summary below.
Transfers
Overall, we ended the month with an extra $1,584 in checking. This will eventually flow through to our brokerage accounts to increase our investments.
This is a nice way to end the year with a little extra cushion. Compared to the last few months, we've been pulling money from checking to make up the difference in our spending.
Expense Summary
From our $5,708 monthly budget, we saved $2,258 this month.
This gives us a savings rate of 40%!
Our average FIRE budget for 2020 was about $3,405/month. This month, we're under our target spending goal. We spent about $3,382 on living expenses.
That's 99% of our typical monthly FIRE budget.
We are still working on our 2021 FIRE budget review which should be out very soon!
If you're curious what our typical annual budget looks like, check out the full FIRE budget review we did!
Let's get into the details of our spending for the month.
Home
Our housing costs are broken down in our annual FIRE budget (mentioned above) in detail.
For the monthly breakdown, these details might be helpful to understand:
When evaluating whether to rent and invest or buy a home, we chose to own
We have a 30-year, fixed-rate mortgage below 4% interest
Our HOA is $350/month which covers some of our utilities (heating, water)
We chose the city life vs country life in a medium cost of living area
Housing-related expenses are consistent month-to-month. We have an escrow account with our mortgage provider which helps automate property taxes and home insurance payments.
We live in a 2 bedroom, 2 bath historic brick home built in the 1920s. It's part of a small cooperative.
Our HOA will be renovating our garages which is expected to trigger our first assessment since we moved here in 2013! That assessment is expected to be $1,500 in April 2022.
Home Improvement
Our only home improvement purchase this month was $11 for a painting respirator. We have lots of intentions for future home repairs and painting jobs that warrant a proper mask.
Jenni is anxious to give Chris's office a remodel. She's come up with a plan to bring some joy and fun to his workspace. Now all Chris needs to do is decide on the color!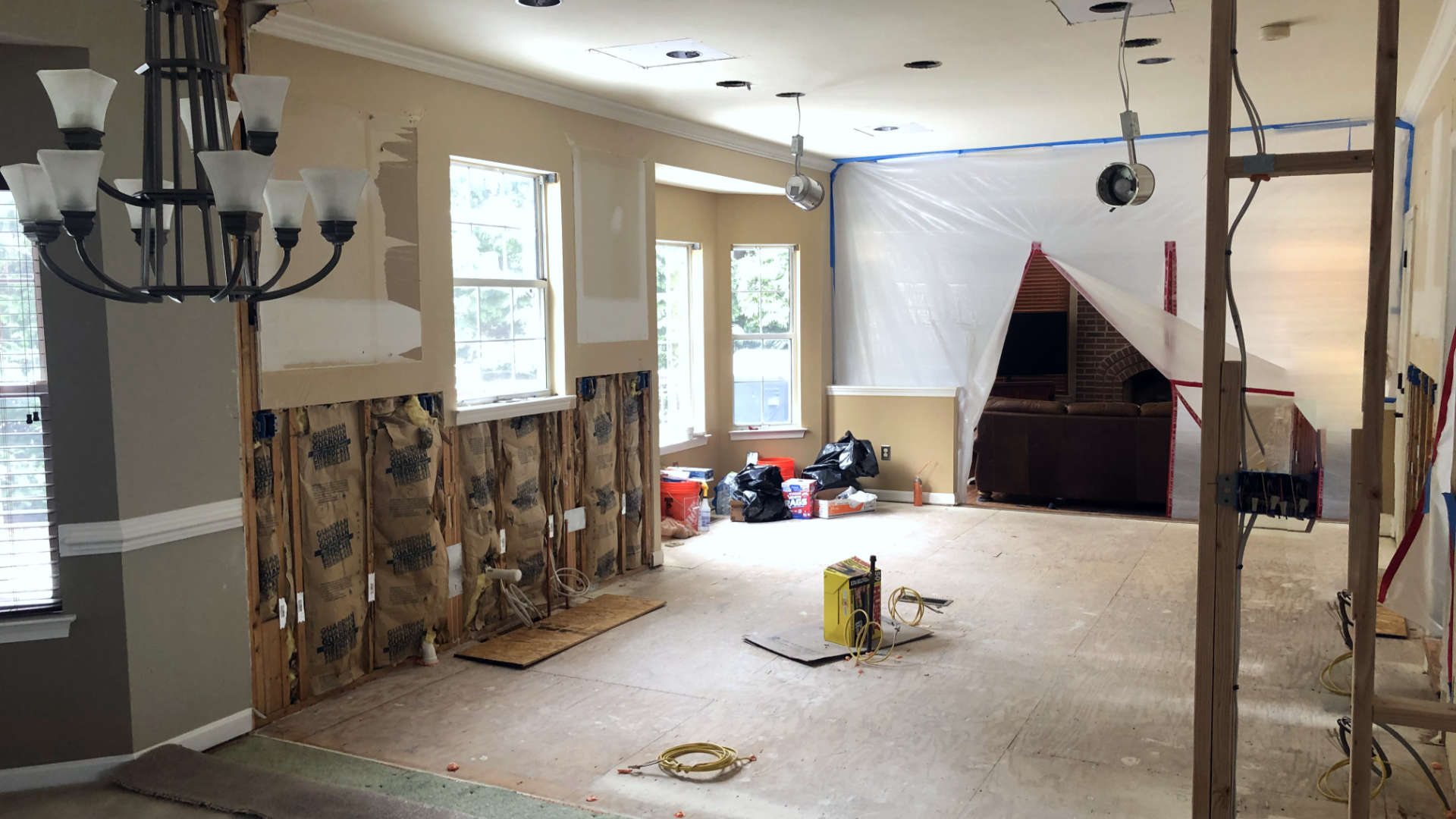 Health
We spent $519 on Health-related expenses this month.
Jenni's rock-climbing gym membership is $60 a month. This gives her unlimited access and a guest pass each month.
Her fitness group also met up for a biweekly class ($20). The weather held out for a few of the classes to be outdoors but otherwise, they were over zoom.
The remainder was for health and dental insurance for the two of us ($439) as we're both paying for individual plans.
Currently, our health insurance costs are less than last year.
Jenni decided to take a higher premium subsidy amount anticipating reducing her income, even more, this year. Last year it wasn't clear exactly sure how much income she'd have. She was more cautious on the amount she took just in case she'd have to repay it come tax time.
Given our unexpected dividend income last month, this may actually be the case but won't know until we finalize our taxes. This could mean her $120/month subsidy for 2021 will have to be repaid.
Shopping
We spent $28 on shopping.
We have a few subscriptions to Audible and Walmart+. As a perk of the AMEX Platinum card, these monthly fees are credited back to our statement ($28).
Our monthly subscription gives an audible credit to use each month. Jenni found a fascinating tale of a young woman's journey along the Richmond Slave Trail, The Yellow Wife (not a referral!). The mix of a fictional story based on a historical figure made for an impactful listen and she highly recommends it.
Food & Dining
With a few exceptions of takeout, we mostly ate home-cooked meals this month. Without any travel in January—and avoiding indoor restaurants—our food budget is back to what we expect to spend.
We spent $567 on groceries.
By using our Chase credit cards, we will earn 5% cashback with every grocery expense now through March (Chase's first quarter 5% bonus category).
→ Related: Want to see how to save money on groceries in detail?
Restaurants, Fast Food, Alcohol
Our visits to restaurants totaled $18.
Jenni met up with her gym friends for a post-New Year's brunch. It happened to be on one of our warm winter days, so they ate on the patio.
We spent $29 on takeout food.
Chipotle started serving plant-based chorizo near us. To promote their new dish, they were offering BOGO burritos. Very tasty!
Gifts
We spent $91 on gifts this month.
We made a few last-minute Christmas and birthday gift purchases.
Jenni and her siblings bought a digital picture frame for their Mother's birthday. The kids can all send pictures to the frame so Mom will always have the most recent pictures to view.
During our holiday gift exchange, part of Chris's gift-giving was a bottle of Pusser's rum. In return, he received a delicious bottle of Glenlivet 12 Year Scotch.
We also received another $100 check from the grandparents and $200 from a gracious neighbor for our help in our community.
Donations
Jenni made her monthly donation of $5 to Virginia Public Media. We really enjoy the content our local radio station provides and is practically the only station we listen to.
Utilities
Our cooperative runs on a boiler system for our heat. This kept us warm through the various snowfalls and chilly nights that we've had.
We spent $37 on electricity this month. Most of our usage comes from appliances, computers, and lights.
In typical fashion, we spent almost $20 on city services (cooking gas, wastewater).
Our internet service is through Xfinity Comcast for 200mbps. The internet bill was $30.
We both have cell service on prepaid annual SIM cards.
We don't have any television service.
Auto & Transport
One early morning, about 4 am, Jenni was abruptly awoken to the dreaded sounds of a Sawzall just outside our front door.
In sheer panic, she jumped out of bed and tumbled down the stairs knowing exactly what was going on. Chris frantically ran after her unaware of any sounds from outside and confused from being startled awake. Jenni quickly flashed the porch lights and screamed from the front door hoping to scare off anyone outside trying to steal her car's catalytic converter.
Once Chris felt it was safe to go outside, he confirmed our fears that someone attempted to steal the catalytic converter off Jenni's Prius right in front of our home!
The next afternoon, Midas was able to assess the damage and quickly make the necessary repairs. We were lucky to find only a single slice through the exhaust pipe!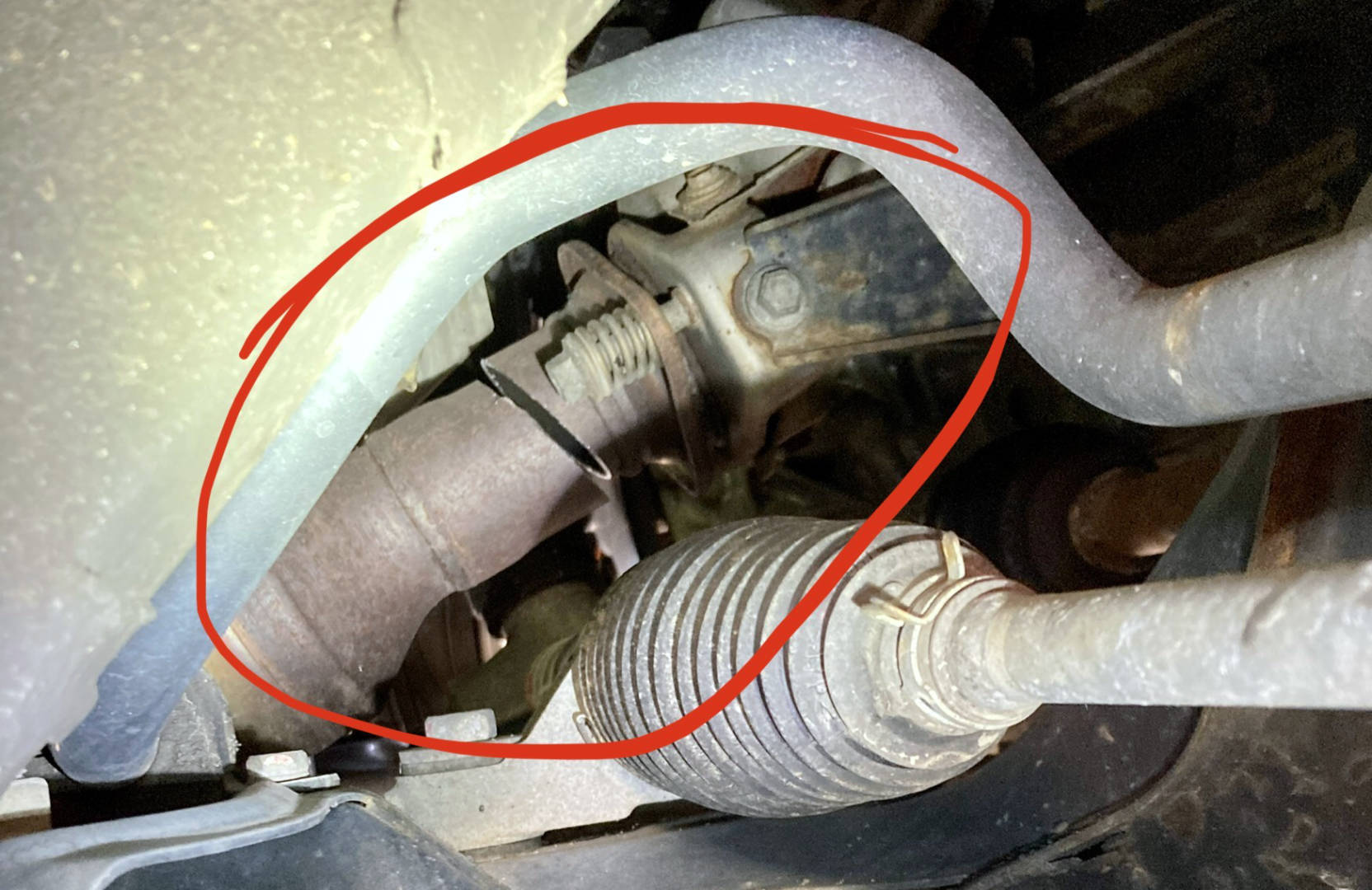 The wires from the O2 sensor had been cut but the sensor was not damaged.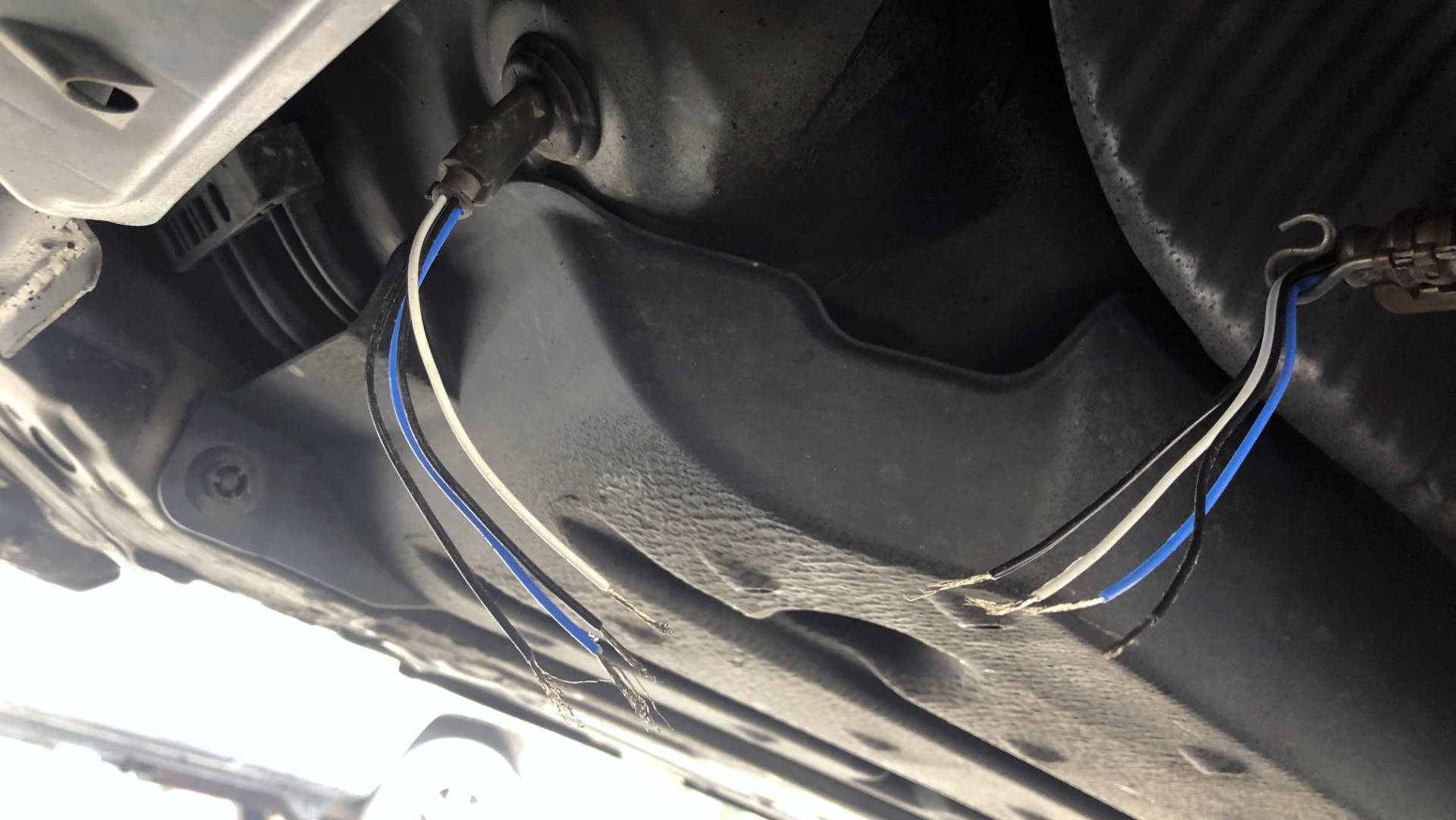 Most importantly, the catalytic converter remained in place—for now!
The Prius's exhaust pipe was rewelded that same day and we got an oil change while it was in the shop.
We opted to splice the O2 sensor wires back together ourselves, saving us $200 on a new O2 sensor and install.
We spent $458 on auto repairs and maintenance.
Jenni took Uber to work for $11 while her car was being repaired.
We knew this day would inevitably come given the uptick of stolen catalytic converters in our area. But fortunately, our thieves were deterred by Jenni's commotion.
While the damage was costly and led to a lot of sleepless nights, we are thankful to be in a position to have the car quickly repaired and back in working order without financial concern.
For now, we decided against installing an antitheft device and instead opted to increase our insurance coverage.
Lastly, we spent $22 on gas & fuel.
How Much We Work
We like to keep track of how much time we spend doing work that is paid. For Jenni, this is pretty easy as it's just her paycheck time. Chris manually tracks his hours consulting with Freshbooks (referral).
Our aim is to gradually reduce these hours.
Chris's hours have remained about the same the past few months while Jenni's have increased slightly.
| Month | Chris (Hours Worked) | Jenni (Hours Worked) |
| --- | --- | --- |
| May 2020 | 41 | 108 |
| Jun 2020 | 38 | 96 |
| Jul 2020 | 36 | 120 |
| Aug 2020 | 39 | 48 |
| Sep 2020 | 27 | 76 |
| Oct 2020 | 26 | 104 |
| Nov 2020 | 27 | 57 |
| Dec 2020 | 28 | 57 |
| Jan 2021 | 25 | 102 |
| Feb 2021 | 24 | 104 |
| Mar 2021 | 24 | 106 |
| Apr 2021 | 23 | 85 |
| May 2021 | 17 | 29.75 |
| Jun 2021 | 19 | 66 |
| Jul 2021 | 21 | 30.25 |
| Aug 2021 | 23 | 16.5 |
| Sep 2021 | 26 | 28 |
| Oct 2021 | 22 | 49 |
| Nov 2021 | 21 | 51 |
| Dec 2021 | 64 | 27 |
| Jan 2022 | 32 | 80 |
Jenni is working two or three times per week for her coworker that is on maternity leave. Chris has been busy closing out some of his business contracts — permanently.
An average full-time job for two people would be about 347 hours.
Despite the elevated time, we only worked about a third of what a normal pair of full-time employees would!
2022 Yearly Theme
From Chris:
Last year, delivered a little update each month towards my Yearly Theme.
For 2021, I chose "Discomfort". This guiding word is a reminder for me to seek out challenges within life and stretch my comfort zone. It's my way of having a "new year resolution".
For now, I'm holding this space in our monthly update for a future 2022 theme. I'm hoping to have some brain space to work on this idea while we're in Puerto Rico taking a break. Stay tuned!
Don't have a "Yearly Theme" for yourself? You could create one for 2022!
Net Worth Update
We don't like to focus on the net worth of writers in the personal finance community. However, we do understand it offers a little context to the writing for the reader.
You might better relate to someone with a net worth and earnings history more similar to yours.
We wrote up an extensive post on our earnings and net worth history that ranged from 2006 to 2018. We did it with an average income of $77K per person over the period we analyzed.
→ Related: How to Become a Millionaire in 10 Years (Debt to $1.2M at 33)
Account breakdown
The market keeps chugging along and so do our investments. From a high level, our assets and liabilities are shown in the data table below as of January 31, 2022.
| Description | Value (USD, $) |
| --- | --- |
| 401(k) | 704,574 |
| Brokerage | 848,521 |
| Roth IRA | 164,486 |
| HSA | 41,354 |
| Real Estate | 379,600 |
| Mortgage | (148,343) |
| Miscellaneous Assets | 20,750 |
| Checking & Savings | 44,350 |
| Net Worth | 2,055,292 |
Miscellaneous assets include specific investments we've made in physical assets (think collectibles, bonds)
Amounts do not reflect the value of the businesses Chris owns or their assets, which should appear as income to us over future years
Jenni's Prius is not included
The S&P 500 fell more than 5% in January — we faired only slightly better.
Our net worth decreased by $105K!
Net Worth History
January 2022 Donation Winner
The healthcare system got another heavy beating this January from the latest pandemic variant. And yet, the healthcare teams pushed through every day to ensure that patients got the care they needed.
We were happy to have 21 voters this month. The winner with 11 votes goes to International Medical Corps.
Our donation will help ensure that there are trained healthcare professionals available to help those affected by conflict, natural disasters, or disease.
We want to send another big thank you to all of the healthcare workers out there doing what you do best, day in and day out.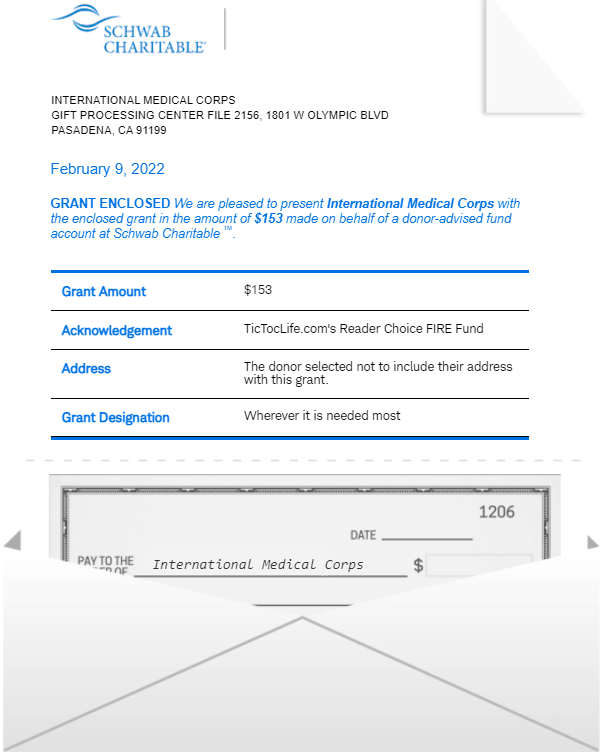 Our Reader's Fund seeks to leverage the principles of FIRE to build a lifetime of giving.
By the time we're near normal retirement age, it's easy to see how the fund could grow to $250K and donations would be in excess of $800/month! That's the power of FIRE and compound interest!
Thank you for your participation in our polls over the last 18 months. We've given over $1,600 to deserving charities with your help in deciding which organizations to donate to.
We are excited to enter the second year of our Reader's Choice FIRE Fund poll! If you would like to see changes to the way we display our candidates or have suggestions for charity categories, let us know in the comments.
Polls are now open for our next round of candidates: Racial Equity Charities.
Charities in Support of Racial Equity
In honor of Black History Month in the United States, we chose three Black founded nonprofit organizations to highlight. These organizations strive to educate, empower, and advance racial and economic equity through various means.
Each organization has excellent charity ratings and spends a majority of its revenue on its programs. Review each of these three and help us decide which organization to support by casting your vote before the end of the month. This poll will end on February 28th at 11:59 pm.
Summaries below include a link to their Guidestar profile which details the nonprofit's operations and transparency.
1) 100 Black Men of America, Inc.
Why? Young adults need positive role models and leaders to look up to. Having a strong support system helps guide the next generation of youth to become empowered adults. With mentorship at the cornerstone of this organization, youth involved with 100 Black Men of America become what they see.
Where? The United States, Turks and Caicos Islands, and the United Kingdom.
What? 100 Black Men of America, Inc. is a civic organization and service club whose mission is to educate and empower African-American children and teens. They have over 100 chapters and 10,000+ members all over the world hoping to improve the quality of life within their communities. By leading as examples and instilling positive values in their youth, these members are able to see their vision come true.
Some of their programs include:
Mentorships
Education
Health and Wellness
Economic Empowerment
Leadership Development
2) PolicyLink
Why? The American Dream is the promise that the United States is a land of opportunity for all. In today's society, this is not the reality. Everyone deserves to have just and fair inclusion in society and to have equal opportunity to reach their full potential.
Where? The United States.
What? PolicyLink is a nonprofit national research organization and action institute advancing racial and economic equity. Their research and advocacy work brings light to the problems facing today's society. The guiding principle is "lifting up what works" to see change.
Through their ongoing efforts, they seek changes in the following areas:
Equitable Economy
Healthy Communities of Opportunity
Just Society
3) Race Forward
Why? We need to understand the key concepts related to race. This organization provides the tools to educate and inspire people to take effective action toward racial equity.
Where? The United States.
What? Race Forward is a nonprofit racial justice organization founded in 1981 to build strategies to advance racial justice in our policies, institutions, and culture. It is home to the Government Alliance on Race and Equity (GARE) which is a national network of local governments. Each part of this organization aims to achieve racial equity and advance opportunities for all.
They hope to reach their goals through:
Estabilishing long term institutional and sector changes
Build a secure culture through media and arts and
Publising a daily new site, Colorlines and Mass Freedom FRED Talks
Develop leadership within grassroots organizations on a national scale
Assess effectiveness of applied iniatives through research
Holding the largest multiracial conference, Facing Race
Nonprofit poll
After reviewing the listed above, please take a moment to vote for which nonprofit you think will put funds to use in the best way.
(Have trouble using or seeing the poll above? Some reader tools or apps may not display it. View this page in a browser or use this link to our Reader Fund page which has a copy of the poll!)
Thank you for taking the time to vote!
One of our primary goals with TicTocLife is building a stream of giving within the FIRE community and that starts with knowledge.
Want to hear about the results? Signup for our free FIRE Insider newsletter! We send it out every few weeks and include the monthly poll results and donation winners. You can see an archive of the FIRE Insider and signup here!
What Does February 2022 Hold?
Our plans are to play it safe and stay home for a few weeks while things start to settle back down. In the meantime, we've started putting together a little winter getaway. It's has been on our mind for months and we are ready to get out of the house.
Our flexible schedules make it easy to plan a trip around low airfares to awesome destinations.
By the end of February, we hope to be catching some much-needed sunshine on the beaches of Puerto Rico. Our ideal day should consist of lounging in hammocks reading and writing in between dips in the warm blue water. We may consider going an adventure or two to the rainforest or out on a kayak through the bio bays!
Our goal is to clear our minds and relax while escaping the winter weather back home. When we come back, we will be refreshed and full of ideas for our readers of TicTocLife in 2022.
We may even finally get to our full review of our 2021 FIRE budget (catch our 2020 FIRE budget?). You'll see how well we stuck to our FIRE goals, where we messed up, and how we can improve.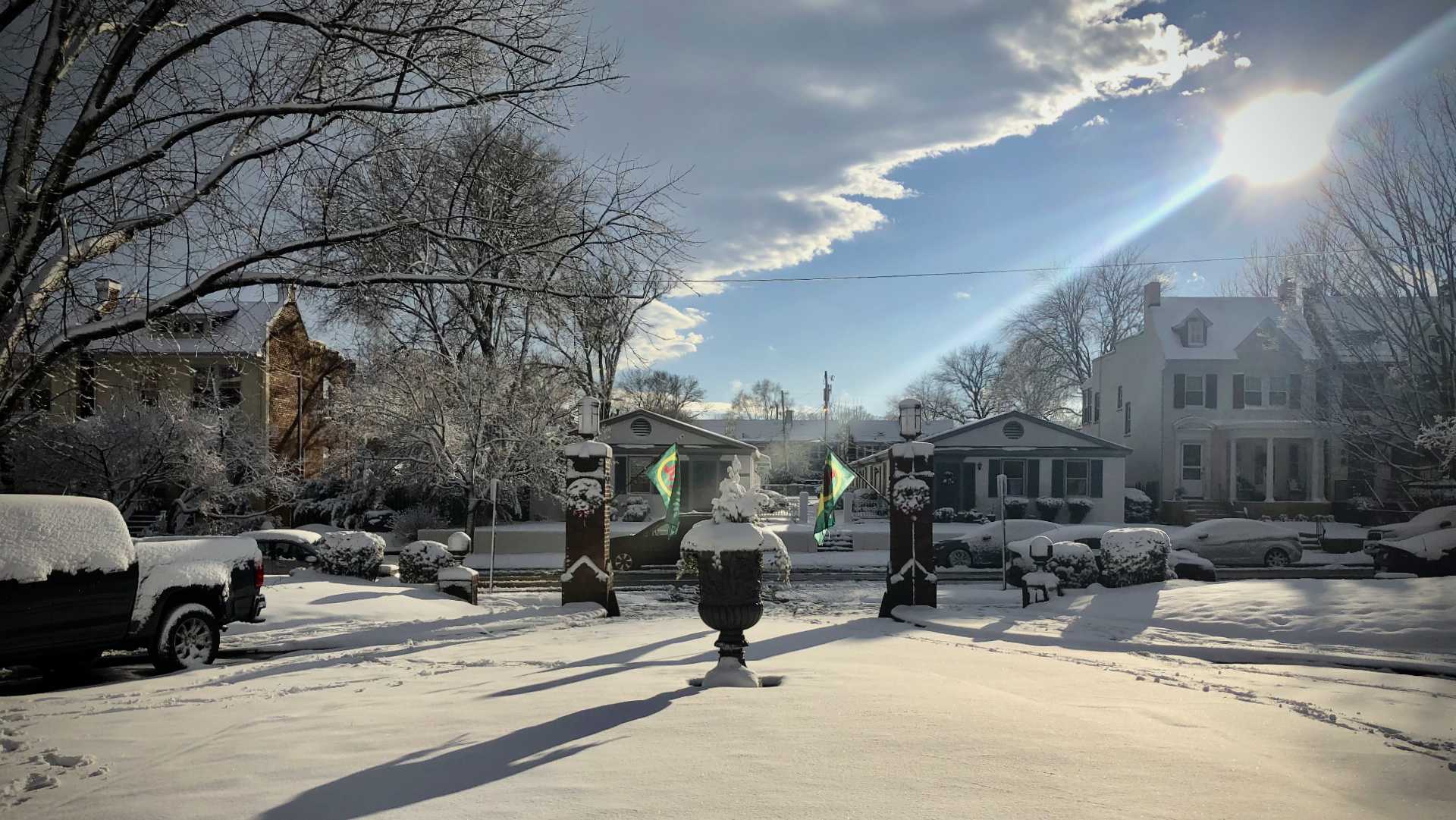 ---
How's February looking for you?
What are your hopes for the year?
Let us know in the comments or on Twitter!