To FIRE folks like us, Christmas means more than just holiday fun: it's time to close out our financial year! We found some serious surprises that'll cost us thousands in taxes and lost credits. There's a lot of strands to tug on in this monthly budget update, read on and let us know what questions you have!
December Budget Update
To celebrate this still abnormal holiday season, we found several Christmas events to help keep the season bright. And as an added bonus, they were all free!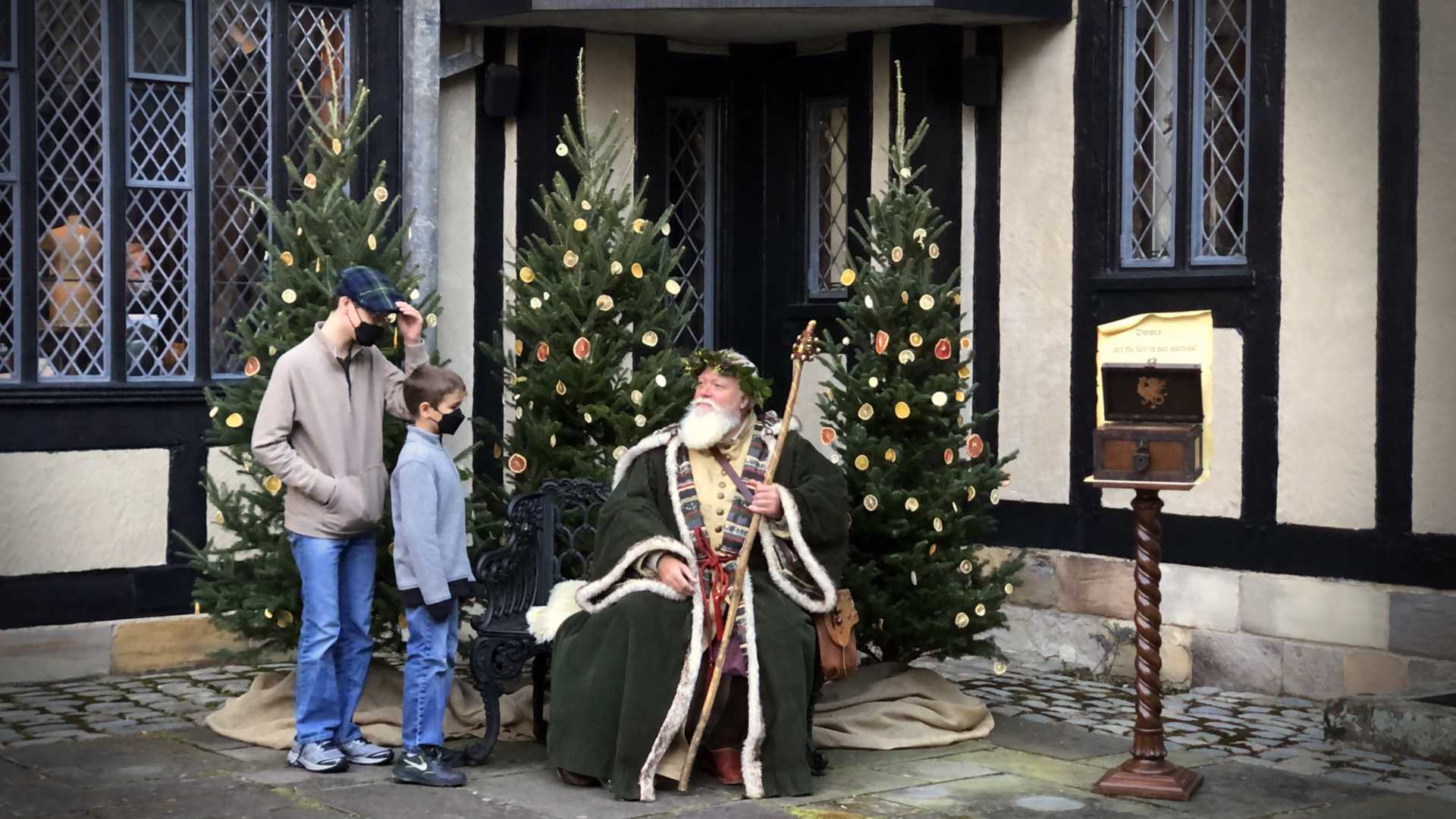 Our favorite one was our city's grand illumination event. While standing amidst the high-rise buildings, the city was simultaneously lit up with the flip of the mayor's magical switch. This event always marks the beginning of the Christmas holiday for us.
Let's get into our December income and expenses.
Each month, we do a little review of nonprofits to inform our giving each month. We've reviewed three nonprofits supporting healthcare workers for our monthly grant that you direct! Be sure to cast your vote below!
During our last month's budget review, we looked at children's holiday charities. Read on to find out the winner and see our poll for this month's grant!
Now, on to this month's budget review!
We had our highest savings rate of 96% this year. We doubled our income on the last day of the year and invested over $116,000. Yet, we still managed to go over our FIRE budget for the month!
In the Sankey diagram below, the income on the left matches our expenses to the right.
We'll run through the income and expense sources for the month and remark on any interesting items.
Income Summary
We have several sources of income and they tend to vary from month-to-month.
Most of our income is from Jenni's part-time pharmacist job and Chris's ongoing business operations—which is generally on autopilot with nearly passive income.
Part-time work
Jenni continues to work at a local pharmacy as needed.
Her part-time pharmacy position earned her $2,914.
Without even requesting off, she lucked out and finished all her shifts by the 17th of the month. This gave her a lot of time off for the holidays. She also received an annual Christmas bonus.
Chris continues to wind down his businesses. He spent part of the month doing routine end-of-year closeout activities and scrambling to keep up with some additional work then tends to come at the end of the year.
In order to maximize his personal 401(k) contribution, he took a very payment as an employee which also included significant profit sharing.
Chris's business paid him $35,086.
We reveal just how many hours we work each month in the "how much we work" section below, too!
Accountable Plan
Chris mentioned his company's accountable plan first in our July budget. Each quarter, his business reimburses a portion of his personal expenses to provide the business with resources that it uses. This includes things like office space in our home, vehicle use, benefits, business travel, etc.
He forgot to report the Q3 reimbursement for September and so has included it in this budget update. You'll see a combined Q3 and Q4 reimbursement.
The $6,727 reimbursement represents about $1,121 per month over the last two quarters.
If you run an LLC that is taxed as an S Corp, he highly recommends looking into an Accountable Plan and talking with your accountant about it.
Other income
Chris sold an XBOX Series S for $310 via Craigslist. He purchased it with the intent to sell it to maximize the value of his Dell credit from AMEX (check out the "shopping" expense section for more details).
We also had some income from eBay sales this month.
There is usually an uptick in eBay sales around the holidays from people looking for Christmas gifts. This year we had quite a few sales which earned us about $2,807 via eBay.
The source for these sales was mixed:
Chris's parents are moving across the US—they dropped off a variety of old childhood toys and decor that was in storage which we sold
The last remnants of electronics from a local office closeout we've been selling throughout the year found new owners
We gathered up things around the house, older electronics we were upgrading, and some general clutter that we happily sold off
Dividends, interest, credits
Our annual dividends were deposited this month, making for a record dividend income! Dividends totaled $86,377.
Dividends were extremely high this month due to an unexpected large payout of our target date index funds. This month's dividends alone would cover two times our annual FIRE budget!
Unfortunately, a large portion of these investments was in a non-tax exempt account, therefore, this large dividend payout will result in a hefty tax bill. Jenni will breach the income threshold to receive a health insurance subsidy, too. She received $120/month which will have to be repaid at tax time.
This is obviously quite a large mistake that we will need to address. Chris plans on writing a future post about how we got ourselves into the predicament, why it is a problem, and what we may do to avoid this in the future. There are some details in one of our tweets if you're curious.
Our savings accounts earned $7 in interest.
The month ended with $772 in credits from various sources. These credits primarily come from credit card issuers who have special offers when spending in certain categories. We took some time to review all of our credit cards to make the most of any special offers before they reset at year-end. We break out the individual credits within the expense summary below.
Jenni also cashed out her Ibotta account for a total of $21 cashback from groceries.
Transfers
Overall, we ended the month with an extra $13,152 in checking. This will eventually flow through to our brokerage accounts to increase our investments.
This is a nice way to end the year with a little extra cushion. Compared to the last few months, we've been pulling money from checking to make up the difference in our spending.
Expense Summary
From our $135,021 monthly budget, we saved $129,545 this month.
This gives us our all-time record savings rate of 96%!
This is primarily an effect of our large dividends coming in at the end of the year which are automatically reinvested (DRIP). In addition, Chris opened and funded a new IRA with $500, contributed $3,600 to his HSA, and maxed his contribution to his 401(k) for a total of $30,386.
You probably are thinking, "wait, that is over the max individual 401(k) contribution limit of $19,500 for 2021", and you would be right. However, he has the added benefit to contribute as both employer and employee because he occupies both positions. The business operates a solo 401(k).
Our average FIRE budget for 2020 was about $3,405/month. This month, we're over our target spending by a third. We spent about $4,692 on living expenses.
That's 137% of our typical monthly FIRE budget.
We will be sure to do a full review of 2021 at the beginning of next year.
If you're curious what our typical annual budget looks like, check out the full FIRE budget review we did!
Let's get into the details of our spending for the month.
Travel
Our travel expenses were for hotels and flights for now and in the future. In total, we spent $932 on travel.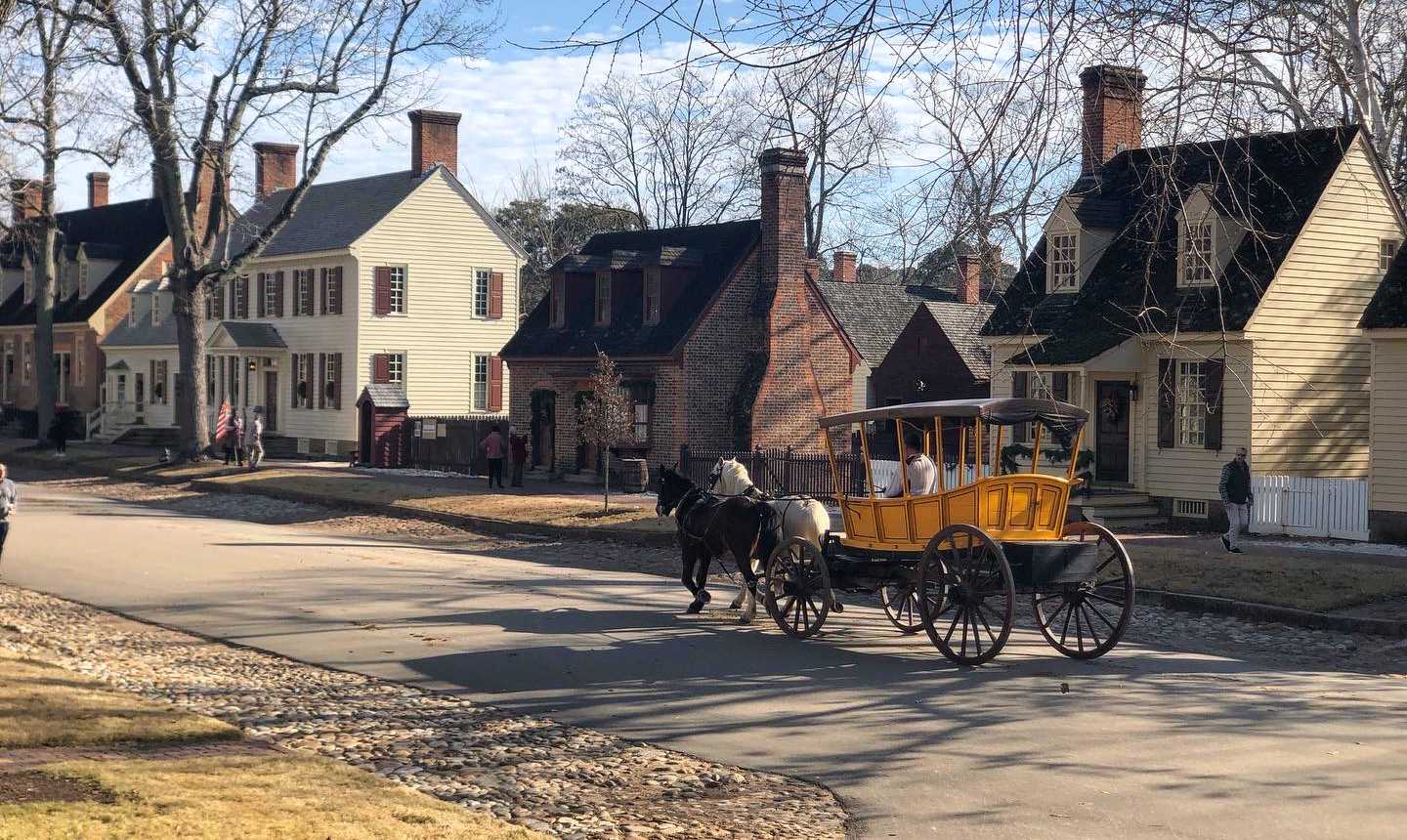 We were hoping to be off on a warm winter getaway for Christmas but the world had different plans for us. We kept our holiday travels relatively local this year.
Chris's parents came down to celebrate Christmas in Colonial Williamsburg, Virginia. We found an apartment-style hotel complete with two bedrooms, two bathrooms, and a kitchen. This way we could all stay together and not have to find a reservation for our Christmas meal.
The hotel cost $411.
Chris purchased two gift cards to be used on future stays with Airbnb.
We earned a $15 AMEX credit for a $100 Happy gift card (which can be redeemed at Airbnb, Chevron, Grubhub, Southwest Airlines, or Texaco). We also earned 4x Kroger fuel points by picking up another $115 Airbnb gift card that was just $100 during a promo!
Total travel gift card cost $215 (minus a $15 AMEX credit).
We both had unused incidental airline credits on our American Express cards. This credit is one of the major advantages of the AMEX Platinum card that comes with its large annual fee. To not lose our credits, we purchased non-refundable flights and partially paid with a gift card. This process flagged the remaining balance as an incidental fee that would trigger the AMEX statement credit.
Many airlines are waiving change fees due to travel restrictions and COVID policies. So once the credits post, we can cancel the flights ending up with a credit with the airline for future flights.
We ultimately spent $318 on future flights (minus a $312 AMEX statement credit).
Home
Our housing costs are broken down in our annual FIRE budget (mentioned above) in detail.
For the monthly breakdown, these details might be helpful to understand:
When evaluating whether to rent and invest or buy a home, we chose to own
We have a 30-year, fixed-rate mortgage below 4% interest
Our HOA is $350/month which covers some of our utilities (heating, water)
We chose the city life vs country life in a medium cost of living area
Housing-related expenses are consistent month-to-month. We have an escrow account with our mortgage provider which helps automate property taxes and home insurance payments.
We live in a 2 bedroom, 2 bath historic brick home built in the 1920s. It's part of a small cooperative.
Our HOA will be renovating our garages which is expected to trigger our first assessment since we moved here in 2013! That assessment is expected to be $1,500 in April 2022.
Furnishings
Living in a historic home, there is always something that needs fixing. We decided to take it easy this month and try to forget about all the things that need to be done. Instead, we decorated for Christmas, bought some new holiday lights, and wrapped up the reupholstery project.
Our newly reupholstered dining room chairs were put to the test over Christmas. We sat in the chairs over dinner and for a few rounds of games, wiggling and moving around quite a bit. Afterward, we realized a few of the screws were loose or had fallen out completely!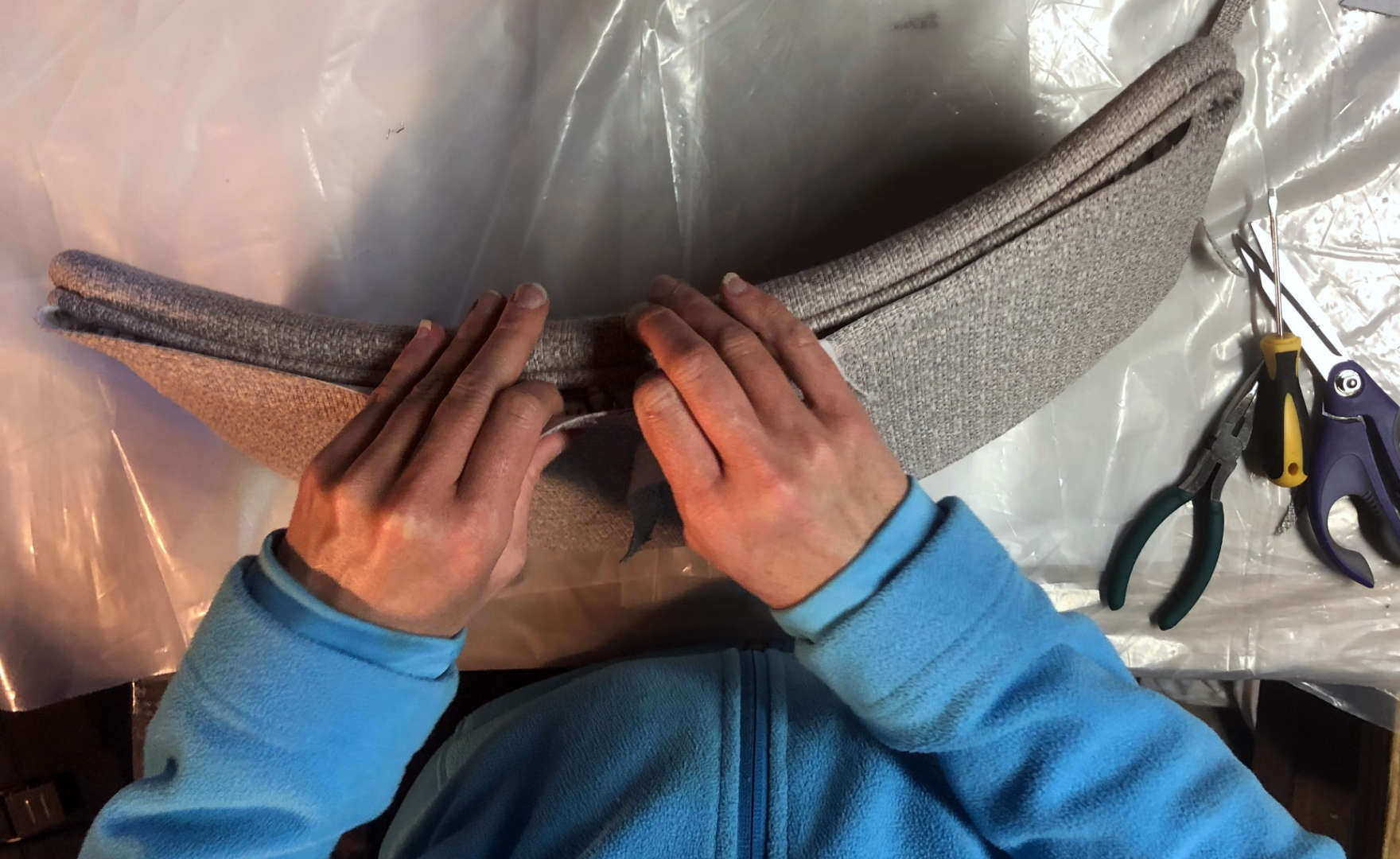 Jenni went ahead and replaced all the hardware with slightly longer screws and tightened everything up.
Now, these teak mid-century modern dining room chairs by Erik Buch are all good as new and we are ready for guests.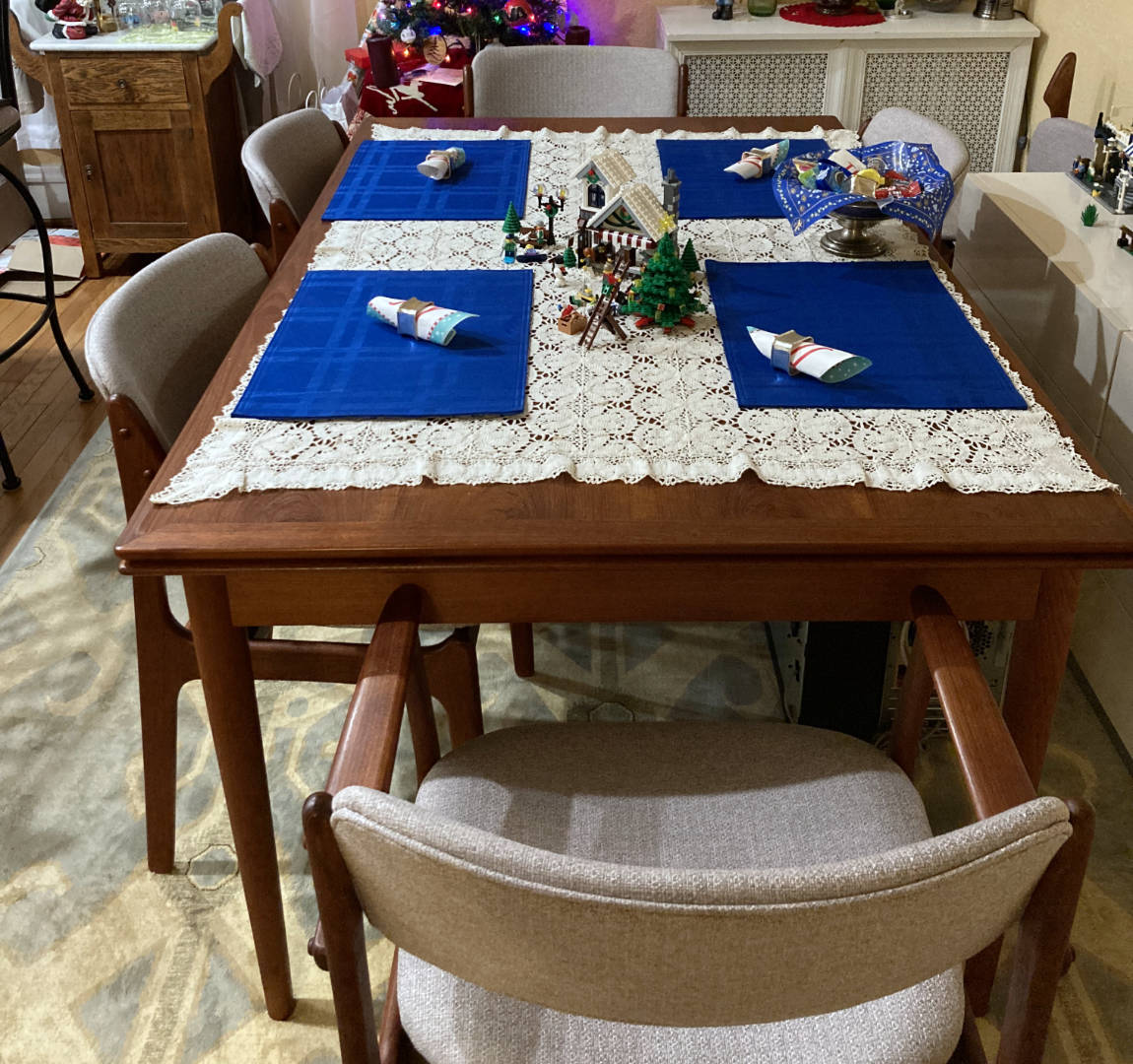 We bought a cold brew coffeemaker from Saks.com. This is not a store we typically shop from.
However, we had a $50 statement credit offer from our AMEX Platinum card. As a fan of cold brew coffee, we've attempted to jerry-rig kitchen supplies together to make a very messy batch or two. So we're happy to find a cold brew coffee maker and two tumbler glasses for $64—which should be just $14 once we account for the credit!
In total, furnishings cost $110 this month (upholstery project supplies, lights, and appliances).
Health
We spent $1,271 on Health-related expenses this month.
Jenni's rock-climbing gym membership is $60 a month. This gives her unlimited access and a guest pass each month. Her fitness group also met up for a biweekly outdoor class ($30).
Jenni got the chance to navigate through the healthcare system to resolve some lower back pain. After a $74 visit to the primary care doctor, she was off to the orthopedic doctor for further evaluation and x-rays for $202.
From there, she picked up steroids and muscle relaxers from her pharmacy. As always, the steroids only temporarily fixed the pain and the muscle relaxers didn't offer much help. Daily physical therapy exercises seem to do the trick to reduce her pain.
She also prepaid $50 on her pharmacy house account. As an independent pharmacy, it qualifies for a small business bonus through AMEX for 15x points.
Along with a 90-day supply of her daily prescriptions and the pain meds, her pharmacy visit totaled $103.
And of course, we needed to ensure Jenni's sore throat was not the dreaded "C" word before Christmas. We managed to track down a pair of tests from her sister. After two negative results, we resumed our Christmas plans.
She paid her sister back $28 for the tests.
The remainder was for health and dental insurance for the two of us ($774) as we're both paying for individual plans. This amount includes Chris's annual dental insurance premium.
Shopping
We spent $347 on shopping.
We have a few subscriptions to Audible and Walmart+. As a perk of the AMEX Platinum card, these monthly fees are credited back to our statement ($28).
Shampoo and conditioner bars are ways to reduce plastic waste and make it easier to travel. Jenni decided to give it a try and purchased bar soaps for her hair from Viori and a charcoal bar for her body ($31). So far she is loving how her hair feels and is interested in how long one bar will last her.
Chris bought an XBOX Series S with 10% discounted Dell gift cards for $288 which he turned around and sold locally for $310 (mentioned in the "other income" section above). Buying Dell gift cards with his AMEX Platinum Business card, earned him $227 in statement credits offsetting much of the cost of the XBOX.
Food & Dining
Our grocery expenses are reduced since we have mostly been using up the gift cards we purchased over the last few months to max out Chase's 5% cashback at grocery stores promo.
We both submitted a few grocery receipts to Ibotta to be cashed out later, too.
We spent $414 on groceries.
→ Related: Want to see how to save money on groceries in detail?
Restaurants, Fast Food, Alcohol
Our visits to restaurants totaled $42. While we try not to eat out too much, we reserve restaurants for times when we are away from home, sharing a meal with friends, or there is a good promotion we can't pass up.
We utilized three AMEX Offers on restaurants for a $25 credit.
During our restaurant trips over Christmas, we were treated by Chris's parents as our gift. It was a great way to spend quality time together and have great food and wine.
We spent $17 on takeout food and restocking our alcohol supply. Jenni receives $15 UberCash to use with UberEats from her AMEX Platinum card plus an additional $20 for December. We used all the bonus Ubercash and got takeout several times this month!
One nice thing about supporting restaurants and small businesses when paying with our AmEx Platinum, we get 15x membership rewards points!
Gifts
We spent $293 on gifts this month.
Our gift-giving focus is on the children in our family. We like to spoil them with yummy candy, entertaining games, and fun toys.
This year, we will be passing down Chris's 1995 Tyco slot car race track to the youngest two in our family. Right now, we have it all laid out in our living room testing and cleaning the track so it is ready to go.
We also hold a secret Santa gift exchange for the adults, minimizing the headache of finding the right gift for just one person each. We've been doing this for a few years and it makes the holiday less stressful and a lot more fun.
We also received a $100 check from the grandparents!
Donations
We made a few charitable donations totaling $39.
Jenni donated $5 to Virginia Public Media and $15 to a group home her company was sponsoring for the holidays.
Chris donated $19 to the American Cancer Society. Combined with a Swagbucks offer, this donation ultimately becomes a money maker.
Utilities
Our cooperative runs on a boiler system for our heat. Although most of December was in the '60s, we were glad to have the heat on when it finally got cold outside.
We spent $39 on electricity this month. Most of our usage comes from appliances, computers, and lights.
In typical fashion, we spent almost $20 on city services (cooking gas, wastewater).
Every few years we change up our internet service depending on what deals are available. This time the offer was $39.99 for 200mbps for new customers with a $10 discount for automatic and paperless billing.
We signed up as new customers under Jenni and our new Xfinity Comcast bill rang in at $31 for internet. It's about 200mbps, a little faster than we had before. There was a slight overlap in internet service and next month it will be $30.
We both have cell service on prepaid annual SIM cards. Jenni was on her last month of Cricket mobile and had a $25 in a refer a friend credit on her account. She paid $5 to use up her credit and get one more month of service.
Cricket Wireless has been great as far as coverage but she did run out of 2GB of data a few times while traveling. Now that her iPhone is unlocked, she can switch back to Redpocket Mobile. She purchased a 3GB annual SIM card for $174.
We don't have any television service.
Amusement
We didn't spend any money on entertainment & amusement this month but that doesn't mean we didn't have a lot of fun!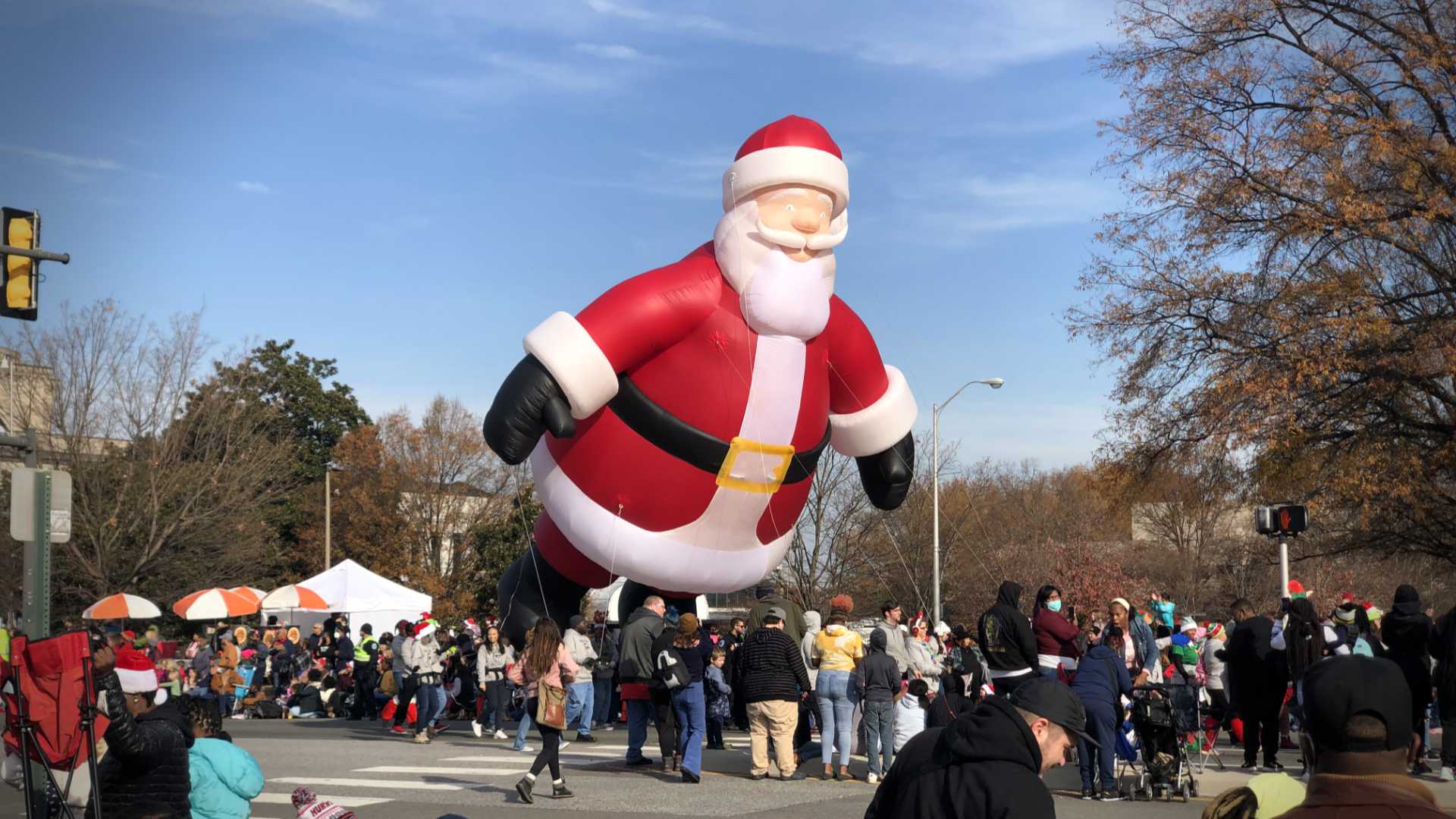 From the time we got home from Thanksgiving, everywhere we looked, we found beautiful displays of lights and a lot of Christmas cheer. Our neighborhoods were beautifully decorated with huge displays of Christmas lights and inflatable characters. The city resumed its annual Christmas Parade march down the middle of Broad Street pulling gigantic Santas and Teddy Bears ballons. We toured a 15th century Tudor manor house decked out as it would have been in the 1500s and sipped on mulled cider brewed over an open fire. And one night, we were even were graced with a group of community carolers. Overall, December was full of joy and we hope it was for you too!
We wanted to visit Busch Garden's Christmas Town while in Williamsburg but opted for a tacky light car ride around town instead. It was well worth driving around to see the best holiday light displays in town. We even discovered a fantastic London Town Christmas village display put together by a train enthusiast.
Our last stop on our tacky light tour was to see this 7 tiered display of London complete with lights and trains.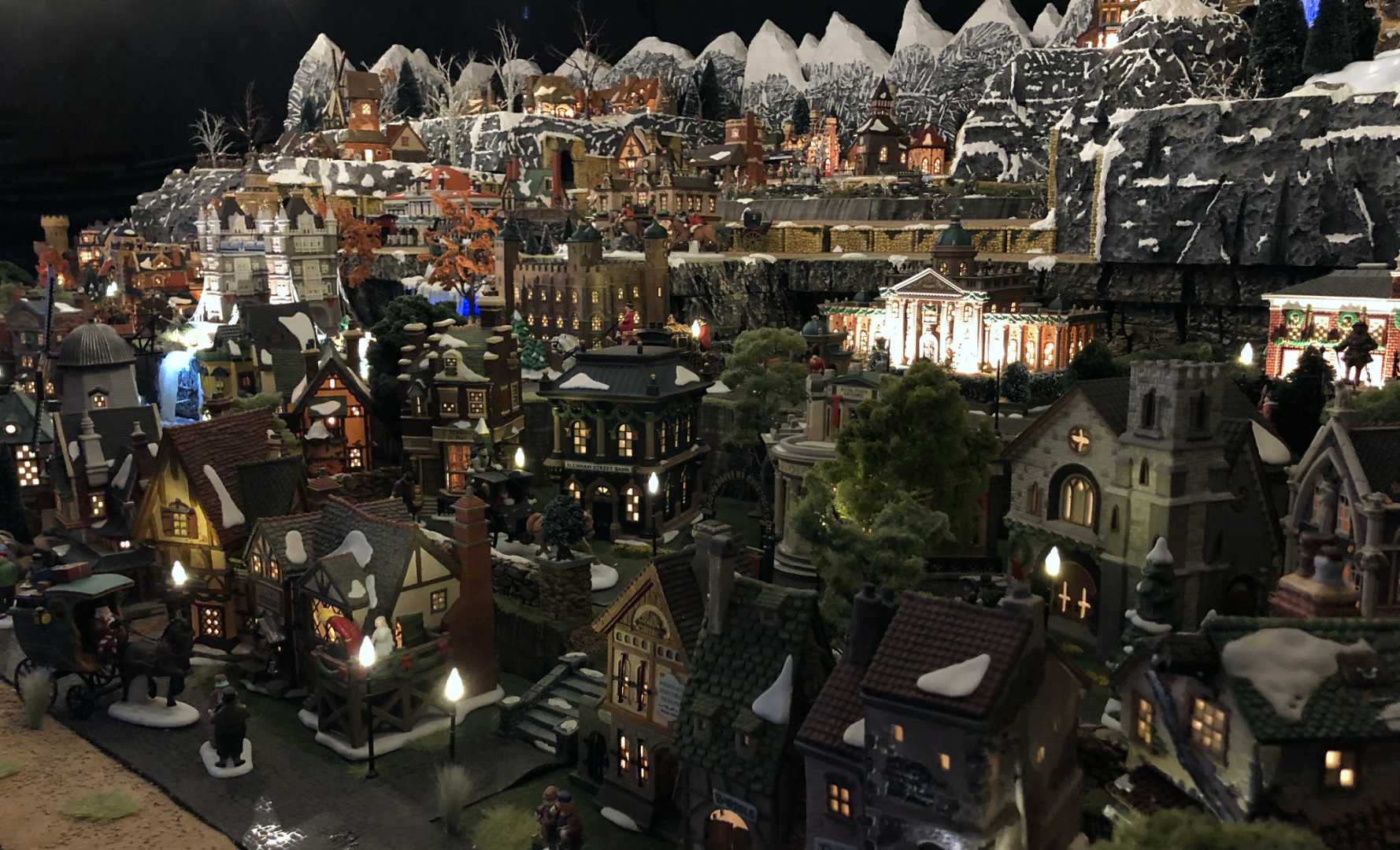 Auto & Transport
We did a lot of driving in November so we took it easy this month. With only a few trips to work, the gym, and a visit or two to see the local family, we didn't put many miles on the Prius.
For our Christmas trip, Chris's parents drove us all to Williamsburg.
We spent $10 on gas & fuel.
We spent $35 on tolls by reloading our EZpass.
How Much We Work
We like to keep track of how much time we spend doing work that is paid. For Jenni, this is pretty easy as it's just her paycheck time. Chris manually tracks his hours consulting with Freshbooks (referral).
Our aim is to gradually reduce these hours.
Chris's hours have remained about the same the past few months while Jenni's have increased slightly.
| Month | Chris (Hours Worked) | Jenni (Hours Worked) |
| --- | --- | --- |
| May 2020 | 41 | 108 |
| Jun 2020 | 38 | 96 |
| Jul 2020 | 36 | 120 |
| Aug 2020 | 39 | 48 |
| Sep 2020 | 27 | 76 |
| Oct 2020 | 26 | 104 |
| Nov 2020 | 27 | 57 |
| Dec 2020 | 28 | 57 |
| Jan 2021 | 25 | 102 |
| Feb 2021 | 24 | 104 |
| Mar 2021 | 24 | 106 |
| Apr 2021 | 23 | 85 |
| May 2021 | 17 | 29.75 |
| Jun 2021 | 19 | 66 |
| Jul 2021 | 21 | 30.25 |
| Aug 2021 | 23 | 16.5 |
| Sep 2021 | 26 | 28 |
| Oct 2021 | 22 | 49 |
| Nov 2021 | 21 | 51 |
| Dec 2021 | 64 | 27 |
An average full-time job for two people would be about 347 hours.
We had a spike in hours this month where we've basically traded places.
Chris put in a lot more work to try to prepare for some changes to his businesses in 2022 and to finalize work for the year.
Still, we only worked about a quarter of what a normal pair of full-time employees would!
2021 Theme Update: Discomfort (Final)
From Chris:
I've delivered a little update each month towards my Yearly Theme.
For 2021, I chose "Discomfort". This guiding word is a reminder for me to seek out challenges within life and stretch my comfort zone. It's my way of having a "new year resolution".
Last month, my goal was simply to survive. I was expecting a busy December, and I wasn't wrong! My "hours worked" report for the month shows the highest number of hours I've tracked since we started posting.
I spent a lot of time doing accounting work, tax preparation, and generally closing out the year. I'm also attempting to further limit how much responsibility I have with both of the business I still operate. Somewhat counterintuitively, working towards not working takes a lot of work!
But, I'll get there. And I want to do it in a healthy way without just pulling the plug. 2022 has some promise for even less work that I don't want to really do than 2021 had.
But you know what's really discomforting about that?
It makes it significantly harder for me to ever get back into my line(s) of work.
I suppose, though, that's the goal!
Before our January budget update, I'd like to provide an update on my original "yearly theme" post with some lessons learned and a view toward 2022. Keep an eye out!
Don't have a "Yearly Theme" for yourself? You could create one for 2022!
Net Worth Update
We don't like to focus on the net worth of writers in the personal finance community. However, we do understand it offers a little context to the writing for the reader.
You might better relate to someone with a net worth and earnings history more similar to yours.
We wrote up an extensive post on our earnings and net worth history that ranged from 2006 to 2018. We did it with an average income of $77K per person over the period we analyzed.
→ Related: How to Become a Millionaire in 10 Years (Debt to $1.2M at 33)
Account breakdown
The market keeps chugging along and so do our investments. From a high level, our assets and liabilities are shown in the data table below as of December 31, 2021.
| Description | Value (USD, $) |
| --- | --- |
| 401(k) | 779,613 |
| Brokerage | 916,417 |
| Roth IRA | 173,318 |
| HSA | 37,714 |
| Real Estate | 376,200 |
| Mortgage | (148,728) |
| Miscellaneous Assets | 20,750 |
| Checking & Savings | 14,951 |
| Net Worth | 2,170,235 |
Miscellaneous assets include specific investments we've made in physical assets (think collectibles, bonds)
Amounts do not reflect the value of the businesses Chris owns or their assets, which should appear as income to us over future years
Jenni's Prius is not included
Our net worth increased by $75K!
With this increase, we have recovered from the drop last month. These last three months have been a bit of a rollercoaster!
Chris added $10,000 worth of Series I Savings Bonds at the end of the year. These appear under "Miscellaneous Assets". Thanks to Steveark for being the final straw to convince him to make the investment before the year's end.
The S&P 500 was up 4.36% in December bringing its 2021 return to 26.89%. Our monthly growth was 3.1% with annual growth of 16%.
Net Worth History
December 2021 Donation Winner
Although our celebrations this Christmas did not quite return to normal, we made the most of it with a small family gathering. We were blessed to be healthy, have the time off of work, as well as the ability to eat, drink, and be merry without financial worry.
For thousands of families out there, this was not the case. That is why we wanted to highlight a few different organizations that pride themselves on bringing joy to children who are in not so fantastic situations.
We had 12 voters this month. The winner with 6 votes goes to One Simple Wish. Our donation will help grant one or more wishes to children in America's foster care system. We hope that this small act brings them a little love, hope, and joy.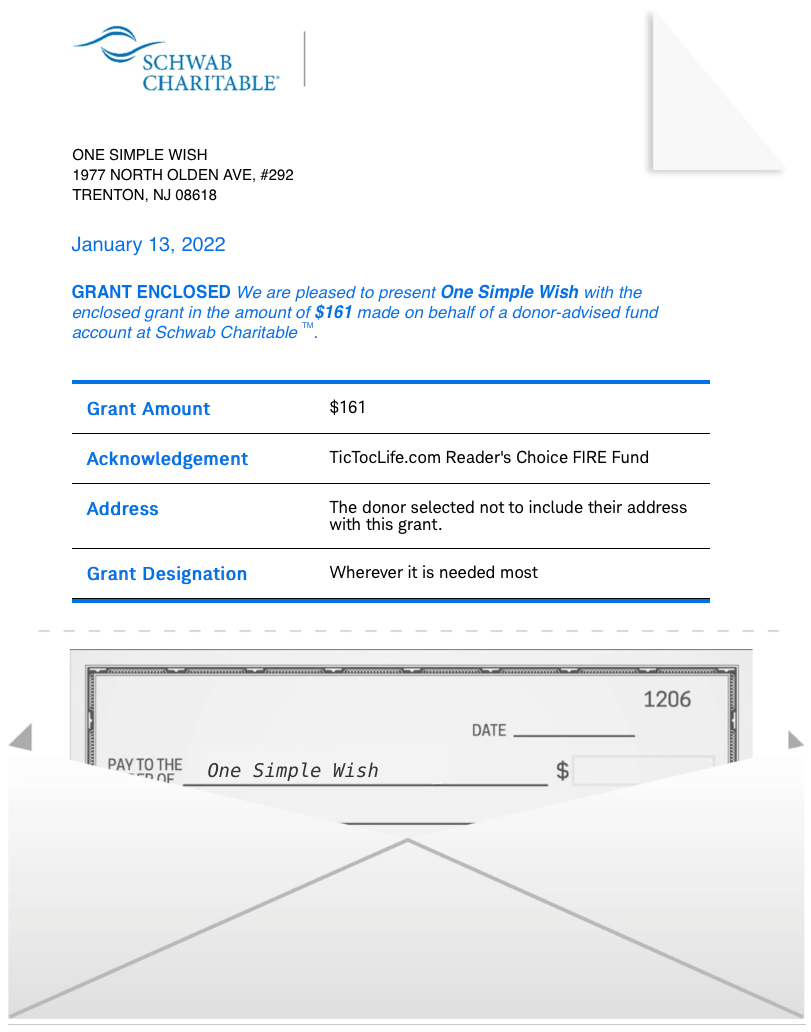 Our Reader's Fund seeks to leverage the principles of FIRE to build a lifetime of giving.
By the time we're near normal retirement age, it's easy to see how the fund could grow to $250K and donations would be in excess of $800/month! That's the power of FIRE and compound interest!
Thank you for your participation in our polls over the last 17 months. We've given over $1,600 to deserving charities with your help in deciding which organizations to donate to.
We are excited to enter the second year of our Reader's Choice FIRE Fund poll! If you would like to see changes to the way we display our candidates or have suggestions for charity categories, let us know in the comments.
Polls are now open for our next round of candidates: Healthcare Worker Relief.
Healthcare Worker Relief
Let's be real. Nurses are getting the crap beat out of them mentally every single day! On top of the motherload of covid cases that are still rising, nurses still have all of the regular jobs they are assigned to do. We didn't feel they ever got enough credit to do what they did before. Now, it's just harder for them to get their job done, with less appreciation or mental strength to do so.
Remember last…gosh I can't even remember if it was one or two years ago but, remember when people would stop for a moment and cheer for the frontline healthcare workers every day? Donations of food and gifts would pour into ERs from all over the country to show appreciation for the selfless acts of the healthcare teams. We have failed to keep this motivation going and nurses, doctors and, healthcare workers are burned out.
By highlighting a few organizations below that attempt to support healthcare workers get through these exceedingly hard times, we hope to spark that flame of appreciation for our healthcare team members. Each organization has excellent charity ratings and spends a majority of its revenue on its programs. Review each of these three and help us decide which organization to support by casting your vote before the end of the month. This poll will end on January 31st at 11:59 pm.
Summaries below include a link to their Guidestar profile which details the nonprofit's operations and transparency.
1) American Nurses Foundation, Inc.
Why? Support is what our nurses need right now. They have been fighting this pandemic from the beginning without an end in sight. Knowing what they need to get through the day can help give them the strength they need to go on.
Where? The United States
What? American Nurses Foundation, Inc. was founded in 1955 as the nonprofit philanthropic and charitable arm of the American Nurses Association. Their mission is to advance the profession of nursing through fundraising for research, education, and improvement of the whole clinical practice of the healthcare system. Currently, the American Nurses Foundation Coronavirus Response Fund for Nurses has surveyed nurses around the United States to learn exactly what they need. This research provides resources based on their requests, questions, and real-time descriptions of what they need. While what we really need is for this pandemic to be over, for now, this foundation is offering the following:
The latest science-based information to protect healthcare workers, prevent infection, and to care for those in need
Direct financial assistance to nurses via grants by Nurses House, Inc.
Support for the mental health and well-being of nurses
Advocating for Nurses and those they serve
2) Intrahealth International Inc.
Why? Healthcare is not just about the people who need it, it is also about the people to deliver it. Healthcare workers around the world are putting themselves at risk to stop this pandemic. Every day something is changing and innovation is needed to keep these heroes safe. Without healthcare workers, health care doesn't happen.
Where? Asia, Panama, El Salvador, Honduras, Guatemala, Africa
What? Intrahealth International Inc. is an international nonprofit relief organization. Their mission is to improve the performance of health workers and strengthen the systems in which they work. They have several programs to improve the safety of healthcare workers while at work but also to improve the supplies, equipment, and technology they have access to. The COVID-19 Frontline Health Worker Fund was developed for:
Digital Health Solutions to dissemination information and communicate
Finding alternative ways to keep healthcare workers educated
Mobile phone alert systems for HIV patients to have access to care and medications
Utilizing local organizations to disseminate COVID-19 information
Francophone West Africa providing PPE to workers
Mitigation measures to prevent infection from clinets
3) International Medical Corps
Why? We need people in the world that are willing to do their job to matter where in the world it is or what the conditions might be. On a normal day, healthcare workers selflessly care for us knowing what is at risk. In an emergency or disaster, they continue to provide that care despite the risk is even higher but they need our support to keep going.
Where? 30+ countries all over the world including the United States
What? International Medical Corps is a global, nonprofit, humanitarian aid organization. Its mission is to provide training, healthcare, and related services to those affected by conflict, natural disasters, or disease. Throughout the pandemic, they have been working with national and local health organizations to provide medical treatment and resources to prevent and respond to outbreaks of COVID-19. Some of their response activities include:
Training to protect frontline health workers and staff
Getting people, medicine, PPE and cold-chain equipment to where it's most needed
Setting up screening and triage stations
Community outreach and vaccination campaigns
Epidemic response teams
Nonprofit poll
After reviewing the Healthcare Worker Relief Charities listed above, please take a moment to vote for which nonprofit you think will put funds to use in the best way.
(Have trouble using or seeing the poll above? Some reader tools or apps may not display it. View this page in a browser or use this link to our Reader Fund page which has a copy of the poll!)
Thank you for taking the time to vote!
One of our primary goals with TicTocLife is building a stream of giving within the FIRE community and that starts with knowledge.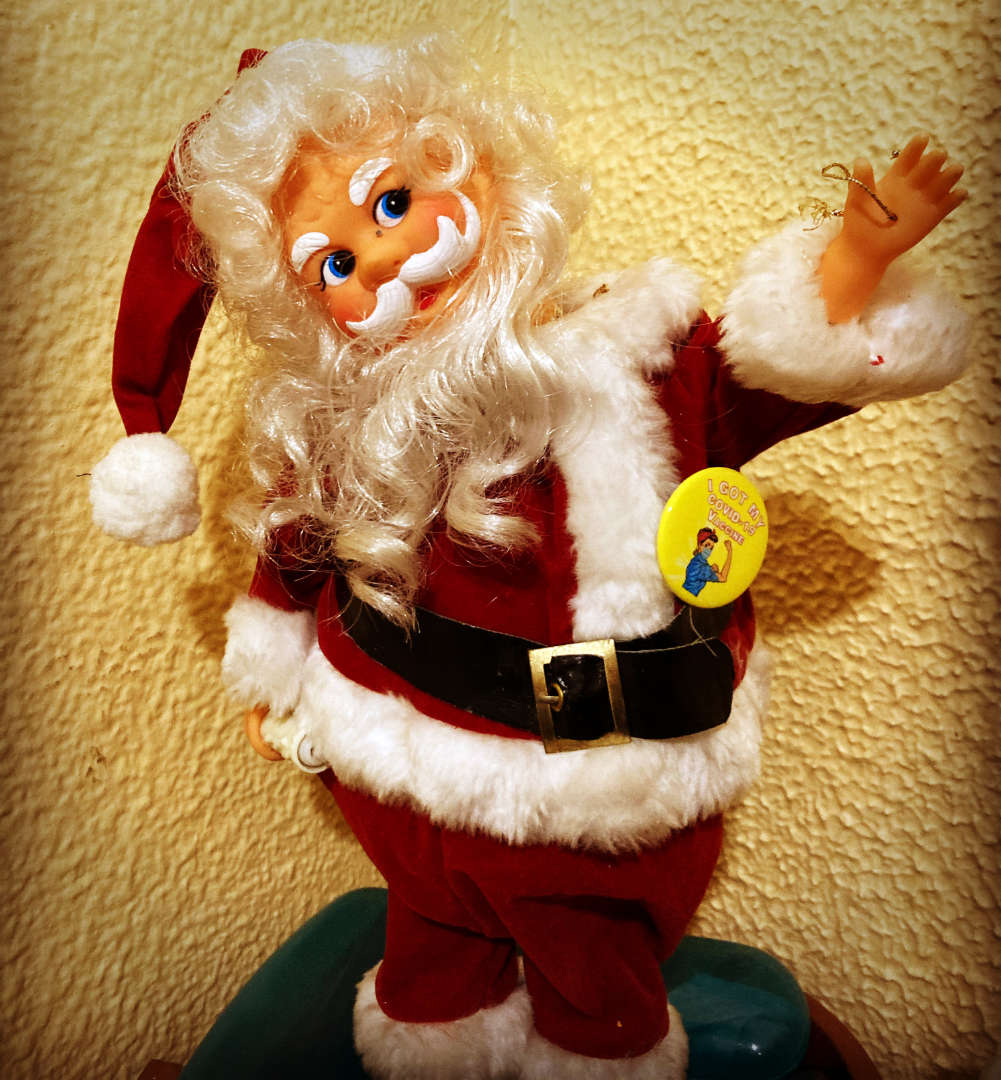 Want to hear about the results? Signup for our free FIRE Insider newsletter! We send it out every few weeks and include the monthly poll results and donation winners. You can see an archive of the FIRE Insider and signup here!
What Does the Start of 2022 Hold?
Now that 2021 has come to a close, we get a fresh start with a brand new year!
We have high hopes for 2022:
Reduce our work hours even more
Develop a clear strategy for our volunteerism
Vacation outside of the US
Our current focus is to continue to minimize our exposure, stay as healthy as possible, and ride out this current wave so we can all get back to normal.
Since we will be home a lot this month, we will put together a full review of our 2021 FIRE budget (catch our 2020 FIRE budget?). You'll see how well we stuck to our FIRE goals, where we messed up, and how we can improve.
---
How's January looking for you?
What are your hopes for the year?
Let us know in the comments or on Twitter!