Welcome to our budget update from two months ago!
Ha, whoops!
Yes, we've both been exceptionally busy as our plans recover from years of delays with the pandemic.
While this post will speak to our typical monthly budget update—something we try to usually complete days after the month closes!—it's going to be in a compressed format so that we can catch up to current times!
Without further adieu… May 2022!
Budget Update
Let's dive into last month's income and expenses. If you'd like a more detailed description of our typical monthly cash flow (like our jobs or housing situation), check out our previous budget updates.
In the Sankey diagram below, the income on the left matches our expenses to the right.
We'll run through the income and expense sources for the month and remark on any interesting items.
Income Summary
Credits
We picked up about $116 in credits primarily through a 20% statement credit offer on Chris' American Express Gold card for restaurants. It's been highly beneficial with all of our travel lately!
Gifts Received
May is birthday month for both of us! Family still sent along $300 in gifts to celebrate. Don't worry—it'll find its way into donations by July (there's a little future-telling for you!).
Local Sales
This $5,550 in local sales comes almost entirely from Jenni selling her 2008 Toyota Prius. However, the proceeds were eaten (and then some) by her upgrade to a 2011 model. More on that later in the post!
Expense Summary
From our $12,363 monthly budget, we saved $485 this month.
This gives us a savings rate of 3.9%. Ouch!
Even after accounting for the one-time expense of a vehicle replacement, we still spent over five grand on living expenses.
That's way over the typical $3,500 or so we are shooting for.
If you're curious what our typical annual budget looks like, check out the full FIRE budget review we did for 2020!
Let's break down some of the more interesting details.
Auto Payment
Jenni was growing concerned about a potential expensive brake-related fix with her 2008 Toyota Prius. Combined with that, a good friend was selling his 2011 model at a low price if one of us would bite on it.
That created a recipe for a minor upgrade at a relatively low cost.
Considering Jenni sold the old car for $5,500 and the total cost (taxes, registration, etc.) for the new car was $6,737—a net cost of $1,237 seems like a good deal.
May kicked off about 40 days of travel for Chris—and nearly as many for Jenni!
Over two weeks in Portugal followed by a week in Florida and capped with two weeks in Peru (ending in early July) spelled high travel expenses.
Our May budget reflects the cost of the flights, hotels, Ubers, restaurants, etc. in Portugal. Florida and Peru's related costs will show up in our June (update: June budget!) and July budgets.
Air Travel
The trip route was:
Dulles (IAD) > Lisbon (LIS) > Madrid (MAD) > Porto (OPO) > LIS (via train) > IAD.
The primary flights out of the US and back were via TAP Portugal and cost $855 roundtrip for two.
We flew a combo of Ryan Air and EasyJet for the portion from Lisbon to Madrid and back to Porto. That ran $103 for us.
We didn't check bags or pay carry-on fees for any flight. Part of saving some money traveling is making a "personal item" size backpack work—even for over a month of travel!
Hotels
It might seem like an error, but for the first several days of our trip in May, we only spent about $368 on hotels in Portugal. Most of this was on AirBNB.
How?
Well, Chris had over a week's worth of Marriott reward night certificates to burn that had been building up over the pandemic. He earns these from multiple Marriott credit cards (which typically have an annual fee of about $100—update: more details on how we saved thousands on hotels in this post).
We used them on a very fancy Sheraton in Lisbon, complete with electric bathtub blinds!
Update: We have a deeper breakdown of the total Portugal trip costs in our June budget.
Travel Insurance
We've added a new expense! We're both on ACA-based "marketplace" health insurance plans in the US, now. Coverage should be decent—or at least manageable—in our region around the mid-Atlantic.
Once we move beyond that area, even within the USA, non-emergency care generally isn't covered.
With that in mind, we decided to add annual travel insurance that has a healthcare component to our insurance repertoire.
This was $79/person/year.
Coverage includes:
| Benefits | Limits |
| --- | --- |
| Trip Delay | $500 per person, per trip |
| Emergency Medical Expenses | $20,000 per person, per trip |
| Emergency Medical Evacuation | $250,000 per person, per trip |
| Repatriation of Remains | $250,000 per person, per trip |
| Baggage / Personal Effects | $1,000 per person, per trip |
| Baggage and Sporting Equipment Delay | $250 per person, per trip |
| Accidental Death and Dismemberment | $25,000 per person, per trip |
| Travel assistance | Included |
"Nationwide Annual Travel Insurance – Travel Pro Deluxe Plan"
The medical coverage begins when at least 100 miles from home which should help with any unexpected care needs that fall out-of-network with our health insurance in the USA.
Expense Conclusion
The rest of our monthly expenses were pretty similar to recent budget updates and are well-explained there.
The primary exception is that several travel-adjacent expense categories were elevated.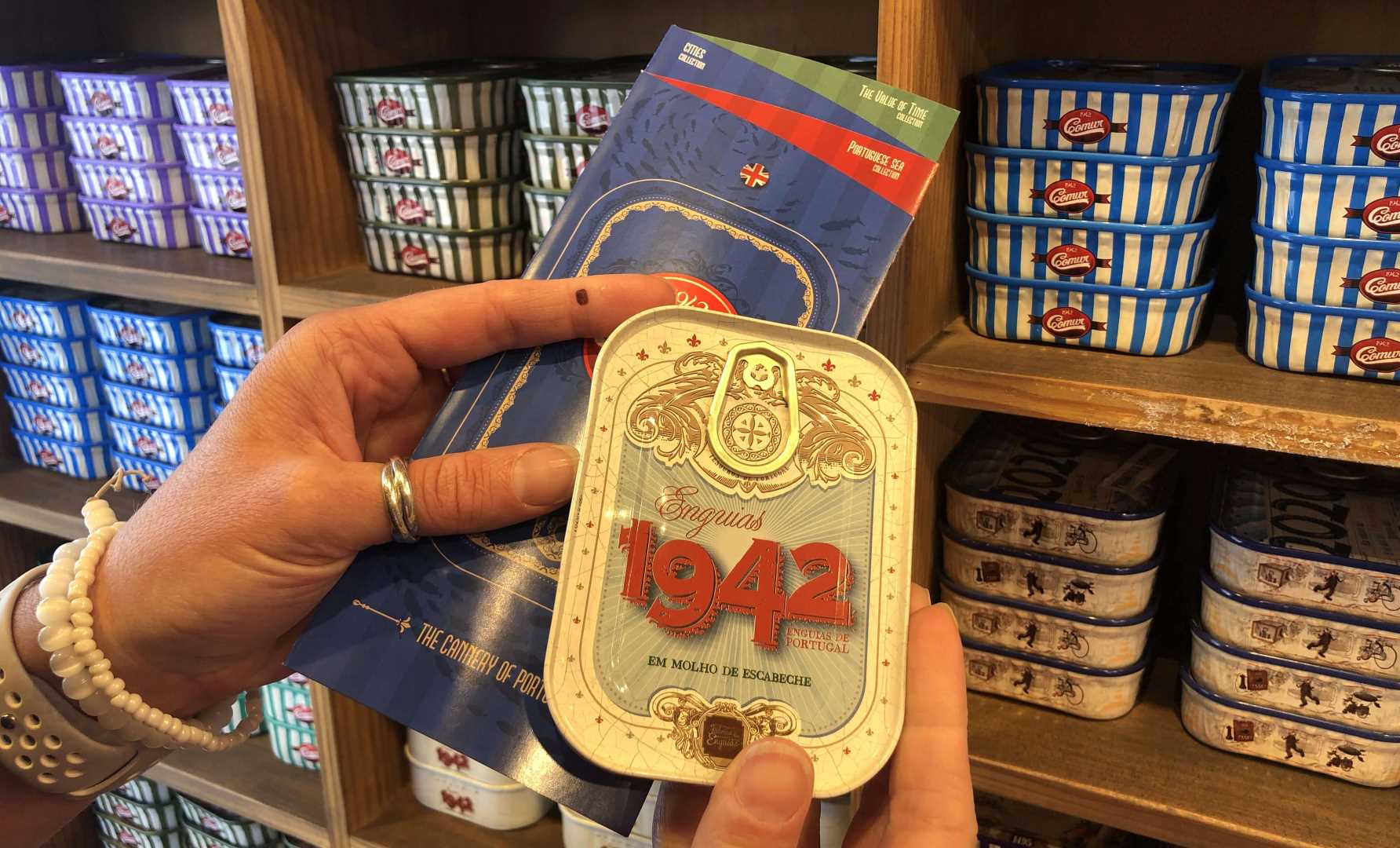 That includes:
Restaurants
Groceries
Amusement
Taxis
Public transit
Clothing
Pharmacy
Most of that makes good sense.
Tickets to various sight-seeing locations fall into amusement.
While our restaurant tabs were pretty low, they were frequent as we tried to soak in the cafe culture of Lisbon or tapas in Madrid.
We did a lot of walking, but Uber was necessary without a rental car on occasion—though public transit was fantastic in the big cities!
But, there are a few oddballs—clothing and pharmacy.
We purchased a few travel-friendly clothes last minute. With a limited baggage capacity and a wide range of climates, we both upgraded a few articles. Jenni made out like a bandit at a local consignment store finding prAna and Columbia items cheap!
Chris was convinced to get a typhoid vaccination anticipating questionable water and food sources while doing medical volunteer work in Peru. That's an expensive shot!
How Much We Work
We like to keep track of how much time we spend doing work that is paid.
Let's add this month to the list…
| Month | Chris (Hours Worked) | Jenni (Hours Worked) |
| --- | --- | --- |
| May 2020 | 41 | 108 |
| Jun 2020 | 38 | 96 |
| Jul 2020 | 36 | 120 |
| Aug 2020 | 39 | 48 |
| Sep 2020 | 27 | 76 |
| Oct 2020 | 26 | 104 |
| Nov 2020 | 27 | 57 |
| Dec 2020 | 28 | 57 |
| Jan 2021 | 25 | 102 |
| Feb 2021 | 24 | 104 |
| Mar 2021 | 24 | 106 |
| Apr 2021 | 23 | 85 |
| May 2021 | 17 | 29.75 |
| Jun 2021 | 19 | 66 |
| Jul 2021 | 21 | 30.25 |
| Aug 2021 | 23 | 16.5 |
| Sep 2021 | 26 | 28 |
| Oct 2021 | 22 | 49 |
| Nov 2021 | 21 | 51 |
| Dec 2021 | 64 | 27 |
| Jan 2022 | 32 | 80 |
| Feb 2022 | 29 | 63 |
| Mar 2022 | 14 | 70 |
| Apr 2022 | 15 | 21 |
| May 2022 | 14 | 36 |
Nice and low!
Net Worth Update
Net worth is not our primary measurement and can understand it can be discouraging if you're working yourself out of debt. We also understand it's difficult to be transparent with our readers without divulging this information so we continue to do so.
Account breakdown
The market keeps chugging along and so do our investments. From a high level, our assets and liabilities are shown in the data table below as of May 31, 2022.
| Description | Value (USD, $) |
| --- | --- |
| 401(k) | 684,887 |
| Brokerage | 791,052 |
| Roth IRA | 143,658 |
| Traditional IRA | 6,301 |
| HSA | 45,901 |
| Real Estate | 404,500 |
| Mortgage | (146,777) |
| Miscellaneous Assets | 29,642 |
| Checking & Savings | 16,405 |
| Net Worth | 1,975,569 |
Miscellaneous assets include specific investments we've made in physical assets (think collectibles) and treasury bonds
Amounts do not reflect the value of the businesses Chris owns or their assets, which should appear as income to us over future years
Jenni's Prius is not included
The S&P 500 traded sideways in May, closing out down less than a single percent.
Our investments gained about 0.04%—so, basically, breakeven.
Our net worth increased by $7.5K.
Net Worth History
Previous Donation Winner
Last month, we focused our donation choices among nonprofits that help bridge the gap between those who have access to digital technology and those who do not.
The winner of our monthly donation was Human-I-T. Their goal is to create equitable access to opportunity by providing devices, internet access, digital skills training, and tech support for communities in need.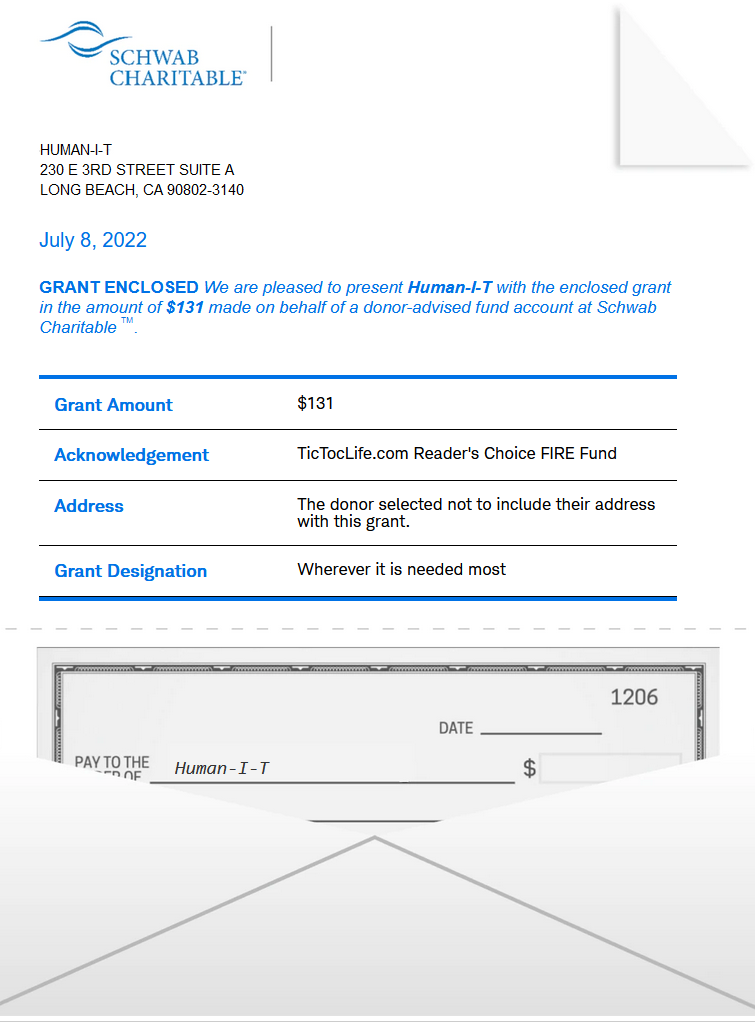 Our Reader's Fund seeks to leverage the principles of FIRE to build a lifetime of giving.
Polls are now open for our next round of candidates: Medical Clinic Charities.
Medical Clinic Charities
This monthly update's set of potential donation recipients is near and dear to us since we're directly working with each one!
These three different organizations have helped form a "medical brigade" in Peru with us. We've volunteered to be part of this brigade for a few weeks this summer (update: we've completed this mission and will post about it!).
Review each of these three and help us decide which organization to support further by casting your vote. This poll will end on July 14th at 11:59 pm.
1) FNE International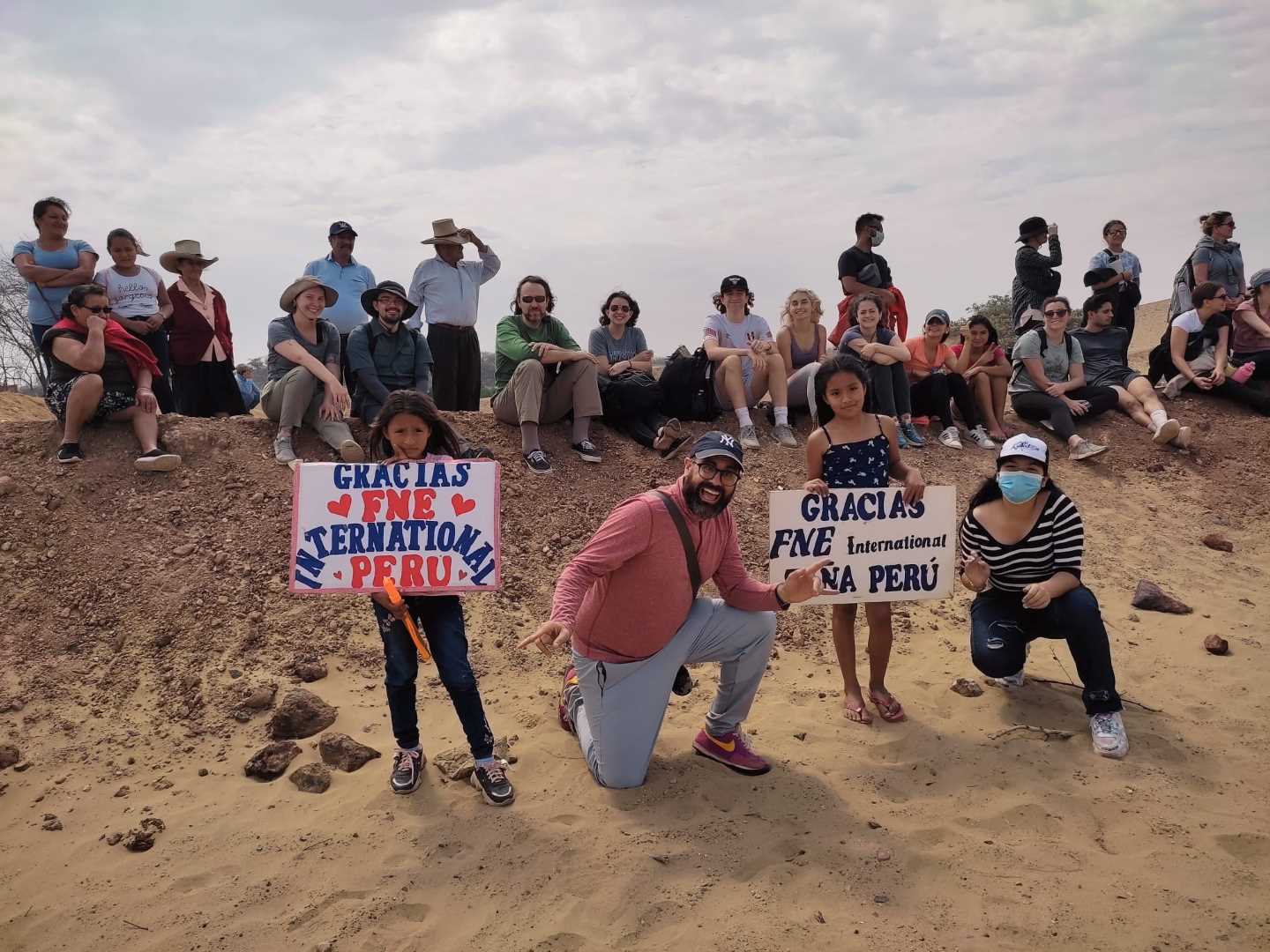 Why? Facilitate Network Empower International (FNEI) promotes education and sustainable development projects worldwide.
Where? Nicaragua, Peru, Dominican Republic.
Our Notes: FNE is the primary umbrella organization bringing together medical volunteers from the US and logistics from the local Peruvian NGO (Latidos, below). FNE provides the on-the-ground leadership and organization necessary to complete the mission.
2) Asociación Latidos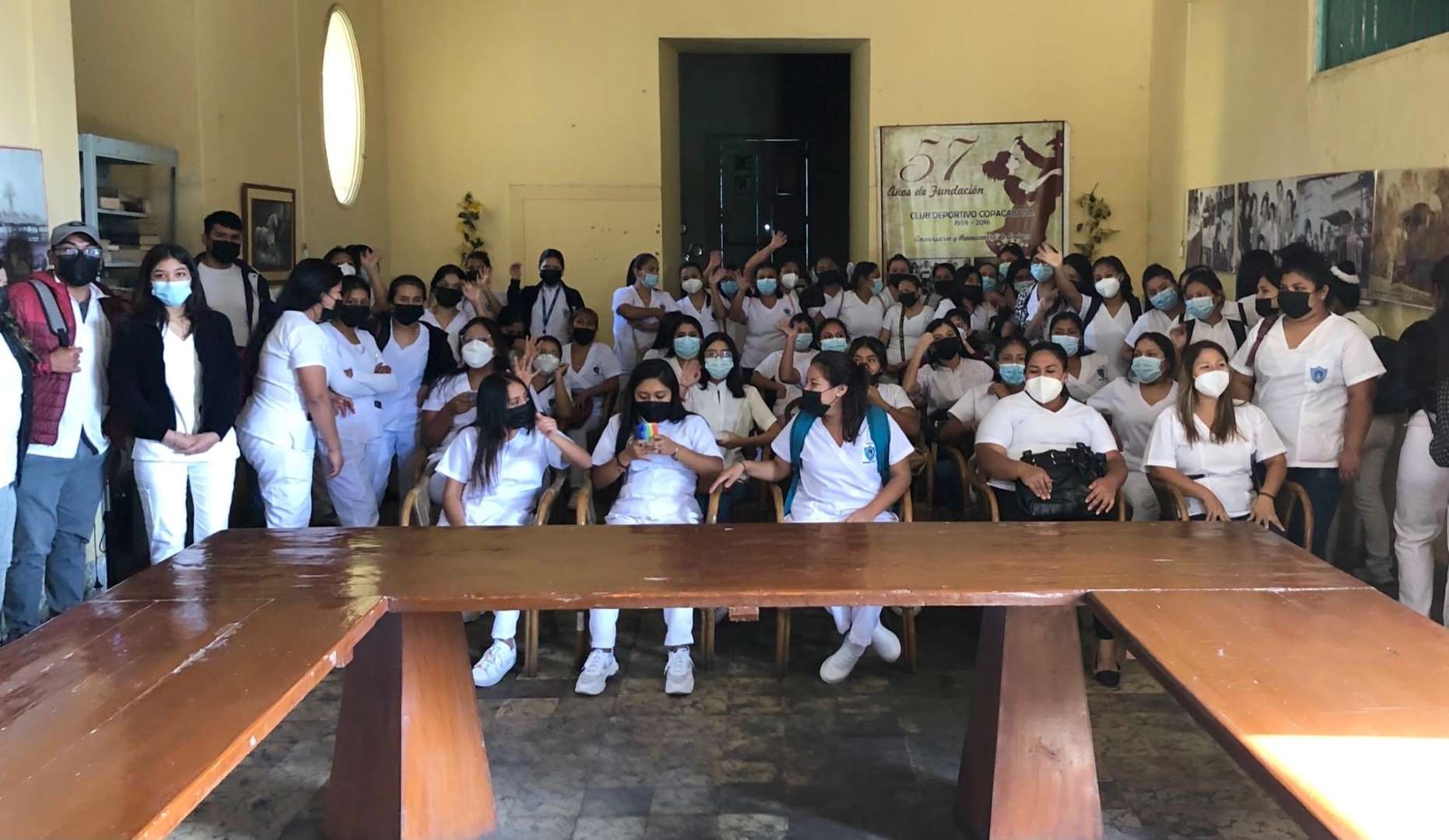 Why? Latidos aims to train and contribute to the development of human, social and business talent, of institutions or social organizations and communities, promoting the improvement of their standards of living and well-being.
Where? Zaña, Peru.
Our Notes: This Peruvian NGO serves as the logistical organization to get the medical volunteer work done. Volunteers need to be housed, fed, and transported. This is where Latidos shines! They also provide volunteer nursing staff to help with medical care and triage.
[About]
3) RGHA (and Hombre)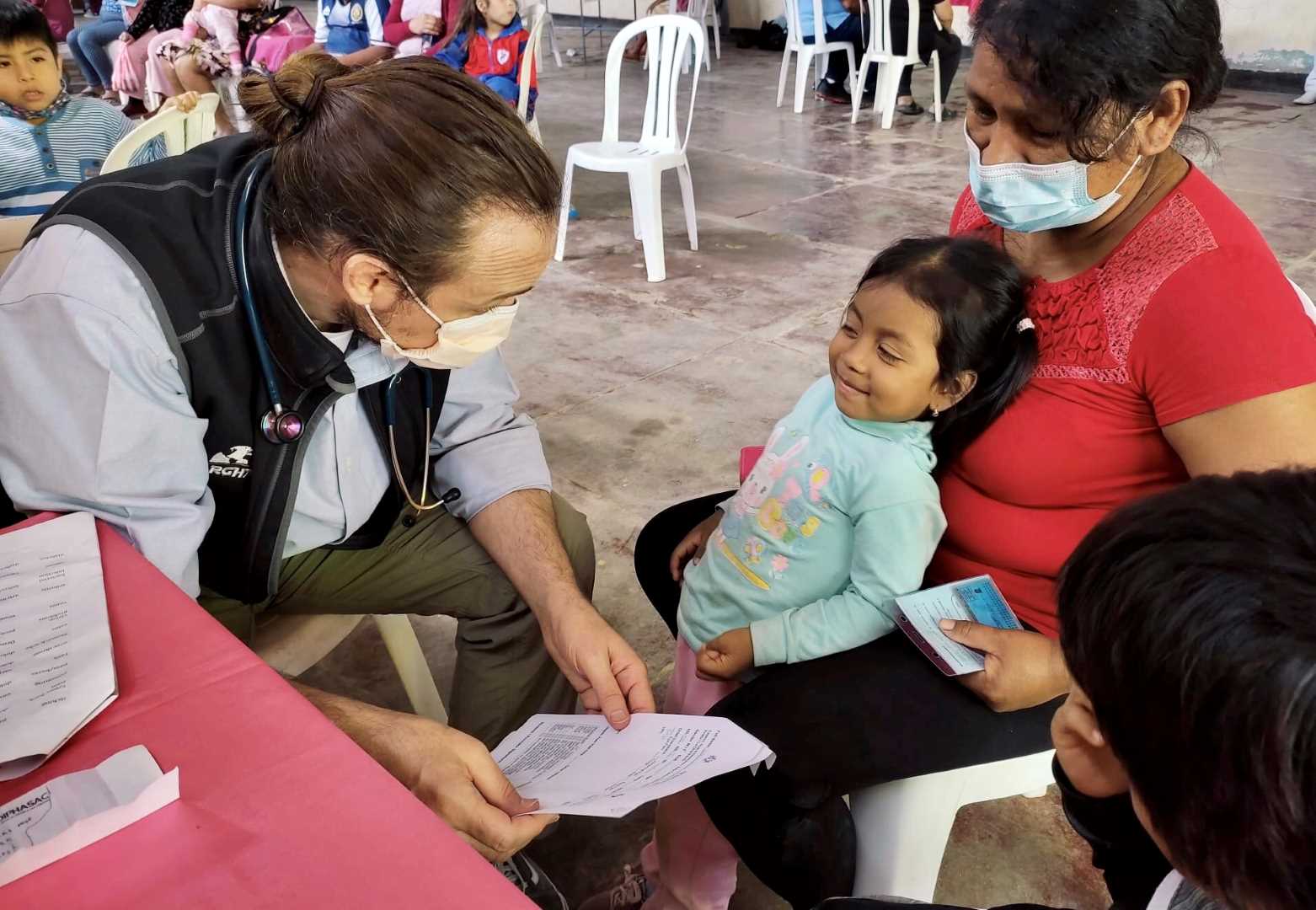 Why? This small, Virginia-based nonprofit organizes with universities to provide volunteer medical talent to medical brigades where they're needed.
Where? Central and South America.
Our Notes: Jenni previously volunteered with RGHA's partner organization, Hombre, in Honduras. They are our local contact point and provide the expertise needed to run medical brigades by attracting volunteers from universities and the medical industry.
Nonprofit poll
After reviewing the list above, please take a moment to vote for which nonprofit you think will put funds to use in the best way.
(Have trouble using or seeing the poll above? Some reader tools or apps may not display it. View this page in a browser or use this link to our Reader Fund page which has a copy of the poll!)
Thank you for taking the time to vote!
One of our primary goals with TicTocLife is building a stream of giving within the FIRE community and that starts with knowledge.
Want to hear about the results? Signup for our free FIRE Insider newsletter! We send it out every few weeks and include the monthly poll results and donation winners. You can see an archive of the FIRE Insider and signup here!
Catching Up
Readers—we're both sorry we've been behind posting on TicTocLife! Lots of life is way ahead of what we've written in this May 2022 update and we're excited to share what's been going on.
Stay tuned for a lot more on our travel adventures, medical volunteerism, and our thoughts on this thing we call Financial Independence, Retire Early!
Expect our June update by mid-July (update: June budget)!
---
What do you think of our "compressed" monthly budget update?
Let us know in the comments or on Twitter!