Phew! Our second "monthly" budget update in as many weeks! Yep, we're finally catching up!
I think that the last few months of prepping for and executing on a big vacation to Portugal and then doing medical volunteer work in Peru serves as a good excuse for the delay! Well, at least, I'm hoping you agree and stick around here, dear reader. 🙂
I promise we'll have some tactical FIRE posts and explorations of early retirement life again, soon! On that note, don't miss how we saved thousands on hotels in Portugal!
But for now, let's check out our June budget—see how we blew nearly eight grand!—and look at a few charitable causes to donate to.
Budget Update
If you'd like a more detailed description of our typical monthly cash flow (like our jobs or housing situation), check out our previous budget updates.
In the Sankey diagram below, the income on the left matches our expenses to the right.
We'll run through the income and expense sources for the month and remark on any interesting items.
Income Summary
Dividends
If we were doing a better job of sticking to our typical FIRE budget, this month's dividends alone would cover over a month of our living expenses. The nearly $4,100 in dividends came primarily from Chris's index funds that pay out quarterly.
About $146 came from one of our few individual stocks, QCOM, which was immediately reinvested via DRIP.
Credits
Like last month, we earned a good bit of our restaurant spending back (nearly $60) via the AMEX Gold card's signup 20% statement credit benefit for restaurants.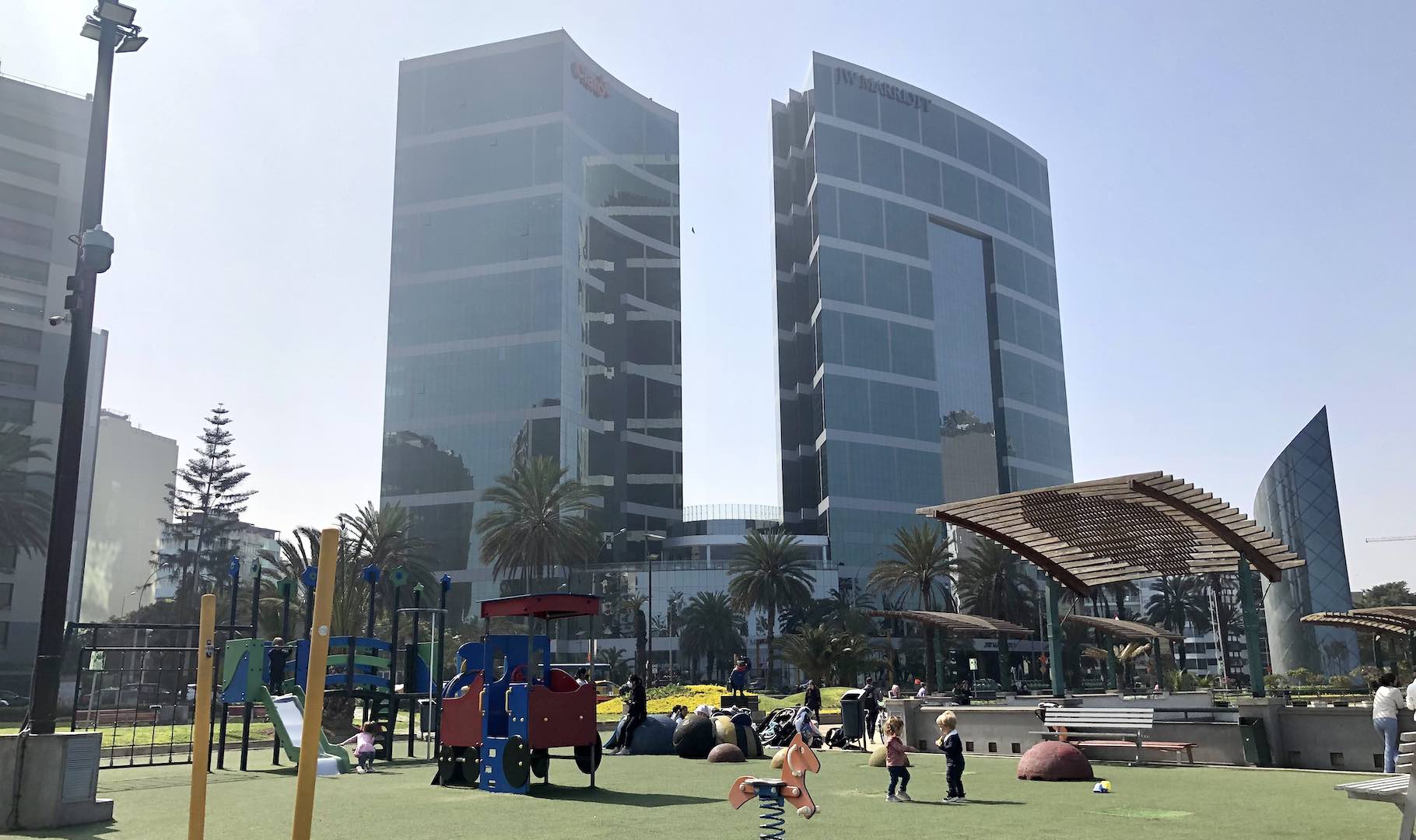 But, the big win was… A $200 credit from AMEX Platinum card for staying at "Hotel Collection" property! We stayed at a JW Marriott in Lima, Peru that was about $400 for two nights so the credit brought the final cost down to about $100/night. But, that's not all! Jenni made good use of the $100 experience credit also offered by AMEX to get a long massage.
Local Sales
Chris sold off a 1970s Ekornes Stressless recliner on Craigslist. At the time, we had three Stressless recliners throughout our small house. Certainly more than necessary! Considering the purchase price some years ago was under $50, a $400 sale was quite profitable.
Accountable Plan
If you're interested in the details of how an accountable plan for businesses work, check out this original post.
Chris's business reimbursed him a bit over three grand for the use of our house, utilities, health insurance, and other expenses. This reimbursement covers expenses for the first half of 2022.
Expense Summary
From our $12,271 monthly budget, we saved $3,965 this month.
This gives us a savings rate of 32%. That's much improved from last month's sub 4%!
Even after accounting for the credits we earned, subtracting our saved income, and a few small income-producing expenses—we spent nearly eight thousand dollars in June!
That might be a record core spending month for us. Over half that was travel expenses!
If you're curious what our typical annual budget looks like, check out the full FIRE budget review we did for 2020!
Let's break down some of the more interesting details.
Let's get right to it. Travel expenses.
Considering they represented over half of our monthly costs—more than $4K!—lets review.
Itinerary:
We started June off with the remainder of our trip to Portugal that was a highlight of our May expenses.
Partway through our Portugal trip, we flew to Madrid (May 31 to June 2) to visit friends—we returned to Porto.
By June 7, we were both back in the US. Chris stayed in Florida rather than connecting back to Virginia.
We reunited in Florida for our flights to Lima, Peru on June 14.
After spending a few days in Lima, we joined our medical volunteer group in Chiclayo, Peru until June 30.
The two tables below combine the total trip costs.
These aren't for just June, but rather the entire trip duration so some costs come from May.
Each table (one for Portugal/Spain and Peru) accounts for credits for each line item to produce a more true cost. Totals aren't quite exact, but should be very close.
Portugal/Spain Costs
| Description | Cost (USD) |
| --- | --- |
| Groceries | 190 |
| Dining— restaurants, bars, takeout | 523 |
| Air Travel— IAD<->LIS, LIS>MAD>OPO | 958 |
| Hotels | 416 |
| Transit, Uber— metro cards | 151 |
| Healthcare— COVID tests, typhoid vaccines | 357 |
| Mobile Phone— local SIM cards | 32 |
| Amusement— sightseeing tickets | 182 |
| Total | 2,809 |
Portugal/Spain Trip Costs
This was roughly a 16-day trip to Portugal with a few of those days spent in Spain.
Overall, that means it cost us about $176 per day or $88 per person, per day.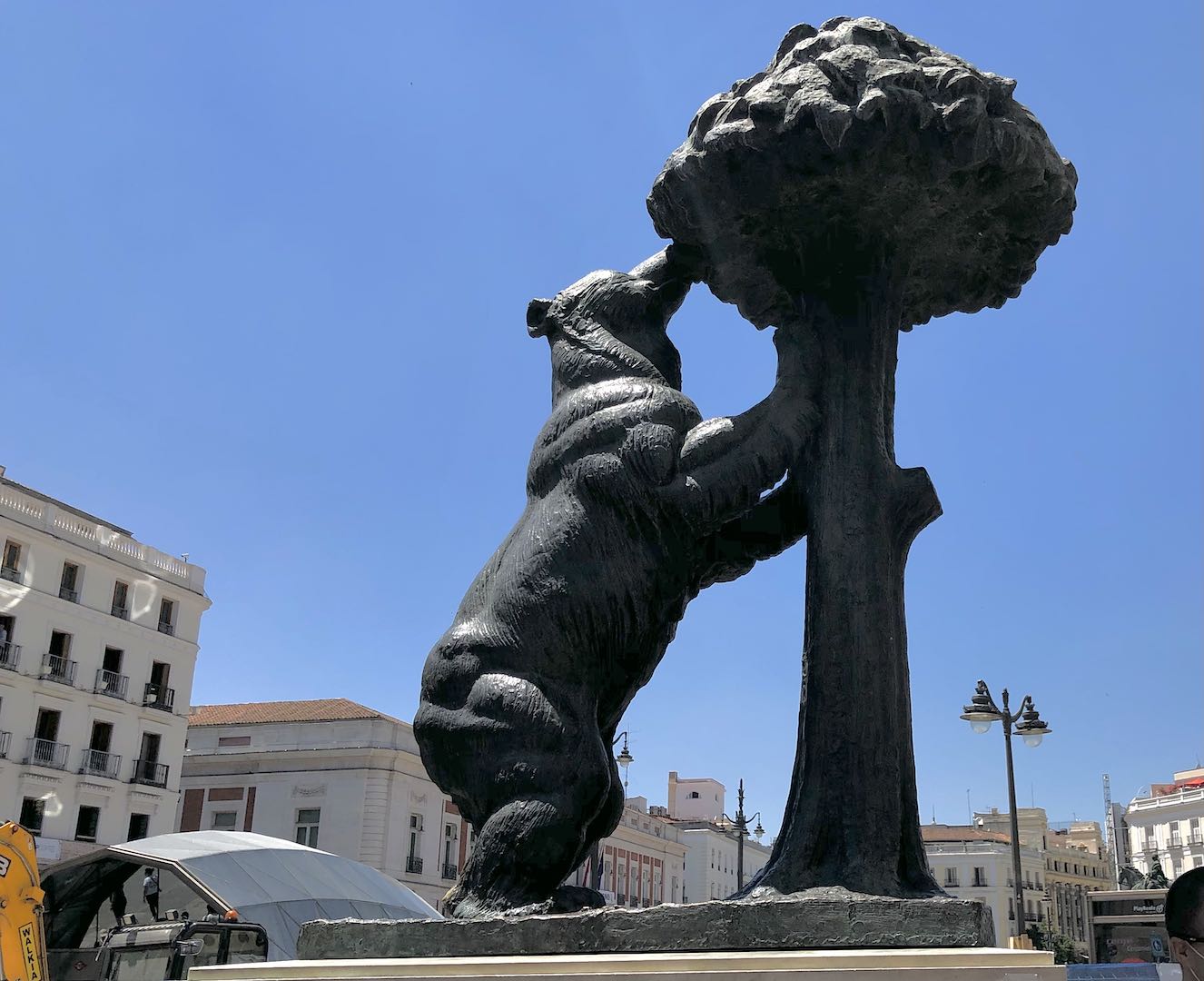 That's not bad, but we cheated a little! As mentioned in our May budget, about a week's worth of hotels were covered by Marriott free night certificates.
Saving Thousands on Hotels
By using our six Marriott reward certificates earned by carrying their credit cards, we saved thousands on hotel expenses in Portugal. Let's review how those broke down…
| Cash Cost (USD) | Description |
| --- | --- |
| 1,317 | 4 nights—Sheraton Resort & Spa, Lisbon |
| 893 | 2 nights—Ritz Carlton Penha Longa, Sintra |
| 541 | 1 night—The Ivens, Lisbon |
| 2,751 | Total |
Cash cost of booking the same hotels instead of using certificates.
If we'd booked the same rooms we used our certificates on, the cash rate would have been about $2,751.
Considering the seven certificates came annually by carrying Marriott's credit cards, we should account for the annual fees. Those averaged to $100/certificate meaning that we saved $2,051 by carrying the three Marriott credit cards that enabled this.
If you're interested in doing the same, check out Marriott's various credit cards from Chase and American Express that are around $100/year that offer a free reward night annually. Chase has an IHG card that offers a similar benefit, too.
The pandemic extended 2021's reward certificates to 2022 to make this possible.
Six of the certificate's maximum value was 35,000 Marriott points which was maxed by these stays. The last, for The Ivens, was worth 50,000 Marriott points. So, alternatively, we could have spent 260,000 Marriott points.
This was a big win for us! Let's move on to Peru…
Peru Costs
| Description | Cost (USD) |
| --- | --- |
| Groceries— volunteer contribution | 330 |
| Dining— restaurants, bars, takeout | 234 |
| Air Travel— LIM, LIM<->CIX | 1,285 |
| Hotels— volunteer contribution | 2,095 |
| Transit, Uber | 22 |
| Mobile Phone— local SIM cards | 13 |
| Amusement— sightseeing tickets | 19 |
| Total | 3,998 |
Peru Trip Costs
Our trip to Peru was roughly the same length at about 16 days. We spent the first few days touring Lima. However, most of the trip was spent in rural areas around Chiclayo volunteering for medical clinic work.
I'll have a separate post about this volunteer work in the future.
Part of that volunteer work required making a $1,000 nondeductible donation/person to help cover our costs. Three meals/day, transportation, and housing were provided. In the Peru cost table, that's split as $1,700 for Hotels and $300 for Groceries.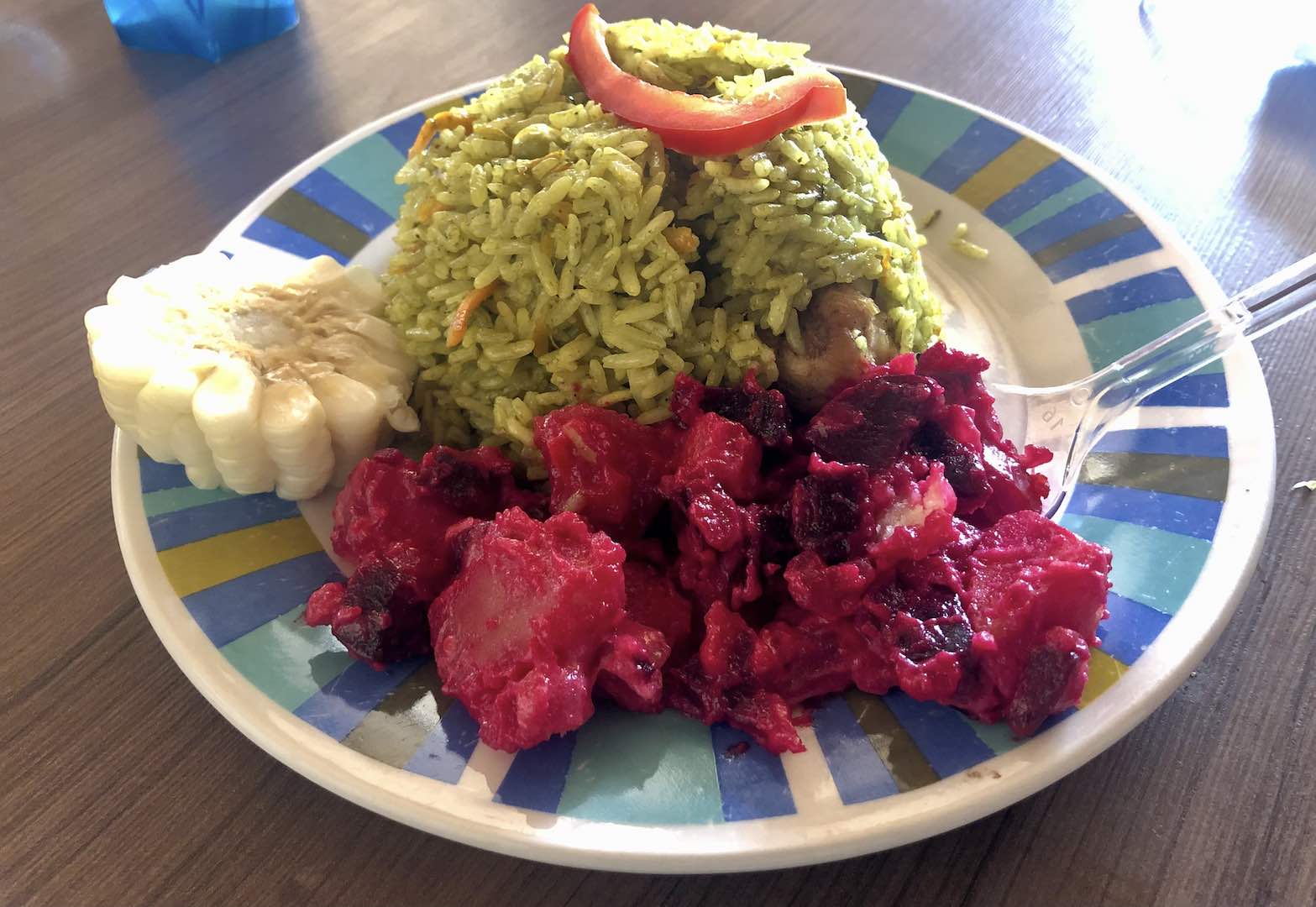 Overall, this incredible opportunity cost us about $250 per day or $125 per person, per day.
Florida Costs
Chris spent another several hundred bucks in travel costs staying in Florida between the Portugal/Spain and Peru trips. He made a loop from southern to northern Florida to visit family and stayed in various hotels along the way.
The most interesting expense came in the form of his car rental.
After hunting through Priceline and AutoSlash for decent rental rates and failing to find any reliable agency under $400, Chris decided to try something new.
Kyte: a new car rental option?
Kyte, a car rental agency that attempts to eliminate costs associated with maintaining physical customer facing locations, offered rates just over $250. After accounting for a new user $50 discount, rates were nearly half what was offered by Dollar, Budget, Hertz (even with corporate rates), etc.
Turo had similarly competitive offerings, but there's one big key difference. Turn isn't a rental car agency (it's peer-to-peer). It's specifically excluded from rental car coverage and related insurance offered by higher-end travel credit cards.
By the time you add Turo's additional layer of insurance, pricing is comparable to that of the big players. And of course the lower rates are for much older, higher mileage vehicles.
Chris ended up going with Kyte and had a nearly new Toyota Camry, loaded with an electronics package.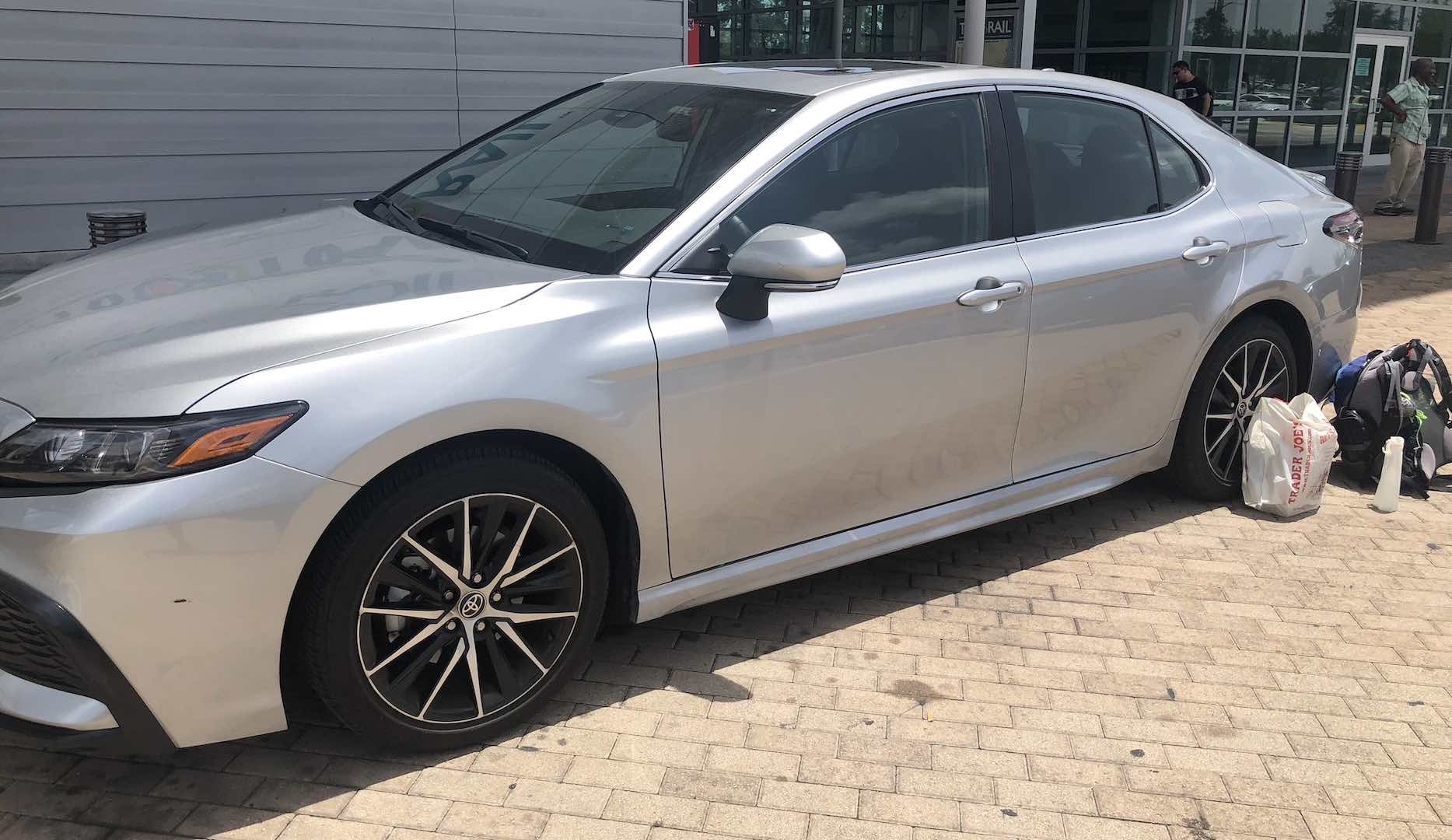 We'll probably have a future post about car rentals and some observations about Kyte—but overall, despite some small issues, Kyte was worth the savings.
Expense Conclusion
The rest of our typical monthly budget items were inline with recent months. However, certain expenses that we still realized during our travels (dining out, groceries, etc.) were elevated by 50% or as much as 300% in some cases—restaurants, you're our weakness!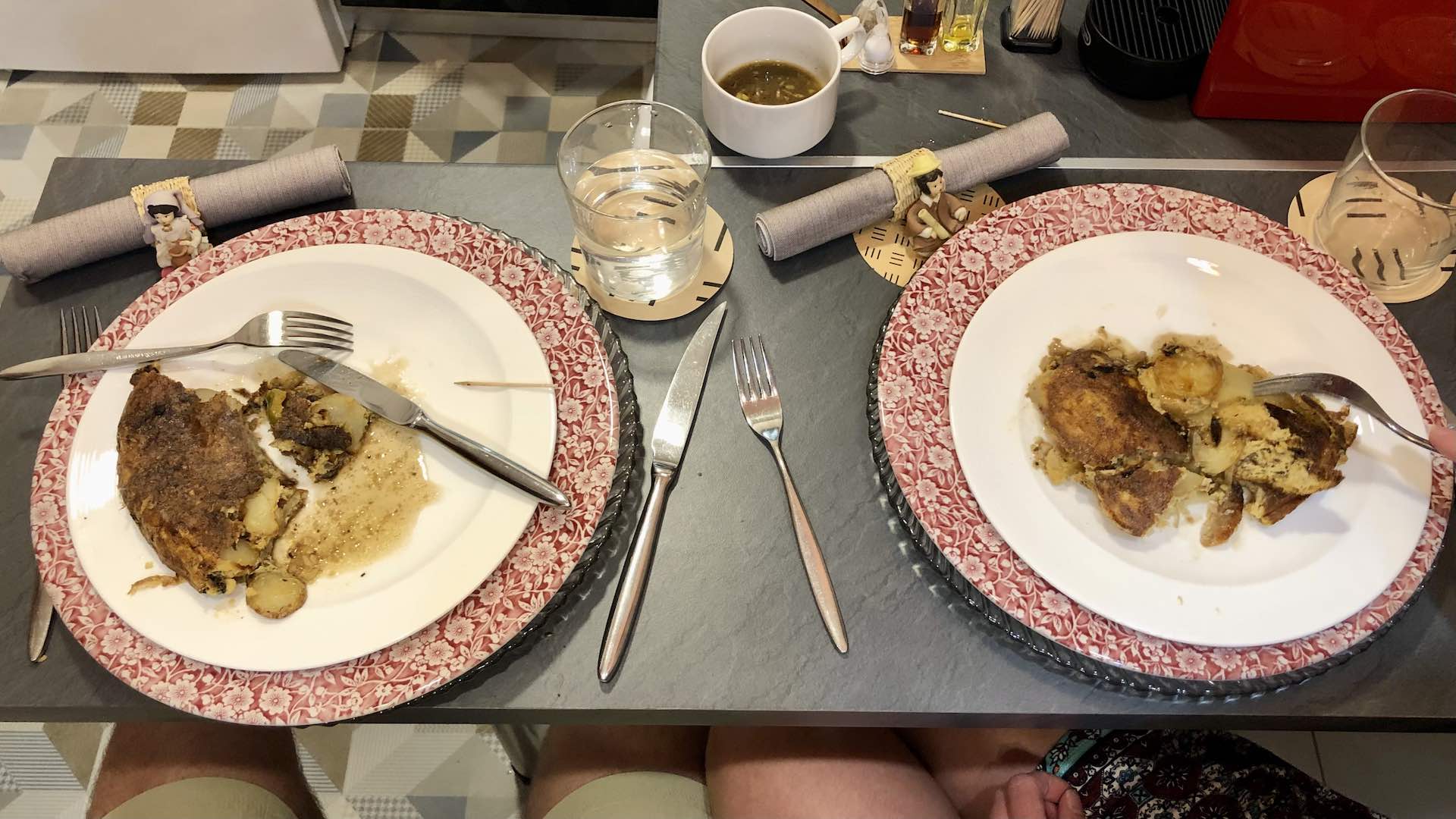 Often, this makes sense. We spend more on amusement in order to sight-see or take a river boat tour.
Coffee and ginjinha shops lure is in with their smells and promise of mind-altering moments.
Part of finding love for travel is in letting serendipity pull you in, and sometimes that may mean parting with a few extra dollars.
There's a couple interesting standouts, though.
Health Insurance
Our health insurance costs are starting to stabilize now that we're both on ACA plans. As Jenni still earns a moderate income, her subsidy isn't very large (and, as we learned last year—can easily become a liability). But, overall, our monthly premiums are down nearly half from typical costs a year ago.
Gifts
We brought home a few souvenirs from our trips for friends and family. While Chris was in Florida, he welcomed a new life into this world, becoming a great uncle for the second time. That called for a small gift to the new parents, too.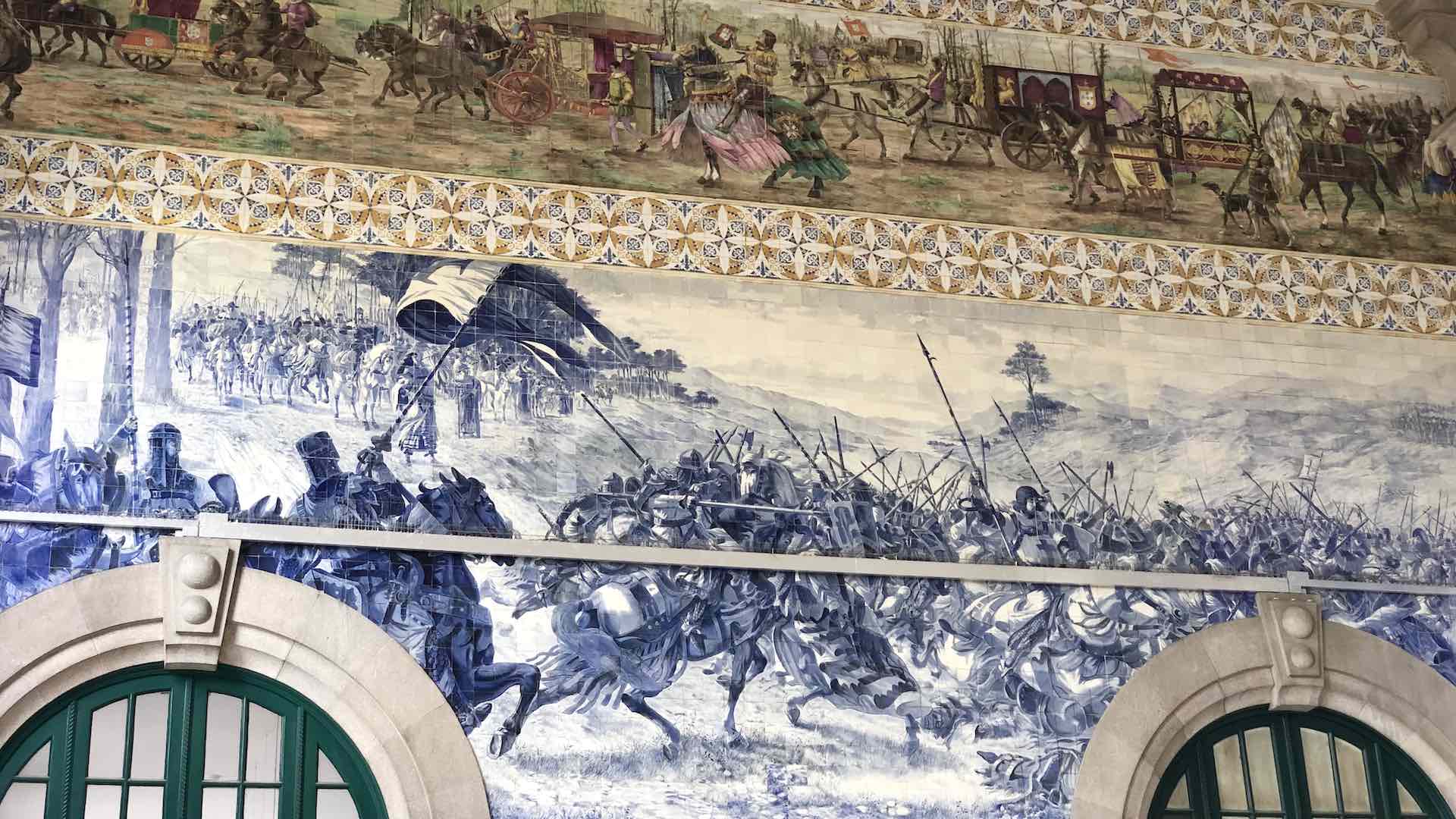 How Much We Work
We like to keep track of how much time we spend doing work that is paid.
Let's add this month to the list…
| Month | Chris (Hours Worked) | Jenni (Hours Worked) |
| --- | --- | --- |
| May 2020 | 41 | 108 |
| Jun 2020 | 38 | 96 |
| Jul 2020 | 36 | 120 |
| Aug 2020 | 39 | 48 |
| Sep 2020 | 27 | 76 |
| Oct 2020 | 26 | 104 |
| Nov 2020 | 27 | 57 |
| Dec 2020 | 28 | 57 |
| Jan 2021 | 25 | 102 |
| Feb 2021 | 24 | 104 |
| Mar 2021 | 24 | 106 |
| Apr 2021 | 23 | 85 |
| May 2021 | 17 | 29.75 |
| Jun 2021 | 19 | 66 |
| Jul 2021 | 21 | 30.25 |
| Aug 2021 | 23 | 16.5 |
| Sep 2021 | 26 | 28 |
| Oct 2021 | 22 | 49 |
| Nov 2021 | 21 | 51 |
| Dec 2021 | 64 | 27 |
| Jan 2022 | 32 | 80 |
| Feb 2022 | 29 | 63 |
| Mar 2022 | 14 | 70 |
| Apr 2022 | 15 | 21 |
| May 2022 | 14 | 36 |
| Jun 2022 | 6 | 12 |
At a total of 18 hours worked, that's easily our lowest since we began tracking.
Of course, that makes sense when you consider we were traveling nearly the entire month!
Net Worth Update
Net worth is not our primary measurement and can understand it can be discouraging if you're working yourself out of debt. We also understand it's difficult to be transparent with our readers without divulging this information so we continue to do so.
Account breakdown
The market keeps chugging along and so do our investments. From a high level, our assets and liabilities are shown in the data table below as of June 30, 2022.
| Description | Value (USD, $) |
| --- | --- |
| 401(k) | 631,557 |
| Brokerage | 736,540 |
| Roth IRA | 131,509 |
| Traditional IRA | 5,909 |
| HSA | 44,526 |
| Real Estate | 409,360 |
| Mortgage | (146,385) |
| Miscellaneous Assets | 29,642 |
| Checking & Savings | 25,740 |
| Net Worth | 1,868,397 |
Miscellaneous assets include specific investments we've made in physical assets (think collectibles) and treasury bonds
Amounts do not reflect the value of the businesses Chris owns or their assets, which should appear as income to us over future years
Jenni's Prius is not included
The S&P 500 had an incredibly bad month, down 8.4%.
Our investments lost about 5.4%—painful!—but we did a little better than the S&P since our investments are a little more defensive.
Our net worth decreased by a whopping $107K!
Net Worth History
Previous Donation Winner
Last month, we focused on Medical Clinic Charities. The three we selected to vote on were all part of the volunteer medical brigade we would be attending in June. Each offered a layer of expertise to create the cohesive whole we would need to complete our medical mission.
The winner of last month's vote, FNE International, served as the main coordinator and leader for the trip. FNE connected the dots between the logistics provided by Latidos and the expertise provided by RGHA/Hombre.
Congrats to FNE International!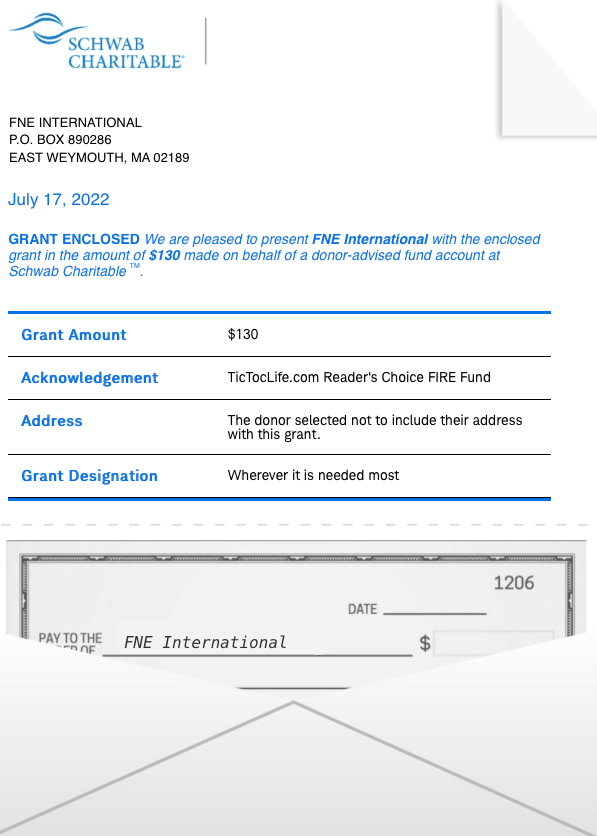 Our Reader's Fund seeks to leverage the principles of FIRE to build a lifetime of giving.
Lat month's voting period for the poll was very short (our fault—the post was delayed). We have a desire to give more exposure to these incredible organizations.
Because of this, we're going to run the same three candidates from last month again this month!
Medical Clinic Charities (Round Two!)
This monthly update's set of potential donation recipients is near and dear to us since we're directly working with each one!
These three different organizations have helped form a "medical brigade" in Peru with us. We volunteered to be part of this brigade for a few weeks this summer.
Review each of these three and help us decide which organization to support further by casting your vote. This poll will end on August 14th at 11:59 pm.
1) Asociación Latidos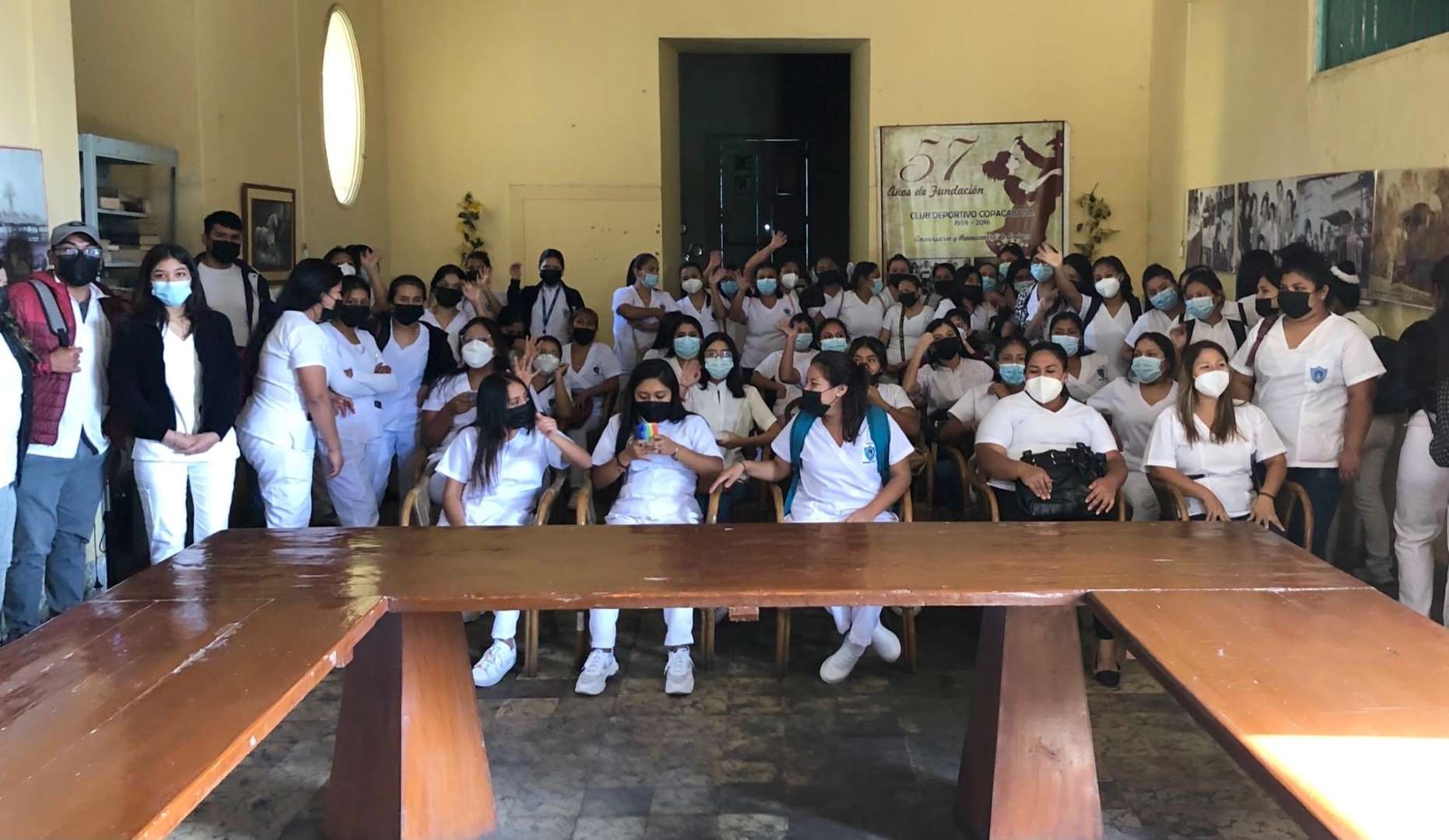 Why? Latidos aims to train and contribute to the development of human, social and business talent, of institutions or social organizations and communities, promoting the improvement of their standards of living and well-being.
Where? Zaña, Peru.
Our Notes: This Peruvian NGO serves as the logistical organization to get the medical volunteer work done. Volunteers need to be housed, fed, and transported. This is where Latidos shines! They also provide volunteer nursing staff to help with medical care and triage.
[About]
2) RGHA (and Hombre)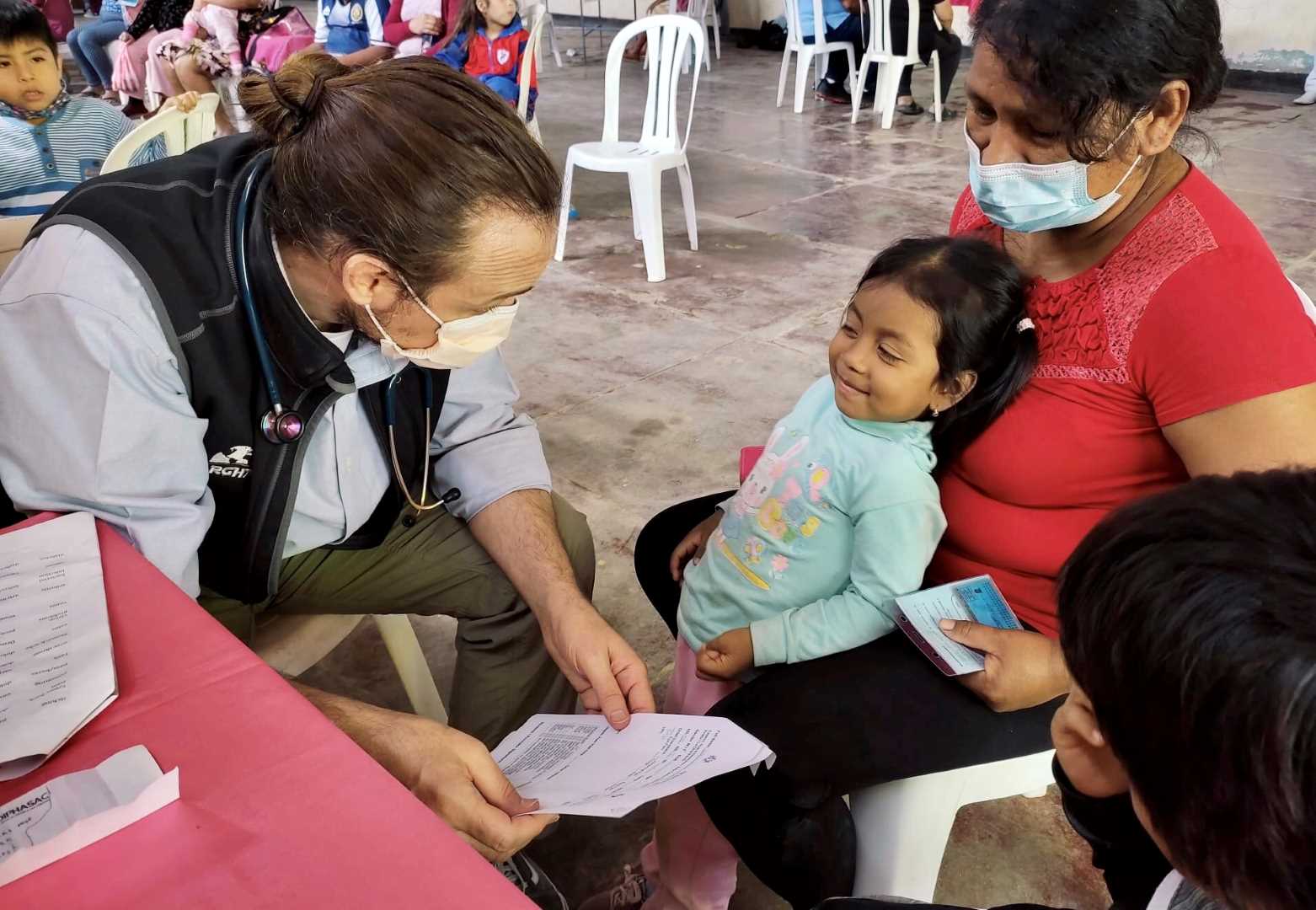 Why? This small, Virginia-based nonprofit organizes with universities to provide volunteer medical talent to medical brigades where they're needed.
Where? Central and South America.
Our Notes: Jenni previously volunteered with RGHA's partner organization, Hombre, in Honduras. They are our local contact point and provide the expertise needed to run medical brigades by attracting volunteers from universities and the medical industry.
3) FNE International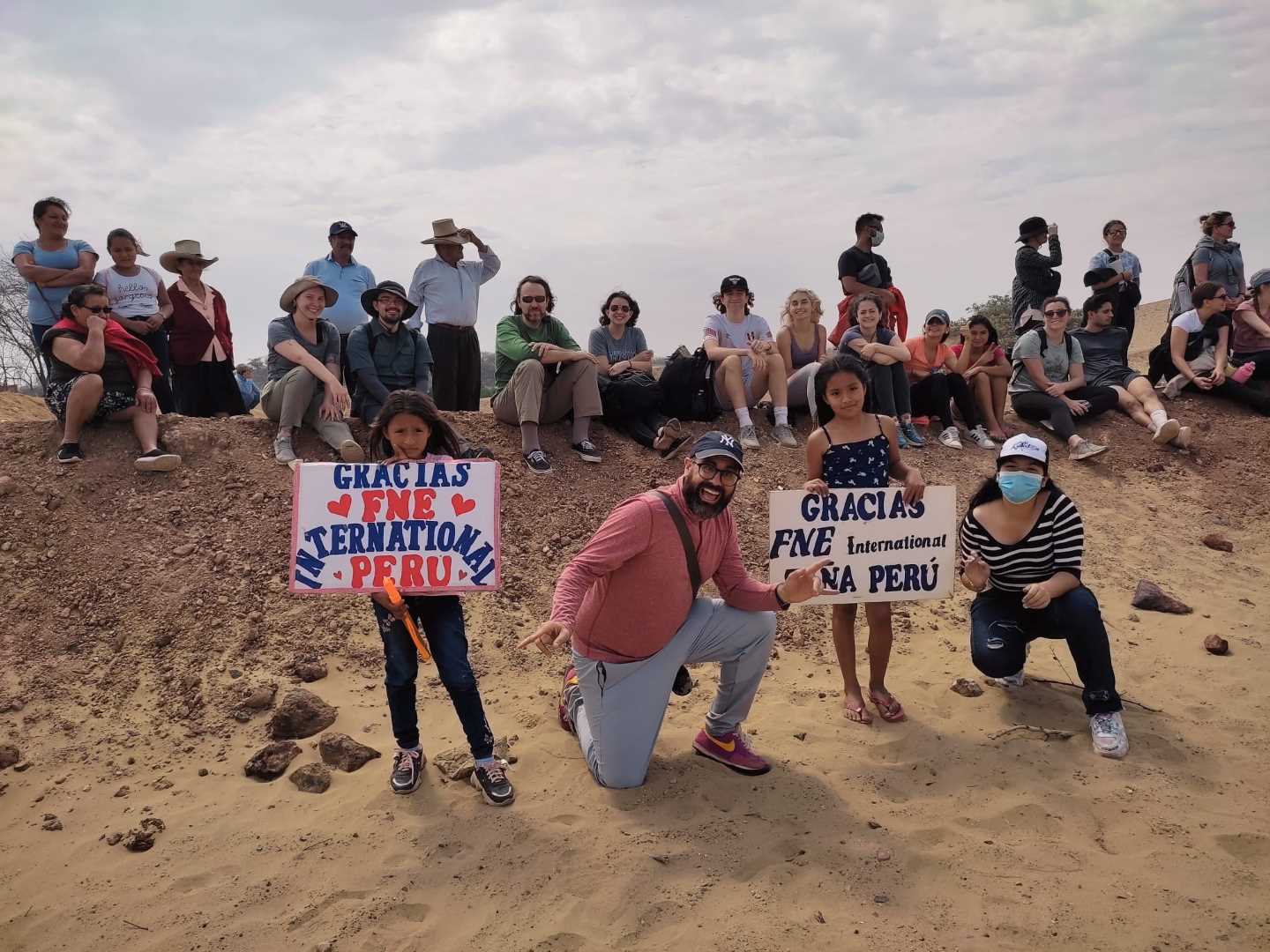 Why? Facilitate Network Empower International (FNEI) promotes education and sustainable development projects worldwide.
Where? Nicaragua, Peru, Dominican Republic.
Our Notes: FNE is the primary umbrella organization bringing together medical volunteers from the US and logistics from the local Peruvian NGO (Latidos, above). FNE provides the on-the-ground leadership and organization necessary to complete the mission.
Nonprofit poll
After reviewing the list above, please take a moment to vote for which nonprofit you think will put funds to use in the best way.
(Have trouble using or seeing the poll above? Some reader tools or apps may not display it. View this page in a browser or use this link to our Reader Fund page which has a copy of the poll!)
Thank you for taking the time to vote!
One of our primary goals with TicTocLife is building a stream of giving within the FIRE community and that starts with knowledge.
Want to hear about the results? Signup for our free FIRE Insider newsletter! We send it out every few weeks and include the monthly poll results and donation winners. You can see an archive of the FIRE Insider and signup here!
What's Next
Ah! We're feeling a little more caught up, now. With this June monthly update complete, we can focus on the fun stuff in our next post… Tactical FIRE strategies, purpose within life, and what early retirement looks like!
July should be a little more sedate for us. We'll spend a week on Emerald Isle in North Carolina (hi from the beach!), recover from a few months of travel, and take some time to write.
We hope you have been handling the market downturn and shakiness of the economy with a steady hand. That's another advantage to early retirement and preoccupation with something other than work and money—you hardly notice the market burning down! 🙂
Keep an eye out for a new post on our volunteer experience soon!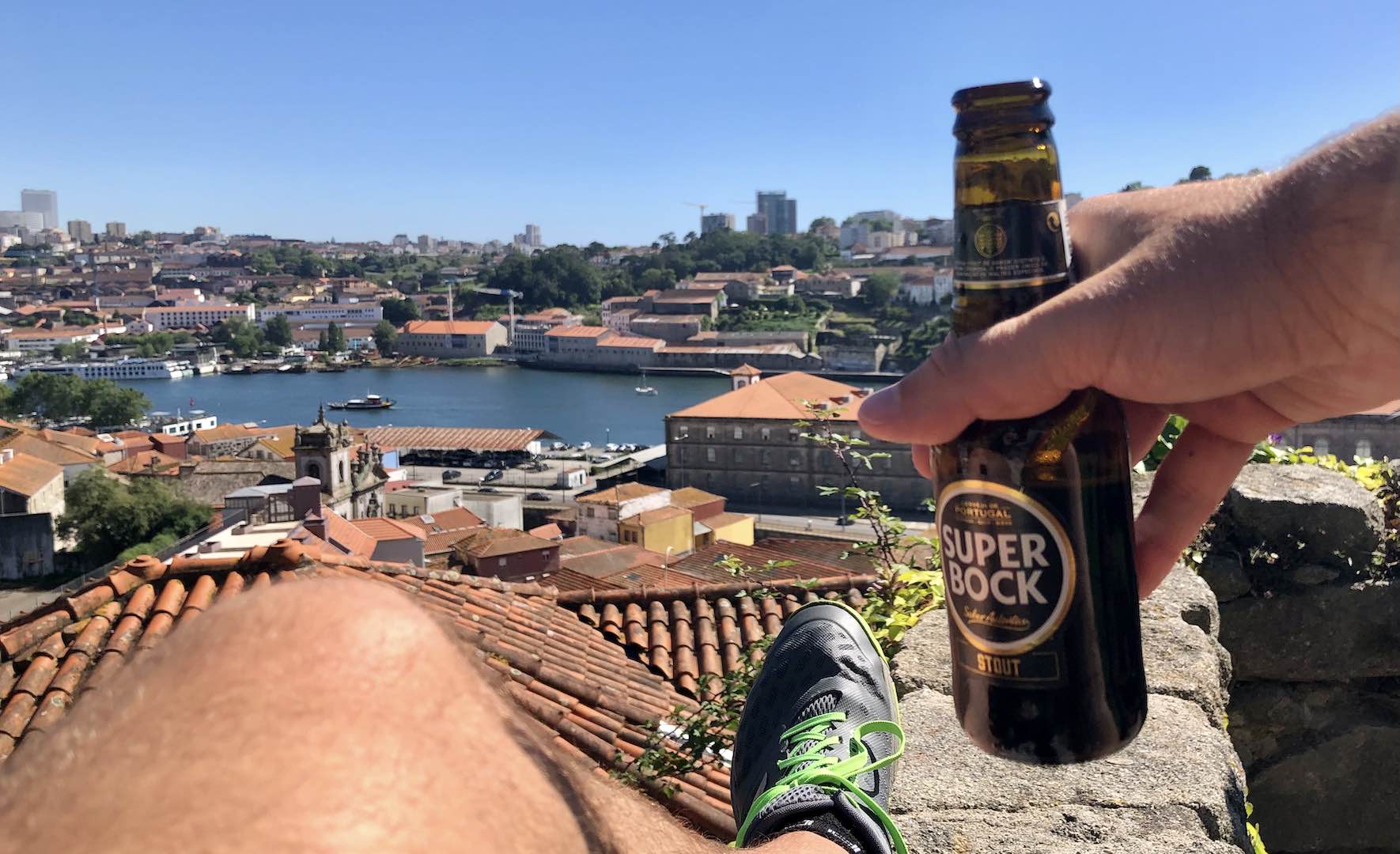 ---
This is our second go of it—what do you think of our "compressed" monthly budget update?
Let us know in the comments or on Twitter!