Each month, we break down our spending in great detail. This review serves as a little check-in on our course to early retirement. We also do a review of nonprofits to inform our giving each month.
We started March out on the beaches of Puerto Rico and ended it by surprising a friend on her birthday in Florida. Our flexibility of working part-time makes traveling a breeze!
We'll break down the cost of these vacations and compare the per person daily costs for a short trip versus a longer one.
With two trips this month, we weren't quite sure how well we'd stick to our FIRE budget. While we did go a little over our budget (27%), we managed to save 33% of our income.
We've also reviewed three nonprofits supporting Nature Conservation for our monthly grant that you direct! Be sure to cast your vote below!
During our last month's budget review, we looked at Humanitarian Aid in Ukraine. Read on to find out the winner and see our poll for this month's grant!
Budget Update
Let's dive into last month's income and expenses.
In the Sankey diagram below, the income on the left matches our expenses to the right.
We'll run through the income and expense sources for the month and remark on any interesting items.
Income Summary
We have several sources of income and they tend to vary from month to month.
Most of our income is from Jenni's part-time pharmacist job and Chris's ongoing business operations—which are generally on autopilot with nearly passive income.
Part-time work
Jenni continues to work at a local pharmacy as needed.
Her part-time pharmacy position earned her $3,110.
With her coworker back from maternity leave, Jenni won't have so many shifts for the next few weeks, at least until the next baby arrives this summer.
Chris wrapped up his transition meetings closing out most of his business's remaining accounts. Therefore, his business income has been reduced as well.
Chris's business paid him $911.
We reveal just how many hours we work each month in the "how much we work" section below, too!
Other income
We finally picked up the remaining childhood items Chris's parents have been storing. They're moving to Arizona so it was time to clear out the basement. While much of it was trashed, Chris came across a few things that ended up making some money on eBay.
We made $236 via eBay by selling:
A Nintendo and PC gaming magazine collection
The box and manual for a highly collectible Nintendo game: Final Fantasy (the original!)
If we planned better, we could've sold all of the magazines that landed in the recycling. Chris realized our mistake a little too late.
Some of his collections did end up in a pretty unique home. The buyer for much of the gaming magazine collection was The Video Game History Foundation. Chris reached out and decided to donate his remaining collections.
Chris deposited his cash back and made $193 from TopCashback.
Dividends, interest, credits
The rest of our income came from dividends, credits, and interest.
We received $2,161 in dividends.
Most of our investments are in index funds that pay dividends, at most, quarterly. $192 of this was earned from Qualcomm ($QCOM) with the balance from diversified index funds (like VTSAX or VTI).
We received $145 in credits.
These credits primarily come from credit card issuers who have special offers when spending in certain categories. We break out the individual credits within the expense summary below.
We had $4 of interest from checking and savings accounts.
Transfers
Overall, we ended the month with $1,537 in checking. This will eventually flow through to our brokerage accounts to increase our investments.
Jenni's additional income has made it easier to have a little extra cash leftover this year. Now that her coworker has returned to work, we do not expect this trend to continue.
Expense Summary
From our $6,761 monthly budget, we saved $2,217 this month.
This gives us a savings rate of 33%!
Our average FIRE budget for 2020 was about $3,405/month. We spent about $4,370 on living expenses. This month again, our travel expenses pushed us over our target spending goal.
That's 127% of our typical monthly FIRE budget.
If you're curious what our typical annual budget looks like, check out the full FIRE budget review we did for 2020!
Let's get into the details of our spending for the month.
Travel
We wrapped up our Puerto Rico trip with a four-day car rental to sightsee around the island.
We hiked the El Yunque rainforest, kayaked in the La Laguna Grande, and explored the old cobblestone streets and castles of Old San Juan.
We made sure to end each day with a little rest and relaxation on the beach.
Later in the month, we decided to jump on a plane and head to St. Augustine, Florida. We made some very last-minute plans to surprise our good friend for her birthday.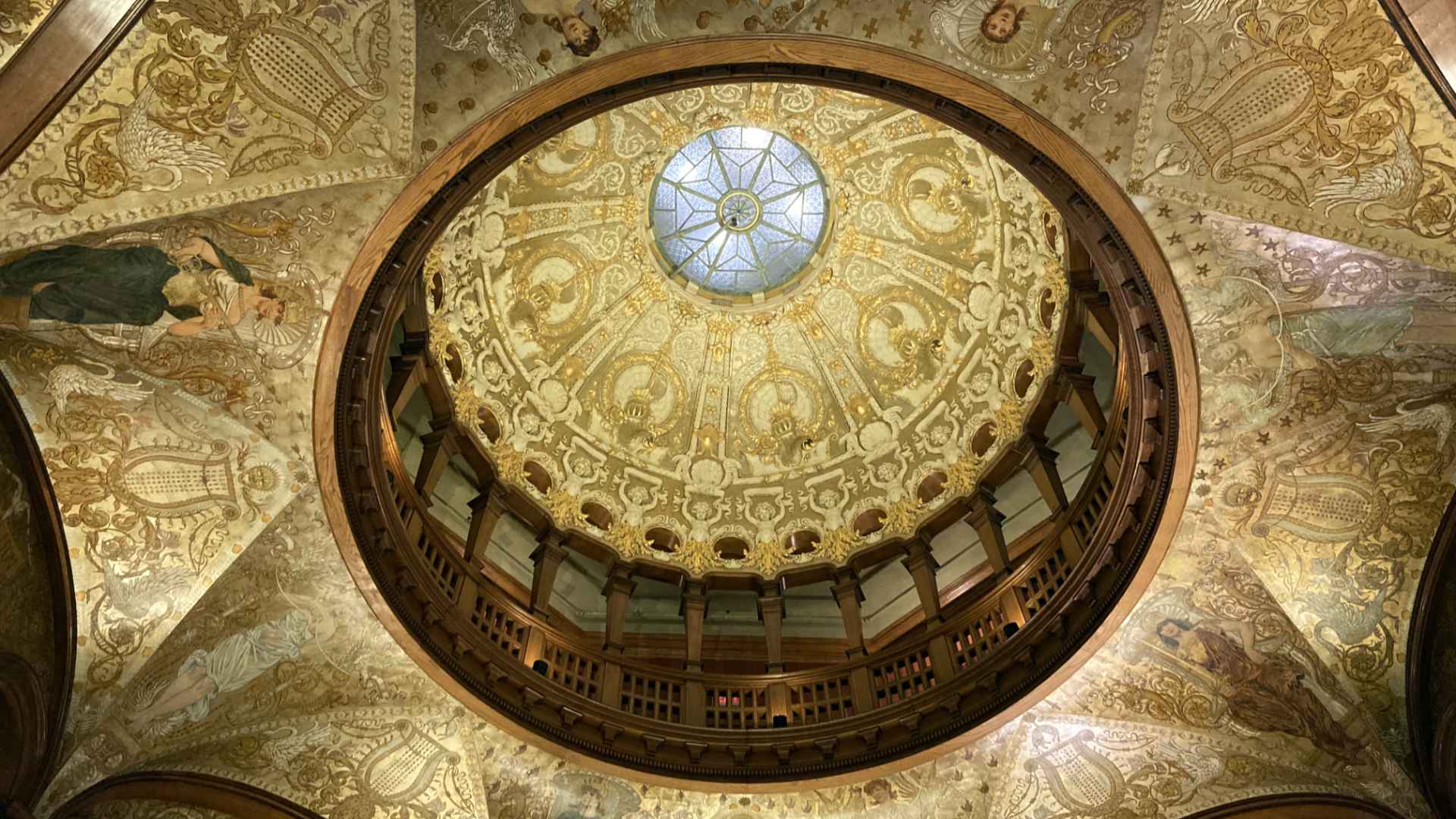 With the help of her husband and father, we snuck in the side door while she was in the other room. When she came out, she was speechless to see her two best friends sitting down at the dining room table.
It couldn't have been more perfect timing!
In total, we spent $663 on travel this month.
Here is a breakdown of our travel expenses:
$249 two round trip tickets to Orlando, FL
$63 on Uber rides to and from the airports (+$15 Uber cash from AMEX)
$126 on a 2-day car rental
$224 on annual fee on credit cards with hotel perks
Chris renewed his Bonvoy credit card for an annual fee of $125 and a Marriot Business credit card for $99. This will give us a pair of free night certificates to use later this year among other travel perks.
Trip Cost (Puerto Rico & St. Augustine, FL)
As we have in the past, we like to track and break down our trip expenses. This helps us budget for future trips and see where we may have splurged.
Now that we are home from both of our trips, here's how the totals look for Puerto Rico and Florida (including some expenses from February):
| Description | Cost ($, USD) |
| --- | --- |
| RIC ➔ SJU: tickets on Delta (2 adults) | 441.20 |
| PR: Hotels & Lodging | 783.00 |
| PR: Car Rental | 300.30 |
| PR: Gas (rental car) | 20.00 |
| PR: Groceries | 145.20 |
| PR: Restaurants | 257.71 |
| PR: Fastfood | 17.34 |
| PR: Coffee | 6.96 |
| PR: Entertainment | 126.70 |
| PR: Parking | 10.00 |
| Total | 2,108.41 |
Cost of an 11-day trip to Puerto Rico
| Description | Cost ($, USD) |
| --- | --- |
| RIC ➔ MCO: tickets on Spirit Airlines (2 adults) | 249.32 |
| FL: Restaurants | 66.39 |
| FL: Fastfood | 6.81 |
| FL: Parking | 13.00 |
| FL: Entertainment | 104.01 |
| FL: Car Rental | 126.07 |
| FL: Gas (rental car) | 31.99 |
| Total | 597.58 |
Cost of a 2-day trip to Florida
On our 11-day trip to Puerto Rico, we spent $2,108.41. That is about $96 per person per day. Compare this to the cost of our shorter 2-day trip at the end of the month at $598, which comes to $149 per person per day! It makes more sense to be gone for a longer time!
We'll continue to break down our total trip expenses as they come over the next few months.
Home
Our housing costs are broken down in our annual FIRE budget (mentioned above) in detail.
For the monthly breakdown, these details might be helpful to understand:
When evaluating whether to rent and invest or buy a home, we chose to own
We have a 30-year, fixed-rate mortgage below 4% interest
Our HOA is $350/month which covers some of our utilities (heating, water)
We chose the city life vs country life in a medium cost of living area
Housing-related expenses are consistent month-to-month. We have an escrow account with our mortgage provider which helps automate property taxes and home insurance payments.
We live in a 2 bedroom, 2 bath historic brick home built in the 1920s. It's part of a small cooperative.
Our HOA will be renovating our garages which is expected to trigger our first assessment since we moved here in 2013! That assessment is expected to be $1,500 in April 2022.
Health
We spent $749 on Health-related expenses this month.
Jenni continues to enjoy rock climbing at her gym for a monthly membership fee of $60 a month.
Jenni is on a high-deductible healthcare plan. Therefore, all doctor appointments end up being quite expensive before she meets her $5,900 deductible. For example, her routine follow-up visit and lab draw this month cost $207.
Her prescriptions were purchased at cost as an employee benefit for $42.
The remainder was for health and dental insurance for the two of us ($439) as we're both paying for individual plans.
Shopping
We spent $86 on shopping.
We have a few subscriptions to Audible and Walmart+. As a perk of the AMEX Platinum card, these monthly fees are credited back to our statement ($28).
After not buying a new pair of jeans for over 10 years, Jenni snagged a few new pairs of jeans for 50% off at $68.
Food & Dining
We managed to tighten up our food budget this month. We like to cook most of our meals at home. It helps save money but it's often easier to manage our pescetarian diets and Jenni's gluten-free needs.
We spent $436 on groceries.
By using our Chase credit cards, we will earn 5% cashback with every grocery expense now through March (Chase's first quarter 5% bonus category).
→ Related: Want to see how to save money on groceries in detail?
Restaurants, Fast Food, Alcohol
We enjoyed a few meals out at restaurants while visiting Fajardo, Puerto, and St. Augustine, Florida.
We spent $156 on restaurants and $31 on takeout food.
Donations
Jenni made her monthly donation of $5 to Virginia Public Media.
Utilities
Our cooperative runs on a boiler system for our heat which is covered by the HOA.
We spent $30 on electricity this month. Most of our usage comes from appliances, computers, and lights.
In typical fashion, we spent $20 on city services (cooking gas, wastewater).
Our internet service is through Xfinity Comcast for 200mbps. The internet bill was $30.
We both have cell service on prepaid annual SIM cards.
We don't have any television service.
Amusement
We spent $124 on amusement.
We explored the castles of San Felipe del Morro and San Cristóbal while in San Juan for $20. These two historic castles have helped defend Puerto Rico since 1783. We imagined what it was like to be a prisoner down in the dark and damp dungeons or a soldier keeping watch in one of the many garitas (sentry box) on the edges of the castle walls.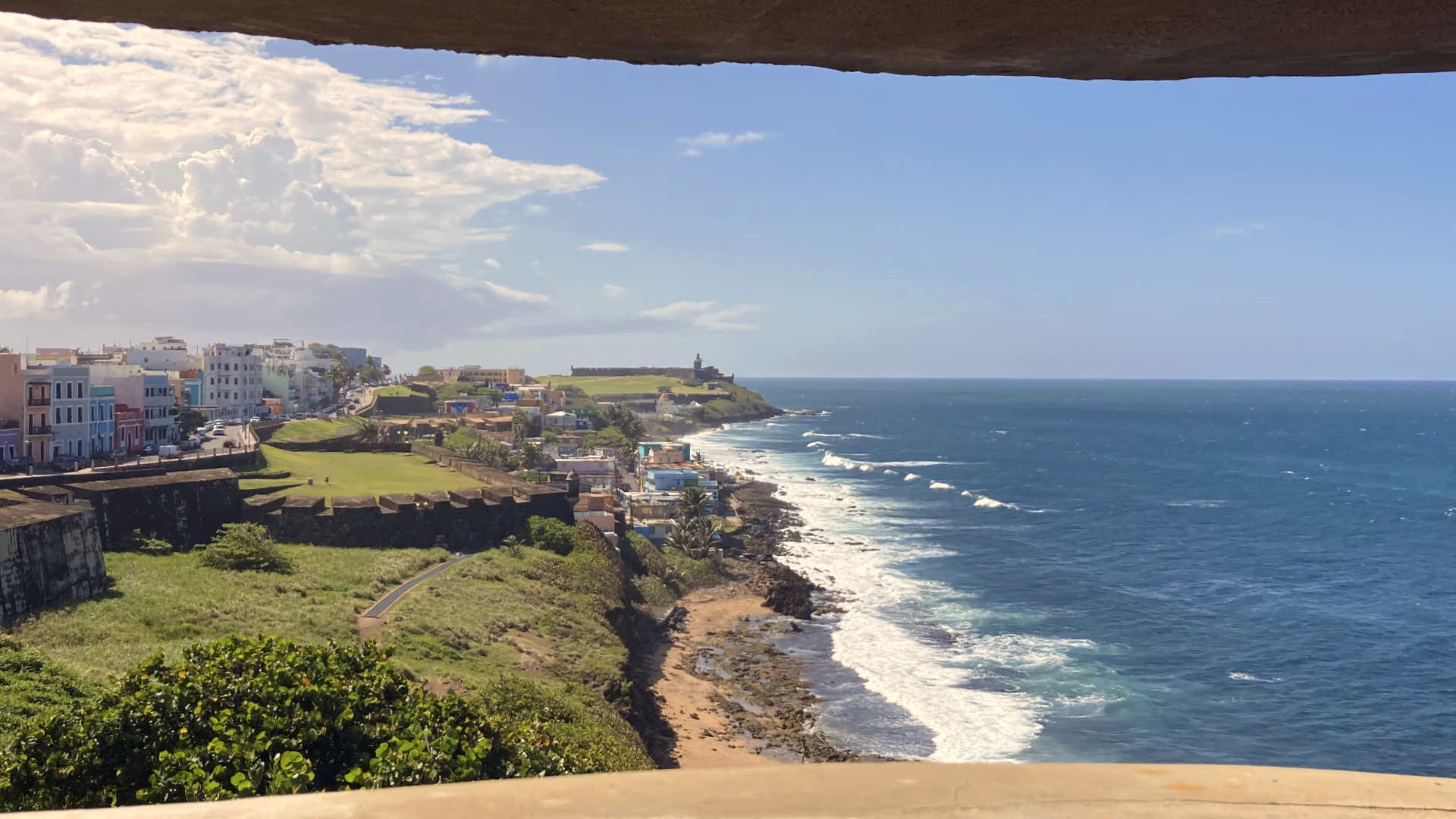 During our last-minute trip to Flordia, we visited the Kennedy Space Center in Cape Canaveral with our good friends and their children. Funny enough, our last visit to KSC was also a last-minute trip over 13 years ago.
Jenni used her medical credentials to get about 18% off the entry tickets ($104) via IDme, a discount site for select groups like medical workers, teachers, and military personnel.
Auto & Transport
In total, we spent $590 on auto and transport expenses.
With the increase in coverage on the Prius after the attempted theft of her catalytic converter, our 6-month insurance premium by $424.
We spent $108 on gas & fuel between the two rental cars and our Prius at home.
We paid $23 for parking at the Kenedy Space Center and to leave our car at the airport.
We spent $35 on tolls by reloading our EZpass.
How Much We Work
We like to keep track of how much time we spend doing work that is paid. For Jenni, this is pretty easy as it's just her paycheck time. Chris manually tracks his hours consulting with Freshbooks (referral).
Our aim is to gradually reduce these hours.
Chris's hours have remained about the same the past few months while Jenni's have increased slightly.
| Month | Chris (Hours Worked) | Jenni (Hours Worked) |
| --- | --- | --- |
| May 2020 | 41 | 108 |
| Jun 2020 | 38 | 96 |
| Jul 2020 | 36 | 120 |
| Aug 2020 | 39 | 48 |
| Sep 2020 | 27 | 76 |
| Oct 2020 | 26 | 104 |
| Nov 2020 | 27 | 57 |
| Dec 2020 | 28 | 57 |
| Jan 2021 | 25 | 102 |
| Feb 2021 | 24 | 104 |
| Mar 2021 | 24 | 106 |
| Apr 2021 | 23 | 85 |
| May 2021 | 17 | 29.75 |
| Jun 2021 | 19 | 66 |
| Jul 2021 | 21 | 30.25 |
| Aug 2021 | 23 | 16.5 |
| Sep 2021 | 26 | 28 |
| Oct 2021 | 22 | 49 |
| Nov 2021 | 21 | 51 |
| Dec 2021 | 64 | 27 |
| Jan 2022 | 32 | 80 |
| Feb 2022 | 29 | 63 |
| Mar 2022 | 14 | 70 |
Jenni is working two or three times per week for her coworker that is on maternity leave. Chris has been busy closing out some of his business contracts — permanently.
An average full-time job for two people would be about 347 hours.
Despite the elevated time, we only worked about a quarter of what a normal pair of full-time employees would!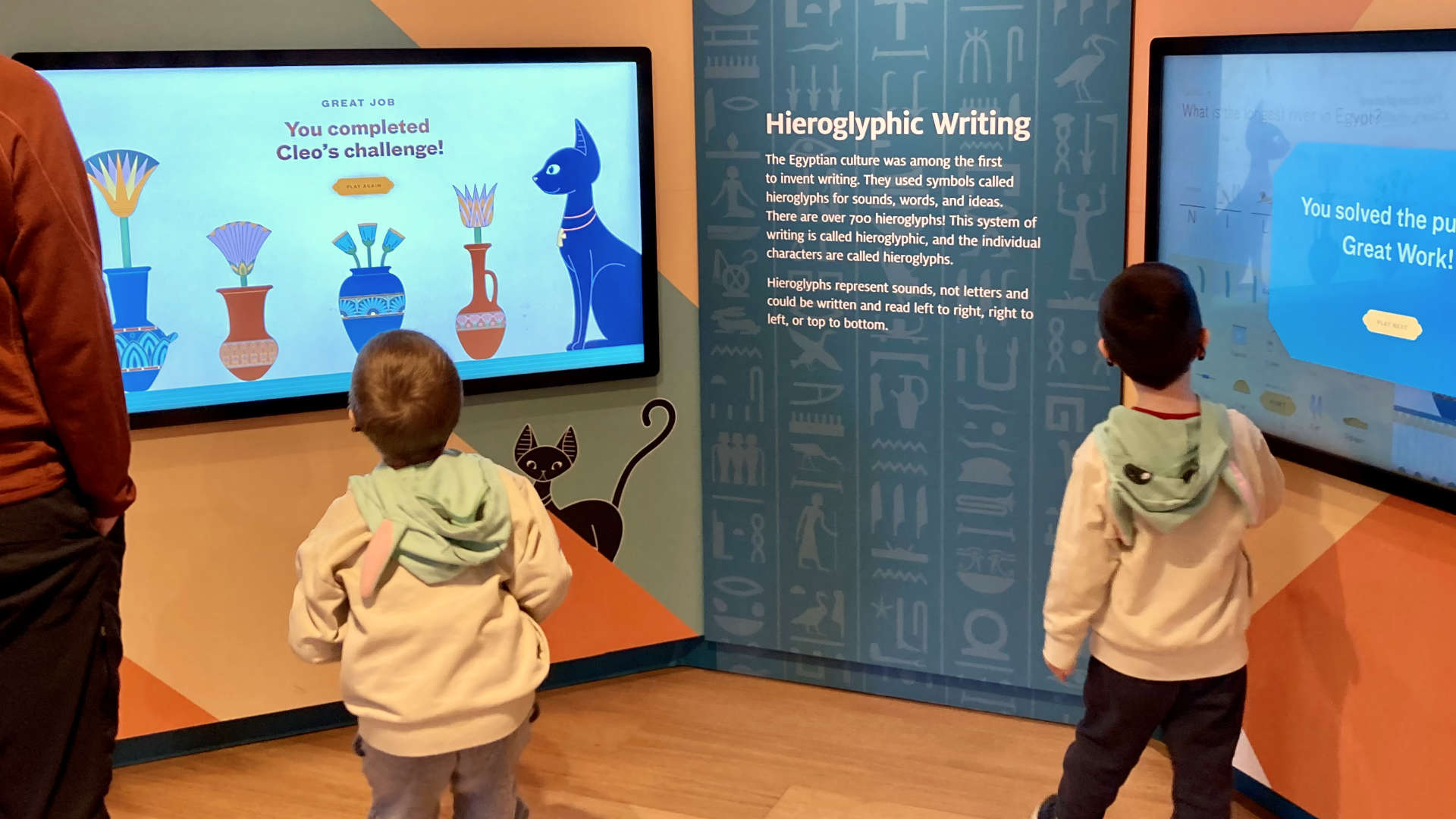 2022 Yearly Theme
From Chris:
Last year, delivered a little update each month regarding my Yearly Theme.
For 2021, I chose "Discomfort". This guiding word is a reminder for me to seek out challenges within life and stretch my comfort zone. It's my way of having a "new year resolution".
For now, I'm holding this space in our monthly update for a future 2022 theme. Stay tuned!
Don't have a "Yearly Theme" for yourself? You could create one for 2022!
Net Worth Update
We don't like to focus on the net worth of writers in the personal finance community. However, we do understand it offers a little context to the writing for the reader.
You might better relate to someone with a net worth and earnings history more similar to yours.
We wrote up an extensive post on our earnings and net worth history that ranged from 2006 to 2018. We did it with an average income of $77K per person over the period we analyzed.
→ Related: How to Become a Millionaire in 10 Years (Debt to $1.2M at 33)
Account breakdown
The market keeps chugging along and so do our investments. From a high level, our assets and liabilities are shown in the data table below as of March 31, 2022.
| Description | Value (USD, $) |
| --- | --- |
| 401(k) | 760,378 |
| Brokerage | 872,587 |
| Roth IRA | 155,995 |
| Traditional IRA | 6,000 |
| HSA | 48,099 |
| Real Estate | 391,700 |
| Mortgage | (147,563) |
| Miscellaneous Assets | 20,750 |
| Checking & Savings | 33,912 |
| Net Worth | 2,134,428 |
Miscellaneous assets include specific investments we've made in physical assets (think collectibles, bonds)
Amounts do not reflect the value of the businesses Chris owns or their assets, which should appear as income to us over future years
Jenni's Prius is not included
The S&P 500 was up 3.6% in March. Our investments had a gain of about 3.7%.
Our net worth increased by $76K!
Net Worth History
March 2022 Donation Winner
We highlighted three charitable organizations that are doing their part to help the people of Ukraine even while the Russian invasion continues.
We had 13 voters participate in this month's poll. The winner with 7 votes goes to CARE, Inc. This organization set up the Ukrainian Crisis Fund to provide immediate aid, food, water, hygiene kits, psychosocial support, and cash assistance to those in need.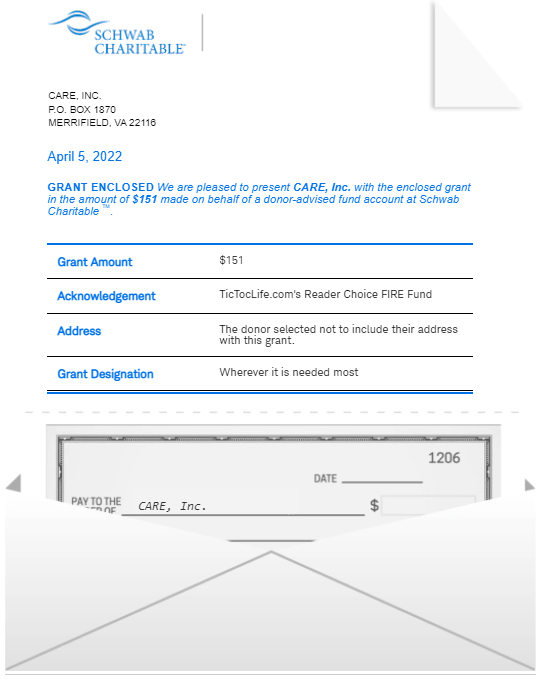 Our Reader's Fund seeks to leverage the principles of FIRE to build a lifetime of giving.
By the time we're near normal retirement age, it's easy to see how the fund could grow to $250K and donations would be in excess of $800/month! That's the power of FIRE and compound interest!
Thank you for your participation in our polls over the last 20 months. We've given over $2,200 to deserving charities with your help in deciding which organizations to donate to.
We are excited to enter the second year of our Reader's Choice FIRE Fund poll! If you would like to see changes to the way we display our candidates or have suggestions for charity categories, let us know in the comments.
Polls are now open for our next round of candidates: Nature Conservation Charities
Nature Conservation Charities
We only get one planet so let's celebrate it together! In honor of Earth Day 2022, we took some time to learn about the great work that organizations all over the world are doing to protect our planet's Rainforest, oceans, and wildlife.
We chose the following three nature charities because of their high-level ratings on Guidestar and their current conservation work. Review each of these three and help us decide which organization to support by casting your vote. This poll will end on May 14th at 11:59 pm.
Summaries below include a link to their Guidestar profile which details the nonprofit's operations and transparency.
1) Friends of the Rainforest
Why? The original friends of the rainforest were second-graders in a Swedish classroom in 1987. They became outraged after learning about the destruction of the Rainforest. These young people were determined to help protect the Rainforest and started a campaign. These children raised funds to purchase six hectares of rainforest in Costa Rico which became the Children's Eternal Rainforest (el Bosque Eterno de los Niños)! Now, with the help of children in over 44 countries, the protected Rainforest lands have grown to 22,5000 hectares.
Where? Costa Rica, United States
What? Friends of the Rainforest was founded in 2002 as a nonprofit sister organization to the internationally-recognized Monteverde Conservation League of Costa Rica. Its mission is to educate and inspire children and adults to take action to protect and expand the Rainforest.
Today, they are continuing the friend's mission through:
Education on tropical ecology to learn why it is important and how to protect it.
EcoTours to connect with the Rainforest and change views of the world.
Rainforest Grants for groups with boots on the ground to protect and maintain the Rainforest.
2) Oceana, Inc.
Why? Once it was discovered that only 0.5% of resources spent by environmental nonprofit groups were being spent on ocean advocacy, Oceana was developed. It's the largest international nonprofit advocacy organization focused solely on ocean conservation. Today, it has won more than 100 fishery reforms and protected more than 4.5 million square miles of ocean.
Where? North America, Europe, Philippines, South America
What? Oceana is a nonprofit advocacy conservation organization. With its team of scientists, economists, and lawyers, they are dedicated to achieving measurable change to the ocean's biodiversity through science-based policy campaigns with fixed deadlines and goals.
The major focus of their Save the Oceans: Feed the World campaign is to:
Set reasonable fishing quotas and reduce overfishing.
Reduce bycatch.
Protect marine habitats.
Reduce harmful effects of marine pollution.
3) Richmond Wildlife Center
Why? If you've ever found an injured wild animal in your neighborhood, you know how important it is to know what to do next. But imagine finding an exotic pet that has been dumped in the wild when an irresponsible owner was done with it! Where would you turn? The Richmond Wildlife Center provides critical lifesaving vet care to all wild animals and feral exotic pets with the goal of rehabilitation to return to the wild or to a responsible owner.
Where? Central Virginia, USA
What? Richmond Wildlife Center is a nonprofit wildlife organization founded in 2010. Their goal is to provide the necessary care to allow wild animals to return to the wild. In the unfortunate event that an exotic pet has been dumped in the wild, the team is able to rehab the animal back to health before a careful screening process for a new owner.
The Richmond Wildlife Center programs include:
Education about the impact human activity has on the Earth and the local wildlife.
Education on how to properly rescue a wild animal.
Education on being a responsible pet owner.
Critical care and rehabilitation for animals.
Monitor and report disease outbreaks or metal toxicities found in the wild to public health officials.
Nonprofit poll
After reviewing the list above, please take a moment to vote for which nonprofit you think will put funds to use in the best way.
(Have trouble using or seeing the poll above? Some reader tools or apps may not display it. View this page in a browser or use this link to our Reader Fund page which has a copy of the poll!)
(Because of the late start to this poll — April is nearly over! — it will run until mid-May. We hope to have our April budget update out by then.)
Thank you for taking the time to vote!
One of our primary goals with TicTocLife is building a stream of giving within the FIRE community and that starts with knowledge.
Want to hear about the results? Signup for our free FIRE Insider newsletter! We send it out every few weeks and include the monthly poll results and donation winners. You can see an archive of the FIRE Insider and signup here!
What Does April 2022 Hold?
April is shaping up to be a busy month. Lots of tax preparation, home repairs, volunteering, and running!
We'll finish up our taxes and try to minimize our biggest financial mistake of 2021 by maximizing our tax-advantaged investments.
With no travel plans in April, we've decided to make some progress on a few house repairs. After many failed attempts to even get quotes from contractors, Jenni will be putting her painting and climbing skills to use to repair and paint our second-story windows.
We've started to give back to our community by volunteering with Meals on Wheels. Each Monday in April, we plan to deliver meals to our community members in need.
Finally, our local annual 10K race will be returning to its full-blown pre-covid state! We both enjoy pushing ourselves in this race each year. Since the last two years have been on pause, Jenni's been training really hard to beat her personal record.
Stay tuned until next time to see how our taxes and this race turn out!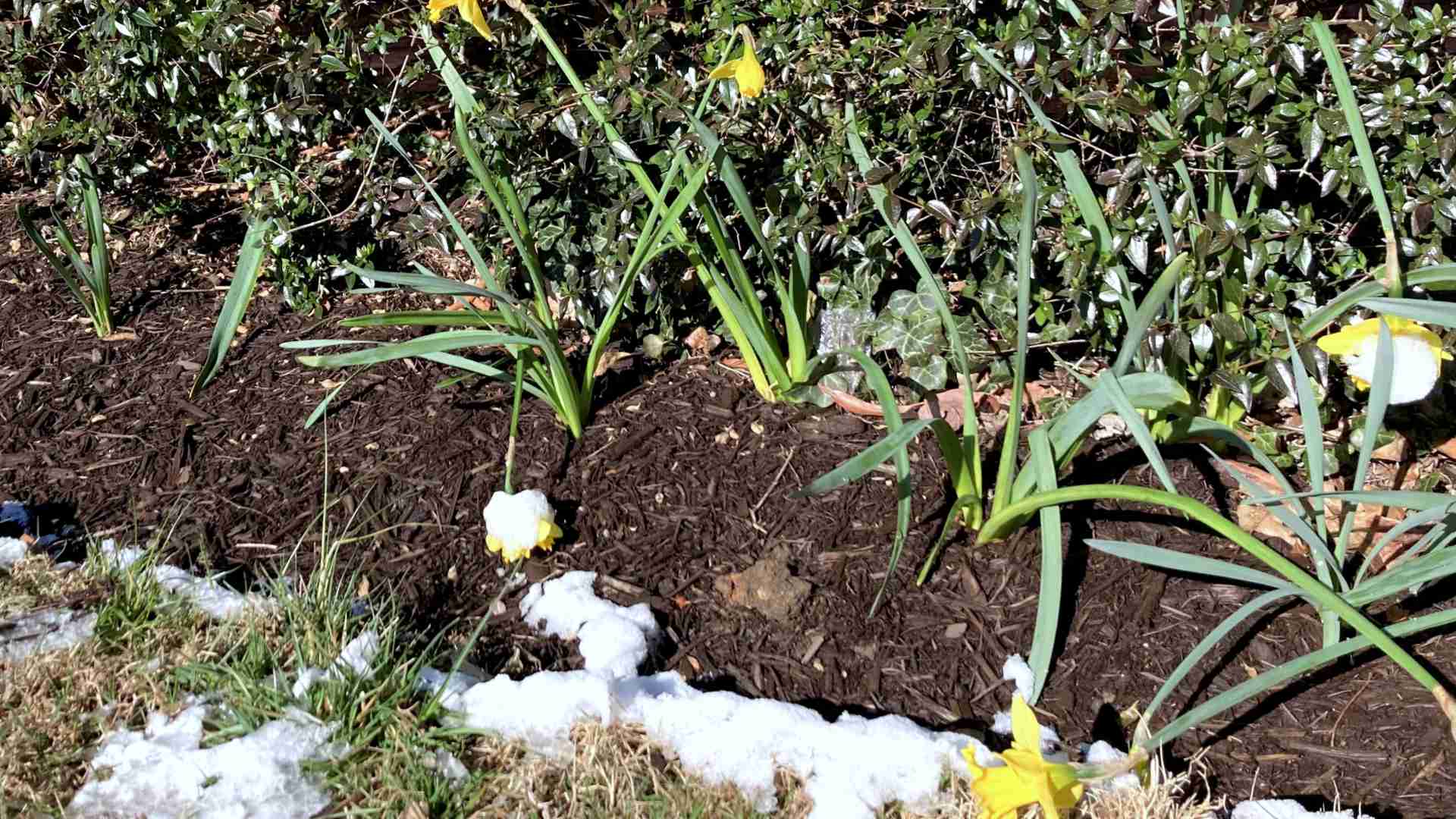 ---
Are you kicking off Spring in a special way?
How's March looking for you?
Let us know in the comments or on Twitter!