Here at TicTocLife, we've reached not only one but two milestones this month!
Our investments took the biggest loss we've ever tracked. Our net worth decreased by $166K!
We also logged our lowest combined number of working hours in a month—just 36!
Despite this, and even with the S&P 500 down over 8% in April, we feel comfortable with our plans to stick with FIRE and ride out this wave! It's important to remember the stock market will always have its downs. Hopefully it will recover soon.
We're excited to continue to share our FIRE journey and tell you about our upcoming travel plans.
Each month, we break down our spending in great detail. This review serves as a little check-in on our course to early retirement. We also do a review of nonprofits to inform our giving each month.
We've also reviewed three nonprofits supporting digital equity for our monthly grant that you direct! Be sure to cast your vote below!
During our last month's budget review, we looked at Nature Conservation. Read on to find out the winner and see our poll for this month's grant!
Budget Update
Let's dive into last month's income and expenses.
In the Sankey diagram below, the income on the left matches our expenses to the right.
We'll run through the income and expense sources for the month and remark on any interesting items.
Income Summary
We have several sources of income and they tend to vary from month to month.
Most of our income is from Jenni's part-time pharmacist job and Chris's ongoing business operations—which are generally on autopilot with nearly passive income.
Part-time work
Jenni continues to work at a local pharmacy as needed.
Her part-time pharmacy position earned her $4,048.
She is now back to working just a few shifts a month. With the delay in her paydays, this income is mostly from the end of March.
Chris has moved his business focus to just one or two clients. Therefore, his business income has been reduced as well.
Chris's business paid him $911.
We reveal just how many hours we work each month in the "how much we work" section below, too!
Other income
Whenever we shop online, we check out the latest cash-back offers. Every time we make a purchase, we accumulate cashback little by little.
Chris deposited his cash back and made $16 from Honey.
Jenni deposited her cash back and made $107 from TopCashback.
Chris sold off a few more things from his parents' decluttering before their move as well as a few things from around our house.
We made $442 via eBay by selling:
An old G.I. Joe tank from Chris' childhood
A Star Wars LEGO Collector's set
A computer network switch and power adapter
28GB of various computer memory
It's always great to make a bit of extra money and clear out the clutter!
As an incentive to be proactive in her health, Jenni completed her insurance requirements to receive a healthy rewards visa gift card for $45.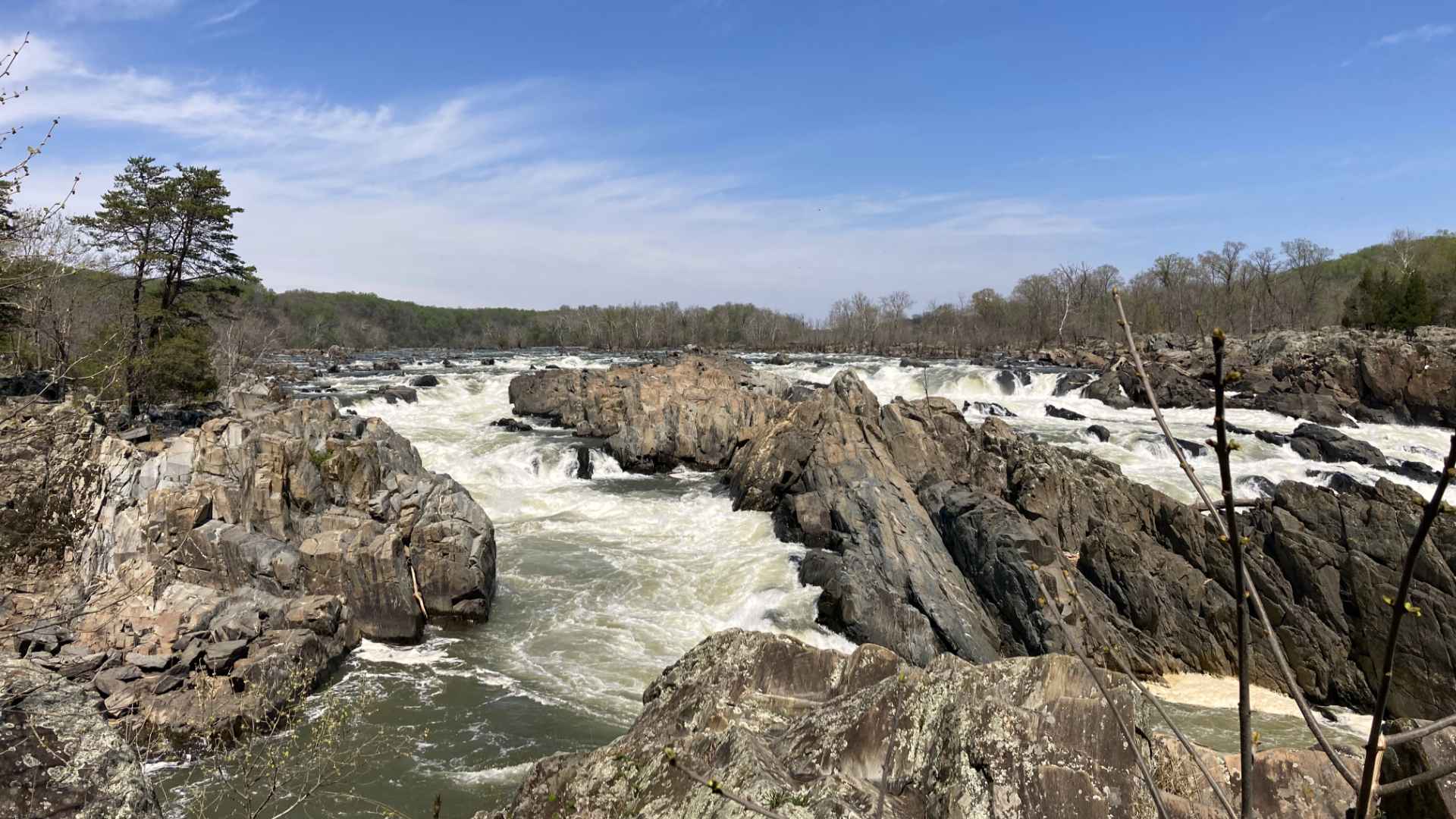 Dividends, interest, credits
The rest of our income came from dividends, credits, and interest.
Chris received $223 in dividends.
We received $43 in credits.
These credits primarily come from credit card issuers who have special offers when spending in certain categories. We break out the individual credits within the expense summary below.
We had $3 of interest from checking and savings accounts.
Tax refund
Chris ended up with a tax refund totaling $5,262 from his federal and state tax returns.
Much of this refund comes from a reduced taxable income through donations. The funding of our DAF a few years ago (Reader's Choice FIRE Donor Advised Fund) is still having its positive tax benefits.
Transfers
Overall, we ended the month with $1,716 in checking. This will eventually flow through to our brokerage accounts to increase our investments.
Expense Summary
From our $11,101 monthly budget, we saved $2,607 this month.
This gives us a savings rate of 23%.
Our average FIRE budget for 2020 was about $3,405/month. We spent about $5,768 on living expenses. Our one-time HOA assessment and Jenni's tax payments pushed us the highest we've ever been over our target spending goal.
That's 169% of our typical monthly FIRE budget!
If you're curious what our typical annual budget looks like, check out the full FIRE budget review we did for 2020!
Let's get into the details of our spending for the month.
Taxes
While Chris received a tax refund, Jenni was stuck paying a hefty tax bill.
On December 29, 2021, she received $46,766 from a Vanguard Target Date Fund distribution which was automatically reinvested via DRIP.
This unexpected bump in her income pushed her over the limits for the healthcare subsidy and into the 15% capital gains tax bracket.
Reminder: don't put investments that are likely to generate large dividend distributions into taxable accounts—if you can avoid it!
To try to offset the tax bill as much as possible, Jenni funded her IRA. This was enough to drop her AGI below the limit to qualify for a pandemic economic stimulus of $1,400.
This helped her with the $1,200 in health insurance subsidy payments she no longer qualified for and had to repay.
In the end, Jenni paid $1,657 in federal taxes and $2,073 in state taxes.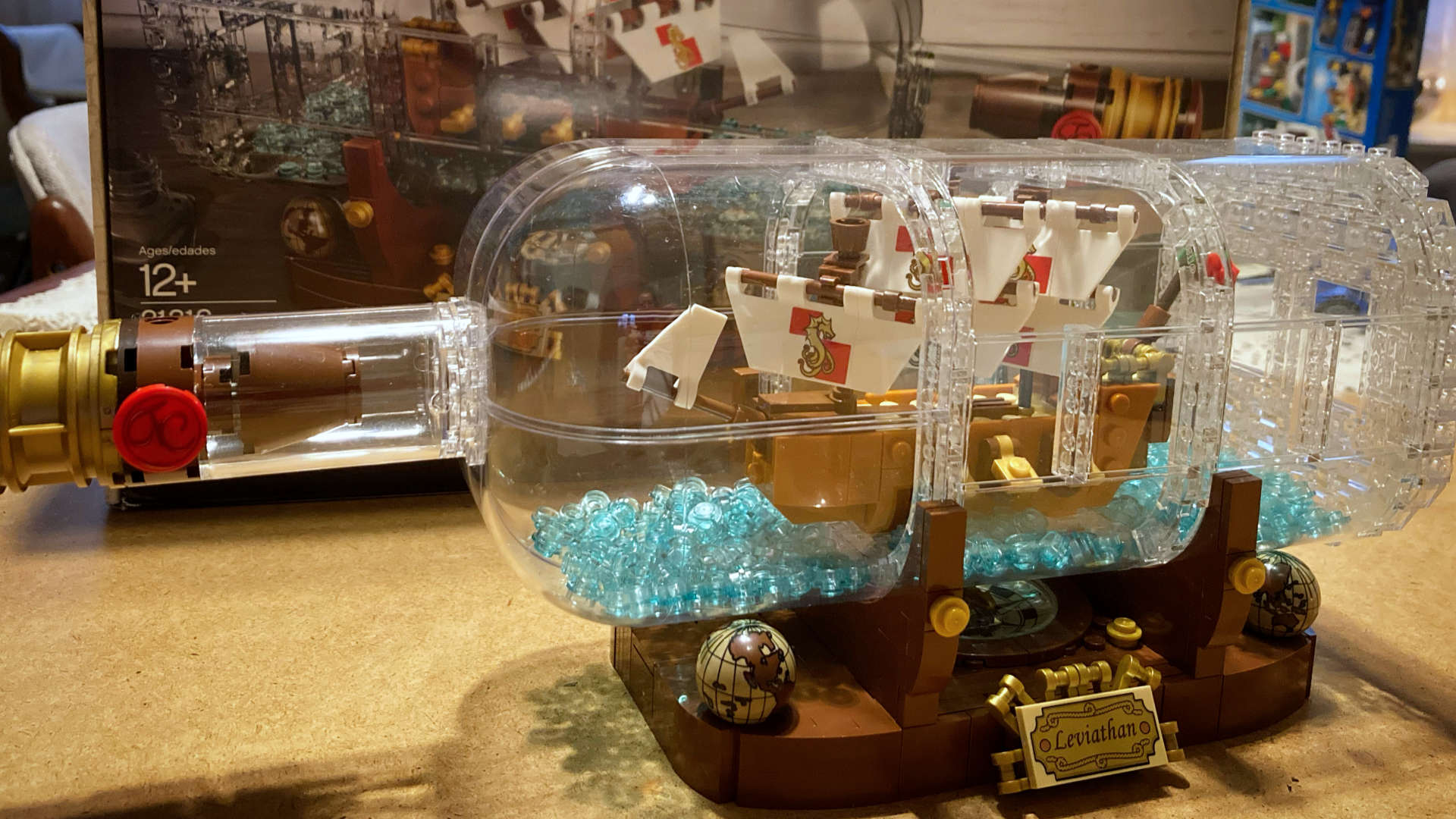 Travel
Chris opened an American Express Gold card with several travel perks, extra ways to earn points, and cashback offers. This card came with an annual fee of $250 which we booked as a travel expense.
Why a travel expense? His primary purpose for opening the card is to earn a sign-up bonus in rewards points (worth around $1,200). Those points will be used on future travel expenses.
Home
Our housing costs are broken down in our annual FIRE budget (mentioned above) in detail.
For the monthly breakdown, these details might be helpful to understand:
When evaluating whether to rent and invest or buy a home, we chose to own
We have a 30-year, fixed-rate mortgage below 4% interest
Our HOA is $350/month which covers some of our utilities (heating, water)
We chose the city life vs country life in a medium cost of living area
Housing-related expenses are consistent month-to-month. We have an escrow account with our mortgage provider which helps automate property taxes and home insurance payments.
We live in a 2 bedroom, 2 bath historic brick home built in the 1920s. It's part of a small cooperative.
Our HOA will be renovating our garages which triggered our first assessment since moving here in 2013!
The assessment of $1,500 was paid this month. Fingers crossed that assessments like this will be rare!
Home Furnishings
Over the past few weeks, Jenni has been working hard to maintain and restore our old house.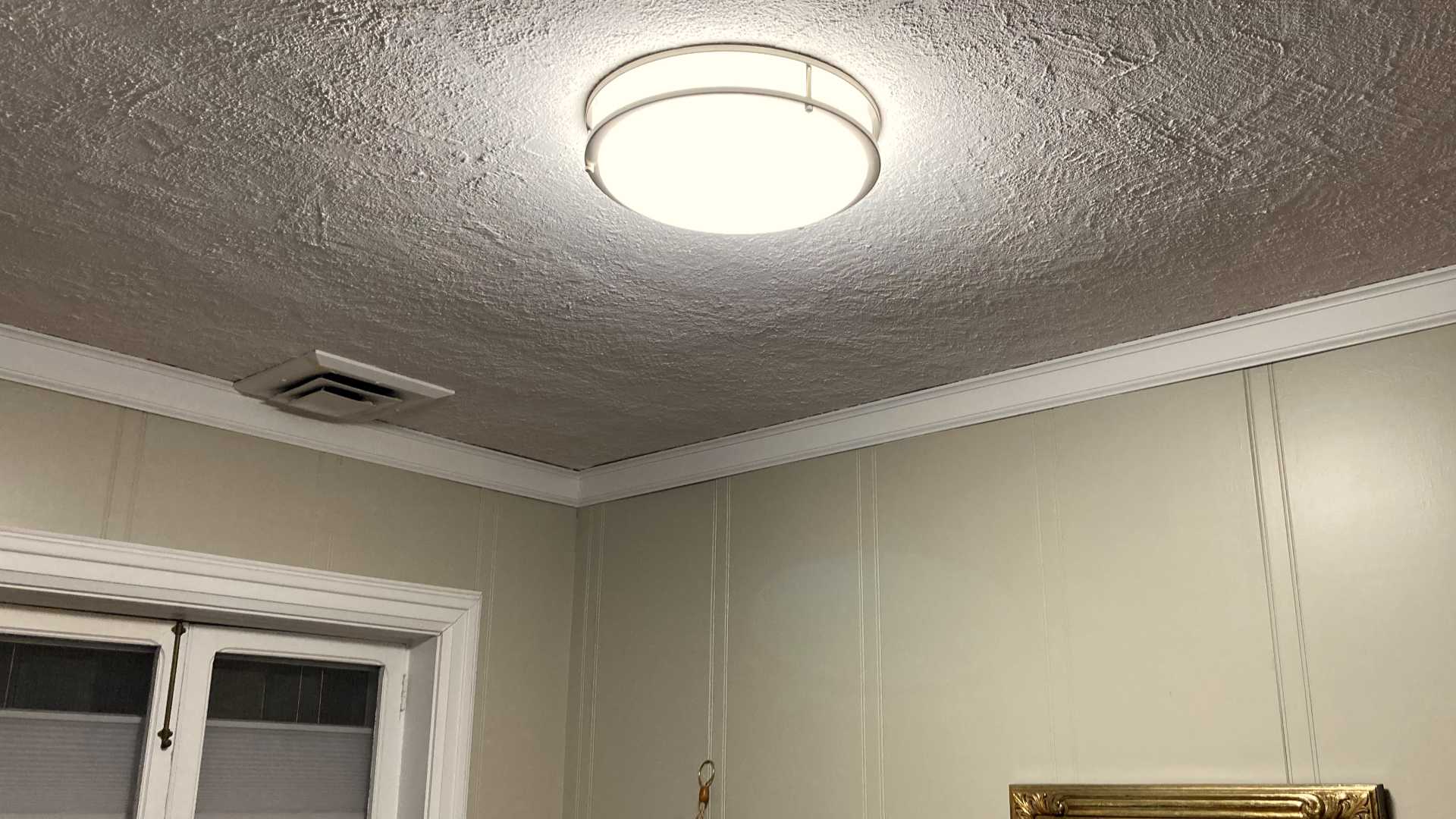 She brightened up her dressing room/office/gym by installing a new overhead light ($29).
Home Improvement
An old home often needs some repairs. Jenni repaired and painted cracks and holes in the plaster walls of the bedroom and office.
She is now working on the restoration of three second-story original wood-framed cast-iron windows.
We used previously purchased Lowes gift cards for about $200 on these home improvement supplies.
The hassle of finding a decent general contractor who actually follows up with their estimates and doesn't try to overcharge has been a real pain. It has been so frustrating that we finally gave up and purchased the supplies to do the work ourselves.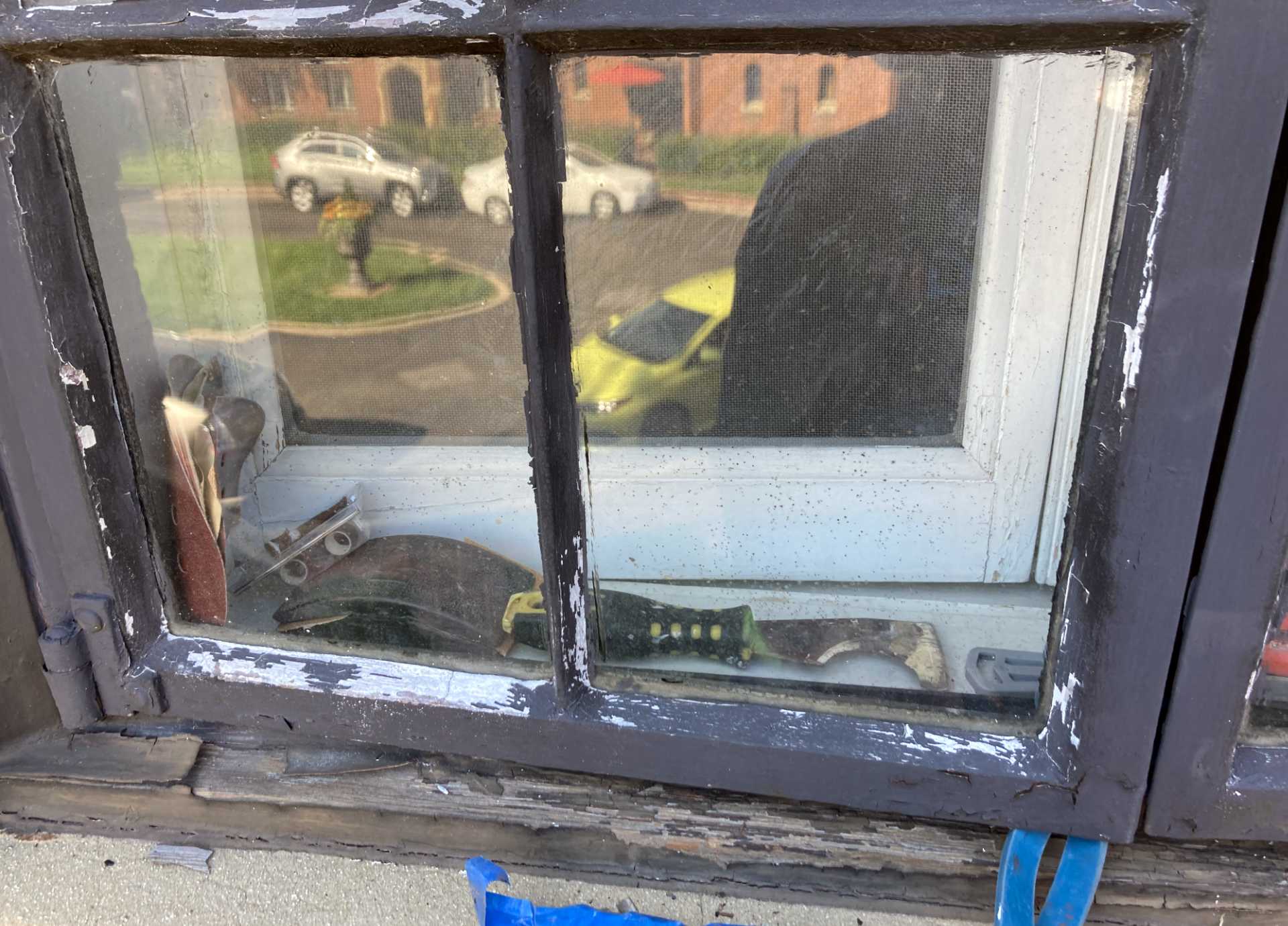 The entire project includes:
Chipping and sanding paint from wood and iron
Removing old glaze and caulk
Repairing wood with hardened and wood putty, then reshaping the sill
Caulking and sealing up the perimeter
Reglazing 12 panes per window
Painting exterior with prime, and two coats of paint ( latex for wood and oil for metal)
Sanding, priming, painting interior of windows
Applying a seal to improve closure
While a professional may not think of this as a big project, it is a very time-intensive project. Jenni has worked on this project for over three weeks. She's properly repairing and painting all surfaces of the window doors and frames, both inside and out.
With her attention to this detail plus the two-week drying time for the glazing, and oil paint layers, she expected this project to take a few weeks to complete.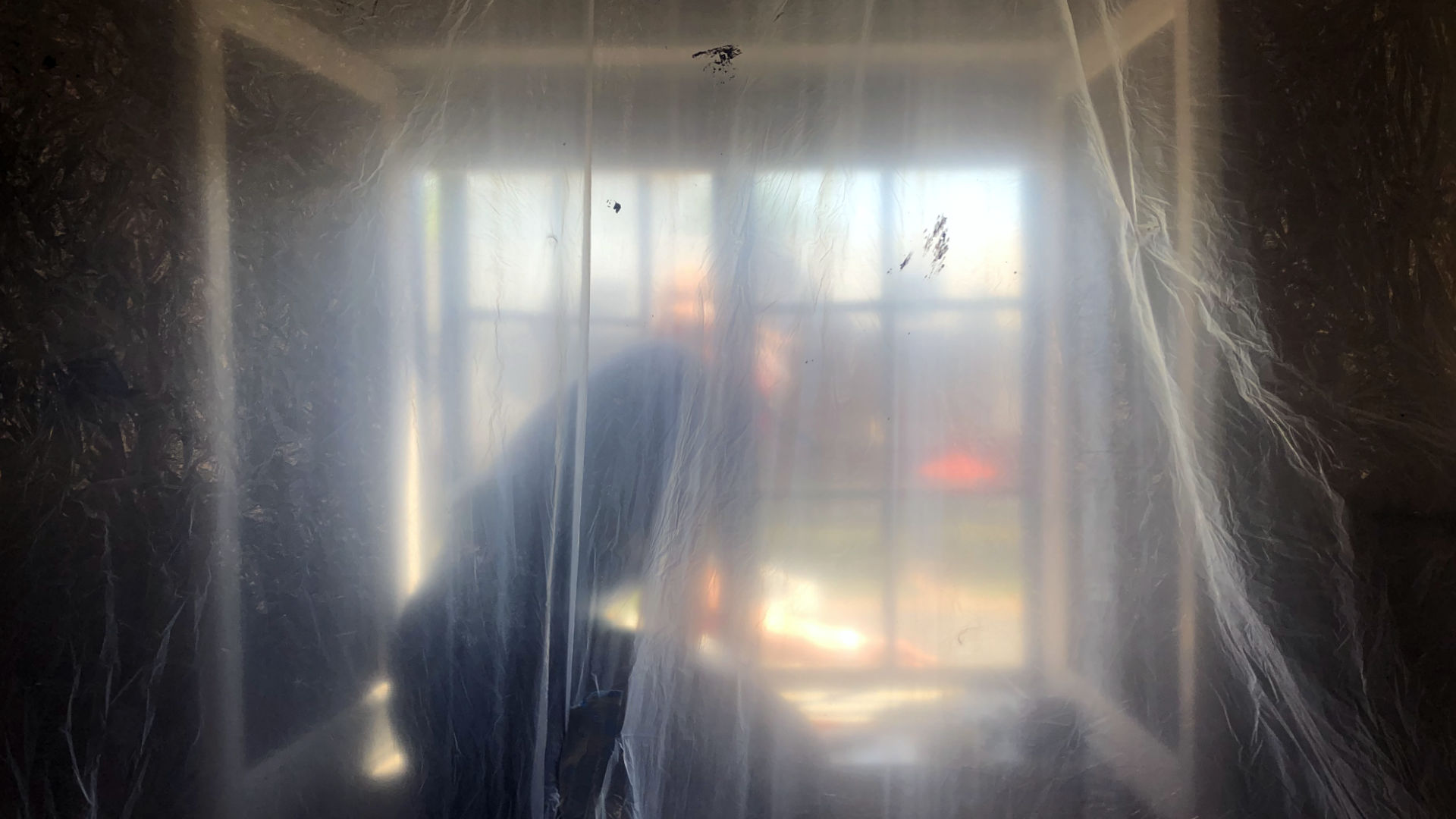 Health
We spent $466 on Health-related expenses this month.
Jenni learned a few new climbing skills with a techniques course ($20) at her rock-climbing gym. Her gym membership ($60/month) includes unlimited climbing, a guest pass, fitness and yoga classes, plus discounts on climbing classes and gear.
Chris and Jenni are both on individual plans through the healthcare exchange for both health and dental insurance.
Together, we paid $386 for our insurance plans.
Chris discovered the negative side of grandfathered insurance plans. When new members aren't allowed to join, the shared risk is spread out over a smaller and smaller group every year. Since each member is getting older, the risk continues to increase therefore increasing the individual premium.
Chris decided to switch over to a marketplace plan. His income means a credit is applied to his plan bringing the total to $63/month.
Chris's old plan didn't end until the middle of the month so he owed premiums to both plans for 15-days each.
Shopping
We spent $39 on shopping.
We have a subscription to Audible. As a perk of the AMEX Platinum card, the monthly fee is credited back to our statement ($15).
She also got a jump rope ($9) to add to her home gym and a replacement WiFi adapter ($15).
Food & Dining
We like to reserve eating out when we are on a trip. Since we are expecting a lot of travel coming up, we bought a lot of groceries to cook at home this month. Plus, Chris's new AMEX Gold card earns 4x rewards points on groceries.
We spent $526 on groceries.
→ Related: Want to see how to save money on groceries in detail?
Restaurants, Fast Food, Alcohol
We spent $51 on restaurants, $29 on takeout food, and $30 on alcohol.
Chris's AMEX Gold earns 20% back in statement credits for any restaurant purchases.
He earned $15.23 back for his restaurant purchases.
Donations
Jenni made her monthly donation of $5 to Virginia Public Media.
Utilities
Our cooperative runs on a boiler system for our heat which is covered by the HOA.
We spent $34 on electricity this month. Most of our usage comes from appliances, computers, and lights.
In typical fashion, we spent $20 on city services (cooking gas, wastewater).
Our internet service is through Xfinity Comcast for 200mbps. The internet bill was $30.
We both have cell service on prepaid annual SIM cards.
We don't have any television service.
Amusement
We spent $141 on amusement.
We attended a show at our local historic theater. It's been quite a while since we attended a live performance. Our local symphony chorus was performing Haydn's Creation and we got tickets for $23.
Jenni bought herself the gift of flowers that never die. Once she puts the LEGO Flower Bouquet ($43) together, she'll have a centerpiece for life!
Continuing our LEGO theme… Chris has some fun ideas ahead for redecorating his office that will involve setting up classic LEGO trains. He needed tracks and switches to make that possible and so spent $75 on LEGO track.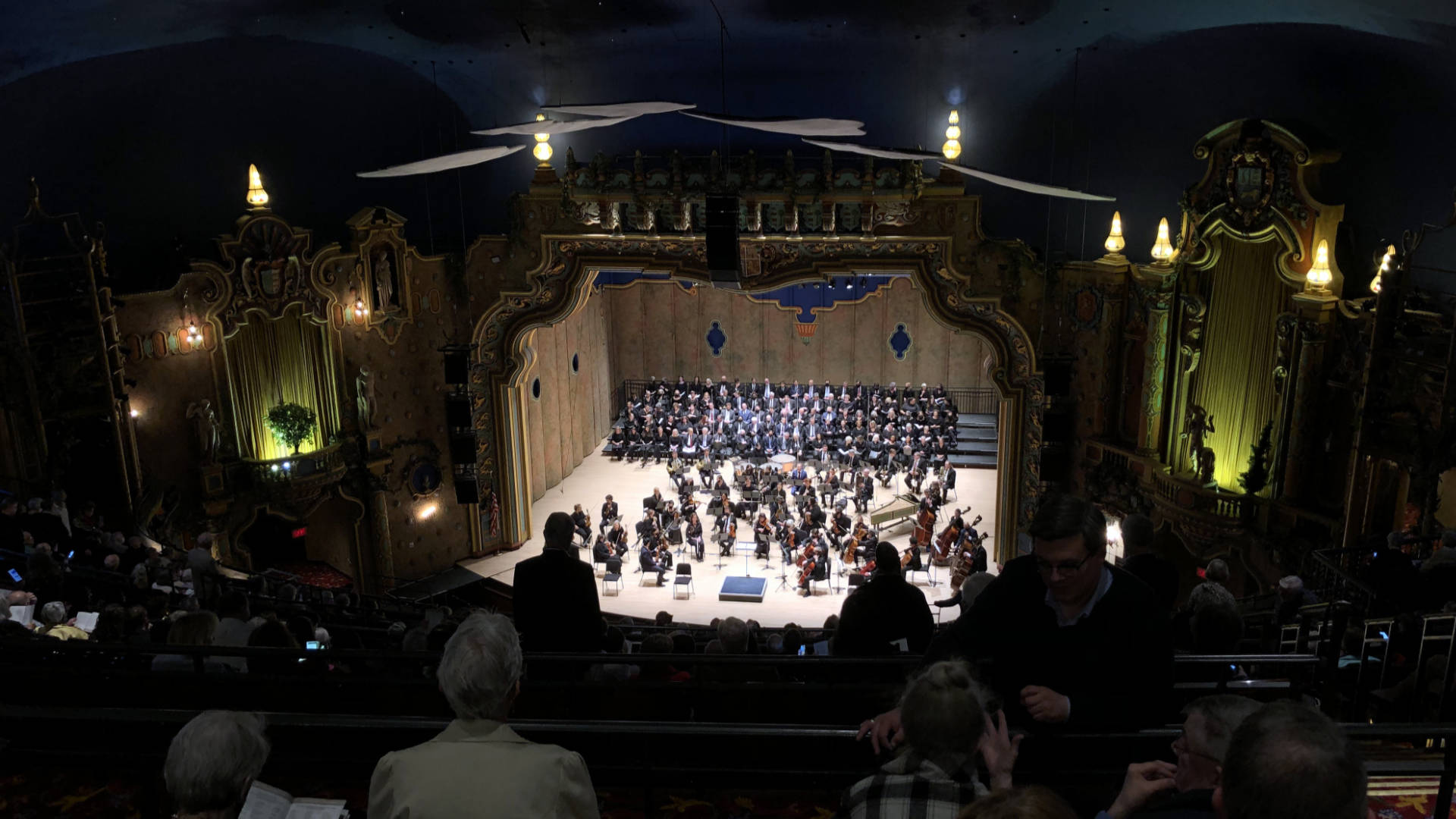 Auto & Transport
We spent $43 on gas & fuel for Jenni's Prius.
How Much We Work
We like to keep track of how much time we spend doing work that is paid. For Jenni, this is pretty easy as it's just her paycheck time. Chris manually tracks his hours consulting with Freshbooks (referral).
Our aim is to gradually reduce these hours.
We both had a pretty easy working month.
| Month | Chris (Hours Worked) | Jenni (Hours Worked) |
| --- | --- | --- |
| May 2020 | 41 | 108 |
| Jun 2020 | 38 | 96 |
| Jul 2020 | 36 | 120 |
| Aug 2020 | 39 | 48 |
| Sep 2020 | 27 | 76 |
| Oct 2020 | 26 | 104 |
| Nov 2020 | 27 | 57 |
| Dec 2020 | 28 | 57 |
| Jan 2021 | 25 | 102 |
| Feb 2021 | 24 | 104 |
| Mar 2021 | 24 | 106 |
| Apr 2021 | 23 | 85 |
| May 2021 | 17 | 29.75 |
| Jun 2021 | 19 | 66 |
| Jul 2021 | 21 | 30.25 |
| Aug 2021 | 23 | 16.5 |
| Sep 2021 | 26 | 28 |
| Oct 2021 | 22 | 49 |
| Nov 2021 | 21 | 51 |
| Dec 2021 | 64 | 27 |
| Jan 2022 | 32 | 80 |
| Feb 2022 | 29 | 63 |
| Mar 2022 | 14 | 70 |
| Apr 2022 | 15 | 21 |
Jenni's working just a few days a month now that her coworker's returned from maternity leave. Chris has just one business contract remaining.
An average full-time job for two people would be about 347 hours.
We only worked about a tenth of what a normal pair of full-time employees would!
2022 Yearly Theme
From Chris:
Last year, delivered a little update each month regarding my Yearly Theme.
For 2021, I chose "Discomfort". This guiding word is a reminder for me to seek out challenges within life and stretch my comfort zone. It's my way of having a "new year resolution".
For now, I'm holding this space in our monthly update for a future 2022 theme. Stay tuned!
Don't have a "Yearly Theme" for yourself? You could create one for 2022!
Net Worth Update
We don't like to focus on the net worth of writers in the personal finance community. However, we do understand it offers a little context to the writing for the reader.
You might better relate to someone with a net worth and earnings history more similar to yours.
We wrote up an extensive post on our earnings and net worth history that ranged from 2006 to 2018. We did it with an average income of $77K per person over the period we analyzed.
→ Related: How to Become a Millionaire in 10 Years (Debt to $1.2M at 33)
Account breakdown
The market keeps chugging along and so do our investments. From a high level, our assets and liabilities are shown in the data table below as of April 30, 2022.
| Description | Value (USD, $) |
| --- | --- |
| 401(k) | 679,469 |
| Brokerage | 801,037 |
| Roth IRA | 144,513 |
| Traditional IRA | 6,646 |
| HSA | 46,338 |
| Real Estate | 392,800 |
| Mortgage | (147,171) |
| Miscellaneous Assets | 29,642 |
| Checking & Savings | 14,795 |
| Net Worth | 1,968,069 |
Miscellaneous assets include specific investments we've made in physical assets (think collectibles) and treasury bonds
Amounts do not reflect the value of the businesses Chris owns or their assets, which should appear as income to us over future years
Jenni's Prius is not included
The S&P 500 was down 8.8% in April.
Our investments lost about 7.8%—that's the largest monthly loss we've had since we started reporting back in 2020.
Our net worth decreased by $166K!
Net Worth History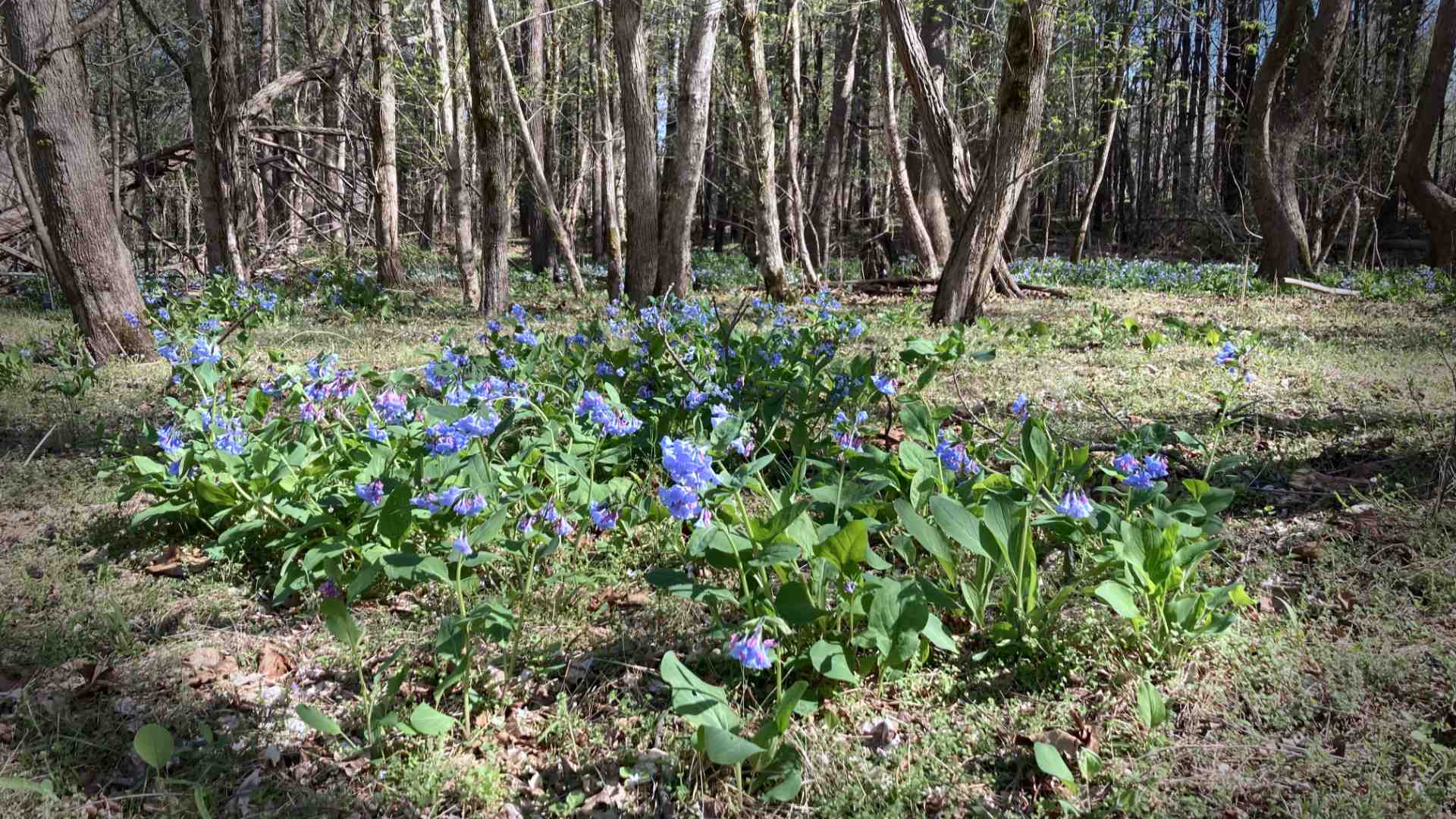 April 2022 Donation Winner
In honor of Earth Day, we highlighted three charitable organizations that are helping to preserve our planet's Rainforest, oceans, and wildlife.
We had 8 voters participate in this month's poll. The winner with 5 votes goes to Oceana, Inc. This organization is the largest international nonprofit advocacy organization focused solely on ocean conservation. Their efforts have helped protect more than 4.5 million square miles of ocean.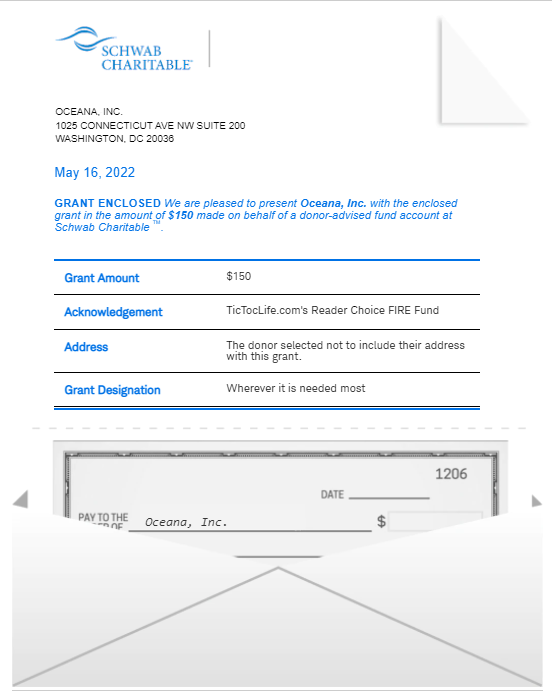 Our Reader's Fund seeks to leverage the principles of FIRE to build a lifetime of giving.
By the time we're near normal retirement age, it's easy to see how the fund could grow to $250K and donations would be in excess of $800/month! That's the power of FIRE and compound interest!
Thank you for your participation in our polls over the last 21 months. We've given over $2,400 to deserving charities with your help in deciding which organizations to donate to.
We are excited to enter the second year of our Reader's Choice FIRE Fund poll! If you would like to see changes to the way we display our candidates or have suggestions for charity categories, let us know in the comments.
Polls are now open for our next round of candidates: Digital Equity Charities.
Digital Equity Charities
There is a gap between those who have access to digital technology and those who do not. It is called the digital divide which affects low-income families the most.
Not being able to afford technology and internet access dramatically decreases a person's ability to study remotely, apply for jobs, attend telehealth appointments, connect with distant family, explore new perspectives, and so much more. Access to technology should be a right, not a privilege.
We chose the following three charities because of their ratings on Guidestar and their efforts to increase access to technology. Review each of these three and help us decide which organization to support by casting your vote. This poll will end on June 14th at 11:59 pm.
Summaries below include a link to their Guidestar profile which details the nonprofit's operations and transparency.
1) Human-I-T
Why? Over 80 million Americans lack access to a computer with Internet in their home because of the cost.
Where? Southern California, Detroit, Michigan
What? Human-I-T is a nonprofit organization founded in 2013. Their goal is to create equitable access to opportunity by providing devices, internet access, digital skills training, and tech support for communities in need. In addition, they help repurpose technology by refurbishing computers that would otherwise end up in landfills.
Their access to technology programs include:
OurCycle LA: refurbished municipal computers slated to be updated and provided to low-income residents.
Human-I-T Los Angeles College Promise: access to technology, tech support, and high-speed internet connections for students.
Human-I-T #include: digital literacy courses for all ages.
Human-I-T .connect: subsidized broadband packages to qualified, low-income residents.
Human-I-T *equip: desktops and laptops to underserved families.
2) EveryoneOn
Why? Everyone deserves to be able to use the power of the internet to access opportunities regardless of age, race, geography, income, or education level.
Where? USA
What? EveryoneOn is a national nonprofit founded in 2014. They are dedicated to creating social and economic opportunities by connecting low-income families to affordable internet service and computers and delivering digital skills training.
Some of their programs include:
Affordable Connectivity Program provides low-cost internet service and affordable computers
Free digital learning center
Senior Tablet Training workshops
ConnectWealth combines access to affordable internet and training in personal finance
Connect2Compete (C2C) provides affordable internet service to qualifying families of K-12 students
3) Organization To Provide Equal Access To Technology Inc.
Why? Technology can be hard to comprehend especially if you don't have access to it. Having access is the first step, but then understanding how to best use it is the next.
Where? Virginia, North Carolina
What? The Organization to Provide Equal Access to Technology (OPEAT) is a nonprofit organization founded in 2000. Its mission is to provide technology and technology-related solutions to underserved populations. They strive to ensure all people have access to high-speed internet, affordable computing device, and the training to use them effectively.
Their two focuses include:
Educational technology programs for students with a passion for tech with an emphasis on academically and economically at-risk and mainstream students.
Technology Training for Seniors to improve social connections, mental stimulation, increased safety, and better access to health care, and entertainment.
Nonprofit poll
After reviewing the list above, please take a moment to vote for which nonprofit you think will put funds to use in the best way.
(Have trouble using or seeing the poll above? Some reader tools or apps may not display it. View this page in a browser or use this link to our Reader Fund page which has a copy of the poll!)
Thank you for taking the time to vote!
One of our primary goals with TicTocLife is building a stream of giving within the FIRE community and that starts with knowledge.
Want to hear about the results? Signup for our free FIRE Insider newsletter! We send it out every few weeks and include the monthly poll results and donation winners. You can see an archive of the FIRE Insider and signup here!
What Does May 2022 Hold?
May 2022 marks our two-year anniversary on TicTocLife.com!
We plan to ride out the market drop and continue on our FIRE journey.
The first stop is Portugal and we leave this Sunday!
Portugal has been on our list to visit for quite some time. On this trip, we will check out Lisbon, Porto, Sintra, and Coimbra. We will even take a detour to Madrid, Spain to visit friends for a few days.
Chris will continue his travels with an extended week layover in Florida before meeting back up with Jenni on their way to Lima, Peru in June!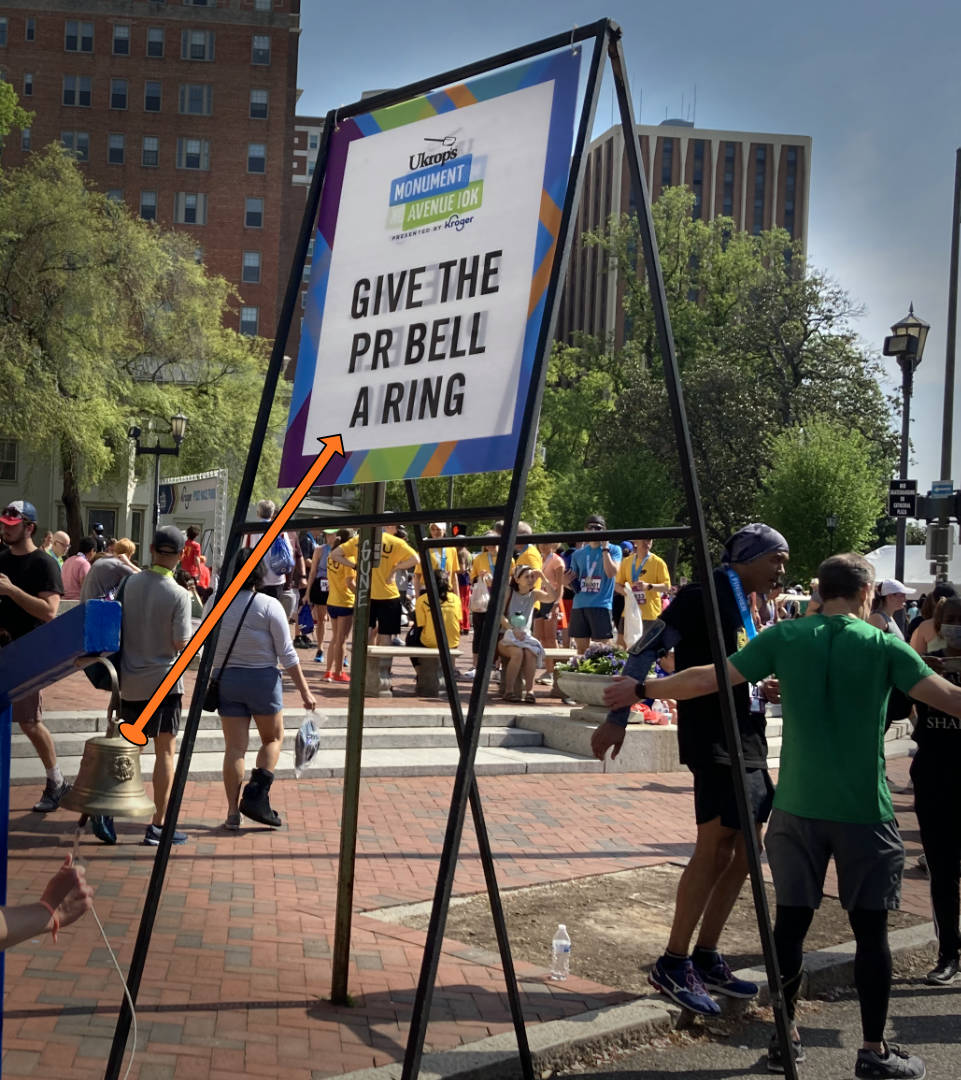 ---
Are you kicking off Spring in a special way?
How's May looking for you?
Let us know in the comments or on Twitter!