After a few weeks of hopping from one country to the next—remembering that we spent $8K last month—it was a little scary to sit down to review our monthly FIRE budget.
We've just returned from a road trip to the beach. The perfect weather allowed for long days at the beach building sandcastles and relaxing on the front porch rockers. With all of this rest and relaxation, it was about time we got to our monthly review.
Each month, we break down our spending to help keep us on track to our early retirement.
Let's check out our July budget and see how we almost managed to get back on track. Plus, we have a new round of our charity poll for your review.
Budget Update
If you'd like a more detailed description of our typical monthly cash flow (like our jobs or housing situation), check out our previous budget updates.
In the Sankey diagram below, the income on the left matches our expenses to the right.
We'll run through the income and expense sources for the month and remark on any interesting items.
Income Summary
Part-time work
Jenni works as a part-time pharmacist at a local pharmacy. She enjoys the work and the flexibility of an as-needed position.
She earned $3,092.
Chris has a small consulting business providing digital strategy guidance.
Chris's business paid him $911.
We reveal just how many hours we work each month in the "how much we work" section below, too!
Dividends, Interest, and Credits
One of the few individual stocks we still hold is Seagate. This past month, STX paid a dividend of about $225 for us, which was immediately reinvested via DRIP.
We received $327 in credits from our various credit card offers.
A big portion of that was from our AMEX Platinum card offering a $200 airline credit once a year. We'll go into detail about how we used this credit in our travel expenses.
Chris sold an old kindle for $20 locally and some old electronics on eBay for $11.
Transfers
Typically, our various sources of income cover our monthly expenses and then some. We put any extra funds into savings and investments.
In months like this, we are able to pull $561 from checking to cover our expenses.
Expense Summary
From our $5,150 monthly budget, we actually saved $945. This amount consisted of 401(K) contributions and DRIP dividends. This explains why we had to pull out of our checking account above.
This gives us a savings rate of 21%.
We spent about $3,875 on living expenses getting us pretty close to our $3,500 FIRE goal.
If you're curious about what our typical annual budget looks like, check out the full FIRE budget review we did for 2020!
Travel
This month, our travel expenses were much less compared to the rest of this summer.
Family Beach Road Trip
We took a week beach trip to Emerald Isle, North Carolina with Jenni's family. Everyone helped chipped in for groceries and the rental house.
Here's what that looked like:
$598 per room in a shared 6-bedroom house
$72 on ferry rides and mini-golf
$120 on food and groceries
$74 on fuel for a 500-mile round trip
We spent a total of $864 on our family beach trip.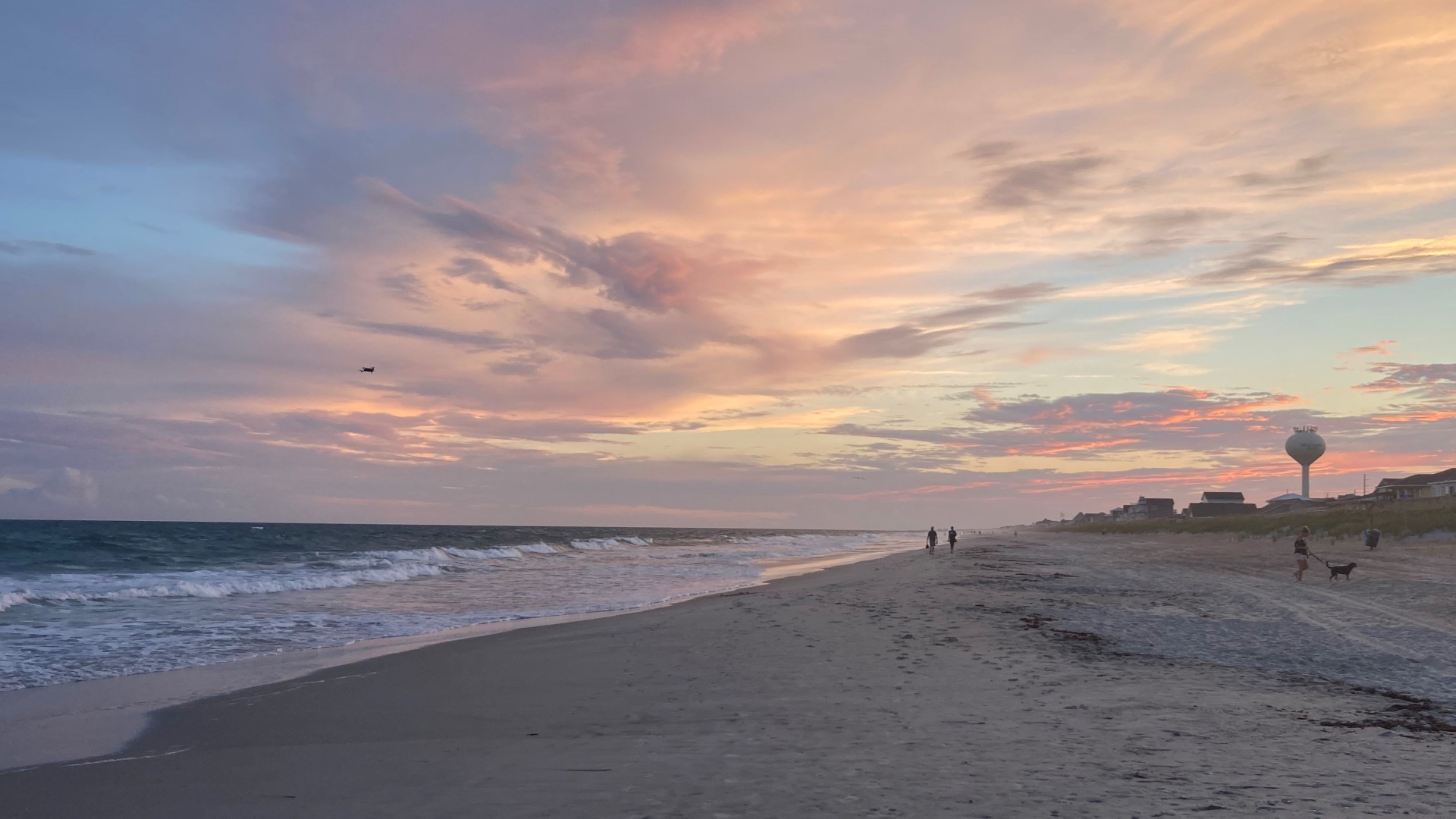 Chris accounted for his portion of this trip when we booked the rental last year.
Airfare
AMEX Platinum cardholders receive a $200 credit to use on incidentals with their airline of choice.
When you know how to use it right, you can turn it into an e-certificate for future airfares—see how Chris did this in detail last July!
Jenni bought a flight using a $25 gift card plus $228 on her AMEX Platinum card to trigger the $200 credit on airfare. She decided to cancel the flight turning it into a $253 Delta e-certificate for a future flight.
This month's cost was only $28 for a $253 Delta e-certificate.
Automotive
Car maintenance
Chris put some work into his 1990 Nissan 300ZX to fix what he thought was a battery issue. It turns out, it was a worn-out brake pedal stop keeping the brake lights on.
Replacing the part fixed the issue. Chris was surprised when it also fixed the cruise control that hasn't worked since he purchased the car!
We spent $24 on the replacement parts.
Fuel
Even with a Prius, our fuel costs were more than three times our typical monthly expense. This is due to the rise in fuel prices plus our beach road trip.
We spent $145 on fuel.
Health
Fitness
Jenni picked up a 30-day trial of rowing classes for only $30! An unlimited monthly membership usually costs $139. Over the next month, she'll cram in as many sessions as she can to get the max value.
She'll mix these classes into her regular routine of rock climbing ($60 a month).
Jenni spent $90 on fitness memberships.
Dentist
Jenni's dentist decided it was time for her full mouth x-rays during her regular cleaning visit. Unfortunately, the dental insurance only covers these every 2 years.
This extra $67, plus a $50 deductible, totaled $117 for the dentist.
Expense Conclusion
The rest of our typical monthly budget items were in line with recent months.
There are a couple of interesting standouts, though.
Groceries
Often we'll buy grocery gift cards to max out a minimum credit card spend or when there's a special promo. The value of the purchased gift card is applied to the month we spend it.
This month, we started using a $500 Kroger GC which will be used over the next few months.
We spent $635 on groceries.
Gifts
Jenni contributed to her nephew's new college fund and split the cost of several birthday gifts with her sisters.
Jenni spent $155 on gifts.
Donations
In addition to our monthly $5 VPM donation, Chris and Jenni made individual donations to the volunteer organization FNE. We volunteered with this organization last month and wanted to show our continued support for the cause.
Our donations totaled $257.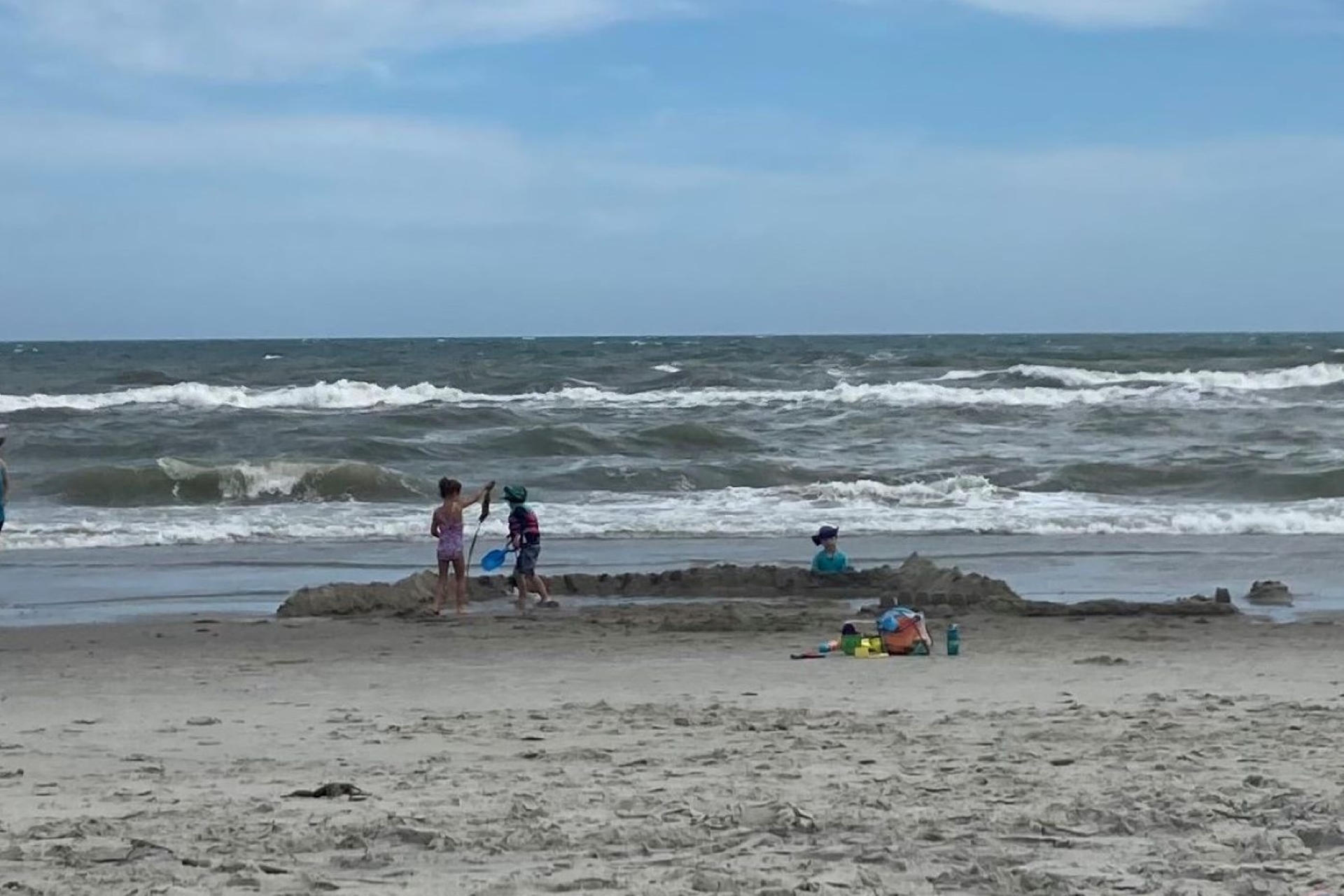 How Much We Work
We like to keep track of how much time we spend doing work that is paid.
Let's add this month to the list…
| Month | Chris (Hours Worked) | Jenni (Hours Worked) |
| --- | --- | --- |
| May 2020 | 41 | 108 |
| Jun 2020 | 38 | 96 |
| Jul 2020 | 36 | 120 |
| Aug 2020 | 39 | 48 |
| Sep 2020 | 27 | 76 |
| Oct 2020 | 26 | 104 |
| Nov 2020 | 27 | 57 |
| Dec 2020 | 28 | 57 |
| Jan 2021 | 25 | 102 |
| Feb 2021 | 24 | 104 |
| Mar 2021 | 24 | 106 |
| Apr 2021 | 23 | 85 |
| May 2021 | 17 | 29.75 |
| Jun 2021 | 19 | 66 |
| Jul 2021 | 21 | 30.25 |
| Aug 2021 | 23 | 16.5 |
| Sep 2021 | 26 | 28 |
| Oct 2021 | 22 | 49 |
| Nov 2021 | 21 | 51 |
| Dec 2021 | 64 | 27 |
| Jan 2022 | 32 | 80 |
| Feb 2022 | 29 | 63 |
| Mar 2022 | 14 | 70 |
| Apr 2022 | 15 | 21 |
| May 2022 | 14 | 36 |
| Jun 2022 | 6 | 12 |
| Jul 2022 | 13 | 45.5 |
Jenni was missed at work while she was away. She was called in for the last two weeks of July!
Net Worth Update
Net worth is not our primary measurement and can understand it can be discouraging if you're working yourself out of debt. We also understand it's difficult to be transparent with our readers without divulging this information so we continue to do so.
Account breakdown
The market keeps chugging along and so do our investments. From a high level, our assets and liabilities are shown in the data table below as of July 31, 2022.
| Description | Value (USD, $) |
| --- | --- |
| 401(k) | 679,320 |
| Brokerage | 784,372 |
| Roth IRA | 144,636 |
| Traditional IRA | 6,655 |
| HSA | 47,362 |
| Real Estate | 403,200 |
| Mortgage | (145,991) |
| Miscellaneous Assets | 29,642 |
| Checking & Savings | 26,412 |
| Net Worth | 1,975,608 |
Miscellaneous assets include specific investments we've made in physical assets (think collectibles) and treasury bonds
Amounts do not reflect the value of the businesses Chris owns or their assets, which should appear as income to us over future years
Jenni's Prius is not included
The S&P 500 continues along the rollercoaster, recovering over 9%.
This makes up for June's big dip!
Our net worth increased by a whopping $107K!
Net Worth History
Previous Donation Winner
Last month, we continued our poll on Medical Clinic Charities. In June 2022, we had the opportunity to volunteer with these organizations while on a medical brigade in Zaña, Peru. Each offered a layer of expertise to create the cohesive whole we needed to conduct our medical mission.
The winner of last month's vote, FNE International, served as the main coordinator and leader for the trip. FNE connected the dots between the logistics provided by Latidos and the expertise provided by RGHA/Hombre.
Congrats to FNE International, again!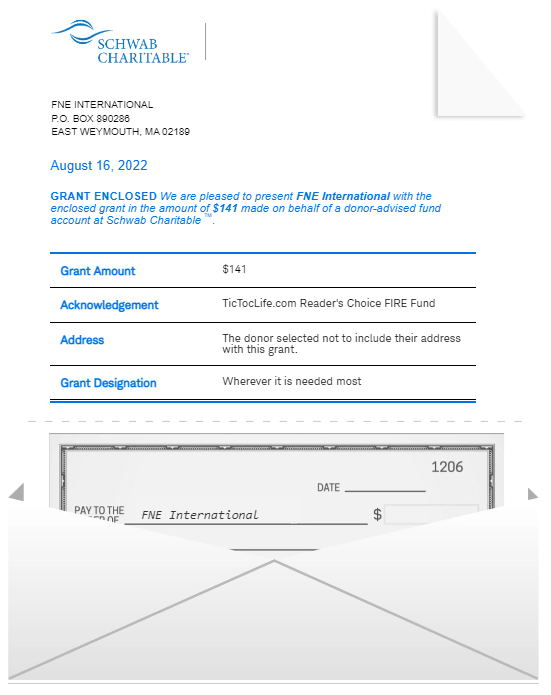 Our Reader's Fund seeks to leverage the principles of FIRE to build a lifetime of giving.
Thank you for your participation in our polls over the last 24 months. We've given over $3,000 to deserving charities with your help in deciding which organizations to donate to.
Polls are now open for our next round of candidates: Disaster Relief Charities
Charity Round-Up
Each of these potential donation recipients is focused on relief from disasters caused by climate change and the need for policy change. Their high-level ratings on Guidestar mean each dollar donated will go further for their causes.
Review each of these three and help us decide which organization to support further by casting your vote. This poll will end on September 14th at 11:59 pm.
Summaries below include a link to their Guidestar profile which details the nonprofit's operations and transparency.
1) Center for Disaster Philanthropy
Why? August 2022 marks one year since the Afghan government fell to the Taliban. With the country already facing catastrophic conditions, Afghanistan was hit by a 5.9 magnitude earthquake in late June further compounding the need for humanitarian aid.
Where? Global
Our Notes: Center for Disaster Philanthropy (CDP) is a permanent resource for philanthropy for disasters. The goal is for each donation to have the most impact on the affected communities, in both the heat of the disaster and the prevention phase.
CDP is currently helping funds reach the recovery efforts across the globe in the following places:
Global Recovery Fund: Afghanistan Earthquake, International Wildfires in Europe and the Mediterranean, and South Korea, Flooding in South Asian, Brazil, and Australia
California and Colorado Wildfires Recovery Fund
Atlantic Hurricane Season Recovery Fund
Haiti Earthquake Recovery Fund
2) All Hands and Hearts
Why? All Hands and Hearts deployed its Disaster Assessment Response Team (DART) to eastern Kentucky, where devastating and historical flash flooding has wreaked havoc across several counties. For this disaster, the non-profit helps organize volunteers to clear out flooded homes and help rebuild the affected communities.
Where? Australia, Mexico, United States, Bahamas, Nepal, Peru
Our Notes: While the Kentucky flood is close to home, All Hands and Hearts works across the world to help communities recover after a disaster event. But then, they stay to help rebuild safe disaster resilient infrastructure, especially schools, to prepare for events in the future.
Here are some other places that All Hands and Hearts is providing relief efforts:
Nepal Relief – Earthquake Recovery
Mexico and Peru Earthquake Relief
Various Hurricane Relief
Australia Bushfire Relief
3) Union of Concerned Scientists, Inc.
Why? The United States government recently passed a bill, I.R.A., securing the largest-ever investment to tackle climate change. Now is the time to help those developing policies to address climate change with scientific proof to back them up.
Where? United States
Our Notes: This organization joins scientists around the country to create practical solutions, backed by science, to help solve the planet's most pressing problems. They advocate for change and help prevent the rollback of laws protecting the health and safety of Americans.
Some of their current campaigns include:
Climate Impacts Campaign
Power Ahead Campaign
Climate Accountability Campaign
Transforming Transportation: Clean, Modern Options for All
Safeguarding Living Soil and the Future of Our Food
Stopping the New Nuclear and Technology Arms Race
The Center for Science and Democracy
Nonprofit poll
After reviewing the list above, please take a moment to vote for which nonprofit you think will put funds to use in the best way.
(Have trouble using or seeing the poll above? Some reader tools or apps may not display it. View this page in a browser or use this link to our Reader Fund page which has a copy of the poll!)
Thank you for taking the time to vote!
One of our primary goals with TicTocLife is building a stream of giving within the FIRE community and that starts with knowledge.
Want to hear about the results? Signup for our free FIRE Insider newsletter! We send it out every few weeks and include the monthly poll results and donation winners. You can see an archive of the FIRE Insider and signup here!
What's Next
It's been nice to be home and relax after a few months of traveling.
We do enjoy our hometown, especially all of the local events during the summer. One night, we caught a free performance of The Addams Family at our local outdoor theater.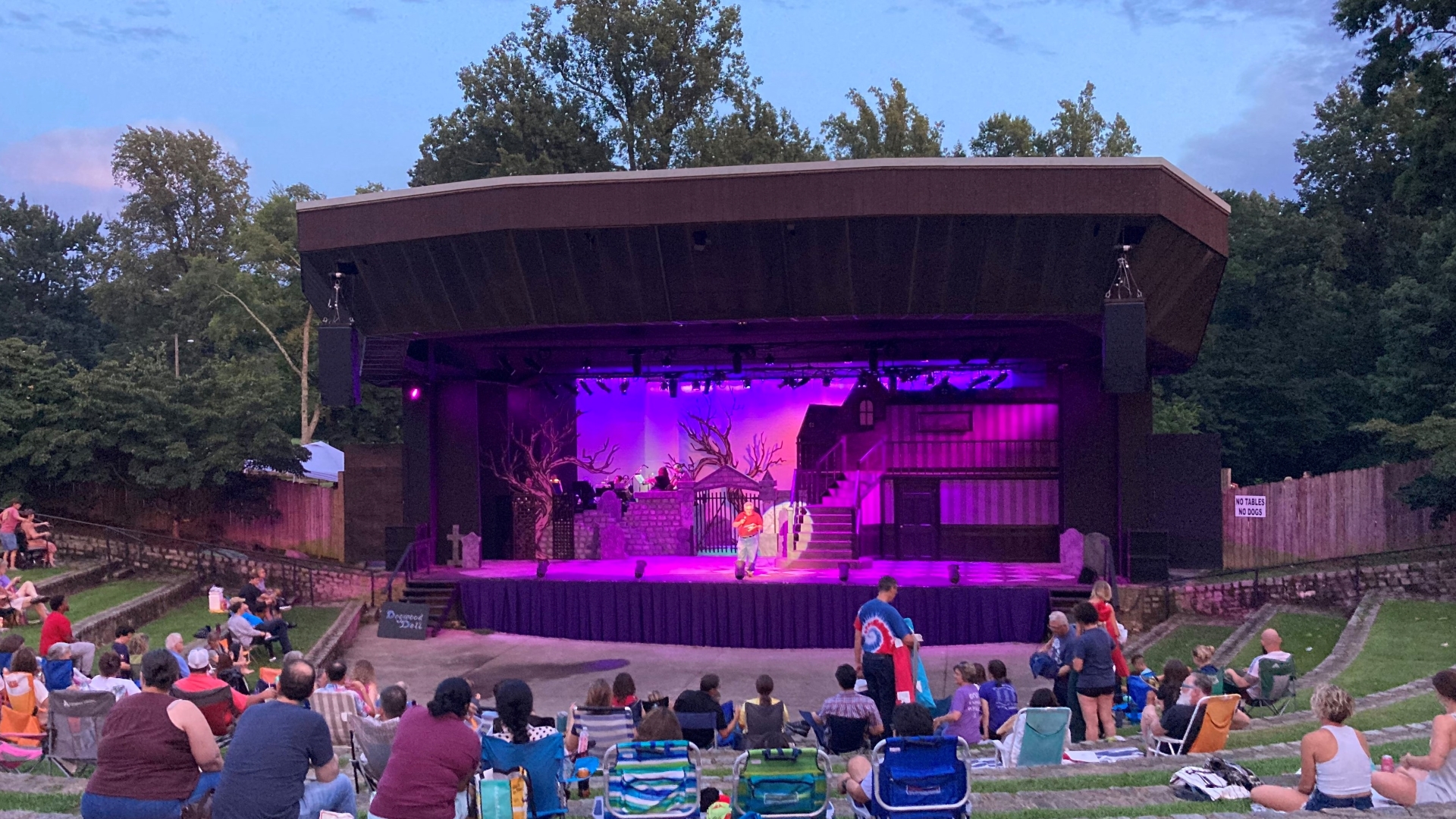 We have a few more outdoor concerts and events to catch before we head out of town again!
Chris is planning a two-week trip abroad in September with some friends. Then, we both will be off to Puerta Vallarta, Mexico in October.
Until then, we have lots of trip planning to do!
---
How has your summer travels affected your bank accounts?
Let us know in the comments or on Twitter!