The home of Día de Muertos was the star of the show for our October! Even with all-inclusive accommodations where Schwarzenegger stayed during the filming of the original Predator, our per person/day costs sunk to under $70 in our latest adventure.
In fact, travel continues to dictate much of our expenses as we try to unfold the mysterious of our stunning planet. It's a cost we're happy to continue to incur.
Check out how we cut our trip in Mexico down from just over $4K to a hair over $2K in the Travel section of our budget breakdown below. We've also got one heck of a trick to save a solid $100 or more on groceries if you've got a fistful of Chase credit cards like we do.
We like to review our income, spending, and savings to help keep us on our FIRE track. And, we have a new round of our charity poll for your review. Read on for our tips and monthly update.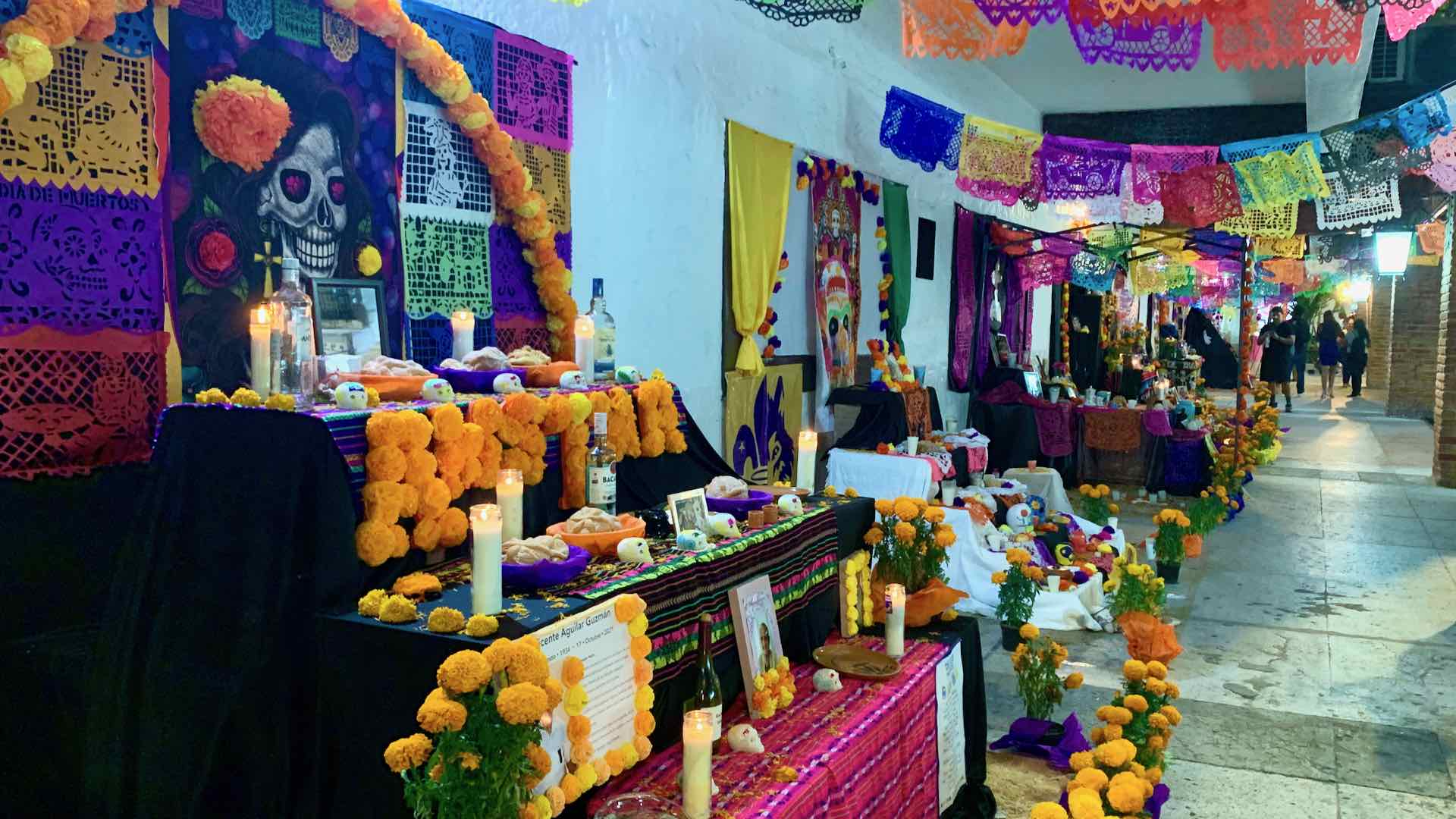 Budget Update
If you'd like a more detailed description of our typical monthly cash flow (like our jobs or housing situation), check out our previous budget updates.
In the Sankey diagram below, the income on the left matches our expenses to the right.
We'll run through the income and expense sources for the month and remark on any interesting items.
Income Summary
While a majority of our income came from Jenni's part-time work as a pharmacist, we found several opportunities to supplement our income.
Tax Refund
As happened to Chris last month, The Commonwealth of Virginia decided taxpayers were entitled to a small refund due to a budget surplus. Jenni received $250.
Dividends
One of the few individual stocks Chris still owns is Seagate which paid out a $227 dividend this month. Sheer laziness explains the ongoing ownership more than any belief in the company.
Credits
Chase cardholders are eligible for statement credits with Gopuff ($10/month). Between the two of us, we got back about $100 from Gopuff credits. That's pretty great considering most of our Chase cards have no annual fee. This promotional with Gopuff benefit has been a real boon for us this year!
Chris got 20% back at restaurants with his AMEX Gold—totaling $39 this month. That benefit, limited to $250 total in credits, is nearly maxed out. The same card earned him $10 back from Grubhub which he uses on a local bakery for fresh loaves.
We picked up $30 in credits through AMEX's promotion for their new "AMEX Send" service. It seems like it's intended to compete with PayPal or Venmo for p2p payments. In this case, if you split a bill on your statement with someone and had them reimburse part of the charge through the new service you could earn back $15. We did this for payments to each other and earned $30 total.
Jenni also earned a credit for free membership with Audible and Walmart+ (through statement credits) via her American Express card.
Lastly, Chase offered Chris $50 to retain his Bonvoy credit card instead of canceling which he accepted.
We received $218 in statement credits.
Local Sales
During our gadget upgrade spree last month, Chris picked up three Herman Miller Aeron chairs at a local auction. While some were intended for friends, the plans fell through and he sold them all locally.
We'll hopefully closeout our gadget upgrades with more local sales on our now idle old devices in the next months when we have time.
We earned $582 in local sales income (profit)!
If you'd like to get into rotating out your old things for a minor cost (or even profit!) like we tend to, start by reading our post on how to sell stuff locally!
Expense Summary
From our $5,997 monthly budget, we had net outflows of $601 this month.
This gives us a negative savings rate of about 10%!
After subtracting our credits, savings, and business expenses, we spent $4,925 on living expenses. We are at 146% of our FIRE budget from 2020.
If you're curious about what our typical annual budget looks like, check out the full 2020 FIRE budget review!
Let's break down some of the more exciting details.
Groceries
Our groceries were a little low for the month, coming to $286. But this is largely a reflection of all the travel we've been doing which means elevated expenses at restaurants.
We likely saved a hundred bucks on Gopuff grocery deliveries via coupons and Chase credits, too. We really recommend taking advantage of Chase's Gopuff promo (see the "Credits" section above) if you can.
Shopping
As mentioned last month, our gadget upgrades continue.
But for this month, we paid for:
$176: Jenni's Apple iPhone SE2 64GB to iPhone 11 64GB via Tracfone
$146: Jenni's Apple iPad Air 2 64GB to iPad Pro 10.5" 64GB via Swappa
$12: 3x Apple Watch Bands: Nike+ and 2x Sport Loops via eBay
$17: Apple MagSafe 45W via eBay
That MagSafe purchase stems from Chris' MacBook Air's power adapter meeting a sudden death when it fell from a socket about 10″ and met its death as it hit the floor in Mexico. Presumably, it was already on its way out. That's not a far fall!
Considering last month's surplus after selling our old items, we only need to sell Jenni's old iPad and iPhone for about $229 to breakeven. We've got a shot!
Add a few pieces of travel clothing and an Audible subscription and we come to about $416 in Shopping for the month.
With another big travel month, big expenses come. We spent October 16 to November 1 traveling from Virginia to NYC to Puerto Vallarta, MX to Los Angeles.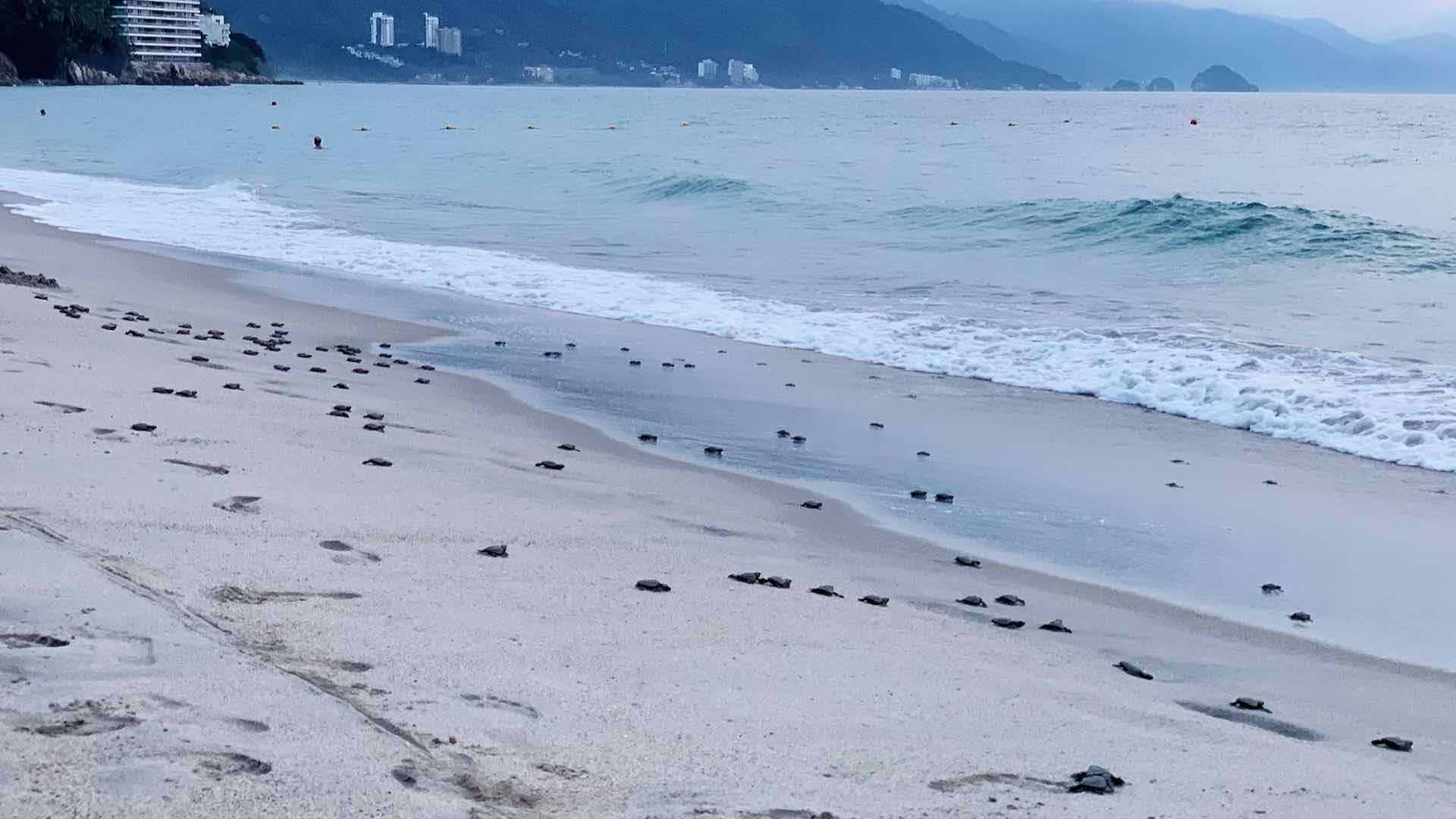 Yes, we did manage to celebrate Día de Muertos in Jalisco! What an experience!
Let's see what the trip cost us.
| Description | Cost (USD, $) | Rewards Pts/Miles |
| --- | --- | --- |
| Flight—JFK->PVR | 201.76 | |
| Flight—PVR->LAX | 144.08 | 12,800 |
| Train—RIC->NYC | 57.60 | |
| Amusement/Massage | 50.00 | |
| Hotel: 4 nts downtown Puerto Vallarta | 222.76 | |
| Airbnb: 4 nts south of Puerto Vallarta | 420.00 | |
| Airbnb: 3 nts north of Puerto Vallarta | 343.62 | |
| All-inclusive Hyatt Resort, 4 nts | | 68,000 |
| Food, Drinks, etc. | 468.57 | |
| Public Transit | 11.00 | |
| Uber & Taxis | 94.63 | |
| Gifts | 10.00 | |
| Mobile Phone SIM | 7.57 | |
| Total | 2,031.59 | 80,800 |
Pretty great! A total cost of $2,032 total for 16 days of adventure and fun. That's just $64/day/person!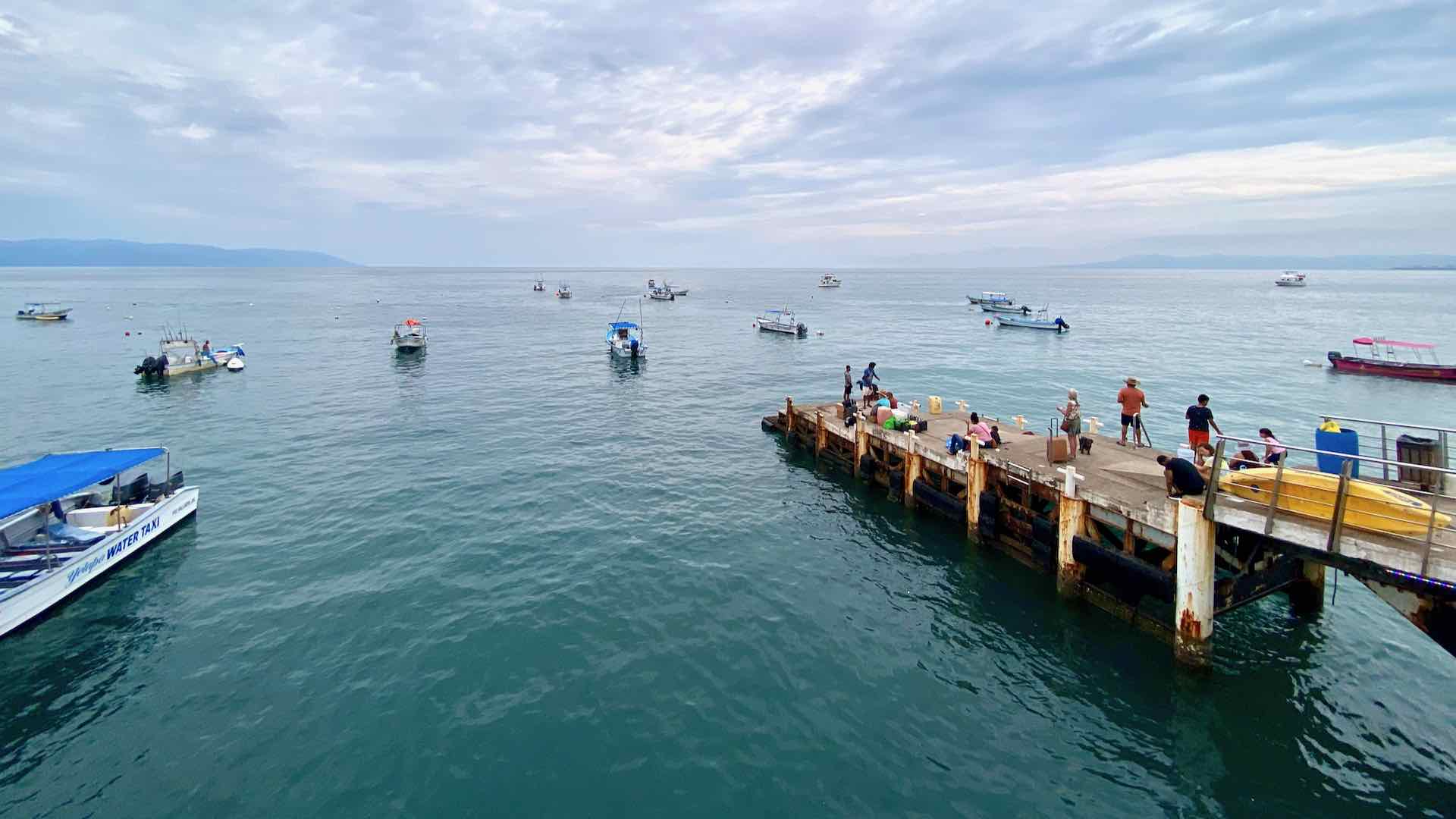 The biggest single expense, a Hyatt Ziva in Puerto Vallarta, would have been $1,600 but was covered by 68,000 Hyatt points. The hotel, home to The Terminator during the filming of Predator, was situated on a beautiful protected cove with one of the best beaches in the area. We transferred the majority of these points 1:1 from our Chase cards.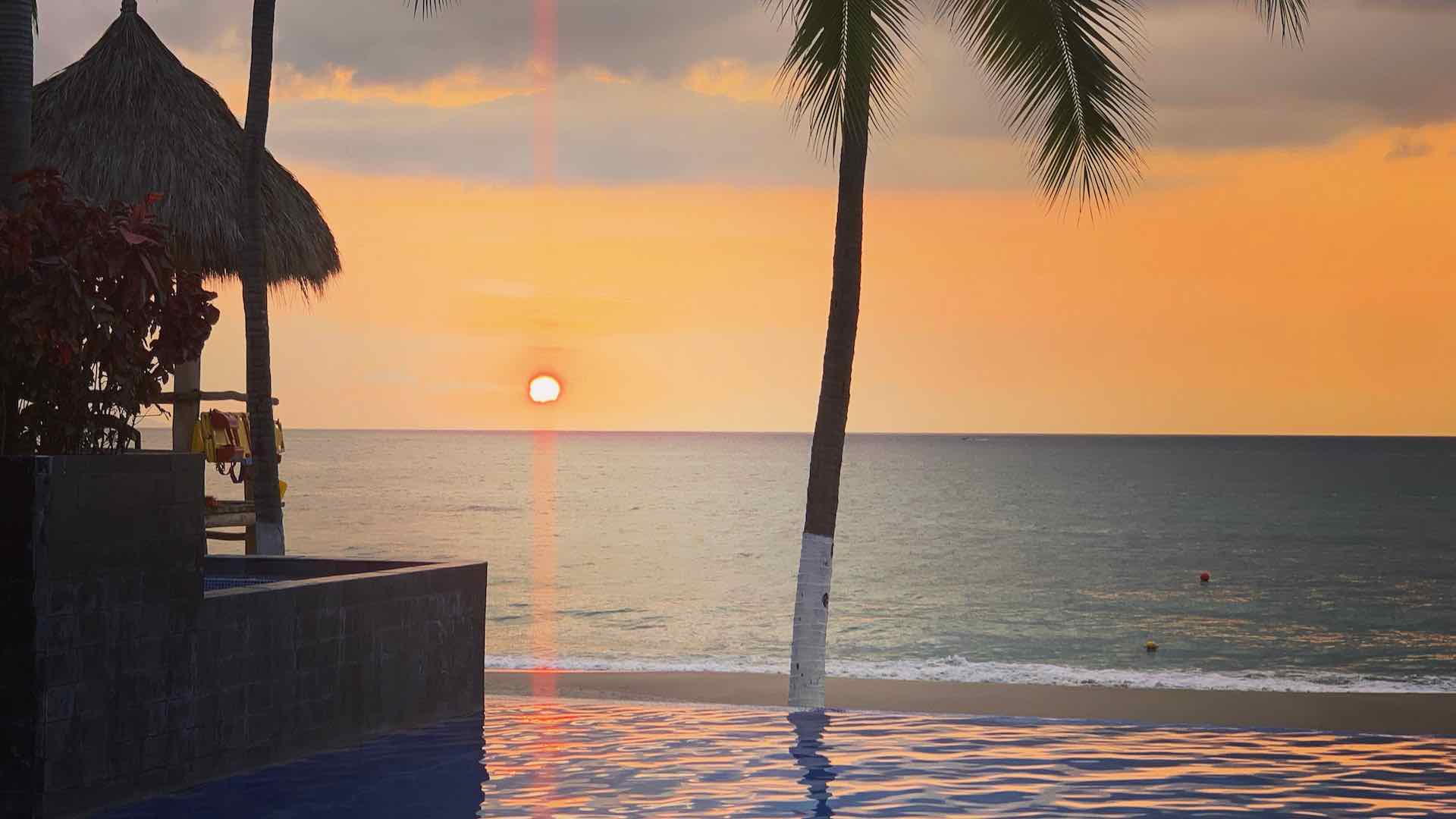 We also offset about $400 in flight costs with just 12,800 United miles.
If we hadn't strategically redeemed points, our total trip cost would be almost exactly double!
Expense Conclusion
While that covers the big stuff, we still had a few random things small purchases to mention that might of interest.
401(k)
Even though we were ultimately "short" this month and had to draw money from checking to cover our budget, you might have noticed we still had contributions to 401(k). That might seem like an odd decision, but it's "free money" for Jenni since her company matches her contributions up to a certain point and she wants to max it before the year ends.
Restaurants
Powered by lots of travel, our Restaurant budget nearly hit $500 for the month! That's a high for the year at the very least.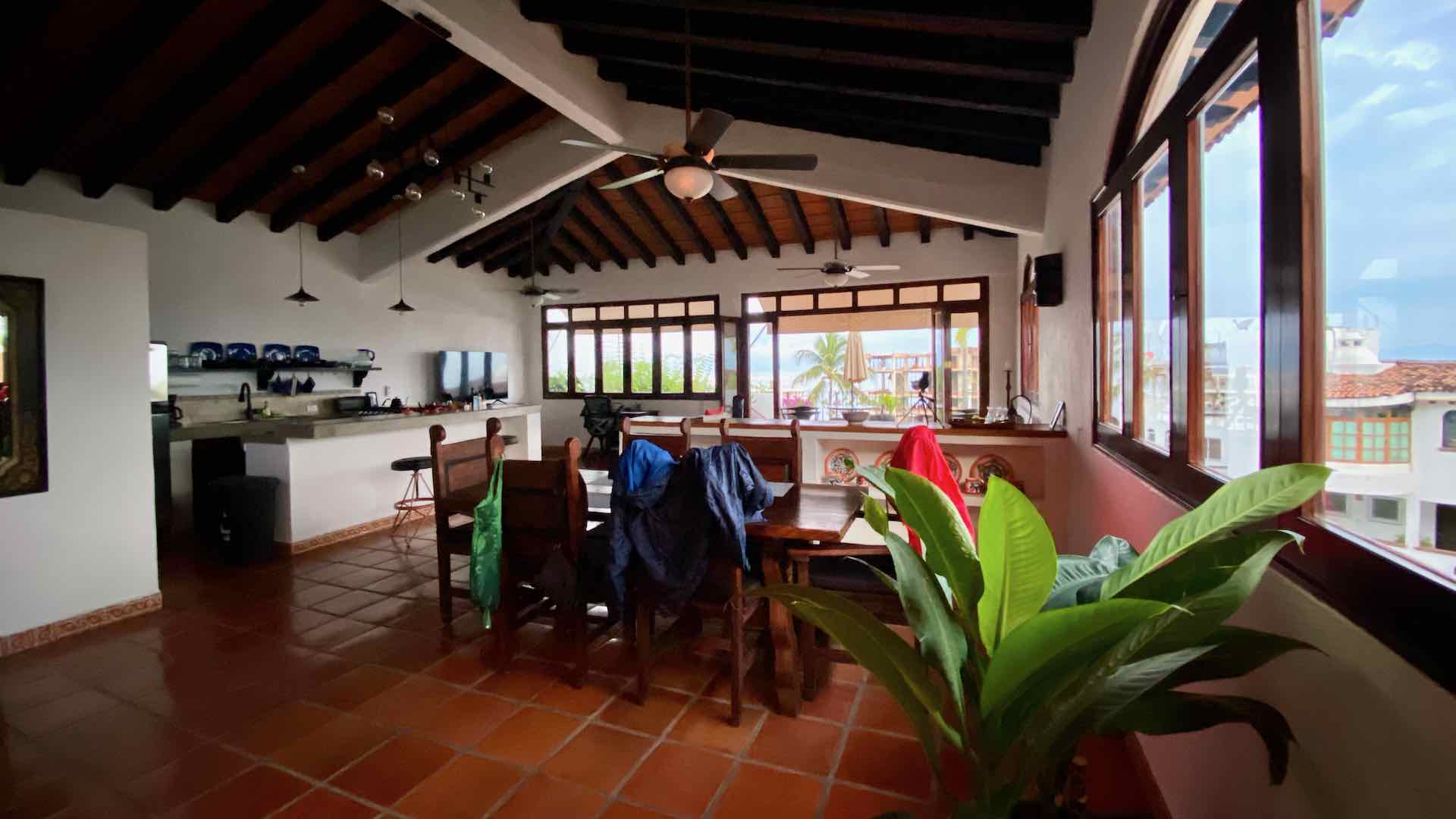 Mobile phone
You might have noticed our monthly phone bill was about $23—not just the $8 that was mentioned in our Mexico trip. The extra $15 comes from a month of service Jenni paid with her iPhone 11 purchase. The reconditioned phone from Tracfone is locked for 60 days. As long as she pays at least one day of service, the phone will be usable with all carriers after a little over two months. So, $15 is a great investment!
The rest of our monthly expenses were pretty similar to budget updates from this summer and are well-explained there.
How Much We Work
We like to keep track of how much time we spend doing work that is paid.
Let's add this month to the list…
| Month | Chris (Hours Worked) | Jenni (Hours Worked) |
| --- | --- | --- |
| May 2020 | 41 | 108 |
| Jun 2020 | 38 | 96 |
| Jul 2020 | 36 | 120 |
| Aug 2020 | 39 | 48 |
| Sep 2020 | 27 | 76 |
| Oct 2020 | 26 | 104 |
| Nov 2020 | 27 | 57 |
| Dec 2020 | 28 | 57 |
| Jan 2021 | 25 | 102 |
| Feb 2021 | 24 | 104 |
| Mar 2021 | 24 | 106 |
| Apr 2021 | 23 | 85 |
| May 2021 | 17 | 29.75 |
| Jun 2021 | 19 | 66 |
| Jul 2021 | 21 | 30.25 |
| Aug 2021 | 23 | 16.5 |
| Sep 2021 | 26 | 28 |
| Oct 2021 | 22 | 49 |
| Nov 2021 | 21 | 51 |
| Dec 2021 | 64 | 27 |
| Jan 2022 | 32 | 80 |
| Feb 2022 | 29 | 63 |
| Mar 2022 | 14 | 70 |
| Apr 2022 | 15 | 21 |
| May 2022 | 14 | 36 |
| Jun 2022 | 6 | 12 |
| Jul 2022 | 13 | 45.5 |
| Aug 2022 | 15 | 96 |
| Sep 2022 | 12 | 54 |
| Oct 2022 | 14 | 34.5 |
Our time spent working is heading back down but it'll continue to bounce around with the holiday season ahead.
Net Worth Update
Net worth is not our primary measurement and can understand it can be discouraging if you're working yourself out of debt. We also understand it's difficult to be transparent with our readers without divulging this information so we continue to do so.
Account breakdown
The market keeps chugging along and so do our investments. From a high level, our assets and liabilities are shown in the data table below as of October 31, 2022.
| Description | Value (USD, $) |
| --- | --- |
| 401(k) | 636,378 |
| Brokerage | 727,451 |
| Roth IRA | 122,963 |
| Traditional IRA | 6,308 |
| HSA | 45,689 |
| Real Estate | 373,200 |
| Mortgage | (144,797) |
| Miscellaneous Assets | 39,642 |
| Checking & Savings | 13,453 |
| Net Worth | 1,820,287 |
Miscellaneous assets include specific investments we've made in physical assets (think collectibles) and treasury bonds
Amounts do not reflect the value of the businesses Chris owns or their assets, which should appear as income to us over future years
Jenni's Prius is not included
October produced a nice positive wave in the market. Our total net worth grew about 4.9%.
The S&P 500 was up nearly 8% for the month, so we didn't quite keep up. Our property decreased in value which didn't help.
Overall, our net worth increased about $84K!
Net Worth History
Previous Donation Winner
Last month we highlighted organizations that provide aid to some of the places we've visited this year. During our summer volunteer trip to rural Peru, we saw firsthand the need for access to safe water. 
The winner of the poll goes to Water Mission International. This organization has found a way to install inexpensive, safe water systems for communities in need. By electing local water leaders trained to maintain and educate the community, these systems are sustainable.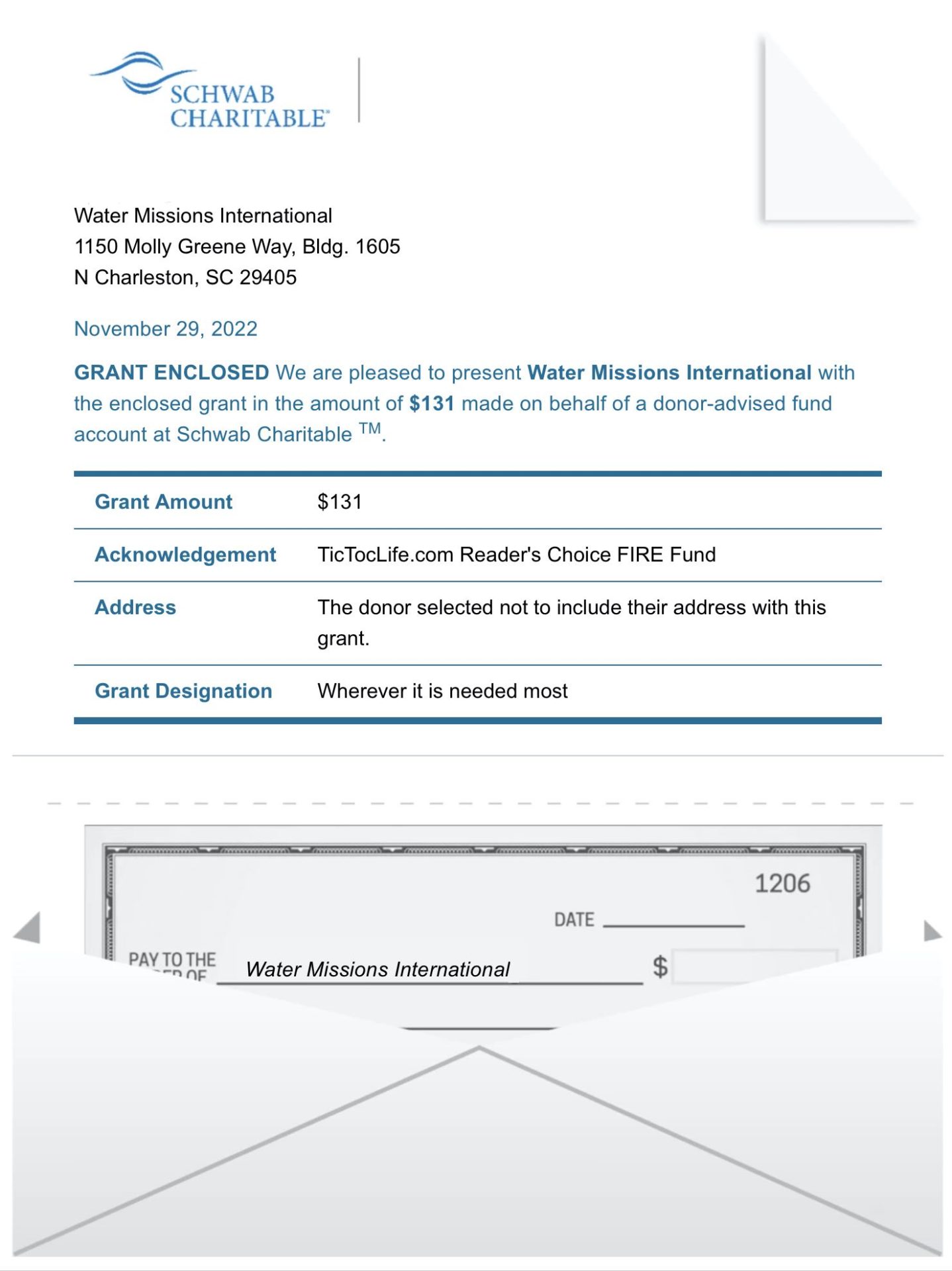 Our Reader's Fund seeks to leverage the principles of FIRE to build a lifetime of giving.
Thank you for your participation in our polls over the last 27 months. We've given over $3,000 to deserving charities with your help in deciding which organizations to donate to.
Polls are now open for our next round of candidates: Support for Native Americans.
Charity Round-Up
In honor of Native American Heritage Month, we chose charities helping to protect Native American children and families. From the moment European explorers set foot in America, Native Americans have been stripped of their lands and rights. We only recently learned of Indian boarding schools in which children were stripped of their cultural identities in order to "kill the Indian in him and save the man". We are ashamed to learn of this Native American genocide from a novel and not during history class.
To learn more about how Native Americans have been treated and the hardships they face, we researched a few organizations that help support Native Americans in various ways. Their excellent charity ratings help ensure our donation will have the greatest impact. Review each one and help us decide which organization to support by casting your vote.
Summaries below include a link to their Guidestar profile which details the nonprofit's operations and transparency.
1) National Indian Child Welfare Association
Why? Native children are 20 times more likely to be removed from their families by the child welfare system than White children. Separating children from their communities and culture can be traumatizing. The National Indian Child Welfare Association's (NICWA) vision is that every Native child can have safe access to community-based, culturally appropriate services to grow up safe and healthy, but also spiritually strong.
Where? The United States
Our Notes: To uphold their vision, the NICWA advocates for Native children and families by defending the law of the Indian Child Welfare Act. They do this by providing education and leadership opportunities for tribal and urban Indian child welfare workers and providing technical assistance for information sharing.
2) Eve's Fund for Native American Health Initiatives
Why? Eve's Fund is a small non-profit organization focusing on the health and well-being of the Navajo population. Death rates from alcohol-related car accidents, domestic violence, and suicide are far above national averages. 100% of individual donations are matched by the founders, The Crowell Family.  Plus, every dollar goes directly to its programs.
Where? The United States
Our Notes: Eve's Fund works mostly with youth living in the Navajo Nation. Founded in 2005, after the death of their daughter from addiction, the family's mission is to help those suffering from addiction, self-harm, and poor literacy. They've created a scholarship program to improve graduation rates at Navajo Prep. They've developed an injury prevention program called ThinkFirst Navajo in response to alarming statistics of fatal and disabling injuries on the Navajo Nation. 
3) Association on American Indian Affairs
Why? This association celebrated its 100th anniversary this year making it the oldest non-profit serving the Indian Country. Their focus is to protect sovereignty, preserve culture, and educate youth.
Where? The United States
Our Notes: The Association on American Indian Affairs provides national advocacy on issues protecting sovereignty and preserving culture. They also are working to improve the lives of native youth. Research shows this population has the highest rate of incarceration than any other racial or ethnic group due to institutional racism and historic intergenerational trauma. To combat this AAID has developed the Juvenile Detention Alternatives Initiative to work with tribal leaders and the legal system in order to be more culturally appropriate. They also have scholarship and summer camp programs to educate youth and keep them out of trouble.
Nonprofit poll
After reviewing the list above, please take a moment to vote for which nonprofit you think will put funds to use in the best way.
(Have trouble using or seeing the poll above? Some reader tools or apps may not display it. View this page in a browser or use this link to our Reader Fund page which has a copy of the poll!)
Thank you for taking the time to vote!
One of our primary goals with TicTocLife is building a stream of giving within the FIRE community and that starts with knowledge.
Want to hear about the results? Signup for our free FIRE Insider newsletter! We send it out every few weeks and include the monthly poll results and donation winners. You can see an archive of the FIRE Insider and signup here!
What's Next
This October update is just barely squeaking in as November closes coming to you at the start of December while on the move for our next big adventure. As November closes, we're flying across the Atlantic via a few Portuguese islands, resting for a bit, then floating back across the ocean with a few stops along the way.
It should be has been a blast and we'll have lots more photos and a trip report for this once-in-a-lifetime experience in future updates. Stay tuned for more travel-saving tips!
November started with Chris' ongoing trip from Mexico to LA and the Pacific Northwest with friends. Expect our next monthly update—hopefully available a bit past halfway through December—to contain his anecdotes from Olympic National Park, Portland, and Seattle.
Thanks for continuing to follow our FIRE experience as we find our groove in early retirement. It happens to be a little scattered across the map with an inconsistent posting schedule. But, know that just means we're taking full advantage of all that freedom that financial independence brings. Something we hope you're able to do, too!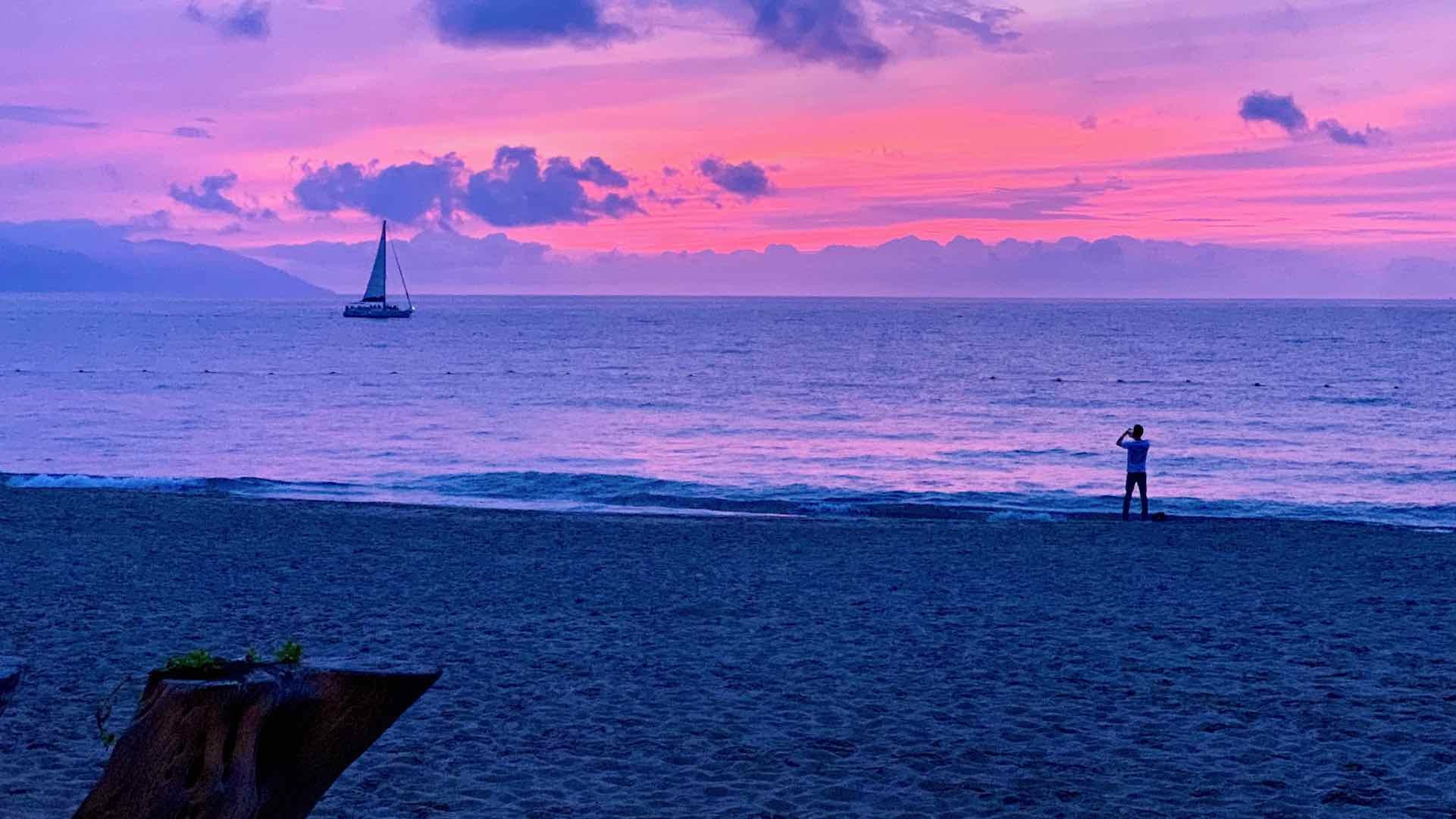 ---
What are your holiday plans or tips for escaping the winter ahead?
Let us know in the comments or on Twitter!