September turned out to be our month between—at least partly—travel adventures. So, our expenses also turned out to be a little more typical than they have been lately.
In fact, we even managed to—gasp—save money!
That said, Chris escaped the world for half of September as the featured image in this post alludes to with the beautiful Mediterranean as the backdrop to his adventures. He even had time to drop in on a fellow personal finance writer!
Catch the Travel section to find out how he cut about a third of his travel costs out, keeping his costs to just a little over $100/day despite being in southern Europe!
We like to review our income, spending, and savings to help keep us on our FIRE track. And, we have a new round of our charity poll for your review. Let's get to it.
Budget Update
If you'd like a more detailed description of our typical monthly cash flow (like our jobs or housing situation), check out our previous budget updates.
In the Sankey diagram below, the income on the left matches our expenses to the right.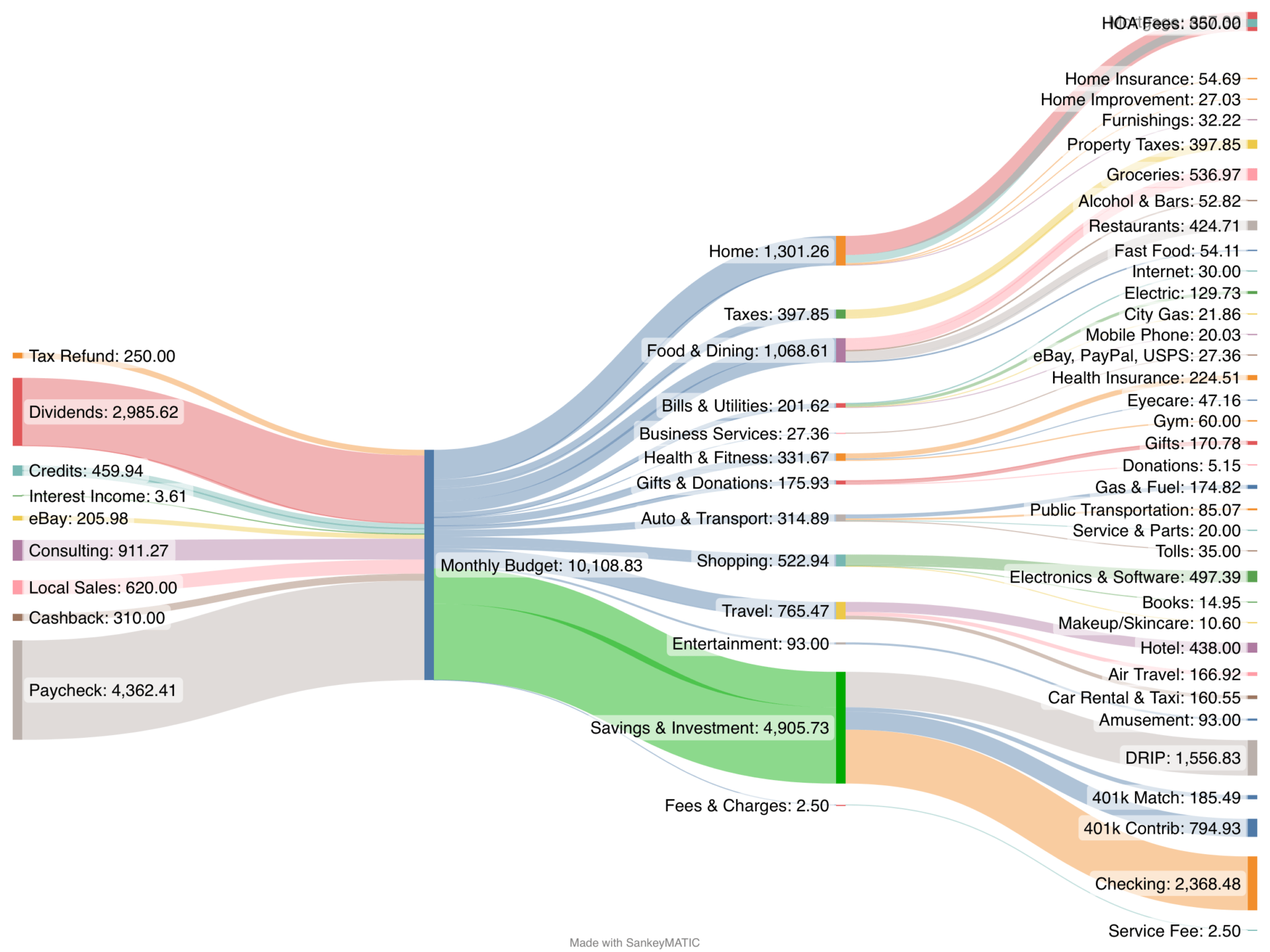 We'll run through the income and expense sources for the month and remark on any interesting items.
Income Summary
While a majority of our income came from Jenni's part-time work as a pharmacist, we found several opportunities to supplement our income.
Tax Refund
The Commonwealth of Virginia decided taxpayers were entitled to a small refund due to a budget surplus. That added $250 to Chris' pocket. Jenni should receive a similar refund in October.
Dividends
Quarterly dividends arrived for Chris' Vanguard index fund investments. That $1,429 is a nice boost during our travel season but will be small compared to the end of the year dividend!
Credits
The majority of our credits this month came from a health insurance refund Jenni received for about $221. We're both on ACA marketplace plans and this refund is due because Jenni overpaid her insurance costs once her 2021 taxes were finalized.
The balance of our credits came from food-related promotions. In particular, Chase continues to award us with lots of free food!
Chase cardholders are eligible for statement credits with Gopuff ($10/month) and Instacart, including free Instacart+ membership (value depends on the card). Between the two of us, we got back about $92 from Gopuff credits and $40 in Instacart credits! That's pretty great considering most of our Chase cards have no annual fee.
Chris got 20% back at restaurants with his AMEX Gold—totaling $74 this month. That benefit, limited to $250 total in credits, is nearly maxed out. The same card earned him $10 back from Grubhub which he uses on a local bakery for fresh loaves.
Jenni also earned a credit for free membership with Audible via her American Express card.
We received $460 in statement credits.
Local Sales
We went on an gadget upgrade spree this month that has overflowed into October as well. With that, we've been selling off our old devices. Check out the "Shopping" section below for more details on what we bought.
But as for our sales…
Apple iPhone X 256GB for $255
Apple Watch Series 3 38mm for $85
Apple Watch Series 3 38mm for $60 (Chris' cracked one)
Apple Watch SE2 $220
Hopefully we'll manage to sell Jenni's iPhone SE2 and iPad Air 2 next month to help supplement those upgrades, too!
That's $620 in local sales income!
If you'd like to get into rotating out your old things for a minor cost (or even profit!) like we tend to, start by reading our post on how to sell stuff locally!
Cashback
When Jenni took over our Xfinity account, she was entitled to a $100 signup bonus in the form of a gift card. This finally arrived, about a half a year later!
We also earned a good bit of cashback through points systems like last month. That includes Swagbucks (SB) or American Express Membership Rewards (MR) with Rakuten.
Opened an account with Personal Capital to get $50 in MR.
Tried Freshly meal delivery for $60 in MR.
New account and small deposit with SoFi for $100 in SB.
Interested in Swagbucks? Here's our referral with a 300 SB bonus.

September awarded us with $310 in various forms of cashback.
Expense Summary
From our $10,109 monthly budget, we saved $4,906 this month.
This gives us a savings rate of 49%!
After subtracting our credits and business expenses, we spent $4,716 on living expenses. We are at 139% of our FIRE budget from 2020.
If you're curious about what our typical annual budget looks like, check out the full 2020 FIRE budget review!
Let's break down some of the more exciting details.
Groceries
Our groceries ticked up a little again this month, coming to $537, but a significant portion was offset by credits from Gopuff and Instacart mentioned above.
Again, we probably saved a couple hundred bucks on Gopuff grocery deliveries via coupons and Chase credits. You can read more about this in our post last month.
Shopping
We've been going through electronic and gadget upgrades this month. We're hoping to have them all complete by October as more travels kick off for us.
In total we are or have upgraded:
Chris' Apple Watch Series 3 38mm to Series 5 44mm
Chris' Apple iPhone X 256GB to iPhone XS 256GB
Jenni's Apple Watch Series 3 38mm to Series 4 40mm
Jenni's Apple iPhone SE2 64GB to iPhone 11 64GB
Jenni's Apple iPad Air 2 64GB to iPad Pro 10.5" 64GB
You know, we never intended to be an Apple household but it seems to have happened over the years! We're still working out the details on all of this, including selling the old units.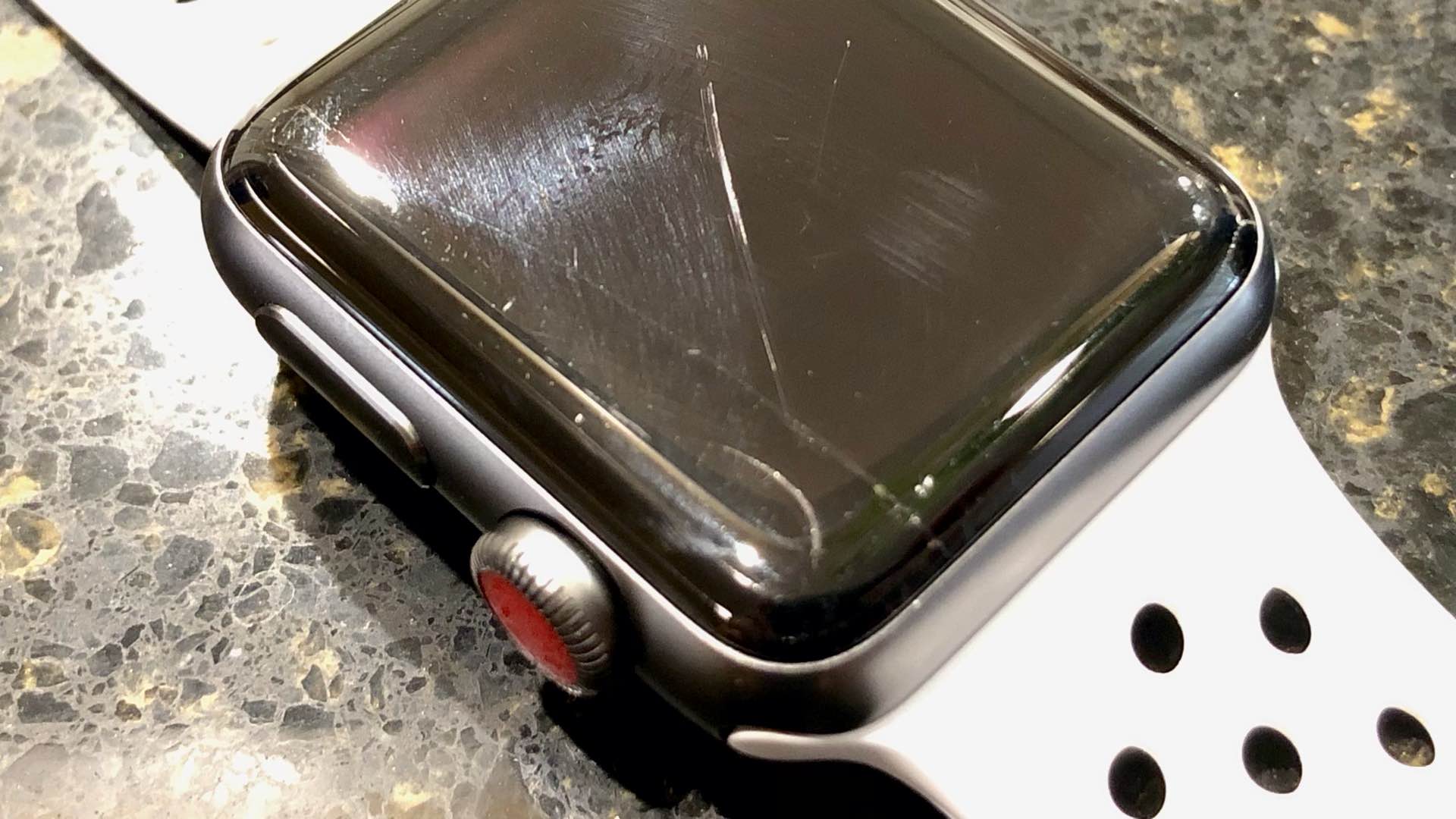 But for this month, we purchased:
Apple Watch Series 5 for $130 via Facebook Marketplace
Apple Watch Series 4 for $107 via eBay
Apple iPhone XS 256GB for $106 via eBay
2x iPhone + 2x Apple Watch Screen Protector/Bumpers for $18
Apple Watch SE2 for $137
That last one seems to have been something of a price mistake as it's the Watch that just came out. We ended up selling that locally to help fund our other upgrades!
In total, we spent about $498 so far. Considering we our local sales (above—$620), which was just for some of the old gadgets, we're at a surplus for now!
Add some personal care products and an Audible subscription and we come to about $523 in Shopping for the month.
While September was a lighter on travel than recent months or upcoming ones, that doesn't mean it was without! Chris spent September 12 to 23 between Amsterdam, Spain, and Italy.
In fact, while in Amsterdam, he had the opportunity to visit with fellow FIRE proponent and writer Financial Mechanic!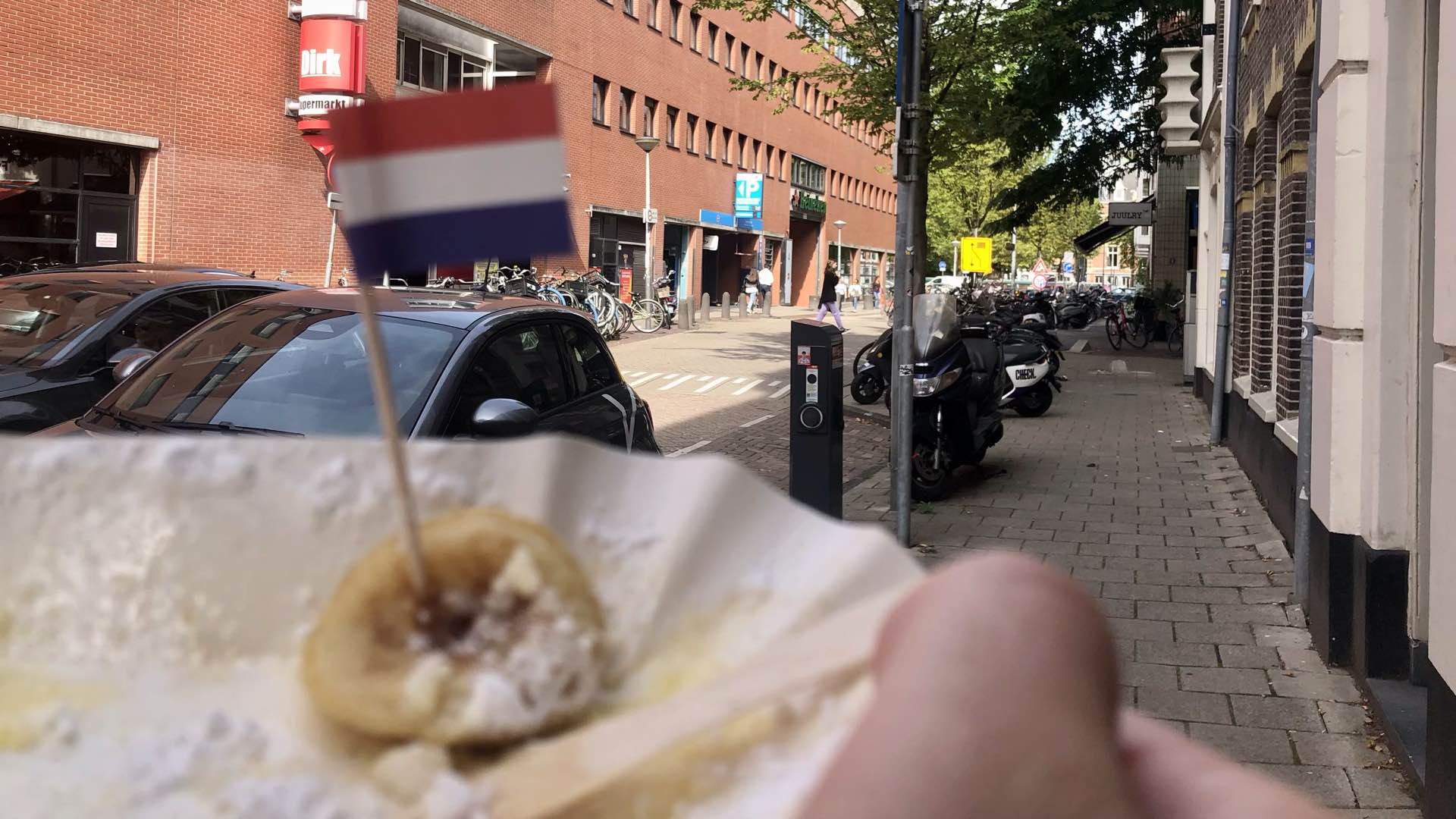 It was a brief stop before heading off to Madrid and onto Alicante. He stayed with a small group of friends in a villa overlooking the Costa Blanca.
Exploration and adventure filled his time, carefully taking in each piece of the Spanish Mediterranean coast wherever he could.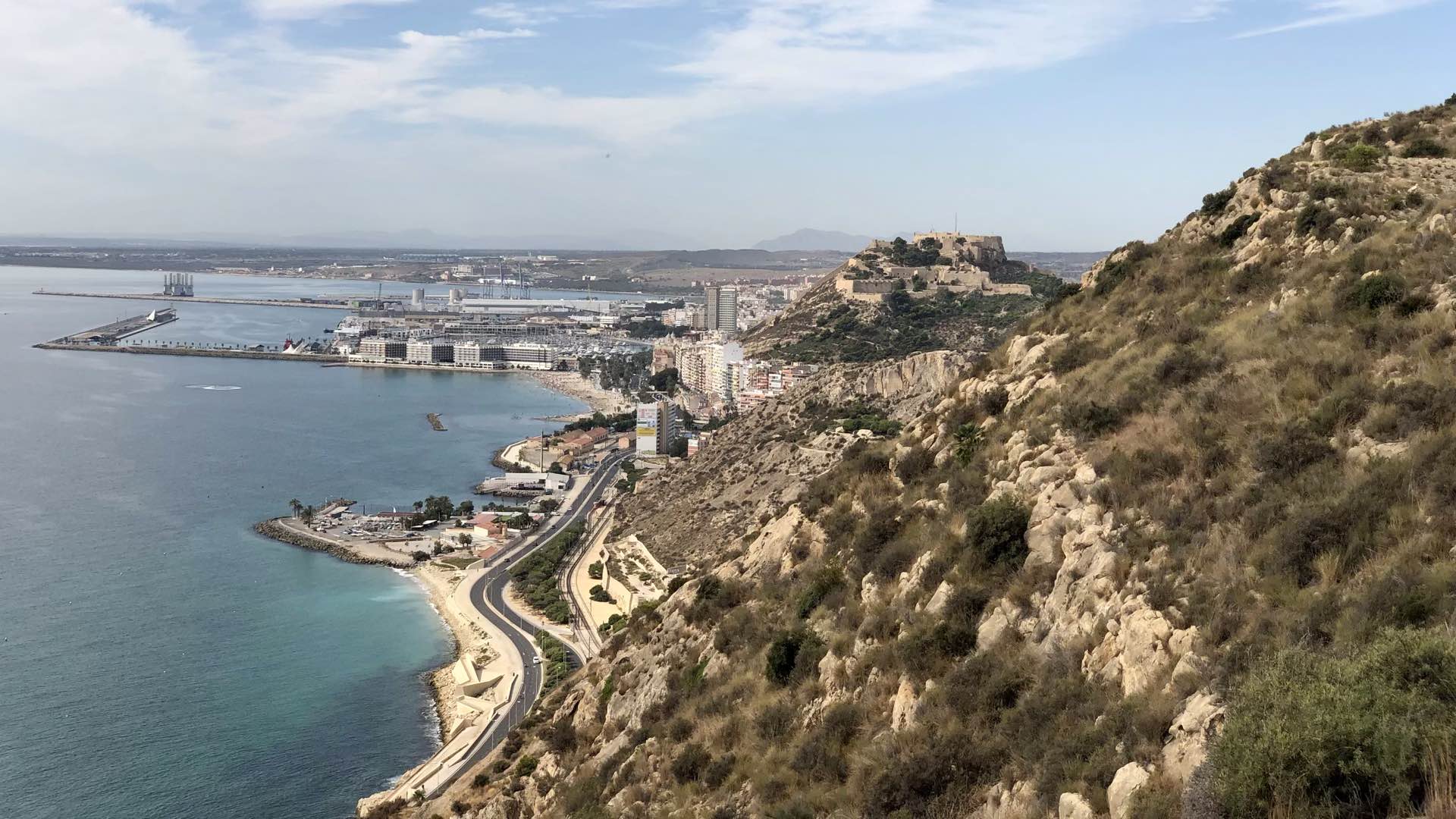 To cap off the trip, he and two other friends from the group set their sights on the heart of western antiquity with a visit to ancient Rome.
If it wasn't the Trevi, Colosseum, or Forum Romanum—it was the best pizza Earth has to offer with a side of vino blanco taking in the street scenes of one of human culture's cradles.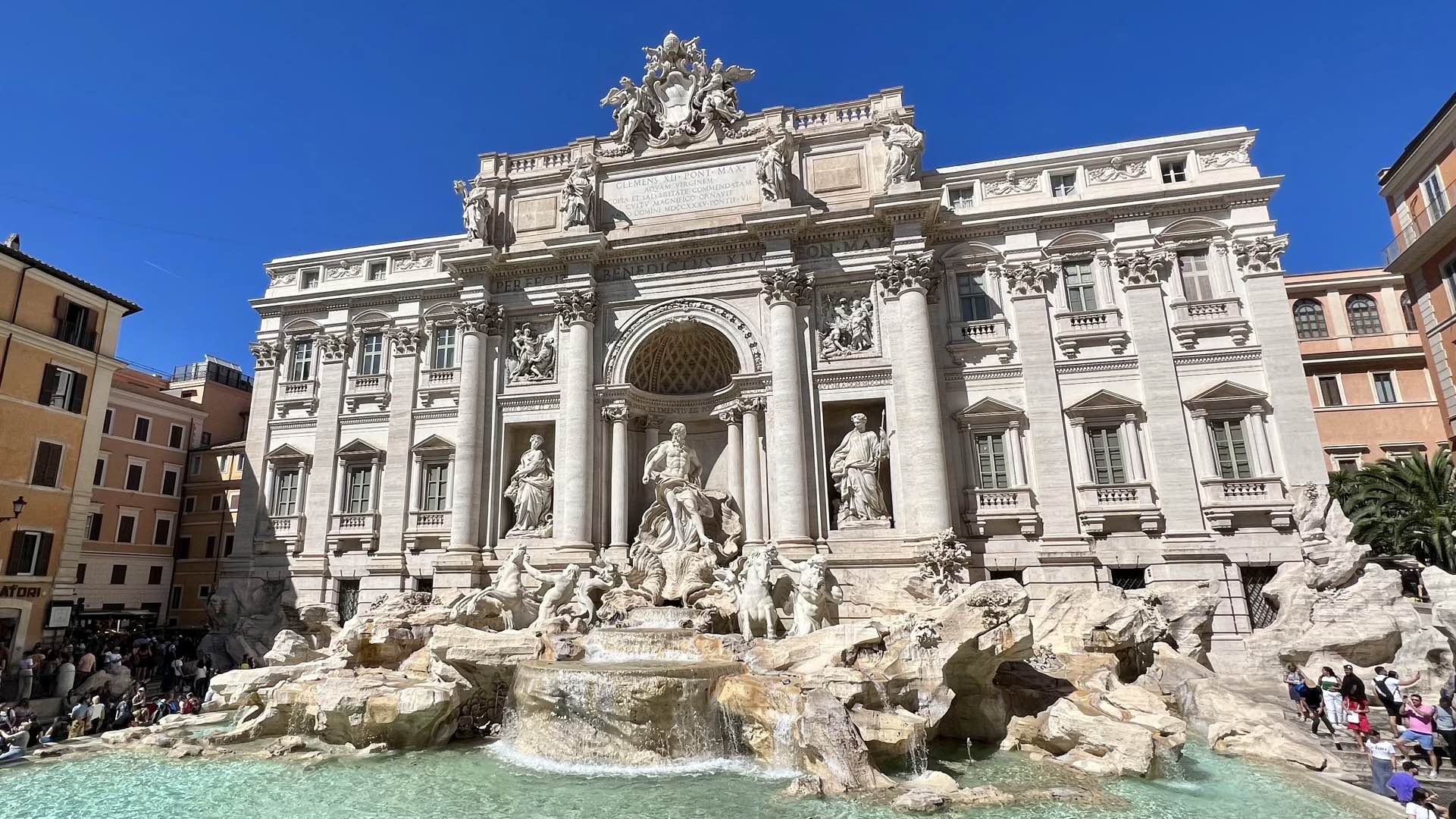 Let's see what the trip cost him.
| Description | Cost (USD, $) | Rewards Points |
| --- | --- | --- |
| Flight—IAD->AMS->MAD->RIC | | 41,611 MR |
| Flight—ALC<->FCO | 166.92 | |
| Train—MAD<->ALC | 41.66 | |
| Train & Metro—RIC->IAD | 18.00 | |
| Villa, Alicante | 140.00 | |
| Airbnb, Rome | 180.00 | |
| Tours, Rome | 93.00 | |
| Rental Car, Alicante | 108.32 | |
| Food, Drinks, etc. | 273.42 | |
| Public Transit | 19.60 | |
| Uber & Taxis | 52.23 | |
| Gas & Fuel | 117.00 | |
| Mobile Phone SIM | 10.03 | |
| Total | 1,220.18 | 41,611 MR |
Not bad! A total cost of $1,220 total for 11 days of adventure and fun with some old and new friends. That's just $111/day!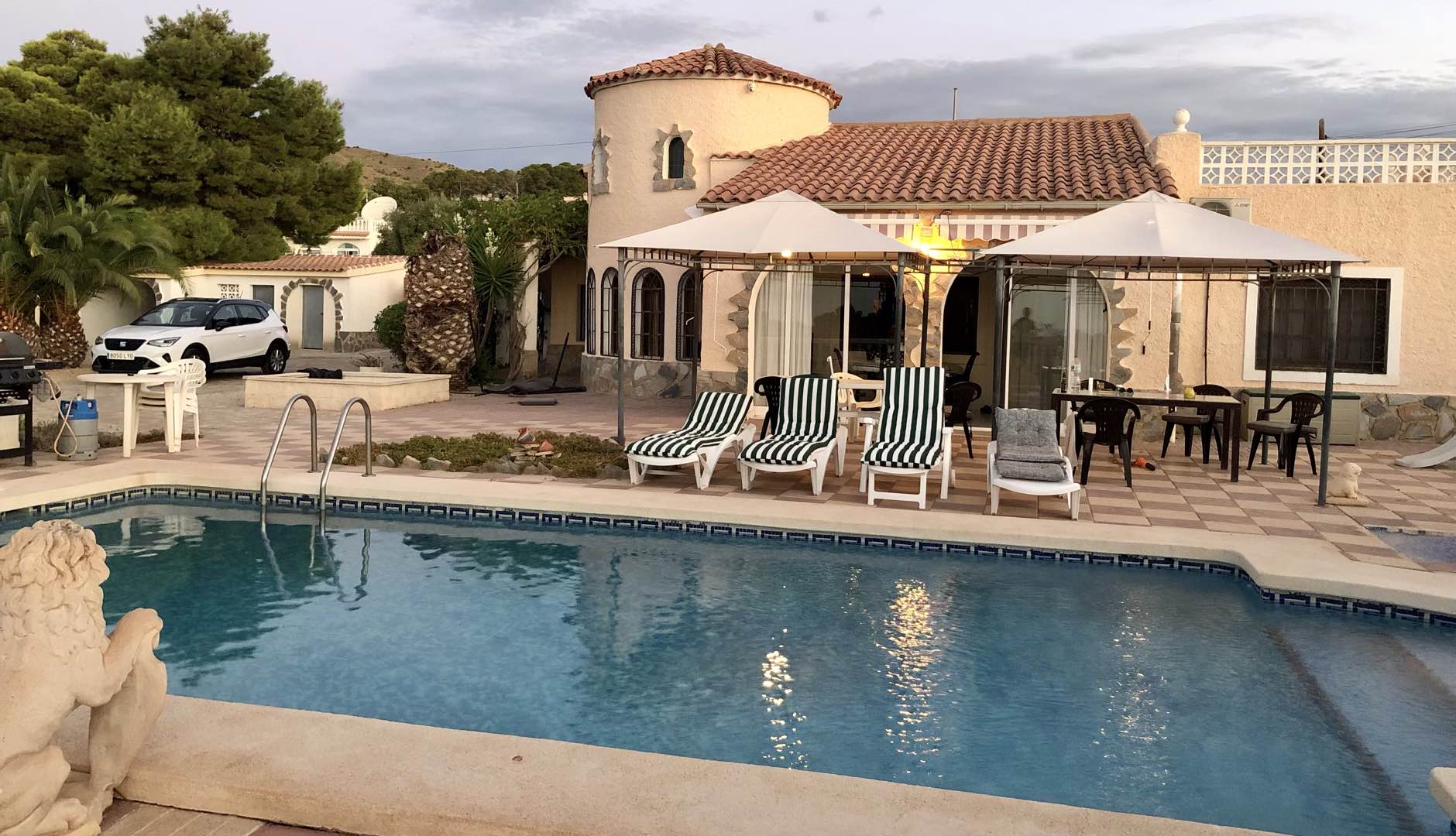 The biggest single expense, a $642 flight, was covered by about 42K American Express Membership Rewards points.
That, along with discounted Airbnb gift cards, Hertz's AMEX Platinum corporate rates, and sharing expenses with up to six people really helped keep costs low.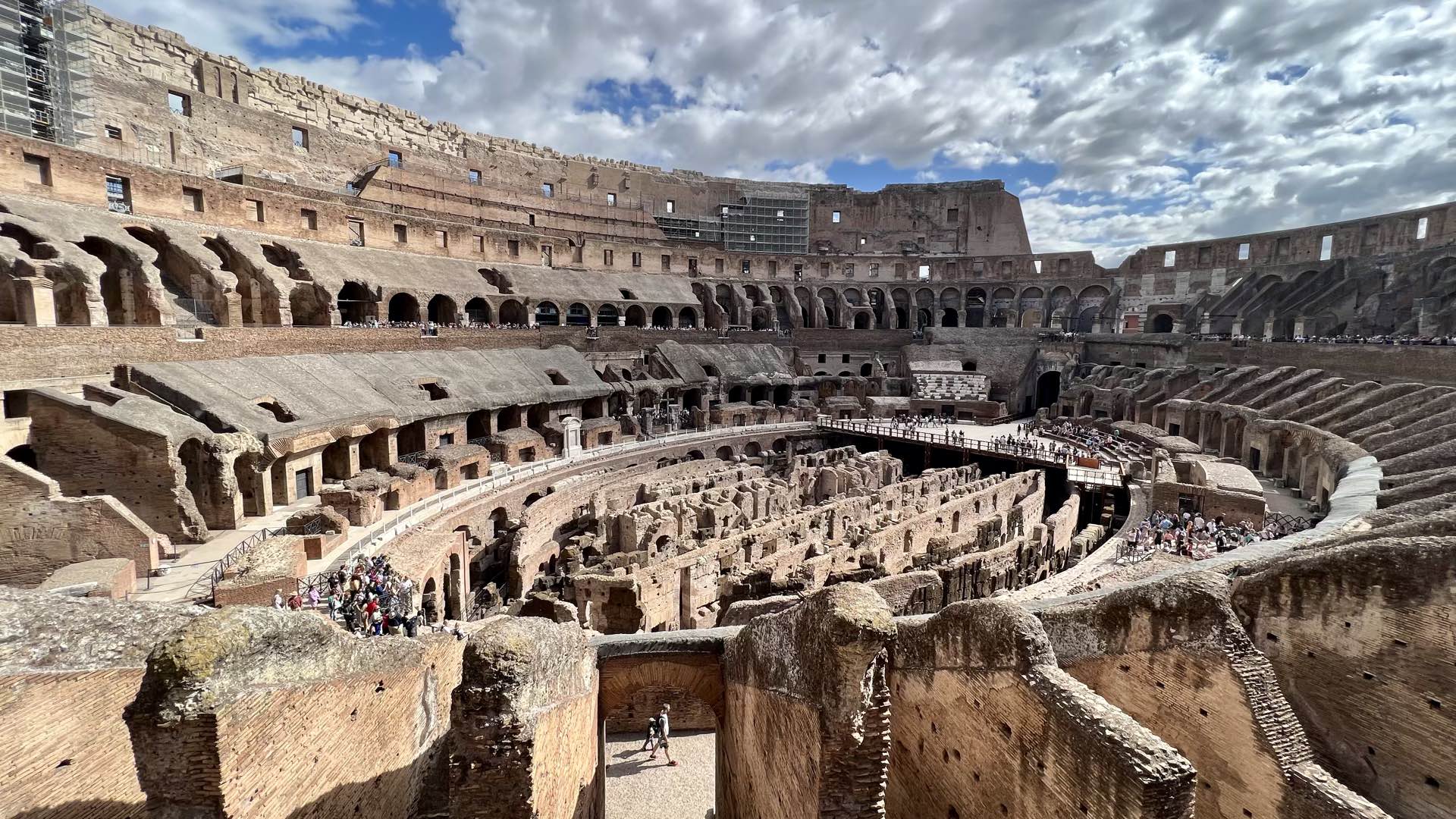 Expense Conclusion
While that covers the big stuff, we still had a few random things small purchases to mention that might of interest.
Mobile Phone
Chris continues his $10/month Twigby plan without issue. While he was in Europe, he picked up a Spain and Italy friendly SIM card with a few gigabytes of data for just $10 as well. It's always surprising how cheap and easy it's become to get a data connection around the world!
Health and Fitness
Jenni purchased some new glasses to better match her prescription and style. She shopped with Zenni as she has frequently and spent about $47 on a pair of glasses.
Home Improvement
Jenni bought a used Maestri electric tacker at a local auction for $17, worth at least $150 on eBay! A neighbor was so impressed with how the reupholstery of our dinning room chairs turned out, they want to pay to redo an armchair. She also bought foam weather stripping to finish a window project for $10.
The rest of our monthly expenses were pretty similar to budget updates from this summer and are well-explained there.
How Much We Work
We like to keep track of how much time we spend doing work that is paid.
Let's add this month to the list…
| Month | Chris (Hours Worked) | Jenni (Hours Worked) |
| --- | --- | --- |
| May 2020 | 41 | 108 |
| Jun 2020 | 38 | 96 |
| Jul 2020 | 36 | 120 |
| Aug 2020 | 39 | 48 |
| Sep 2020 | 27 | 76 |
| Oct 2020 | 26 | 104 |
| Nov 2020 | 27 | 57 |
| Dec 2020 | 28 | 57 |
| Jan 2021 | 25 | 102 |
| Feb 2021 | 24 | 104 |
| Mar 2021 | 24 | 106 |
| Apr 2021 | 23 | 85 |
| May 2021 | 17 | 29.75 |
| Jun 2021 | 19 | 66 |
| Jul 2021 | 21 | 30.25 |
| Aug 2021 | 23 | 16.5 |
| Sep 2021 | 26 | 28 |
| Oct 2021 | 22 | 49 |
| Nov 2021 | 21 | 51 |
| Dec 2021 | 64 | 27 |
| Jan 2022 | 32 | 80 |
| Feb 2022 | 29 | 63 |
| Mar 2022 | 14 | 70 |
| Apr 2022 | 15 | 21 |
| May 2022 | 14 | 36 |
| Jun 2022 | 6 | 12 |
| Jul 2022 | 13 | 45.5 |
| Aug 2022 | 15 | 96 |
| Sep 2022 | 12 | 54 |
Our time spent working is heading back down but it'll continue to bounce around with the holiday season ahead.
Net Worth Update
Net worth is not our primary measurement and can understand it can be discouraging if you're working yourself out of debt. We also understand it's difficult to be transparent with our readers without divulging this information so we continue to do so.
Account breakdown
The market keeps chugging along and so do our investments. From a high level, our assets and liabilities are shown in the data table below as of September 30, 2022.
| Description | Value (USD, $) |
| --- | --- |
| 401(k) | 597,528 |
| Brokerage | 691,242 |
| Roth IRA | 119,578 |
| Traditional IRA | 5,853 |
| HSA | 44,069 |
| Real Estate | 379,200 |
| Mortgage | (145,195) |
| Miscellaneous Assets | 29,642 |
| Checking & Savings | 14,080 |
| Net Worth | 1,735,997 |
Miscellaneous assets include specific investments we've made in physical assets (think collectibles) and treasury bonds
Amounts do not reflect the value of the businesses Chris owns or their assets, which should appear as income to us over future years
Jenni's Prius is not included
Our combined portfolio took a hit of 7.6%. This is our second worst percentage loss since we started blogging in 2020!
The S&P 500 suffered a loss of about 9.3% for the month, so at least we fared a little better.
Nonetheless, our net worth dropped by $142K!
Net Worth History
Previous Donation Winner
A few of our closest friends are fighting various forms cancer. In their honor, we picked out three organizations that attempt to make the battle against cancer a little easier.
The winner, with five votes, goes to Lets Win! Pancreatic Cancer. This organization collects the most up to date information on pancreatic cancer treatments and clinical trials. Having vital information easily accessible takes some of the stress off of patients and their doctors.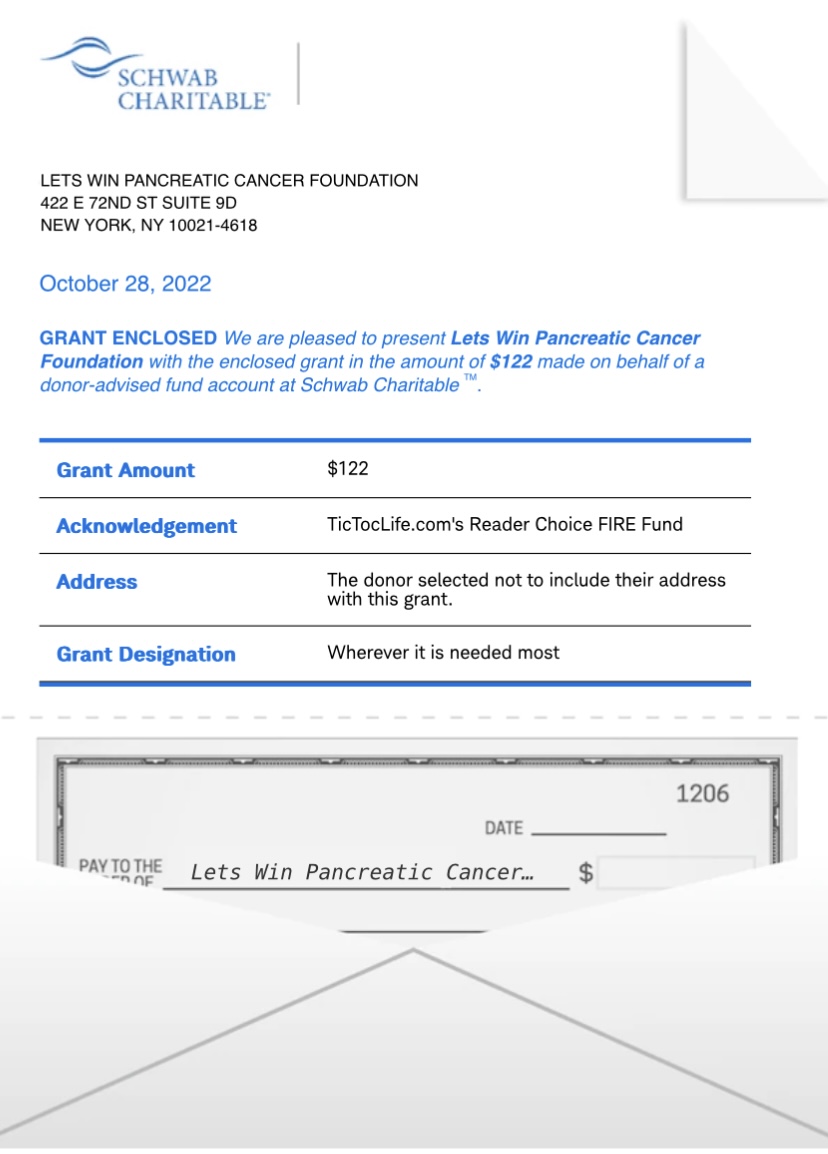 Our Reader's Fund seeks to leverage the principles of FIRE to build a lifetime of giving.
Thank you for your participation in our polls over the last 26 months. We've given over $3,000 to deserving charities with your help in deciding which organizations to donate to.
Polls are now open for our next round of candidates: Disaster Relief Charities.
Charity Round-Up
This month, we chose charities helping out in places we've visited this year. On our trip to Puerto Rico, we fell in love with the natural beauty of the beaches but saw the destruction from past hurricanes. Florida has become our long layover destination but we realize the vulnerability of its shores. Since our visits, Hurricane Fiona and Ian have caused catastrophic damage to these lands.
During our volunteer trip to rural Peru, we experienced the lack of water and proper sanitation first hand. It's clear basic water needs are not being met.
Each of the organizations we chose provide disaster relief and support to communities in need. Their excellent charity ratings help ensure our donation will have the greatest impact. Review each one and help us decide which organization to support by casting your vote.
Summaries below include a link to their Guidestar profile which details the nonprofit's operations and transparency.
Why? United State hospitals generate over two million tons of medical surplus each year. Without a system in place, these supplies end up in the trash! After Hurricane Fiona hit Puerto Rico, MedShare initiated their Disaster Response Protocol bringing urgently needed supplies and medical relief.
Where? Globally
Our Notes: MedShare supplies free clinics with surplus medical supplies. By collecting medical supplies, that would've ended up in the landfill, they can getting them to those communities in need. This reduces the carbon footprint and helps strengthen the local health systems.
Their team of 16,000 volunteer corps are ready to go, especially after a disaster like a hurricane.
2) Water Mission
Why? The global water crisis is huge! 2.2 billion people lack access to the basic need of a safe water supply. A recent Water Mission project for safe water helped 250 families in Padre Cocha, Peru have a long lasting solution to their water needs.
Where? The United States, Honduras, Peru, Mexico, Haiti, Africa, and Indonesia.
Our Notes: Water Mission has a team of engineers and volunteers that create simple, safe and sustainable water solutions. Their Safe Water Committees ensure the communities are trained to maintain each station as well as promote proper hygiene and the importance of proper latrines.
3) Convoy of Hope
Why? The West coast of Florida was hit with the deadliest hurricane to strike the state since the 1935! This very large and destructive Category 4 Hurricane Ian caused severe flooding and power outages and over 100 fatalities. As soon as the waters receded, Convoy of Hope was there to begin the massive cleanup process.
Where? The United States, Haiti, Tanzania, El Salvador, Nicaragua, Ethiopia, Honduras, and the Philippines.
Our Notes: Convoy of Hope changes lives through their kindness, especially while providing disaster relief. Their fleet of trucks are supplied with the necessary equipment to provide clean up relief, deliver supplies, and meals. As Hurricane Ian approached Florida, their volunteers were already prepared to deploy from the very start.
Nonprofit poll
After reviewing the list above, please take a moment to vote for which nonprofit you think will put funds to use in the best way.
(Have trouble using or seeing the poll above? Some reader tools or apps may not display it. View this page in a browser or use this link to our Reader Fund page which has a copy of the poll!)
Thank you for taking the time to vote!
One of our primary goals with TicTocLife is building a stream of giving within the FIRE community and that starts with knowledge.
Want to hear about the results? Signup for our free FIRE Insider newsletter! We send it out every few weeks and include the monthly poll results and donation winners. You can see an archive of the FIRE Insider and signup here!
What's Next
Well, as often is the case lately, our update is coming to you pretty late in the following month. There's not much October left to look forward to!
That said, our trip to Puerto Vallarta, Mexico has come together nicely. In fact, we're writing to you now during breaks attending different Dia de Muertos festivities!
Chris has another few weeks of travel coming once we're back in the US. He'll continue on from LA to the Pacific Northwest to hike and explore with friends. From there, he'll visit family in Arizona and make it back to Virginia just in time for Thanksgiving!
All the while, we've been planning our next trip in December. We'll reveal the details soon, but, it's sufficient to say that we'll be crossing the Atlantic in a way you wouldn't expect!
Stay tuned to our October update to see how we finalized those gadget upgrades and what travel adventures we get up to.
Despite the market continuing to churn, we keep focused on what brings us fulfillment and excitement. That's something we wouldn't be able to do without having achieved FIRE!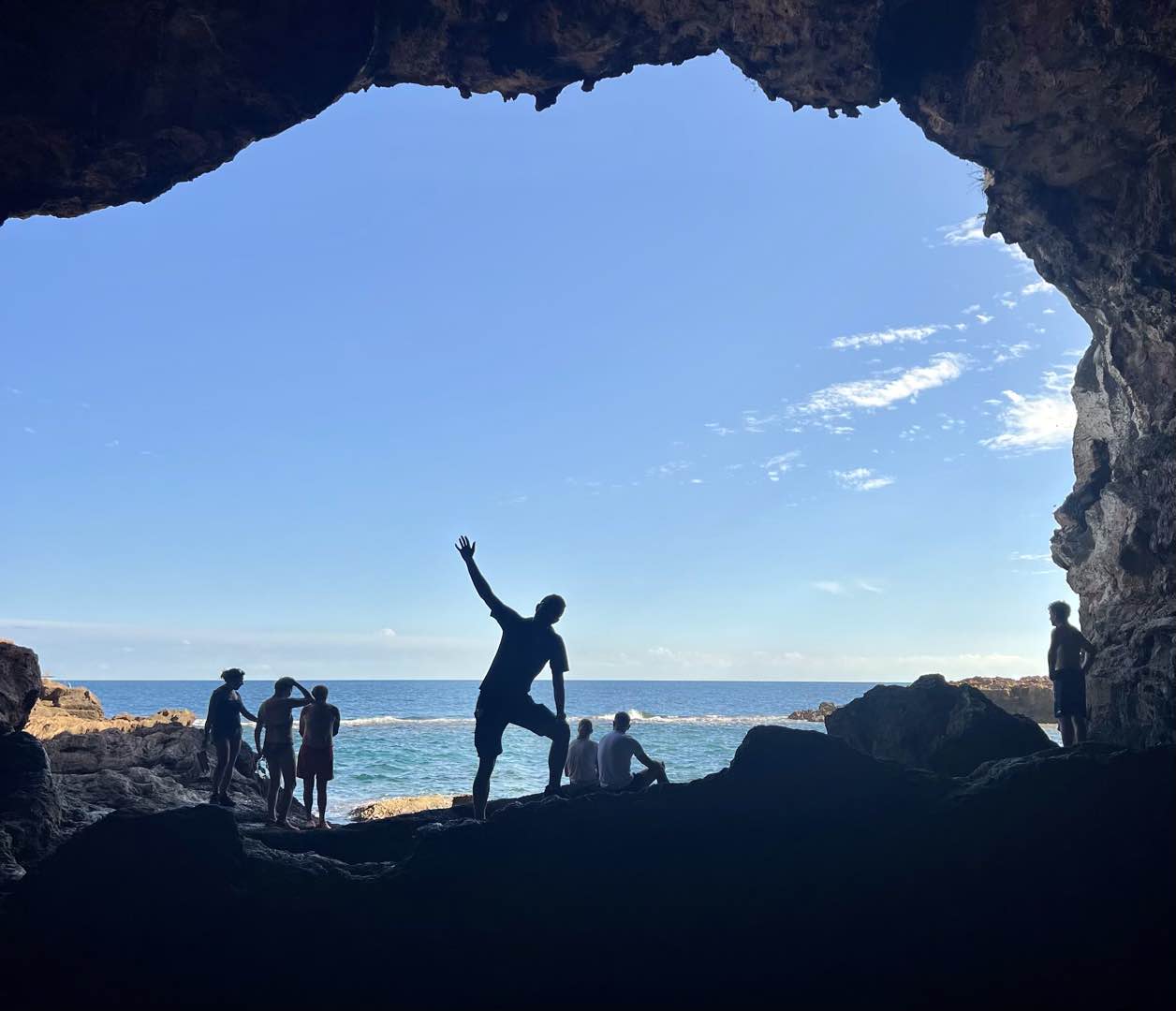 ---
What are the best bang-for-the-buck tech upgrades right now to you?
Let us know in the comments or on Twitter!