Our typical annual FIRE budget has been somewhere in the neighborhood of $40-45K. That equates to around $3,600/month. Well, travel expenses alone cracked $2,500 in November so things aren't looking too pretty for keeping on track for us!
What did it? Well, a trip to the Pacific Northwest, of course! It was Chris' first time to the area and it sure served as a stark contrast in cost-of-living for other recent destinations we've had like Portugal.
Check out his trip report below, and, most importantly—get in the holiday spirit with our monthly charity review and vote in our poll! This month, our three nonprofits that we review each seek to bring cheer to those in need.
We like to review our income, spending, and savings to help keep us on our FIRE track. Read on for our tips, monthly update, and charity rundown.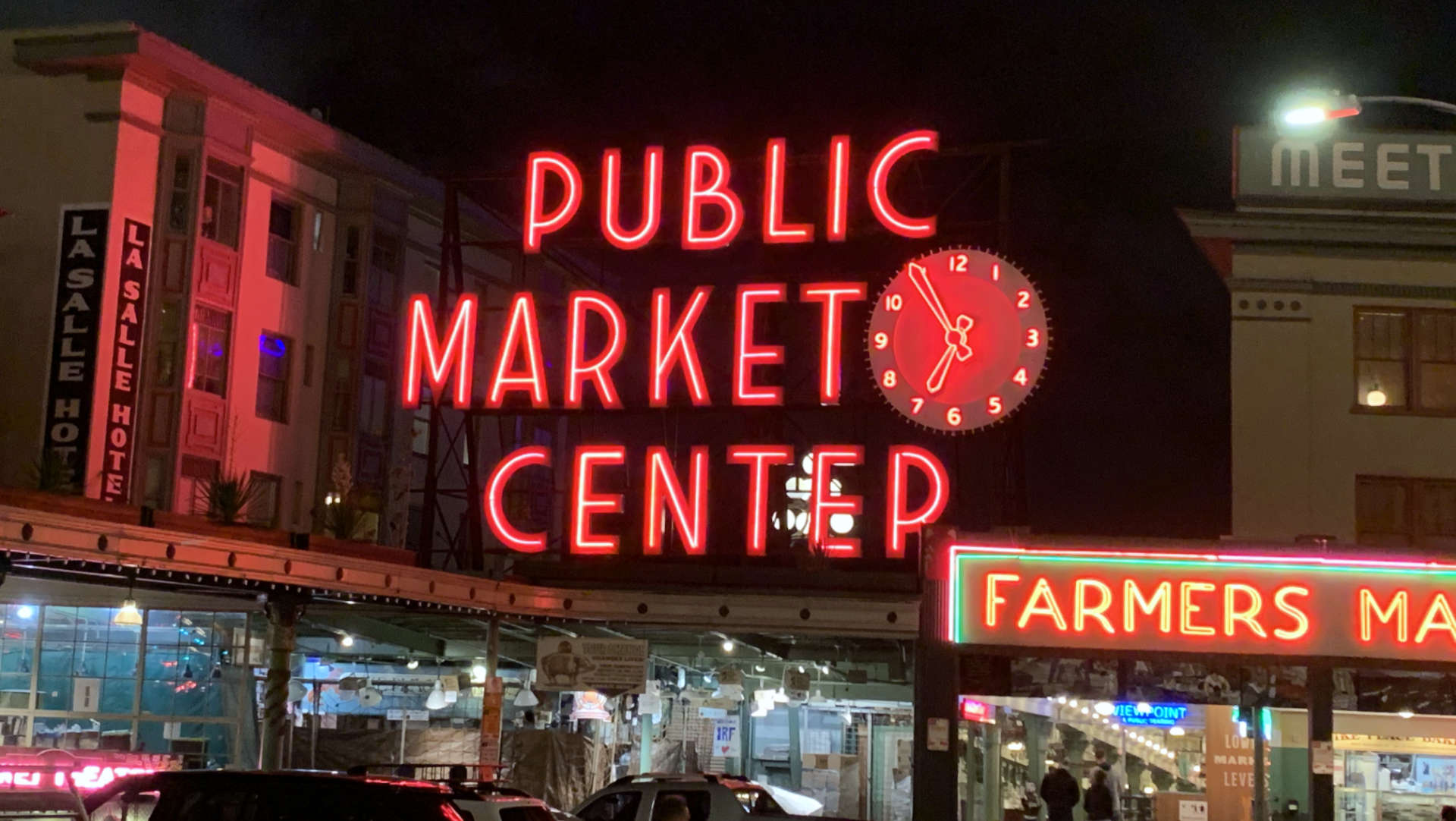 Budget Update
If you'd like a more detailed description of our typical monthly cash flow (like our jobs or housing situation), check out our previous budget updates.
In the Sankey diagram below, the income on the left matches our expenses to the right.
We'll run through the income and expense sources for the month and remark on any interesting items.
Income Summary
While a majority of our income came from Jenni's part-time work as a pharmacist, we found several opportunities to supplement our income. Below are some of the more interesting categories this month.
Cashback
We mentioned opening Laurel Road checking accounts in a past post to earn a signup bonus. This month, Jenni earned her signup bonus of $300 after meeting the direct deposit minimum.
This same no-fee account also offers a $20 monthly bonus if you continue to make direct deposits of at least $2,500/month. As we each have an account, we are now earning a $40/month bonus.
We earned $340 in cashback.
Credits
Chase cardholders are eligible for statement credits with Gopuff ($10/month). Between the two of us, we got back about $100 from Gopuff credits. That's pretty great considering most of our Chase cards have no annual fee. This promotional with Gopuff benefit has been a real boon for us this year!
Chris got 20% back at restaurants with his AMEX Gold—totaling $28 this month. That benefit, limited to $250 total in credits, is now maxed out. The same card earned him $10 back from Grubhub which he uses on a local bakery for fresh loaves.
We received a pretty wide range of miscellaneous statement credits from AMEX, Citi, Chase, and others including:
$10 Grocery Credit (Chase, $5 off $5+ x2)
$10 Wireless Credit (AMEX monthly, $10 off $10+)
$20 Anthem Health Insurance Credit (filled out a survey form)
$10 Uber Credit (Citi, $10 off $10+)
$15 Instacart Credit (Chase, $15 off $15+ quarterly)
$10 Class Pass Credit (AMEX)
$8.72 Gopuff (Chase, 10% bonus credit)
Jenni also earned a credit for free membership with Audible and Walmart+ (through statement credits) via her American Express card.
We received $262 in statement credits.
eBay
We cracked a thousand dollars in eBay sales this past month! That really helps us meet our needs—and all our travel costs lately! The high income from eBay came primarily from selling off a fair amount of our collectible holiday decor.
We tend to cycle through these decorations around the holidays—we buy discounted ones in January and sell off the ones that rise in value as Christmas gets close the next year.
Chris also managed to sell off a pair of Merrell hiking shoes he purchased on closeout combined with a free $50 gift card (from a different deal months ago). Overall, that pair of shoes cost about $3 and sold on eBay for $80 minus fees. That's a nice win!
We made $1,163 in eBay sales this month.
Expense Summary
From our $6,714 monthly budget, we had net outflows of $1,581 this month.
This gives us a negative savings rate of about 24%!
After subtracting our credits, savings, and business expenses, we spent $5,886 on living expenses. We are at 174% of our FIRE budget from 2020.
If you're curious about what our typical annual budget looks like, check out the full 2020 FIRE budget review!
Let's break down some of the more exciting details.
Groceries
Our grocery expenses were back to what seems to be our new normal lately, ringing in at $492. If anything, it might have been slightly high as we purchased a lot of smaller quantity or volume groceries while traveling.
We continue to save about a hundred bucks per month on Gopuff grocery deliveries via coupons and Chase credits. We really recommend taking advantage of Chase's Gopuff promo (see the "Credits" section above) if you can.
November was, yet again, another big travel month for us. We started the first of the month off in LA after returning from our trip to Mexico in October. From there, Jenni returned home to Virginia while Chris remained in LA to visit friends and begin a new adventure to the Pacific Northwest.
In all, the November portion of Chris's trip saw him go from LA to Seattle to Portland to Phoenix before heading back to Virginia over the course of 17 days.
Atlantic crossing starts
Just as the month was closing, we set off for a trip across the Atlantic. Our first stop was Terceira Island in the Azores (which is part of Portugal).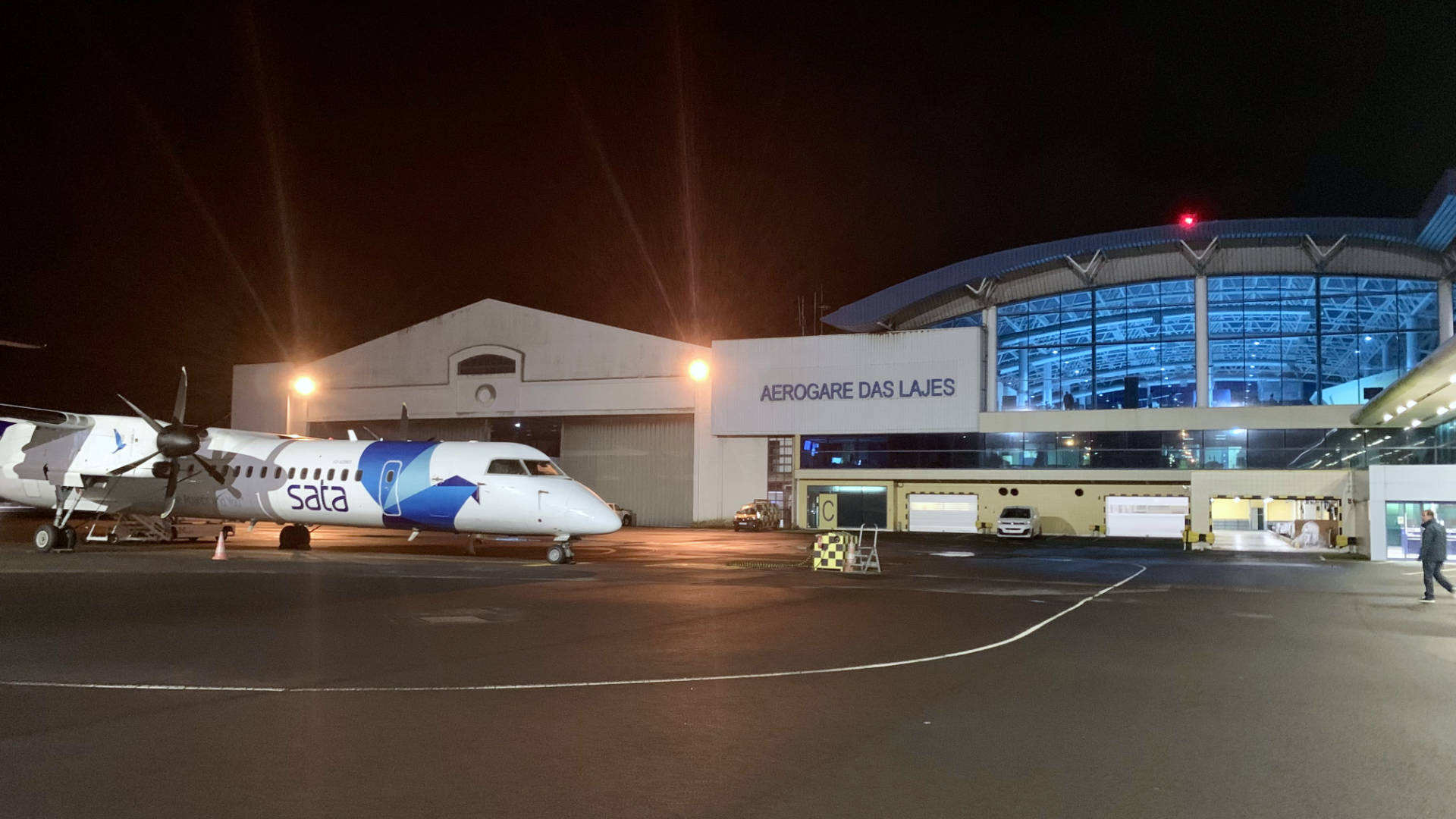 We'll detail more of that trip in our December Budget which is where the majority of the trip fell.
Let's take a look at November's travel expenses unrelated to Chris's PNW trip—which we'll look at separately.
$0.00: Jenni's flight from LAX to RIC was covered by a Delta certificate she earned with her AMEX platinum card. The original cost was $168.60. Jenni previously distributed part of her card's annual fee as air travel to better reflect the nature of the card's cost.
$587.94: The cost of our flights at the end of November from Richmond to Lisbon via Terceira Island and Boston. We'll stay on Terceira for a few days before going on to Lisbon.
$334.00: 4x annual fees for different credit cards; $95, $95, $95, $49 for a Chase Sapphire Preferred, Citi Premier, Chase IHG Premier, and Chase IHG cards, respectively. Each of these card fees are offset by their annual benefits or signup bonuses, easily, for us.
$124.75: The first two nights of our hotel on Terceira Island in the Azores. Talk about bang for the buck!
$37.53: Our Uber expenses for Jenni to return home from the airport early in the month and then for both of us to ride to the airport for our Portugal trip at the end of the month. This is after using $10 in UberCash (a benefit from one of our credit cards) but before accounting for a $10 statement credit for using Uber on one of our Citi cards.
We had quite a few miscellaneous travel expenses this month. Next month, we'll collect all of the Portugal expenses into one table to analyze that trip's total cost once it concludes.
PNW's high costs
Let's take a look at Chris's total trip expenses for his visit to the PNW now that the trip is finished.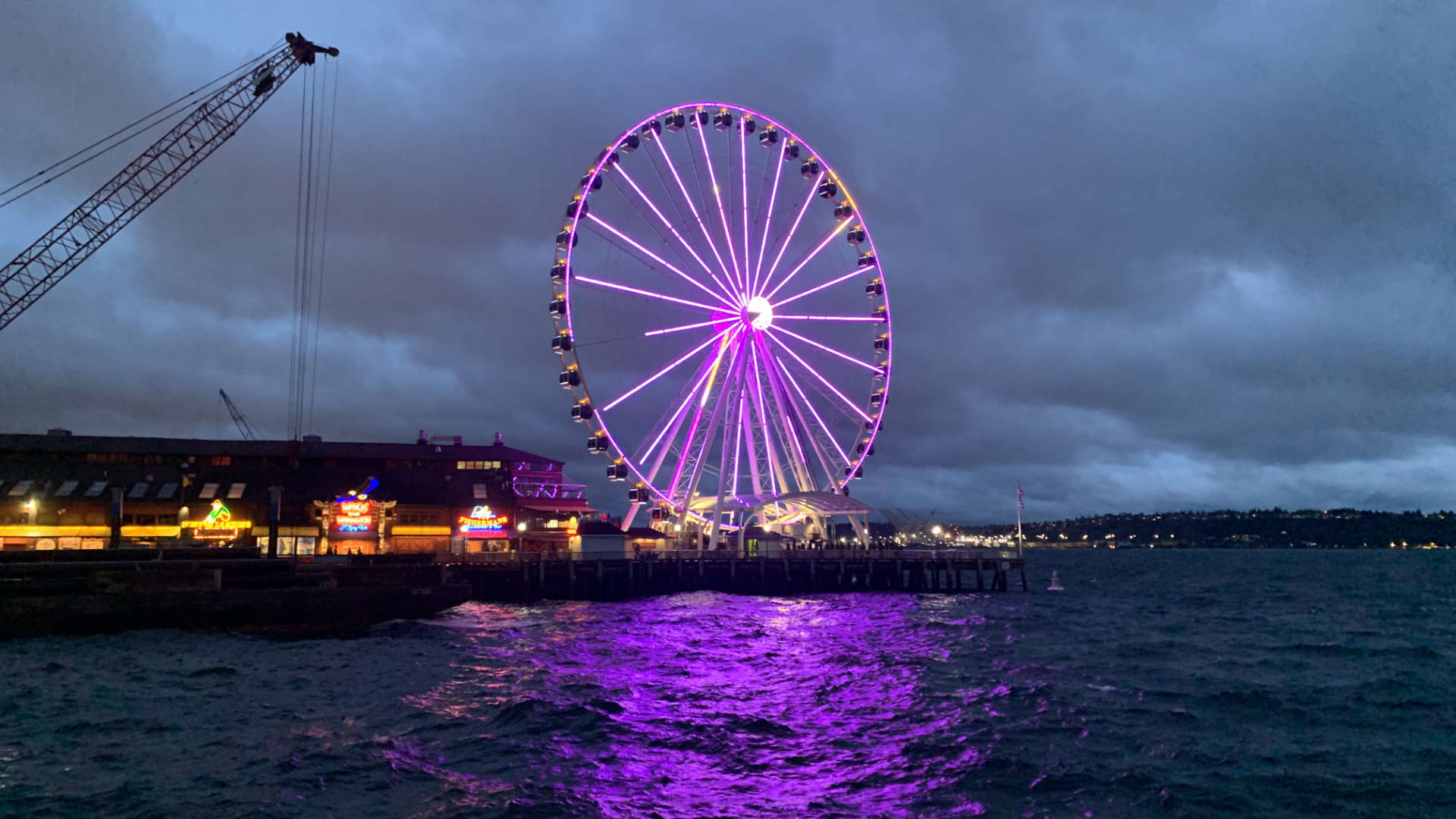 | Description | Cost (USD, $) | Rewards Pts/Miles |
| --- | --- | --- |
| Flight—BUR->SEA | 5.60 | 4,836 Southwest Miles |
| Flight—SEA->PHX | | 4,573 AMEX Pts |
| Flight—PHX->RIC | 129.00 | |
| Airbnb: 4 nts, Portland + 2 nts, Seattle | 1,017.00 | |
| Hotel: 1 nt each in Forks, Port Angeles, Seatac | 286.04 | |
| Amusement: Astoria Column, Pittock Mansion, "Beneath the Streets" Seattle | 99.62 | |
| Public Transit: OHSU Tram, Orca Seattle, LA Metro, Flyaway LAX | 32.70 | |
| Dining: Restaurants, Fast Food, Coffee Shops | 266.00 | |
| Groceries | 103.93 | |
| Alcohol & Bars | 70.95 | |
| Total | 2,010.84 | 9,409 |
If it seems like some spending categories are missing (e.g. car rental), it's because of how the travel partners covered different expenses.
That was a pretty expensive trip—especially considering it wasn't even outside of the US! On top of that, it had the benefit of already beginning in LA and a free five day stay in Phoenix since Chris was visiting family!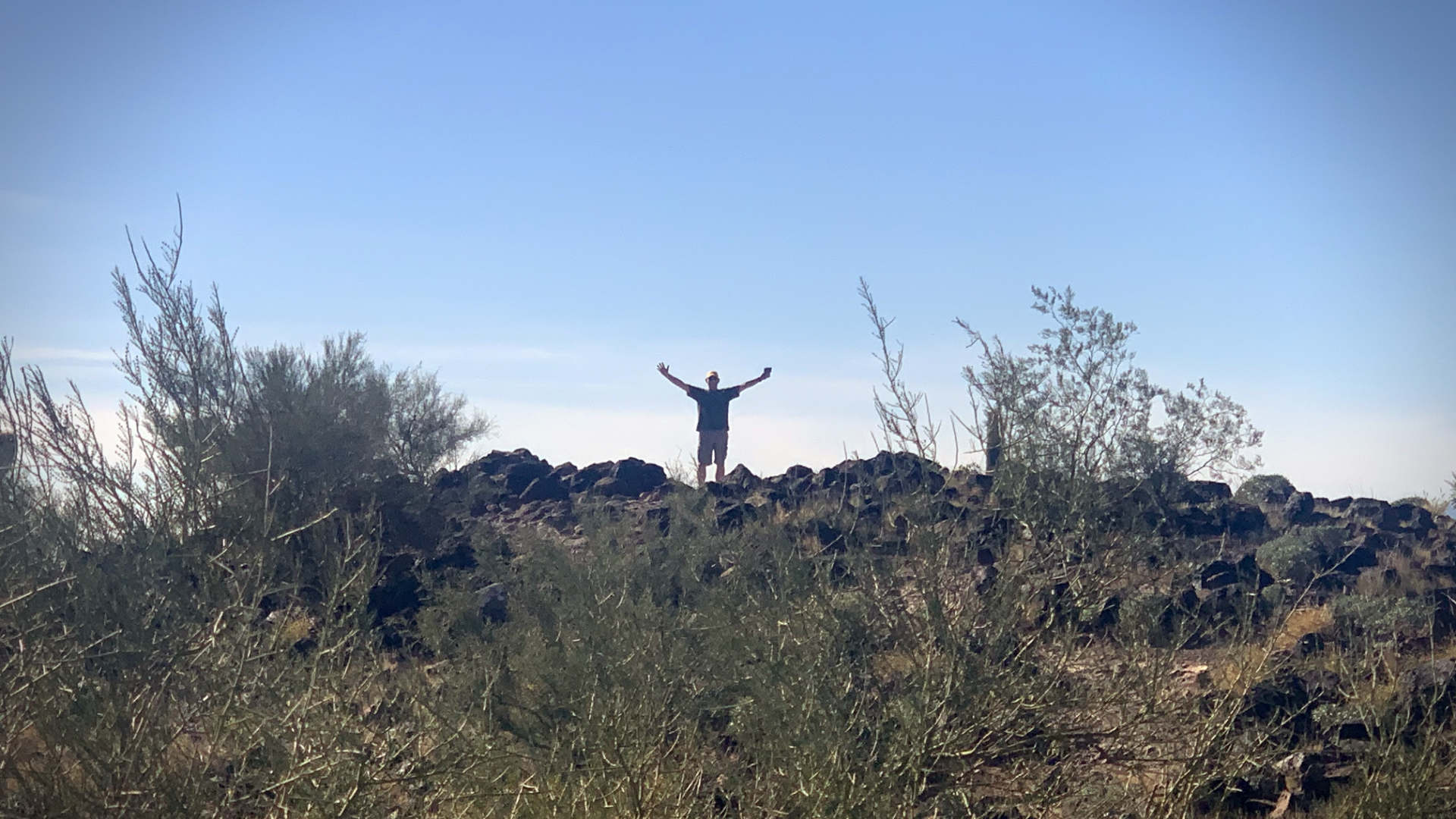 At just over $2K for 17 days of experiences, the trip's average cost was $118/person/day. Additionally, Chris used about a little over 9K worth of credit card points and miles to offset roughly $250 in expenses.
Chris's annual fee of $95 for his Chase Sapphire Preferred card was partly offset by a $50 annual statement credit for hotels he used on a night in Port Angeles.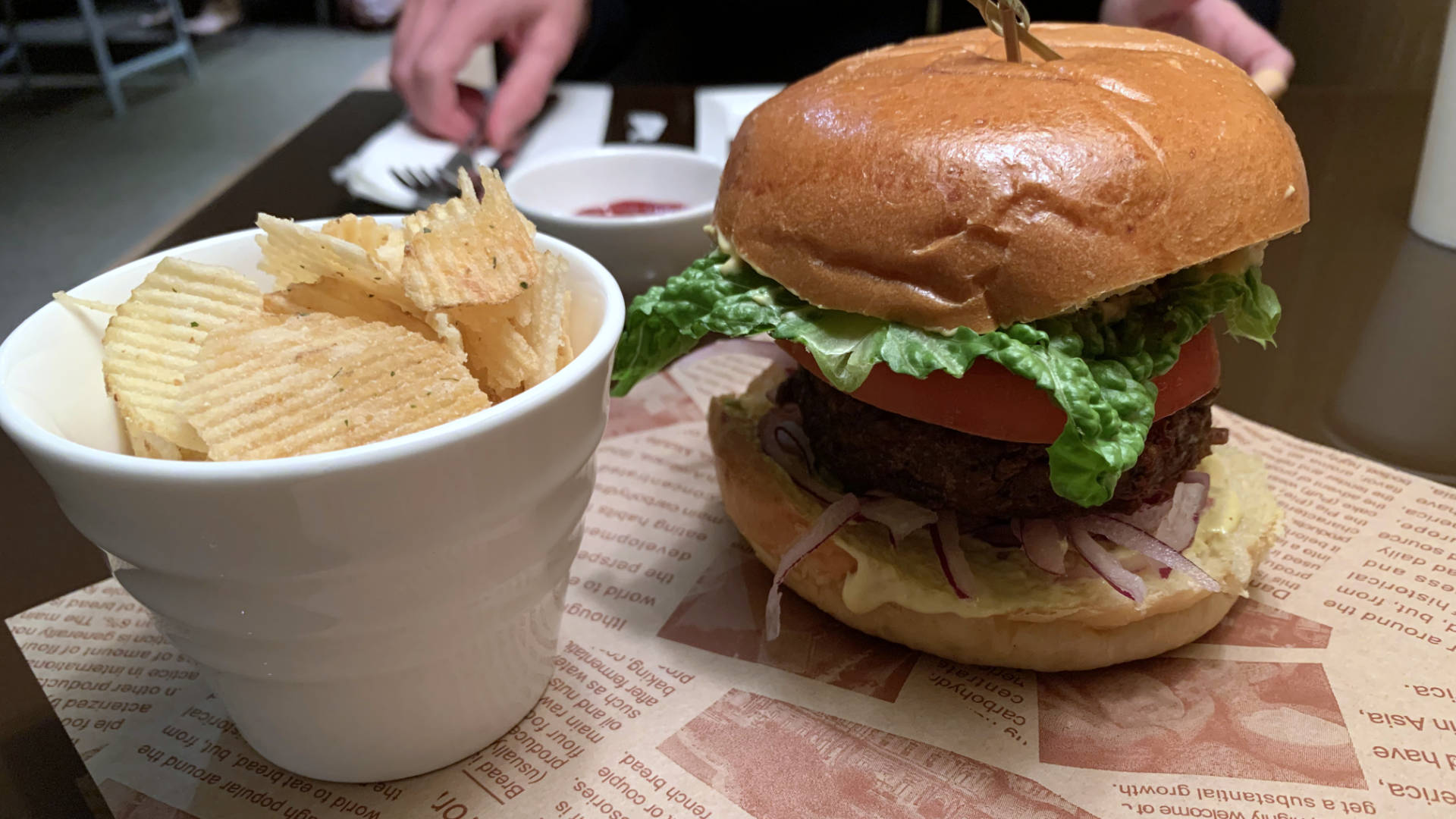 The (relatively) high cost per day can be attributed to the very high cost of hotels and general living expenses in Seattle and Portland.
Expense Conclusion
While that covers the big stuff, we still had a few random things small purchases to mention that might of interest.
Home Improvement
Jenni had been itching to paint and clean the kitchen. She took the opportunity to complete this while Chris was in the PNW. She purchased a $115 Lowes gift card for just $100 to help reduce the cost of the necessary supplies. That covered fresh white paint, tools, cleaning supplies, and other necessities for the project. The $50 balance remaining on the gift card will go towards a future project. And, we've got a beautiful kitchen!
Donations
Jenni and her sisters, in the spirit of the holidays, sponsored two children's Christmas gifts this year. Jenni contributed cold weather gear, toys, and more. This was organized through a local Christmas drive and mom's group. She also made a small donation to the ASPCA. $135 went to gifts & donations this month.
How Much We Work
We like to keep track of how much time we spend doing work that is paid.
Let's add this month to the list…
| Month | Chris (Hours Worked) | Jenni (Hours Worked) |
| --- | --- | --- |
| May 2020 | 41 | 108 |
| Jun 2020 | 38 | 96 |
| Jul 2020 | 36 | 120 |
| Aug 2020 | 39 | 48 |
| Sep 2020 | 27 | 76 |
| Oct 2020 | 26 | 104 |
| Nov 2020 | 27 | 57 |
| Dec 2020 | 28 | 57 |
| Jan 2021 | 25 | 102 |
| Feb 2021 | 24 | 104 |
| Mar 2021 | 24 | 106 |
| Apr 2021 | 23 | 85 |
| May 2021 | 17 | 29.75 |
| Jun 2021 | 19 | 66 |
| Jul 2021 | 21 | 30.25 |
| Aug 2021 | 23 | 16.5 |
| Sep 2021 | 26 | 28 |
| Oct 2021 | 22 | 49 |
| Nov 2021 | 21 | 51 |
| Dec 2021 | 64 | 27 |
| Jan 2022 | 32 | 80 |
| Feb 2022 | 29 | 63 |
| Mar 2022 | 14 | 70 |
| Apr 2022 | 15 | 21 |
| May 2022 | 14 | 36 |
| Jun 2022 | 6 | 12 |
| Jul 2022 | 13 | 45.5 |
| Aug 2022 | 15 | 96 |
| Sep 2022 | 12 | 54 |
| Oct 2022 | 14 | 34.5 |
| Nov 2022 | 12 | 72 |
That's a pretty big jump in hours worked over last month. Jenni chose to work more while Chris was traveling which was further increased by Jenni's pharmacy purchasing another local pharmacy. The onslaught of new customers meant all hands on deck!
Net Worth Update
Net worth is not our primary measurement and can understand it can be discouraging if you're working yourself out of debt. We also understand it's difficult to be transparent with our readers without divulging this information so we continue to do so.
Account breakdown
The market keeps chugging along and so do our investments. From a high level, our assets and liabilities are shown in the data table below as of November 30, 2022.
| Description | Value (USD, $) |
| --- | --- |
| 401(k) | 674,521 |
| Brokerage | 779,345 |
| Roth IRA | 131,609 |
| Traditional IRA | 6,635 |
| HSA | 47,632 |
| Real Estate | 369,800 |
| Mortgage | (144,398) |
| Miscellaneous Assets | 46,642 |
| Checking & Savings | 8,849 |
| Net Worth | 1,920,635 |
Miscellaneous assets include specific investments we've made in physical assets (think collectibles) and treasury bonds
Amounts do not reflect the value of the businesses Chris owns or their assets, which should appear as income to us over future years
Jenni's Prius is not included
October produced a nice positive wave in the market. Our total net worth grew about 5.5%.
The S&P 500 was up about 5.4% for the month, which we just nudged past.
Overall, our net worth increased about $100K!
Net Worth History
Previous Donation Winner
We celebrated Native American Heritage Month by highlighting three charities protecting the rights of Native Americans. Through our research, we learned the struggles Native Americans face and the unjust ways in which they are still treated to this day. We hope by reading these charity summaries that you learned more about what you can do to protect the Native American Heritage in your lands as well.
This month's charity poll winner, with three votes, goes to National Indian Child Welfare Association. The NICWA advocates for Native children and families by defending the law of the Indian Child Welfare Act.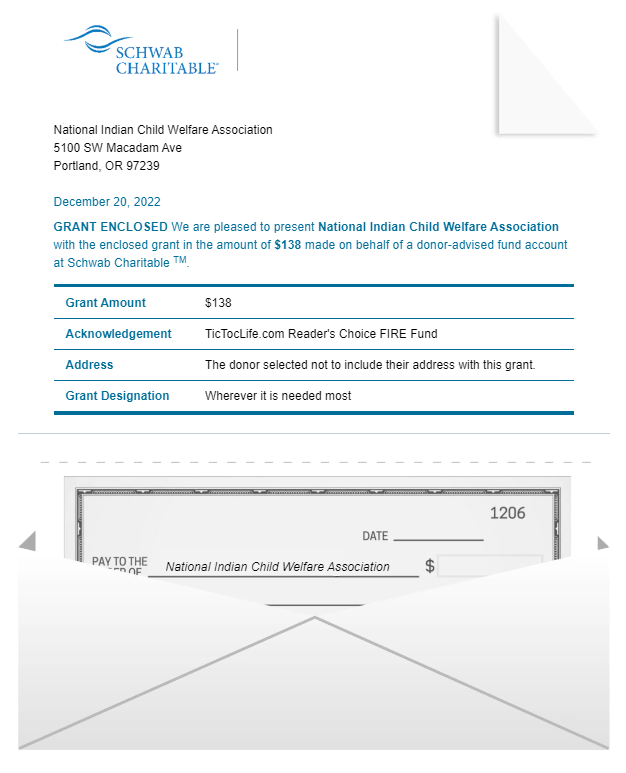 Our Reader's Fund seeks to leverage the principles of FIRE to build a lifetime of giving.
Thank you for your participation in our polls over the last 28 months. We've given over $3,000 to deserving charities with your help in deciding which organizations to donate to.
Polls are now open for our next round of candidates: Charities Spreading Holiday Cheer.
Charity Round-Up
The Holiday Season is upon us and it is time to celebrate. The following three charities help ensure everyone is given the opportunity to do so.
Their excellent charity ratings help ensure our donation will have the greatest impact. Review each one and help us decide which organization to support by casting your vote.
Summaries below include a link to their Guidestar profile which details the nonprofit's operations and transparency.
1) Salvation Army USA
Why? Ever wonder where the Salvation Army's Red Kettle collections go during the holidays? You know the ones ringing a bell dressed in red and white asking for change outside the grocery stores. The donations collected are distributed to families that do not have the ability to provide a very happy holiday. Gifts and financial assistance are distributed to families of the incarcerated, the needy, and those in hospitals or nursing homes.
Where? The United States
Our Notes: In addition to the Salvation Army's Red Kettle program, they are also responsible for the Angel Tree program. This program allows volunteers to treat a special child to a specific list of needs and wanted items for the holidays. The Salvation Army's volunteers help distribute gifts to individuals in assisted living or shelters and provide sit-down dinners. Beyond the holidays, they have various programs to protect and support the most vulnerable. From anti-human trafficking services to youth community centers providing educational and recreational services after school, and so much more, this organization is attempting to fulfill its mission to meet human needs without discrimination.
2) Marine Corps Reserve Toys for Tots
Why? The Marine Corps Reserve has helped spread holiday cheer for the past 75 years. Through the simple act of giving toys to children, the Marine Corps Reserve sends a message of hope to American families in need.
Where? The United States
Our Notes: The Marine Corps Reserve Toys for Tots program helps make the holidays special for children across the United States. Since the program has one main objective, to collect and distribute toys, its success comes down to those getting the word out. Financial support provides for public education of the program and helps the 800 local coordinators and 40,000 volunteers have a successful annual campaign.
3) Home Instead's Be A Santa to a Senior
Why? Because Christmas doesn't have to be all about the kids. Senior citizens are often lonely and isolated and can find it hard to celebrate alone. A Santa for a Senior program spreads holiday cheer to lonely or financially challenged seniors.
Where? The United States
Our Notes: Home Instead's Be A Santa to a Senior works similarly to other holiday charities focused on children. Instead, this program focuses solely on Senior citizens. Potential donors can collect an ornament containing a seniors gift request and then return it to the collection center or make a financial donation supporting the program through Home Instead Charities.
Nonprofit poll
After reviewing the list above, please take a moment to vote for which nonprofit you think will put funds to use in the best way.
(Have trouble using or seeing the poll above? Some reader tools or apps may not display it. View this page in a browser or use this link to our Reader Fund page which has a copy of the poll!)
Thank you for taking the time to vote!
One of our primary goals with TicTocLife is building a stream of giving within the FIRE community and that starts with knowledge.
Want to hear about the results? Signup for our free FIRE Insider newsletter! We send it out every few weeks and include the monthly poll results and donation winners. You can see an archive of the FIRE Insider and signup here!
What's Next
December has us crossing the Atlantic to Portugal via the Azores for about a week before returning back to the US via a cruise (update: we made it, despite some rough seas!).
If all goes according to plan, that cruise should actually be less expensive—despite nine days of all-inclusive entertainment and food!—than the relatively inexpensive flights to get to Portugal! We'll detail that breakdown in our December budget.
And yes, we did just visit Portugal back in May. We're officially fans of that little slice of Iberia!
Happy post-Thanksgiving and a happy holidays or early Merry Christmas to you! We hope that you can take this chilly time of year to spend with those you love and care for—your family and friends. That's where the warmth is that carries you through winter!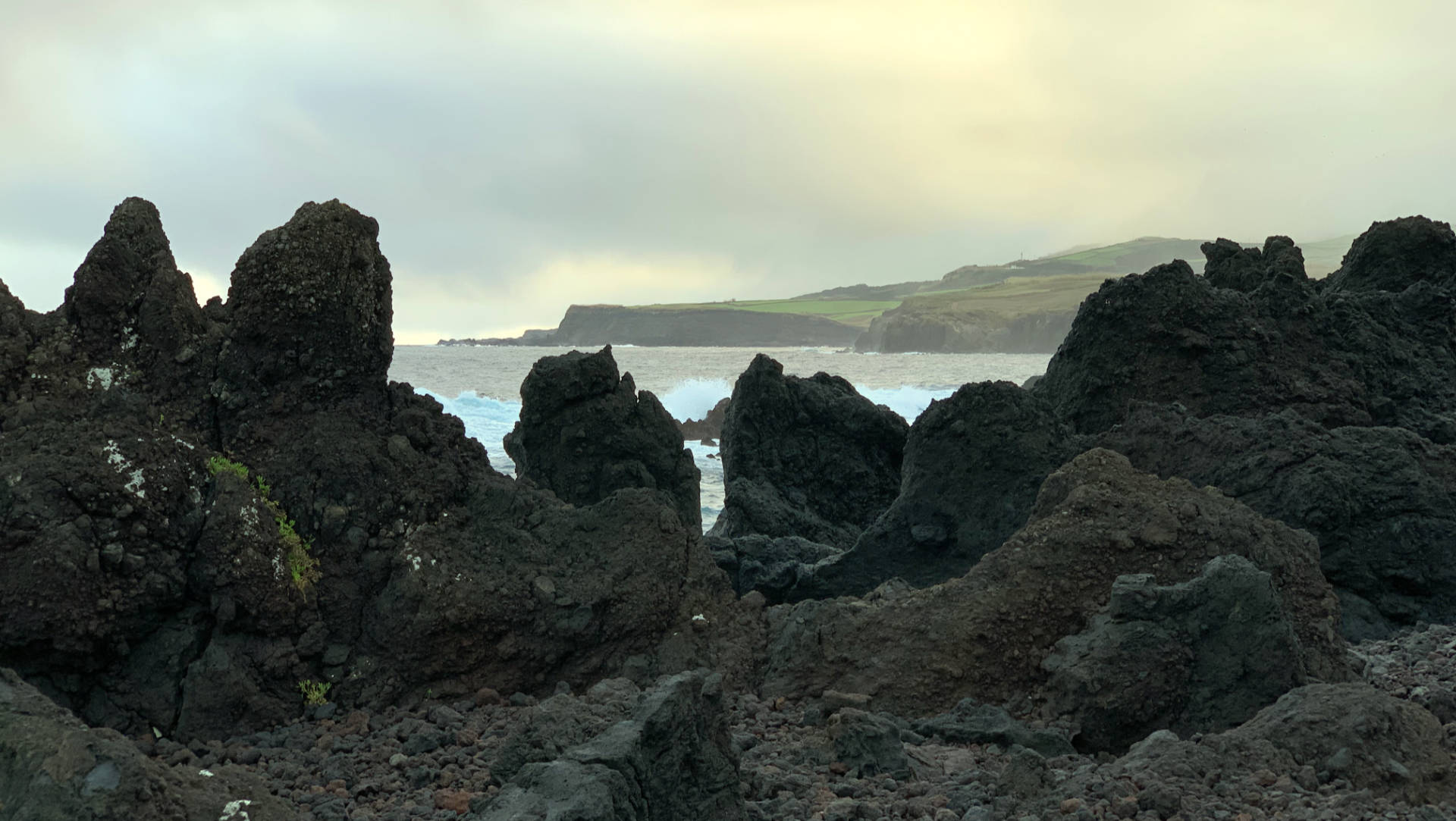 ---
What are your holiday plans or tips for escaping the winter ahead?
Let us know in the comments or on Twitter!