April was a special month for us as we spent it overseas and together the whole time! We've never done that before and it was a great experience. It also gave us a chance to see how our spending changes when we live abroad. We spent the month in Portugal, Spain, and The Netherlands.
We didn't have any transatlantic flights in April, just some short flights. So this month's budget is a good reflection of our typical expenses overseas.
We also continued our tradition of donating to one of three nonprofits, this time to one that promotes a healthy outdoor life. You can read more about them and vote for your favorite in the poll below!
We track our income, spending, and savings to stay on our FIRE path and share it with you. Keep reading to see our monthly updates, tips, and charity review.
Budget Update
If you'd like a more detailed description of our typical monthly cash flow (like our jobs or housing situation), check out our previous budget updates.
In the Sankey diagram below, the income on the left matches our expenses on the right.
We'll run through the income and expense sources for the month and remark on any interesting items.
Income Summary
No surprise, our income fell off a cliff this month as we spent the entirety of it traveling. The vast majority of our budget had to be covered by our checking balance!
Dividends
A small dividend arrived from Chris's position in $STX in an old brokerage account.
We earned $233 in total distributions.
Consulting
Chris' lowered consulting rate continues. He doesn't foresee this changing until the business's assets are exhausted some years in the future.
Consulting earned $462.
Cashback
Our Laurel Road no-fee checking accounts continue to earn a $20 monthly bonus for making direct deposits of at least $2,500/month.
We earned $40 in cash back.
Credits
As we weren't home to earn our typical slew of monthly Gopuff credits and such, this income category dropped off! That's okay, we'll be back to it in May!
Jenni earned a credit for a free membership with Audible and Walmart+ (through statement credits) via her American Express card.
We received $28 in statement credits.
Expense Summary
From our $6,387 monthly budget, we saved and invested about $407.
That savings is easily offset by the $5,391 we had to pull from checking to support our living expenses. Ultimately, we really saved nothing.
After subtracting our credits, savings, and business expenses, we spent $5,935 on living expenses. That's supporting two lifestyles—one while we were traveling abroad, and the one still at home with no one using it!
That's 139% of our FIRE budget from 2021 ($4,281/month).
Let's break down some of the more exciting details.
Food & Dining
How did Portugal, Spain, and The Netherlands shape our food expenses? It might be different than what you'd expect! Despite 30 days of hotels and Airbnbs, our consumption expenses didn't spike as you'd think!
At home, our diet is normally pescatarian. But, while visiting another culture, we stay more open-minded where meat is central to some experiences. For example, we didn't skip out on jamón in Spain!
Groceries
Groceries came in at about $436. That's certainly more than the $272 we averaged from our 2021 FIRE Budget, but given inflation and that we were traveling—this seems pretty low!
We bought more "convenience" groceries (smaller quantities, more prepared) to accommodate our ever-changing kitchens. Sometimes we'd have a stovetop, fridge/freezer, and prep space.
Other times, we'd be lucky to have a microwave or mini-fridge.
So, we spent more on foods that were easily prepared like pre-cut cheese, dips, mixed vegetables, and fresh bread.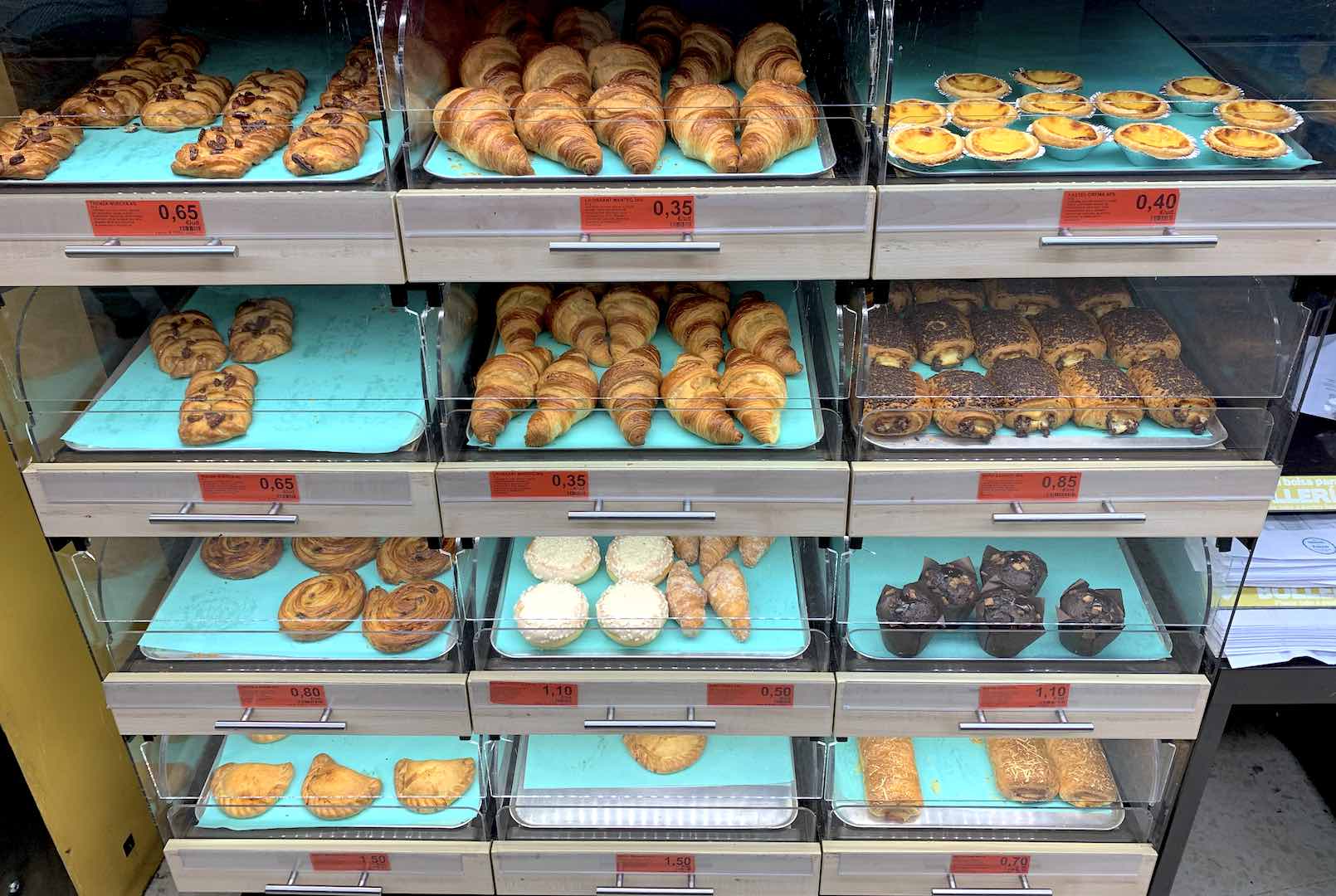 Some hits for us—
Spain:
Gazpacho
Yogurt
Pizza
Baked goods
The Netherlands:
Fresh vegetables
Juice smoothies (without sugar added!)
In nearly every case, it's going to be quite a bit cheaper to go for prepared grocery store foods than restaurants. After all, 30 days and 3 meals a day mean 90 possible restaurant visits! Even at $25/visit—a low estimate—that'd be $2,250!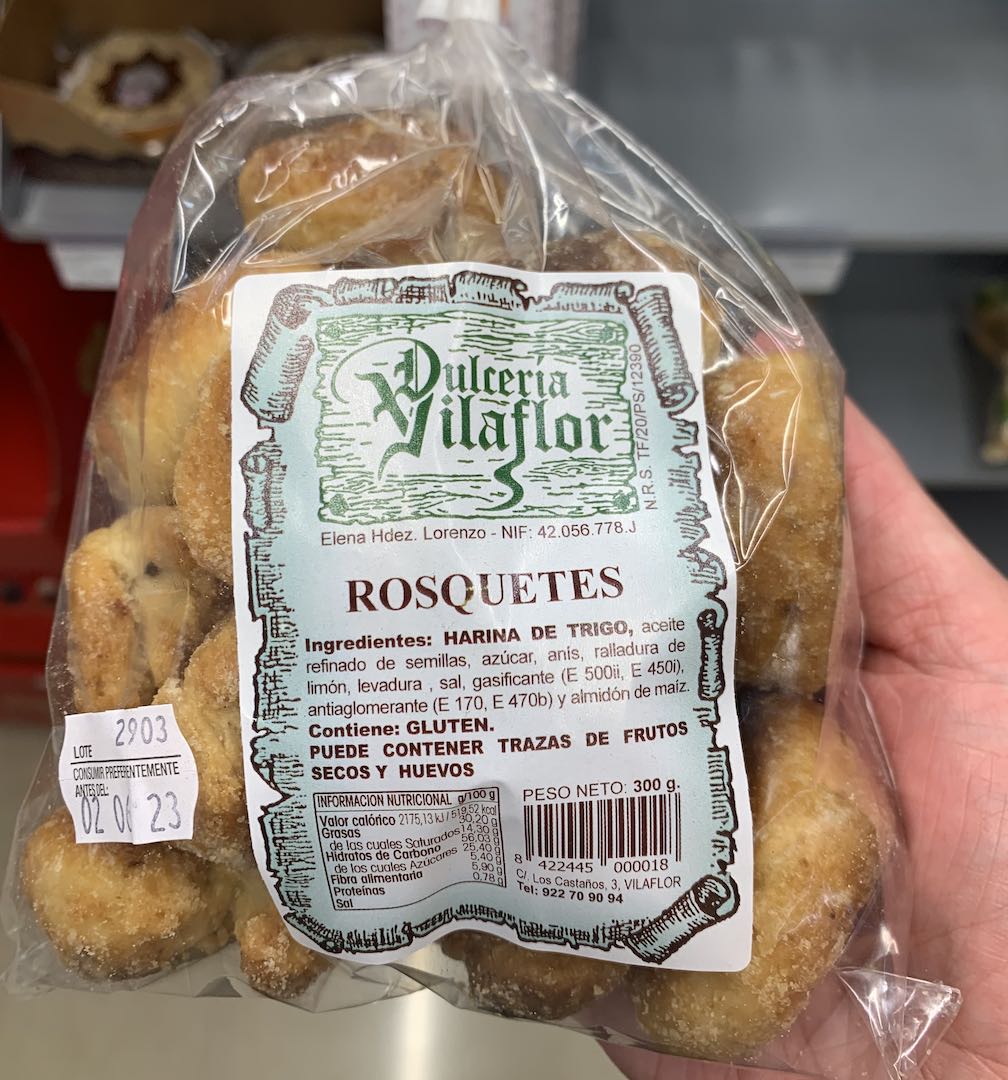 Restaurants
Considering we only spent about $346 on table service dining, we sampled a large variety of places and types of food throughout our trip.
Unlike last month in Madeira, restaurants weren't going to be quite as cheap. That goes doubly for The Netherlands which made restaurant visits a costly endeavor.
Once you account for tax (the lack of) and tip (also lacking), menu prices came out pretty close to what we'd expect where we're from.
But, there were still exceptions.
The high-end dining experience
In fact, our second most expensive single restaurant visit was to a gourmet hotdog joint. Hotdogs! A pair of them plus fries for about $32. Wow! But, they were pretty darn tasty!
Our most expensive restaurant visit for the month was on the grounds of one of our hotels. You'll have to read about the Cortijo hotel near Granada in the hotel section below. But, the restaurant on the grounds was known to be a destination, so we gave it a shot.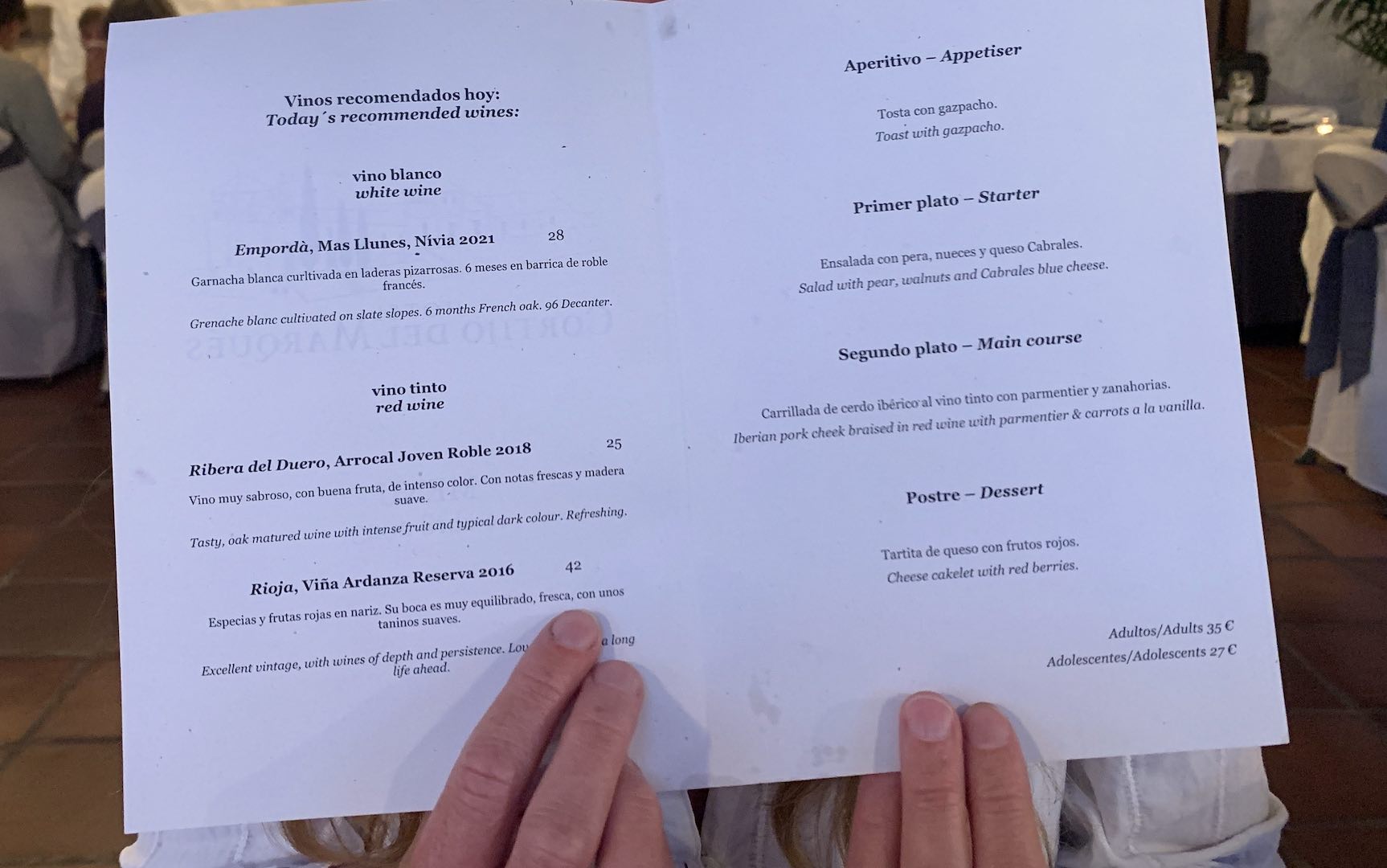 The fixed, three-course menu was quite tasty. Our only complaint—we were still a little hungry afterward! This was around $75.
Table service dining at takeout prices
Meanwhile, our least expensive restaurant visit was one of Jenni's favorites. The small harbor-front cafe with outdoor seating on the water had gluten-free, savory, baked goods.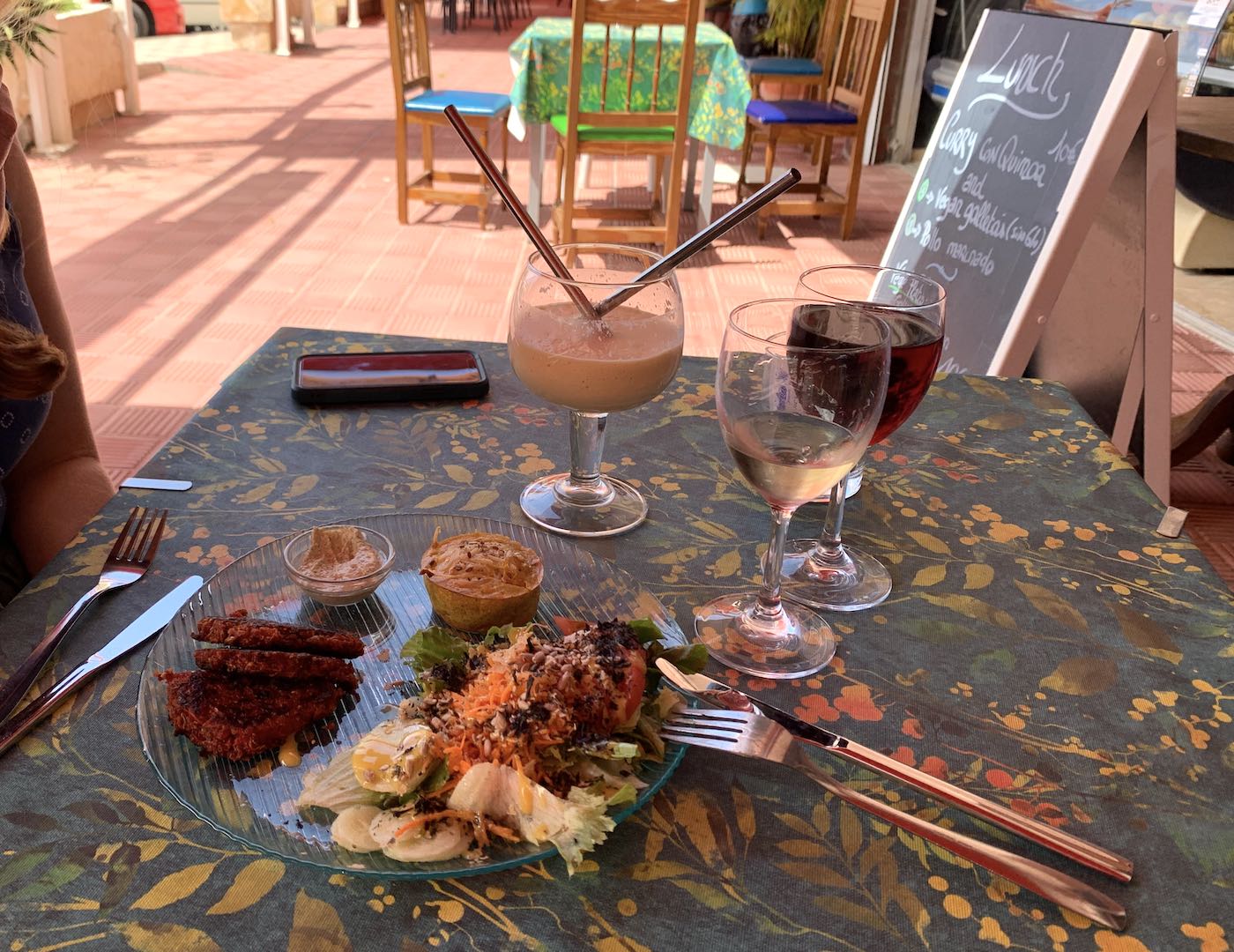 Add a salad, two glasses of wine, and a fresh fruit smoothie–the total was about $19.
That made for one happy Jenni!
We had multiple other lovely, easy-going cafe and restaurant visits that were about $20, too!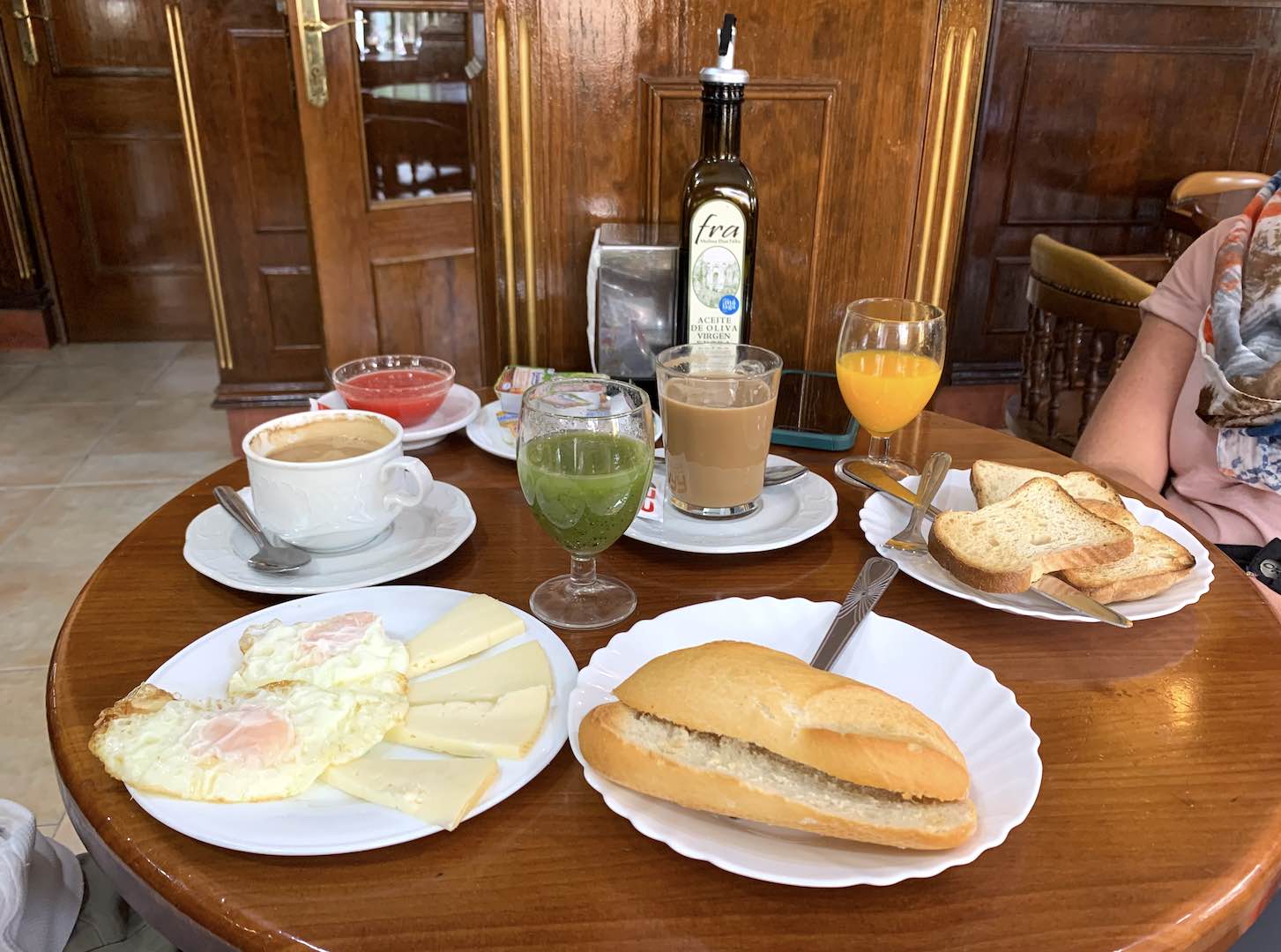 Tapas culture
And then, of course, there were the tapas.
My, oh my…
As it turns out, tapas are served differently in different regions of Spain. In some, you'd sit down at a restaurant and order a drink for a few euros just to suddenly have a small dish of food come out beside your drink.
It wasn't something you'd know ahead of time—though you were encouraged to let the staff know if you had food allergies—it was whatever the kitchen had cooking.
As you can imagine, being able to order a glass of local wine for $2-4 and have it come with food is not something we're accustomed to. So, we had quite a few tapas visits.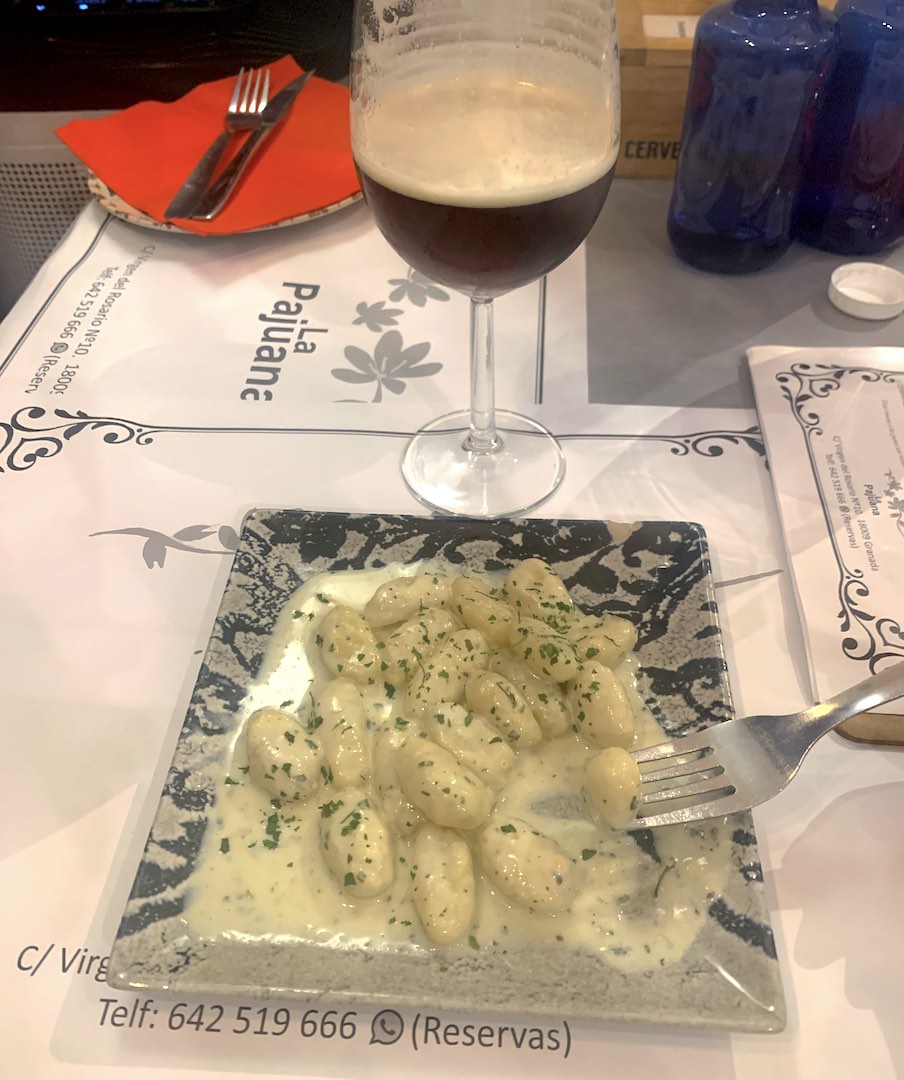 Fast food
And then, of course, there were the coffee shops and bakeries. Phew. The financial costs (about $71) were cloyingly low for so many of Spain's tasty treats, but the health costs are going to stay with us for a while!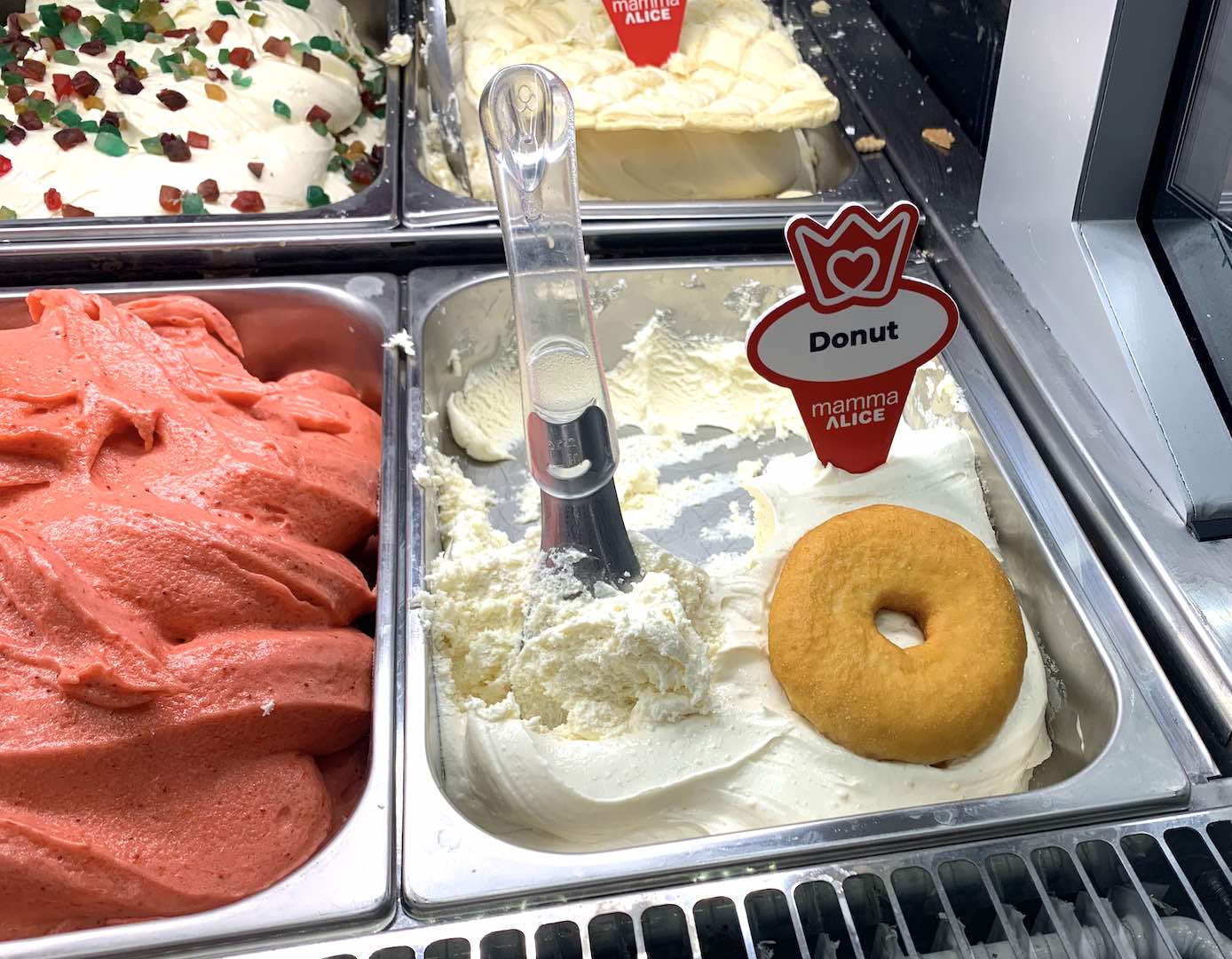 Empanadas, toastas, and gelato. They were everywhere! And so inexpensive.
We ended up trying to hold ourselves back from these things—not because of the dollar costs—but because we didn't want to go home with too many extra pounds!
Still, it made for great on-the-go food.
We spent $814 on food & dining this month.
Travel
The vast majority of our travel expenses for this month went to places to call temporary homes. While we did have rental cars, train rides, taxis, and the occasional flight—none were individually expensive. Our transatlantic flights were in March and coming in May's budget.
Hotel
Our total hotel costs were very high in absolute terms: about $1,721. But consider that's for a full month of sleeping, cleaning services, gyms, pools, and the occasional breakfast. That averages out to under $58/day.
That's pretty incredible! We stayed at some amazing places.
The thing that really pushed our costs down was utilizing hotel reward certificates and points for the more expensive places.
While our Airbnb stays in Spain probably did come close to $58/day on average, the cash rate for our hotels in The Netherlands occasionally cracked $600!
In fact, our entire trip in The Netherlands (April 22 to May 6) utilized points or certificates to cover the cost of each hotel night. It was difficult to find a mid-tier hotel (think Hampton Inn or Courtyard Marriott) in The Netherlands where and when we were visiting that was less than $200. So, our points/certificates rescued us from significant costs.
Airbnb
Below are a few images from a pair of the more interesting Airbnbs.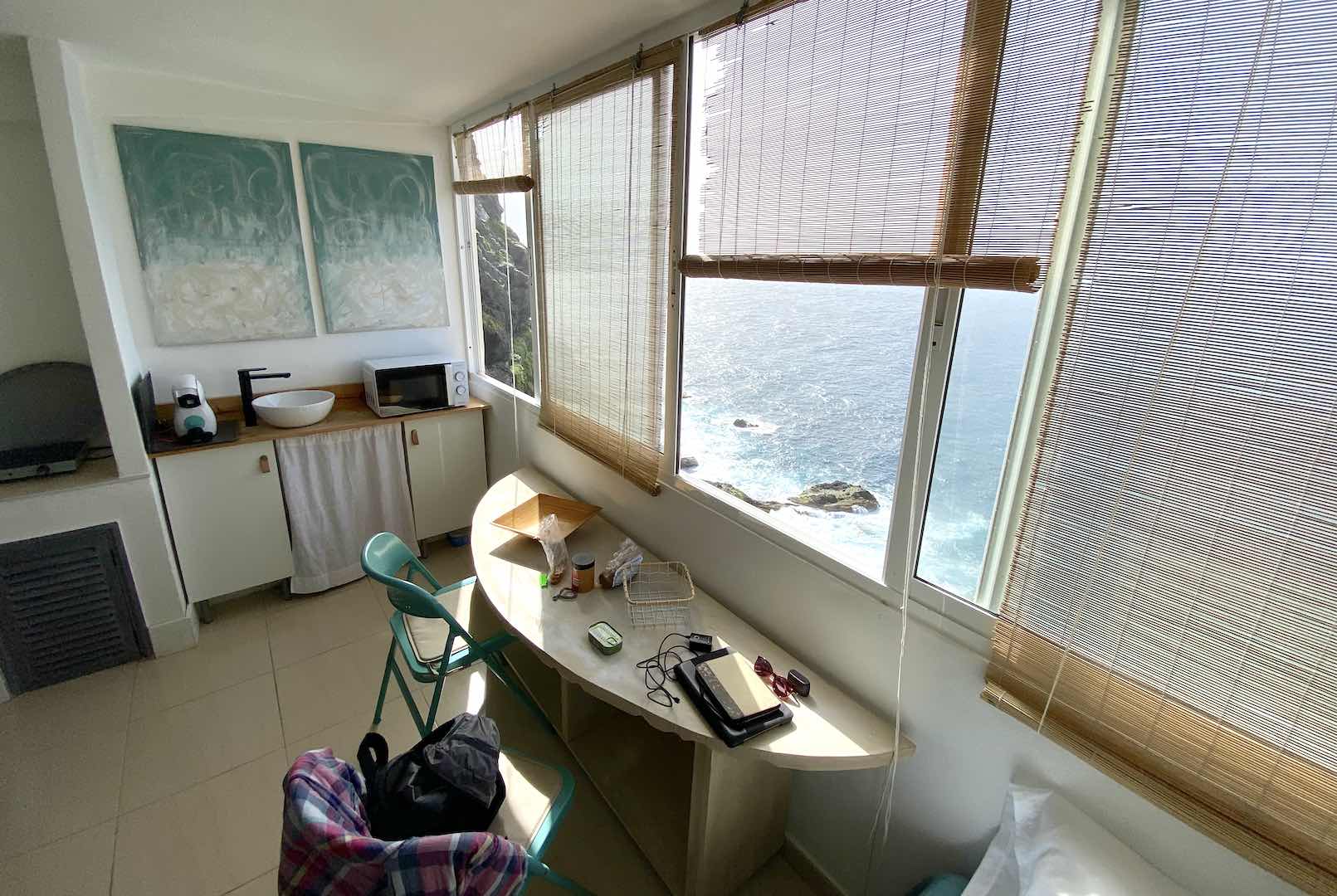 On Tenerife's northern coast, we stayed in a cliffside apartment. It looked directly out and over the water! It was a small place but had one heck of a view!
The 3rd-5th images are of a set of caves we stayed in on the southern side of Tenerife. Partway up Tenerife's mountainous Teide volcano (the tallest point in Spain!) lies historical cave dwellings used by people over the centuries.
A local couple owns a set of these caves and has turned them into a modernized hotel experience that looks out across a wide expanse of the island. Pretty wild experience!
Neither of these Airbnbs averages out to much more than $100/night.
Traditional hotels
Of all of our hotel experiences, we most loved the Hotel Cortijo del Marqués north of Granada in Spain. This amazing hacienda is centuries old complete with a historic chapel and expansive grounds nestled into miles of olive trees.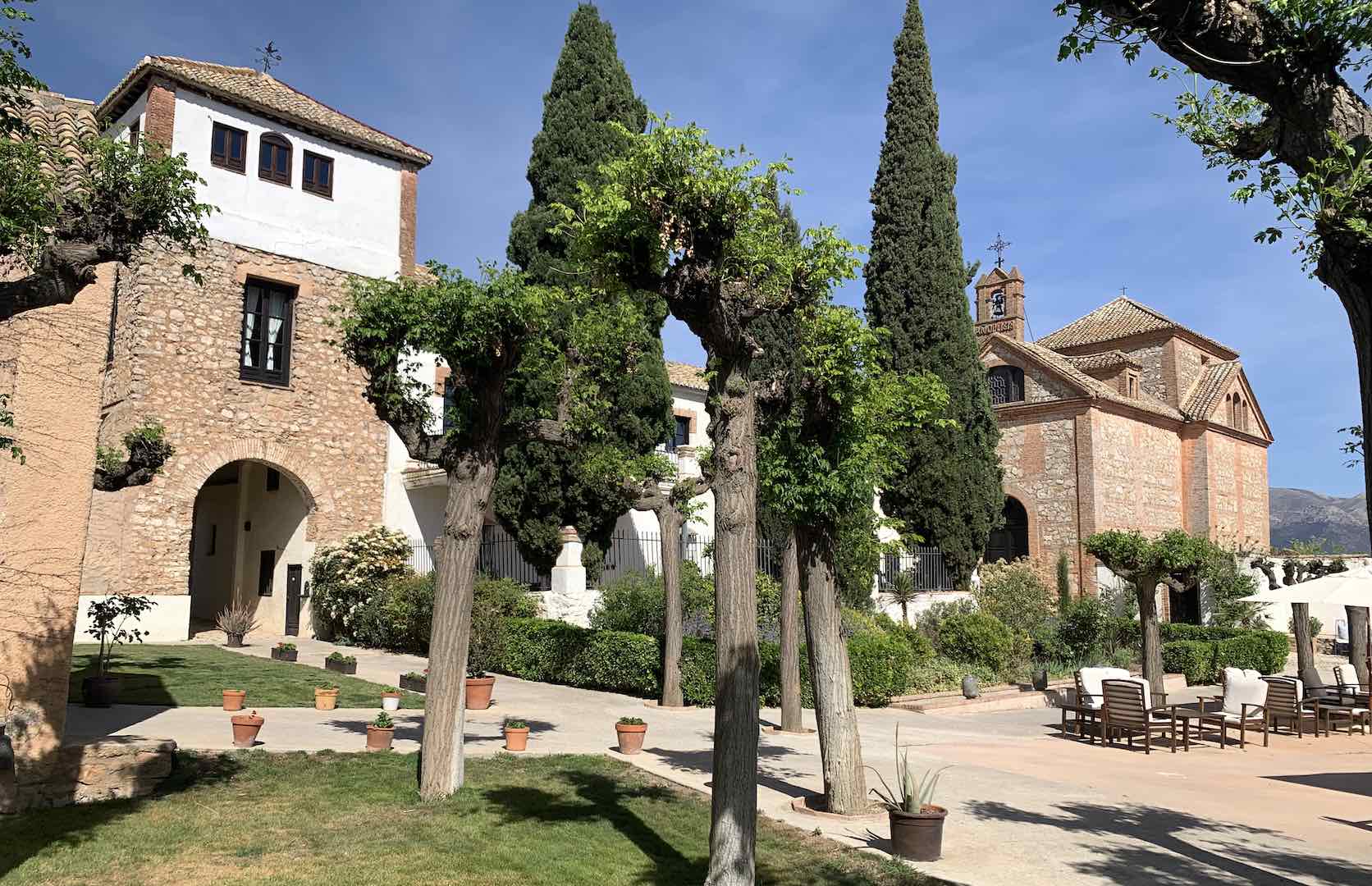 The hotel is part of IHG's rewards program. Our trick to staying here was to purchase points that were on sale with a 50% discount and then combine that with Jenni's IHG credit card bonus that lets her get a fourth night free when booking three nights on points.
Ultimately, this meant we spent about $270 to stay here for four nights.
The cash rate wasn't bad at around $150/night, but we really got a deal. This place really deserves its near-perfect rating on Tripadvisor.
Air travel
Air travel ticked in at about $105. Unlike last month, we didn't miss any of our flights in April! That's a good start. Ha!
We flew from Tenerife to Málaga early in the month via Ryanair. Thankfully, we had no issues with this cheap flight and our backpacks.
Just ahead of The Netherlands' massive tulip festival and King's Day celebrations, we flew from Málaga to Amsterdam late in April. We booked the flight on KLM with Virgin Atlantic miles and paid a small fuel surcharge.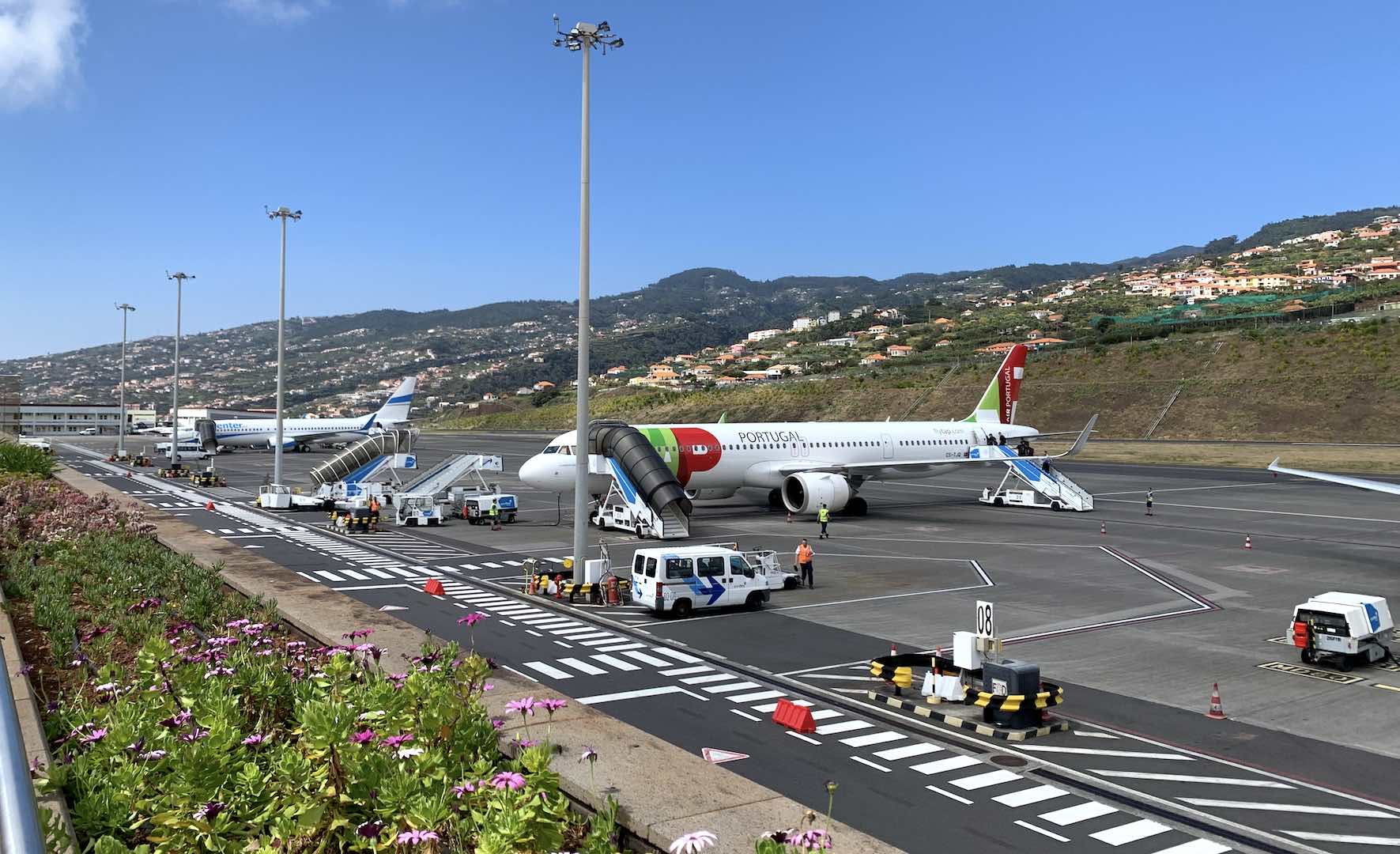 Rental car & taxi
We spent about $405 on rental cars which translated to having a car for about half the month.
While we are both proponents of living in a walkable city, and loved that part of staying in The Netherlands, it was really nice to see so much of Spain and Tenerife with a car. We certainly couldn't have enjoyed the more rural parts as we did without one.
For our rentals, we went with smaller, local/regional organizations and were quite happy with the level of service and price.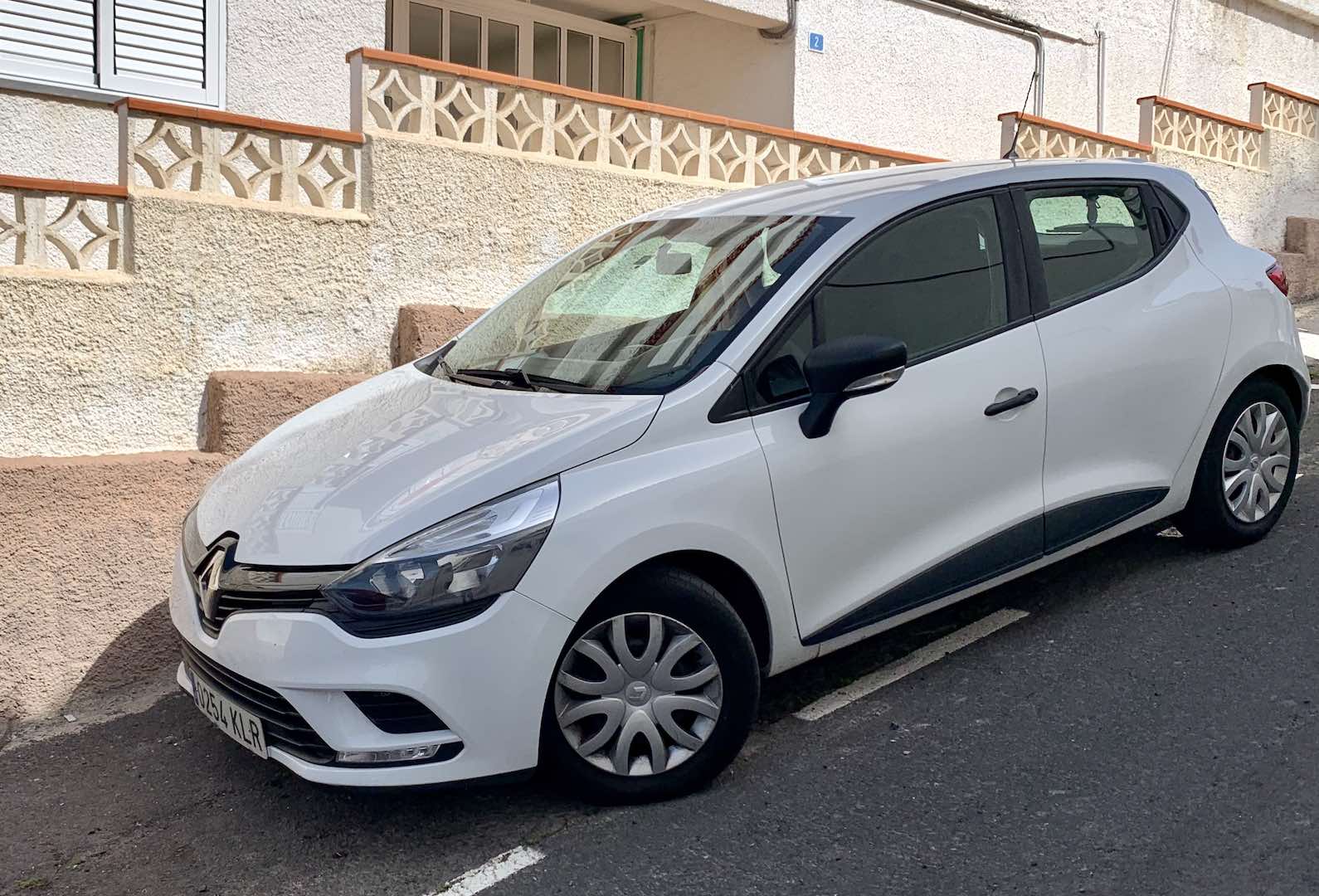 Summary
Overall, we seemed to do pretty well with our travel expenses for an entire month in Europe.
We didn't have any big surprises (unlike last month), and we did a good job of reigning in the areas that can get costly—like overly fancy hotels or unnecessary car rental upgrades.
Once the trip's expenses conclude next month, we'll tally up the total trip cost.
We spent about $2,231 on travel this month.
Auto & Transport
This isn't typically a spending category we make much mention of except during the rare and expensive car maintenance. But this month, it's featured due to the subcategory of… Public transportation!
That's right, we made good use of buses, trains, and bikes throughout Europe!
Of course, fuel for those rental cars also added up.
But the big expenditure was on The Netherlands' national railway system.
Public transport
We had no rental car while visiting there and instead relied on the trains, our two feet, and a set of pedals. Between the trains, buses, and bikes—we spent about $227.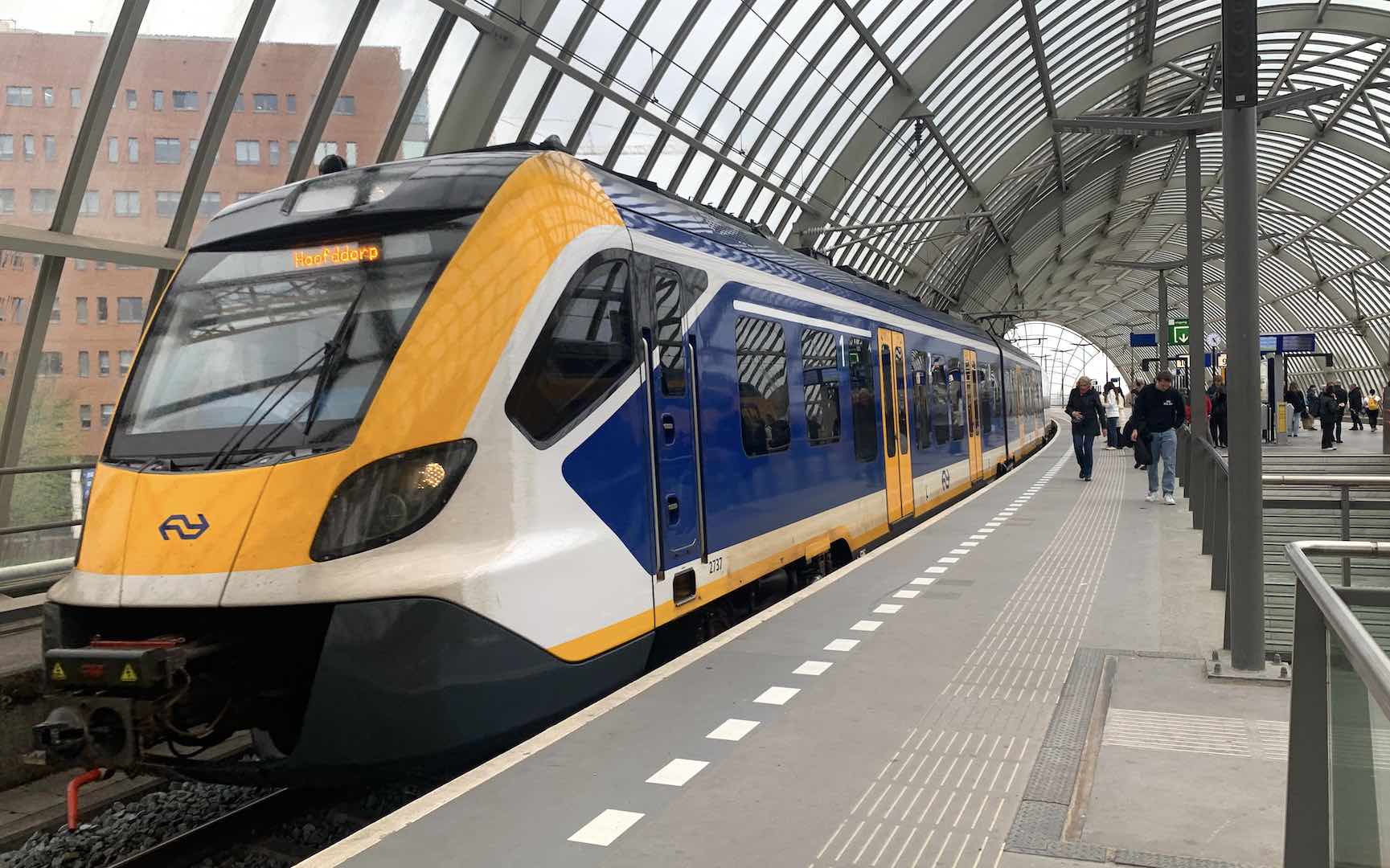 While NS was consistently on-time, modern, clean, and very enjoyable to ride—it did come at a cost. It was still less expensive—and far preferable—to driving, but not by much compared to what I'd expect for similar trips in the US.
To be clear, we're train fans so that also made traveling by rail all the more enjoyable.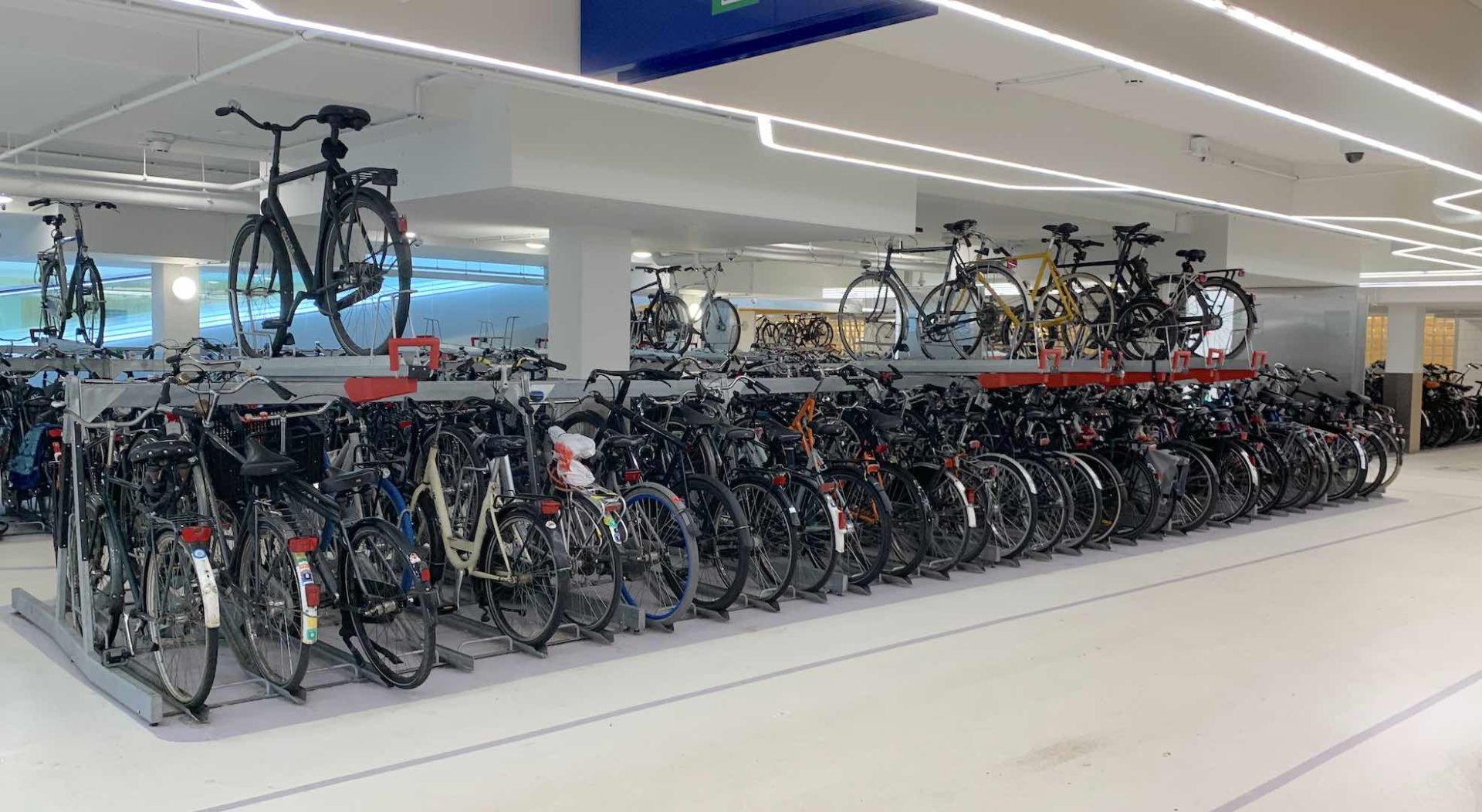 Aside from trains and walking, we also made good use of Donkey Republic's rental bike network. They're easy to use and find with their app which also lets you lock and unlock the bike on the spot.
Prices are variable—we paid several times more per hour in Amsterdam than in Dordrecht for the same bike model.
But, it seemed that the average rate was a few dollars an hour and up to about $10/day (when renting at the daily rate in advance). This is for a base mechanical bike.
That's a good deal for those distances that are a bit much by foot but where a train doesn't run. Not to mention, two wheels are a great way to explore, exercise, and…have fun! The Dutch bike path network is stunning!
We spent about $400 on auto & transport this month.
Amusement
Tickets, tickets, tickets! Most of our amusement spending this month came from visiting a variety of cultural and historical sights. We really saw a ton of museums and had some really great experiences.
These are some of the headline activities–
Netherlands:
Spain:
Ronda's Arab Baths
Ronda's Casa Del Rey Moro Water Mine
Catedral de Jaén
Alhambra tour, audio guide
Whale-watching Catamaran tour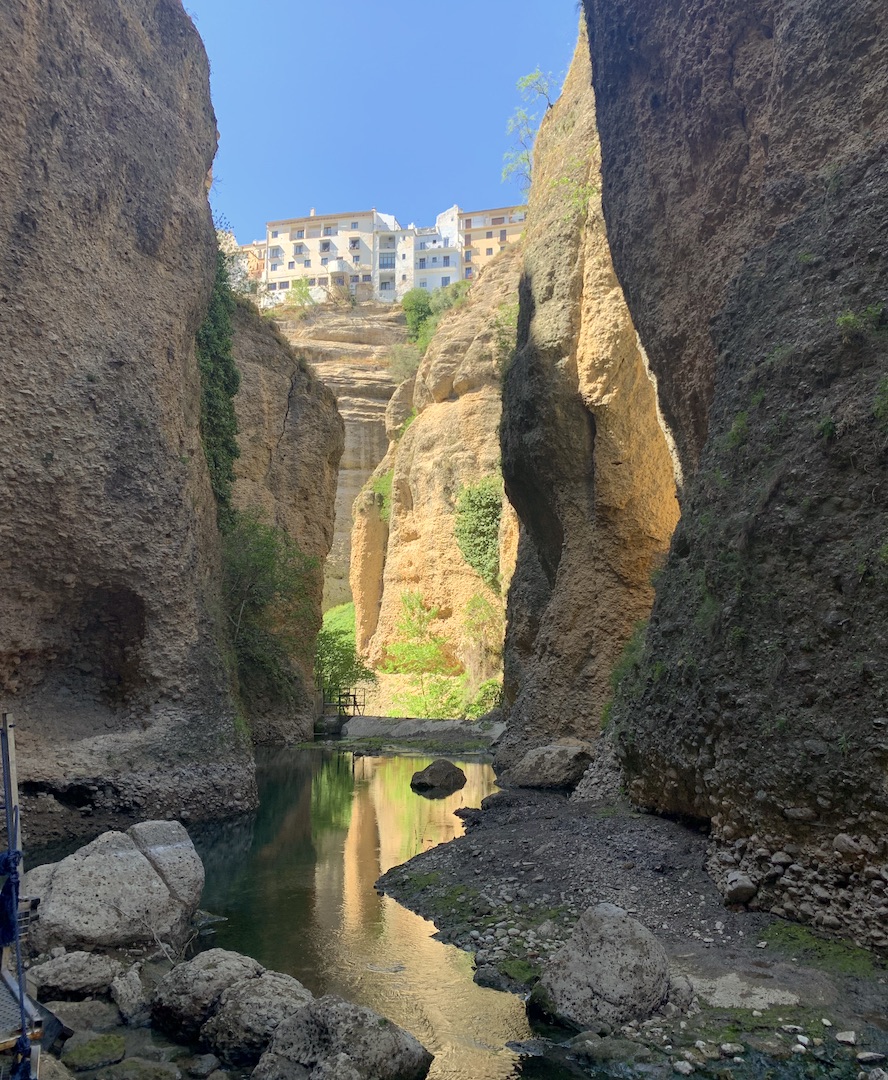 Of course, we did, and saw, much more than just that bullet list. But, this does represent our ticketed visits and tours.
We spent about $224 on amusement this month.
Expense Conclusion
While that covers the big stuff, we still had a few random small purchases to mention that might be of interest.
Mobile phone
As mentioned last month, we're using RedTeaGO without issue to obtain an ESIM in each of our phones throughout Europe. 30 days of service with 1GB of data is $2 in Portugal, $3 in Spain, and $4 in The Netherlands. It's been great!
Credit card annual
Chris reported a $250 credit card annual fee for his AMEX Gold card. He's renewed it because of the benefits but might skip it next year. We mention a monthly $10 UberEats and $10 Grubhub credit that he gets. This is the source. That $240/year in credits mostly offsets the fee and he typically gets a good pickup deal from bakeries or convenience stores for things we actually need.
How Much We Work
We like to keep track of how much time we spend doing work that is paid.
Let's add this month to the list…
| Month | Chris (Hours Worked) | Jenni (Hours Worked) |
| --- | --- | --- |
| May 2020 | 41 | 108 |
| Jun 2020 | 38 | 96 |
| Jul 2020 | 36 | 120 |
| Aug 2020 | 39 | 48 |
| Sep 2020 | 27 | 76 |
| Oct 2020 | 26 | 104 |
| Nov 2020 | 27 | 57 |
| Dec 2020 | 28 | 57 |
| Jan 2021 | 25 | 102 |
| Feb 2021 | 24 | 104 |
| Mar 2021 | 24 | 106 |
| Apr 2021 | 23 | 85 |
| May 2021 | 17 | 29.75 |
| Jun 2021 | 19 | 66 |
| Jul 2021 | 21 | 30.25 |
| Aug 2021 | 23 | 16.5 |
| Sep 2021 | 26 | 28 |
| Oct 2021 | 22 | 49 |
| Nov 2021 | 21 | 51 |
| Dec 2021 | 64 | 27 |
| Jan 2022 | 32 | 80 |
| Feb 2022 | 29 | 63 |
| Mar 2022 | 14 | 70 |
| Apr 2022 | 15 | 21 |
| May 2022 | 14 | 36 |
| Jun 2022 | 6 | 12 |
| Jul 2022 | 13 | 45.5 |
| Aug 2022 | 15 | 96 |
| Sep 2022 | 12 | 54 |
| Oct 2022 | 14 | 34.5 |
| Nov 2022 | 12 | 72 |
| Dec 2022 | 11 | 16.5 |
| Jan 2023 | 10 | 88 |
| Feb 2023 | 11 | 81.5 |
| Mar 2023 | 12 | 47.5 |
| Apr 2023 | 8 | 1 |
We both cut our workload while traveling. Jenni squeezed in just an hour of remote work from the Canary Islands!
Net Worth Update
Net worth is not our primary measurement and can understand it can be discouraging if you're working yourself out of debt. We also understand it's difficult to be transparent with our readers without divulging this information so we continue to do so.
Account breakdown
The market keeps chugging along and so do our investments. From a high level, our assets and liabilities are shown in the data table below as of April 30, 2023.
| Description | Value (USD, $) |
| --- | --- |
| 401(k) | 738,325 |
| Brokerage | 727,200 |
| Roth IRA | 140,760 |
| Traditional IRA | 12,915 |
| HSA | 47,307 |
| Real Estate | 382,050 |
| Mortgage | (142,380) |
| Miscellaneous Assets | 56,642 |
| Checking & Savings | 19,648 |
| Net Worth | 1,981,934 |
Miscellaneous assets include specific investments we've made in physical assets (think collectibles) and treasury bonds
Amounts do not reflect the value of the businesses Chris owns or their assets, which should appear as income to us over future years
Jenni's Prius is not included
The S&P 500 was up about 1.5% for the month.
We gained close to half of that with an increase of 0.6%.
Overall, our net worth increased by around $12K. Hard to argue with spending a month traveling just to see your net worth go up!
Net Worth History
Previous Donation Winner
Last month's poll winner was Virginia Capital Trail Foundation with seven votes. This was a perfect winner, as they just held their annual Cap2Cap bike ride to raise funds for their work. May is also National Bike Month, so what better way to celebrate than by supporting their work making more opportunities for people to enjoy the beauty and history of Virginia.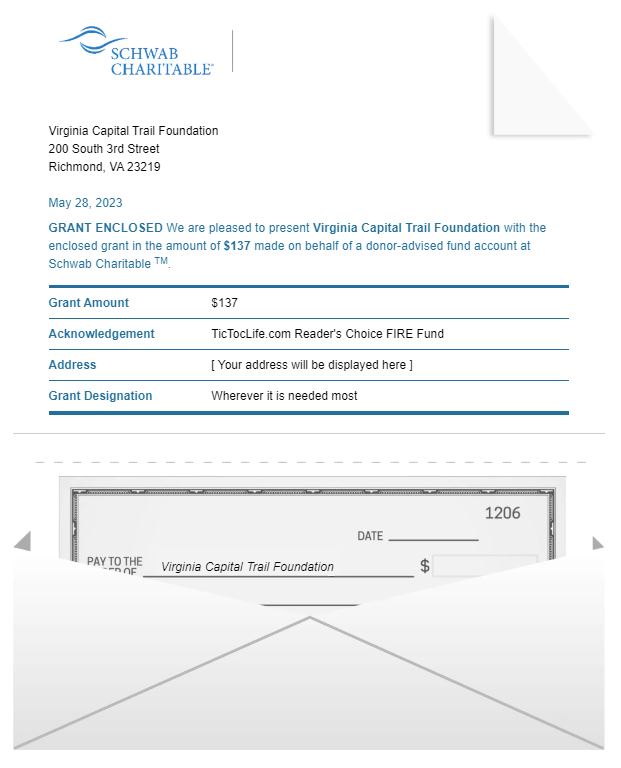 Our Reader's Fund seeks to leverage the principles of FIRE to build a lifetime of giving.
Thank you for your participation in our polls over the last 33 months. We've given over $4,000 to deserving charities with your help in deciding which organizations to donate to.
Polls are now open for our next round of candidates: Kid's Camp Charities.
Charity Round-Up
Imagine yourself as a kid again and you are heading to camp for the first time. How excited are you to explore, learn, and play in a safe and supportive environment? Now, imagine it is free of cost to your family! Camp activities and events foster lasting friendships and valuable skills for children, especially when they have something in common with their fellow campers. Money shouldn't be a barrier for a child to experience camp.
As the summer begins, we have chosen three organizations that make it possible for kids to enjoy camp without worrying about the cost. Each organization has excellent charity ratings which will ensure our donation will have the greatest impact. Review each one and help us decide which organization to support by casting your vote.
Summaries below include the impact metrics and a link to their Guidestar profile which details the nonprofit's operations and transparency.
1) Comfort Zone Camp
Why? The loss of a parent or family member is especially hard on children. Being around other kids, and going through exactly the same thing in a supportive a safe environment at Comfort Zone Camp, help campers heal and grow.
Where? The United States, Canada, and the United Kingdom.
Our Notes: Comfort Zone Camp is a non-profit organization that provides camps for kids grieving the loss of a loved one. Campers are matched with a Big Buddy for one-on-one support. Healing circles are led by mental health professionals to share and reflect on their loss. Plus, kids participate in trust-building activities to break the emotional isolation grief often brings. Donations make it possible for everyone to attend for free!
2) Blue Sky Fund
Why? This organization helps Richmond's youth of color discover themselves through fun outdoor education activities that foster academic success, resilience, and character. Blue Sky Fund's goal is for children to achieve academic success through active outdoor education that matches their current science curriculum.
Where? Richmond, Virginia
Our Notes: Blue Sky Fund is a non-profit organization that works with elementary, middle, and high school students through in-school, after-school, weekend, and summer programs. Each program is designed to increase their understanding of the natural world and develop teamwork and leadership skills. As the child ages, they are advanced into a more intensive program to match their education level.
Elementary School Program: Explorers
Middle School Program: Outdoor Adventure Clubs
High School Program: Outdoor Leadership Institute
3) Childrens Life-Saving Foundation
Why? For a child living in poverty or without a home, attending camp seems like just a long lost dream. Children's Life-Saving Foundation (CLF) turns that dream into a possibility by hosting field trips, offering outdoor education, and scholarships at no charge.
Where? Los Angeles, California
Our Notes: Childrens Life-Saving Foundation (CLF) is a non-profit organization severing vulnerable families in Los Angeles, California. Their various programs for youth include free outdoor educational summer camps, teen surf camps, and counselor programs, annual holiday Project Angel Wings. All programs provide a unique opportunity for kids to grow and learn at camp that they would never have access to otherwise.
Nonprofit poll
After reviewing the list above, please take a moment to vote for which nonprofit you think will put funds to use in the best way.
(Have trouble using or seeing the poll above? Some reader tools or apps may not display it. View this page in a browser or use this link to our Reader Fund page which has a copy of the poll!)
Thank you for taking the time to vote!
One of our primary goals with TicTocLife is building a stream of giving within the FIRE community and that starts with knowledge.
Want to hear about the results? Signup for our free FIRE Insider newsletter! We send it out every few weeks and include the monthly poll results and donation winners. You can see an archive of the FIRE Insider and signup here!
What's Next
This month's budget update is winding down our six-week trip from Portugal to Spain and The Netherlands. Our next update will still have about a week of Dutch travel in early May, so there's more to come!
Looking back at the trip, it's really notable just how much we did that cost nothing—aside from getting there. We had countless walks through parks, along canals, or through town. Architecture and landmarks drew our eyes in while the Mediterranean sun kept us cozy.
We were awed by Ronda's ancient bridge spanning the new and old.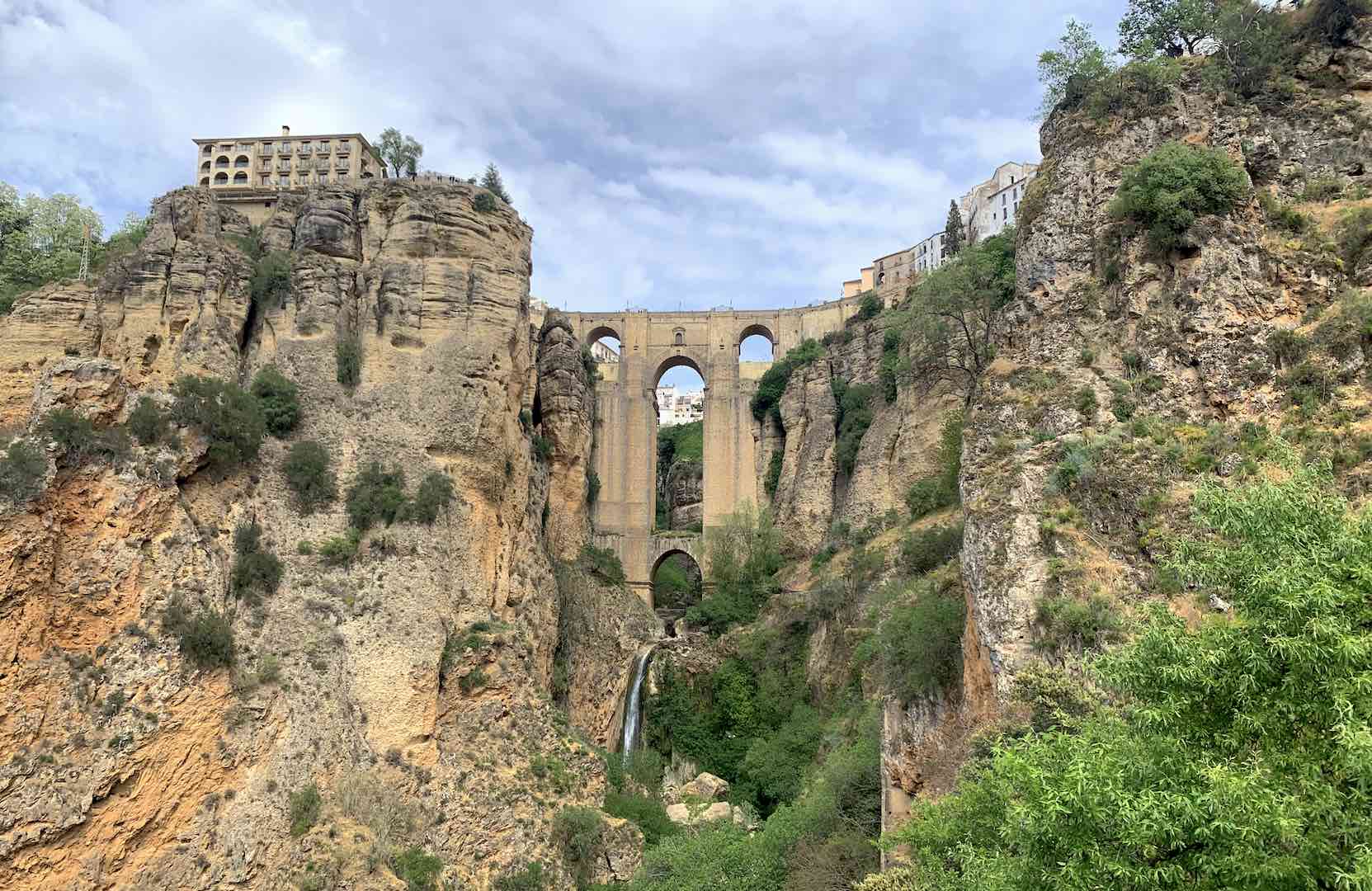 Standing in Acinipo's ruins left us feeling the weight of history.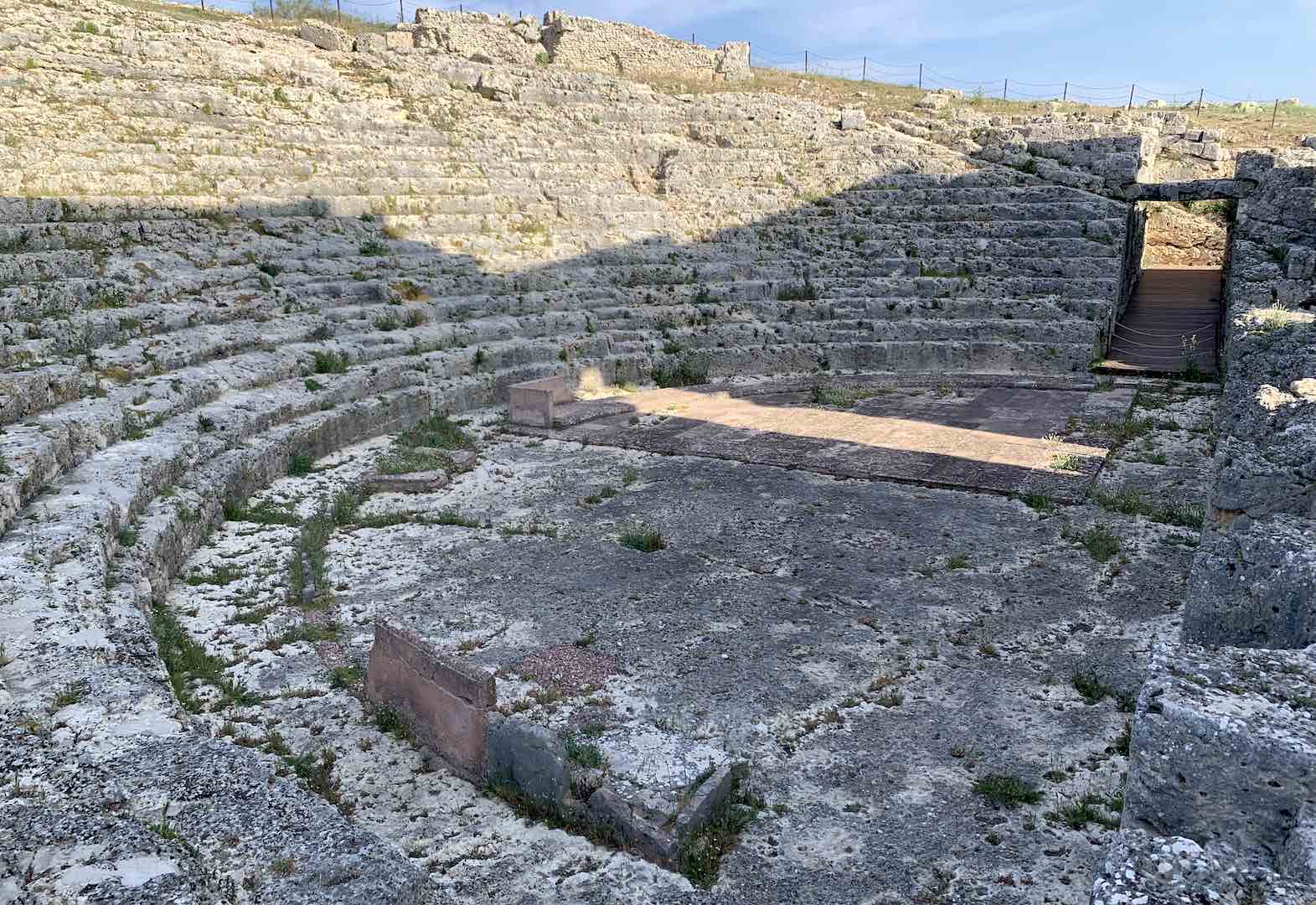 Riding along Kinderdijk's serene canals as the wind blew the flowers filled us with peace.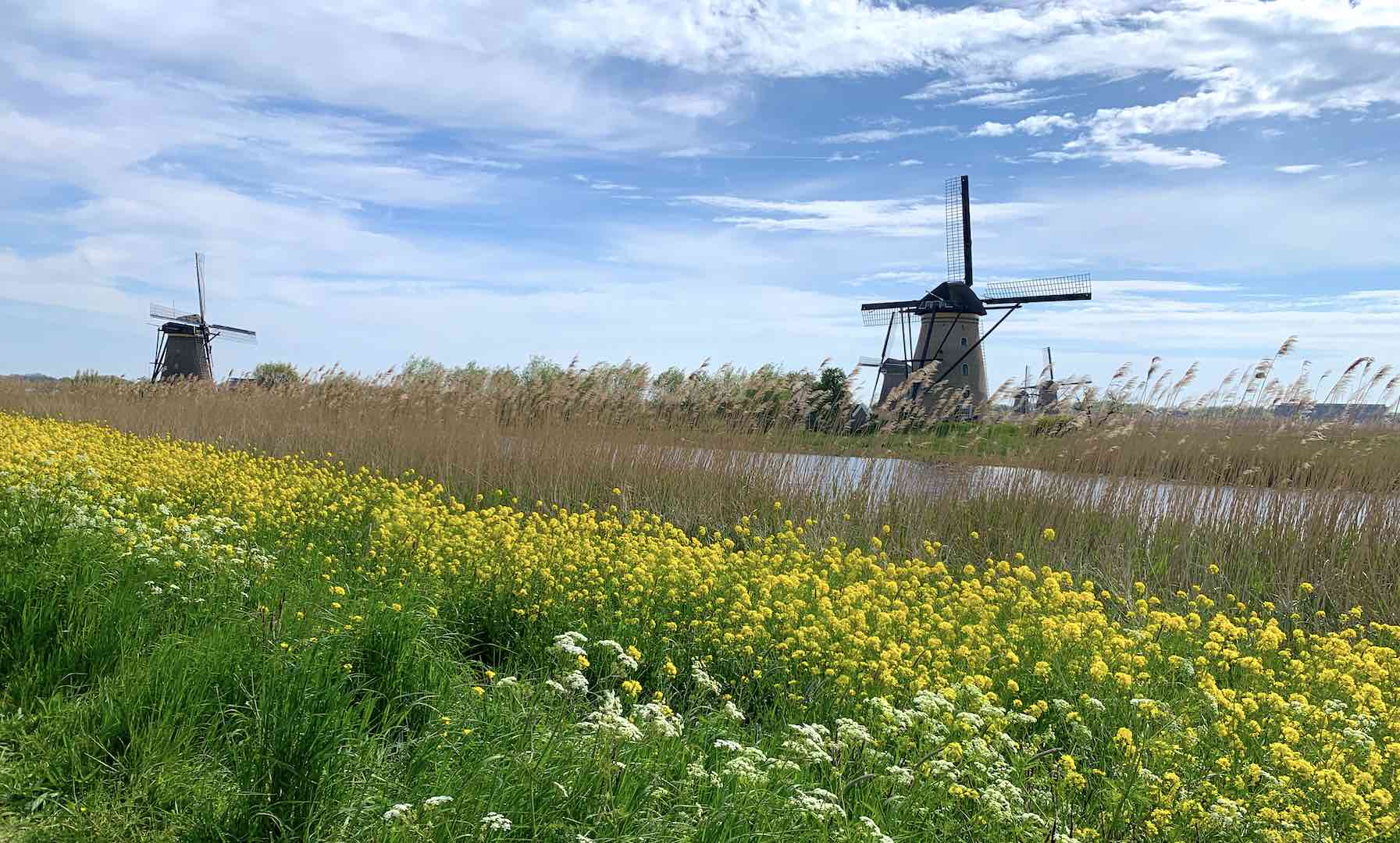 And none of that cost a dime.
---
How's the summer travel season looking for you, where are you headed?
Let us know in the comments or on Twitter!