Happy New Year! Welcome to 2023 and our ongoing battle to maintain our financial independence while simultaneously living a life of thrills, giving back, and soaking up some joy along the way!
We've got an oddball breakdown of our monthly FIRE budget for you this month! As is often the case, a lot of dividends and other year-end monies show up in December. That's certainly the case here as we put almost $50K into savings!
We also have a huge trip breakdown after spending 17 days skipping from the US via the Azores to Portugal and back with a transatlantic cruise! You'll have to check out how we spent $25/day/person on that cruise somehow!
This month, we're donating to one of three nonprofits inspired by GiveWell's approach with effective altruism. Checkout our review of them and vote in the poll below!
We like to review our income, spending, and savings to help keep us on our FIRE track. Read on for our tips, monthly update, and charity rundown.
Budget Update
If you'd like a more detailed description of our typical monthly cash flow (like our jobs or housing situation), check out our previous budget updates.
In the Sankey diagram below, the income on the left matches our expenses to the right.
We'll run through the income and expense sources for the month and remark on any interesting items.
Income Summary
While a majority of our income came from Jenni's part-time work as a pharmacist, we found several opportunities to supplement our income. Below are some of the more interesting categories this month.
Dividends
It's a dividend Christmas! Every December, we anticipate significant dividend payments from our various stock holdings—most of it from Vanguard funds like VTSAX. A little over half of our distributions were automatically reinvested in our tax-advantaged accounts.
We earned $19,110 in total distributions!
Credits
Chase cardholders are eligible for statement credits with Gopuff ($10/month). Between the two of us, we got back about $100 from Gopuff credits. That's pretty great considering most of our Chase cards have no annual fee. This promotional with Gopuff benefit has been a real boon for us this year!
Chris' AMEX Gold earned him $10 back from Grubhub which he uses on a local bakery for fresh loaves.
We received a pretty wide range of miscellaneous statement credits from AMEX, Citi, Chase, and others including:
$10 Grocery Credit (Chase, $5 off $5+ x2)
$55 Instacart Credit (Chase, $15 off $15+ quarterly and 4x $10 off $10+ quarterly)
$25 Kroger Grocery Pickup (AMEX, $25 off $50+)
$15 Grocery Bonus (Chase, 3x $5+)
$14 Gopuff (Chase, 10% bonus credit)
$100 Health Survey Reward (Anthem)
$49 Quill Gift Card (Chase, 20%)
Jenni also earned a credit for free membership with Audible and Walmart+ (through statement credits) via her American Express card.
We received $386 in statement credits.
Consulting
Normally, Chris has been earning around $1000/month from his ongoing consulting business. In reality, this is slowly drawing down assets and funds within the business. The massive increase this month reflects his desire to max out his 401(k) contribution for 2022 at $20,500. That meant that his direct deposit for the month was only $10!
Consulting earned $20,510.
Accountable Plan
If you're interested in the details of how an accountable plan for businesses work, check out this original post.
Chris's business reimbursed him a bit over three grand for the use of our house, utilities, health insurance, and other expenses. This reimbursement covers expenses for the second half of 2022.
The bulk of the reimbursement came from the business providing his HSA funding.
Reimbursements were $6,361.
Local Sales
Jenni sold off her old iPhone and iPad near Christmas at good prices ($245, total). That wraps up our big tech upgrade purchases from the last few months. We also sold a Nintendo Wii U that Jenni repaired.
We earned $403 from local sales.
Cashback
Our Laurel Road no-fee checking accounts continue to earn a $20 monthly bonus for making direct deposits of at least $2,500/month. We each cashed out our Ibotta grocery rebate accounts, too.
We earned $180 in cash back.
Expense Summary
From our huge $53,904 monthly budget, we saved and invested about $49,742.
This gives us a savings rate of about 92%!
After subtracting our credits, savings, and business expenses, we spent $3,775 on living expenses.
We are at 88% of our FIRE budget from 2021 ($4,281/month).
Let's break down some of the more exciting details.
Health Insurance
There's an extra charge in our health insurance this month, which is the interesting element to note. It's for monthly dental insurance from Anthem for Chris. He has paid for dental insurance annually through Humana for years. But, an urgent dental issue appeared while we were on our transatlantic cruise! We'll have more on that event when the bills hit and procedures are finished in January.
But for now, we'll say that Chris found it'd make sense to urgently switched insurance carriers to one that provided a higher level of coverage without a waiting period. More to come…
We spent $272 on health insurance this month.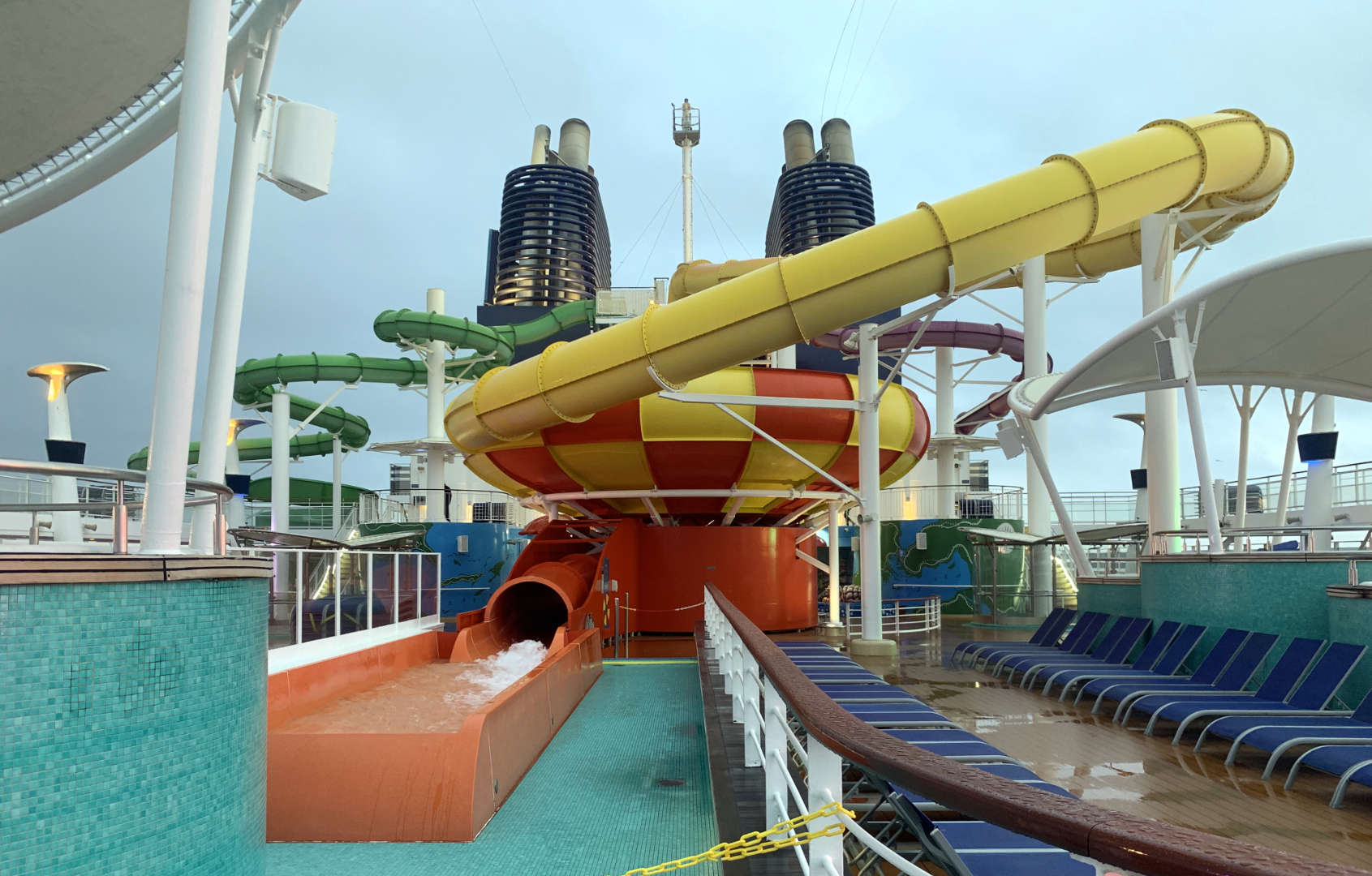 December held a once-in-a-lifetime travel experience for us—a transatlantic cruise! It's like something out of the Titanic era. A massive ship slowly sailing (er, dieseling) its way across the Atlantic.
And that moment when you can lookout across the bow and think "wow, there's not a damn thing for a thousand or two miles in any direction…".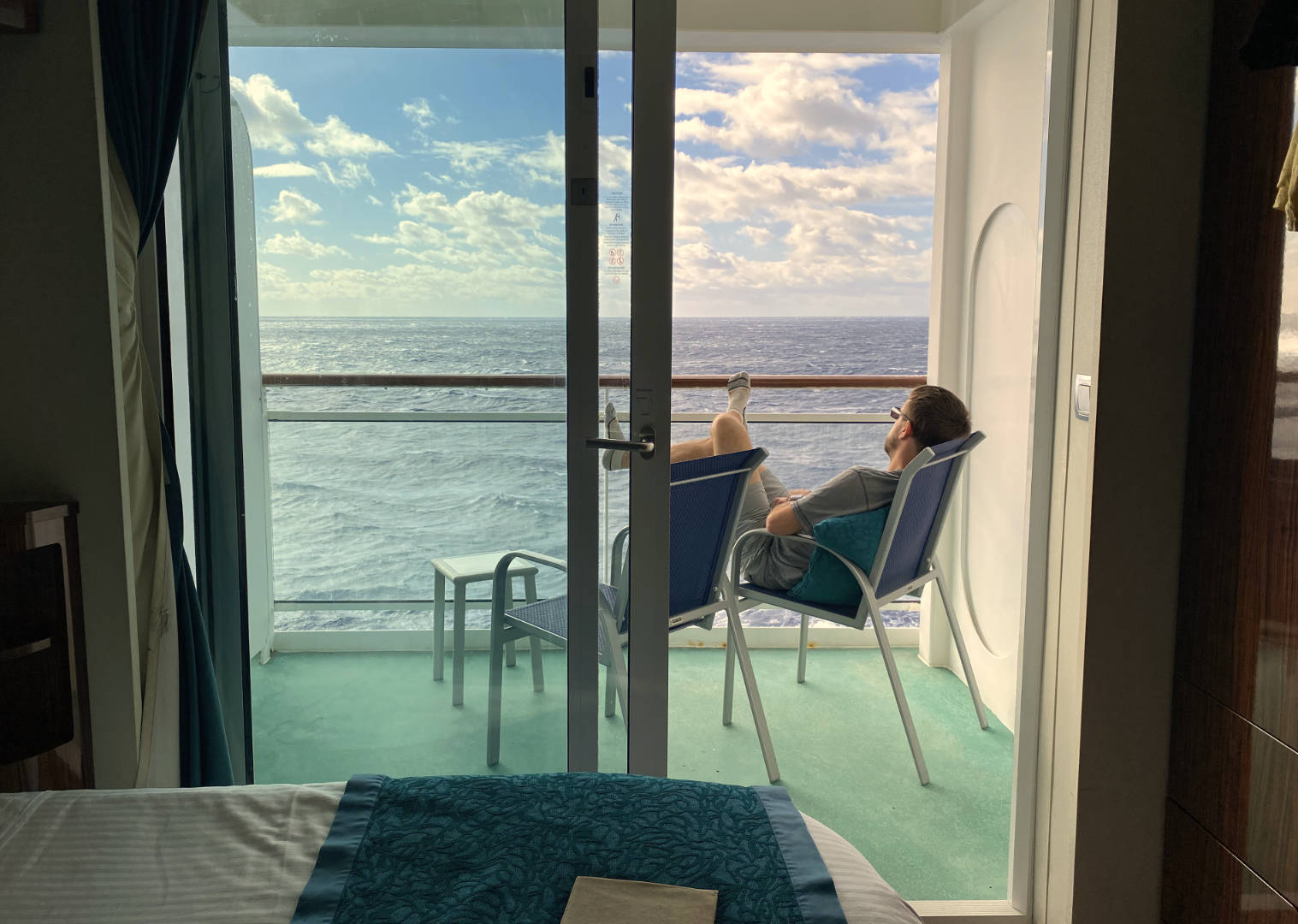 It's just you and the open water. That's an experience!
We first flew to mainland Portugal via Terceira in the Azores—mentioned last month.
---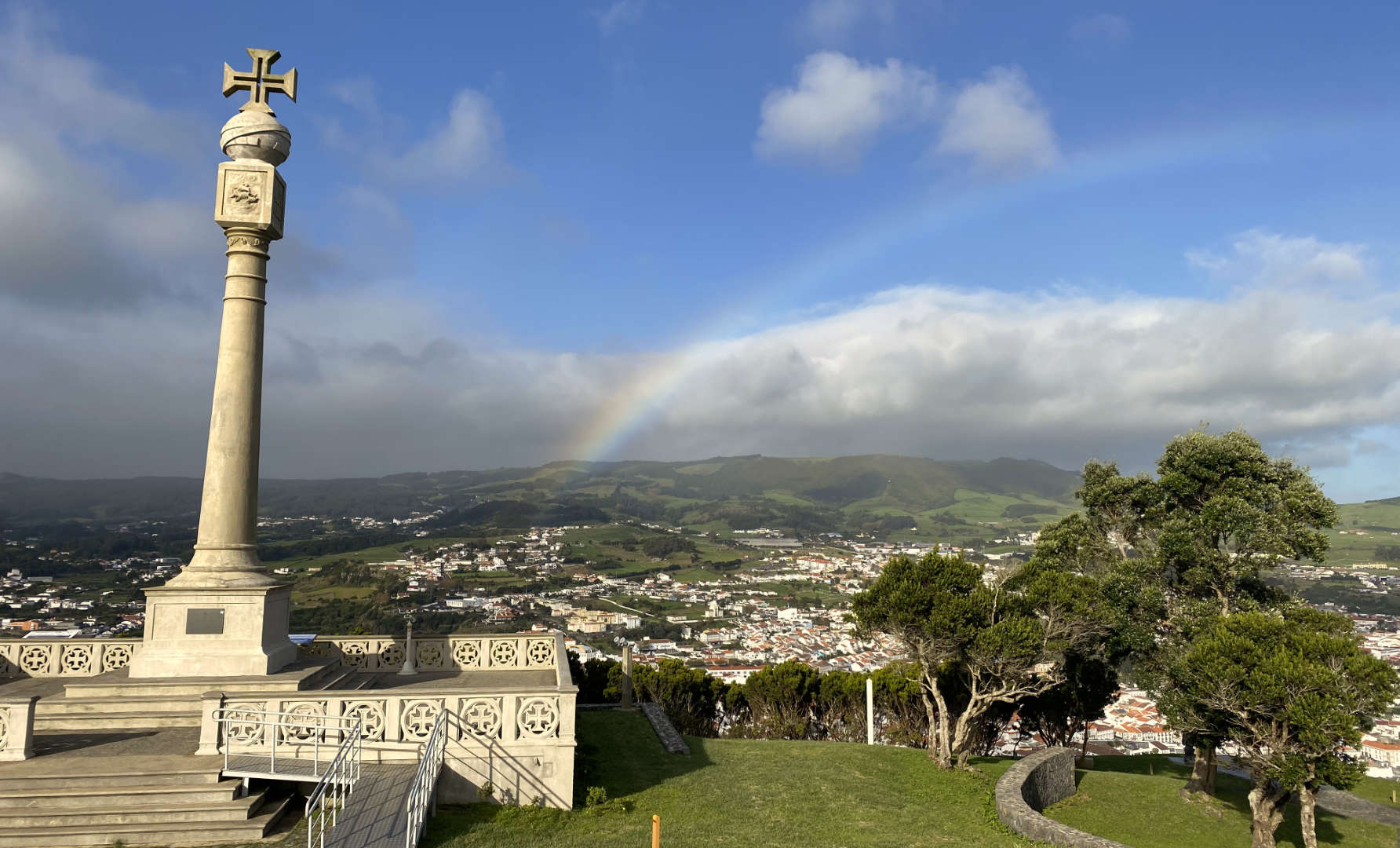 ---
Then, we spent a handful of days exploring the Algarve region on the Mediterranean.
---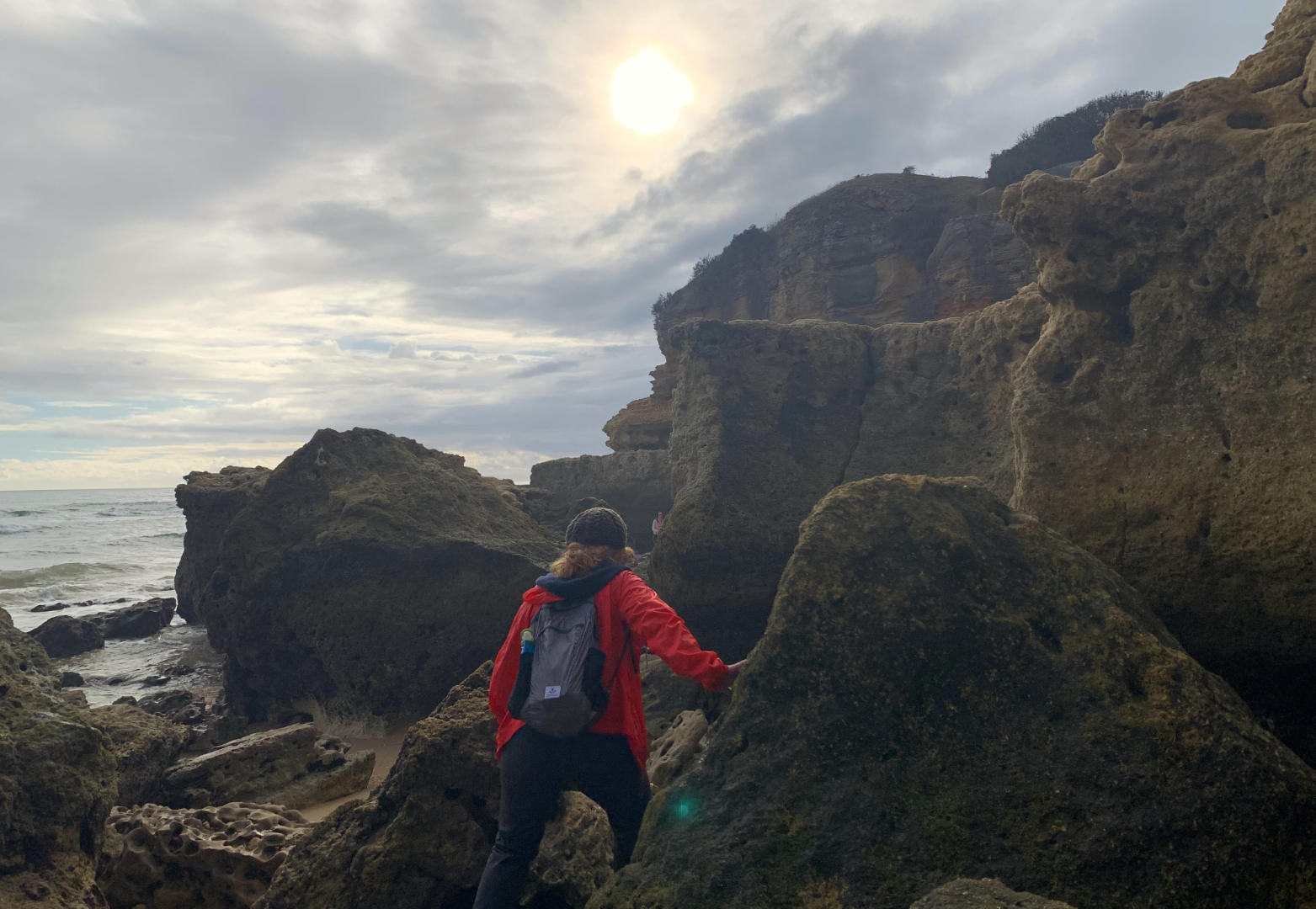 ---
After taking in the sun on the coast, we drove a few hours north to the more mountainous Alentejo region on Spain's border.
---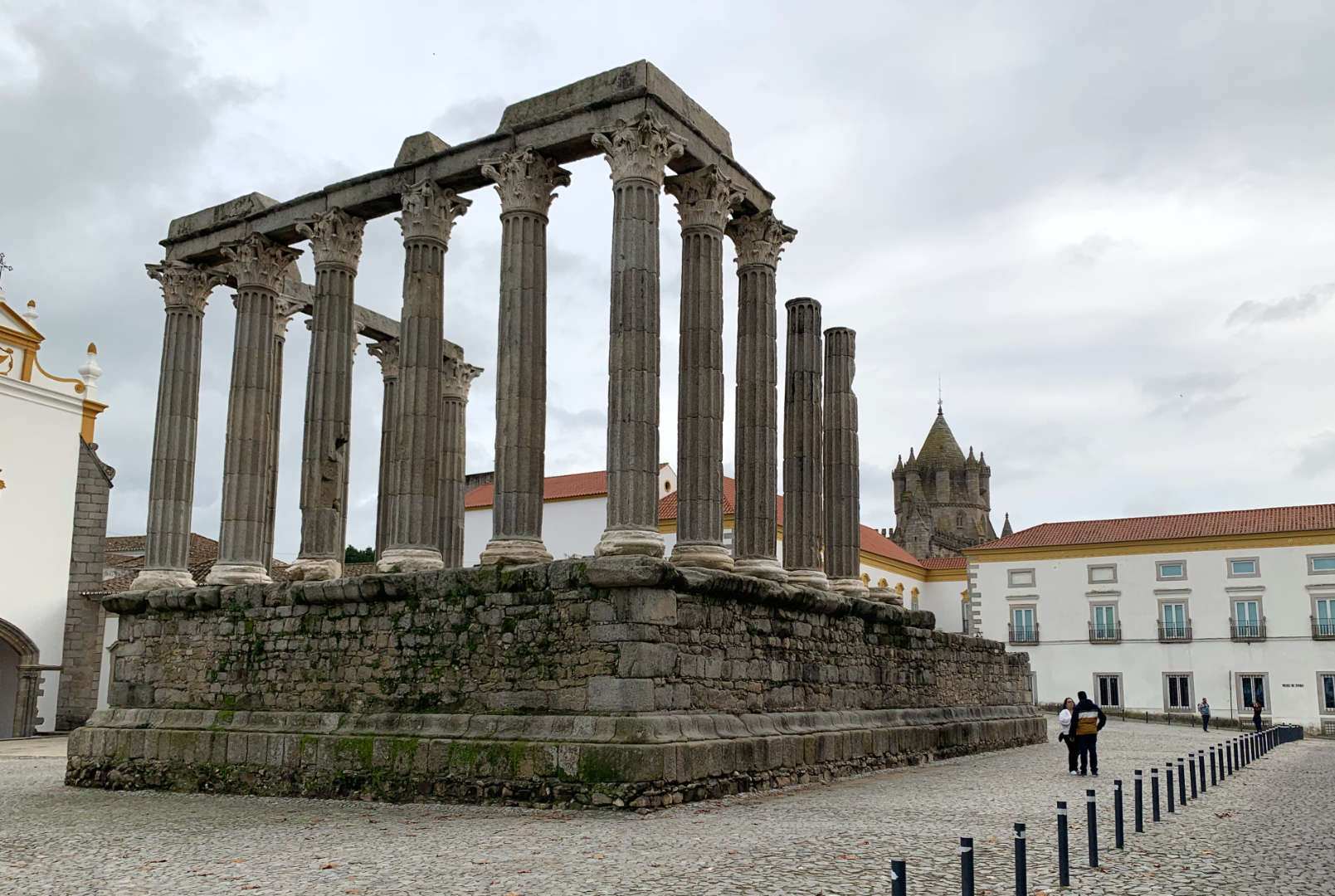 ---
Lastly, we returned to Lisbon to take that Norwegian cruise back to New York City.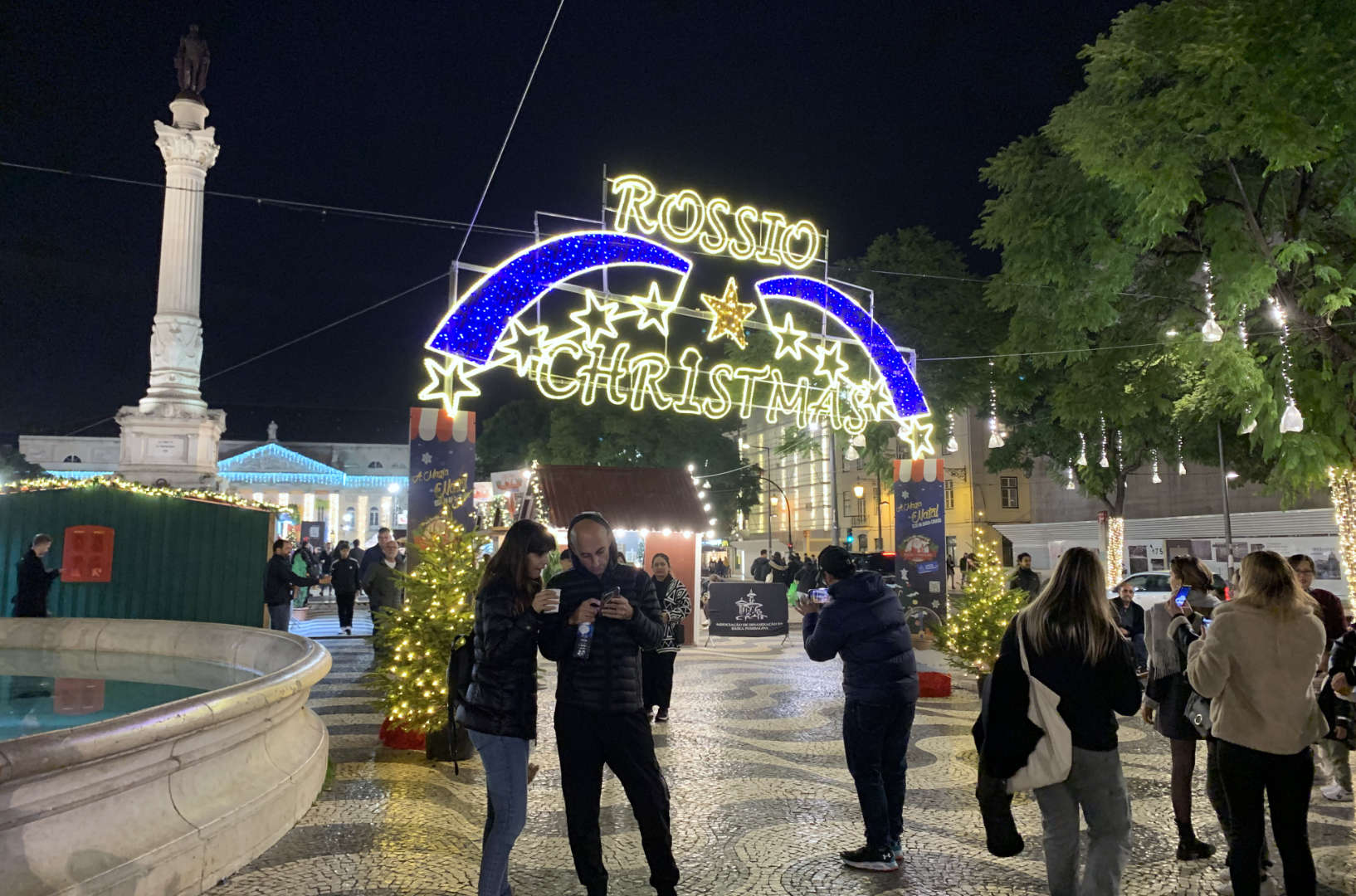 Portugal & Transatlantic Cruise to NYC
Let's take a look at our total trip expenses—including Terceira from November—now that the trip is finished.
Description
Cost (USD, $)
Rewards Pts/Miles
Flight—RIC->TER->LIS
587.94
Cruise—LIS->NYC, 9 nts w/tips
433.56
Train—NYC->RIC
0.00
8,520 Amtrak GR
Hotel: 2 nts, Angra do Heroísmo (Terceira)
128.99
Hotel: 2 nts, Algarve, PT
0.00
2x Hilton Certificates
Hotel: 2 nts, Évora, PT
0.00
2x Marriott Certificates
Car Rental: Terceira
71.97
Car Rental/Tolls: Portugal mainland
157.26
Gas & Fuel for rental cars
113.40
Public Transit: Lisbon, NYC
16.10
Taxis & Uber
19.98
Dining: Restaurants, Fast Food, Coffee Shops
431.26
Groceries
32.95
Souvenirs
8.97
Amusement: Tickets, entry fees, parking
34.95
Total
2,037.33
8,520 Points
4x Hotel Certificates
The trip lasted from November 29 to December 16. That means our overall cost was $60 per person, per day. That's impressively inexpensive!
Additionally, Chris used about a little over 8.5K worth of Amtrak points to offset roughly $180 in transit expenses.
Overall, Portugal and even the Azores/Terceira are surprisingly inexpensive. Have look at this gallery of our hotel on Terceira, some of our cheap adventures there, and some of the food!
---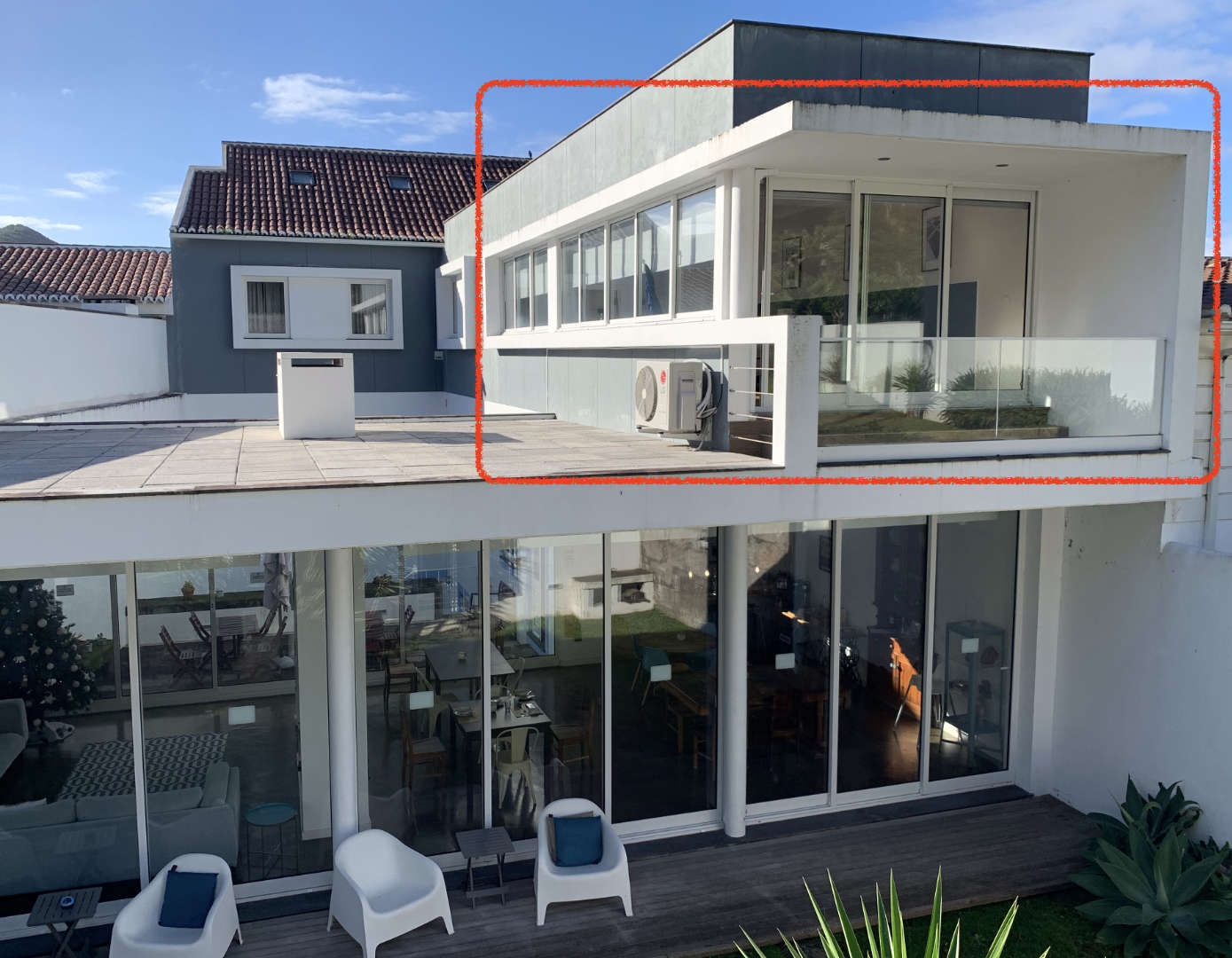 ---
We also used a total of four hotel reward night certificates earned by carrying Hilton and Marriott credit cards.
While the certificates are free, the cards are not—each has an annual fee of about $100. We generally manage to offset that cost through various other benefits, but we do mark the annual fees as hotel expenses when we're charged them.
That said, we spent two nights in a Hilton Conrad in the most expensive area of Portugal (Algarve)—a hotel that in off-season is around $250/night.
---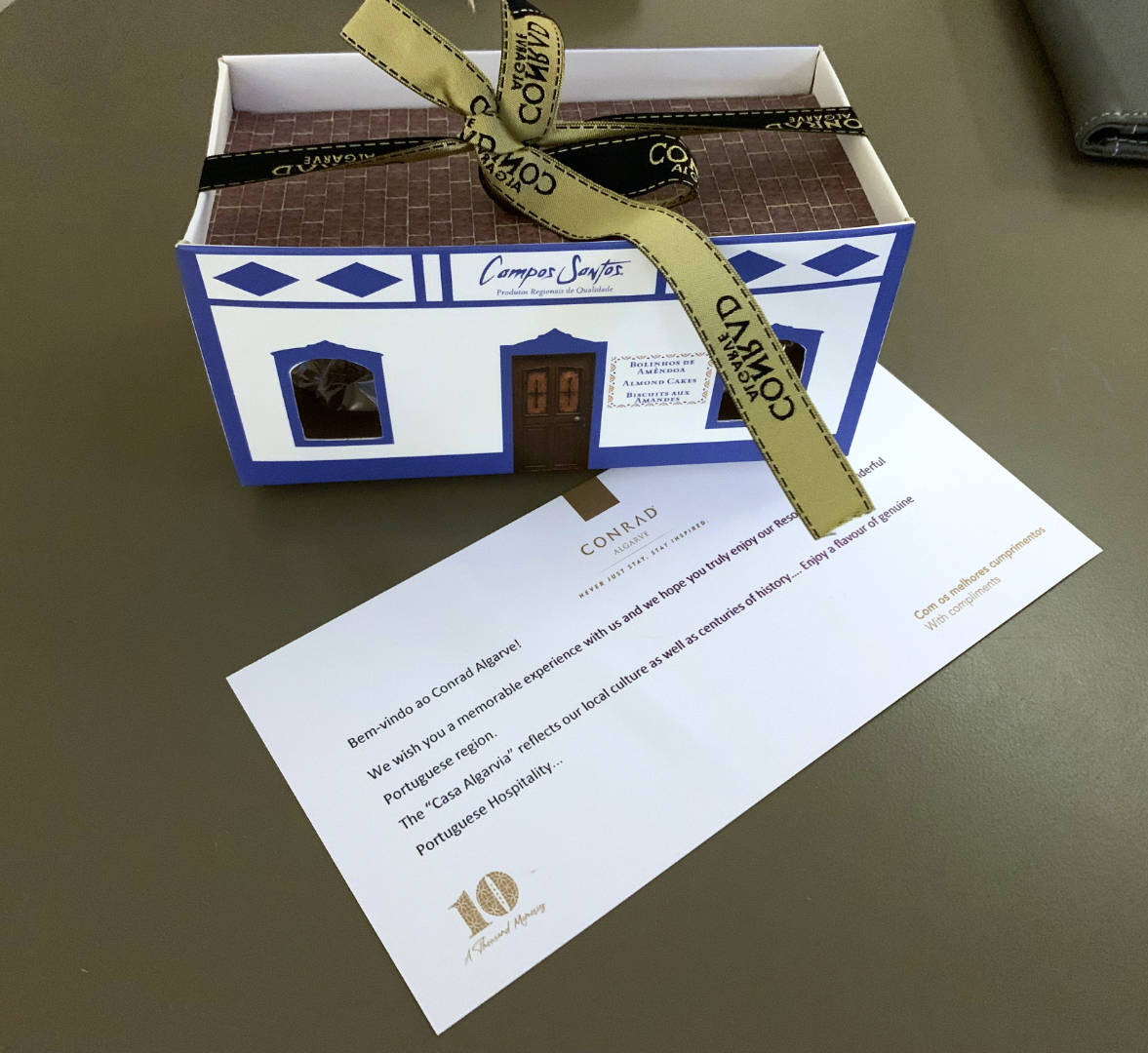 ---
We used the Marriott certificates to stay at the Torre de Palma Wine Hotel in Alentejo.
---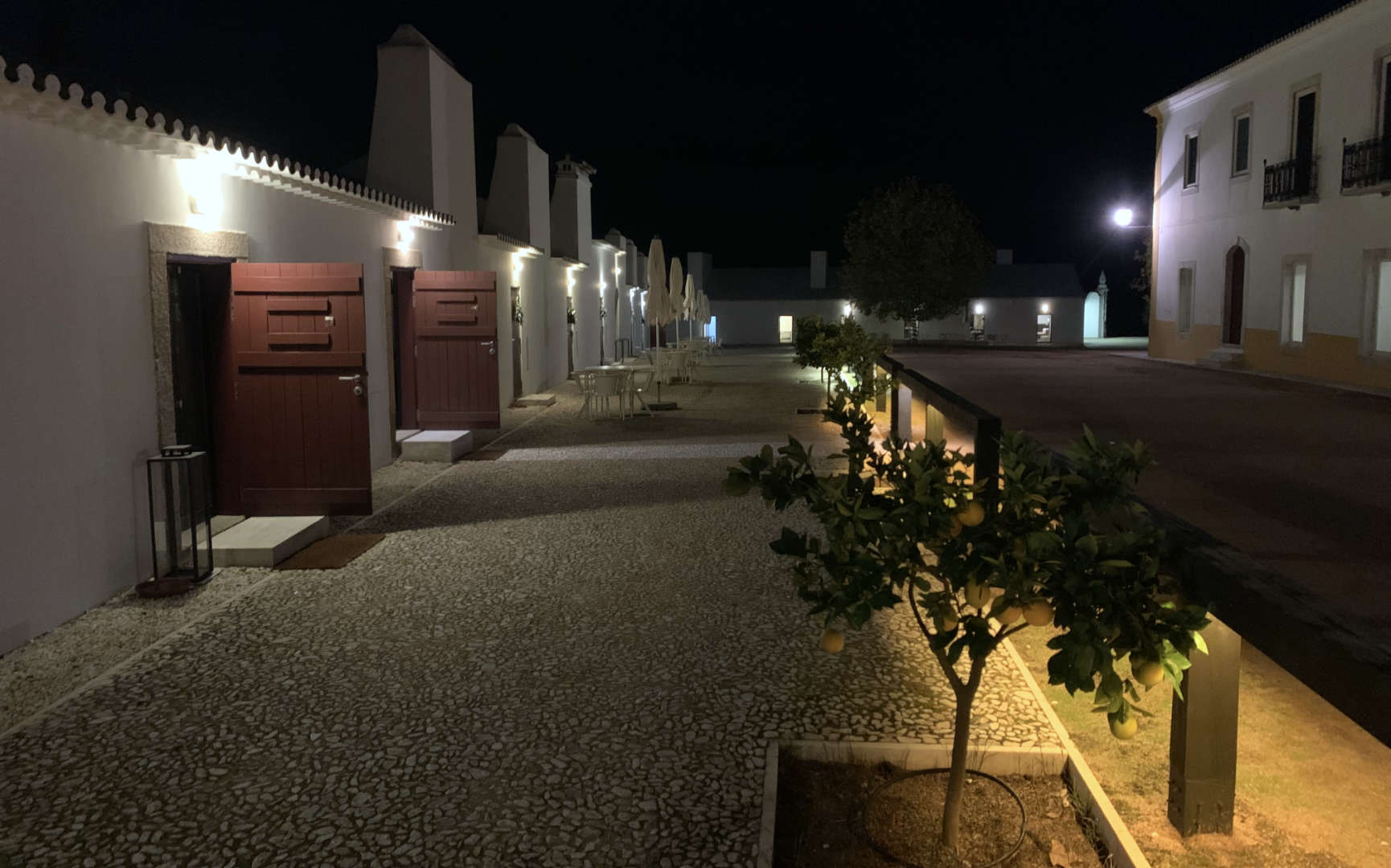 ---
This was an incredible experience for us—staying on a property dating back to the 14th century with Roman ruins thousands of years old dating back millennia a short walk away.
---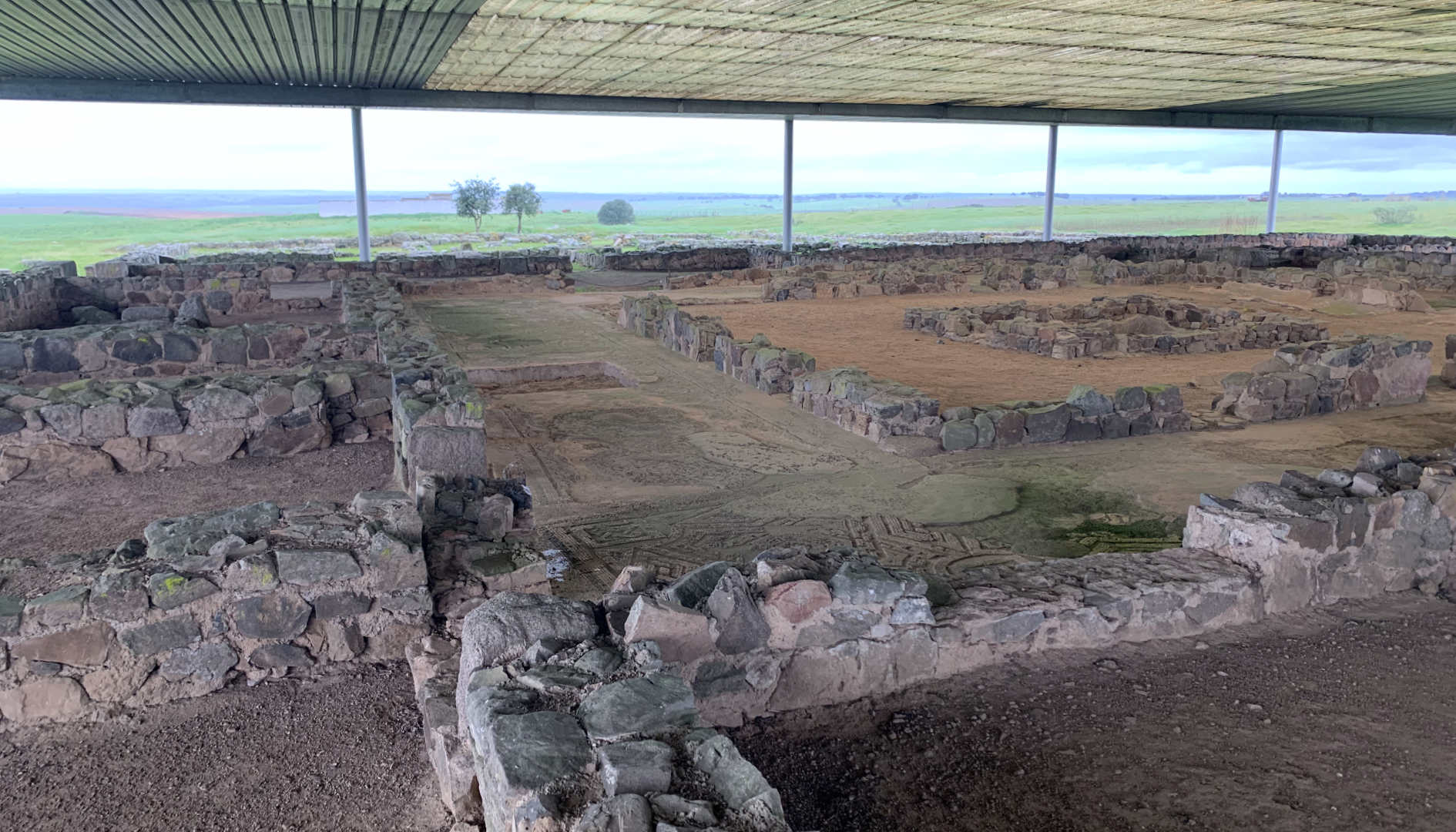 ---
We had access to a Michelin star chef, an equestrian ring, sumptuous local wine, and stunning views.
---
---
Torre de Palma was normally about $300/night in the off-season.
Now, you might be wondering about that cruise cost… Yes, we really did pay $433.56 all-in for a 9 night cruise in a balcony room for two. That includes $288 in tips!
I'll explain some of the crazy deal, but here's the breakdown:
| Cost (USD, $) | Description |
| --- | --- |
| 1115.56 | Norwegian Cruise, 9 nts, Sail Away Balcony |
| 288.00 | Prepaid tips |
| 750.00 | Onboard credit (purchased) |
| (350.00) | 1st AMEX Offer (Spend >$1,000 on NCL) |
| (350.00) | 2nd AMEX Offer (Spend >$1,000 on NCL) |
| (270.00) | AMEX Cruise Privileges Program onboard credit |
| (750.00) | Cash out onboard credit (unused) |
| 433.56 | Total |
The discounts are likely the confusing parts.
First, we had an AMEX offer for a $350 statement credit when spending $1,000 or more on Norwegian Cruise Lines. That's pretty straightforward as it applied to the $1,115.56 charge for the cruise itself.
Second, we had another AMEX card with the same $350 offer. You can load your onboard credit account (for use on the ship) with up to $1,000. Combined with the prepaid tips, we earned another $350 credit. Because you're purchasing the onboard credit (as opposed to getting as a bonus with the booking), it is fully refundable. We simply cashed out our balance ($750) on the last night of the cruise with guest services.
Lastly, Chris's AMEX Platinum has an additional benefit that earns an onboard credit with NCL. Normally this is not refundable. But, due to some problems applying the credit, Norwegian ended up manually add it as refundable which we also cashed out.
The final kicker was that, because our ports were canceled along the way due to weather and a strike in Lisbon, we were given a non-refundable credit of $200 to use on the second to last day of the cruise.
We struggled to find any reasonable use for it so, we just bought a bunch of quality liquor from the duty free store onboard! We're set for years!
We couldn't miss the opportunity to take a pretty hilarious photo on the last night of our cruise while packing up our bags: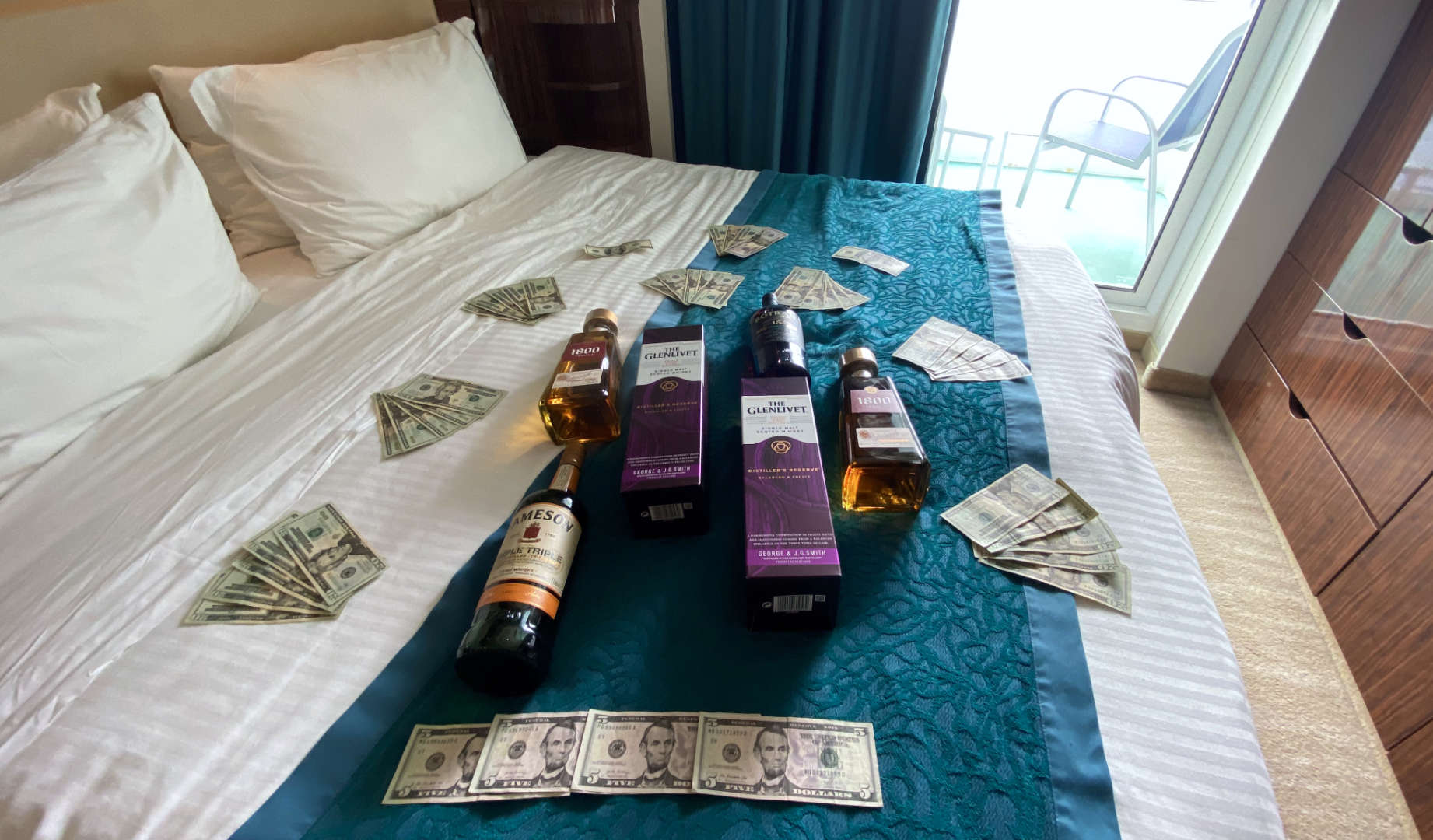 Funny enough, it turned out that we were on the same cruise as Mr. and Mrs. Root of Good! We even briefly ran into each other at the duty free shop but didn't realize it until after the cruise and figuring it out on Twitter! The FIRE community does travel far and wide. If you're not familiar with their blog and enjoy ours, you should give them a read! They posted their December write up and transatlantic experience.
Expense Conclusion
While that covers the big stuff, we still had a few random things small purchases to mention that might of interest.
Gifts
We spent quite a bit more than the $28 this category points to in the diagram. But, much of it was offset by gifts we received from family around the holidays. It's incredibly difficult to get grandparents/parents to stop giving cash, not that we aren't appreciative…
401(k)
Chris's consulting payment at $20,510 was immediately redirected to his 401(k) with a $20,500 contribution that maxed out his 2022 limit. That'll help keep our taxable income down which produces a variety of benefits!
Jenni also worked with her employer to try to contribute most of her recent work/checks to 401(k) to not only reduce her taxable income but also raise her 401(k) match—free money!
HSA
Chris's company reimbursed his $3,600 HSA contribution which maxed out his 2022 limit. Again, this helps keep our taxable income down. HSAs have a variety of other benefits, too!
DRIP
As mentioned in the income section above, much of our dividends that mostly arrive in a lump sum at the end of the year were automatically reinvested.
How Much We Work
We like to keep track of how much time we spend doing work that is paid.
Let's add this month to the list…
| Month | Chris (Hours Worked) | Jenni (Hours Worked) |
| --- | --- | --- |
| May 2020 | 41 | 108 |
| Jun 2020 | 38 | 96 |
| Jul 2020 | 36 | 120 |
| Aug 2020 | 39 | 48 |
| Sep 2020 | 27 | 76 |
| Oct 2020 | 26 | 104 |
| Nov 2020 | 27 | 57 |
| Dec 2020 | 28 | 57 |
| Jan 2021 | 25 | 102 |
| Feb 2021 | 24 | 104 |
| Mar 2021 | 24 | 106 |
| Apr 2021 | 23 | 85 |
| May 2021 | 17 | 29.75 |
| Jun 2021 | 19 | 66 |
| Jul 2021 | 21 | 30.25 |
| Aug 2021 | 23 | 16.5 |
| Sep 2021 | 26 | 28 |
| Oct 2021 | 22 | 49 |
| Nov 2021 | 21 | 51 |
| Dec 2021 | 64 | 27 |
| Jan 2022 | 32 | 80 |
| Feb 2022 | 29 | 63 |
| Mar 2022 | 14 | 70 |
| Apr 2022 | 15 | 21 |
| May 2022 | 14 | 36 |
| Jun 2022 | 6 | 12 |
| Jul 2022 | 13 | 45.5 |
| Aug 2022 | 15 | 96 |
| Sep 2022 | 12 | 54 |
| Oct 2022 | 14 | 34.5 |
| Nov 2022 | 12 | 72 |
| Dec 2022 | 11 | 16.5 |
We're back to a very light workload. Holidays and trips help!
Net Worth Update
Net worth is not our primary measurement and can understand it can be discouraging if you're working yourself out of debt. We also understand it's difficult to be transparent with our readers without divulging this information so we continue to do so.
Account breakdown
The market keeps chugging along and so do our investments. From a high level, our assets and liabilities are shown in the data table below as of December 31, 2022.
| Description | Value (USD, $) |
| --- | --- |
| 401(k) | 676,993 |
| Brokerage | 685,657 |
| Roth IRA | 127,993 |
| Traditional IRA | 6,239 |
| HSA | 46,006 |
| Real Estate | 365,100 |
| Mortgage | (143,997) |
| Miscellaneous Assets | 46,642 |
| Checking & Savings | 55,880 |
| Net Worth | 1,866,513 |
Miscellaneous assets include specific investments we've made in physical assets (think collectibles) and treasury bonds
Amounts do not reflect the value of the businesses Chris owns or their assets, which should appear as income to us over future years
Jenni's Prius is not included
The S&P 500 was down about 5.9% for the month, closing out a year where the broad market fell about 20%. That's rough!
We fared better with a loss of about 2.8%. That's mostly an affect of extra income coming in toward the end of the year.
Overall, our net worth dropped about $54K!
Net Worth History
Previous Donation Winner
We helped spread some cheer by learning about charities that do just that during the holidays. Each one has a unique way of finding those in need and ensuring they don't feel alone at Christmas.
This month's charity poll winner, with nine votes, goes to Home Instead's Be A Santa to a Senior. This Home Instead Charity ensures that seniors are not forgotten during the holidays by spreading holiday cheer to lonely or financially challenged seniors.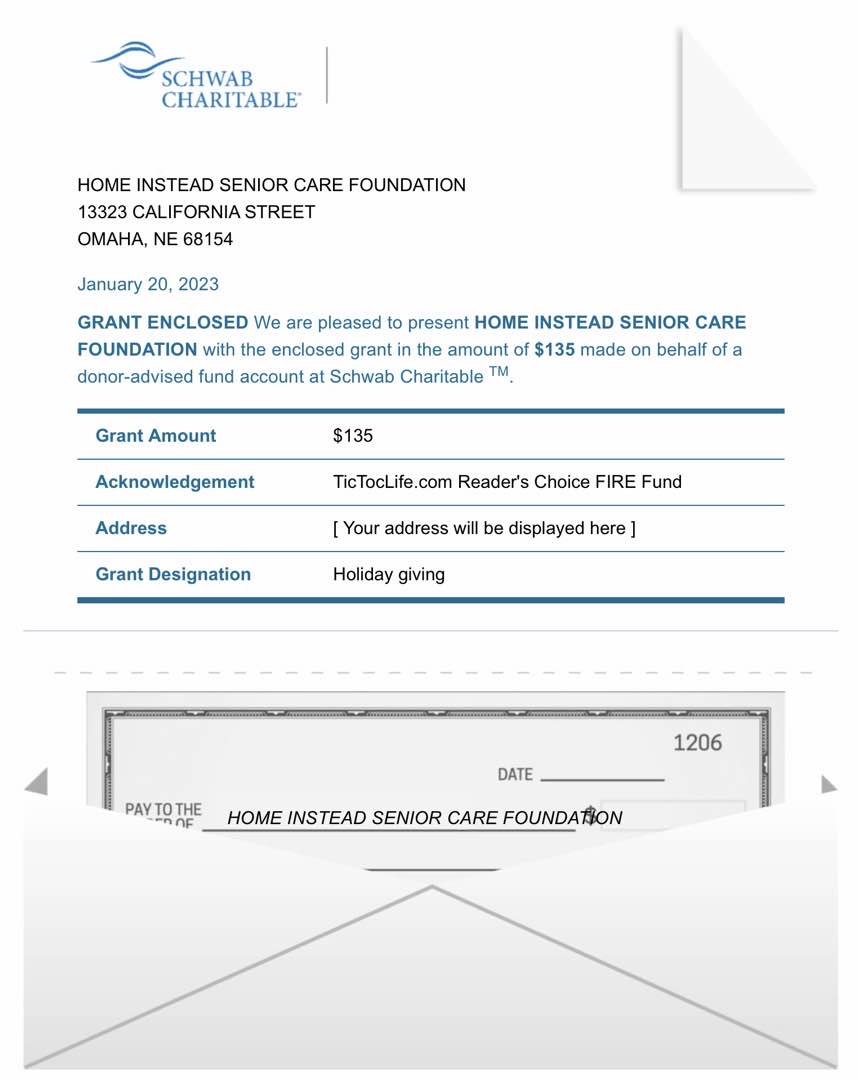 Our Reader's Fund seeks to leverage the principles of FIRE to build a lifetime of giving.
Thank you for your participation in our polls over the last 29 months. We've given over $3,000 to deserving charities with your help in deciding which organizations to donate to.
Polls are now open for our next round of candidates: life-saving charities.
Charity Round-Up
Each of the life-saving charities below is featured on GiveWell's Top Charity list. In order to qualify for this list, a charity's impact must be cost-effective with the evidence to back up its claims.
Their excellent charity ratings help ensure our donation will have the greatest impact. Review each one and help us decide which organization to support by casting your vote.
Summaries below include the impact metrics and a link to their Guidestar profile which details the nonprofit's operations and transparency.
1) Malaria Consortium – Seasonal Malaria Chemoprevention
Why? With Malaria killing 600,000 people every year, the need for an effective and cost-effective solution is urgent. Malaria mostly impacts children in sub-Saharan Africa. Malaria Consortium has demonstrated that preventative medicine is 89% effective and can save these children's lives.
Where? Uganda, Nepal, Niger, Ethiopia, Cambodia, Nigeria, S. Sudan, Chad, Mali, Myanmar, Burkina Faso, and Mozambique
Our Notes: GiveWell estimates it costs $7 per child treated with a full course of medicine and a cost-effectiveness of $5,000 per life saved.
The mission of the Malaria Consortium is to save lives and improve health in Africa and Asia, through evidence-based programs that combat targeted diseases and promote universal health coverage.
2) Helen Keller International – Vitamin A Supplementation Program
Why? Vitamin A helps build a strong immune system, strengthen vision, and grow strong brains and bodies. A deficiency in Vitamin A from one's diet can lead to death. Helen Keller International has demonstrated that childhood Vitamin A supplementation twice a year for the first five years can save these children's sight and lives.
Where? Africa, Asia, New York, California, New Jersey, Minnesota, United States
Our Notes: GiveWell estimates it costs $1 per dose of vitamin A and a cost-effectiveness of $3,500 per life saved.
Helen Keller International is dedicated to eliminating preventable vision loss, malnutrition, and diseases of poverty. Beyond helping children receive vitamin A supplementation, Helen Keller works at the system level to integrate vitamin A into families' diets.
3) New Incentives – Cash incentives for routine childhood vaccines
Why? 43% of newborns born in the remote poor region of northern Nigeria didn't receive their recommended childhood vaccines. Although these vaccines are provided free at government clinics, the round-trip journey often takes half a day or longer to reach. This barrier has led to poor outcomes for newborns. New Incentives have demonstrated by providing a small cash incentive to cover the cost of transportation and food can double the percentage of parents to get their infant fully vaccinated against tuberculosis, diphtheria, tetanus, whooping cough, hepatitis B, flu type b, pneumococcal, and measles.
Where? North West Nigeria
Our Notes: GiveWell estimates it costs $160 per infant vaccinated and a cost-effectiveness of $5,000 per life saved.
Nonprofit poll
After reviewing the list above, please take a moment to vote for which nonprofit you think will put funds to use in the best way.
(Have trouble using or seeing the poll above? Some reader tools or apps may not display it. View this page in a browser or use this link to our Reader Fund page which has a copy of the poll!)
Thank you for taking the time to vote!
One of our primary goals with TicTocLife is building a stream of giving within the FIRE community and that starts with knowledge.
Want to hear about the results? Signup for our free FIRE Insider newsletter! We send it out every few weeks and include the monthly poll results and donation winners. You can see an archive of the FIRE Insider and signup here!
What's Next
The new year has us taking time to spend with family and friends now that we're back home from a year of travel. In fact, we spent between four and six months of the year away from home (Chris was away a bit more)!
We've got a lot of work to do just catching up on life. And, *hem*, writing!
It's also coming up on tax season and as our budget diagram alludes, we're trying to move money around to the right places to be tax efficient. But don't worry, we're still going to be traveling and revealing some great ways to earn a little side income, reduce your spending, and really take advantage of what FIRE offers—financial freedom!
Keep an eye out for our 2022 FIRE Budget (yes, we just published our 2021 FIRE Budget about a year late!), soon, to see how all this travel has blown up our budget.
Happy 2023!
---
What are your holiday plans or tips for escaping the winter ahead?
Let us know in the comments or on Twitter!