Well, I'm not sure what could beat the big engagement surprise from last month. C'mon, what else would that big "gift" be?! 🙂 That said, we're certainly trying to top our traveling selves with a big trip that started in September and will end in October. Portugal, Spain, and another slice of the Azores!
Besides traveling, we continued our tradition of donating to one of three nonprofits, this time in support of relief to the civilians in the Middle East. You can read more about them and vote for your favorite in the poll below!
Each month, we track our income, spending, and savings to stay on our FIRE path and share it with you. Please keep reading to see our monthly updates, tips, and charity reviews.
Budget Update
If you'd like a more detailed description of our typical monthly cash flow (like our jobs or housing situation), check out our previous budget updates.
In the Sankey diagram below, the income on the left matches our expenses on the right.
We'll run through the income and expense sources for the month and remark on any interesting items.
Income Summary
September's income came from a variety of sources. It was the end of 2023's third quarter so we earned a good amount from dividends. Chris's quarterly Accountable Plan through his business made a significant reimbursement for expenses, too. Let's dive into some exciting income-related categories!
Dividends
With the third quarter of the year closing, we received a nice chunk of dividend payments from our stock ownership. Most of the income comes from Vanguard funds like VTSAX. A significant chunk was automatically reinvested in our tax-advantaged accounts (401(k), IRA, etc.).
We earned $3,257 in dividends.
Credits
Several of our credit cards offer statement credits for purchasing with certain companies. Chase cardholders are eligible for statement credits with Gopuff ($10/month). Between the two of us, we can get back about $100 from Gopuff credits. That's pretty great considering most of our Chase cards have no annual fee.
We also earned $10 in Instacart credits (available quarterly from several of our Chase cards), about $9 for a Chase Offer on utilities and gas, and $10 from AMEX for Grubhub purchases (used on groceries).
We received $129 in statement credits.
Accountable Plan
If you're interested in the details of how an accountable plan for businesses works, check out this original post.
Chris's business reimbursed him for the use of our house, utilities, health insurance, and other expenses. This reimbursement covers expenses for the third quarter of 2023.
Chris was reimbursed $1,273.
Cashback
Laurel Road no-fee checking accounts earn a $20 monthly bonus for making direct deposits of at least $2,500/month. This is the final month of this promo. Chris plans to continue depositing about $2,500/month in order to earn the lower future bonus of $10 since the account also earns a healthy 5% interest rate.
We earned $20 in cash back.
Expense Summary
From our $8,124 monthly budget, we saved and invested about $3,842.
After subtracting our credits and savings, we spent about $4,154 on living expenses.
That's 97% of our FIRE budget from 2021 ($4,281/month).
Let's break down some of the more exciting details.
Food & Dining
Food & Dining is one place that's hugely variable when we travel. Sometimes we use restaurants as a "thank you" to friends if we're visiting someone. Groceries could increase if we're staying in an apartment with a kitchen or our dining expenses can skyrocket if we're eating out often. Let's see how we did with the first 11 nights of our trip…
Groceries
Our grocery spending came to about $414. We continued to eat the overstock in our pantry and freezer before our month-long trip that started in September.
We bought quite a few groceries during our trip. In the 12 last days of September, we were in Portugal and spent about $168 on groceries. Apartments with kitchens make for easy breakfasts and occasional dinners. We tend to pack snacks for the day out when we travel, too.
It's worth noting that about $120 of our grocery costs was covered by credits from AMEX/Chase for Instacart, Grubhub, and Gopuff.
Restaurants, Fast food, Alcohol & bars
Our eating out and alcohol expenses came during our travels this month. Five sit-down restaurant visits came to about $168. Another $22 or so went to quick bites and fast casual places.
We spent $604 on food & dining this month.
Travel
We left for a month-long trip to Portugal, Spain, and the Azores on September 19. The first twelve days of our trip that fell into September were all spent on Portugal's mainland.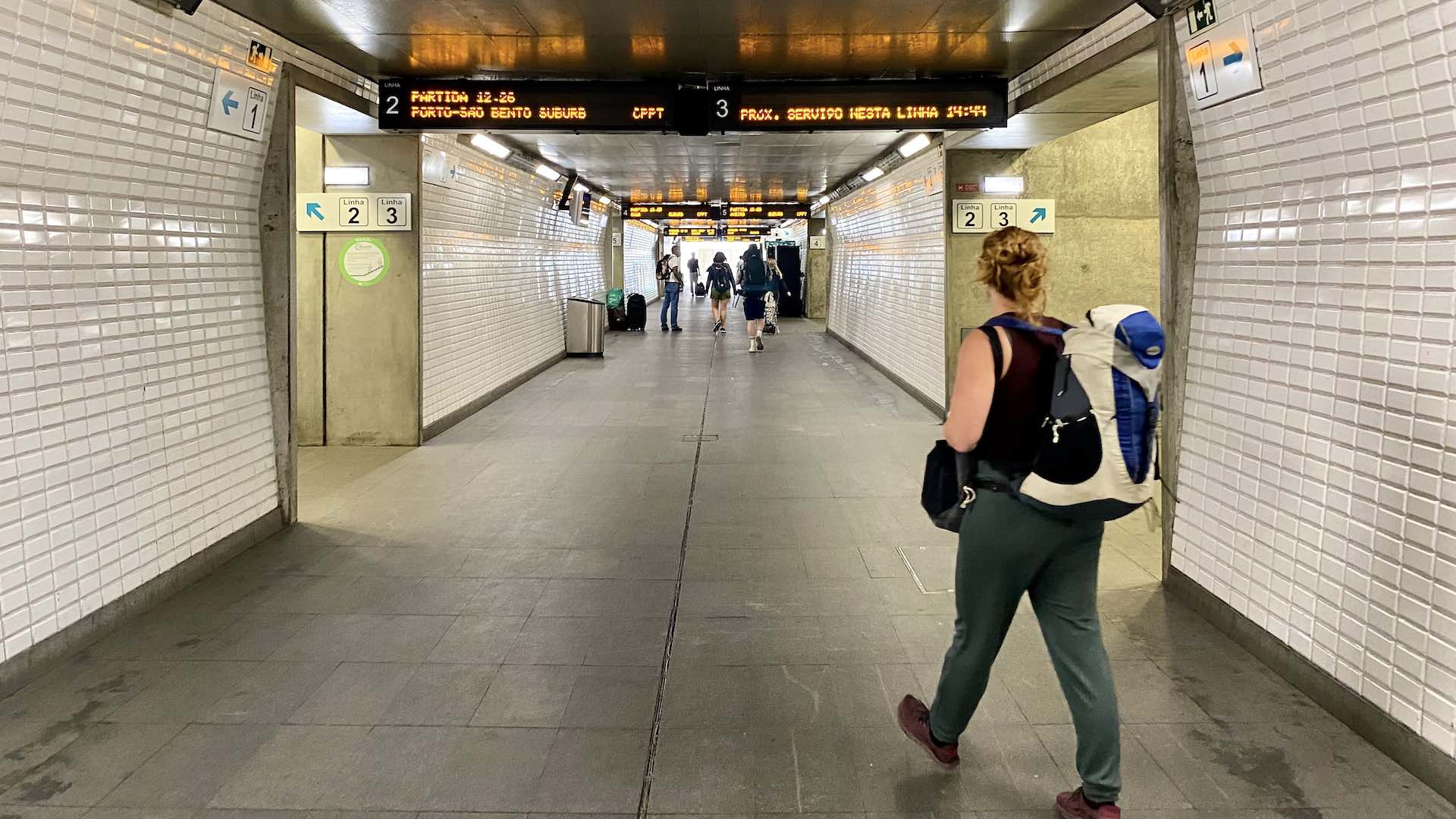 And yes, we've been enjoying Portugal a lot lately. It's a beautiful, diverse country that's reasonably priced with a ton of history and culture. It's a treat to visit!
While our first twelve days were spent in central and southeastern Portugal, the rest of our trip in October will be quite different. Chris's parents will join us for about two weeks! As it'll be their first visit, we'll see the big sites in Lisbon and Porto along with the Douro Valley before heading to Spain.
After we part ways, his parents will continue on in Spain and we'll visit the Azores for a little over a week.
Below is a map of our initial itinerary on the mainland with a stop in Salamanca, ES in October: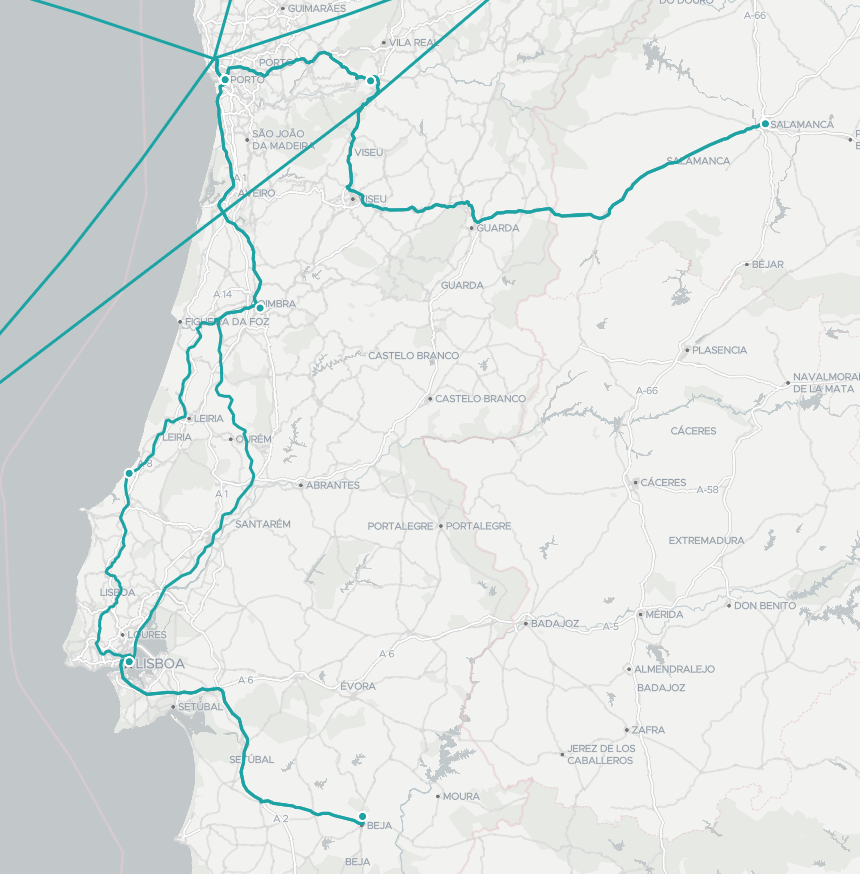 Portugal has astounded us, again, so far. The mighty waves of Nazaré were astounding to witness. Our relaxing stay in nearby São Martinho do Porto let us soak in some ocean air before winter arrives at home. Our visit through the rural Alentejo region down south brought dry heat, delicious wine, and warm hospitality.
Hotel
If you're curious, here is precisely where we stayed in September:
When
Where
Description
Nts.
Cost ($, USD)
Reward Pts/Miles
09/19/23
Coimbra, PT
Sophia Studios
Coimbra, Portugal
1
0.00
5,291 Chase UR
09/20/23
Sao Martinho do Porto, PT
Airbnb Apartment T0
São Martinho do Porto, Portugal
4
285.84
09/24/23
Estremoz, PT
Pousada Castelo Estremoz
Estremoz, Portugal
2
281.28
09/26/23
Crato, PT
Herdade da Rocha
Crato, Portugal
2
237.05
09/28/23
Reguengo, PT
Cabeças do Reguengo
Reguengo, Portugal
2
197.51
09/30/23
Lisbon, PT
Airbnb My Oasis
Lisboa, Portugal
1
103.66
And, here are some photos in order of where we stayed: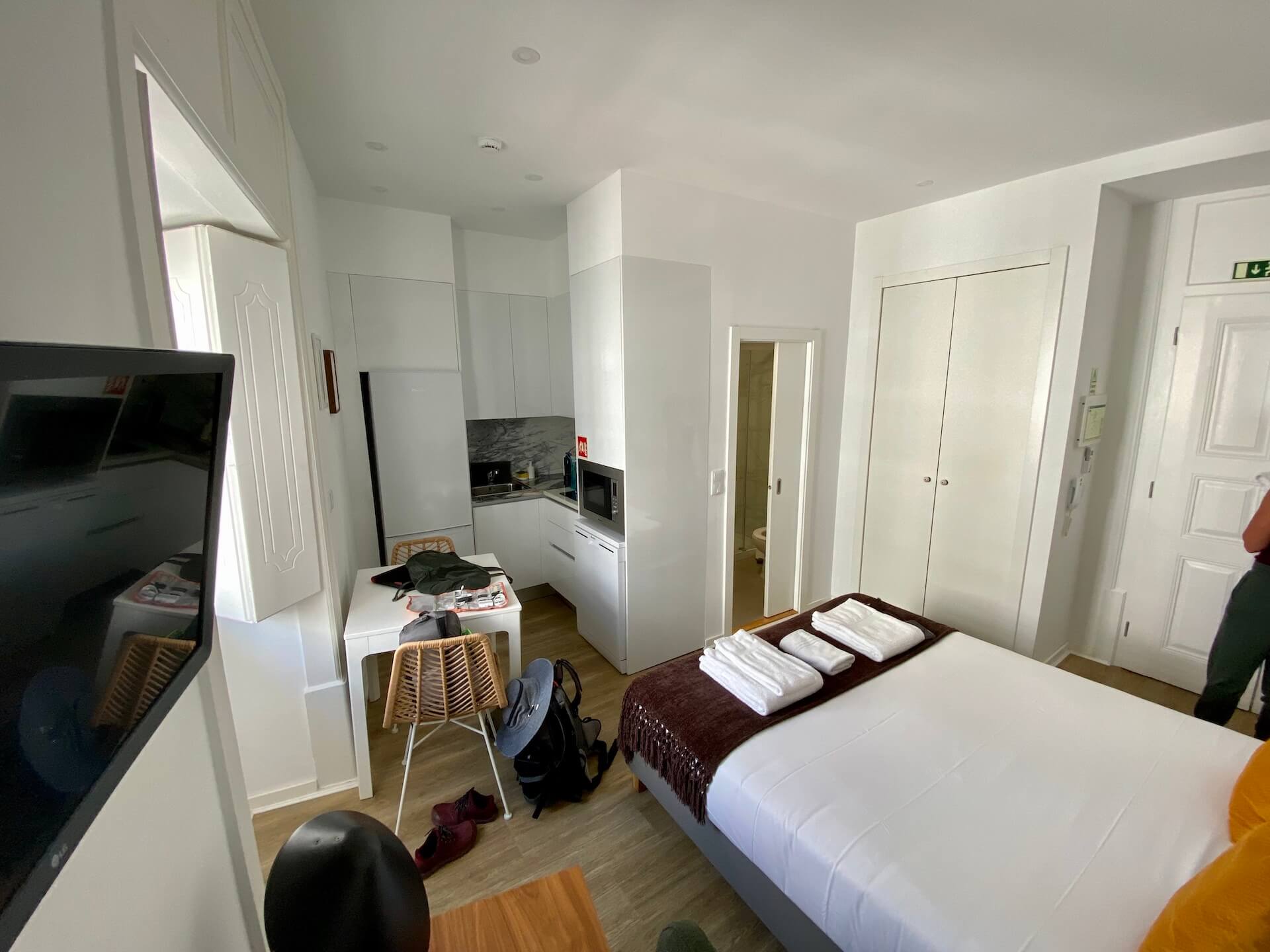 Over the course of September, we spent a total of $1,075 on completed hotel stays. Discounted Airbnb Gift Cards cut our expenses by $30 from the itemized table above.
That's about $97/night staying in urban apartments, a 14th-century castle, a modern wine & olive stay, a family-run vineyard, and a two-bedroom apartment in Lisbon.
That's an incredibly varied set of experiences for under $50/person! And we only cut the price in one tricky way—that first night for about 5k Chase points (would have been about $80).
We'll see how we do in October.
Rental Car & Taxi
In order to explore the rural southeast of Portugal, we rented a car from Lisbon. Chris has Sixt Gold via his American Express Business Platinum card which gave us a nice upgrade and discounted rate. The card also offers excellent rental insurance coverage.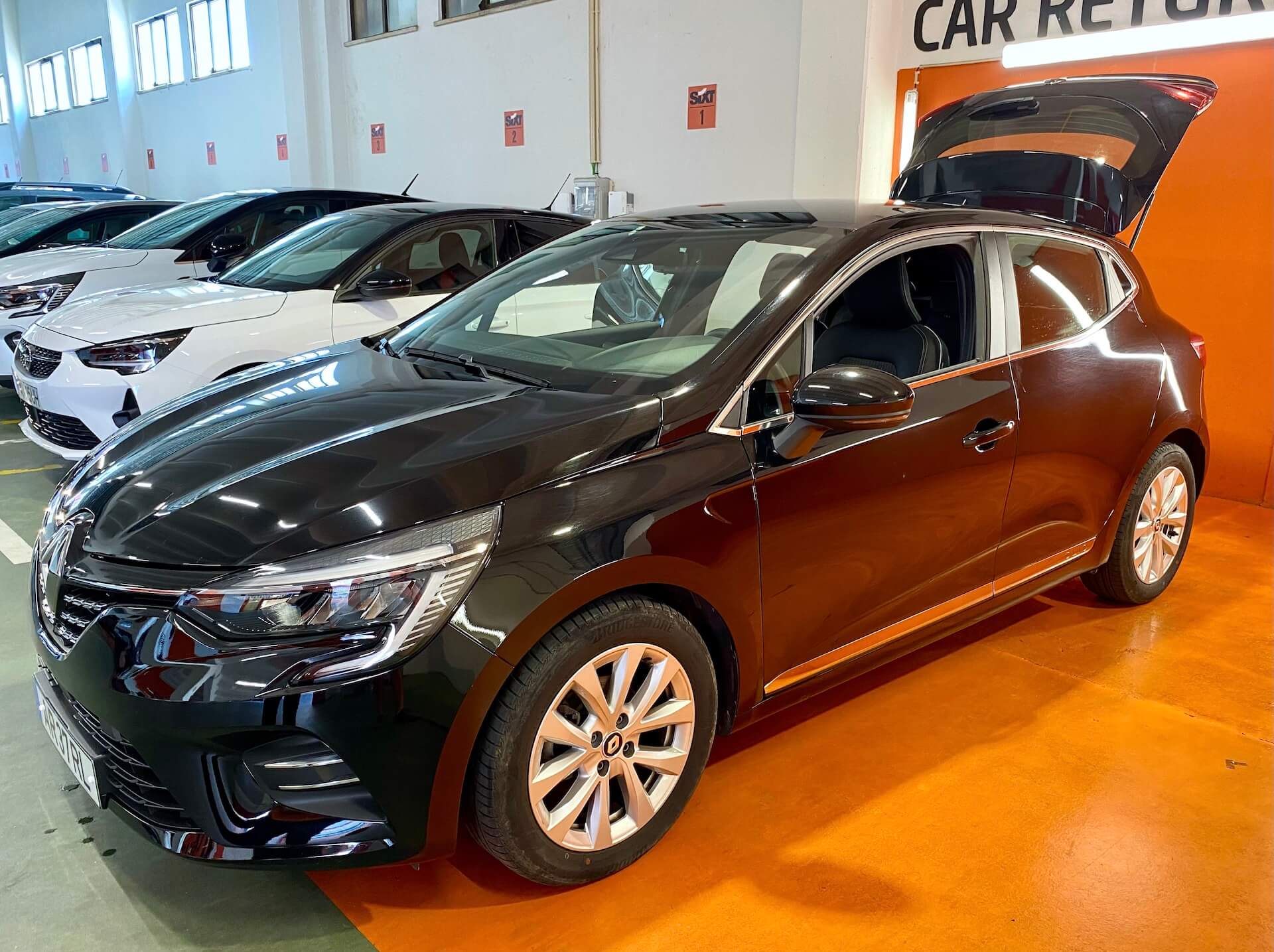 The six-day rental came to just about $99. That's not far off the fuel cost for that period! Great deal.
We also took a bunch of Ubers throughout our trip in September. The rides cost us a total of about $75 but would be hard to avoid. Many of the trips were connecting to train stations or airports or the rental car location while we were toting our backpacks.
We spent $1,250 on travel this month.
Epilogue: As we usually do, we'll post a full trip cost breakdown once it's complete next month.
Expense Conclusion
While that covers the big stuff, we still had a few random things small purchases to mention that might be of interest.
Health Insurance
Nothing big changed with our core health/dental insurance choices, but we did re-up our travel insurance. We mentioned this Nationwide travel insurance plan last year when we picked it up. Now that we're engaged, we only need one instance of the plan so renewal was just $79. Check out the link for details, but in general, this insurance offers us emergency medical coverage while abroad and some trip delay assistance.
Public Transportation
Portugal is a fun place to love public transit. Trains, buses, trams, trolleys, funiculars, elevators (!), ferries, and more. Lisbon's infamous status as "the city of seven hills" requires a variety of ways to get around. It's steep! And, the rest of the country isn't exactly flat. We bussed and trained between major cities prior to getting the car rental. About $65 to move us both several hours around the country is a great deal!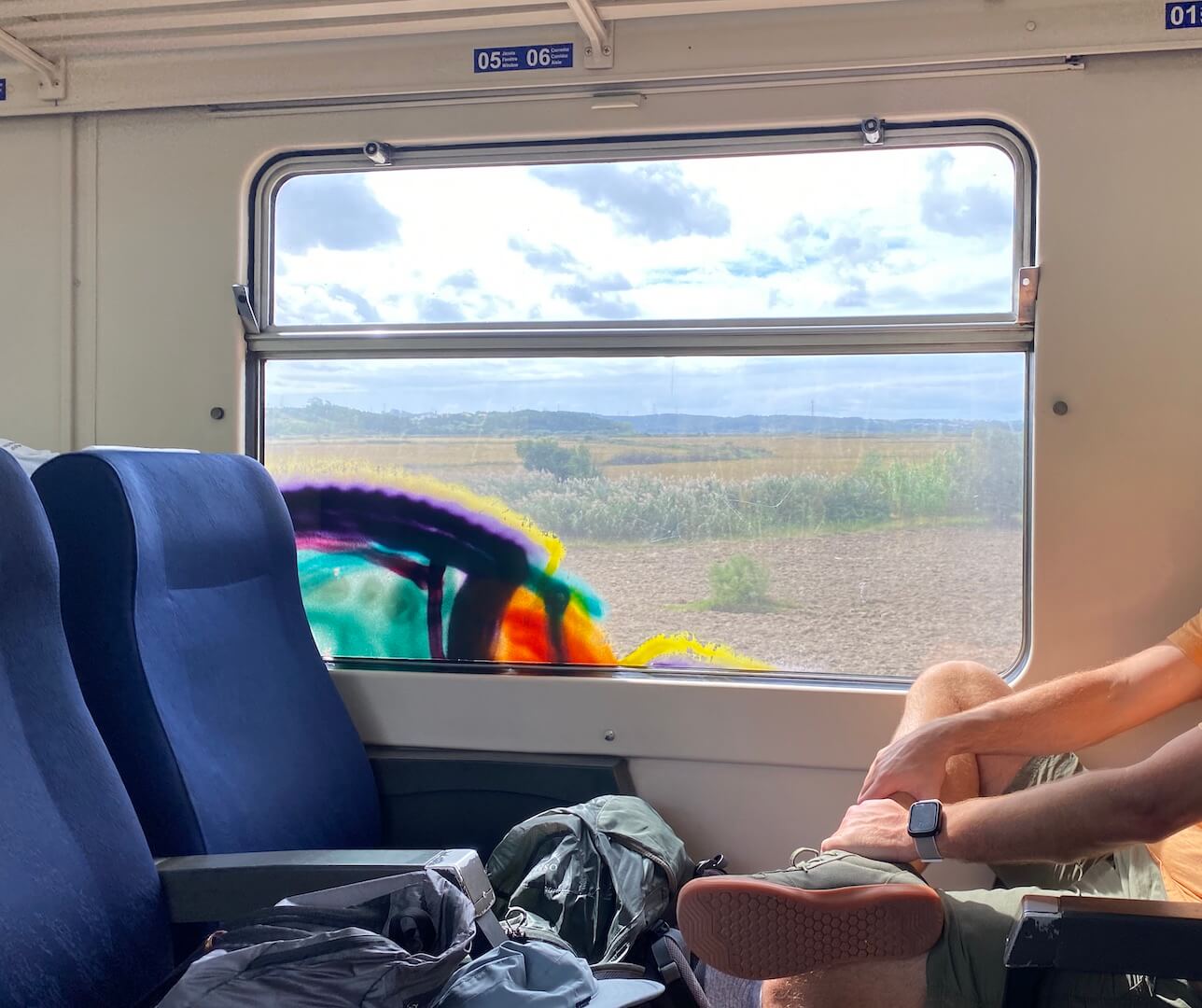 Amusement
Despite traveling from the north to the far southeast of Portugal just in September—and seeing a ton of cultural sights and museums—we spent just $25 on entry fees and related "tourist attraction" costs. Entry fees are often free or just two to three euros. And of course, nature is nearly always free.
Yet, here is just a sampling of what we got into in September: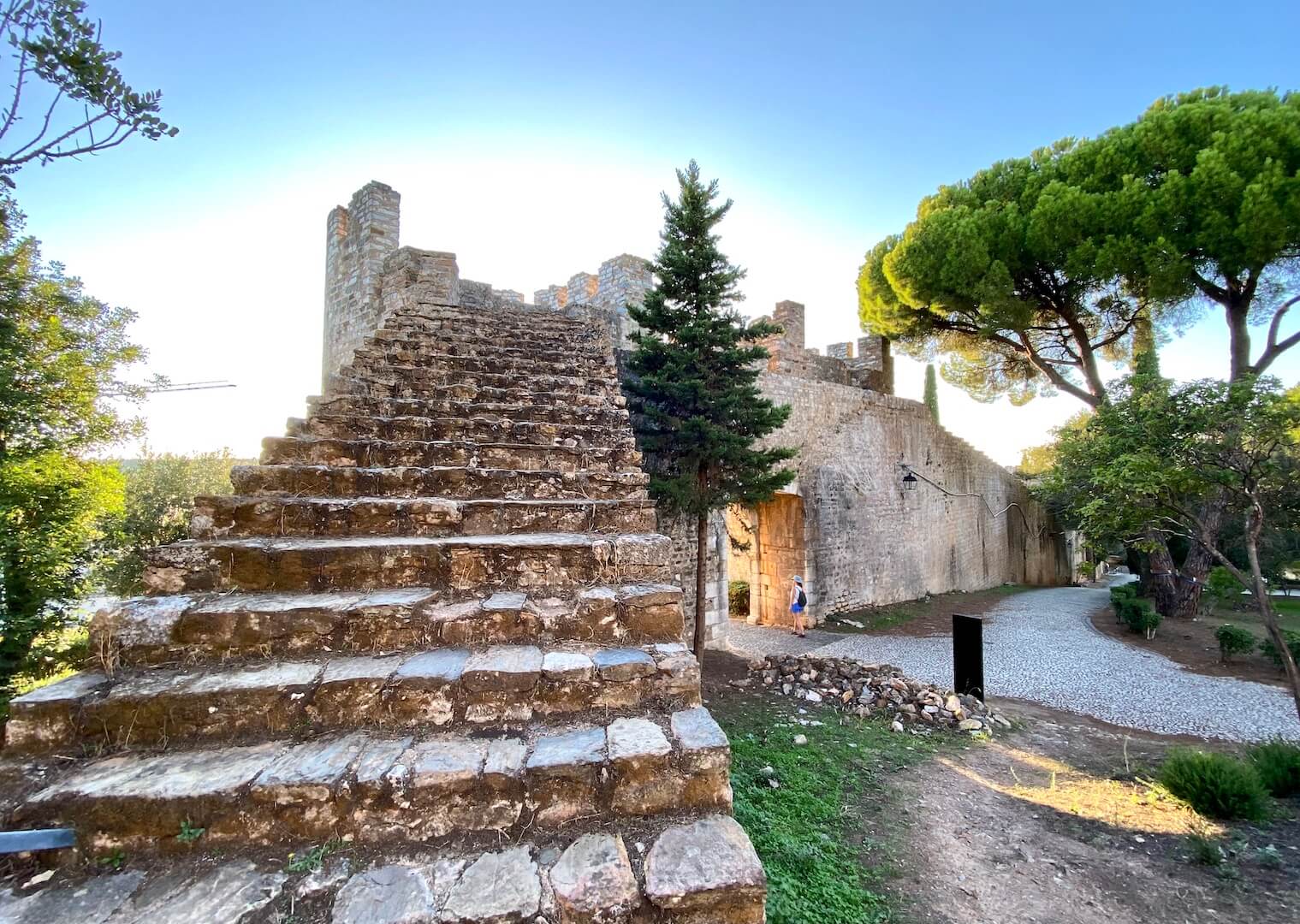 That just about wraps up the more interesting expenses from this month. We'll have plenty more travel anecdotes next month, though!
How Much We Work
We like to keep track of how much time we spend doing work that is paid.
Let's add this month to the list…
| Month | Chris (Hours Worked) | Jenni (Hours Worked) |
| --- | --- | --- |
| May 2020 | 41 | 108 |
| Jun 2020 | 38 | 96 |
| Jul 2020 | 36 | 120 |
| Aug 2020 | 39 | 48 |
| Sep 2020 | 27 | 76 |
| Oct 2020 | 26 | 104 |
| Nov 2020 | 27 | 57 |
| Dec 2020 | 28 | 57 |
| Jan 2021 | 25 | 102 |
| Feb 2021 | 24 | 104 |
| Mar 2021 | 24 | 106 |
| Apr 2021 | 23 | 85 |
| May 2021 | 17 | 29.75 |
| Jun 2021 | 19 | 66 |
| Jul 2021 | 21 | 30.25 |
| Aug 2021 | 23 | 16.5 |
| Sep 2021 | 26 | 28 |
| Oct 2021 | 22 | 49 |
| Nov 2021 | 21 | 51 |
| Dec 2021 | 64 | 27 |
| Jan 2022 | 32 | 80 |
| Feb 2022 | 29 | 63 |
| Mar 2022 | 14 | 70 |
| Apr 2022 | 15 | 21 |
| May 2022 | 14 | 36 |
| Jun 2022 | 6 | 12 |
| Jul 2022 | 13 | 45.5 |
| Aug 2022 | 15 | 96 |
| Sep 2022 | 12 | 54 |
| Oct 2022 | 14 | 34.5 |
| Nov 2022 | 12 | 72 |
| Dec 2022 | 11 | 16.5 |
| Jan 2023 | 10 | 88 |
| Feb 2023 | 11 | 81.5 |
| Mar 2023 | 12 | 47.5 |
| Apr 2023 | 8 | 1 |
| May 2023 | 16 | 100 |
| June 2023 | 10 | 109 |
| July 2023 | 12 | 48 |
| August 2023 | 16 | 54.5 |
| September 2023 | 9 | 20 |
Jenni's work schedule came in about as we expected considering we will be traveling for a month.
Net Worth Update
Net worth is not our primary measurement and can understand it can be discouraging if you're working yourself out of debt. We also understand it's difficult to be transparent with our readers without divulging this information so we continue to do so.
Account breakdown
The market keeps chugging along and so do our investments. From a high level, our assets and liabilities are shown in the data table below as of September 30, 2023.
| Description | Value (USD, $) |
| --- | --- |
| 401(k) | 753,857 |
| Brokerage | 717,563 |
| Roth IRA | 142,852 |
| Traditional IRA | 12,887 |
| HSA | 55,728 |
| Real Estate | 414,556 |
| Mortgage | (140,332) |
| Miscellaneous Assets | 51,642 |
| Checking & Savings | 34,112 |
| Net Worth | 2,042,865 |
Miscellaneous assets include specific investments we've made in physical assets (think collectibles) and treasury bonds
Amounts do not reflect the value of the businesses Chris owns or their assets, which should appear as income to us over future years
Jenni's Prius is omitted
The S&P 500 was down about 4.9% for the month. Not a great run!
We lost a bit less with a decrease of 4.6%.
Overall, our net worth decreased by around $97K.
Net Worth History
Previous Donation Winner
We are helping to keep the music alive by giving to Mr. Hollands Opus Foundation, winning last month's poll with four votes. Thank you to all our voters who believe that music in schools is essential for a child's well-being.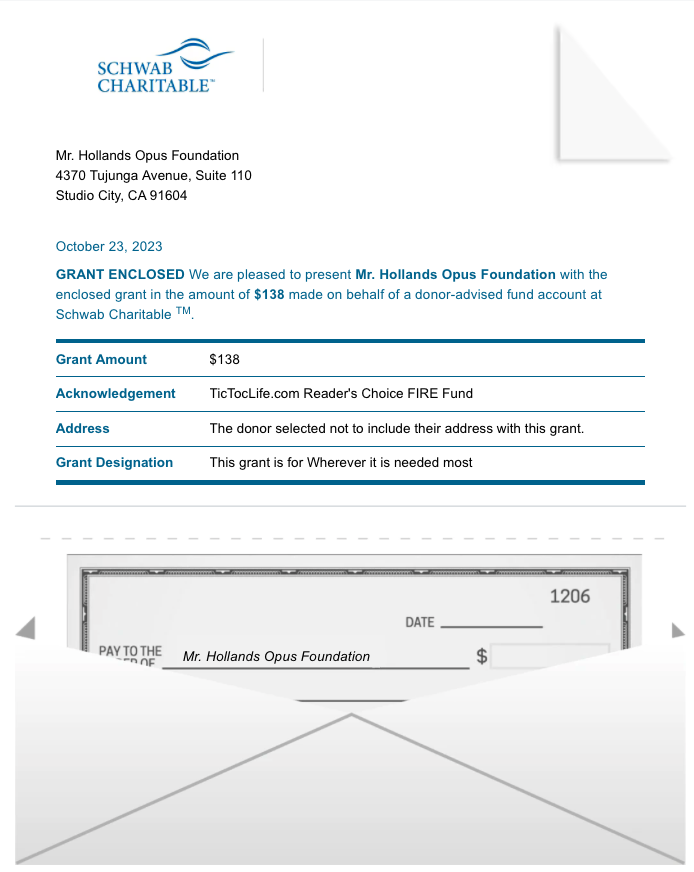 Our Reader's Fund seeks to leverage the principles of FIRE to build a lifetime of giving.
Thank you for your participation in our polls over the last 38 months. We've given over $4,600 to deserving charities with your help in deciding which organizations to donate to.
Polls are now open for our next round of candidates: Relief in the Middle East.
Charity Round-Up
The terrible news from the Middle East is heartbreaking. Moreover, throughout the fall, several devastating earthquakes struck Afghanistan and Morocco. At the same time, heavy rains caused dam-destructing floods in Libya that wiped out whole towns. Meanwhile, Hamas' terrorist attacks against people in and around Israel have resulted in thousands of casualties. Countless lives have been lost, including children, and many more are injured or displaced. And, there's widespread infrastructural damage with desperate humanitarian aid needs.
We want to help support the recovery of the people affected by these disasters. We've selected three reputable organizations that are providing vital aid in the Middle East. Each has excellent charity ratings to ensure our donation will have the most significant impact. We invite you to learn more about them and join us in donating to one of them by casting your vote.
Summaries below include the impact metrics and a link to their Guidestar profile which details the nonprofit's operations and transparency.
1) Life For Relief and Development, Inc.
Why? With 30 years of experience, from offices all over the world, this organization has sprung into action across the Middle East. Their teams are on the ground assisting with search and rescue efforts, preparing and distributing meals, and delivering essential supplies. Most recently, a bombing took out their storage facility in Gaza holding these essentials and destroyed their food distribution center.
Where? Iraq, Somalia, Jordan, Uganda, Haiti, Mali, Pakistan, Ethiopia, Ghana, Palestine; Myanmar, Afghanistan, Somaliland, Sierra Leone, and The United States.
Our Notes: Life For Relief and Development, Inc. was founded in 1992 as a global humanitarian and development organization providing aid to people regardless of race, gender, religion, and cultural background. Beyond emergency relief, they deliver food, water, and shelter and provide healthcare and education support.
2) Islamic Relief USA
Why? Across the Middle East, Islamic Relief USA has launched its emergency responses to provide food, essential items, and temporary shelter where they can in Gaza, Libya, and Morocco. Despite the difficult challenges each area imposes, including threats to their own lives, they continue to serve the victims however they can.
Where? Asian, Europe, Africa, United States, South America.
Our Notes: Islamic Relief USA is a non-profit organization working in the Middle East since 1997. Over the past 25 years, Islamic Relief has delivered life-saving aid across eight Middle Eastern countries including Iraq, Jordan, Lebanon, Palestine, Syria, Turkey, Tunisia, and Yemen.
3) HIAS Inc.
Why? For the first time, the number of displaced persons has reached 110 million worldwide. Organizations like this are needed to work with governments, fight legal battles, and help refugees, asylum seekers and displaced people get settled into new places.
Where? Israel, Europe, Africa, North America, South America.
Our Notes: HIAS INC's origins reach back to 1889 on Ellis Island where Jewish immigrants came together for communal solidarity after fleeing Russia and Eastern Europe. Eventually, the group grew to assist new arrivals in finding family members, being a guide through entry medical screenings, and with job placement. Today, the organization reaches beyond Jewish refugees and helps over a million clients of all ethnicities, faiths, and backgrounds from around the globe each year.
Nonprofit poll
After reviewing the list above, please take a moment to vote for which nonprofit you think will put funds to use in the best way.
(Have trouble using or seeing the poll above? Some reader tools or apps may not display it. View this page in a browser or use this link to our Reader Fund page which has a copy of the poll!)
Thank you for taking the time to vote!
One of our primary goals with TicTocLife is building a stream of giving within the FIRE community and that starts with knowledge.
Want to hear about the results? Sign up for our free FIRE Insider newsletter! We send it out every few weeks and include the monthly poll results and donation winners. You can see an archive of the FIRE Insider and sign up here!
What's Next
October will begin with our trip continuing in Portugal. Before mid-month, we'll have visited Spain and sent Chris's parents off on their own to Madrid. Then, we'll head back west and fly to the Azores from Porto.
By the time our trip concludes and we're settling back in at home in Virginia, most of October will be over! But, we'll be back in time to celebrate Halloween. Just as we catch our breath, we'll be preparing for our next trip in early November—to Cancun with friends!
This FIRE life sure does allow for some exciting times and really squeezing the most from our short time on Earth. Friends and family make it all the better and the holiday season is closing in!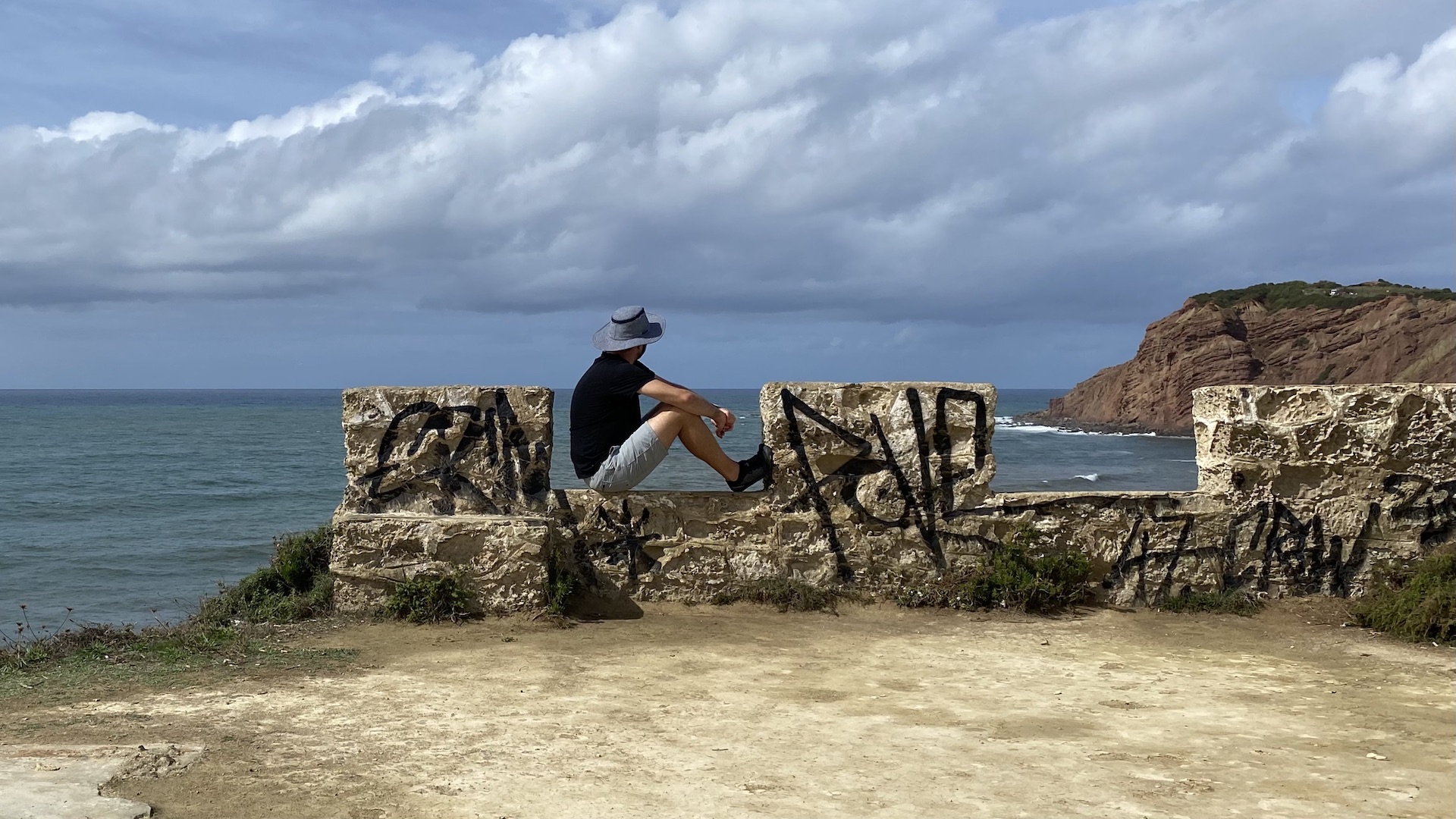 …And, before the month closes, we're hoping to have the second post in our series on FIRE and marriage!
---
Big plans for Halloween? Thanksgiving? What've you got coming in autumn?
Let us know in the comments or on Threads and X (Twitter)!