August was a surprise for one of your TicTocLife authors, Jenni. My little footnote in our July update was a tiny clue that something was coming.
Let's just say the big budget item for the month—Gifts—will need some further explanation. It's a great reason for a budget shortfall if there ever was one. Read more on that below!
We continued our tradition of donating to one of three nonprofits, this time to an organization that spreads education. You can read more about them and vote for your favorite in the poll below!
Plus, we're getting ready for a big trip to Portugal, Spain, and the Azores in September.
We track our income, spending, and savings to stay on our FIRE path and share it with you. Please keep reading to see our monthly updates, tips, and charity reviews.
Budget Update
If you'd like a more detailed description of our typical monthly cash flow (like our jobs or housing situation), check out our previous budget updates.
In the Sankey diagram below, the income on the left matches our expenses on the right.
We'll run through the income and expense sources for the month and remark on any interesting items.
Income Summary
August's income came from Jenni's paycheck as she worked a bit more in anticipation of traveling for about a month, soon. Most of the income side of our balance sheet had to come from checking, draining some of our cash accounts. Let's dive into some exciting income-related categories!
eBay
Chris leveraged a Hilton Amex offer, Dell gift certificate, and other bonuses to buy and quickly resell a pair of 27″ monitors. After accounting for fees, shipping, and other costs he netted about $156. We made some other small electronics sales from around the house for another $17 in profits.
We earned $173 on eBay.
Consulting
Chris received a bump over his typical ~$461/month payment from his nascent business. An extra $403 acted as a reimbursement for business-related expenses (namely electronics upgrades mentioned in the relevant spending section below).
He earned $864 in consulting income.
Cashback
Our Laurel Road no-fee checking accounts continue to earn a $20 monthly bonus for making direct deposits of at least $2,500/month. Chris earned an extra $11 in cashback from a Chase card bonus.
We earned $51 in cash back.
Credits
Several of our credit cards offer statement credits for purchasing with certain companies. Chase cardholders are eligible for statement credits with Gopuff ($10/month). Between the two of us, we can get back about $100 from Gopuff credits. That's pretty great considering most of our Chase cards have no annual fee.
We also earned $25 in Instacart credits (available quarterly from several of our Chase cards) and $15 for a Chase offer on insurance payments.
We received $150 in statement credits.
Expense Summary
From our $8,047 monthly budget, we saved and invested about $1,311.
After subtracting our credits, savings, and reimbursed business expenses, we spent about $6,183. If we account for our one-time large Gifts expense, we spent $3,703 on living expenses.
That's 86% of our FIRE budget from 2021 ($4,281/month).
Let's break down some of the more exciting details.
Food & Dining
We cut our grocery expenses by about 10% over last month—which is our major Food & Dining spend category this month.
Groceries
Our grocery spending came to about $542. We've tried to eat the overstock in our pantry and freezer as we'll be out of the country for a month beginning mid-September.
It's worth noting that about $115 of our grocery costs was covered by credits from AMEX/Chase for Instacart, Grubhub, and Gopuff.
Restaurants, Fast food, Alcohol & bars
When it comes to meals, we prefer cooking at home using good ingredients and a variety of flavors.
As usual, our restaurant expense comes from special evenings out with friends. We spent about $174 on dining out in DC and locally for a celebration.
We also spent about $63 on alcohol & bars stocking up for a party and having drinks out in DC.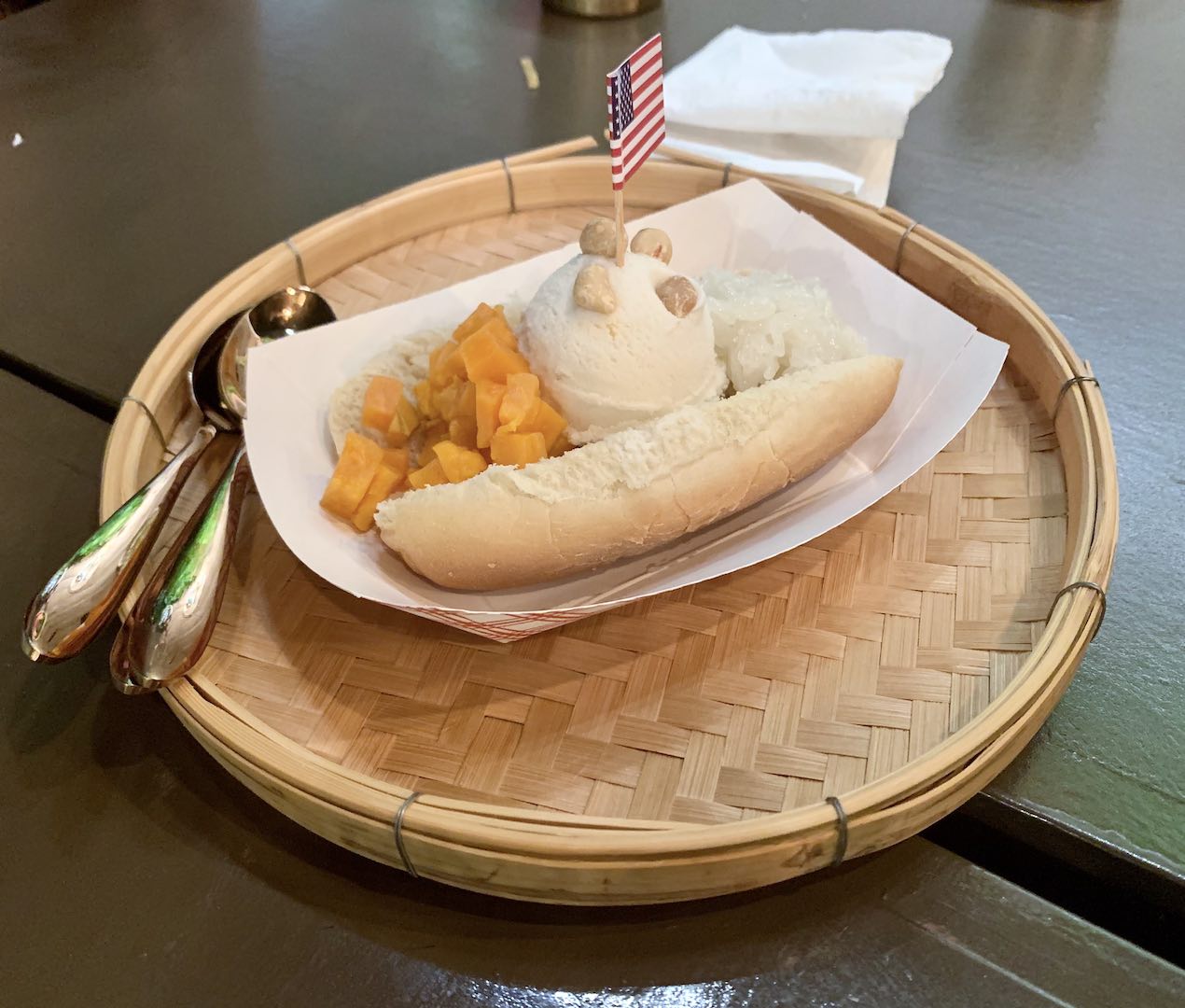 We spent $789 on food & dining this month.
Shopping
As seems to be our standard pattern lately, we decided to do a variety of upgrades just ahead of a long trip. We added some new electronic gadgets, travel clothing, and gear to make a month-long adventure all the more enjoyable.
Electronics & software
In all, here are the gadgets we upgraded and purchased:
Chris' iPhone XS upgraded to iPhone 11
Chris' work 2015 MacBook Air to the 2019 MacBook Pro
2x New iPhone cases (for each of our iPhone 11s)
Apple Watch case for Jenni
30w USB-C charger and cable for MacBook Pro
USB-C hub for MacBook Pro
iPhone "Upgrade"
Chris transitioned from an unlocked iPhone XS 256GB to a locked iPhone 11 64GB. It's hard to say that's much of an upgrade, though it is a year newer. The real reason behind this "upgrade" is that Chris' parents—who are joining us for part of the trip—will be the new owners of the XS. This will enable them to use a cheap eSIM in Europe and take high-quality photos of their trip.
Meanwhile, Chris will piggyback on Jenni's unlocked iPhone while in Europe. The new phone, purchased from Tracfone for about $190 with the first month of service, will unlock after 60 days of use. Chris will then switch to a cheap US eSIM provider like Mint or Tello.
Chris' business reimbursed him the purchase cost as part of his higher consulting income this month.
MacBook Upgrade
Chris' 2015 MacBook Air was getting a little long in the tooth. He still brings a laptop with him on trips to be able to do work with nonprofits, connect to servers, and of course—write on this blog. He sold the Air and upgraded to a 2019 MacBook Pro after getting a good deal on eBay for about $180 out of pocket in total.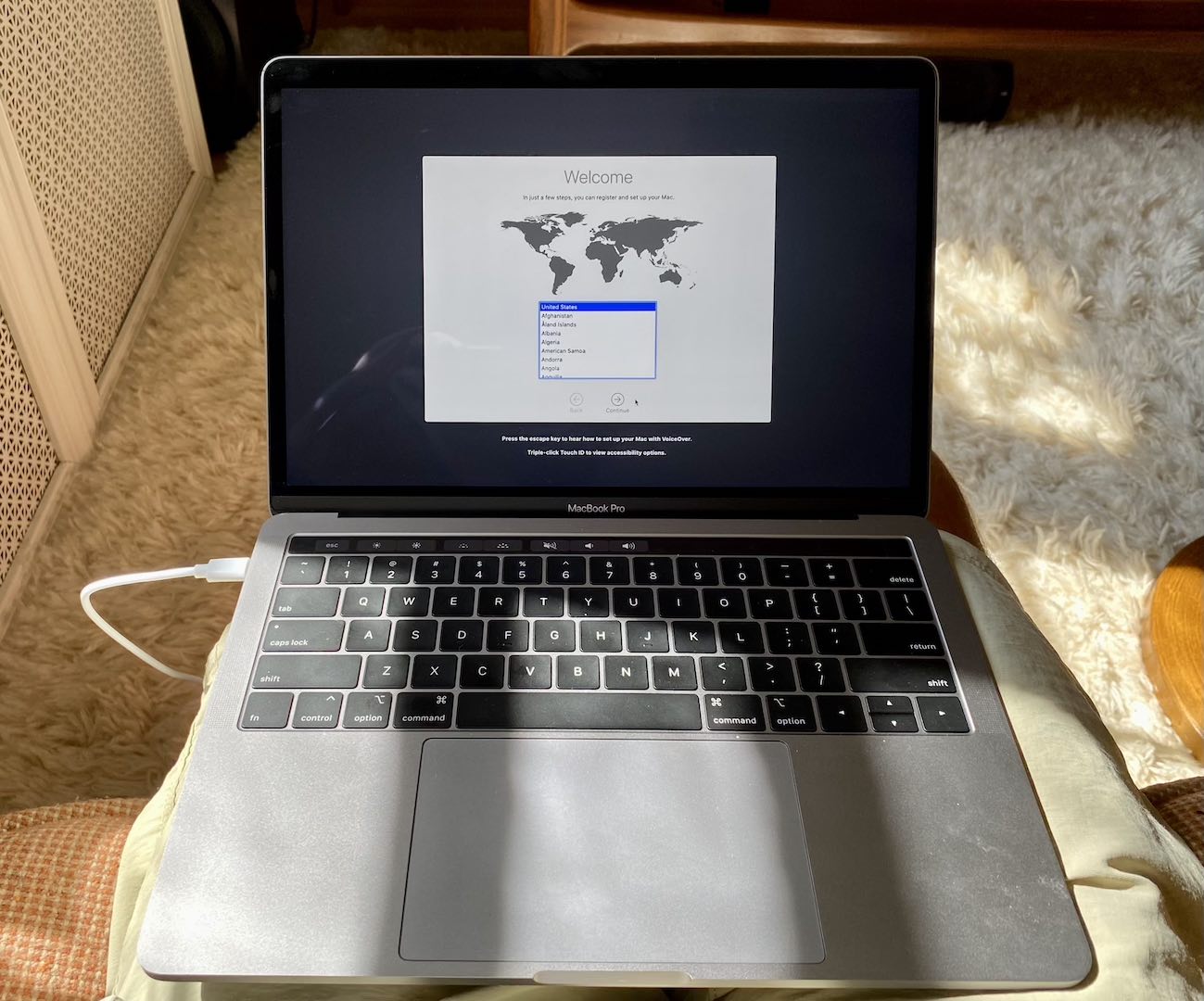 The Pro comes with all the trimmings (i7 CPU, 16GB RAM, etc.) and supports the latest MacOS. It'll hold Chris over for a while.
Chris' business reimbursed him the upgrade cost as part of his higher consulting income this month.
We spent $458 on electronics & software this month.
Sporting goods
During our DC trip this month, Chris managed to lose the small bag he normally uses to store his gadget cables and small electronics on trips. Unfortunately, those cables and gadgets were in it at the time it was lost.
He's replaced most of the lost items with extras we had at home or purchases mentioned in "electronics & software" above. But, one was unresolved: the bag itself.
After a good bit of research—Wirecutter is usually an excellent resource for this sort of a thing—he settled on a well-reviewed Amazon brand of cable organizer. It does a good job of offering a variety of cable tie-downs, mesh pockets, and so on.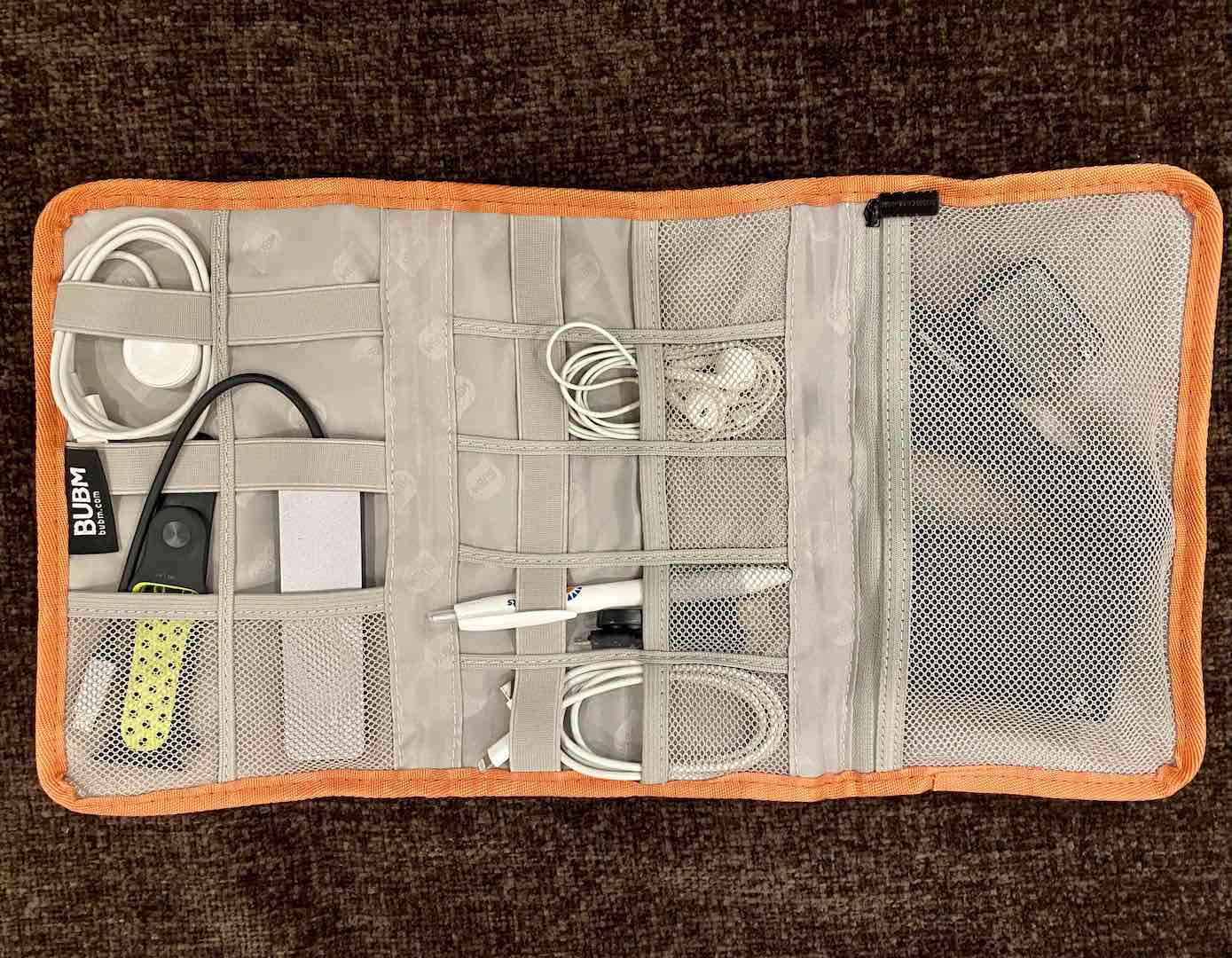 But, it winds up being fairly bulky and lacks an external zipper to "seal" everything in. We'll see how this first trip goes with it. It was about $11 on Amazon.
He also added another sports hat to his repertoire. In bright orange, it'll serve as his primary running hat at home. The older one, in white, is now one of his two travel hats. Skin cancer is significantly preventable and a $12 hat is a very frugal way to do it!
We spent $23 on sporting goods this month.
Clothing
You might be noticing a theme here—Chris added several pieces of clothing to his travel gear in preparation for next month's trip. His favorite brand, Icebreaker, was running the deepest sale he'd seen. He picked up six short and long-sleeved shirts. Normally, these Merino wool shirts are $70-90 a piece. After tax and shipping, Chris paid about $34/shirt. Still expensive—and very "fancy" for a shirt—but worth it for him.
He also purchased a new pair of Whitin barefoot style shoes. His second pair, though a different model, these are a bit more normal-looking sneaker-style. They'll be great for travel: lightweight, good airflow, and understated. They were about $43.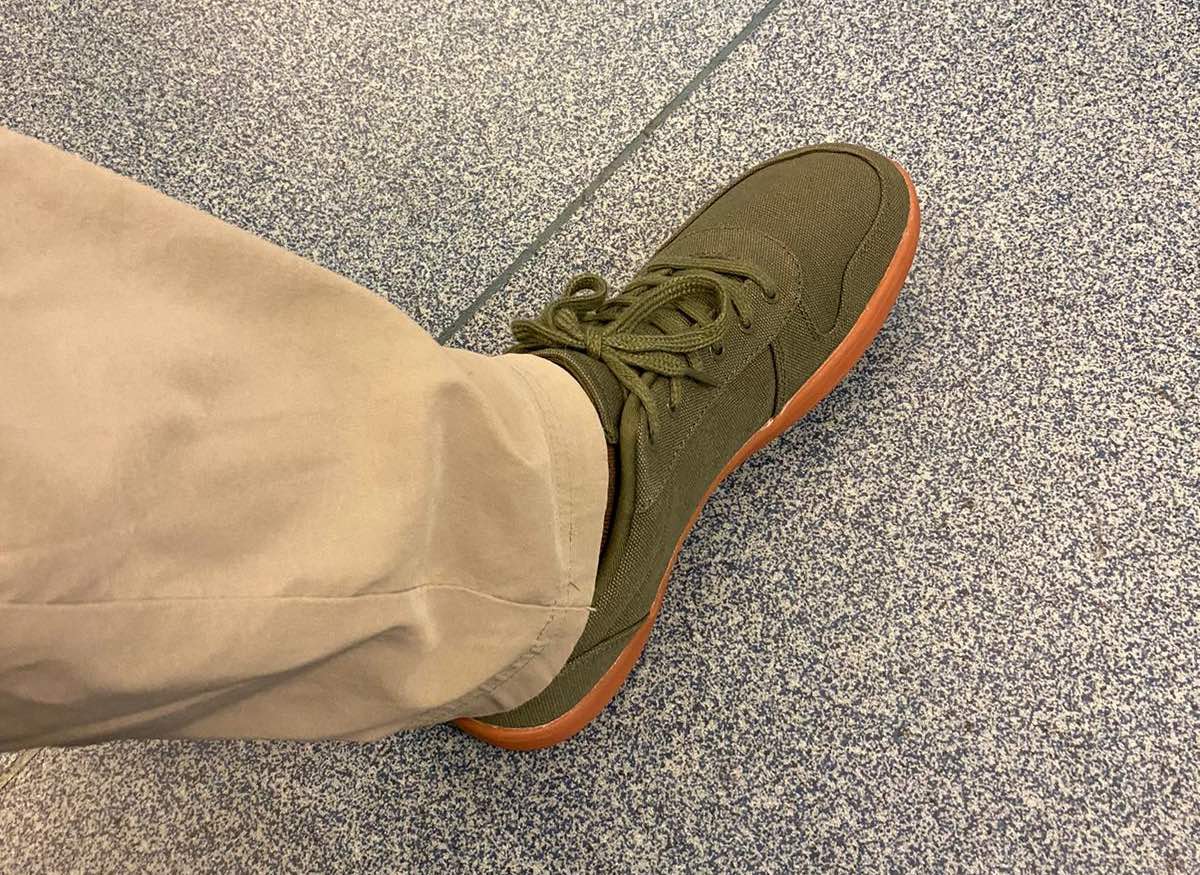 Lastly, Chris bought a large tube of Shoe Goo to repair several sets of athletic and travel shoes he already owns. A worthwhile life-extending layer of Goo on the soles keeps them going for a few months more.
We spent $233 on clothing this month.
Our total Shopping expense came to about $760.
Gifts
So what about that huge gifts & donations spending this month? Chris hinted at a surprise in the conclusion last month. And he sure did come through.
But, we think it deserves a separate post which should be published before the end of September.
That said, we'll give you a little hint: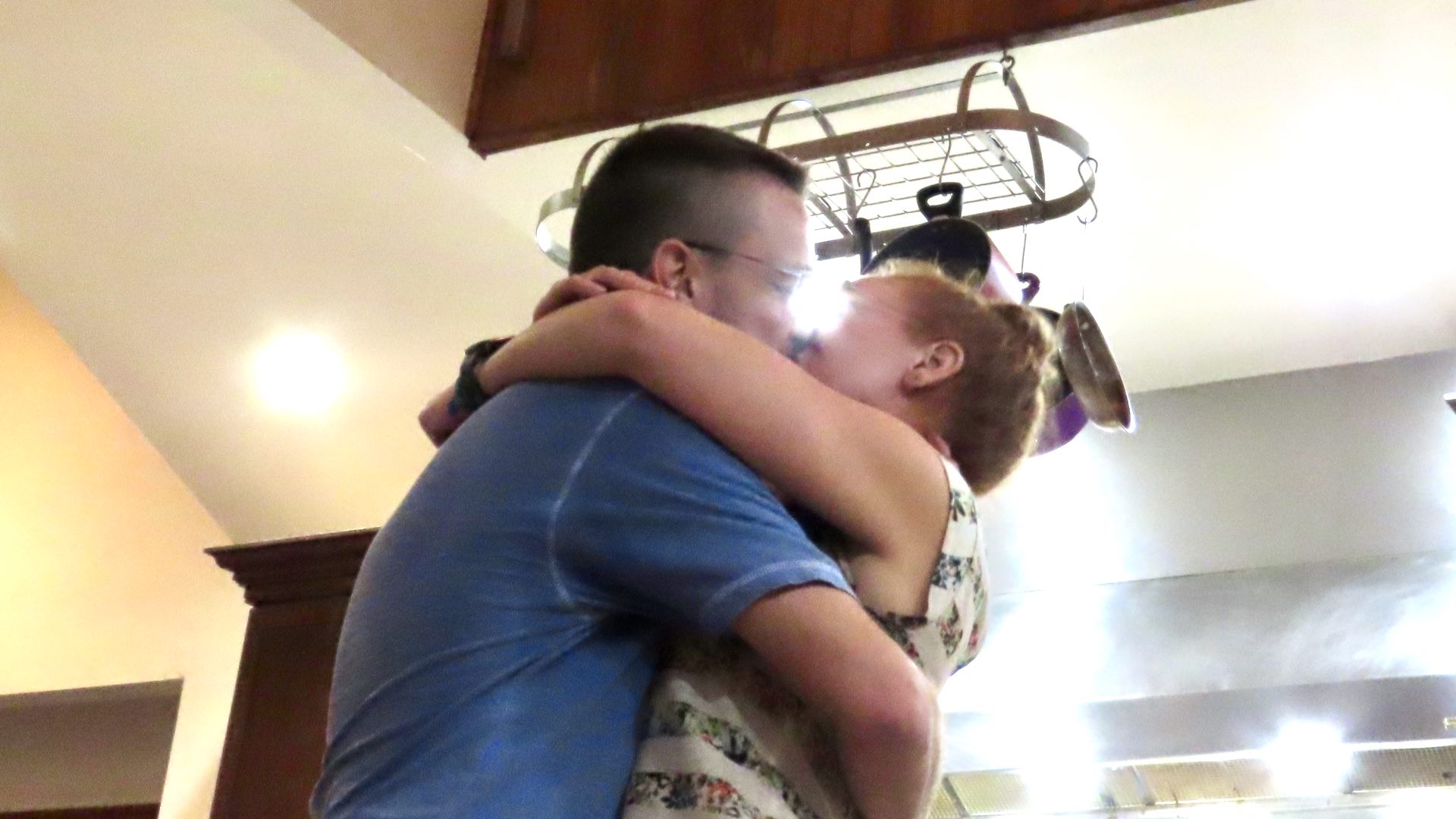 Update: Yes, we're engaged! We've started a series on our engagement, too. The why, how, and what of getting engaged. Starting with the "why", the first post in the series is about the benefits of getting married.
We spent $2,535 on gifts this month. 
Expense Conclusion
While that covers the big stuff, we still had a few random things small purchases to mention that might be of interest.
Travel
Despite having another short trip to DC, our travel expenses only rang in at $30. We drove in so transit costs didn't appear. Jenni used an IHG hotel certificate to stay at a very nice hotel near Dupont Circle. That's where our $30 charge came from, an "amenity fee" charged by the hotel.
Utilities
Our electric bill, $136, hit what is likely our peak for the year. Temps sat at about 99 degrees for nearly a week straight! The AC was overwhelmed even set at 76 inside.
Hot tip: We've been making prepayments to our utility company via $200 Visa gift cards. There's a fee of $1.65 to do so, but we purchase the gift cards with a 5x Chase points bonus at the $200 face value price.
Auto insurance
Our semiannual Geico car insurance bill arrived. Our two cars, a 2011 Toyota Prius and a 1990 Nissan 300ZX TT, ran about $479 for basic coverage. That's about $10 more than the prior period.
Parking
Our hotel parking in DC was a whopping $60/night—valet required. We avoided that insanity by parking a whole block away in a garage using an app called SpotHero. Cost? $14.
Having reviewed all our more interesting expenses, let's have a look at how much we worked this month.
How Much We Work
We like to keep track of how much time we spend doing work that is paid.
Let's add this month to the list…
| Month | Chris (Hours Worked) | Jenni (Hours Worked) |
| --- | --- | --- |
| May 2020 | 41 | 108 |
| Jun 2020 | 38 | 96 |
| Jul 2020 | 36 | 120 |
| Aug 2020 | 39 | 48 |
| Sep 2020 | 27 | 76 |
| Oct 2020 | 26 | 104 |
| Nov 2020 | 27 | 57 |
| Dec 2020 | 28 | 57 |
| Jan 2021 | 25 | 102 |
| Feb 2021 | 24 | 104 |
| Mar 2021 | 24 | 106 |
| Apr 2021 | 23 | 85 |
| May 2021 | 17 | 29.75 |
| Jun 2021 | 19 | 66 |
| Jul 2021 | 21 | 30.25 |
| Aug 2021 | 23 | 16.5 |
| Sep 2021 | 26 | 28 |
| Oct 2021 | 22 | 49 |
| Nov 2021 | 21 | 51 |
| Dec 2021 | 64 | 27 |
| Jan 2022 | 32 | 80 |
| Feb 2022 | 29 | 63 |
| Mar 2022 | 14 | 70 |
| Apr 2022 | 15 | 21 |
| May 2022 | 14 | 36 |
| Jun 2022 | 6 | 12 |
| Jul 2022 | 13 | 45.5 |
| Aug 2022 | 15 | 96 |
| Sep 2022 | 12 | 54 |
| Oct 2022 | 14 | 34.5 |
| Nov 2022 | 12 | 72 |
| Dec 2022 | 11 | 16.5 |
| Jan 2023 | 10 | 88 |
| Feb 2023 | 11 | 81.5 |
| Mar 2023 | 12 | 47.5 |
| Apr 2023 | 8 | 1 |
| May 2023 | 16 | 100 |
| June 2023 | 10 | 109 |
| July 2023 | 12 | 48 |
| August 2023 | 16 | 54.5 |
Jenni's work schedule came in about as we expected considering we will be traveling for a month.
Net Worth Update
Net worth is not our primary measurement and can understand it can be discouraging if you're working yourself out of debt. We also understand it's difficult to be transparent with our readers without divulging this information so we continue to do so.
Account breakdown
The market keeps chugging along and so do our investments. From a high level, our assets and liabilities are shown in the data table below as of August 31, 2023.
| Description | Value (USD, $) |
| --- | --- |
| 401(k) | 802,642 |
| Brokerage | 762,994 |
| Roth IRA | 147,823 |
| Traditional IRA | 13,786 |
| HSA | 57,375 |
| Real Estate | 411,500 |
| Mortgage | (140,744) |
| Miscellaneous Assets | 51,642 |
| Checking & Savings | 33,278 |
| Net Worth | 2,140,296 |
Miscellaneous assets include specific investments we've made in physical assets (think collectibles) and treasury bonds
Amounts do not reflect the value of the businesses Chris owns or their assets, which should appear as income to us over future years
Jenni's Prius is omitted
The S&P 500 was down about 1.8% for the month.
We lost a bit more with a decrease of 2.2%.
Overall, our net worth decreased by around $50K.
Net Worth History
Previous Donation Winner
Last month's poll had an overwhelming support for the Maui Humane Society, which won with seven votes. After the devastating fires in Maui, this organization has been working overtime to reunite pet owners with lost pets, and assisting with injured pets.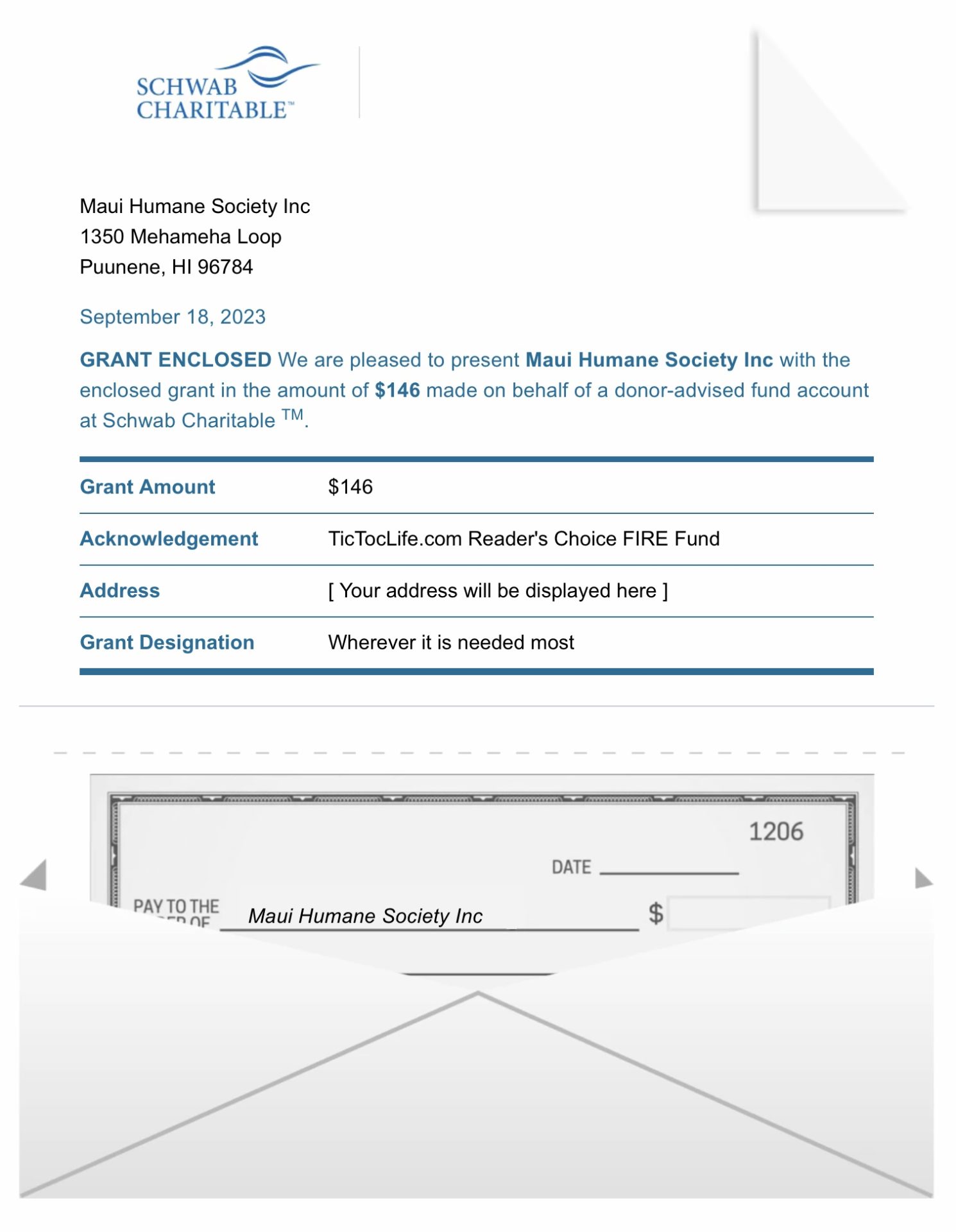 Our Reader's Fund seeks to leverage the principles of FIRE to build a lifetime of giving.
Thank you for your participation in our polls over the last 37 months. We've given over $4,300 to deserving charities with your help in deciding which organizations to donate to.
Polls are now open for our next round of candidates: Educational Charities.
Charity Round-Up
Summer is over and school is back in session. It can be hard to let go of summer and return to the daily grind of school. It's even harder when kids don't have what they need to succeed. With constant budget cuts and inadequate funding for teachers, providing a quality education can be hard.
The following are three organizations that are helping to provide teachers and students with what they need to excel in their education. Each organization has excellent charity ratings which will ensure our donation will have the most significant impact. Review each one and help us decide which organization to support by casting your vote.
Summaries below include the impact metrics and a link to their Guidestar profile which details the nonprofit's operations and transparency.
1) The Mr. Holland's Opus Foundation
Why? Music education sparks creativity and self-expression making school more enjoyable for youth. When school funding gets cut, access to expensive instruments and quality teachers can be the first to go. This foundation keeps kids engaged and music alive in our schools.
Where? The United States.
Our Notes: The Mr. Holland's Opus Foundation was founded in 1996 by Michael Kamen, the composer of the score for the film Mr. Hollands Opus. They improve music education by donating high-quality musical instruments to under-funded music programs in schools nationwide. They provide teacher training and toolkits to maintain their instrument inventory. Through their Music Education District Support Services (MEDSS), the foundation completes a full assessment of a school district's music education from grades K-12. This includes accessibility, gaps in offerings, barriers, and the quality and variety of inventory available to the students. Once MEDSS has a better picture of the needs of the district, it will develop a strategic plan for rebuilding the musical program to have the greatest impact. This includes replenishing the musical instrument inventory and improving teacher retention.
2) First Book
Why? 31 million kids in underserved communities are not getting the education they need because public schools are underfunded. Poor education can lead to an increase in health care and justice system costs, competitiveness, and unrealized opportunities for children. First Book wants to level the playing field so all kids are ready to learn.
Where? The United States, Puerto Rico, Canada.
Our Notes: First Book is a non-profit on a mission to help children succeed by removing barriers to equitable education in underserved communities. Their network provides free and low-cost books and resources to children and teachers. They support and empower educators by providing books and resources. They have created a network to share best practices and expand educators' access to affordable tools and resources. They also launched the Stories for All Project, the largest worldwide collection of diverse content curated just for kids.
3) DonorsChoose
Why? Funding for school supplies in our public schools has continued to be cut since Covid-19. Teachers are being asked to make learning creative and sometimes virtual. Without having a proper budget, teachers pay for what they need out of pocket or reach out to parents. They are just trying to ensure students are getting a quality education but also don't want to overwhelm the parents more than they already are. This organization lets the teacher post their needs for their classroom and students. They have specific programs set up for handling the challenges associated with virtual learning for both teachers' and students' needs.
Where? The United States.
Our Notes: DonorsChoose is a non-profit organization creating a platform for teachers to post exactly what they need to create a great educational experience for children in our public schools. Donors can choose to donate directly to a specific need or spread donations among the requested needs.
Nonprofit poll
After reviewing the list above, please take a moment to vote for which nonprofit you think will put funds to use in the best way.
(Have trouble using or seeing the poll above? Some reader tools or apps may not display it. View this page in a browser or use this link to our Reader Fund page which has a copy of the poll!)
Thank you for taking the time to vote!
One of our primary goals with TicTocLife is building a stream of giving within the FIRE community and that starts with knowledge.
Want to hear about the results? Sign up for our free FIRE Insider newsletter! We send it out every few weeks and include the monthly poll results and donation winners. You can see an archive of the FIRE Insider and sign up here!
What's Next
September will almost certainly be all about our last-minute travel preparation and the first half of the trip itself. We'll be in Portugal by September 19. Chris' parents will meet us there on September 30.
We'll let you know how that adventure goes, what the costs look like to make it happen, and keep you apprised of our FIRE lifestyle as summer closes.
…And we'll let you in on that big gift surprise with another post this month [update: yes, we're engaged—check out our first post in a series about it, the benefits of getting married]!
---
It's starting to feel like Fall! What's your favorite autumn tradition?
Let us know in the comments or on Threads and X (Twitter)!